World Journal of Translational Medicine (WJTM, World J Transl Med) is a high-quality, online, open-access, single-blind peer-reviewed journal published by the Baishideng Publishing Group. WJTM accepts both solicited and unsolicited manuscripts. Articles published in WJTM are high-quality, basic and clinical, influential research articles by established academic authors as well as new researchers. The paramount objective of WJTM is to showcase and promote distinguished research in the field of translational medicine, to help advance development of this field. The types of articles published in WJTM include Editorial, Opinion Review, Frontier, Review, Minireview, Basic Study, Clinical Research, Systematic Review, Meta-analysis, Evidence-based Medicine, Field of Vision, Clinical Guidelines, Letter to the Editor, and Case Report. Submit here >>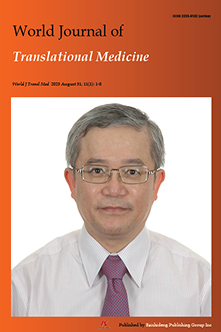 Editors-in-Chief
Xiao-Long Liu, PhD, Professor, Department of Hepatology, Mengchao Hepatobiliary Hospital, Fujian Medical University, Fuzhou 350025, Fujian, China
Nelson Shu-Sang Yee, FACP, MD, PhD, Associate Professor, Attending Doctor, (E-mail: nyee@pennstatehealth.psu.edu) Department of Medicine, The Pennsylvania State University and Milton S Hershey Medical Center, Hershey, PA 17033-0850, United States
Indexing/Abstracting
The WJTM is now abstracted and indexed in Reference Citation Analysis, China Science and Technology Journal Database, and Superstar Journals Database.
Journal Metrics
There is currently no impact factor.
Case Report
Duodenal neuroendocrine tumor-tertiary care centre experience: A case report

World J Transl Med
11
(1):
1-8.
Published online Aug 31, 2023.
doi: 10.5528/wjtm.v11.i1.1
Abstract (120)
|
Core Tip (130)
|
Full Article (HTML) (615)
|
Figures (1-5) (89)
|
Tables (1-2) (91)
|
Full Article (PDF)-6178K (39)
|
Full Article with Cover (PDF)-6391K (34)
|
Full Article (Word)-5914K (24)
|
Full Article (XML)-62K (15)
|
Audio-201K (8)
|
Peer-Review Report-232K (17)
|
Answering Reviewers-41K (15)
|
Received: 04/23/2023
|
Revised: 07/05/2023
|
Accepted: 08/17/2023
|
CrossRef
|
Google Scholar
|
Times Cited (0)
|
Total Visits (1946)
|
Similar Articles (1)
|
Timeline of Article Publication (0)
|
Authors Evaluation (1)
|
Article Quality Tracking (1)
|
What about the content of this article? (

0

)
|
Cite
|
(0)
|
Open