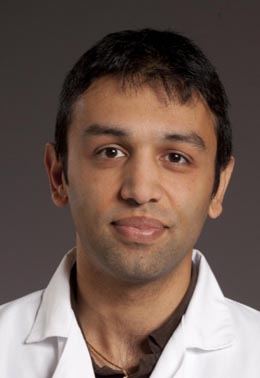 Dipanjan Banerjee, MD, MS is a cardiologist trained in advanced heart failure and cardiac transplantation, with a primary interest in patients with end stage heart failure. In his clinical practice he cares for patients with heart failure, mechanical heart-assist devices, and heart transplantation both in the coronary care unit (CCU) and in the outpatient clinic. He also performs catheterization laboratory procedures and supervises the protocol based ramp echocardiography performed on our patients receiving left ventricular assist devices (LVADs).

His research interests are clinical, given his Masters in Epidemiology, and primarily involve improving outcomes in patients with left ventricular assist devices (LVAD), including conducting clinical trials. In particular, he is interested in the hemodynamic evaluation of patients receiving LVADs, and is part of a national multi-center trial investigating the use of protocolized ramp right heart catheterization in these patients. He also researches quality improvement, and has led a program that effected a sustained reduction in 30 day readmission rates after a discharge for heart failure, significantly below national rates.

At Stanford, his leadership roles include serving as the Medical Director of the mechanical circulatory support program (MCS) and as physician lead of the heart failure readmission reduction program. Finally, he is one of the leading educators in not only the Division of Cardiology at Stanford, but also the Department of Medicine.