Copyright
©The Author(s) 2016.
Published by Baishideng Publishing Group Inc. All rights reserved.
World J Clin Pediatr.
Feb 8, 2016;
5(1): 1-15
Published online Feb 8, 2016. doi: 10.5409/wjcp.v5.i1.1
Cardiovascular magnetic resonance: Diagnostic utility and specific considerations in the pediatric population
Frances M Mitchell, Sanjay K Prasad, Vassilios S Vassiliou, Claire E Raphael, CMR Unit, Royal Brompton Hospital, London SW3 6NP, United Kingdom
Gerald F Greil, Department of Pediatrics, UT Southwestern Medical Center, Children's Medical Center, Dallas, TX 75235, United States
Peter Drivas, Radiology Department, the Royal Adelaide Hospital, North Terrace, Adelaide, SA 5000, Australia
Author contributions: All the authors jointly conceived the idea; Mitchell FM performed a literature review and wrote the first draft of the manuscript; Prasad SK, Greil GF and Drivas P provided CMR expert advice, critical revisions to the draft and images for the manuscript; Vassiliou VS and Raphael CE designed the review, contributed and critically revised the draft manuscript; Vassiliou VS and Raphael CE contributed equally.
Supported by NIHR Biomedical Research Unit, Royal Brompton and Harefield NHS Foundation Trust and Imperial College London.
Conflict-of-interest statement: The authors declare no conflicts of interest regarding this manuscript.
Open-Access: This article is an open-access article which was selected by an in-house editor and fully peer-reviewed by external reviewers. It is distributed in accordance with the Creative Commons Attribution Non Commercial (CC BY-NC 4.0) license, which permits others to distribute, remix, adapt, build upon this work non-commercially, and license their derivative works on different terms, provided the original work is properly cited and the use is non-commercial. See: http://creativecommons.org/licenses/by-nc/4.0/
Correspondence to: Dr. Vassilios S Vassiliou, CMR Fellow, CMR Unit, Royal Brompton Hospital, Sydney Street, London SW3 6NP, United Kingdom. vassiliou@doctors.org.uk
Telephone: +44-20-70207352 Fax: +44-20-73528121
Received: May 29, 2015
Peer-review started: June 2, 2015
First decision: August 22, 2015
Revised: September 10, 2015
Accepted: December 13, 2015
Article in press: December 15, 2015
Published online: February 8, 2016

Cardiovascular magnetic resonance is a non-invasive imaging modality which is emerging as important tool for the investigation and management of pediatric cardiovascular disease. In this review we describe the key technical and practical differences between scanning children and adults, and highlight some important considerations that must be taken into account for this patient population. Using case examples commonly seen in clinical practice, we discuss the important clinical applications of cardiovascular magnetic resonance, and briefly highlight key future developments in this field.
Core tip: Cardiovascular magnetic resonance is playing an increasingly important role in the investigation and management of pediatric cardiovascular disease. However, imaging this patient population brings its own unique set of challenges. This article describes some of the key differences between scanning children and adults, discusses the important clinical applications of cardiovascular magnetic resonance in pediatrics, and highlights some of the key future developments in this field.
---
Citation: Mitchell FM, Prasad SK, Greil GF, Drivas P, Vassiliou VS, Raphael CE. Cardiovascular magnetic resonance: Diagnostic utility and specific considerations in the pediatric population. World J Clin Pediatr 2016; 5(1): 1-15
---
INTRODUCTION
Cardiovascular magnetic resonance (CMR) is a non-invasive imaging technique that uses magnetic resonance imaging (MRI) to provide clear delineation of cardiovascular anatomy, detailed tissue characterization, and a comprehensive evaluation of cardiac function. In recent decades there has been a significant increase in use of CMR for a variety of purposes in both congenital and acquired heart disease in children.
Overall, the basic sequences and imaging strategies used in children are similar to those used in adults. Adolescents with normal intellectual and emotional development can usually be successfully imaged using adult techniques[1]. However, younger children may not be able to comply with breath-holding during image acquisition and their faster heart and respiratory rates provide technological challenges. Additionally, their anatomy is smaller and, in cases of congenital heart disease, often unique and complex. Pediatric imaging is therefore more demanding in terms of sequence optimization and each scan requires an individualized approach[2,3].
Despite these challenges, CMR remains a useful tool to assist with investigation and management of a wide range of cardiovascular pathology in children. It can be used for diagnostic and screening purposes to define anatomy and assess function, to monitor disease progression as part of serial follow-up, and to plan and evaluate the outcomes of surgery and other therapeutic interventions. This article provides an overview of the main applications of CMR in children and discusses some of the specific considerations for this patient population.
HOW DOES CMR WORK?
CMR uses magnetic fields and radiofrequency energy to produce tomographic images of the human body. It is based on the phenomenon of "nuclear magnetic resonance" - the ability of some atomic nuclei to selectively absorb then later re-emit radiofrequency energy. The emitted energy can then be captured and transformed into an image. Only nuclei with an odd number of protons and neutrons (thus possessing a "net magnetic moment") are capable of exhibiting this phenomenon[4]. Several examples of such nuclei are present in biological tissues[5], however the hydrogen (1H) atom is the primary choice for clinical imaging due to its abundance in water and fat.
Under normal conditions, hydrogen nuclei in tissues behave as tiny bar magnets randomly oriented in space such that the net magnetization of the tissue is zero. When placed in a strong magnetic field (created by the large superconducting magnet of the scanner), the nuclei align in the direction of the magnetic field creating a net tissue magnetization oriented along the axis of the scanner. The nuclei spin (precess) around the direction of the magnetic field at a frequency specific to the magnetic field strength[4]. The field strengths of clinical scanners can vary from 0.15 to 7 tesla (T) although CMR is typically performed at 1.5 T, approximately 20000 times the magnetic field strength of the earth[6].
External radiofrequency transmitter coils are used to apply radiofrequency energy to the tissue at a specific "resonance" frequency. Hydrogen nuclei absorb this energy and flip their orientation within the magnetic field, going from a stable low energy state to an unstable high energy state. When the radiofrequency transmission ceases, the nuclei relax back to the lower energy state and re-emit the absorbed energy, which is detected by a receiver coil as radiofrequency signals. The signals are electronically amplified by a computer and the intensity of each signal is plotted on a grey-scale in order to build up a cross-sectional image of the tissue. The resulting image is a representation of the spatially-resolved signals[4,5].
In order to localize the part of the tissue from which these emitted radiofrequency signals originate, gradient coils driven by pulses of electricity are used to produce small field gradients in multiple planes within the wider magnetic field of the scanner magnet. These gradients cause a predictable variation in both the magnetic field strength and resonant frequency in different parts of the patient. By varying the times at which gradient fields are switched on and off in relation to the application of the radiofrequency pulses, then analyzing the properties of the emitted signal (in terms of frequency and phase), the computer is able to reconstruct an image of the patient[6].
The hydrogen nucleus relaxes back to the lower energy state by two main processes: Longitudinal relaxation with relaxation time T1, and transverse relaxation with relaxation time T2[7]. The relative proportions of T1 and T2 relaxation times vary between different tissues. By altering the timing of radiofrequency pulses, strength of the gradient fields, and through use of contrast agents and magnetization preparation pulses (such as inversion recovery, saturation recovery, fat-suppression and blood-nulling sequences), the differences in T1 and T2 values between tissues can be exploited to enable detailed tissue characterization, producing images that highlight the tissue of interest[8].
CMR VS OTHER IMAGING MODALITIES IN PEDIATRICS
Echocardiography is the mainstay of cardiovascular imaging in children. It is cheap, quick, accessible, non-invasive and particularly informative in neonates and infants for whom it is possible to achieve good acoustic windows. However, it is operator dependent and provides only limited views of extra-cardiac vascular structures[9,10]. Cardiac catheterization provides useful hemodynamic information and permits concurrent therapeutic intervention. However, it is invasive with rare but potentially fatal complications, involves exposure to ionizing radiation and is dependent on the use of iodine-based contrast agents[11-13]. CMR on the other hand, is non-invasive and radiation-free. This is particularly relevant to children, for whom the risk of risk of radiation-induced malignancy is significantly higher than in adults[14]. Thus CMR is amenable to being used for serial assessments, such as pre- and post-procedure or for ongoing follow-up to monitor disease progression. CMR reduces the requirement for invasive study in certain cases and enables the assessment of anatomy and function where echocardiographic views are sub-optimal. Non-contrast imaging provides excellent soft tissue contrast resolution permitting detailed tissue characterization, and superior structural and functional information, including the determination of extra-cardiac anatomy and hemodynamic parameters[15].
However, CMR scanners are rarely mobile and availability is limited compared to echocardiography. Even in a centre that offers conventional MRI, CMR requires significant software, training and expertise[16]. The data acquisition time is long, typically 20-50 min depending on what information is required, and the space within the magnet is limited. It can be claustrophobic, and for children unable to co-operate with the scanning procedure, general anesthesia may be required. It is also less suitable for clinically unstable patients requiring intensive monitoring, and in the event of a cardiopulmonary arrest, the patient must be removed from the magnet environment of the CMR scanner before advanced life support can commence. All monitoring equipment used during a CMR scan must be MRI compatible, requiring a switch to compatible pumps before the patient enters the scanner.
Computerized tomography (CT) is often used as an alternative to CMR - it permits acquisition of a high resolution data set in a much shorter time period and is therefore useful for children and unstable patients unable to tolerate a lengthy CMR scan. In the pediatric population, it is considered superior to CMR when evaluating airway anatomy in cases of vascular rings, when assessing pulmonary vasculature (particularly in thromboembolic disease of the pulmonary arteries, where breath-holding capability is often compromised), and when determining the presence or absence of any major aorto-pulmonary collateral arteries (MAPCAs)[17,18]. CT can also be used as an alternative where CMR is contraindicated due to the presence of implanted devices, foreign bodies or claustrophobia. However, it is less detailed in terms of tissue characterization and exposes patients to high doses of ionizing radiation - particularly in the case of serial imaging where the cumulative radiation dose is significant[19].
Despite its shortcomings, CMR remains a versatile tool with distinct advantages over other modalities. However, outcomes are most successful when it is used in conjunction with other imaging technologies in a directed manner to obtain an answer to a specific clinical question.
BASIC CMR PULSE SEQUENCES
CMR pulse sequences represent the co-ordinated actions of turning on and off the gradient coils and transmitted radiofrequency pulses in order to highlight specific features of the tissue being imaged[15]. The basic principles of these sequences are similar for adult and pediatric CMR. As with adult imaging, sequences used in the pediatric setting must be carefully selected in order to best answer the clinical question. However, in children specific adaptations must be made in order to accommodate the smaller patient size (demanding a higher spatial resolution), and faster heart rates (demanding a higher temporal resolution)[20]. Also, in cases of congenital heart disease where the anatomy is complex, a more individualized approach to the scan is required[2].
Spin echo
Spin echo pulse sequences produce images that are acquired during one fixed point of the cardiac cycle (Figure 1A and B). They are static images in which blood appears black and the surrounding stationary tissue appears in shades of grey[16]. These images are useful for providing anatomical information[21] and they permit excellent tissue characterization (particularly when magnetization preparation pulses are used), achieving good visualization of pathology for conditions such as myocarditis, pericarditis, cardiomyopathies, vasculitis and cardiac tumours[22]. Acquisition time is long, and although faster variants exist, they result in poorer spatial and temporal resolution[20].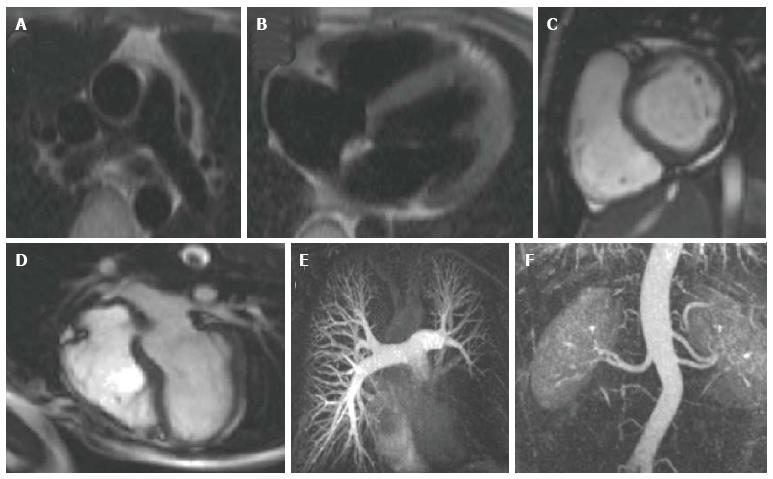 Figure 1 Examples of images produced by individual cardiovascular magnetic resonance pulse sequences.
A and B are black blood spin echo images showing the ascending and descending aorta at the main pulmonary artery level A and the 4 cardiac chambers B; C and D are bright blood SSFP cine images showing short axis and 4 chamber views respectively, while E and F are examples of 3D contrast-enhanced MRA; E is a contrast-enhanced MRA of the pulmonary tree in a patient with a large sarcoma. There is no opacification of the arterial supply of the left lower lobe, indicating complete occlusion of the lower branch of the left pulmonary artery; F is a contrast-enhanced MRA of the descending aorta for assessment of renal anatomy, demonstrating an accessory renal artery to left kidney (a common normal variant). SSFP: Steady state free precession; MRA: Magnetic resonance angiography.
Gradient echo cine
Gradient echo cine imaging enables the generation of short "movies" depicting motion of the heart throughout the cardiac cycle. This is achieved by dividing the cardiac cycle into multiple segments (frames) to produce a series of 2D images that can then be laced together into a cinematic display. Blood appears bright and the resulting "cines'' are useful for assessing the dynamic function of the heart - such as blood flow, valvular function, ventricular volumes, ventricular mass, ejection fraction and motion of the ventricular walls. CMR volume measurements are considered more accurate and reproducible compared to echocardiographic measurements[15,23,24], and normal values for both atrial and ventricular volumes have been widely published in children[25-28] with studies demonstrating good reproducibility[29].
Gradient echo cine imaging can be performed using a standard spoiled gradient echo pulse sequence, or the more recent steady state free precession sequence (SSFP) (Figure 1C and D). SSFP has generally surpassed the use of spoiled gradient echo for cine imaging as it is faster and provides superior contrast between blood and myocardium[20]. It can also be adapted for 3D imaging, enabling acquisition of a high resolution 3D anatomical dataset of the heart and thoracic vasculature without the requirement for intravenous contrast[30-32]. However, SSFP is more prone to artefact when there is inhomogeneity in the magnetic field[20], so both types of sequence still form the basis of multiple cardiac imaging applications. Spoiled gradient echo sequences are still widely used for late gadolinium enhancement (LGE) imaging to detect myocardial fibrosis, 3D contrast- enhanced magnetic resonance angiography (MRA), velocity encoded phase contrast imaging for assessment of in-vivo blood flow, and first-pass perfusion imaging for evaluation of myocardial perfusion.
LGE imaging: Gadolinium-based contrast agents (GBCAs) distribute in greater volumes in fibrosed myocardium and demonstrate slower washout times compared to normal myocardium. Using spoiled gradient echo sequences, it is possible to demonstrate the abnormal deposition of contrast late after contrast injection as focal regions of fibrosis become hyperenhanced[16]. Validation studies have strongly correlated the finding of LGE with the presence and extent of myocardial fibrosis[33,34]. In children, LGE is typically seen along areas of reconstruction post-surgically following repair of congenital cardiac lesions[35-38]. The presence of LGE is known to be associated with arrhythmias and poorer ventricular function and studies in adults have demonstrated that it is associated with a poorer prognosis in dilated cardiomyopathy[39], hypertrophic cardiomyopathy[40,41] and valvular heart disease[42].
3D contrast-enhanced MRA: Running a spoiled gradient echo pulse sequence during administration of intravenous GBCAs enables detailed, high resolution vascular imaging (Figure 1E and F). Gadolinium reduces the T1 relaxation time of blood, enhancing the contrast between blood and the surrounding tissue[43]. By varying the time delay between contrast administration and the pulse sequence, it is possible to alter the portion of the thoracic vasculature imaged. In this manner, clear images of the aorta and its branches, the pulmonary vessels, systemic veins, collateral vessels and any shunts, conduits or vascular grafts can be obtained[44-49]. The collected data can be formatted to generate 2D slices in any orientation, or volume-rendered into a 3D image, often negating the requirement for invasive diagnostic catheterization.
Velocity encoded phase contrast imaging: When hydrogen nuclei (such as in blood) flow through specially designed magnetic field gradients, the signal they emit accumulates a phase shift relative to the signal from the surrounding tissue that is proportional to their velocity. Velocity encoded phase contrast sequences capture data encoding this velocity information in addition to data encoding information about the surrounding tissue. Software can then be used to obtain measurements of flow rates within individual vessels by contouring the vessel in a cross-sectional plane and calculating volume of blood passing through the plane as a product of velocity and cross-sectional area[50-52]. Using this technique, it is possible to assess flow in large and small arteries and the systemic and pulmonary veins. It is also possible to quantify cardiac output and intra- and extra-cardiac shunts, measure pressure gradients across areas of stenosis and calculate valvular regurgitant fractions[53-56].
First-pass perfusion imaging: Performed using spoiled gradient echo or SSFP sequences, this technique involves the administration of a GBCA followed by dynamic imaging of the passage of contrast through the myocardium in order to detect zones of decreased perfusion[57]. Normally perfused myocardium gives a bright signal and areas of poor perfusion appear darker. Images are typically acquired both at rest and under pharmacological stress (induced via administration of a coronary artery vasodilator such as adenosine) in order to accentuate the difference between the perfusion of myocardium supplied by normal coronary arteries compared to myocardium supplied by abnormal vessels[16,20]. Examples of uses in children include the investigation of chest pain, congenital heart disease with anomalous coronary artery origins, post-surgery involving coronary artery re-implantation and in acquired abnormalities of the coronaries such as aneurysms in Kawasaki disease[17,58-60]. CMR offers distinct advantages compared to the traditional nuclear perfusion imaging in terms of improved spatial resolution and lack of ionizing radiation[61-64]. Dobutamine instead of adenosine is also used for stress imaging in certain circumstances[65,66].
SPECIFIC CONSIDERATIONS IN CHILDREN
In addition to the technological challenges with regards to performing CMR in children, there are a number of specific practical considerations to take into account. These include the strategies employed in order to minimize both generalized and cardio-respiratory motion artefact (both accentuated in children due their reduced ability to co-operate with the scanning procedure, and their elevated heart rate and respiratory rate in comparison with adult patients), the equipment used, and some of the additional preparation steps that can be taken with children in order to facilitate the scanning process.
In terms of generalized motion artefact, older children (typically greater than 7 years of age) with normal development are often capable of lying still and following instructions such that adequate quality images can be obtained. However, for neonates, infants, younger children and patients with developmental delay, specific strategies must be employed in order to minimize motion artefact. Approaches will vary depending on the age of the child, their clinical condition, and the expertise and resources available. For infants less than 6 mo, it may be possible to perform the scan during natural sleep after feeding[67], however early awakening will likely compromise the scan. Deep sedation using sedative medications is an option[68], but is avoided where possible due to risks of hypoventilation and aspiration. Thus, for children unable to breath-hold, the preferred approach is endotracheal intubation and mechanical ventilation under general anesthesia (GA). CMR under GA is resource intensive, requiring a pediatric anesthetist with cardiac experience and CMR compatible equipment. It is also challenging since intensive monitoring is required despite limited access to the child during the scan. However, with trained personnel, good communication and a comprehensive emergency plan in place, it has an excellent safety profile[69-71]. Additionally, it presents the opportunity to perform other invasive investigations during a single GA, for example trans-oesophageal echocardiography and endoscopic procedures. However, the decision for a child to undergo CMR under GA is not taken lightly and is usually made in discussion with the wider multi-disciplinary team. There should be careful consideration of the age and maturity of the child, the parents' perception of the child's ability to co-operate with a non-GA procedure, their clinical condition, relevant past experiences, the length of the scanning protocol, the risks of anesthesia and the benefits of the scan in terms of diagnosis and patient management[2,72].
In order to minimize the effect of cardio-respiratory motion on image quality, specific strategies are employed. For cardiac motion, the techniques used are broadly similar for adults and children. To obtain images of acceptable quality, CMR data is acquired over multiple heart beats, synchronizing the data acquisition to a particular time point in the cardiac cycle. MRI compatible electrodes and leads are applied to the patient's chest and specific software detects the ECG trace, synchronizing the CMR pulse sequence (and thus data acquisition) to the R wave. In this manner, with each cardiac cycle there is a new repetition of the pulse sequence. Images can be obtained either at a single time point in the cardiac cycle for still imaging, or at multiple time points for cine imaging and the resulting images can are laced together in a cinematic display. Two main ECG synchronization techniques exist: Prospective triggering and retrospective gating. Typically for still imaging using spin echo sequences, prospective triggering is used, whereas for cine imaging using gradient echo sequences, either technique can be used[6,73]. For respiratory motion, most pulse sequences enable data acquisition to be completed within a single breath-hold, thus older children can be taught to breath-hold with practice. Breath-holding can also be achieved under general anesthetic, with the anesthetist strategically pausing the ventilator at specific times. In sedated infants and small children, breathing tends to be shallow and regular so a technique employing multiple signal averages can be used to average out respiratory motion artefact at the expense of reduced spatial resolution. Alternatively, respiratory gating strategies can be employed to synchronize data acquisition to the respiratory cycle such as using a navigator beam to track the motion of the diaphragm and gating data acquisition to a point in end expiration when the diaphragm is relatively still[73,74].
For pediatric CMR, the use of smaller coils placed directly on top of or underneath the child significantly improves image quality. Adolescent children can be imaged using a standard adult surface coil, while for younger children, infants and neonates, better image quality can be obtained with a smaller surface coil. Specific pediatric coils are commercially available for imaging the brain and spine, and while pediatric thoracic coils are becoming increasingly available, often adult coils designed for other applications (such as adult orthopedic extremity coils) are used for this purpose[75].
On a practical level, better outcomes are achieved with children when there is thorough planning and preparation prior to the scan. Some practical considerations and tips for achieving a successful outcome are described in Table 1.
Before the scan
Begin preparation for the scan well in advance of the appointment
If multiple children from the same family require scans (such as when screening for hereditary conditions), where possible arrange for all children to be scanned at a similar time (ideally on the same day) so they can prepare together
Discuss the procedure with the child in an age-appropriate manner and provide parents with a detailed description of the procedure so they can be of assistance
Play therapists can help prepare the child by talking them through pictures of the scan, and using dummy scanners to practice lying still and breath-holding
Arranging a pre-scan visit to the CMR department and allowing the child to see the scanner before their scheduled appointment may help reduce anxiety
Perform a full metal screen on parents so that they can demonstrate going into the scanner if the child is anxious, and so that they can remain in the room for the duration of the scan to reassure the child if necessary
Some modern scanners have MRI compatible audio-visual equipment, where this is available allow the child to pre-select their own music or movie to play during the scan (ideally bringing a favourite one from home) – this may help them tolerate longer scanning times
Within reason, allocate a lengthier appointment for the scan to give the child time to get accustomed to the magnet, coils, ear protection and breath-holding instructions
During the scan
Be patient and flexible
Minimize the time the child must spend in the scanner by only running sequences that will directly answer the relevant clinical questions
Run the most essential sequences first bearing in mind that the child may not tolerate the whole scan
For a breath-holding child, use short sequences only as they may struggle with a long breath-hold
An inspiratory breath-hold is easier for a child to understand and achieve compared to an end-expiratory breath-hold
For stress perfusion studies provide the child with a stress ball that can be repeatedly squeezed during administration of the stress agent to minimize side effects (61)
After the scan
Praise and reward the child with stickers and certificates even if the scan was not entirely successful, bearing in mind that for many conditions repeat scanning may be required in future so all attempts to alleviate bad experiences should be made
CMR SAFETY CONSIDERATIONS
It is essential that all patients and any accompanying persons (such as parents) undergo thorough screening for the presence any implanted medical devices or foreign bodies - these include pacemakers, implantable defibrillators, neurostimulators, stents, cerebro-spinal fluid shunts, cerebrovascular clips and coils, cochlear implants, orthopedic devices, shrapnel, bullets and metal fragments[76]. Where the history is unreliable, plain radiographs can be used to aid the screening process. The strong magnetic fields of the scanner may disrupt the function of some electrically, magnetically or mechanically activated devices, and ferromagnetic objects risk becoming dislodged during the scan causing local tissue damage[77]. Many modern devices are designed to be MRI compatible - they may cause artefact but are not ferromagnetic and will not overheat or fail in the presence of the magnetic field. Older devices, on the other hand, are less likely to be MRI compatible, therefore it is essential to thoroughly check the safety information for each specific device and follow all recommendations made by the manufacturer.
The use of GBCAs can also raise issues. Although the incidence of complications relating to the use of these agents is low, children are susceptible to all the adverse effects experienced by adults. These include feelings of coldness or warmth on injection, nausea, vomiting, headache, paresthesia, dizziness, itching, extravasation of contrast agent and allergic reactions ranging from a simple rash to anaphylaxis[78-80]. A serious complication of GBCAs is nephrogenic systemic fibrosis (NSF), a progressive, incurable and often fatal condition that involves widespread fibrosis of the skin, subcutaneous tissue, joints, skeletal muscles, and organs such as the eyes, lungs, heart and liver. It typically occurs in the context of renal dysfunction when GFR is less than 30 mL/min per 1.73 m2, additional risk factors include the requirement for renal replacement therapy, concurrent hepatic disease and a pro-inflammatory state[81,82]. NSF is exceedingly rare, and even more so in children compared to adults[83]. This is surprising given the immature renal function of neonates and infants. Nevertheless, all patients should be screened for risk factors and renal function should be checked before GBCAs are administered[84]. If renal dysfunction is identified, local or national guidelines should be consulted and steps should be taken to minimize relevant risk factors with contrast-enhanced scanning only proceeding after careful consideration of the risks and benefits[85]. In light of this screening process, and the introduction of safer agents bound to a cyclic chelate[83], the incidence of GBCA-related NSF has fallen significantly in recent years[86].
Additional CMR safety considerations, especially with relation to neonates and infants, include the use of ear protection in order to prevent hearing damage from the acoustic noise of the scanner[87], and the requirement for close monitoring of body temperature. Scanning rooms are deliberately kept cool to reduce overheating of the electrical equipment however local heating of the coils in close proximity to the patient can still occur. Thus, small children, infants and neonates with reduced ability to control their body temperature are at risk of both hypothermia and hyperthermia during CMR[88].
CLINICAL APPLICATIONS IN CHILDREN
FUTURE DIRECTIONS
Technological advances in CMR hardware and software are continually occurring, resulting in faster sequences with shorter acquisition times, and improved image quality with greater spatial and temporal resolution. Such advances have permitted the development of real-time imaging, involving rapid and continuous data acquisition with nearly instantaneous image reconstruction and a reduced requirement for cardio-respiratory motion compensation - which is particularly advantageous in pediatrics[145-147]. Real-time imaging has also paved the way for the growing field of interventional CMR, whereby CMR performed using open magnets can be used to guide cardiac catheterization procedures, thus avoiding exposure to ionizing radiation[148]. However, although the concept of purely CMR guided interventional procedures is promising, a number of obstacles still exist that prevent it translating into routine clinical practice[149-151]. Thus, interventional CMR in current practice falls into the realm of hybrid CMR/X-ray cardiac catheter (XMR) laboratories. In these laboratories both modalities are present in the same room and the patient can be rapidly moved between them during the imaging process permitting cross-modality image integration. Additional emerging techniques include time-resolved 3D MRA permitting direct visualization of complex flow dynamics in vessels[152] and time-resolved 3D (4D) velocity encoded phase contrast imaging allowing quantification of flow parameters in multiple planes[153]. Higher field strength 3T scanners also exist that yield a higher signal-to-noise ratio and better spatial resolution. This is particularly beneficial when imaging small children. However, these scanners have their own limitations and are not yet compatible with all CMR sequences[154].
CONCLUSION
CMR is emerging as helpful imaging tool in pediatric cardiology and is becoming increasingly available for a wide range of range of both congenital and acquired cardiac disease. Its non-invasiveness and lack of exposure to ionizing radiation are particular advantages with regards to the pediatric population, and CMR is well tolerated in children of all ages with an excellent safety profile when performed in specialist centres by experienced personnel. Outcomes are most successful when scans are undertaken using an individualized approach specifically tailored to the clinical question. In these circumstances, CMR is capable of providing detailed anatomical and functional information, and it is well suited to serial imaging for long-term follow-up and as a means of planning and evaluating surgical and interventional management. In light of all the technological developments currently taking place in the field of CMR, it will be interesting to see what the future holds for this modality in the world of pediatric cardiology.
P- Reviewer: Sertoglu E S- Editor: Qiu S L- Editor: A E- Editor: Lu YJ