Copyright
©The Author(s) 2016.
Published by Baishideng Publishing Group Inc. All rights reserved.
Genomic characterization of esophageal squamous cell carcinoma: Insights from next-generation sequencing
Yasushi Sasaki, Miyuki Tamura, Ryota Koyama, Takafumi Nakagaki, Takashi Tokino, Department of Medical Genome Sciences, Research Institute for Frontier Medicine, Sapporo Medical University, Sapporo 060-8556, Japan
Yasushi Adachi, Department of Gastroenterology, Rheumatology and Clinical Immunology, Sapporo Medical University School of Medicine, Sapporo 060-8543, Japan
Author contributions: Sasaki Y designed the report, analyzed the data and wrote the manuscript; Tamura M, Koyama R and Nakagaki T analyzed the data; Adachi Y and Tokino T edited the manuscript.
Supported by MEXT KAKENHI, Grant No. 221S0001.
Conflict-of-interest statement: The authors have no conflict of interest to declare.
Open-Access: This article is an open-access article which was selected by an in-house editor and fully peer-reviewed by external reviewers. It is distributed in accordance with the Creative Commons Attribution Non Commercial (CC BY-NC 4.0) license, which permits others to distribute, remix, adapt, build upon this work non-commercially, and license their derivative works on different terms, provided the original work is properly cited and the use is non-commercial. See: http://creativecommons.org/licenses/by-nc/4.0/
Correspondence to: Yasushi Sasaki, MD, PhD, Department of Medical Genome Sciences, Research Institute for Frontier Medicine, Sapporo Medical University, S-1, W-17, Chuo-ku, Sapporo 060-8556, Japan. yasushi@sapmed.ac.jp
Telephone: +81-11-6112111-2410 Fax: +81-11-6183313
Received: July 28, 2015
Peer-review started: July 30, 2015
First decision: September 9, 2015
Revised: September 29, 2015
Accepted: December 19, 2015
Article in press: December 19, 2015
Published online: February 21, 2016

Two major types of cancer occur in the esophagus: squamous cell carcinoma, which is associated with chronic smoking and alcohol consumption, and adenocarcinoma, which typically arises in gastric reflux-associated Barrett's esophagus. Although there is increasing incidence of esophageal adenocarcinoma in Western counties, esophageal squamous cell carcinoma (ESCC) accounts for most esophageal malignancies in East Asia, including China and Japan. Technological advances allowing for massively parallel, high-throughput next-generation sequencing (NGS) of DNA have enabled comprehensive characterization of somatic mutations in large numbers of tumor samples. Recently, several studies were published in which whole exome or whole genome sequencing was performed in ESCC tumors and compared with matched normal DNA. Mutations were validated in several genes, including in TP53, CDKN2A, FAT1, NOTCH1, PIK3CA, KMT2D and NFE2L2, which had been previously implicated in ESCC. Several new recurrent alterations have also been identified in ESCC. Combining the clinicopathological characteristics of patients with information obtained from NGS studies may lead to the development of effective diagnostic and therapeutic approaches for ESCC. As this research becomes more prominent, it is important that gastroenterologist become familiar with the various NGS technologies and the results generated using these methods. In the present study, we describe recent research approaches using NGS in ESCC.
Core tip: Because targeted therapies have not been implemented in the treatment of esophageal squamous cell carcinoma (ESCC) to date, defining the genetic landscape of ESCC would facilitate the use of targeted therapies. Improvements in molecular profiling technologies have provided new insight into the basic molecular events during carcinogenesis as well as the mechanisms of anti-cancer drug resistance. Our invited review offers a current overview of the somatic genetic alterations in ESCC, emphasizing the recent results of large-scale sequencing efforts using next-generation sequencing technology.
---
Citation: Sasaki Y, Tamura M, Koyama R, Nakagaki T, Adachi Y, Tokino T. Genomic characterization of esophageal squamous cell carcinoma: Insights from next-generation sequencing. World J Gastroenterol 2016; 22(7): 2284-2293
---
INTRODUCTION
Cancer of the esophagus is the eighth leading causes of cancer-related mortality worldwide[1]. It is one of the most deadly gastrointestinal tumors, with a 5-year survival rate of 20%-30% after curative surgery[2]. Two major types of cancer occur in the esophagus, including squamous cell carcinoma and adenocarcinoma, but their epidemiological features differ considerably. The incidence of esophageal cancer varies greatly by geographic location. Esophageal squamous cell carcinoma (ESCC) has a predilection for black and Asian populations and more than 70% of esophageal cancers worldwide are squamous cell carcinomas[3-5]. ESCC is considered an environmental malignancy attributable to chronic smoking and alcohol consumption[6]. In contrast, esophageal adenocarcinoma (EAC) predominantly affects white populations, which typically arises in a premalignant condition called Barrett's esophagus[7-10]. The changing epidemiology of esophageal cancer, with a dramatic increase in EAC and decrease in ESCC in Western countries indicates that differences exist between the two types of esophageal cancer[2].
Despite recent advances in imaging and surgical techniques, as well as the intensification of treatment with the increased use of chemoradiation, the survival rates for esophageal cancers have remained largely unchanged for several decades[6]. We have observed many patients with ESCC in whom local tumor recurrence or distant metastases occurred during an early disease stage and within a short period after surgery. Therefore, the molecular carcinogenesis and metastatic process of esophageal cancer must be clarified. Understanding tumor biology offers the potential for individualizing treatment and developing targeted therapies to increase cure rates and minimize morbidities. This review provides a current overview of the genomic and molecular characterization of ESCC, emphasizing recent results of large-scale sequencing efforts using next-generation sequencing (NGS) technology.
Since unique mutations have been observed in individual human cancer samples, the identification and characterization of molecular alterations underlying individual cancer patients is a critical step in the development of more effective, personalized therapies. For example, NGS technologies have revolutionized cancer genomics research by providing a comprehensive method for detecting somatic cancer genome alterations, such as point mutations, insertions, deletions, and copy number variations[11,12]. NGS has also revolutionized the field of genomics and improved our understanding of cancer biology. Advances have been achieved in the sequencing of tumor DNA; matched normal DNA was used to filter out germline variants to identify cancer-specific changes. High incidences of activating mutations in ESCCs amenable to drug targeting have also been identified. Investigators have also identified several critical genes and pathways important in the tumorigenesis of ESCC using this technology. This wealth of information undoubtedly improves our understanding of ESCC biology and provides clear targets for drug targeting to guide future personalized medicine.
TECHNICAL FEATURES OF NGS
NGS technologies have several advantages over classical Sanger sequencing, such as the ability to generate large quantities of DNA sequence information in a single run for detecting genetic mosaicism in depth[13]. However, routine usage of these technologies has several limitations, such as high cost, long processing time, and sample scalability. Three NGS platforms are now widely applied in cancer genome studies, including short-read technologies (< 400 bp) from Illumina (Genome analyzer/MiSeq/HiSeq/NextSeq; San Diego, CA, United States) and Thermo Fisher (SOLiD/Ion Torrent, Waltham, MA, United States) as well as a relative long-read technology (< 700 bp) from Roche (GS FLX, Basel, Switzerland). NGS platforms differ in performance metrics such as read length, accuracy, and output. The next next-generation (third-generation) sequencing system from Pacific Biosciences is also available (PacBio RS, Menlo Park, CA, United States), which can sequence a single molecule of DNA without polymerase chain reaction (PCR) amplification[14]. The average read length is 1500 bp, which is longer than that of any NGS technology, although the throughput of PacBio RS is lower than that of the second-generation sequencer. A brief summary of the technical features of these NGS platforms is shown in Table 1.
454 GS FLX
GAIIx
MiSeq
HiSeq 2500
SOLiD 5500
Ion PGM
Ion Proton
PacBio RS
(318 chip)
Reads per run
1 M
150 M
50 M
6 G
1.4 G
5.5 M
60 M
50 K
Read length (bp)
700
2 × 150
2 × 150
2 × 100
2 × 50
400
200
250-10000
Output per run
700 Mb
90 Gb
15 Gb
600 Gb
120 Gb
2 Gb
12 Gb
200 Mb
Run time
24 h
14 d
55 h
10 d
7 d
5 h
3 h
2 h
Cost/Mb1
$10.00
$0.15
$0.50
$0.05
$0.10
$1.00
$0.08
$2.00
Advantage
Long read length
Widly used
Widly used
High-throughput, widly used
High-throughput, accuracy
Fast, flexible chip
High-throughput, fast
Long read length, fast
Disadvantage
Long hand-on time, low output
Long run time
Long run time
Long run time
Long run time, short read length
High error rate (homopolymer)
High error rate (homopolymer)
High error rate
The NGS market is dominated by Illumina, which occupies the largest market share at 70% (http://www.marketsandmarkets.com ). Illumina platforms are based on bridge amplification to clonally amplify the fragments, which are then sequenced using sequencing-by-synthesis chemistry[15]. Sequencing capabilities include both single-end sequencing and paired-end sequencing. The HiSeq 2000/2500 set the standard for high-throughput massively parallel sequencing. The original output was 200 Gb per run, which was improved to 600 Gb per run and can be finished in 10 d. The MiSeq was then released as a lower-throughput fast-turnaround instrument for use in smaller laboratories. Recently, Illumina developed the HiSeq X Ten Sequencing System, a very high-throughput and high-speed sequencing platform that enables sequencing for less than $1000 per genome at 30 × coverage[16].
After the human genome project, the first commercial NGS platform 454 pyrosequencer was developed by 454 Life Sciences Corp in 2005. The platform was purchased by Roche in 2007. Roche 454 platforms use emulsion PCR, and is based on pyrosequencing technology relying on the detection of pyrophosphate released during nucleotide incorporation[17]. The 454 GS-FLX system produces one million 700-bp sequences within 24 h. However, this platform has a significantly lower output compared to other NGS platforms. Additionally, the cost per base is also significantly higher compared with short-read technologies. The GS Junior is a benchtop version of this platform.
Similarly to Roche 454, the SOLiD sequencer relies on emulsion PCR and sequencing by ligation to small beads. Although the reads obtained from the SOLiD 5500 Genetic Analyzer system are only 50-75 bp in length, its system accuracy of 99.99% ranks first among all NGS platforms[18]. Recently, Ion Torrent sequencing technology based on semiconductor sequencing[19] has been released. Ion Torrent platforms use a high-density array of micro-machined wells, each containing a different DNA template. Beneath the wells lies an ion-sensitive layer, which is placed on a proprietary ion sensor to detect changes in pH resulting from incorporation of nucleotides in the new strand of DNA. The compact Ion Personal Genome Analyzer has three different chips, each designed for a specific purpose, including ranging from sequencing small genomes (314 chip, 550 K reads) and targeted gene sequencing (316 chip, 3 M reads) to chromatin immunoprecipitation-sequencing (ChIP-seq) (318 chip, 5.5 M reads). The desktop-type Ion Proton allows for larger chips with higher densities needed for the human exome and whole genome sequencing. The outstanding advantage of Ion Torrent is its speed: it takes 3-5 h from the start of sequencing until completion; however, this method has high error rate in homopolymer regions[20].
Applications of NGS for cancer genome research
NGS is increasingly used in many areas of cancer research and in the clinical setting. Depending on the purpose, NGS is applied in cancer genome studies, including whole genome, whole exome, targeted gene sequencing, RNA sequencing, and ChIP-Seq[11,12,21-23]. For variant identification by resequencing target regions, whole genomes, or whole exons, it is key to sequence both the tumor and non-malignant tissues of an individual. There are 3-5 million inherited sequence variants per human genome. Consequently, most sequence variants identified in a cancer genome are inherited polymorphisms and are not somatic mutations[24]. Thus, comparing a tumor genome to its paired normal genome is required to efficiently identify somatic sequence variants (Figure 1). In addition to CGH and SNP arrays, NGS techniques can be used to detect copy number variations[12,25]. Targeted sequencing is a variation of re-sequencing where only a small subset of the genome is sequenced, such as a set of genes or particular sequences under interest. Although this approach will not detect most structural variants, such as chromosomal translocations, targeted gene sequencing represents a cost- and resource-efficient approach for identifying somatic mutations in cancer genomes[26,27].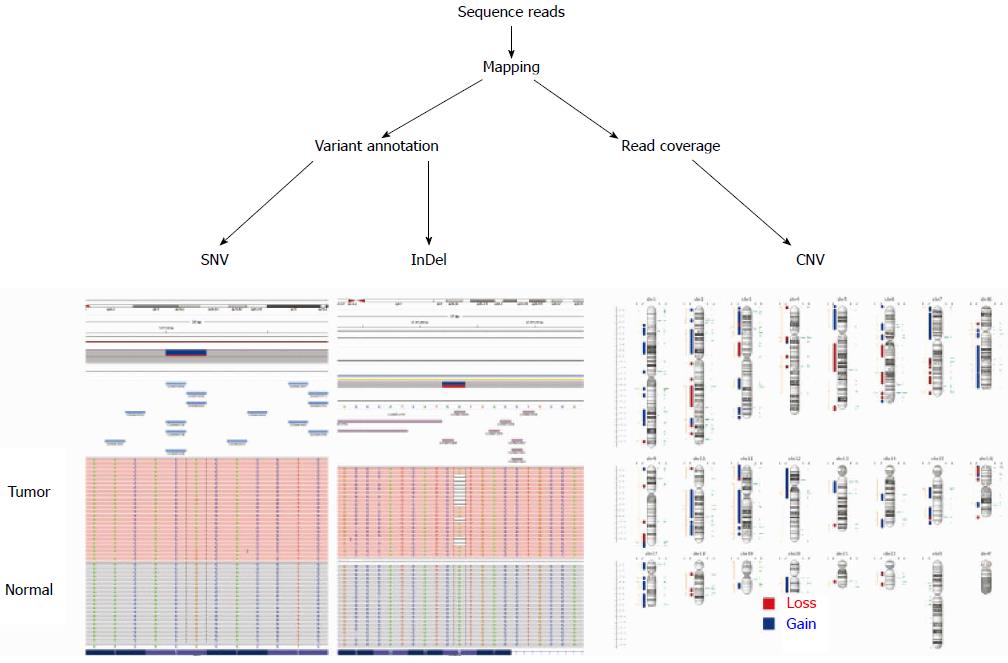 Figure 1 Cancer genome research using next-generation sequencing.
Sequence reads are quality checked and then mapped to the reference genome. Somatic DNA alterations are detected using statistical approaches in tumor and normal samples from the available software or an integrated workflow such as the GATK pipeline (Broad Institute). SNV: Single nucleotide variant; InDel: Insertion and deletion; CNV: Copy number variation.
GENETIC ALTERATIONS DRIVING ESCC
Targeted therapies have been successfully used for the treatment of in certain human solid tumors, including lung adenocarcinoma, colorectal cancer, stomach cancer, breast cancer and renal cell carcinoma as well as hematologic malignancies, but have not been implemented in the treatment of ESCC[28-30]. Therefore, defining the genetic landscape of ESCCs would facilitate the use of targeted therapies. Agrawal and colleagues published the first exome-sequencing study of esophageal cancer, sequencing 12 ESCCs and 11 EACs as well as matched non-neoplastic tissues from subjects in the United States[31], and a handful of NGS studies in ESCC have been published over the last four years (summarized in Table 2)[31-35]. Genetic aberrations identified within these studies, including gene mutation, gene rearrangement, and gene amplification/deletion, increased the understanding of constitutive activation of oncogenes, or loss of function of tumor suppressors. These comprehensive studies have demonstrated recurrent mutations in several genes in ESCC, most notably TP53, NOTCH1, PIK3CA and FAT1 as well as copy-number alterations in CCND1 and CDKN2A (Table 3). Figure 2 shows a Venn diagram of the most significantly mutated genes identified in the three whole genome and whole exome sequencing studies of relatively large cohorts for ESCCs. The Broad Institute (Cambridge, MA, United States) project[36] used this method to examine 149 EAC tumors, and confirmed recurrent driver mutations in TP53, CDKN2A, SMAD4, ARID1A, and PIK3CA. Previously unidentified mutations in SPG20, TLR4, ELMO1, and DOCK2 were also found, and a possible role for the RAC1 GTPase pathway was identified. The genomic landscape of EAC differed from that of ESCC, highlighting the different therapeutic strategies needed to treat esophageal cancers. In this review, we highlight the current knowledge regarding molecular targets, clinical trials of targeted agents, and druggable aberrations in ESCCs.
Study
Method
Sample number
Number of non-silent mutations/tumor
Additional analyses
Platform
Agrawal et al[31]
WES
12 WES
83
-
GA IIx
Song et al[34]
WGS and WES
17 WGS, 71 WES
61
123 CGH
HiSeq 2000
Lin et al[33]
WES and TS
20 WES, 119 TS
59
4 RNA-seq, 59 CGH,
HiSeq 2000
125 SNP-array
Gao et al[32]
WES
113 WES
82
-
HiSeq 2000
Zhang et al[35]
WGS and WES
14 WGS, 90 WES
104
-
HiSeq 2000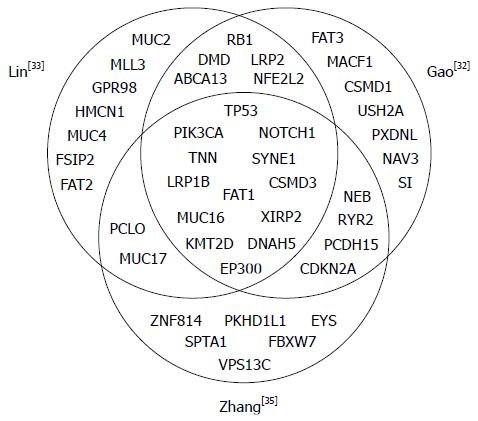 Figure 2 Comparison of most significantly mutated genes identified in the three whole genome and whole exon sequencing studies for esophageal squamous cell carcinomas.
Top significantly mutated genes (25-27 genes per study) were obtained from three recent next-generation sequencing studies of large cohorts. Only nonsynonymous mutations were considered.
Gene symbol
TP53
NOTCH1
PIK3CA
CDKN2A
CCND1
FAT1
Chromosomal location
17p13.1
9q34.3
3q26.3
9p21.3
11q13
4q35.2
Alteration frequency (%)
Agrawal et all[31]
92 (M)
33 (M)
0 (M)
8 (M)
NA
8 (M)
Song et al[34]
83 (M)
9 (M)
5 (M)
5 (M)
46 (G)
5 (M)
1 (L)
41 (G)
44 (L)
Lin et al[33]
60 (M)
8 (M)
7 (M)
3 (M)
46 (G)
12 (M)
10 (G)
33 (L)
Gao et al[32]
93 (M)
14 (M)
9 (M)
8 (M)
33 (G)
11 (M)
2 (G)
12 (L)
Zhang et al[35]
88 (M)
21 (M)
17 (M)
8 (M)
64 (G)
15 (M)
64 (L)
p53 family
TP53 is one of the most thoroughly studied tumor suppressor genes in human cancer. Genetic mutations in TP53 are present in more than 50% of human cancers, leading to dysregulation of its downstream targets[37,38]. NGS studies have confirmed that TP53 is the most commonly mutated gene in ESCC. The first whole exome sequencing study found that ESCCs contained an average of 83 mutations per tumor, and that the most frequent mutations in ESCC occurred in TP53 (92% of the 12 cases sequenced), NOTCH1 (33%), NOTCH3 (25%), and FBXW7 (17%)[31]. The p53 protein is activated by a variety of cell stresses, such as DNA damage, oncogene activation, spindle damage, and hypoxia. Activated p53 transactivates a number of target genes, many of which are involved in DNA repair, cell cycle arrest, and apoptosis[39-41]. TP53 alterations have been identified as early events in the carcinogenesis of ESCC and have been associated with disease progression and a poor outcome[42-44]. Therapies targeting TP53 loss of function are currently being examined in clinical trials, and several studies suggest that patients harboring TP53 alterations will respond better to angiogenesis inhibitors[45]. The efficacy of intra-tumor injection of p53 adenovirus (Advexin, Introgen Therapeutics Inc., Austin, TX, United States) has been confirmed in Japanese ESCC patients[46]. Additionally, a TP53 adenoviral-based treatment (Gendicine, Shenshen Sibiono Genetech, Shenzhen, China) for patients with squamous cell carcinoma of the head and neck has recently been approved for use in China[47]. Two other p53 family members, p63 and p73, also induce cell cycle arrest and apoptosis and play an important role in development and differentiation[48]. Dominant negative forms lacking the N-terminal transactivation domain (DNp63 and DNp73) are overexpressed in some types of cancers[49]. In esophageal cancer, DNp63 is overexpressed in ESCC but not in EAC, making p63 a useful marker of squamous cell cancer[50,51]. Additionally, at least 30% of head and neck squamous cell carcinomas harbor mutations in genes regulating squamous differentiation, including p63[52].
Notch signaling
NOTCH1 is the second most commonly mutated gene in ESCC, with a mutation rate of 8%-33%[31-35]. The Notch signaling pathway is thought to play important roles in regulating normal cell differentiation in a context-dependent manner[53]. The Notch pathway has also been implicated in human carcinogenesis as both an oncogene and a tumor suppressor[54]. The oncogenic activity of this pathway has been observed in a number of hematopoietic cancers[55]. When we characterized the distribution of NOTCH1 somatic mutations obtained from the two studies[32,35], most NOTCH1 mutations observed in ESCC affect the epidermal growth factor (EGF)-like ligand-binding domain (56%, 30 of 54) and are thought to lead to a loss of function. Inactivating mutations in these regions of the gene have also been observed in cutaneous, lung, head, and neck squamous cell carcinomas[56-58]. Thus, the idea that the same gene can function in completely opposite manners in different cell types is important for understanding cell signaling pathways. In addition to NOTCH1, mutations in the NOTCH2 and NOTCH3 genes were detected in ESCC[31,32]. Interestingly, Agrawal et al[31] identified inactivating mutations of NOTCH1 in 21% of ESCC but not in EAC, suggesting tumor-suppressive roles of Notch signaling in squamous cell carcinomas. Notch pathway disruption also results from FBXW7 mutations, which were identified in 5%-17% of ESCC specimens, because FBXW7 forms part of the ubiquitin ligase complex that mediates NOTCH1 degradation[59].
RTK-MAPK-PI3K pathway
KRAS is one of the most frequently mutated oncogenes in human cancer[60]. In ESCC, KRAS mutations are generally rare[61], although the incidence of KRAS mutations in Chinese patients with ESCC was relatively high, with a mutation rate of 12%[62]. Receptor tyrosine kinases (RTKs) of the EGFR family are involved in development and progression of epithelial tumors and thus represent therapeutic targets for inhibition by tyrosine kinase inhibitors or humanized monoclonal antibodies[63-65]. Upstream RTKs, EGFR, ERBB2, ERBB4, and MET, as well as G-protein-coupled receptors activate phosphoinositide-3-kinase (PI3K) after binding of growth factor ligands[63]. The PI3K pathway plays a key role in regulating multiple cellular events, including cell growth, proliferation, cell cycle progression, and survival[66,67]. PIK3CA is the second most commonly mutated gene, occurring frequently (< 20%) in most cancer types[60]. Overexpression of EGFR has been described in ESCC; most ESCC tumors show increased activity in the absence of somatic mutations[68-70]. In addition to EGFR amplification, this pathways displayed genetic alterations in 78.6% of cases, including FGFR1, ERBB2, RAF1, AKT1, SOS1, SOS2, and PIK3CA mutations and amplifications[33]. Moreover, EGFR transactivation via ectodomain shedding of EGFR ligands plays a role in inflammation as well as tumor growth and metastasis[71,72]. A recent report demonstrated that targeting the sheddase activity of ADAM17, which is responsible for the release of multiple EGFR ligands, decreased head and neck squamous cell carcinoma cell viability and motility through blocking of the EGFR pathway[73]. Since RTKs are well-characterized druggable proteins, targeting components in this pathway may represent valuable investigational avenues for clinical trials in patients with ESCCs. Of interest, KRAS, a frequently aberrant gene in non-squamous tumors that leads to resistance to PI3K pathway inhibitors, was found to be aberrant significantly less frequent in ESCCs. Recent clinical studies have demonstrated that anti-EGFR monoclonal antibody (cetuximab) in combination with irradiation yielded encouraging survival and local control in ESCC patients[74].
Cell cycle regulation
The cell cycle regulation pathway is one of the most perturbed pathways in ESCC. Mutations have been observed in the cell-cycle regulatory pathway genes TP53 (88%), CDKN2A (8%), and RB1 (2%)[35]. In addition, ESCC tumors show amplification of CCND1, which encodes for cyclin D1, and deletion of CDKN2A/B, which encodes for p16 and p14. Cyclin D1 is responsible for inducing the G1/S phase transition and is located at 11q13[31-35]. Gains in the chromosomal region 11q13 are some of the most prominent genetic alterations in squamous cell carcinomas and are associated with poor prognosis and metastasis[28,75,76]. Other G1/S transition control molecules, CDK4, CDK6, E2F1, and MDM2, are also amplified in ESCC. The p16 tumor suppressor can inhibit the formation of the CDK4/6 and cyclin D1 complex and plays a role in the oncogene-induced senescence of cells. Gain of CCND1 and/or loss of CDK2NA events occurred in over 70% of ESCC samples[33-35]. Flavopiridol, the first cyclin-dependent kinase inhibitor examined in human clinical trials, was reported to be a targeting drug for ESCC and head and neck squamous cell carcinoma patients[77]. NFE2L2, a frequently mutated gene in ESCC, encodes a sequence-specific transcriptional factor that upregulates genes associated with oxidative stress. Activating missense mutations in the NFE2L2 gene result in accumulation of the NFE2L2 protein and promote aberrant activation of downstream genes that confer resistance to oxidative stress and induce metabolic transformation in cancer cells[78].
Other signaling pathways
Altered genes in the Wnt pathway were also frequently found in ESCC, including mutations in CTNNB1 and SFRP4, and mutations and amplifications of AXIN inhibitors, DAAM2, DVL3, LRP5 and LRP6[34]. In addition, loss of FAT1, by either somatic mutation or deletions, promotes tumorigenesis through activation of Wnt signaling[79].
Dysregulation of proteins involved in chromatin regulation can affect the genome-wide control of gene expression and play key roles in DNA repair and genome maintenance. Mutations in a number of genes involved in histone modifications have been identified in many cancer types[60]. Inactivating missense mutations in several chromatin-remodeling genes, including EP300, CREBBP, and BAP1, in ESCC samples. Moreover, truncating mutations were observed in the chromatin-remodeling genes KMT2D, KMT2C, and KDM6A[35]. Approximately 30% of ESCC tumors contained at least one chromatin remodeling gene alteration.
Recently, inactivating mutations in the Hippo pathway regulator (AJUBA, FAT1, FAT2, FAT3, and FAT4) were observed in ESCC[32]. Hippo signaling cross-talks with commonly mutated cancer genes such as KRAS, PIK3CA, CTNNB1, or FBXW7[80,81].
CONCLUSION
The identification and characterization of molecular alterations in individual cancer patients is a critical step towards the development of more effective personalized therapies. NGS technologies have revolutionized cancer genomics research by providing a comprehensive method of detecting somatic DNA modifications. ESCC is the major histological type of esophageal cancer in East Asian countries and is one of the most aggressive malignant tumors. Recent studies using NGS have revealed that ESCC is characterized by specific somatic DNA modifications such as exonic mutations, copy-number alterations, and genomic rearrangements. The most common mutation in ESCC is TP53. Pathway assessment has shown that somatic aberrations within ESCC genomes are mainly involved in several important pathways, including cell cycle regulation and the Notch, RTK-MAPK-PI3K, and Wnt pathways. We expect that many new discoveries will increase our understanding of the molecular mechanisms of ESCC for targeted therapies.
P- Reviewer: Chen XL, Komatsu S, Slomiany BL S- Editor: Gong ZM L- Editor: A E- Editor: Liu XM