Copyright
©2008 The WJG Press and Baishideng.
All rights reserved.
World J Gastroenterol.
Jun 21, 2008;
14(23): 3693-3709
Published online Jun 21, 2008. doi: 10.3748/wjg.14.3693
Negundoside, an iridiod glycoside from leaves of Vitex negundo, protects human liver cells against calcium-mediated toxicity induced by carbon tetrachloride
Sheikh A Tasduq, Peerzada J Kaiser, Bishan D Gupta, Vijay K Gupta, Rakesh K Johri, Indian Institute of Integrative Medicine, CSIR, Jammu-Tawi-180001, Jammu and Kashmir, India
Author contributions: Tasduq SA designed the study, performed the experiments, analyzed the data, drafted the manuscript and contributed in use of new reagents/analytic tools; Kaiser PS was equally responsible as the first author for performing the experiments and helping in data setting, statistics, arrangement of figures and manuscript drafting; Gupta BD performed the chemistry experiments; Gupta VK worked on the data analysis, application of statistics and manuscript correction; Johri RK was the group leader and was responsible for checking the hypothesis of research study and final corrections of the manuscript and acquired funding for the study.
Correspondence to: Sheikh A Tasduq, PhD, Scientist, Experimental Toxicology Lab, Division of Pharmacology, Indian Institute of Integrative Medicine, CSIR, Canal Road, Jammu 180001, Jammu and Kashmir, India. tasduq11@gmail.com
Telephone: +91-191-2569000-10
Fax: +91-191-2569333
Received: December 10, 2007
Revised: April 1, 2008
Accepted: April 8, 2008
Published online: June 21, 2008

AIM: To evaluate the protective effect of 2'-p-hydroxybenzoylmussaenosidic acid [negundoside (NG), against carbon tetrachloride (CCl4)-induced toxicity in HuH-7 cells.
METHODS: CCl4 is a well characterized hepatotoxin, and inducer of cytochrome P450 2E1 (CYP2E1)-mediated oxidative stress. In addition, lipid peroxidation and accumulation of intracellular calcium are important steps in the pathway involved in CCl4 toxicity. Liver cells (HuH-7) were treated with CCl4, and the mechanism of the cytoprotective effect of NG was assessed. Silymarin, a known hepatoprotective drug, was used as control.
RESULTS: NG protected HuH-7 cells against CCl4 toxicity and loss of viability without modulating CYP2E1 activity. Prevention of CCl4 toxicity was associated with a reduction in oxidative damage as reflected by decreased generation of reactive oxygen species (ROS), a decrease in lipid peroxidation and accumulation of intracellular Ca2+ levels and maintenance of intracellular glutathione homeostasis. Decreased mitochondrial membrane potential (MMP), induction of caspases mediated DNA fragmentation and cell cycle arrest, as a result of CCl4 treatment, were also blocked by NG. The protection afforded by NG seemed to be mediated by activation of cyclic adenosine monophosphate (cAMP) synthesis and inhibition of phospholipases (cPLA2).
CONCLUSION: NG exerts a protective effect on CYP2E1-dependent CCl4 toxicity via inhibition of lipid peroxidation, followed by an improved intracellular calcium homeostasis and inhibition of Ca2+-dependent proteases.
---
Citation: Tasduq SA, Kaiser PJ, Gupta BD, Gupta VK, Johri RK. Negundoside, an iridiod glycoside from leaves of Vitex negundo, protects human liver cells against calcium-mediated toxicity induced by carbon tetrachloride. World J Gastroenterol 2008; 14(23): 3693-3709
---
INTRODUCTION
Natural products from plant sources have extensive past and present use in treatment of diverse diseases and serve as compounds of interest both in their natural form and as templates for synthetic modification. The importance of natural products in modern medicine has been well recognized. More than 20 new drugs, launched world over between 2000 and 2005, originate from natural products. Scrutiny of medical indications by source of compounds has demonstrated that natural products and related drugs are used to treat 87% of all categorized human diseases (infectious and non-infectious)[1].
Vitex negundo (verbenaceae) is an important source of such natural drugs. It is a reputed medicinal herb and its parts have been employed as a traditional cure in Asian systems of medicine (Indian, Chinese, Malaysian) for a variety of disease conditions. A number of pharmacological activities have been attributed to V. negundo, such as: analgesic and anti-inflammatory activity[2], enzymes inhibition[3], nitric oxide scavenging activity[4], snake venom neutralization activity[5], antifeeding activity[6], antiradical and antilipoperoxidative[7], CNS activity[8], hepatoprotective activity[9], anti-bacterial activity[10], anti-fungal[11], larvicidal activity [12], antiandrogenic effects[13], mosquito repellent activity[14].
In the recent past, some of our work and work as reported by others on botanical products from V. negundo have shown a promising hepatoprotective activity[915]. This activity has been evaluated against various hepatotoxic agents including carbon tetrachloride (CCl4). CCl4 is a well established and widely used hepatotoxin and the principle cause of CCl4-induced liver injury is proposed to be lipid peroxidation by free radical derivatives of CCl4. CCl4 is activated by NADH-CYP 450 2E1 system of the liver endoplasmic reticulum and converted into trimethyl CCl3 radicals (via reductive dehalogenation) and, under aerobic conditions, in the more reactive trichloromethyl peroxy radical CCl3OO*. Formation of the radicals CCl3* and CCl3OO* causes oxidative stress. The CYP 2E1-mediated metabolism results in generation of reactive oxygen species, which further contributes to the development of cellular injury[16]. Also, considerable evidence suggests that CCl4 modifies the expression levels of several pro-apoptotic and anti-apoptotic growth factors and receptors[17] especially during chronic administration. CCl4 has been shown to be a carcinogen and has been classified as a group 2B carcinogen by inducing gene conversion, homozygosity and intra-chromosomal recombinations[18].
It was, therefore, our interest to investigate, in-depth, the mechanism of modulation of CCl4-induced toxic manifestations with 2'-p-hydroxybenzoylmussaenosidic acid [negundoside (NG)] (a purified irridoid glycoside from leaves of Vitex negundo), particularly inhibition of downstream CYP 2E1 cascade of pro-apoptotic events with reference to the following: (1) role of CYP 450 2E1 activation on calcium-mediated oxidative stress; (2) involvement of calcium in phospholipase A2 (PLA2) and cyclic adenosine monophosphate (cAMP) regulation; (3) effect of activated cPLA2 on mitochondrial depolarization, inducing cytochrome C release resulting in caspase mediated apoptosis.
DISCUSSION
Liver cells exposed to various chemicals/drugs (pro-oxidants) appear to be a useful in vitro model to characterize the biochemical and toxicological properties of such entities, and the possible protection provided by added agents[36]. The main goal of this work was to investigate the influence of an irridoid glycoside compound negundoside (NG) on CYP2E1-mediated toxicity in HuH-7 cells induced by CCl4. Overall, the results of the present study indicate that NG is effective in protecting against the toxicity and the loss of viability induced by CCl4.
The main mechanism by which CCl4 is known to mediate its toxic effects is through oxidative stress and oxidative damage due to an increased production of ROS[37]. Induction of CYP2E1 by CCl4 is one of the main pathways by which CCl4 increases ROS production and generates a state of oxidative stress in the liver[3839]. Since CYP2E1 is a key contributor to injury produced by CCl4, one possible mechanism involved in the prevention of this toxicity by NG could have been an inhibition of CYP2E1 catalytic activity. Results in this study indicate that NG does not affect p-nitrophenol metabolism by CYP2E1 in liver microsomes under the experimental conditions (Figure 5A and B); therefore, the mechanism by which NG affords its protection is not by inhibition of CYP2E1 activity. This is in confirmation to earlier reports in which many plant derived products like, Scutellariae radix[40], Humulus lupulus[41], green tea compounds[42] have also been shown to be hepatoprotective in other systems without any effect on CYP2E1 catalytic activity.
Bio-metals, such as iron are powerful catalysts of free radical formation and lipid peroxidation processes, and polyunsaturated fatty acids in cellular membranes (microsomes) provide basic substrates for these reactions[43]. Scavenging or preventing formation of lipid radicals may prevent damage when cellular antioxidant defense mechanism is strengthened or iron overload is sequestered by exogenous treatment with cytoprotective drugs as NG. As lipid peroxidation (LPO) has been shown to play an important role in the ensuing toxicities in CYP2E1-induced conditions[4445], in this respect, NG strongly inhibited lipid peroxidation promoted by H2O2+Fe in microsomes and CCl4 in HuH-7 cells (Figure 6A and B). It has been reported that glycosides, such as NG, are potent cytoprotective agents against oxidative stress induced cytotoxicity[46]. Therefore, one major mechanism underlying the effectiveness of NG in protecting against the CCl4-induced LPO in HuH-7 cells may involve its capability to prevent lipid peroxidation chain reactions as a consequence of scavenging free radicals or chelating iron.
Intracellular calcium has been suggested to play a critical role in the oxidative damage of liver cells. Earlier, it has been reported that treatment of liver cells with CCl4 increases calcium levels and produce cellular toxicity through calcium dependent pathways. Elevated levels of calcium initiates a cascade of signaling events leading to activation of calcium dependent degredative enzymes as phospholipases A2, endonucleases, or proteases[47]. Our results are in corroboration with this and showed that CCl4-induced cell death in HuH-7 cells was mediated by release of intracellular calcium with subsequent activation of caspase 3 and cPLA2 (Figures 9 and 15) and simultaneous inhibition of cAMP levels (Figure 14). Increased intracellular calcium, activation of PLA2 and inhibition of cAMP were almost parallel to toxicity. Oxidative stress-mediated LPO is suggested to be the initiator of intracellular calcium release[25], which later influences down stream apoptotic signaling processes. cAMP levels are known to be regulated by catalytic activity of adenylate cyclase and phosphodiesterase. Increasing concentration of intracellular cAMP has been directly associated with inhibition of phosphodiesterase, reduced release of ROS and inhibition of chemotaxis, degranulation and cell death[48]. NG restored the calcium and cAMP to normal levels, inhibited lipid peroxidation, activated cPLA2 levels were inhibited and cytotoxicity was reversed without altering CYP2E1 levels. Therefore we hypothesize that NG inhibits CCl4-induced oxidative stress and, hence LPO, which increases intracellular calcium and PLA2 activation and converge on mitochondria, inducing mitochondrial damage. All these downstream events of CYP2E1 mediated toxicity were effectively inhibited by NG, thus demonstrating its strong anti-oxidant capacity. We also suggest that inhibition of intracellular calcium release mediated cPLA2 activation, increase in cAMP levels, and restoration of MMP are the key factors in cytoprotection afforded by NG. Recently, it has been suggested that calcium levels do not play a direct role in toxicity[26], but that activation of PLA2, promotion of the mitochondrial permeability transition and loss of mitochondrial function, which are secondary manifestations of increased calcium levels, form a general pathway involved in the toxicity: all these events were restored to normal by NG.
As the main antioxidant inside mammalian cells, GSH plays a pivotal role in preventing oxidative stress and mitochondrial damage caused by numerous toxins[49]. Therefore, the effect of CCl4 in the absence or presence of NG on GSH content was evaluated. CCl4 treatment drastically depleted intracellular GSH in HuH-7 cells, an effect prevented in the presence of NG (Figure 16). Accordingly, the maintenance of intracellular GSH levels by NG may help in protecting against the oxidative toxicity induced by CCl4 in HuH-7 cells and avoid cell degeneration and death. Previously as well, depletion of GSH has been shown to enhance CYP2E1 resulting in CYP2E1-derived ROS leading to toxicity[50].
Decreased MMP has been proposed to be a key mechanism by which CYP2E1-dependent LPO causes loss in cell viability. Mitochondria are a main source for generating ROS and, hence, a target for damage by oxidative stress[51]. In this respect, CCl4 treatment caused a decrease in the MMP in HuH-7 cells, and this effect was prevented by NG as well as by silymarin (Figure 11). These results suggest that NG and silymarin may protect the cells by preventing oxidant-induced MMP transition leading to pathogenesis of necrotic or apoptotic cell death[52]. It has been proposed earlier that mitochondrial injury derived from oxidative damage can lead not only to necrosis by depleting ATP, but also to apoptotic cell death by inducing the release of mitochondrial factors such as cytochrome C, which activates the caspase cascade[5354].
Regardless of its precise mechanism of action, numerous studies in various animal models and in humans describe protective effects of NG against oxidative stress-related disease states[2–15]. This enhances its potential usefulness as a preventive agent toward oxidative damage involved in the development of liver injury caused by oxidative stress. Since NG acts as a very potent membrane stabilizer, it is also suggested that NG, may be acting as amphipathic substance, localizing near the membrane surface, trapping any radicals generated in the lipid environment of the membranes as well as in the cytosol. Such localization is suggested from the fact that CYP2E1 is found in the microsomes, and mitochondria appear to be a target for the CYP2E1-mediated damage in the presence of hepatotoxins such as CCl4, which was effectively inhibited by NG. Moreover, NG is well tolerated without adverse health effects by humans even after oral administration at high doses as evident from its use in Asian traditional medicine practices for various ailments.
In conclusion, this report shows that NG can protect against CCl4-induced toxicity and oxidative stress. The mechanism of protection involves decreased production of ROS and lipid peroxidation when the CYP2E1 mediated oxidative stress was produced in HuH-7 cells with pro-oxidant as CCl4. The main mechanism involved in the cytoprotection of NG seems to be its ability to protect the mitochondria against depletion in its membrane potential, an event that is very critical in the loss of cell viability as a consequence of oxidative stress. This mechanism has been postulated in the Figure 18. NG has been shown to prevent CCl4-induced liver injury, which may be, in part, due to the protection against CYP2E1-dependent oxidative stress as demonstrated in this study. NG supplementation could also prove to be protective against numerous toxicants that involve induction of oxidative stress through increased generation of ROS.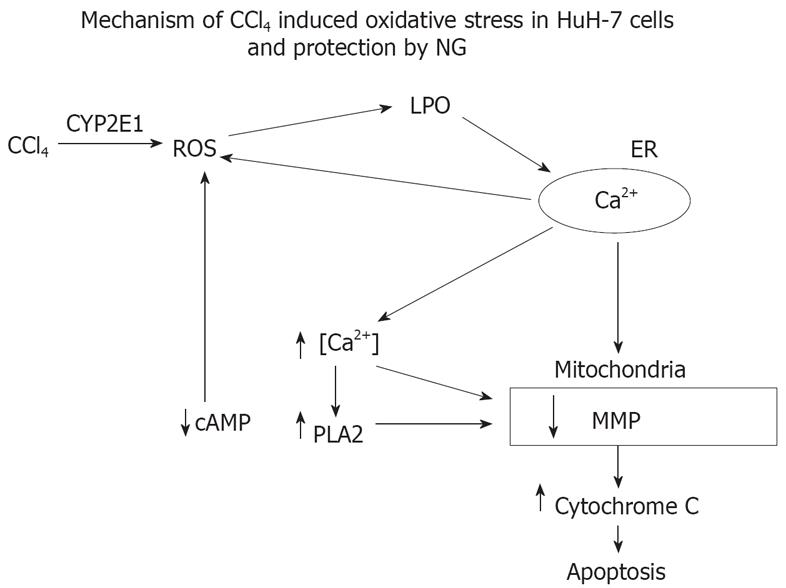 Figure 18 Proposed sequence of events and mechanism involved in the toxicity of CCl4 and cytoprotection offered by NG. CCl4 is activated by CYP 450 2E1 system and converted into trimethyl CCl3 radicals inducing oxidative stress (increased ROS inducing membrane lipid peroxidation) and disturbed cellular Ca2+ homeostasis. Increase in intracellular Ca2+ concentrations leads to activation of phospholipase A2 and a decline in cAMP levels. All these signaling events converge onto the mitochondrial-initiating mitochondrial pore transition and ultimately to cellular injury. The highly increased levels of ROS is, in part, the consequence of the increase in Ca2+, and also as a result of mitochondrial permeabilization resulting in activation of Ca2+ dependent proteases. NG exerts a protective effect via inhibition of oxidative stress, maintenance of disrupted intracellular calcium homeostasis and inactivation of Ca2+-dependent proteases.
COMMENTS
Background
Vitex negundo is a reputed medicinal herb of Indian sub-continent. All plant parts are considered important in Ayurvedic system of medicine for various indications.
Research frontiers
Several pharmacological studies validate the medicinal claims of Vitex negundo. Diverse chemical constituents have been reported from various parts of this plant which are considered responsible for its varied pharmacological activities. The negundoside seems to be a potential constituent that exerts a protective effect on CYP2E1-dependent toxicity caused by carbon tetrachloride (CCl4) via inhibition of lipid peroxidation, followed by an improved intracellular calcium homeostasis and inhibition of Ca2+-dependent proteases.
Innovation and breakthrough
The present investigation shows that negundoside is a potent phytopharmaceutical that acts in a novel way in inhibiting liver toxicity by interfering in the key events that are the main causative factors leading to liver dysfunction.
Applications
Negundoside exerts a protective action on CYP2E1-dependent oxidative stress and toxicity that may contribute to preventing chemically-induced liver injury, and may be useful in preventing toxicity by various other hepatotoxins as well.
Peer review
The authors investigated the anti-apoptotic effect of negundoside (NG), being extracted from leaves of Vitex negundo, on cultured human hepatoma cell line, HuH-7G2. The authors performed a large amount of experiments, and found that NG inhibited ROS formation, lipid peroxidation, intracellular calcium elevation, GSH depletion, elevated anti-oxidant activity, declined MMP, cytochrome C release, and finally carbon tetrachloride-medicated apoptosis. The manuscript addressed the authors' hypothesis with sufficient data.
Supported by Indian Institute of Integrative Medicine, Council of Scientific and Industrial Research
| | |
| --- | --- |
| 1. | Chin YW, Balunas MJ, Chai HB, Kinghorn AD. Drug discovery from natural sources. AAPS J. 2006;8:E239-E253. |
| | |
| --- | --- |
| 2. | Dharmasiri MG, Jayakody JR, Galhena G, Liyanage SS, Ratnasooriya WD. Anti-inflammatory and analgesic activities of mature fresh leaves of Vitex negundo. J Ethnopharmacol. 2003;87:199-206. |
| | |
| --- | --- |
| 3. | Azhar-Ul-Haq , Malik A, Khan MT, Anwar-Ul-Haq , Khan SB, Ahmad A, Choudhary MI. Tyrosinase inhibitory lignans from the methanol extract of the roots of Vitex negundo Linn. and their structure-activity relationship. Phytomedicine. 2006;13:255-260. |
| | |
| --- | --- |
| 4. | Jagetia GC, Baliga MS. The evaluation of nitric oxide scavenging activity of certain Indian medicinal plants in vitro: a preliminary study. J Med Food. 2004;7:343-348. |
| | |
| --- | --- |
| 5. | Alam MI, Gomes A. Snake venom neutralization by Indian medicinal plants (Vitex negundo and Emblica officinalis) root extracts. J Ethnopharmacol. 2003;86:75-80. |
| | |
| --- | --- |
| 6. | Chandramu C, Manohar RD, Krupadanam DG, Dashavantha RV. Isolation, characterization and biological activity of betulinic acid and ursolic acid from Vitex negundo L. Phytother Res. 2003;17:129-134. |
| | |
| --- | --- |
| 7. | J Munasinghe TC, Seneviratne CK, Thabrew MI, Abeysekera AM. Antiradical and antilipoperoxidative effects of some plant extracts used by Sri Lankan traditional medical practitioners for cardioprotection. Phytother Res. 2001;15:519-523. |
| | |
| --- | --- |
| 8. | Gupta M, Mazumder UK, Bhawal SR. CNS activity of Vitex negundo Linn. in mice. Indian J Exp Biol. 1999;37:143-146. |
| | |
| --- | --- |
| 9. | Avadhoot Y, Rana AC. Hepatoprotective effect of Vitex negundo against carbon tetrachloride-induced liver damage. Arch Pharm Res. 1991;14:96-98. |
| | |
| --- | --- |
| 10. | Perumal Samy R, Ignacimuthu S, Sen A. Screening of 34 Indian medicinal plants for antibacterial properties. J Ethnopharmacol. 1998;62:173-1782. |
| | |
| --- | --- |
| 11. | Damayanti M, Susheela K, Sharma GJ. Effect of plant extracts and systemic fungicide on the pineapple fruit-rotting fungus, Ceratocystis paradoxa. Cytobios. 1996;86:155-165. |
| | |
| --- | --- |
| 12. | Pushpalatha E, Muthukrishnan J. Larvicidal activity of a few plant extracts against Culex quinquefasciatus and Anopheles stephensi. Indian J Malariol. 1995;32:14-23. |
| | |
| --- | --- |
| 13. | Bhargava SK. Antiandrogenic effects of a flavonoid-rich fraction of Vitex negundo seeds: a histological and biochemical study in dogs. J Ethnopharmacol. 1989;27:327-339. |
| | |
| --- | --- |
| 14. | Hebbalkar DS, Hebbalkar GD, Sharma RN, Joshi VS, Bhat VS. Mosquito repellent activity of oils from Vitex negundo Linn. leaves. Indian J Med Res. 1992;95:200-203. |
| | |
| --- | --- |
| 15. | Prabhakar A, Gupta BD, Suri KA, Satti NK, Malhotra S, Gupta KK, Sharma VK, Johri RK, Jaggi BS, Chandan BK; Hepatoprotective activity of 2'-p-hydroxybenzoylmussaenodidic acid. United States patent, US Patent 7, 259, 148. 2007;259:148. |
| | |
| --- | --- |
| 16. | Dey A, Caro AA, Cederbaum AI. S-adenosyl methionine protects ob/ob mice from CYP2E1-mediated liver injury. Am J Physiol Gastrointest Liver Physiol. 2007;293:G91-G103. |
| | |
| --- | --- |
| 17. | Kume Y, Ikeda H, Inoue M, Tejima K, Tomiya T, Nishikawa T, Watanabe N, Ichikawa T, Kaneko M, Okubo S. Hepatic stellate cell damage may lead to decreased plasma ADAMTS13 activity in rats. FEBS Lett. 2007;581:1631-1634. |
| | |
| --- | --- |
| 18. | Beddowes EJ, Faux SP, Chipman JK. Chloroform, carbon tetrachloride and glutathione depletion induce secondary genotoxicity in liver cells via oxidative stress. Toxicology. 2003;187:101-115. |
| | |
| --- | --- |
| 19. | Jimenez-Lopez JM, Cederbaum AI. Green tea polyphenol epigallocatechin-3-gallate protects HepG2 cells against CYP2E1-dependent toxicity. Free Radic Biol Med. 2004;36:359-370. |
| | |
| --- | --- |
| 20. | Lee CS, Kim YJ, Han ES. Glycyrrhizin protection against 3-morpholinosydnonime-induced mitochondrial dysfunction and cell death in lung epithelial cells. Life Sci. 2007;80:1759-1767. |
| | |
| --- | --- |
| 21. | Gandhidasan R, Thamaraichelvan , Baburaj S. Anti inflammatory action of Lannea coromandelica by HRBC membrane stabilization. Fitoterapia. 1991;62:81-83. |
| | |
| --- | --- |
| 22. | Tasduq SA, Kaiser P, Sharma SC, Johri RK. Potentiation of isoniazid-induced liver toxicity by rifampicin in a combinational therapy of antitubercular drugs (rifampicin, isoniazid and pyrazinamide) in Wistar rats: A toxicity profile study. Hepatol Res. 2007;37:845-853. |
| | |
| --- | --- |
| 23. | Tietze F. Enzymic method for quantitative determination of nanogram amounts of total and oxidized glutathione: applications to mammalian blood and other tissues. Anal Biochem. 1969;27:502-522. |
| | |
| --- | --- |
| 24. | Nakagawa Y, Suzuki T, Kamimura H, Nagai F. Role of mitochondrial membrane permeability transition in N-nitrosofenfluramine-induced cell injury in rat hepatocytes. Eur J Pharmacol. 2006;529:33-39. |
| | |
| --- | --- |
| 25. | Kawamura-Sato K, Hirama Y, Agata N, Ito H, Torii K, Takeno A, Hasegawa T, Shimomura Y, Ohta M. Quantitative analysis of cereulide, an emetic toxin of Bacillus cereus, by using rat liver mitochondria. Microbiol Immunol. 2005;49:25-30. |
| | |
| --- | --- |
| 26. | Caro AA, Cederbaum AI. Role of intracellular calcium and phospholipase A2 in arachidonic acid-induced toxicity in liver cells overexpressing CYP2E1. Arch Biochem Biophys. 2007;457:252-263. |
| | |
| --- | --- |
| 27. | Rameh LE, Rhee SG, Spokes K, Kazlauskas A, Cantley LC, Cantley LG. Phosphoinositide 3-kinase regulates phospholipase Cgamma-mediated calcium signaling. J Biol Chem. 1998;273:23750-23757. |
| | |
| --- | --- |
| 28. | Grynkiewicz G, Poenie M, Tsien RY. A new generation of Ca2+ indicators with greatly improved fluorescence properties. J Biol Chem. 1985;260:3440-3450. |
| | |
| --- | --- |
| 29. | Caro AA, Cederbaum AI. Ca2+-dependent and independent mitochondrial damage in HepG2 cells that overexpress CYP2E1. Arch Biochem Biophys. 2002;408:162-170. |
| | |
| --- | --- |
| 30. | Emaus RK, Grunwald R, Lemasters JJ. Rhodamine 123 as a probe of transmembrane potential in isolated rat-liver mitochondria: spectral and metabolic properties. Biochim Biophys Acta. 1986;850:436-448. |
| | |
| --- | --- |
| 31. | Rothe G, Valet G. Flow cytometric analysis of respiratory burst activity in phagocytes with hydroethidine and 2',7'-dichlorofluorescin. J Leukoc Biol. 1990;47:440-448. |
| | |
| --- | --- |
| 32. | Katiyar SK, Afaq F, Azizuddin K, Mukhtar H. Inhibition of UVB-induced oxidative stress-mediated phosphorylation of mitogen-activated protein kinase signaling pathways in cultured human epidermal keratinocytes by green tea polyphenol (-)-epigallocatechin-3-gallate. Toxicol Appl Pharmacol. 2001;176:110-117. |
| | |
| --- | --- |
| 33. | Yang D, Yaguchi T, Yamamoto H, Nishizaki T. Intracellularly transported adenosine induces apoptosis in HuH-7 human hepatoma cells by downregulating c-FLIP expression causing caspase-3/-8 activation. Biochem Pharmacol. 2007;73:1665-1675. |
| | |
| --- | --- |
| 34. | Gonzalez-Avila M, Arriaga-Alba M, de la Garza M, del Carmen HernandezPretelin M, Dominguez-Ortiz MA, Fattel-Fazenda S, Villa-Trevino S. Antigenotoxic, antimutagenic and ROS scavenging activities of a Rhoeo discolor ethanolic crude extract. Toxicol In Vitro. 2003;17:77-83. |
| | |
| --- | --- |
| 35. | Tasduq SA, Kaisar P, Gupta DK, Kapahi BK, Maheshwari HS, Jyotsna S, Johri RK. Protective effect of a 50% hydroalcoholic fruit extract of Emblica officinalis against anti-tuberculosis drugs induced liver toxicity. Phytother Res. 2005;19:193-197. |
| | |
| --- | --- |
| 36. | Cao J, Jiang LP, Liu Y, Yang G, Yao XF, Zhong LF. Curcumin-induced genotoxicity and antigenotoxicity in HepG2 cells. Toxicon. 2007;49:1219-1222. |
| | |
| --- | --- |
| 37. | Arteel GE. Oxidants and antioxidants in alcohol-induced liver disease. Gastroenterology. 2003;124:778-790. |
| | |
| --- | --- |
| 38. | Morimoto M, Hagbjork AL, Nanji AA, Ingelman-Sundberg M, Lindros KO, Fu PC, Albano E, French SW. Role of cytochrome P4502E1 in alcoholic liver disease pathogenesis. Alcohol. 1993;10:459-464. |
| | |
| --- | --- |
| 39. | Tsukamoto H. Cyp2e1 and ALD. Hepatology. 2000;32:154-156. |
| | |
| --- | --- |
| 40. | Kim JY, Lee S, Kim DH, Kim BR, Park R, Lee BM. Effects of flavonoids isolated from Scutellariae radix on cytochrome P-450 activities in human liver microsomes. J Toxicol Environ Health A. 2002;65:373-381. |
| | |
| --- | --- |
| 41. | Henderson MC, Miranda CL, Stevens JF, Deinzer ML, Buhler DR. In vitro inhibition of human P450 enzymes by prenylated flavonoids from hops, Humulus lupulus. Xenobiotica. 2000;30:235-251. |
| | |
| --- | --- |
| 42. | Obermeier MT, White RE, Yang CS. Effects of bioflavonoids on hepatic P450 activities. Xenobiotica. 1995;25:575-584. |
| | |
| --- | --- |
| 43. | Wilhelm J. Metabolic aspects of membrane lipid peroxidation. Acta Univ Carol Med Monogr. 1990;137:1-53. |
| | |
| --- | --- |
| 44. | Caro AA, Cederbaum AI. Synergistic toxicity of iron and arachidonic acid in HepG2 cells overexpressing CYP2E1. Mol Pharmacol. 2001;60:742-752. |
| | |
| --- | --- |
| 45. | Chen Q, Galleano M, Cederbaum AI. Cytotoxicity and apoptosis produced by arachidonic acid in Hep G2 cells overexpressing human cytochrome P4502E1. J Biol Chem. 1997;272:14532-14541. |
| | |
| --- | --- |
| 46. | Moon MK, Choi BM, Oh GS, Pae HO, Kim JD, Oh H, Oh CS, Kim DH, Rho YD, Shin MK. Catalposide protects Neuro 2A cells from hydrogen peroxide-induced cytotoxicity via the expression of heme oxygenase-1. Toxicol Lett. 2003;145:46-54. |
| | |
| --- | --- |
| 47. | Manibusan MK, Odin M, Eastmond DA. Postulated carbon tetrachloride mode of action: a review. J Environ Sci Health C Environ Carcinog Ecotoxicol Rev. 2007;25:185-209. |
| | |
| --- | --- |
| 48. | Matsuhashi T, Otaka M, Odashima M, Jin M, Komatsu K, Konishi N, Wada I, Sato T, Horikawa Y, Ohba R. Specific type IV phosphodiesterase inhibitor ameliorates thioacetamide-induced liver injury in rats. J Gastroenterol Hepatol. 2005;20:135-140. |
| | |
| --- | --- |
| 49. | Balasubramaniyan V, Shukla R, Murugaiyan G, Bhonde RR, Nalini N. Mouse recombinant leptin protects human hepatoma HepG2 against apoptosis, TNF-alpha response and oxidative stress induced by the hepatotoxin-ethanol. Biochim Biophys Acta. 2007;1770:1136-1144. |
| | |
| --- | --- |
| 50. | Zhuge J, Cederbaum AI. Depletion of S-adenosyl-l-methionine with cycloleucine potentiates cytochrome P450 2E1 toxicity in primary rat hepatocytes. Arch Biochem Biophys. 2007;466:177-185. |
| | |
| --- | --- |
| 51. | Wu D, Cederbaum AI. Cyclosporine A protects against arachidonic acid toxicity in rat hepatocytes: role of CYP2E1 and mitochondria. Hepatology. 2002;35:1420-1430. |
| | |
| --- | --- |
| 52. | Lemasters JJ, Nieminen AL, Qian T, Trost LC, Elmore SP, Nishimura Y, Crowe RA, Cascio WE, Bradham CA, Brenner DA. The mitochondrial permeability transition in cell death: a common mechanism in necrosis, apoptosis and autophagy. Biochim Biophys Acta. 1998;1366:177-196. |
| | |
| --- | --- |
| 53. | Lemasters JJ, Qian T, Bradham CA, Brenner DA, Cascio WE, Trost LC, Nishimura Y, Nieminen AL, Herman B. Mitochondrial dysfunction in the pathogenesis of necrotic and apoptotic cell death. J Bioenerg Biomembr. 1999;31:305-319. |
| | |
| --- | --- |
| 54. | Hoek JB, Cahill A, Pastorino JG. Alcohol and mitochondria: a dysfunctional relationship. Gastroenterology. 2002;122:2049-2063. |