Copyright
©The Author(s) 2015.
Published by Baishideng Publishing Group Inc. All rights reserved.
From variome to phenome: Pathogenesis, diagnosis and management of ectopic mineralization disorders
Eva YG De Vilder, Olivier M Vanakker, Center for Medical Genetics, Ghent University Hospital, B-9000 Ghent, East Flanders, Belgium
Eva YG De Vilder, Department of Ophthalmology, Ghent University Hospital, B-9000 Ghent, East Flanders, Belgium
Author contributions: De Vilder EYG wrote the paper; Vanakker OM edited the paper.
Supported by The Research Foundation Flanders (FWO) (FWO14/ASP/084), Vanakker OM is a senior clinical investigator at the Fund for Scientific Research-Flanders; Contract grant sponsor: FWO grant No G.0241.11N and Methusalem grant No. 08/01M01108.
Conflict-of-interest statement: The authors declare no conflict of interest.
Open-Access: This article is an open-access article which was selected by an in-house editor and fully peer-reviewed by external reviewers. It is distributed in accordance with the Creative Commons Attribution Non Commercial (CC BY-NC 4.0) license, which permits others to distribute, remix, adapt, build upon this work non-commercially, and license their derivative works on different terms, provided the original work is properly cited and the use is non-commercial. See: http://creativecommons.org/licenses/by-nc/4.0/
Correspondence to: Vanakker M Olivier, MD, PhD, Center for Medical Genetics, Ghent University Hospital, De Pintelaan 185, B-9000 Ghent, East Flanders, Belgium. olivier.vanakker@ugent.be
Telephone: +32-9-3323603 Fax: +32-9-3324970
Received: November 29, 2014
Peer-review started: November 29, 2014
First decision: February 7, 2015
Revised: February 27, 2015
Accepted: May 16, 2015
Article in press: May 18, 2015
Published online: July 16, 2015

Ectopic mineralization - inappropriate biomineralization in soft tissues - is a frequent finding in physiological aging processes and several common disorders, which can be associated with significant morbidity and mortality. Further, pathologic mineralization is seen in several rare genetic disorders, which often present life-threatening phenotypes. These disorders are classified based on the mechanisms through which the mineralization occurs: metastatic or dystrophic calcification or ectopic ossification. Underlying mechanisms have been extensively studied, which resulted in several hypotheses regarding the etiology of mineralization in the extracellular matrix of soft tissue. These hypotheses include intracellular and extracellular mechanisms, such as the formation of matrix vesicles, aberrant osteogenic and chondrogenic signaling, apoptosis and oxidative stress. Though coherence between the different findings is not always clear, current insights have led to improvement of the diagnosis and management of ectopic mineralization patients, thus translating pathogenetic knowledge (variome) to the phenotype (phenome). In this review, we will focus on the clinical presentation, pathogenesis and management of primary genetic soft tissue mineralization disorders. As examples of dystrophic calcification disorders Pseudoxanthoma elasticum, Generalized arterial calcification of infancy, Keutel syndrome, Idiopathic basal ganglia calcification and Arterial calcification due to CD73 (NT5E) deficiency will be discussed. Hyperphosphatemic familial tumoral calcinosis will be reviewed as an example of mineralization disorders caused by metastatic calcification.
Core tip: Ectopic mineralization disorders represent a broad range of phenotypically heterogenous diseases, often leading to significant morbidity and mortality. Involving a complex interplay between different pro-osteogenic mediators and inhibitors of calcification, the mechanisms of ectopic mineralization are progressively being unveiled. Though current knowledge is beyond any doubt the tip of the proverbial iceberg, insights already have significant implications in the diagnosis and daily management of these patients. As such, ectopic mineralization diseases are a fine example of translating variome data to the clinic. Here, we will discuss prototype hereditary ectopic calcification diseases with respect to their presentation, diagnosis and management.
---
Citation: Vilder EYD, Vanakker OM. From variome to phenome: Pathogenesis, diagnosis and management of ectopic mineralization disorders. World J Clin Cases 2015; 3(7): 556-574
---
INTRODUCTION
Physiological biomineralization is a complex multifactorial metabolic process, which in normal conditions is restricted to the extracellular matrix (ECM) of specific body structures, namely the bones, teeth, hypertrophic growth plate cartilage and calcified articular cartilage[1,2]. The intracellular and extracellular mechanisms, underlying physiological biomineralization, rely on a balanced interplay between mineralization inhibitors and propagators (Figure 1)[2,3]. Although in physiological circumstances calcium and inorganic phosphate (Pi) concentrations exceed their solubility in most human tissues, this does not result in mineralization of soft tissues, suggesting that these tissues possess regulatory mechanisms preventing mineral deposition. Mineralizing tissues must be able to modulate these mechanisms to enable calcification[2], but should also contain anti-mineralizing factors to prevent escalation of the calcification process leading to excessive and uncontrolled mineral deposits[1,2]. When these regulatory mechanisms are inadequate, ectopic mineralization, i.e., inappropriate biomineralization in soft tissues, occurs and causes a spectrum of ectopic calcification disorders (Table 1)[2,4].
| | | | |
| --- | --- | --- | --- |
| | Metastatic calcification | Dystrophic calcification | Ectopic ossification |
| Primary | Primary hyperparathyroidism Pseudo(pseudo)hypoparathyroidism HFTC | PXE PXE-like syndrome GACI Keutel syndrome IBGC ACDC AI | Fibrodysplasia ossificans progressiva |
| Secondary | Sarcoidosis Vitamin D intoxication Milk-Alkali syndrome Secondary hyperparathyroidism Renal failure Hemodialysis Tumor lysis Therapy with vitamin D and phosphate | Scleroderma Dermatomyositis SLE | Nonhereditary myositis ossificans |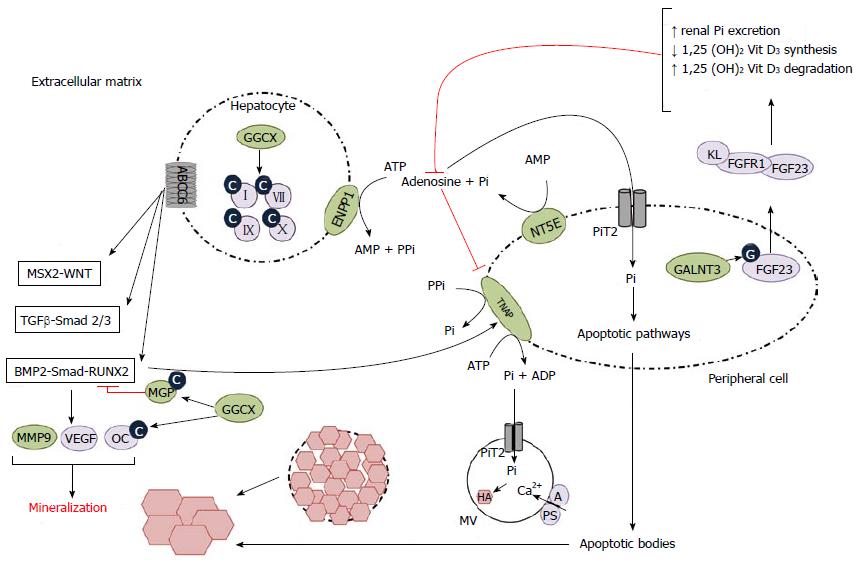 Figure 1 Schematic representation of the pathophysiological mechanisms leading to ectopic mineralization. Hepatocyte: Impairment of ABCC6 function leads to upregulation of pro-osteogenic pathways (MSX2-WNT, TGFβ-Smad 2/3, BMP2-Smad-RUNX2), upregulation of their downstream targets and eventually to ectopic mineralization. GGCX carboxylates and hence activates multiple targets, such as coagulation factors and MGP, the latter being a potent BMP2-inhibitor and hence mineralization inhibitor. When GGCX function is impaired, these targets stay inactive, leading to increased mineralization. ENPP1 converts ATP to AMP and PPi, the latter being a mineralization inhibitor. Impairment of this conversion and hence a decrease in the PPi level leads to increase in ectopic mineralization. Peripheral cell: After glycosylation by GALNT3, FGF23 forms a complex with FGFR1 and KL (coreceptor) which leads to increased renal excretion of Pi, a pro-mineralizing agent and decreased 1,25 dihydroxyvitamin D3, causing a decrease in intestinal Pi absorption. NT5E converts AMP to Pi and adenosine, which inhibits the pro-mineralizing TNAP. Impairment of NT5E function leads to increased TNAP activity and decreased PPi concentration, hence leading to ectopic mineralization. Pi is internalized into the peripheral cell by PiT2 and leaves the cell through apoptotic bodies, which cause ectopic mineralization through apoptotic pathways (not shown). In MVs an influx occurs of Pi via PiT2 and of Ca2+, which is facilitated by A and PS. This leads to an accumulation of growing hydroxyapatite crystals, eventually causing the MVs to burst and the crystals to grow in the extracellular matrix. A: Annexin A5; ABCC6: Adenosine triphosphate-binding cassette, subfamily C, member 6; ADP: Adenosine diphosphate; AMP: Adenosine monophosphate; ATP: Adenosine triphosphate; BMP2: Bone morphogenetic protein 2; C: Carboxyl; Ca2+: Calcium 2+; ENPP1: Ectonucleotide pyrophosphatase/phosphodiesterase 1; FGF23: Fibroblast growth factor 23; FGFR1: Fibroblast growth factor receptor 1; G: Glycosyl-; GALNT3: UDP-N-acetyl-alpha-D-galactosamine: Polypeptide N-acetylgalactosaminyltransferase 3; GGCX: Gamma-glutamyl carboxylase; HA: Hydroxyapatite; KL: Klotho; MGP: Matrix gla protein; MMP9: Matrix metalloproteinase; MSX2: Muscle segment homeobox, drosophila, homolog of, 2; MV: Matrix vesicle; NT5E: Ecto-5-prime nucleotidase or CD73; OC: Osteocalcine; Pi: Inorganic phosphate; SLC20A2: Solute carrier family 20 (phosphate transporter), member 2; PPi: Inorganic pyrophosphate; PS: Phosphatidyl serine; RUNX2: Runt-related transcription factor; Smad: Mothers against decapentaplegic, drosophila, homolog of; TGFβ: Transforming growth factor β; TNAP: Tissue-non-specific alkaline phosphatase; VEGF: Vascular endothelial growth factor; WNT: Wingless-type MMTV integration site family; II, VII, IX, X: Vitamin K-dependent coagulation factors; 1,25 (OH)2 Vit D3: 1,25-dihydroxyvitamine D3 (calcitriol).
Uncontrolled mineralization occurs frequently in response to tissue injury or a systemic mineral imbalance. This leads to the development of a calcified lesion, which can occur throughout the body, though tissues as articular cartilage, the cardiovascular (CV) tissues and kidneys seem particularly prone[3,5,6]. Unlike physiological mineralization deposits, which only contain calcium phosphate crystals such as hydroxyapatite, ectopic mineralization depositions may also contain other calcium salts, including calcium oxalates or octacalcium[4].
Regarding the initiation of and pathogenetic mechanisms underlying ectopic mineralization several hypotheses have been proposed (Figure 1): (1) increasing evidence is found that soft tissue calcification can be initiated in matrix vesicles (MVs), extracellular membrane particles (approximately 20-200 nm in diameter), which have a key role in the normal physiological mineralization process[3]. MVs contain calcium-binding non-collagenous matrix proteins, such as secreted phosphoprotein 1 (SPP1; OMIM*166490), which can boost mineralization in vitro[7]. MVs initiate mineralization in 2 phases: (1) initial formation of hydroxyapatite in the MV itself: after budding from the plasma membrane, tissue-nonspecific alkaline phosphatase (TNAP; OMIM*171760) activity induces an increase of extracellular Pi concentration, which then enters the vesicles via sodium-dependent inorganic phosphate transporters (PiTs). This is followed by calcium influx into the MVs, which is enabled by annexin A5 (ANXA5; OMIM*131230) and phosphatidyl serine (PS), located at the MV inner membrane leaflet[1,3]; and (2) propagation of the calcium salts in the ECM: in the MVs hydroxyapatite crystals continue to grow, eventually rupturing the MV membrane. As a result, the crystals are exposed to the ECM, inducing their further expansion[3,8]; pathological calcification can also be influenced by ectopic osteogenic and chondrogenic signaling, leading to the activation of multiple pro-mineralization proteins[9]. This conversion of tissue-specific cells to bone-like cells has been mainly described in vascular calcification, and is probably due to the common mesenchymal origin of vascular smooth muscle cells (VSMCs) and bone cells[1]; (3) apoptosis or programmed cell death is accompanied by the release of apoptotic bodies, which exteriorize PS to the outer membrane of the apoptotic body and therefore face the ECM. There, PS may bind calcium, resulting in an accumulation of calcium and phosphate, as is also seen in MVs, thus contributing to physiological and pathological mineralization[1,10]. Another potential apoptosis pathway includes elevated phosphate levels to induce VSMC apoptosis, a process that is possibly caused by downregulation of growth arrest-specific 6 (Gas6; OMIM*600441) and B-cell CLL/Lymphoma (BCL2; OMIM + 151430), with subsequent caspase 3 activation[11,12]; and (4) reactive oxygen species (ROS), highly reactive oxygen-containing molecules, are formed as byproducts of normal oxygen metabolism and has important roles in cell signaling and metabolism. Nonetheless, if ROS concentration surpasses a critical threshold, oxidative stress, accompanied by important cell damage, can occur[13]. Potential sources of ROS in soft tissues are nicotinamide adenine dinucleotide (phosphate) (NAD(P)H) oxidase, nitric oxide synthase (NOS), xanthine oxidase, cytochrome P450 and cyclooxygenase; in addition, mitochondrial dysfunction may also lead to the formation of ROS. ROS possibly causes soft tissue mineralization through either the IκB-NF-κB pathway (inhibitor of κB - nuclear factor kappa-light-chain-enhancer of activated B cells), upregulation of the pro-osteogenic bone morphogenetic protein 2 (BMP2; OMIM*112261) pathway and/or osteogenic conversion of soft tissue cells[1].
These pathophysiological mechanisms are however not mutually exclusive and display significant crosstalk[1].
Ectopic soft tissue mineralization is a common finding in aging and several common disorders, including atherosclerosis, hypertension, diabetes, chronic kidney disease and autoimmune diseases, and can be related to significant morbidity and mortality in each of these. It has been shown that vascular calcification correlates with an increased risk of myocardial infarction and that it is an independent risk factor for death in patients with coronary artery calcification[14,15]. However, in these complex, multifactorial disorders, multiple genes are likely to contribute, with each gene having only a small effect[16]. Contrary, in primary genetic mineralization disorders mutations in a single gene or few genes can cause an often extreme and life-threatening phenotype. Though individually rare, as a group they affect a considerable number of patients with important impact on quality of life and high morbidity and mortality rates.
Ectopic mineralization disorders are conventionally classified based on the mechanism through which the mineralization takes place: i.e., metastatic or dystrophic calcification or ectopic ossification (Table 1)[14]: (1) metastatic calcification, due to hyperphosphatemia and/or hypercalcemia; (2) dystrophic calcification, which occurs in diseased (metabolically impaired or dead) tissue under normal calcium and phosphate homeostasis[1]; and (3) ectopic or heterotopic ossification, leading to true bone formation[1,4,17,18].
For many of these disorders, important advances have been made in defining their clinical presentation (phenome), their (molecular) etiology (variome) and the correlation between both. This has led to novel insights and perspectives for the management and treatment of the patients, but also supports the complexity of the pathophysiology of soft tissue mineralization.
This review will focus on the clinical presentation, pathogenesis and management of primary genetic soft tissue mineralization disorders due to dystrophic (Pseudoxanthoma elasticum, Generalized arterial calcification of infancy, Keutel syndrome, Idiopathic basal ganglia calcification, Arterial calcification due to CD73 deficiency) or metastatic calcification (Hyperphosphatemic familial tumoral calcinosis).
PSEUDOXANTHOMA ELASTICUM
Pseudoxanthoma elasticum (PXE; OMIM#264800) is a rare, autosomal recessive connective tissue disorder, resulting from ectopic mineralization and fragmentation of elastic fibers. The prevalence of PXE is estimated between 1/25000 and 1/100000 with a carrier frequency of 1/80, although this may be an underestimation due to the variability of the phenotype, which in some cases may hinder the diagnosis[19-21].
PXE-LIKE SYNDROME WITH MULTIPLE COAGULATION FACTOR DEFICIENCY
In 2007, Vanakker et al[1,47] described a new autosomal recessive disorder which was closely related to PXE and coined it the PXE-like syndrome with multiple coagulation factor deficiency (OMIM#610842). To date, the disorder has been described in 12 patients, 8 of which had molecular confirmation of the clinical suspicion[47,48,66-68].
GENERALIZED ARTERIAL CALCIFICATION OF INFANCY
Generalized arterial calcification of infancy (GACI; OMIM#20800) is an early-onset, autosomal recessive disorder, which has only been described in approximately 100 mostly Caucasian patients[1,70]. The disease typically affects infants of less than 6 mo of age[71,72].
KEUTEL SYNDROME
Since its first identification by Keutel et al[97] in 1971, approximately 30 cases have been described of Keutel syndrome (OMIM#245150), which is an autosomal recessive multisystem disease with an age of onset in childhood (5-15 years)[97,98].
IDIOPATHIC BASAL GANGLIA CALCIFICATION
Idiopathic basal ganglia calcification (IBGC) is a rare neurodegenerative disorder with unknown prevalence. The disease is sometimes referred to as Fahr's disease, although the the patient Fahr described primarily had mineralization in blood vessels of the white matter of the brain[113]. IBGC affects young to middle aged adults, with an average onset in the 3rd or 4th life decade; however the disease has also been described in childhood[114-116].
ARTERIAL CALCIFICATION DUE TO CD73 DEFICIENCY
Arterial calcification due to CD73 deficiency (ACDC), also referred to as calcifications of joints and arteries, is an autosomal recessive disease, which usually takes an onset in young adulthood[16,144].
HYPERPHOSPHATEMIC FAMILIAL TUMORAL CALCINOSIS
Contrary to the disorders described above, autosomal recessive hyperphosphatemic familial tumoral calcinosis (HFTC; OMIM#211900), is characterized by metastatic mineralization[1,149]. Patients usually show first signs in the first or second decade of life[150].
CONCLUSION
Ectopic mineralization disorders comprise a wide range of heterogeneous diseases, which can affect a variety of tissues, causing important health problems. Insights in the mechanisms that cause these diseases have led to the observation that many - if not all - are closely related to one another from a mechanistic point of view. The considerable differences in clinical presentation and natural course however suggest that our current knowledge is merely the proverbial tip of the iceberg and that the subtle mechanisms which render each disease to be unique are still largely to be uncovered. Nevertheless, the pathophysiological knowledge to date has already led to several successful treatment options and a number of promising targets for the future. As such, ectopic mineralization diseases are a fine example for the interaction between the variome and the phenome.
P- Reviewer: Anis S, Shipman A S- Editor: Tian YL L- Editor: A E- Editor: Wu HL