Copyright
©The Author(s) 2023.
Published by Baishideng Publishing Group Inc. All rights reserved.
Computed tomography diagnosed left ovarian venous thrombophlebitis after vaginal delivery: A case report
Jin-Jin Wang, Yi-Ding Ji, Department of Radiology, The Ninth People's Hospital of Suzhou City, Suzhou 215200, Jiangsu Province, China
Chu-Chu Hui, Department of Ultrasound, The Ninth People's Hospital of Suzhou City, Suzhou 215200, Jiangsu Province, China
Wei Xu, Department of Emergency Medicine, The Ninth People's Hospital of Suzhou City, Suzhou 215200, Jiangsu Province, China
Author contributions: Wang JJ, Ji YD, and Xu W designed the study; Wang JJ and Hui CC wrote the manuscript; Wang JJ and Hui CC collected and input the data; Xu W carried out the statistical analysis; all authors reviewed the manuscript.
Informed consent statement: Written informed consent was obtained from the patient for the publication of this case report and any accompanying images.
Conflict-of-interest statement: All the authors have no conflicts of interest to disclose.
CARE Checklist (2016) statement: The authors have read the CARE Checklist (2016), and the manuscript was prepared and revised according to the CARE Checklist (2016).
Open-Access
: This article is an open-access article that was selected by an in-house editor and fully peer-reviewed by external reviewers. It is distributed in accordance with the Creative Commons Attribution NonCommercial (CC BY-NC 4.0) license, which permits others to distribute, remix, adapt, build upon this work non-commercially, and license their derivative works on different terms, provided the original work is properly cited and the use is non-commercial. See:
https://creativecommons.org/Licenses/by-nc/4.0/
Corresponding author: Wei Xu, MD, Academic Editor, Department of Emergency Medicine, The Ninth People's Hospital of Suzhou City, No. 2666 Ludang Road, Suzhou 215200, Jiangsu Province, China. szjyxw82@126.com
Received: September 6, 2022
Peer-review started: September 6, 2022
First decision: December 13, 2022
Revised: December 21, 2022
Accepted: January 12, 2023
Article in press: January 12, 2023
Published online: February 6, 2023

BACKGROUND
Postpartum ovarian vein thrombophlebitis (POVT) is a rare but serious postpartum complication that affects mostly postpartum women. A high index of suspicion is required when faced with sudden postpartum abdominal pain.
CASE SUMMARY
A 25-year-old healthy woman who accepted a vaginal delivery procedure suffered fever (temperature 39.6℃) one day after delivery, accompanied with left lower abdominal pain. Physical examination indicated mild tenderness in the left lower abdomen, accompanied with rebound pain. The patient was confirmed to have left ovarian venous thrombosis with inflammation after receiving a multi-detector row computed tomography scan.
CONCLUSION
POVT is a rare and dangerous postpartum complication. A high index of suspicion is required for the occurrence of ovarian venous thrombosis when faced with postpartum abdominal pain and fever. Early application of Doppler ultrasound, computed tomography, magnetic resonance imaging and other auxiliary examinations is conducive to timely and accurate diagnosis of POVT, thus reducing maternal mortality.
Core Tip: Postpartum ovarian vein thrombophlebitis (POVT) is a rare but serious postpartum complication that affects mostly postpartum women. POVT is more likely to occur in patients after cesarean section and in the right ovarian vein. However, in our case, POVT occurred in the left ovarian vein, which is rare.
---
Citation: Wang JJ, Hui CC, Ji YD, Xu W. Computed tomography diagnosed left ovarian venous thrombophlebitis after vaginal delivery: A case report. World J Clin Cases 2023; 11(4): 896-902
---
INTRODUCTION
Postpartum ovarian vein thrombophlebitis (POVT) is a rare clinical disease with an incidence of only about 0.05%-0.18%, which is related to pregnancy, pelvic inflammation, malignant tumors, and pelvic surgeries[1]. The clinical manifestations of POVT are non-specific and usually include lower abdominal pain, fever, and elevated leukocyte count, which is difficult to distinguish from acute appendicitis, pelvic infectious lesions, tubal and ovary abscess, ovarian torsion, abdominal abscess, postpartum endometritis, and urinary tract infection[2]. In postpartum patients, any abnormal abdominal pain should be highly suspected with POVT when usual causes of abdominal pain are excluded. The combination of anticoagulation and intravenous antibiotics is the preferred treatment for POVT. In June 2019, a 25-year-old woman with natural delivery was admitted to our hospital as she developed fever and left lower abdominal pain one day after delivery. She was diagnosed to have left ovarian venous thrombosis after accepting a multi-detector computed tomography (MDCT) scan. Here, we report this rare case and performed a review of the relevant literature.
CASE PRESENTATION
Chief complaints
A 25-year-old woman presented to our emergency department with left lower abdominal pain accompanied by nausea, high fever (39.6℃), and chills for one day. She was postpartum for only 24 h and gave birth to a viable full-term male infant (G1P0) via a successful vaginal delivery. During the vaginal delivery, the patient vomited a small amount of dark fluid.
History of present illness
A 25-year-old woman presented to our emergency department with left lower abdominal pain accompanied by nausea, high fever (39.6℃), and chills for one day.
History of past illness
The patient has no history of smoking or previous thrombotic accidents. She also denied having any cardiovascular or haematological disease.
Personal and family history
The patient had no smoking history or any special family history.
Physical examination
The physical examination revealed an obvious tenderness in the left middle and lower abdomen, accompanied by rebound pain, while with no swelling in both lower limbs and no massive vaginal bleeding.
Laboratory examinations
Laboratory examinations showed an elevated white blood cell (WBC) count at 14.25 × 109/L with significantly increased C-reactive protein (CRP; 98.01 mg/L). The WBC count increased to 24.75 × 109/L and CRP rose to 166 mg/L 12 h later.
Imaging examinations
We arranged an emergency MDCT scan for the patient, which showed a tubular high density shadow on the left side of the abdomen from the left ovary zone to the left renal hulum. Ureteral stone or swelling of the change on the left side of the intestinal wall was not presented in the CT scan (Figure 1A and B). An enhanced CT scan (ioversol 80 mL, injection at 3.5 mL/s via the left elbow vein) was performed immediately and showed an enlarged left ovary with a low density shadow in the left ovarian vein extending to the left renal vein. Fortunately, the left renal vein was not invaded (Figure 1C and D).
FINAL DIAGNOSIS
The patient was confirmed to have left ovarian venous embolism.
TREATMENT
The patient underwent anticoagulation (low molecular weight heparin 4100 IU HD qd) and anti-infection (cefoperazone sodium and sulbactam sodium 3.0 g ivd q8h) therapy for 10 d, followed by oral anticoagulant therapy with rivaroxaban (20 mg qd for 6 mo). After 14 d of hospitalization, the patient recovered and was discharged without any uncomfortable feeling.
OUTCOME AND FOLLOW-UP
The patient underwent a B-ultrasound scan one month postpartum with no abnormalities in bilateral ovaries and uterus (Figure 2). In the outpatient follow-up at 3 mo postpartum, the patient had no recurrent abdominal pain and fever, and no abnormal oral mucosa, nosebleed, vaginal bleeding, chest tightness, hemoptysis, or other manifestations during the administration of anticoagulants. A plain CT scan of the whole abdomen was reexamined 6 mo postpartum, which showed that the left renal vein developed well without thickening or exudation (Figure 3).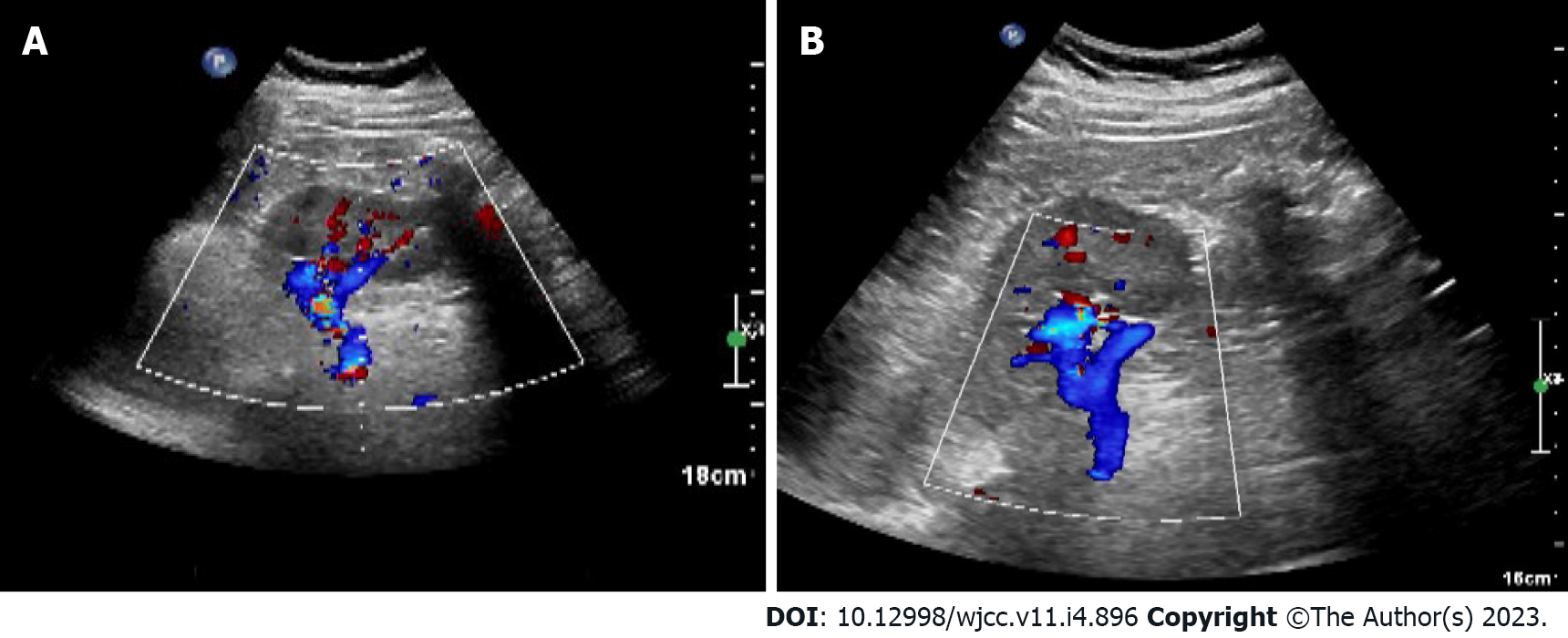 Figure 2 B-ultrasound performed at one month postpartum showed no abnormalities in bilateral ovaries and uterus.
A: Sagittal view 1; B: Sagittal view 2.
DISCUSSION
POVT is very rare and was first reported by Al-toma et al[3] in 1956. Less than 200 cases have been reported globally so far, and 90% occurred within 10 d after delivery. This case also developed within 24 h after vaginal delivery. Research by Jenayah et al[4] found that the incidence of POVT in cesarean section women is higher than that in women with a natural vaginal delivery, while the incidence in twin pregnancy is higher than that in singleton pregnancy. In addition, studies have shown that POVT is closely related to maternal hypercoagulability and venous congestion. The risk of venous thrombosis during pregnancy and puerperium is 5 times that in non-pregnant women of the same age. However, the real cause of the disease is still unknown[5,6]. Several scholars believe that POVT is also related to the increase in venous pressure during pregnancy. The increase in blood volume and endocrine changes during pregnancy lead to increased pressure on the blood vessel wall and venous valve, which in turn leads to insufficiency of venous valve function and pelvic venous stasis, finally promoting the formation of thrombus[7]. Relevant studies have shown that POVT occurred in the right ovarian vein in about 90% of cases, which may result from the compression and expansion of the right ovarian vein and fallopian tube due to dextrorotation of the uterus during pregnancy. Meanwhile, the right ovarian vein flows downstream, which is more likely to be infected than the left ovarian vein with venous reflux[8]. Furthermore, the small angle between the right ovarian vein and the inferior vena cava makes it more easily affected by changes in blood pressure[9]. In this case, the left ovarian vein thrombosis occurred, which is also rare in POVT cases.
The clinical symptoms of POVT are not specific, generally manifesting as localized abdominal pain and nausea or vomiting in the right lower abdomen, with or without fever. There are no obvious specific changes in laboratory tests[1,3,5]. Our patient was characterized by high fever, chills, and tenderness in the left lower abdomen. Combined with the results of abdominal CT scan, ovarian vein thrombophlebitis can be diagnosed. Relevant data show that POVT can spread and involve the inferior vena cava, and in severe cases, it can lead to life-threatening pulmonary embolism. However, the incidence of this disease is extremely low, with no specific clinical manifestations and sensitive laboratory tests, and clinicians often lack the knowledge of the disease. Therefore, in daily clinical work, it is necessary to suspect this disease for women who have recurrent high fever and abdominal pain after delivery.
Nowadays, non-invasive examinations such as Doppler ultrasound, magnetic resonance imaging (MRI), or enhanced MDCT are the main methods for diagnosing POVT, with a sensitivity of 52%, 92%, and 100%, respectively[5,6,10-13]. Ultrasound is considered to be the preferred method of obstetric examination due to its flexible and real-time characteristics; however, its accuracy often depends on the operator's experience and operating skills[13,14]. With the development of ultrasound technology and the improvement of the diagnostic level of sonographers, reports of ultrasound diagnosis of POVT have appeared one after another. POVT appears on ultrasound as an abnormal echo between the ovarian venous plexus and the inferior vena cava[15]. However, abdominal ultrasound is easily affected by intestinal gas, and is difficult to distinguish it from enlarged appendix or hydroureter, making it limited in the diagnosis of POVT[16]. On the other hand, color Doppler ultrasound is still considered as one of the best choices for monitoring the blood flow of the inferior vena cava and ovarian vein in the follow-up procedure of PVOT. With the advancement of science and technology, MRI is increasingly used in clinical diagnosis and treatment. Advantages of MRI have been recognized in diagnosing vascular thrombosis, while certain limitations were also confirmed. Its advantages include that: The airflow effect of blood vessels in both the T2WI sequence and the DWI sequence of MRI can show the thrombus without contrast medium; MRI can protect the patients from X-ray radiation exposure; MRI scans can provide better and more reliable visualization and multi-plane display images. One of the limitations of MRI is that it is not available 24 h in most hospitals. The scanning range of a single procedure is also limited with a long scanning time. Furthermore, the pictures of MRI are greatly affected by the patient's breathing and bowel movements. Some patients are also not suitable for MRI examination (metal implantation in the body, patients with claustrophobia, etc.).
CT examination is mostly used when the ultrasound examination gives a negative result while the clinician highly suspects this disease. A whole abdomen CT scan can efficiently detect abnormal conditions specially. In this case, the MDCT scan revealed that a long tubular high-density shadow in the front of the left renal hilus, which extended to the left appendage with exudation around the tube wall. A wide range of tubular high-density shadow in the non-aortic region with or without an uneven density of the surrounding fat gap, suggested the formation of fresh intravenous thrombus. A dilated left ovarian vein and the ascending lumbar vein without contrast agent on the image of a dynamic-enhanced CT scan was usually considered to be the most important evidence for the diagnosis of POVT. Most cases of ovarian vein thrombophlebitis are diagnosed by CT scans. The increased density of fat spaces around the blood vessel wall as well as the blood vessel cavity in CT images reminds the diagnostician to determine the location of the lesion quickly and accurately. MDCT scanning is fast and less affected by breathing. The visualized image of MDCT scan can be post-processed in multiple planes, and abdominal pain in postpartum patients resulting from other diseases can be excluded (such as urinary calculi, appendicitis, gastrointestinal perforation, endometritis, etc.) by CT scanning. In addition, when POVT is suspected or the cause of postpartum abdominal pain is identified, the specificity and sensitivity of enhanced CT scans could be almost 100%[17]. Therefore, we believe that the high efficiency and convenience of CT make it the most preferred non-invasive inspection method for POVT. Indeed, we recommend that clinicians choose enhanced CT scan when POVT is suspected. The DWI sequence and T2WI sequence of MRI can be used as one of the methods of follow-up examinations for patients to avoid multiple X-rays exposure.
Once POVT has been diagnosed, patients need to be given active treatments as soon as possible in case of systemic sepsis caused by ovarian vein thrombosis. Pulmonary embolism is the most severe complication of ovarian thrombosis. In POVT patients, the incidence of pulmonary embolism is about 13.2%, while the mortality rate of POVT is less than 5%, which is mostly caused by pulmonary embolism. A venous filter can usually prevent the pulmonary embolism clinically[13]. Due to the scarce incidence of POVT, there has been no standard treatment for POVT, and treatment for deep vein thrombosis is often adopted. At present, heparin anticoagulation and intravenous antibiotics are the main non-invasive treatments for POVT in clinical practice. However, domestic and foreign experts still have disputes about whether POVT needs anticoagulation therapy or not. Most experts advocate anticoagulation to prevent the further formation and spreading of thrombus[7]. There is no recommended standard for the duration of anticoagulation so far. It depends on the changes in the patient's condition during follow-up. Some scholars believe that anticoagulation is required for 3 mo, while others considered that it should be maintained for at least 2 wk. For those with extensive pelvic thrombosis, the anticoagulation procedure should be administered for at least 6 wk, and whether to continue anticoagulation is based on subsequent imaging evaluation. The treatment time of broad-spectrum antibiotics is generally recommended to be 7 to 10 d, and it is usually recommended to use it until the infection indicators return to normal and the fever is cured for 48 to 72 h[12]. Moreover, Salomon et al[1] reported that for some POVT patients without fever, elevated WBC count, and other infection symptoms, antibiotics could not be used. Our patient was treated with heparin anticoagulation for 2 wk and then it was switched to rivaroxaban to continue anticoagulation for 6 mo. During the hospitalization, she accepted cefoperazone sodium and sulbactam sodium for 10 d. The patient did not have abnormal bleeding in the oral mucosa or other locations, and the reexamination CT indicated that the thrombus disappeared. Brown et al[18] found that when compared to combined use of heparin and antibiotics, no significant difference in fever and hospital stay could be found in the group of patients using antibiotics alone. However, they only assessed the cure time of fever but did not assess the risk of thrombosis, pulmonary embolism, etc. The serious consequences are mostly caused by its complications, therefore, we believe that anticoagulation therapy is still necessary. The anticoagulants such as heparin, warfarin, and rivaroxaban are safe in the postpartum period, but their application in patients with postpartum POVT should be studied further. Furthermore, the choice of antibiotics should cover both aerobes and anaerobes. In addition, there are very few reports on the surgical treatment of POVT. Shi et al[19] reported a 35-year-old G3P2 woman who suffered high fever after C-section, and anti-inflammatory treatment was not effective within one week. An abdominal wall incision haematoma was found, and a second surgery was performed later. The patient was ultimately diagnosed with abdominal incision haematoma and right ovarian vein infectious thrombophlebitis after C-section. They used imipenem and tigecycline to strengthen the anti-inflammatory effects, simultaneously administrating low-molecular-weight heparin and warfarin as anticoagulant therapy. On the 30th day after C-section, the right ovarian vein thrombus disappeared. Some surgical options used in the past, including ligation of the ovarian vein or inferior vena cava and even removal of the uterus, have been abandoned[10,16,17,20].
CONCLUSION
POVT is a rare complication after delivery without typical clinical manifestation or any specific laboratory examination results. Early and accurate diagnosis of POVT is particularly important since it may result in life-threatening pulmonary embolism. Even in patients with a low risk of deep vein thrombosis, POVT should be considered when faced with postpartum fever and abdominal pain. To conclude, we recommend MDCT scan as the preferred noninvasive method for the clinical diagnosis of POVT.
ACKNOWLEDGEMENTS
We thank the obstetric and radiology teams of the centers who helped to recruit the women to the study.
Provenance and peer review: Unsolicited article; Externally peer reviewed.
Peer-review model: Single blind
Specialty type: Radiology, nuclear medicine and medical imaging
Country/Territory of origin: China
Peer-review report's scientific quality classification
Grade A (Excellent): 0
Grade B (Very good): B
Grade C (Good): C
Grade D (Fair): 0
Grade E (Poor): 0
P-Reviewer: Hatipoglu S, Turkey; Naem AA, Germany S-Editor: Liu JH L-Editor: Wang TQ P-Editor: Liu JH