Copyright
©The Author(s) 2016.
Published by Baishideng Publishing Group Inc. All rights reserved.
Understanding the molecular mechanisms of cancer prevention by dietary phytochemicals: From experimental models to clinical trials
Girish B Maru, Rasika R Hudlikar, Gaurav Kumar, Khushboo Gandhi, Manoj B Mahimkar, Advanced Centre for Treatment, Research and Education in Cancer (ACTREC), Tata Memorial Centre (TMC), Kharghar, Navi Mumbai 410210, India
Author contributions: Maru GB contributed to conception and design of the review/MS; Maru GB, Hudlikar RR, Kumar G, Gandhi K and Mahimkar MB contributed to acquisition of data or analysis, interpretation of data, drafting the article or making critical revisions and final approval of the version of the article to be published.
Conflict-of-interest statement: All authors declare no conflict of interests for this article.
Open-Access: This article is an open-access article which was selected by an in-house editor and fully peer-reviewed by external reviewers. It is distributed in accordance with the Creative Commons Attribution Non Commercial (CC BY-NC 4.0) license, which permits others to distribute, remix, adapt, build upon this work non-commercially, and license their derivative works on different terms, provided the original work is properly cited and the use is non-commercial. See: http://creativecommons.org/licenses/by-nc/4.0/
Correspondence to: Girish B Maru, PhD, Honorary Consultant, Advanced Centre for Treatment, Research and Education in Cancer (ACTREC), Tata Memorial Centre (TMC), Sector-22, Kharghar, Navi Mumbai 410210, India. gmaru@actrec.gov.in
Telephone: +91-22-27405022 Fax: +91-22-27405085
Received: June 29, 2015
Peer-review started: July 4, 2015
First decision: August 25, 2015
Revised: October 20, 2015
Accepted: November 23, 2015
Article in press: November 25, 2015
Published online: February 26, 2016

Chemoprevention is one of the cancer prevention approaches wherein natural/synthetic agent(s) are prescribed with the aim to delay or disrupt multiple pathways and processes involved at multiple steps, i.e., initiation, promotion, and progression of cancer. Amongst environmental chemopreventive compounds, diet/beverage-derived components are under evaluation, because of their long history of exposure to humans, high tolerability, low toxicity, and reported biological activities. This compilation briefly covers and compares the available evidence on chemopreventive efficacy and probable mechanism of chemoprevention by selected dietary phytochemicals (capsaicin, curcumin, diallyl sulphide, genistein, green/black tea polyphenols, indoles, lycopene, phenethyl isocyanate, resveratrol, retinoids and tocopherols) in experimental systems and clinical trials. All the dietary phytochemicals covered in this review have demonstrated chemopreventive efficacy against spontaneous or carcinogen-induced experimental tumors and/or associated biomarkers and processes in rodents at several organ sites. The observed anti-initiating, anti-promoting and anti-progression activity of dietary phytochemicals in carcinogen-induced experimental models involve phytochemical-mediated redox changes, modulation of enzymes and signaling kinases resulting to effects on multiple genes and cell signaling pathways. Results from clinical trials using these compounds have not shown them to be chemopreventive. This may be due to our: (1) inability to reproduce the exposure conditions, i.e., levels, complexity, other host and lifestyle factors; and (2) lack of understanding about the mechanisms of action and agent-mediated toxicity in several organs and physiological processes in the host. Current research efforts in addressing the issues of exposure conditions, bioavailability, toxicity and the mode of action of dietary phytochemicals may help address the reason for observed mismatch that may ultimately lead to identification of new chemopreventive agents for protection against broad spectrum of exposures.
Core tip: Review compares the available evidence on the chemopreventive efficacy and probable mechanisms of chemoprevention by selected dietary phytochemicals in experimental systems and clinical trials. All the dietary phytochemicals covered have demonstrated chemopreventive efficacy against carcinogen-induced tumors in rodents at several organ sites. Mechanism of observed chemopreventive action(s) involve phytochemical-mediated redox changes, modulation of enzymes and signaling kinases leading to effects on multiple genes and cell signaling pathways. Clinical trials with these compounds have not demonstrated their chemopreventive efficacy. Probable reasons for observed mismatch between the two systems and areas of current research efforts and recommendations have been presented.
---
Citation: Maru GB, Hudlikar RR, Kumar G, Gandhi K, Mahimkar MB. Understanding the molecular mechanisms of cancer prevention by dietary phytochemicals: From experimental models to clinical trials. World J Biol Chem 2016; 7(1): 88-99
---
INTRODUCTION
Cancer is a disease characterized by out-of-control cell growth leading to spread of abnormal cells to other body parts by local invasion and/or distant metastasis. It is one of the major and growing public health problem, currently accounting for over 12% deaths globally. With steady rise in life expectancy globally, it is estimated that the number of deaths due to cancer may double in next 50 years and new cases of cancer may rise to 15 million by 2020[1]. Majority of human cancers are caused by environmental and life-style factors. The etiology of all cancers is associated with inherited genetic aberrations (5%-10%) and acquired genetic abnormality (90%-95%) caused by exogenous and/or endogenous environmental agents[2].
Number of epidemiological studies have successfully shown that exposures to certain environmental chemicals/mixtures (exogenous-societal, occupational, lifestyle, industrial, agricultural, medicinal, etc., endogenous), physical agents (UV/solar, ionizing radiations, heat) and biological agents (certain viruses - EBV, HBV, HCV, HPV, HIV1, bacteria - H. pylori, parasites-liver fluke, schistosoma) increase the cancer risk at specific organs[3,4]. Experimental studies in animals, tissues/cells (in-vitro) have also provided supportive evidence for organ specific increased risk of cancer. Several of these associations have been established to be causative, e.g., use of tobacco and oral cancer, while for several other human cancers such as breast, prostate, esophagus, etc. though associated factors have been documented, their causal association is yet to be determined.
Dose and duration of exposure to environmental carcinogens and their complex interactions with genetic and/or acquired host factors are some of the critical determinants, for the development of cancer[2]. Response to carcinogen exposure may further be modulated by host (physical activity, obesity) and life style (diet, tobacco, alcohol) factors leading to disease or no-disease.
CARCINOGENESIS: MULTIFACTORIAL AND MULTISTEP PROCESS
Carcinogenesis refers to environmental carcinogen [chemical/physical/biological agent(s)] -induced etiological pathways and processes that lead to cancer. It is a complex, multi-factorial, multi-step, multi-path and in humans a multi-years process comprised of at least three steps viz. initiation, promotion and progression[5] (Figure 1). Exposure of normal cells in tissues to carcinogenic agent results in genomic DNA damage (critical genes) and its fixation through a cycle of DNA replication leads to initiation and that is irreversible step. In the promotion process (reversible), clonal expansion of initiated cells occurs due to promotory stimuli resulting in formation of an actively proliferating, pre-malignant tumor cell population. While in progression (irreversible process) additional genetic changes lead to a new clone of tumor cells with increased proliferative, invasive, and metastatic potential.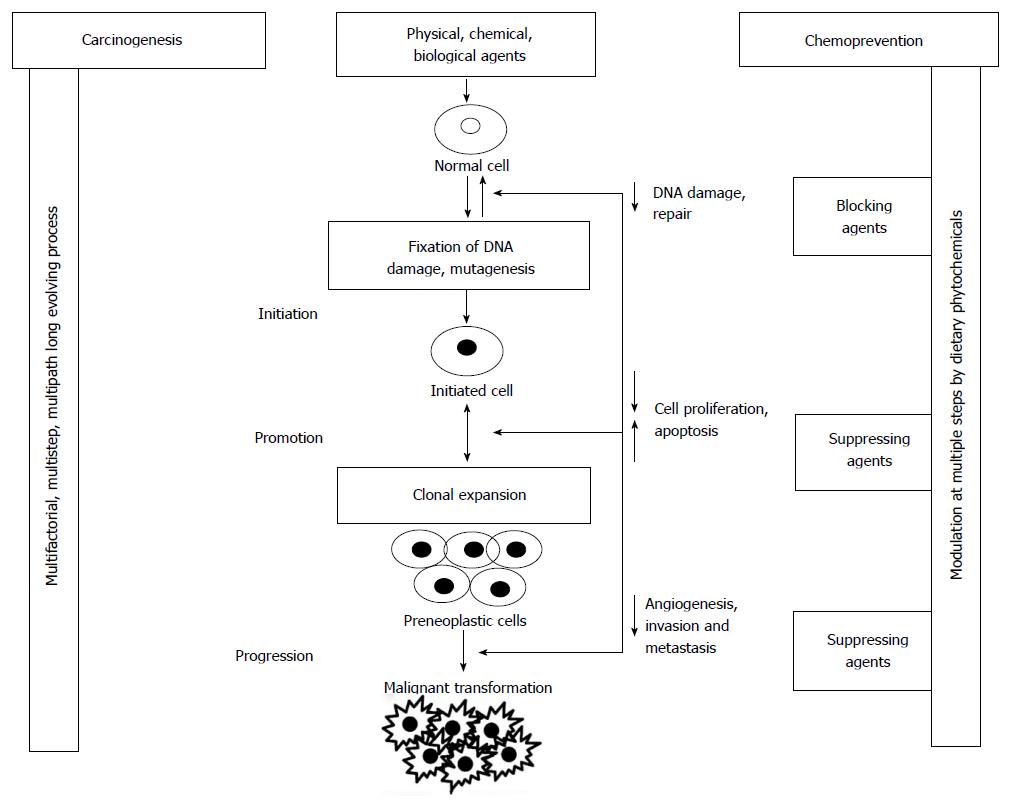 Figure 1 Schematic diagram showing multi-factorial, multi-step process of environmental agent(s)-mediated carcinogenesis and step(s) which are modulated by chemopreventive dietary phytochemical(s).
Exposure to environmental carcinogens results in a series of genetic mutations and such alterations in at least two classes of genes, i.e., proto-oncogenes and/or tumor suppressor genes have been associated with tumor development. Activation of proto-oncogenes by qualitative or quantitative genetic changes results in enhancement of proliferative signals. Alternatively environmental carcinogen-mediated loss or inactivation of tumor suppressor genes (normal genes) also leads to tumor development[6,7]. Genetic mutations, genomic instability, and series of epigenetic events, such as chronic inflammation are known to play role in transformation of normal to malignant cells. All transformed cells exhibit certain common characteristics such as sustained proliferation signals, evasion of growth suppressors, resistance to cell death, replicative immortality, and ability to induce angiogenesis and activation of invasion and metastasis[8].
WHY CANCER PREVENTION?
In spite of significant advancement in understanding the molecular mechanism of cancer development, very limited success has been achieved in early detection and treatment for most of the cancers. For patients with metastatic cancer, even the most advanced treatment strategies have not been successful in saving their lives while patients with less advanced cancer, treatment results in high morbidity and significant social and economic burden. Moreover, development of chemo/radio-resistance and recurrence of tumors are major challenges in the fight against cancer.
Considering limitations in early detection and successful treatment of cancer, preventive interventions have attracted increasing attention and significant research efforts. Several cancer prevention approaches and interventions have demonstrated potential for success in epidemiological and clinical trials across the globe[9,10] (Table 1).
Cancer prevention approach
Measures undertaken
Demonstration in epidemiological studies/clinical trials
Ref.
Avoid/minimize exposure to known carcinogens/risk factors
Quit cigarettes smoking
Epidemiological study followed up for 40 yr on male British doctors demonstrated decrease in risk
[39-41]
Decreasing proportion of young smokers
Decrease in mortality due to lung cancer among younger male cohort
Reduction in number of cigarettes/day or duration of smoking and time since stopping smoking
Epidemiological study - decrease in the rate of lung cancer
[42]
Ban the production and reduce the usage of carcinogenic aromatic amines
Reduction in bladder cancer among the dye workers
[43]
Improvement in food preservation techniques
Significant reduction in incidence and mortality due to gastric cancers
[44]
Vaccination
HPV vaccines
Have shown 95%-100% effectiveness in preventing the cervical cancer precursor lesions and in preventing cervical adenocarcinoma in situ. Protection conferred was highly variable in those with prior HPV infection
[45-47]
Gardasil (HPV 6,11,16,18)
Cervarix (HPV 16,18)
HBV vaccines
Rate of HCC decreased in children (6-14 yr)
[48]
Engerix-B (HBV-DNA)
Recombivax (HBV surface antigen)
Surgical intervention
Prophylactic resection of high risk organs-bilateral mastectomy and oophorectomy in BRCA1/BRCA2 mutations carriers
Decrease in breast cancer risk and breast and ovarian cancer risk
[49-51]
Colostomy in FAP patients
Decrease in colorectal cancer risk in patients with APC mutations
[52,53]
Chemoprevention
Non melanoma skin cancer
Topical application of 5-FU, Immiquimod, Diclofenac, PDT with delta-aminolevulinic acid, Ingenolmebutate
Partial or complete clearance of actinic keratosis leading to decrease in cancer
[54-64]
Skin melanoma
Daily or discretionary sunscreen (SPF15+) for 4 yr
Reduction in invasive melanoma in a community based trial
[22]
Breast cancer
Administration of selective estrogen receptor modulating agent(s) (Tamoxifen, Reloxifen)/aromatase inhibitors (Exemestane)
Trials have demonstrated efficacy of these agents in breast cancer prevention, reduction in recurrence and mortality
[25,65,66]
Prostate cancer
Administration of androgen receptor blockers (Finasteride, Dutasteride)
Reduction in prevalence and risk in clinical trials
[67-70]
Colorectal polyps, Adenomas, and cancer
Administration of NSAIDs- Aspirin, Celecoxib, Rofecoxib, Sulindac, DFMO
NSAIDs-mediated reduction in colorectal adenomas
[24,27,51,71-75]
Significant increase in time to first colorectal cancer occurrence
CANCER PREVENTION AND APPROACHES
Preventing cancers by avoiding or minimizing exposures, especially occupational and societal (habit-related) exposures to known environmental carcinogens is likely to be most practical and cost effective strategy[3,11]. However these approaches of elimination of carcinogen from the environment and/or minimizing the exposure to carcinogens have not achieved desired success due to lifestyle choices and modern developments. Additional cost effective and practical approaches in cancer prevention interventions include pursuing lifestyle or dietary changes, chemopreventive interventions or prophylactic resection of high-risk organs in certain germ-line mutation carriers[9,10,12]. One of these approaches with enormous potential is chemoprevention which can be defined as the use of natural/synthetic/biological agents to suppress or prevent either the initial phases of carcinogenesis (blocking agents) or delay the progression of premalignant cells to invasive disease(suppressing agents)[12-14]. Improved understanding of the molecular basis of carcinogenesis has further enhanced the interest and potential of preventive interventions, i.e.: (1) Process of carcinogenesis involving set of genetic and epigenetic changes has been shown to be modulated by several environmental agents and changes in lifestyle and host factors; and (2) Preventive strategies have achieved good measure of success in other environmental diseases such as infectious diseases (vaccines) and cardiovascular events (treating risk factors with statins, lifestyle changes). Chemoprevention of skin, breast, prostate, cervical, and colon cancer by various prevention agents have further stimulated the interest in the research area[10,12,15] (Table 1).
The aim of cancer chemoprevention is to delay or disrupt cancer causation associated pathways and multiple steps of carcinogenesis viz. initiation, promotion, and progression. Cancer preventive strategies can be classified into primary, secondary, and tertiary prevention. Primary cancer prevention is meant for general population and those at increased risk of cancer development. Secondary prevention is employed in patients with premalignant lesions that may progress to cancer. Tertiary cancer prevention is employed in preventing cancer recurrence (local invasion and/or distant metastasis) or second primary tumor among those who already have developed the disease.
This review article is targeted to briefly elaborate and compare the available evidence and understand the mechanism of chemoprevention by dietary phytochemicals in experimental and clinical investigations without presenting details on the experimental models, methods, and clinical trials.
DIETARY PHYTOCHEMICALS AS CHEMOPREVENTIVE AGENTS: EXPERIMENTAL STUDIES
Amongst environmental chemopreventive compounds, diet/beverage-derived agents due to their long history of exposure to humans, high tolerability, low toxicity, and reported biological activities are fast becoming lucrative targets for chemoprevention. Large number of pure compounds and extracts from dietary components has been evaluated in various experimental models for testing the chemopreventive efficacy of dietary phytochemicals[16,17]. Model systems have been employed based on their ability to rapidly answer, demonstrate expression of multi stage carcinogenesis, tissue/cell specificity, hormone responsiveness, invasiveness, modulation of tumor growth, histological types, and particular relevance to most common human cancers.
Chemopreventive activity of an agent is generally investigated employing carcinogens and/or spontaneously induced tumor and/or appropriate pathways or biomarkers in experimental animals/cell culture assays. In experimental models chemopreventive activity is ascertained based on observed increase in latency period and/or decrease in incidence and/or multiplicity of tumors or by modulation of disease/process associated biomarkers. Alternatively, development of pre-malignant lesions such as hyperplasia formation has been studied instead of carcinogenesis to study initial development[18]. In animal models regression of tumor or tumor xenografts and metastasis has also been reported[19-21].
There are various dietary phytochemicals of plant origin (various plant parts-leaves, vegetables, fruits, seeds, etc.) such as capsaicin, curcumin, diallyl sulphide, genistein, green/black tea polyphenols, indoles, lycopene, phenethyl isothiocyanate, resveratrol, retinoids and tocopherols which are most frequently studied. These dietary phytochemicals have been demonstrated to modulate incidence and/or multiplicity and/or latency period of carcinogen/spontaneously-induced tumors at various organ sites in experimental rodent models (Table 2). Surrogate markers like cell proliferation and apoptosis and various detoxication pathways (xenobiotic enzyme inductions/inhibition, lipid peroxidation, etc.) have also been successfully used for demonstrating protective action in in vivo system. Overall, the mechanisms observed in the dietary phytochemical-mediated inhibition are diverse (Figure 2). The observed anti-initiating and anti-promoting activity of dietary phytochemicals in experimental models involve modulation of redox status, direct interaction with proteins and modulation of signaling kinases leading to effects on genes and cell signaling pathways at multiple levels (Figure 2).
Compounds
Chemopreventive agent administered (before + during + after carcinogen treatment) route-range of dose
Prevention of carcinogen induced tumors

---

Pathways modulated

---

No. of studies reporting protection
Selected ref.
Target organs
Tumor multiplicity/tumor incidence (#)
Latency period
Cell proliferation/apoptosis
Detoxication pathways
Tocopherols
Diet: 0.3%, 100-4000 mg/kg
Lung, Vagina, Prostate, Colon, Mammary gland
↓(3)/NR
NR
↓(3)/↑(2)
↑(2)
8
[76,77]
Indoles
Diet: 0.25%, 500- 4000 ppm, 0.014 mmol/g, 112 μmol/g, Gavage 50-250 mg/kg BW
Endometrium, Liver, Mammary gland, Lung
↓(5)/↓(2)
↑
↓(4)/↑(3)
↑(3)
14
[31]
Genistein
s.c.: 100-400 mg/mL (100 μL), Gavage: 1-500 mg/kg BW
Mammary gland, Prostate, Seminal vesicles, Buccal pouch, Uterous, Colon, Lung
↓(5)/↓(2)
NR
↓(5)/↑(3)
↑(3)
20
[78]
Diet: 100-300 mg/kg
Curcumin
Diet: 0.05%-2%, 500-2000 ppm, Topical: 1-100, 3000 nmol
Skin, Digestive system, Intestine1, Mammary gland, Liver, Kidney, Cheek pouch, Esophagus
↓(14)/↓(8)
NR
↓(12)/↑(8)
↑(9)
23
[79-82]
Dially sulphide
i.g.: 150-200 mg/kg BW, Topical: 0.5%-1% (100 μL)
Colon, Kidney, Forestomach, Urinary bladder, Thymus, Lung, Esophagus, Buccal pouch, Skin, Liver, Colon, Kidney
↓(6)/↓(2)
NR
↓(5)/↑(3)
↑(2)
17
[83,84]
Resveratrol
Diet: 60-200 mg/kg
Urinary bladder, Skin, Mammary gland1, Buccal pouch, Tounge, Prostate, Lung, Salivary gland
↓(5)/↓(1)
↑
↓(7)/↑(6)
↑(4)
24
[85-88]
Retinoids
Topical (Oral): 0.5-1.0 mmol/kg BW
Urinary bladder, Skin, Mammary glands1, Buccal puch, Tounge, Prostate, Lung, Salivary gland
↓(6)/↓(1)
↑
-/-
NR
16
[89-91]
Diet: 150-200 mg/kg
Capsaicin
Diet: 1% capsaicinoids (64.5% capsaicin), Topical (Oral): 10-102 mg/kg BW
Lung, Skin, Tongue, Colon
↓(4)/NR
-
↓(4)/↑(3)
NR
10
[92,93]
Phenethy isothiocyanate
Diet: 5-25 μmol/g, 0.01%-0.1%
Lung, Esophagus, Urinary bladder, Colon
↓(3)/↓(1)
NR
-/-
NR
9
[94-96]
Lycopene
Drinking water: 17 ppm
Prostate, Lung, Colon, Mammary gland1, Buccal pouch, Liver
↓(5)/↓(2)
↑
↓(4)/↑(5)
↑(5)
18
[97]
Diet: 10-300 mg/kg Gavage: 15-20 mg/kg BW
Green, Black tea polyphenols
Drinking water: 1%-5%, 200-1000 ppm
Liver, Skin, Mammary gland, Lung, Buccal pouch, Colon, Esophagus, Prostate gland
↓(15)/↓(6)
↑
↓(9)/↑(10)
↑(8)
24
[98-104]
Diet: 0.05%, Topical: 1-200 mg/animal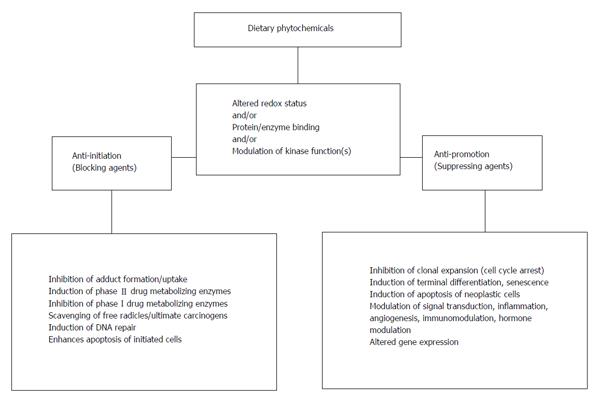 Following findings are noted after comparing and analyzing the outcome of all available experimental studies (Table 2) evaluating the chemopreventive efficacy of dietary phytochemicals: (1) Effects are moderate and generally decrease in multiplicity, burden of tumor, and/or moderate increase in latency period have been observed without major change in incidence of tumor; (2) Relatively long and repeated exposures (prior, during, and post-carcinogen) to dietary phytochemicals have generally been needed for observing protective effects; (3) Most of the dietary phytochemicals have been demonstrated to be effective against several classes of environmental carcinogens at multiple organ sites; (4) Bioavailability of dietary phytochemicals and their metabolites have not been reported from most of the experimental studies that demonstrated their chemopreventive efficacy; and (5) In most of these studies doses of chemopreventive agent(s) administered or effective doses appear to be much higher than normal dietary exposures received in human, although chemopreventive doses have not been reported to be toxic.
CLINICAL TRIALS
Comprehensive evaluation of preclinical efficacy and safety of dietary phytochemicals, the promising compounds have been evaluated in appropriate clinical trials. A brief summary of the outcome from these trials has been presented (Table 3) and following points may be summarized: (1) In most of the trials chemopreventive agents were administered to patients with cancer or high risk individuals, i.e., after occurrence of damage or disease; (2) Though there are several clinical trials conducted using dietary phytochemicals, results from only approximately 20% trials have been reported. Other trials have either not been completed or their results are not reported due to issues of toxicity, bioavailability and other unknown reasons under the conditions employed for the trials; (3) Bioavailability issues have been reported for curcumin, genistein, resveratrol, lycopene and green tea; (4) Toxicity issues have been reported in clinical trials conducted with tocopherols and retinoids; and (5) Very few trials with curcumin and green tea have shown beneficial effects as judged by modulation of biomarkers and symptoms.
Compounds
No. of clinical trials

---

Chemopreventive agent administered

---

Target organs
Efficacy
Bioavailability/toxicity issues
Ref.
Conducted
Results reported
High risk individuals/patients1
Route-dose range
Curcumin
52
3
-/+
Oral: 0.036-8 g daily
Multiple organ sites
+(2)/-(1)
+(1)/-(3)
[105-107]
Genistein
29
7
-/+
Oral: 160-600 mg/d
Breast, urothelial bladder, Mammary gland
NR
+(1)/-(1)
[108,109]
Indoles
4
0
-/+
Oral: 2 serving (½ cup/serving) daily
Prostate, breast, blood
NR
NR/NR
NR
Tocopherols
28
9
+/+
Oral: 50-500 mg/d, 400-1000 IU/d
Prostate, lung
NR
NR/+(2)
[110]
Dially Sulfide
0
0
-/-
NR
NR
NR
NR/NR
NR
Resveratrol
5
2
-/+
Oral: 20-80 mg/d
Colorectal, colon
+(2)
+(1)/-(2)
[32,111]
Retinoids
102
17
+/+
Oral: 1-80 mg/d
Lung, blood, prostate, kidney, skin, blood, head and neck, liver
+(3)/-(7)
NR/+(2)
[112,113]
Capsaicin
2
0
-/+
Oral: 112 mg twice daily for 6 mo, one capsaicin lozenge 4 times daily
Prostate, head and neck
NR
NR/NR
NR
PEITC
9
1
-/+
Oral: Broccoli (300 g) soup four times daily for 5 d, Broccoli seed extract (250 mg), 40 mg PEITC capsules 4 times a day
Lung, oral
-(1)
NR/-(1)
NR
Lycopene
26
24
-/+
Oral: 15-90 mg/d
Prostate
+(1)/-(1)
+(2)/NR
[114,115]
Green tea
85
6
-/+
Oral: 400-2000 mg twice a day, (daily dose is equivalent of 9 cup-of-green tea per day (0.9 g/d GTE, 0.6 g/d EGCG)
Blood, colorectal, prostate, pancreas
+(3)/-3
+(3)/-(3)
[116-118]
If direction of results from clinical trials evaluating the chemopreventive potential of dietary phytochemicals is compared with that of their chemopreventive effects in experimental models, it is clear that efficacy observed in experimental studies has not been observed in clinical trials. To understand the differences between experimental studies and clinical trials that may have contributed in the observed mismatch in the direction of outcome, the probable major differences have been listed below: (1) Experimental systems are generally simple and homogenous in terms of genetic, host and lifestyle factors and conditions are controlled, while in clinical trials additional variables of host and lifestyle factors, exposure complexity and metabolic competence makes the system more complex; (2) Exposure to potential chemopreventive agent in experimental systems is generally before, during and/or after carcinogen treatment when cells/tissues/processes are generally normal while in clinical trials considered in this review administration of chemopreventive agent is after damage/disease, i.e., high-risk individuals/cancer patients; and (3) Chemopreventive efficacy of dietary phytochemicals in experimental systems has been generally at doses higher than their normal dietary exposure to human while bioavailability and toxicity issues have probably affected the outcome in clinical trials.
To understand the role or contribution of listed factors (differences between two systems), a comparison of similarities and differences in the properties and biological effects of dietary phytochemicals with approved chemopreventive agents has been made (Table 4).
Dietary phytochemicals
Approved chemopreventive agents
Occurrence
Natural compounds of plant origin
Majority are synthetic compounds while some are biological and/or natural agents
Long History of exposure to humans through food
Human exposure as prescribed drug/vaccine
Easily available and relatively cheaper
Available on prescription and relatively expensive
Properties
Anti-oxidant/polyphenolic in nature, sparingly soluble in water
Widely differing properties and characteristics
Chemopreventive efficacy
Established in experimental models, yet to prove efficacy in clinical trials
Established both in experimental models and clinical trials
Effects-weak to moderate
Effects-moderate to strong
Successful against different classes of carcinogens and at multiple organ sites
May not be successful against different classes of carcinogens and at multiple organ sites
Mechanism(s)
Modulators of redox status and kinase functions, inducer of phase II enzymes
Mechanisms are diverse and may not be related to redox status and/or kinase functions, may not be modulating phase II enzymes
Modulate multiple pathways/targets
Modulation of specific targets/pathways
Specificity
Relatively less specific/non-specific (Pleotropic effects)
Relatively specific to defined agent/exposure and/or molecular pathways
Toxicity
Depends on dose and duration of exposure. Non-toxic at the doses present in food
Depends on dose and duration of exposure
Considering the chemopreventive efficacy of approved chemopreventive agents both in experimental studies as well as clinical trials[22-29], it appears that differences in host and lifestyle factors and the time of exposure to chemopreventive agent, i.e., before and after damage/disease, may not be the major determinants in the direction of outcome between the two systems. Based on these comparisons and reports in literature on the properties and bioavailability of dietary phytochemicals in clinical trials, bioavailability, metabolic processing and toxicity related differences appear to be the major and important factors.
CURRENT STATUS AND RECOMMENDATIONS
Several clinical trials have found that administration of dietary phytochemicals resulted in low undetectable levels in blood[30-32], which probably curtailed its progress from laboratory to the clinic. Search for potential factors contributing to low bioavailability suggest: (1) low aqueous solubility (polarity, poor dissolution rate) of compounds; (2) poor absorption (lipophilic nature); and (3) extensive metabolic conversion to conjugates/metabolites. Number of approaches are currently being evaluated for enhancing the bioavailability such as use of nano-dietary phytochemicals (particles)/dietary phytochemicals in nano-carriers, incorporation of polymers, proteins/amino acids, phospholipids and/or solid lipids, use of liposomes for delivery of dietary phytochemicals or using phytochemicals coated with essential natural oil and use of synthetic analogues[33]. With continuing efforts to enhance the bioavailability of dietary phytochemicals using various approaches, we also need to understand if there is linear relationship between bioavailability and bioefficacy and identify the factors that are responsible for observed toxicity of these compounds in clinical trials but not in experimental studies.
Considering the limitations of currently available/employed animal models in identification of environmental chemopreventive agents, existing models need to be improved and new experimental models need to be developed. Efforts to achieve/incorporate exposure complexity similar to those in humans and replication of human host and/or lifestyle factors in animal models if successful may help in addressing the current limitations. Before embarking on clinical trials, experimentally successful chemopreventive agent(s) need to be thoroughly investigated for the mechanism(s) of observed chemopreventive actions and/or toxicity. Similarities and differences in circulating levels of chemopreventive agent(s) and metabolic products attained in experimental vs real life also need to be understood. Since process of carcinogenesis involves complex interplay between various factors it is suggested to study and understand the role of diet (animal vs plant sources), calorie content and physical activity on the dietary phytochemical(s) (single or mixture)-mediated effects in experimental systems and in humans. This suggestion is based on the available experimental and epidemiological observations on modulatory effects of calorie content[34,35], diets rich in fruits and vegetables[36] and moderate physical activity[37,38]. Experimental and clinical observations based on mechanistic studies, gene-environment interactions and complementary nutritional studies may help in identifying environmental chemopreventive agents. However, cancer being multi-factorial, multi-step complex evolving process, establishing or understanding the protective effect of one such factor or class of agent alone may not address the problem satisfactorily. Identifying novel prevention approaches and developing number of dietary chemopreventive agents differing in mechanism of their chemoprotectory action may help in slowing down and delaying /prevention of environmental cancers.
ACKNOWLEDGMENTS
Dr. Maru GB thanks Director, ACTREC for the opportunity and support. Authors thank Dr. Priyanka Tilak for critical reading of the manuscript. Authors also thank Photography and IT department, ACTREC, Mr. Venkatesh Pai and Mr. Ashish Kulkarni for technical improvements in the manuscript.
P- Reviewer: Poirot M, Ruiz RB S- Editor: Ji FF L- Editor: A E- Editor: Jiao XK