Copyright
©The Author(s) 2015.
Published by Baishideng Publishing Group Inc. All rights reserved.
Coronary atherosclerosis is already ongoing in pre-diabetic status: Insight from intravascular imaging modalities
Osamu Kurihara, Masamichi Takano, Yoshihiko Seino, Cardiovascular Center, Chiba-Hokusoh Hospital, Nippon Medical School, Chiba 270-1694, Japan
Wataru Shimizu, Division of Cardiology, Nippon Medical School, Tokyo 173-8605, Japan
Kyoichi Mizuno, Mitsukoshi Health and Welfare Foundation, Tokyo 173-8605, Japan
Conflict-of-interest: None of the authors have any conflict of interest in relation to the work described herein. No financial support was received for the study, nor do any of the authors have relevant relationship with industry.
Open-Access: This article is an open-access article which was selected by an in-house editor and fully peer-reviewed by external reviewers. It is distributed in accordance with the Creative Commons Attribution Non Commercial (CC BY-NC 4.0) license, which permits others to distribute, remix, adapt, build upon this work non-commercially, and license their derivative works on different terms, provided the original work is properly cited and the use is non-commercial. See: http://creativecommons.org/licenses/by-nc/4.0/
Correspondence to: Masamichi Takano, MD, Cardiovascular Center, Chiba-Hokusoh Hospital, Nippon Medical School, 1715 Kamakari, Inzai, Chiba 270-1694, Japan. takanom@nms.ac.jp
Telephone: +81-476-991111 Fax: +81-476-991908
Received: August 28, 2014
Peer-review started: August 29, 2014
First decision: September 30, 2014
Revised: October 22, 2014
Accepted: December 16, 2014
Article in press: December 17, 2014
Published online: February 15, 2015

Diabetes mellitus is a powerful risk factor of coronary artery disease (CAD), leading to death and disability. In recent years, given the accumulating evidence that prediabetes is also related to increasing risk of CAD including cardiovascular events, a new guideline has been proposed for the treatment of blood cholesterol for primary prevention of cardiovascular events. This guideline recommends aggressive lipid-lowering statin therapy for primary prevention in diabetes and other patients. The ultimate goal of patient management is to inhibit progression of systemic atherosclerosis and prevent fatal cardiovascular events such as acute coronary syndrome (ACS). Because disruption of atherosclerotic coronary plaques is a trigger of ACS, the high-risk atheroma is called a vulnerable plaque. Several types of novel diagnostic imaging technologies have been developed for identifying the characteristics of coronary atherosclerosis before the onset of ACS, especially vulnerable plaques. According to coronary angioscopic evaluation, atherosclerosis severity and plaque vulnerability were more advanced in prediabetic than in nondiabetic patients and comparable to that in diabetic patients. In addition, pharmacological intervention by statin therapy changed plaque color and complexity, and the dynamic changes in plaque features are considered plaque stabilization. In this article, we review the findings of atherosclerosis in prediabetes, detected by intravascular imaging modalities, and the therapeutic implications.
Core tip: Coronary artery disease is the principal cause of death and disability in not only diabetes but also prediabetes patients. Aggressive statin therapy is an established method of primary prevention of cardiovascular disease events in diabetic patients. According to the findings of coronary imaging modalities detecting atherosclerotic lesions, statin therapy in prediabetes may be beneficial for reducing atherosclerotic cardiovascular risk.
---
Citation: Kurihara O, Takano M, Seino Y, Shimizu W, Mizuno K. Coronary atherosclerosis is already ongoing in pre-diabetic status: Insight from intravascular imaging modalities. World J Diabetes 2015; 6(1): 184-191
---
INTRODUCTION
Diabetes is categorized as a metabolic disease char-acterized by hyperglycemia arising from abnormal insulin secretion from the pancreas and/or lack (or absence) of insulin action. Diabetes causes damage, dysfunction, or failure of various organs involving heart and blood vessels[1]. It is well known that diabetes promotes atherosclerotic disease of systemic and coronary arteries and increases the mortality rate from cardiovascular disease[2,3]. However, myocardial ischemia owing to coronary artery disease (CAD) is occasionally absent from the typical symptoms in patients with diabetes[4]. As a result, severe multivessel disease of the coronary arteries can manifest as silent myocardial ischemia before treatment is begun. A delayed recognition of CAD can worsen the prognosis in many diabetic patients[5]. Moreover, a recent study showed that impaired fasting glucose (IFG) and impaired glucose tolerance (IGT) are also causes of adverse cardiovascular events[6,7].
A goal of CAD management is to prevent cardio-vascular diseases such as acute coronary syndrome (ACS). The principal pathogenesis of ACS is disruption of atheromatous coronary plaques and subsequent flow-limiting thrombus formation[8,9]. Plaque disruption, the trigger of this serious event, is pathologically classified as a rupture, and shallower intimal injury is termed erosion. Additionally, previous pathological studies showed that the majority of disrupted plaques have a large lipid core under a thin fibrous cap, hence the term thin-cap fibroatheroma (TCFA). Not only plaque rupture but also superficial calcified nodules are possible origins of ACS[10-12]. A vulnerable plaque is defined as a future high-risk plaque provoking ACS, and TCFA is representative of a vulnerable plaque. In recent years, novel intraco-ronary imaging modalities have been developed for detecting such vulnerable plaques.
Coronary angiography remains the gold standard for diagnosis of CAD and the following catheter intervention therapy. However, an angiogram represents a 2-dimensional silhouette of the coronary artery, and the angiogram does not supply certain information about the vessel wall components or the atherosclerotic plaque. Therefore, a coronary angiogram is not capable of detecting vulnerable plaques, including TCFA. Thus, supplemental CAD diagnostic modalities, including various intravascular imaging devices such as intravascular ultrasound (IVUS), coronary angioscopy (CAS), and optical coherence tomography (OCT), have been developed to discriminate each component of the plaque and to identify the presence of vulnerable plaques.
INTRACORONARY INVASIVE IMAGING MODALITIES
IVUS
IVUS is an intravascular imaging modality that supplies cross-sectional images of the coronary artery including the lumen and vessel wall. High-frequency (20-40 MHz) IVUS visualizes 3 layers of the vessel wall: the intima, media, and adventitia. IVUS allows in vivo qualitative measurements of the lumen and plaque area (and volume). Conventional grayscale IVUS images have major limitation of precise tissue characterization except calcification. Although a large plaque burden and microcalcifications, factors of plaque vulnerability, are detected by grayscale IVUS, this imaging system is not able to identify TCFA[13]. Because of these limitations, 3 modalities using radiofrequency analysis, virtual histology IVUS (VH-IVUS; Volcano Therapeutics, Rancho Cordova, CA, United States)[14], iMAP-IVUS (Boston Scientific, Santa Clara, CA, United States)[15], and integrated backscatter IVUS (IB-IVUS; YD Co., Nara, Japan)[16] are now available in clinical settings.
VH-IVUS takes into account detailed qualitative and quantitative assessment of the vessel wall components. The axial resolution of VH-IVUS is just about 150-250 μm. Ex vivo studies have shown that power spectrum-related parameters from raw backscattered ultrasound signals permit discrimination of plaque components[17]. These parameters are used in a classification scheme to yield a tissue color map for each plaque characteristic as follows: dark green indicates fibrous, yellow-green indicates fibrofatty, red indicates necrotic core, and white indicates dense calcium. VH-derived TCFA was defined as at least 3 consecutive frames with a plaque burden of at least 40% and without overlying fibrous tissue[18]. A recent prospective study using VH-IVUS, the PROSPET trial, has shown that the VH-derived TCFA with a minimal luminal area ≤ 4 mm2 and a plaque burden ≥ 70% was the highest-risk plaque type leading to adverse cardiovascular events[19].
CAS
CAS using optic fibers is a technology that permits direct visualization of the lumen surface of the coronary artery and provides detailed information about plaque morphology and the presence of a thrombus with high resolution (50 μm). CAS clearly identifies irregularities of the lumen surface, such as ulceration, fissures, and tears. Disrupted plaques are involved in these plaques with irregularities (or complexity). In addition, CAS is an extremely sensitive detector of a thrombus. Angiographic stenosis of the lesion progresses despite healing of the silent plaque disruption in the nonculprit lesions[20].
Based on angioscopic analysis, an atherosclerotic plaque is defined as a nonmobile, protruding structure that can be clearly delimited from the adjacent vessel wall. Although a normal vessel wall appears glistening white, plaques can be yellow or white according to the surface color. The color of the plaque is classified semiquantitatively: (1) grade 0 is white; (2) grade 1 is light yellow; (3) grade 2 is medium yellow; and (4) grade 3 is intense yellow. The majority of yellow plaques contain lipid-rich tissue or a necrotic core according to comparative validation using OCT and IVUS. The grade of yellow plaques is affected by the thickness of the fibrous cap covering lipidic tissue. A high-intensity yellow plaque is identical to a TCFA. On the contrary, white plaques contain fibrous tissue or a thick fibrous cap covering the lipidic plaque[21-24]. Yellow plaques are detected not only in the culprit lesion but also in the nonculprit lesions of ACS[25-29]. Representative CAS images of plaques and thrombi are shown in Figure 1.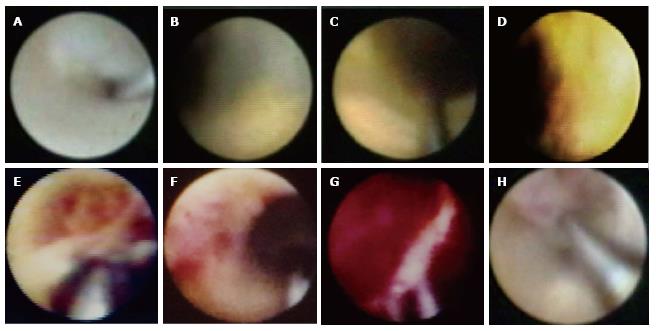 Figure 1 Classification of coronary angioscopic images.
A: White plaque (yellow grade 0); B: Light yellow plaque (grade 1); C: Yellow plaque (grade 2); D: Intense yellow plaque (grade 3); E: Plaque rupture; F: Plaque erosion; G: Red thrombus; H: White thrombus.
Prospective studies demonstrated that the incidence of ACS is higher in patients with intense yellow or multiple yellow plaques than in patients without yellow plaques[30,31]. These findings indicate that intense yellow or multiple yellow plaques detected by CAS might be vulnerable and could cause future coronary events.
OCT
OCT imaging employs a near-infrared range light source, at approximately 1300 nm. OCT has a 10-fold higher image resolution (10-15 μm) than IVUS, and its image quality is superior to that of other imaging devices. In addition, OCT provides accurate tissue characterization of the plaque. Normal vessel walls appear as a 3-layer structure on OCT images as well as IVUS. The vascular media is seen as a dark band delineated by the internal elastic lamina and external elastic lamina. Fibrous plaques consist of homogeneous and low-attenuation areas. Lipid-rich plaques exhibit a high-attenuation mass with a diffuse border. A calcified plaque is presented as high-attenuation mass with a clear border[32-36].
OCT is the only intravascular imaging technology with high spatial resolution that can measure the fibrous cap thickness[37,38].
CORONARY ATHEROSCLEROSIS INDUCED BY GLUCOSE METABOLISM DISORDER
CONCLUSION
We should consider the risk of CAD in the prediabetic state with mild glucose metabolism disorder, and further clinical investigations are required to establish an exact risk stratification and prevent future cardiovascular events in patients with prediabetes.
P- Reviewer: Charoenphandhu N, Gorrell MD S- Editor: Tian YL L- Editor: A E- Editor: Lu YJ