Copyright
©2014 Baishideng Publishing Group Inc.
All rights reserved.
Effect of liver regeneration on malignant hepatic tumors
Ji-Hua Shi, Pål-Dag Line, Department of Transplantation Medicine, Institute for Surgical Research, Oslo University Hospital, Postboks 4950, Nydalen 0424, Oslo, Norway
Author contributions: Shi JH and Line PD contributed equally to this work; Shi JH and Line PD designed the review and performed the literature review; Shi JH wrote the manuscript; Line PD provided substantive revisions; all authors approved the final version of the manuscript.
Correspondence to: Pål-Dag Line, MD, PhD, FEBS (Tx), Chairman, Department of Transplantation Medicine, Institute for Surgical Research, Oslo University Hospital, Postboks 4950, Nydalen 0424, Oslo, Norway. p.d.line@medisin.uio.no
Telephone: +47-23-070509 Fax: +47-23-070510
Received: March 3, 2014
Revised: May 5, 2014
Accepted: June 21, 2014
Published online: November 21, 2014

Liver regeneration after major surgery may activate occult micrometastases and facilitate tumor growth, leading to liver tumor recurrence. Molecular changes during liver regeneration can provide a microenvironment that stimulates intrahepatic tumor propagation through alterations in cellular signaling pathways, where activation and proliferation of mature hepatocytes, hepatic progenitor cells, non-parenchymal liver cells might favor both liver regeneration and tumor growth. This review highlights recent advances of tumor growth and development in the regenerating liver, possible mechanisms and clinical implications.
Core tip: The liver has a unique capacity for regeneration after cellular damage or partial removal of tissue, and modern liver surgery relies on this property. Liver regeneration is a complex process involving a large array of growth factors, cytokines and cells to restore hepatic mass and function. Experimental and clinical data indicate that the regeneration signals facilitate the growth of both primary and secondary liver tumors and can alter their malignant potential. This is an important mechanism underlying recurrence after liver surgery. New therapeutic strategies founded on better insight into the relationship between liver regeneration and tumor biology are needed.
---
Citation: Shi JH, Line PD. Effect of liver regeneration on malignant hepatic tumors. World J Gastroenterol 2014; 20(43): 16167-16177
---
INTRODUCTION
Malignant liver tumors can be classified into primary cancers and secondary (metastatic) tumors. Hepatocellular carcinoma (HCC) is the most common primary malignancy of the liver, accounting for 70%-85% of the total liver cancer cases, is the leading cause of death amongst cirrhotic patients and the third leading cause of cancer mortality worldwide[1-4]. The prognosis of HCC without specific treatment is poor with median survival of early and advanced HCC being 6-9 mo and 1-2 mo, respectively[5]. In developed countries 30%-40% of HCC patients are now being diagnosed at earlier stages when curative treatments can be optimally applied[6-8]. Liver surgery, including liver resection and liver transplantation (LTx), are the primary curative options from an intention-to-treat perspective for HCC with an overall 5-year survival rate of 40%-70% after resection and a superior 5-year overall survival after liver transplantation above 70% in well-selected candidates[7-12]. Although liver surgery can achieve long-term control in some patients with early HCC, tumor recurrence rates are high at approximately 50% at 3-years observation after hepatic resection[13].
The majority of malignant liver tumors in western countries are metastatic tumors. Colorectal cancer (CRC) is the third most common cancer[1] and the fourth leading cause of cancer deaths worldwide[14,15]. javascript:newshowcontent ("active", "references"); The liver is the most frequent and often unique site of metastasis (colorectal liver metastases - CLM) and are present at diagnosis of CRC in about 30% of patients (synchronous) and in about 40% of patients after aggressive surgery on the primary tumor (metachronous)[16,17]. Modern surgical techniques and chemotherapy can improve the five-year survival rate for selected patients with CLM, but intrahepatic recurrence after liver resection occurs in 40%-60% of patients, usually within 12-18 mo postoperatively[18,19].
Although some patients may benefit from more aggressive approaches when recurrence is still observed in the liver, this is generally associated with a poor outcome in most of cases owing to multi-centricity or inadequate functional liver reserve if a resection were to be attempted[20-23]. The high frequency of tumor recurrence following liver surgery is still a significant clinical problem impairing the long-term survival.
Accumulating clinical and experimental studies have suggested that liver regeneration following surgical resection may activate occult micrometastases, facilitate tumor growth and thereby contribute to tumor recurrence[16,24-27]. Similarly, an enhanced tumor growth rate has been reported following portal vein embolization when performed as a preparation to liver resection[28]. The association between the development of micrometastases, neoplastic progression and the factors involved in liver regeneration that particularly promote neoplastic progression are only partly understood. It is therefore necessary to investigate mechanisms of recurrent liver tumor in the regenerating liver, in order to find strategies for suppressing tumor recurrence after surgery.
CLINICAL AND PATHOLOGICAL CHARACTERISTICS OF RECURRENT LIVER CANCER
The liver accounts for 30%-91% of recurrent HCC and 40% of CRC metastases after surgery[18,29-31]. The presence of satellite lesions, intrahepatic microvascular invasion and poor histological differentiation are markers for recurrence and a bad prognosis[11,32]. There are two distinct categories of recurrences: undetected micrometastasis due to multicentric tumor or "de novo" cancer arising as a result of an underlying carcinogenic liver disease in the liver remnant[11,30,31,33].
This distinction may have significant prognostic and therapeutic implications, but it can be difficult to make a differentiation between the two types in individual patients. In general, recurrence due to residual tumors missed at initial workup or incomplete resection margins usually occur earlier, well within the first 24 postoperative months, and the shorter the time frame from primary operation to diagnosis of relapse, the worse the prognosis[34]. Patients with multicentric primary liver cancer presenting with a late solitary recurrence and good liver function, can after thorough evaluation appear to be good candidates for re-resection, as opposed to patients with intrahepatic metastases, which are often multifocal[31]. Further studies based on a systematic analysis of both recurrent and primary tumors may help to clarify this issue[35,36].
LIVER SURGERY AND POSTOPERATIVE LIVER REGENERATION
Liver surgery, including liver resection and in selected cases LTx, as well as radiofrequency ablation (RFA), are the first-line options for early HCC and limited CLM. Liver resection may be performed when there is a sufficient functional reserve in the liver remnant, no extrahepatic metastases and no severe portal hypertension. Since 1996, orthotopic LTx[37] has been the preferred treatment for small HCC developed in cirrhosis as it cures both the tumor and the cirrhosis[38,39]. Living-donor transplantation is an alternative, which enables patients to avoid the long waiting time before LTx and is a more effective approach to reduce the dropout rate from the waiting list[40]. Despite that CLM is still considered an absolute contraindication for liver transplantation, recent single center experience have shown that patients with CLM can achieve long-term survivals of 95%, 68% and 60% at 1, 3 and 5 years respectively[41]. RFA has become the most frequently used form of ablative therapy[42]. The main advantage of RFA is the ability to treat a variable number of liver lesions, and to increase resectability rate by combining RFA with resection if several lesions throughout the parenchyma have to be removed simultaneously[43]. RFA achieves a local complete response rate of more than 80%[44] , improves the overall survival compared with other modalities such as chemotherapy or percutaneous ethanol injection[45,46], and has in selected series demonstrated a similar 5-year survival rate as a primary liver resection[47].
Liver regeneration is a reparative process following parenchymal damage or surgical resection of the liver[48]. The compensatory process of hepatic regeneration involves numerous cells and molecules (cytokines and growth factors) that mediate their role through multiple molecular pathways[48-52] (Table 1).
Regeneration Phases
Molecular factors
Origin
Targets and Effects
Involved Signalling pathways
Priming stage
Nitric oxide, prostaglandins, tumor necrosis factor, interleukin 6
NPLCs
Trigger of liver regeneration, sensitizing hepatocytes to growth factors for replication
NF-κB, JAK/STAT3 and MAPK signaling pathway
Proliferation stage
HGF
HSCs and other NPLCs, hepatocytes; mesenchymal cells
Cooperative effects allow the hepatocytes to overcome cell-cycle
HGF/cMet signaling pathway
TGF-α
Hepatocytes, HSCs
Checkpoint-controls and transition of hepatocytes from G0, through G1, to the S phase of the cell cycle, leading to DNA synthesis and cell proliferation
EGFR signaling pathway IGF-1R and insulin receptor
EGF
Salivary glands in intestine and pancreas
IGF
Hepatocytes, NPLCs
PDGF
Hepatocytes
Mitosis in NPLCs, remodelling of ECM
PDGFR in HSCs
VEGF
VEGF receptor in endothelial cells
Termination stage
TGF-β
HSCs, other NPLCs, mesenchymal cells
Inhibition of hepatocyte DNA synthesis, remodeling of ECM, restoration at the end of regeneration
TGF-β signaling pathway
Others
Wnt/β-catenin plays a supportive role in liver regeneration; metalloproteinase play a pivotal role in ECM degradation, generation and degradation of active growth factor and signaling molecules in the ECM
The progression of liver regeneration is segmented roughly in three phases: priming (G0 to G1 phase), proliferation (G1 to M phase) and termination. Liver regeneration progression is highly coordinated by the signal communication between hepatocytes and non-parenchymal cells, and is also influenced by endocrine factors, sympathetic intervention, and blood perfusion of the liver. The process of restoration of liver volume is initiated by the replication of various types of intrahepatic cells. Replication of hepatocytes generally starts within 1 d after major resection in both rodents and humans. This is predominantly due to that the hepatocytes go from the quiescent G0 phase to the G1 phase, undergo mitosis and continue during sufficient rounds of mitosis to restore the original mass of the liver trough the stimulation of growth factors and other mitogens. Nonparenchymal cells, such as sinusoidal endothelial cells, Kupffer cells, and biliary duct cells replicate in a delayed fashion[48,50,53,54], but demonstrate a similar synchronicity in DNA synthesis and mitosis as seen in hepatocytes[48]. Accompanying the cellular replication, there is also a breakdown and remodeling of the extracellular matrix (ECM), promoted by cell-ECM interactions, which is also of vital importance in regulating liver regeneration[55].
The original size and weight of the liver is re-established within one week after hepatectomy in rodents and about 3 mo in humans[48]. The parenchyma that have been damaged or removed does not regrow and the growth of the remnant liver or graft is a restoration of function by induced hyperplasia. Thereafter, the hepatocytes enter their non-replicative and quiescent, functional state. The lobes are slowly reorganized and hepatic histology is completely restored after 2-3 wk in rodents and 3-6 mo in humans[48,56]. Clinical data shows that liver regeneration is significantly impaired in damaged livers due to viral hepatitis[57] and this is true also for a variety of other chronic liver diseases.
REGENERATION FACTORS INFLUENCING TUMOR GROWTH AND METASTASIS
Development and progression of liver cancer and liver metastases is a multifaceted molecular process, which is linked to alterations in some prominent cellular signalling pathways, including RAS/RAF-MAPK pathway, phosphatidylinositol-3 kinase (PI3K)/AKT pathway, WNT/β-catenin pathway, insulin-like growth factor pathway (IGF), hepatocyte growth factor (HGF)/c-MET pathway and growth factor-regulated angiogenic signaling[16,19,58-61].
It has been demonstrated that the cellular and molecular changes following hepatectomy, including surgical stress responses, ischemia reperfusion injury can alter the kinetics of tumor growth and thereby contribute to recurrence[16,62-64]. The factors related to the surgical stress itself represent transient changes, whereas the process of liver regeneration can act as a stronger and more sustained stimulus that promotes the growth of occult tumors and neoplastic development. Liver regeneration after surgery provides a microenvironment with many growth factors and cytokines that are favorable for tumorgenesis and tumor propagation through cell activation, proliferation, migration and angiogenesis[16,19,24-27]. The majority of studies in HCC indicate that factors linked to tumor invasiveness and vascular involvement are the most important[20]. In addition, the mechanisms involving endocrine, autocrine and paracrine occurring during liver regeneration can influence dormant micrometastases and tumorgenesis in the remnant liver[16,50].
Major surgery results in a rapid influx of cytokines, such as tumour necrosis factor α (TNF-α) and interleukin 6 (IL-6), and angiogenic factors that alter the microenvironment of distant dormant tumor deposits. Growth factors such as HGF, epidermal growth factor, transforming growth factor alpha (TGF-α) and TGF-β, which play an essential role in liver regeneration, have been shown to be associated with increased tumor aggressiveness and metastasis[58-61,65] (Figure 1, Figure 2 and Table 2). Tumor growth requires the balance of growth factors and cytokines in the microenvironment to favor angiogenesis[66]. Angiogenic inhibitors, ECM proteins and ECM protein fragments are determining for maintaining the dormant state[67,68]. ECM breakdown and rebuilding during liver regeneration are required for tumor metastasis into within the liver, or through the blood and lymphatic circulation. Well documented factors common to liver ECM changes during liver regeneration include matrix metallopeptidases (MMPs), fibroblast growth factor (FGF), hypoxia-induced factor-1a, vascular endothelial growth factor (VEGF) and platelet-derived growth factor (PDGF)[50].
Figure 1 Molecule-mediated liver regeneration through interactions between mature hepatocytes and non-parenchymal liver cells: Kupffer cells, sinusoidal endothelial cells, biliary endothelial cells, stellate cells (adapted from Paschos and Bird[19]).
EGF: Epidermal growth factor; FGF: Fibroblast growth factor; HGF: Hepatocyte growth factor; IL-6: Interleukin 6; MMPs: Matrix metallopeptidases; PDGF: Platelet-derived growth factor; TNF: Tumour necrosis factor; TGF-α: Transforming growth factor α; TGF-β1: Transforming growth factor β1; VEGF: Vascular endothelial growth factor.
Signaling pathways
Cell survival
Cell proliferation
Cell differentiation
Cell migration
Angiogenesis
Receptor tyrosine kinase signaling pathways
HGF/c-MET
√
√
√
√
EGF(TGF-α)/EGFR
√
√
IGF/IGFR
√
√
√
VEGF/VEGFR
√
PDGF/PDGFR
√
TGF-β1/SMAD
√
√
Intercellular kinase signaling pathways
RAF/MEK/ERK
√
√
√
√
PI3K/AKT/mTOR
√
√
√
Wnt/β-catenin
√
√
√
√
Hedgehog
√
√
√
NK-κB, JAK/STAT3
√
√
√
√
√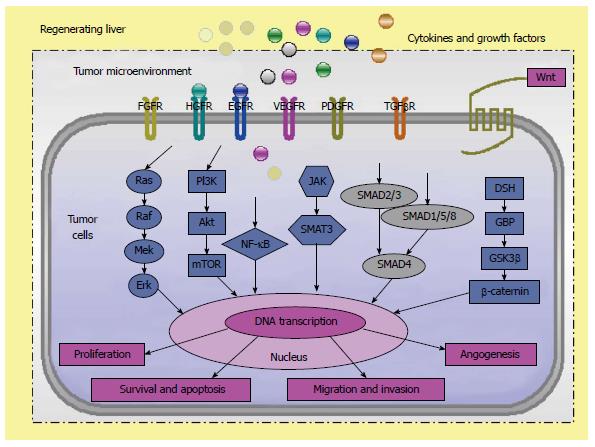 Figure 2 Molecule-mediated signal pathways in the propagation of liver cancer during liver regeneration.
NF-κB and JAK/STAT3 pathways, Phosphatidylinositol-3 kinase (PI3K)/AKT pathway, Ras/Raf/Mek/Erk pathway, TGF-β/SMAD pathway, WNT/β-catenin pathway and activation of nuclear transcription are implicated in this process. EGFR: Epidermal growth factor/transforming growth factor α receptor; FGFR: Fibroblast growth factor receptor; HGFR: Hepatocyte growth factor receptor; PDGFR: Platelet-derived growth factor receptor; TGFβ: Transforming growth factor beta receptor; VEGFR: Vascular endothelial growth factor receptor.
The epithelial cells from the primary or recurrent liver tumor, may in addition themselves undergo an epithelial to mesenchymal transition (EMT) and thereby increase their invasive potential as a response to various stimuli within the tumor microenvironment[69]. The growth factors that bind to tyrosine-kinase receptors, such as EGF, HGF, TGF-β, FGF and MMPs, can promote EMT in carcinoma cells[70]. These factors are upregulated by liver surgery and in ECM remodeling during liver regeneration and can thereby account for an increased growth and metastatic potential in the case of remnant tumor cells.
HEPATIC PROGENITOR CELLS AND LIVER REGENERATION
In the normal adult liver after injury or surgery, loss of liver parenchyma is repaired by replication of mature hepatocytes[71-73]. However, pre-existing liver diseases such as chronic HBV and HCV infection, alcoholic fatty liver disease, hemochromatosis and other conditions severely impair the ability of hepatocytes to replicate. This can actuate a second regenerative mechanism by activation of hepatic progenitor cells (HPCs)[48,74]. HPCs (also called oval cells in rodents) are quiescent, existing in low numbers around the periportal region (the canals of Hering) in a normal liver. Following severe and prolonged liver trauma, these cells are capable of proliferation and differentiation into both hepatocytes and cholangiocytes, and typically form the hepatoblast, comprising small ductules and strings of cholangiocytes, termed the ductular reaction[75]. Previous reports have shown that the presence of HPCs might contribute to liver regeneration following transplantation[76,77]. Activation of HPCs under diverse situations, like liver diseases or major liver surgery can be of significance to maintain and restore liver homeostasis after stress.
No single marker offers complete specificity for the identification of HPC[73]. Multiple combinations of different phenotypes and molecular markers have been used to differentiate between HPCs and other hepatic cells. The stem compartment of the liver is assumed to consist of cells with various phenotypes and multiple molecular markers, including markers of adult hepatocytes (albumin, cytokeratins 8 and 18), cholangiocytic markers (cytokeratin 7 and 19, OV-6 and Glutathione-S-transpeptidase), fetal hepatoblasts (αFP, delta-like protein), and hematopoietic stem cell (Thy -1, Sca-1, c-kit, CD34, CD133)[71,78].
Previous studies have shown that HPCs can be hematopoietic derived or liver-resident cells. Hematopoietic stem cells (HSCs) may be recruited from the bone marrow by chemo-attractants that cause them to migrate and infiltrate into the liver lobules via the canals of Hering. This effect seems to be related to the extent of resection and the presence of concomitant liver disease[79]. Liver resident stem cells may also be recruited and activated by hepatocellular damage. This initiates an immune response in the liver, which leads to the secretion of a complex mixture of cytokines and growth factors. TNF-α and IL-6 released by Kupffer cells stimulate proliferation of HPCs, while interferon (IFN) can prime HPCs to respond to mitogenic stimuli. Growth factors of HPC released by hepatic stellate cells include EGF, TGF-α, HGF and TGF-β. Thus, the cytokines released by Kupffer cells, hepatic stellate cells and HPCs themselves may act in concert to control HPC proliferation and remodeling of the liver parenchyma[71,80,81].
Both hematopoietic and hepatic derived HPCs require the essential inflammatory cytokines and regenerative growth factors to proliferate and transdifferentiate. These include TNF, IL-6, IFN-α, TGF-α, FGF, TGF-β and HGF[81,82], indicating that the activation and differentiation of HPCs is dependent on a delicate regulatory interplay between liver stress and regenerative capability and response. Several studies have reported that liver surgery and acute liver injury can lead to mobilization of progenitor cells, both after partial hepatectomy in general and in HCC patients[75,83-86]. The exact mechanism is still not fully clarified. Recently Langenberg et al[85] showed that major liver surgery could mobilize HSCs into the liver where they differentiated into HPCs. This effect could last up to 24 h in response to elevated levels of granulocyte colony-stimulating factor (G-CSF), indicating that G-CSF may have a significant role in the activation of progenitor cells of hematopoietic origin[86].
HEPATIC PROGENITOR CELLS AND LIVER TUMOR DEVELOPMENT
Activation of progenitor cells in liver regeneration might directly facilitate hepatic carcinogenesis[87-89]. This hypothesis has been tested and confirmed in many rodent and human experiments. In human chronic liver diseases, particularly chronic HBV or HCV infection with accompanying liver cirrhosis, proliferation of HPCs are directly related to disease severity, suggesting that activation of this cell compartment is associated with an increased risk of HCC development[90]. Hepatocellular cancers that derive from progenitor cells have been indicated by the fact that many human HCC tumors contain a mixture of mature hepatocytes and an intermediate phenotypes between HPCs and mature hepatocytes, similar to progenitor cells[87,91,92]. In addition, these tumors exhibit gene expression profiles identical to hepatoblasts derived from HPCs. HCC tumors that are derived from HPCs, display a significantly poorer prognosis and a higher recurrence rate after surgical resection and liver transplantation in retrospective reviews[87,91,92]. Furthermore, recruitment of progenitor cells has been shown to contribute to liver cancer formation in a preclinical model, and probably give rise to HCC as well as intrahepatic cholangiocarcinoma, supporting the view that progenitor cells in some cases have a critical role in the initiation and progression of liver cancers[48,88,89,93,94]. These findings might also support the hypothesis of genuine liver cancer stem cells that might be derived from HPCs[94-96].
The progenitor cells can also affect HCC progression through indirect contribution of growth factors. In experimental rodent models with intrahepatic tumor implantation and concomitant liver resection, the presence of tumor seems to stimulate liver regeneration in major resected animals (> 70%) compared with resected animals without tumor, and this could possibly partly be attributed to the activation of progenitor like cells[25,95]. Similarly, in vitro and in vivo models testing the influence of progenitor cells on rodent HCC cells and experimental tumors indicate that the progenitor cells causes a "stem-like" expression profile in the HCC cells making them more resistant to chemotherapy and creating tumors that grow faster with greater invasive and metastatic potential. These changes seems to be partly related to activation of the of MAPK, AKT, TGF-β1 and Wnt/β-catenin pathways[93].
CLINICAL IMPLICATIONS AND FUTURE TRENDS
Recurrence following surgical treatment for liver tumors is a common and significant problem. The best strategy to minimize recurrence due to occult tumors is achieved by measures aimed at improvement in preoperative radiologic imaging and staging. Vast improvements have been made the last decade in imaging methodology. Modern computed tomography (CT) and magnetic resonance imaging (MRI) with liver specific contrast media and diffusion-weighted analysis have greatly improved the sensitivity and specificity for detection of small malignant lesions[97]. The cirrhotic liver represents a particular challenge, since small tumors can be hard to distinguish from regeneration nodules. Contrast enhanced ultrasound has been shown to be a very useful method in this respect, yielding similar diagnostic utility as MRI and CT[98]. In difficult cases, a combination of the different methods is often needed. Ultrasound has the advantage that it can also be used intraoperatively to increase the probability of achieving a negative margin (R0) during resection. Some studies have advocated the use of indocyanine green fluorescence imaging and demonstrate that this furthers increases diagnostic accuracy[99].
A relapse of malignant disease in the liver is a bad prognostic sign for the patient, and the therapeutic options might, depending on anatomical location, liver function and general performance status is limited. All the treatment modalities in use for primary treatment of liver tumors, i.e., surgical resection, liver transplantation, local ablation, and transcatheter arterial chemoembolization (TACE) http://en.wikipedia.org/wiki/Transcatheter_arterial_chemoembolization have been tried in setting of recurrent disease[20,100-102]. Repeat hepatectomy appears to be the best treatment with a reported resectability rate ranging from 10% to 77%[29]. Patients treated by repeat hepatectomy have better survival rates than those treated by other palliative methods, but selection bias and lack of randomized trials makes it difficult to ascertain the magnitude of this improvement on an intention to treat basis[29,103-105]. A longer interval from hepatectomy to recurrence is associated with improved survival[101,103]. TACE appears to be the best option in recurrent HCC tumors that are unresectable due to multimodularity or inadequate functional liver reserve[20]. TACE might in a few cases downstage the tumor size making it resectable[106]. In general, multimodal therapy for recurrent liver tumors (TACE, local ablation and re-resection) can result in a prolonged 5-year survival rate of up to 20%[20-23].
New techniques have been suggested to target malignant liver tumors without retarding the capability of liver regeneration.
The most important new trends of therapy against liver tumor are advances in molecular targeted therapy and employment of immunotherapy. Improvements in the understanding of the molecular basis of cancer have led to the development of targeted agents tailored to inhibit specific protein kinases involved in intracellular signal transduction pathways, which drive tumor progression and recurrence, including RAS/RAF-MAPK pathway, PI3K/AKT pathway, WNT/β-catenin pathway, IGF, HGF/c-MET pathway and growth factor-regulated angiogenic signaling. Sorafenib was firstly approved by the Food and Drug Administration in 2007 for the treatment of advanced HCC based on the demonstrated improved overall survival benefits, and several targeted agents have demonstrated early evidence suggesting significant antitumor activity in phase I/II trials. However, few studies have looked at the effects of these new molecular agents on both liver regeneration and regression of liver tumors. Kinoshita et al[107] reported that angiogenesis inhibitor TNP-470 prevented metastases of VX2 carcinoma without retarding liver regeneration after hepatectomy. Despite these results, the angiogenesis mechanism that they discussed is controversial[108]. Liver regeneration is a complex and partly angiogenesis-dependent process. Hepatocellular production of VEGF leads to maximal levels 48-72 h after partial hepatectomy, and this can increase the dilatation and permeability of blood vessels. Inhibition of angiogenesis by angiostatin impairs both angiogenesis and liver regeneration[109-111]. Another approach to inhibit tumor proliferation and angiogenesis has been suggested through blockade of the renin-angiotensin system (RAS)[112]. Interestingly, intervention on RAS utilizing angiotensin converting enzyme inhibitors and angiotensin II type 1 blockers improves liver regeneration and inhibits tumor growth in animal models[113]. To our knowledge, no human trials are available testing the validity of these experimental observations in clinical practice.
In order to combine the diverging need for both liver regeneration and an anti tumor cell microenviroment in the liver remnant following surgery, more efforts are needed comparing gene and protein expressions in normal and regenerating hepatocytes and malignant cells by microarray and proteomic technology in order to identify signaling pathways that are unique to the hepatoma cells. This is probably critical in order to identify novel targets and to better understand the biology of the cancer cell population that escapes the current treatment strategies and thereby cause recurrences.
Immunotherapy is an evolving and promising treatment option for liver tumors, which might have the potential to lower recurrence rates and improve overall survival after surgery for liver tumors. In general, immunotherapy is based on the premise that tumor-related self antigens (e.g., AFP) can be selectively targeted, thereby eliciting a tumor-specific response. Moreover, new insights into immunogenic cancer cell death indicate that certain types of chemotherapy and radiotherapy can be associated with immune responses that are of clinical significance[114,115]. New techniques are being investigated in human subjects and animal models, including the adoptive transfer of viral antigen-specific T cells, cytokines injections, autologous tumor pulsed dendritic cells, the use of AFP- derived peptides and adenoviruses, and immunization with tumor cells fused with antigen-presenting cells[116-118]. The mechanisms that enable liver cancer to escape attack by the immune system still remain unclear. Further knowledge into how immunogenic cell death of cancer cells might be evoked can aid in the development of novel therapeutic principles.
Liver-directed therapy for primary and metastatic disease could be promising for small-sized tumor or "oligometastatic" tumors. Low-power laser irradiation (LPLI) is suggested to be an effective minimally invasive palliative treatment option for patients with small liver tumors[119,120]. Interestingly in this context was that LPLI was shown to improve liver regenerative capacity of a small liver remnant after hepatectomy through activation of the HGF-MAPK/PI3K pathway[121].
CONCLUSION
Surgical therapy for liver tumors implies and often is dependent on a postoperative liver regeneration processes. Regeneration following surgery provides a microenvironment with many growth factors and cytokines that are necessary for proliferation of mature hepatocytes but concomitantly favorable for liver tumor progression. Progenitor cells can under certain conditions be activated after major surgery, and may have a stimulating and nourishing effect on liver tumors. A better understanding of the relationship between liver regeneration and liver tumor propagation is of significance for the clinical management of patient presenting with primary and secondary liver tumors and will provide a basis for novel therapeutic strategies in order to minimize cancer recurrence after liver surgery.
P- Reviewer: Song GB, Yang H S- Editor: Qi Y L- Editor: A E- Editor: Liu XM