Copyright
©The Author(s) 2021.
Published by Baishideng Publishing Group Inc. All rights reserved.
Revisiting delayed appendectomy in patients with acute appendicitis
Jian Li, Department of General Surgery, The Third Hospital of Mianyang, Sichuan Mental Health Center, Mianyang 621000, Sichuan Province, China
Author contributions: Li J designed the review, reviewed the literature, and drafted the manuscript
Conflict-of-interest statement: The author declares no conflict of interests for this article.
Open-Access
: This article is an open-access article that was selected by an in-house editor and fully peer-reviewed by external reviewers. It is distributed in accordance with the Creative Commons Attribution NonCommercial (CC BY-NC 4.0) license, which permits others to distribute, remix, adapt, build upon this work non-commercially, and license their derivative works on different terms, provided the original work is properly cited and the use is non-commercial. See:
http://creativecommons.org/Licenses/by-nc/4.0/
Corresponding author: Jian Li, MM, Surgical Oncologist, Department of General Surgery, The Third Hospital of Mianyang, Sichuan Mental Health Center, No. 190 East Section of Jiannan Road, Youxian District, Mianyang 621000, Sichuan Province, China. 654747973@qq.com
Received: March 20, 2021
Peer-review started: March 20, 2021
First decision: April 23, 2021
Revised: May 4, 2021
Accepted: May 19, 2021
Article in press: May 19, 2021
Published online: July 16, 2021

Acute appendicitis (AA) is the most common acute abdomen, and appendectomy is the most common nonelective surgery performed worldwide. Despite the long history of understanding this disease and enhancements to medical care, many challenges remain in the diagnosis and treatment of AA. One of these challenges is the timing of appendectomy. In recent decades, extensive studies focused on this topic have been conducted, but there have been no conclusive answers. From the onset of symptoms to appendectomy, many factors can cause delay in the surgical intervention. Some are inevitable, and some can be modified and improved. The favorable and unfavorable results of these factors vary according to different situations. The purpose of this review is to discuss the causes of appendectomy delay and its risk-related costs. This review also explores strategies to balance the positive and negative effects of delayed appendectomy.
Core Tip: Extensive research has been conducted on the association between delay in appendectomy and the outcomes of patients, and data on this topic are controversial. I herein discuss the causes of appendectomy delay and its risk-related costs. I also explore strategies to balance the positive and negative effects of delayed appendectomy, aiming to shorten the waiting time before appendectomy and improve the prognosis of this disease.
---
Citation: Li J. Revisiting delayed appendectomy in patients with acute appendicitis. World J Clin Cases 2021; 9(20): 5372-5390
---
INTRODUCTION
A total of 7%-10% of patients in the emergency department (ED) present with acute abdominal pain, and acute appendicitis (AA) is diagnosed in the majority of these patients[1]. Since the nineteenth century, appendectomy has been widely accepted as the standard treatment for AA and has become the most common nonelective procedure performed by general surgeons. From the onset of symptoms to the ED visit and the subsequent appendectomy, delays contributable to various factors are inevitable. It is generally thought that untreated appendicitis will eventually progress to perforation, with an associated drastic increase in morbidity and mortality, leading to the traditional concept that appendectomy should be performed expeditiously after a diagnosis is made. However, in the last two decades, extensive research has been conducted on the association between delay in appendectomy and the outcomes of patients, and data on this topic are controversial, especially findings regarding in-hospital delay (Figure 1). The purpose of this review is to discuss the causes of appendectomy delay and its risk-related costs. This review also explores strategies to balance the positive and negative effects of delayed appendectomy.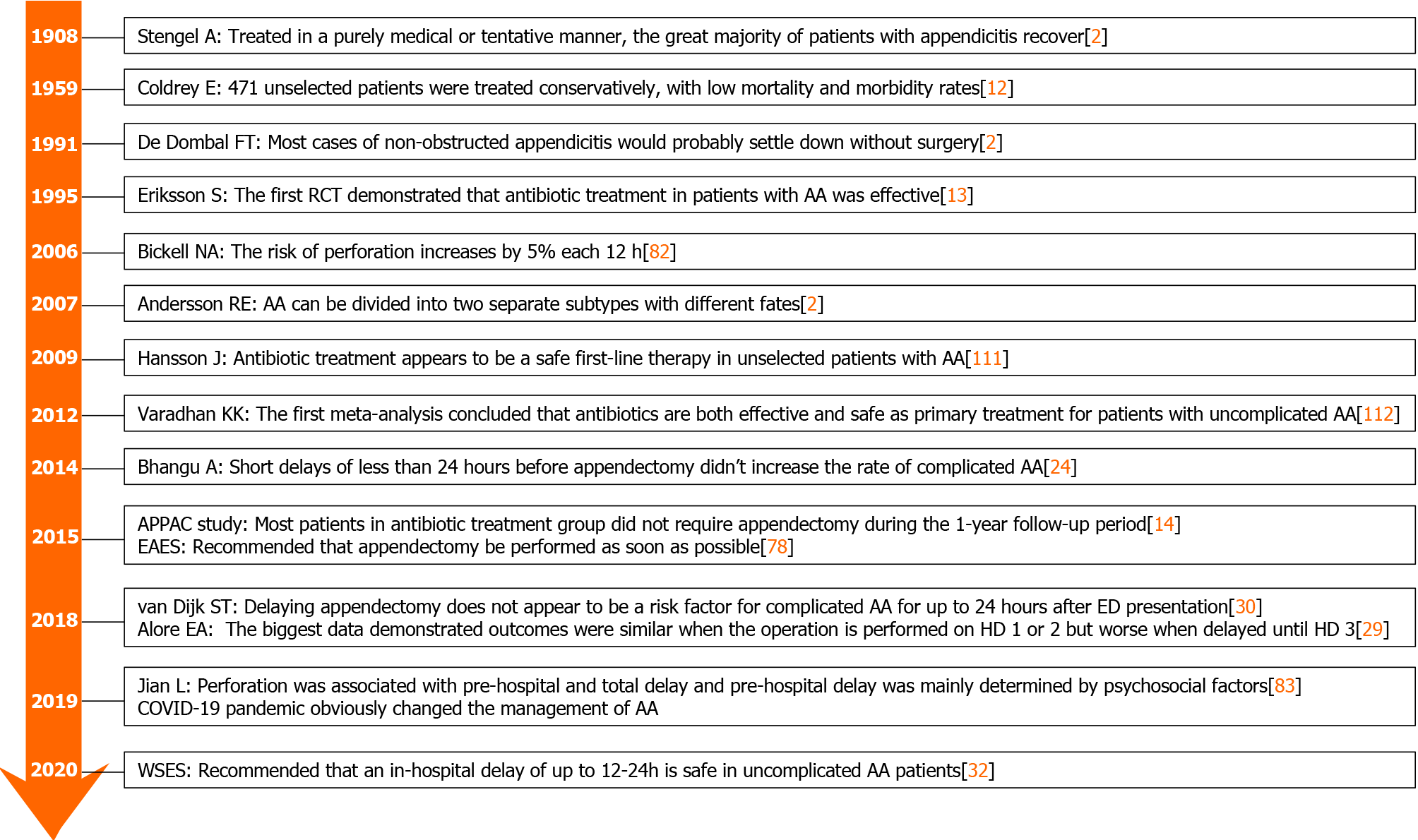 Figure 1 Timeline of the key events in the history of and research into surgery delay in patients with acute appendicitis.
AA: Acute appendicitis; EAES: European Association for Endoscopic Surgery; COVID-19: Coronavirus disease 2019; ED: Emergency department; HD: Hospital day; RCT: Randomized controlled study; WSES: World Society of Emergency Surgery.
WHY TO DELAY AN APPENDECTOMY
COSTS OF DELAYING APPENDECTOMY
APPRAISAL OF CURRENT STUDIES ON DELAYED APPENDECTOMY
Although extensive studies have been conducted on delay of appendectomy, regardless of whether their results support or against delay, only association but not causality can be proven. In addition, as mentioned above, not all enrolled subjects in these studies have confirmed the severity of disease. Therefore, it is unclear how many patients with AA have already progressed to complicated appendicitis upon arrival at the hospital. As complicated AAs are more likely among clinically ill patients and are more likely to be operated on earlier, this selection bias will mask the risk of developing perforated AAs in the group with uncomplicated AAs. In contrast to other authors who did not find an association or found a positive association between perforation and in-hospital delay, Beecher et al[93] found that perforation was associated with earlier operations. In addition, Almström et al[26] analyzed the effect of in-hospital delay in pediatric patients and found that timely operation (within 12 h) was associated with an increased hospital LOS. This contradiction may be attributed to patients presenting with perforated AA being taken to the operating room more expeditiously, which may negate any observable difference in perforation rates associated with increased time to appendectomy[26].
As mentioned above, most studies focused on in-hospital delay, and the prehospital delay of these patients was not clear. Although some cases of AA will never progress to perforation, the patients only experience perforation at some time point after the onset of symptoms but do not begin with a perforated AA. Due to the distribution differences in prehospital delay and AA patients with different fates, the results of these reported studies differed. Except for surgery delay, there are many risk factors for perforation, such as age, sex, antibiotic initiation, and genetic background; however, most studies did not adjust for confounders. Another reason for the inconsistent conclusions across studies is the various time intervals (from 6 h to 24 h) and various event points (ED arrival or admission) utilized to define surgery delay. Selection bias will result in different proportions of uncomplicated AAs, which also accounts for the inconsistent conclusions across studies.
HOW TO BALANCE THE POSITIVE AND NEGATIVE EFFECTS OF DELAYED APPENDECTOMY
Ascertaining causality between delay and outcomes
If surgery delay causally leads to perforation, it is not useful to determine how long it is safe for appendectomy to delay, and we just need to perform the operation as sooner as possible. To safely delay an appendectomy, we should ascertain that the delay will not lead to negative outcomes. As mentioned above, causality between delay and severity of AA cannot be found because of the limitations of currently available studies. To truly prove that an in-hospital delay is the reason for upgrading from simple to complicated appendicitis, the enrolled patients should be diagnosed with unambiguously simple AA and randomized to appendectomy at varying intervals of in-hospital delay. Currently, such a trial is lacking, and the highest quality evidence is observational data with contemporaneous controls and accounting for all known confounders. Zhang et al[94] planned to conduct a randomized, controlled trial across two academic institutions with blinded outcome assessors to examine whether delaying appendectomy until the following morning vs early appendectomy overnight affects the rate of POCs in adult patients diagnosed with AA in the evening hours. This RCT will balance the selection bias and provide high-level evidence, and the results of this study are eagerly awaited.
Diagnosing AA precisely
Traditionally, the diagnosis of AA is mainly based on clinical presentations, which leads to higher rates of negative appendectomy. Clinical scoring systems, e.g., the Alvarado score, Appendicitis Inflammatory Response score, the new Adult Appendicitis Score, and Samuel's Pediatric Appendicitis Score, can be used to identify low-risk patients, optimize the utility of diagnostic imaging, and decrease negative surgical explorations. The sensitivity and specificity of clinical scores varied among score systems and patient cohorts, and a tailored individualized clinical scoring system should be verified to stratify the risk and disease probability[32]. Although the white blood cell (WBC) count, neutrophil percentage, and urinalysis are routinely utilized in auxiliary diagnosis or differential diagnosis for AA, other markers, such as C-reactive protein (CRP), bilirubin, granulocyte colony–stimulating factor, fibrinogen, interleukin, and procalcitonin (PCT), have been investigated[95]. Currently, although there is no unique biochemical marker that would be highly diagnostic of AA if positive, a combination of clinical presentations, laboratory biochemical markers, and imaging may significantly improve diagnostic sensitivity and specificity and eventually replace the need for CT in both adults and children[96]. However, due to the high rate of preoperative CT imaging, only 2% of patients underwent a negative appendectomy in the study by Abdul Jawad et al[33]. In another study from the United Kingdom, the authors reported an overall 10% negative appendectomy before the COVID-19 pandemic rate, resulting from the diagnosis of AA relying heavily on clinical examination. However, during the pandemic, more CT imaging resulted in more rapid confirmation of disease, shorter time to theatre and subsequently reduced length of stay, and higher positive appendectomy rates[66,71]. Therefore, along with the development of diagnostic workups, the accuracy of diagnosis has increased gradually, and the diagnostic delay will be reduced as short as possible.
Correct severity grading of AA at presentation
As mentioned above, a safely delayed appendectomy was concentrated on patients with uncomplicated AA. Undoubtedly, patients with diffuse peritonitis or abscess will be diagnosed with complicated AA. However, unfortunately, regarding diagnosis, there is also no ideal approach to stratify the severity of AA in all patients. Traditionally, temperature, abdominal signs, CRP, and the presence of free fluids on imaging are the most commonly used parameters to identify "high-risk" patients for complicated AA, but no single parameter can achieve good performance. Some new biochemical markers have been evaluated in recent years. In a recent meta-analysis, PCT was confirmed to be a more accurate biomarker in diagnosing complicated AA, with a pooled sensitivity of 0.89, specificity of 0.90, and diagnostic odds ratio of 76.73[97]. Recently, ischemia-modified albumin (IMA) levels have been used to predict the severity of AA. Kılıç et al[98] found that there were significant differences in CT findings and IMA levels between AA patients with and without perforation, and a strong positive correlation between IMA levels and CT findings was also found. Imaging has become standard in the diagnosis and evaluation of AA, with CT being the most accurate test. Both CT and ultrasound have been reported to be able to discriminate uncomplicated from complicated appendicitis, with a high specificity but low sensitivity[99]. Therefore, a prediction model based on scoring systems and clinical and imaging features was established, and 95% of the patients deemed to have uncomplicated AA were correctly identified[99].
Predicting disease progression of AA
Currently, the way to improve the success rate of the nonoperative approach and to reduce the rates of perforation and negative appendectomy is mainly based on correct selection of patients with uncomplicated AA. In addition, identifying patients with uncomplicated AA who will progress to perforation may be another feasible strategy. However, predicting the progression of AA has proven to be a challenge. In the study conducted by Hansson et al[100], the selection criteria for patients who may benefit from antibiotic therapy as the first-line treatment were as follows: CRP < 60 g/L, WBC < 12 × 109/L, and age < 60 years. Patients with assumed appendicitis who fulfilled all criteria had an 89% probability of having phlegmonous appendicitis. The independent predictors of NOM success in another recent study included a longer duration of symptoms prior to admission (> 24 h), lower temperature, imaging-confirmed uncomplicated AA with a lower modified Alvarado score (< 4), and smaller appendiceal diameter[101]. The presence of an appendicolith has been identified as an independent prognostic risk factor for perforation and treatment failure in NOM of uncomplicated AA[102-104]. Two studies have found that patients with older age and poor physiological conditions are more likely to experience severity upgrades[33,74]. Younger children are another age group with a significantly increased incidence of perforation. A recent study showed that the incidence was 100% for children younger than 2 years, 83.3% for 2-3 years, 71.4% for 3-4 years, 78.6% for 4-5 years, and 47.3% for 5 years[105]. High perforation rates in younger children are associated with the fragility of the appendicular wall and with the relative immaturity of the large omentum[106]. Therefore, in patients with the characteristics described above, NOM or surgery delay should be employed cautiously.
Improving utilization of medical resources
One lesson that we learned from the changes in management of AA during the COVID-19 pandemic in some centers was that reduced demand for surgical services for elective surgery contributed to shorter delays to diagnostic workup and appendectomy. Furthermore, the mandated presence of a senior surgeon in operations performed during the pandemic not only contributed to a shorter operative time but also decreased the incidence of POCs[66]. This observation highlights the importance of improving the utilization of medical resources to shorten the appendectomy delay and improve outcomes. Actually, long before the COVID-19 pandemic, some strategies have been applied to improve the utilization of medical resources. One of them is the ACS model, which has been implemented in some countries and regions, with varied structures among them[44]. In a meta-analysis published in 2020, the authors included 16 studies on the ACS model in the management of AA, mainly carried out in North America and Australia. The results showed that following ACS introduction, the POCs were significantly reduced following appendectomy. There was a significant reduction in the time from ED arrival until admission and from admission to operation. LOS was reduced, and no statistical significance was detected for conversion of laparoscopy to open technique or rate of negative appendectomy[107]. Although there were insufficient data for cost analysis for appendectomy in this meta-analysis, we can infer that reduced total social costs will be achieved by these improvements within the ACS model.
Laparoscopic appendectomy
Open appendectomy (OA) has been the standard treatment for AA since it was first performed in 1894, usually with a longer LOS and more readmission for intestinal obstruction and postoperative adhesion. Laparoscopic appendectomy (LA) was first performed in 1983 and has been used for more than three decades[108]. Many studies with different designs have been conducted to compare the advantages between OA and LA. In conclusion, LA is often associated with longer operative times and higher operative costs, but it leads to less postoperative pain and POCs, shorter LOS, and earlier return to work and physical activity, leading to lower overall hospital and social costs[109,110]. Another possible advantage of LA is that the exploration can be applied for the entire abdominal cavity, leading to the identification of other emergency conditions and associated surgical treatment. Although other diseases were reported to be found both in LA and OA, no studies have compared the rates of negative appendectomy and the exploration results between two surgical strategies, and whether LA can decrease the mortality after negative appendectomy, which was reported to be high mainly during the period in which OA was performed, is uncertain. Therefore, although with equipment and technical limitations, LA is recommended as the preferred approach over OA for AA, where laparoscopic equipment and expertise are available.
Early presentation
An epidemiological study reported that the incidence of unperforated AA declined from 1970 to 1995; however, since then, the introduction of CT and laparoscopic appendectomy has led to an increased incidence of unperforated AA. Nonetheless, the number of cases of perforated AA increased slowly over time[6]. These results suggest that improvements in the diagnosis and treatment of AA only increased the detection rates of AA and decreased the negative appendectomy rate, with no help in decreasing the risk of perforation. On the other hand, perforation still results from delay before presentation and cannot be settled by modern in-hospital medicine. The results of the study from our team suggested that the prehospital delay is not determined by the disease and associated level of care but by psychosocial factors[21]. Therefore, promoting the early presentation of patients with AA mainly relies on psychosocial strategies rather than medical strategies. However, no studies have been conducted with such an aim. We believe that an effective campaign, such as to spread the scientific knowledge of AA and improve social support in populations, will promote the hospital visits of patients when symptoms are noticed and decrease the duration of symptoms before appendectomy and associated adverse effects.
CONCLUSION
Appendicitis continues to be the most common cause of ED visits because of its high prevalence worldwide. From the onset of symptoms to appendectomy, many factors can cause delays in surgical intervention. Some are inevitable, such as ascertaining the diagnosis, preoperative evaluation, and physician-patient communication, and some can be modified and improved, such as a lack of medical resources and psychosocial factors that hinder patients from seeking medical advises. Extensive studies have been carried out to explore the association between delaying appendectomy and its positive or negative effects, but there has been no conclusive answer to the question of acceptable in-hospital delay so far because of their inherent limitations. In addition, although spontaneous resolution and effectiveness of NOM have been documented to be common in patients with uncomplicated AA, accurate diagnosis and severity grading continue to remain a challenge. Therefore, in order to shorten the waiting time before appendectomy and to improve the prognosis of AA, it is important to ascertain the causality between delayed and complicated AA and associated adverse effects and to develop new biomarkers and advanced imaging technology. This will help facilitate the diagnosis and severity grading, to improve the utilization of medical resources, reduce medical costs, and develop and popularize advantageous therapy strategies, such as more effective NOM, LA, natural orifice transluminal surgery, and endoluminal surgery (Figure 3).
ACKNOWLEDGEMENTS
The author thanks the Health Commission of Mianyang City and the Science and Education Department of the Third Hospital of Mianyang for their support. Electronic search of PubMed was performed from its initiation until March, 2021. The following search strategy was followed: (appendicitis OR appendectomy OR appendicectomy) AND (early OR delay* OR tim* OR rupture* OR perforat*). The selection of original publications was based only on the author's judgement. The space limitations of this review have unfortunately meant that I have not been able to separately cite many of the original publications that have contributed substantially to the literature. I sincerely apologize to the authors of these publications.
Manuscript source: Invited manuscript
Specialty type: Surgery
Country/Territory of origin: China
Peer-review report's scientific quality classification
Grade A (Excellent): 0
Grade B (Very good): 0
Grade C (Good): C, C
Grade D (Fair): 0
Grade E (Poor): 0
P-Reviewer: Jablonska B, Meshikhes AW S-Editor: Gong ZM L-Editor: Wang TQ P-Editor: Yuan YY