Copyright
©The Author(s) 2023.
Published by Baishideng Publishing Group Inc. All rights reserved.
Management of acute carbamazepine poisoning: A narrative review
Luan Wang, Ruo-Ying Zhang, Yao Wang, Wei Liang, Tie-Gang Li, Department of Emergency Medicine, Shengjing Hospital of China Medical University, Shenyang 110004, Liaoning Province, China
Yang Wang, Department of General Surgery, The 4th Affiliated Hospital of China Medical University, Shenyang 110032, Liaoning Province, China
Author contributions: Wang L, Wang Y, Zhang RY, Wang Y, Liang W, and Li TG contributed to drafting and editing of the manuscript, and approved the final manuscript.
Supported by Science and Public Welfare Research Fund of Liaoning Province, No. 2022JH4/10100075; and National Nature Science Foundation of China, No. 81772056.
Conflict-of-interest statement: The authors declared that they have no conflicts of interest to this work. We declare that we do not have any commercial or associative interest that represents a conflict of interest in connection with the work submitted and entitled 'Management of Acute Carbamazepine Poisoning: A Narrative Review'.
Open-Access
: This article is an open-access article that was selected by an in-house editor and fully peer-reviewed by external reviewers. It is distributed in accordance with the Creative Commons Attribution NonCommercial (CC BY-NC 4.0) license, which permits others to distribute, remix, adapt, build upon this work non-commercially, and license their derivative works on different terms, provided the original work is properly cited and the use is non-commercial. See:
https://creativecommons.org/Licenses/by-nc/4.0/
Corresponding author: Tie-Gang Li, MD, PhD, Professor, Department of Emergency Medicine, Shengjing Hospital of China Medical University, No. 36 Sanhao Street, Heping District, Shenyang, Shenyang 110004, Liaoning Province, China. litg@sj-hospital.org
Received: September 5, 2023
Peer-review started: September 5, 2023
First decision: September 14, 2023
Revised: September 23, 2023
Accepted: October 11, 2023
Article in press: October 11, 2023
Published online: November 19, 2023

Standard management protocols are lacking and specific antidotes are unavailable for acute carbamazepine (CBZ) poisoning. The objective of this review is to provide currently available information on acute CBZ poisoning, including its management, by describing and summarizing various therapeutic methods for its treatment according to previously published studies. Several treatment methods for CBZ poisoning will be briefly introduced, their advantages and disadvantages will be analyzed and compared, and suggestions for the clinical treatment of CBZ poisoning will be provided. A literature search was performed in various English and Chinese databases. In addition, the reference lists of identified articles were screened for additional relevant studies, including non-indexed reports. Non-peer-reviewed sources were also included. In the present review, 154 articles met the inclusion criteria including case reports, case series, descriptive cohorts, pharmacokinetic studies, and in vitro studies. Data on 67 patients, including 4 fatalities, were reviewed. Based on the summary of cases reported in the included articles, the cure rate of CBZ poisoning after symptomatic treatment was 82% and the efficiency of hemoperfusion was 58.2%. Based on the literature review, CBZ is moderately dialyzable and the recommendation for CBZ poisoning is supportive management and gastric lavage. In severe cases, extracorporeal treatment is recommended, with hemodialysis as the first choice.
Core Tip: There is no effective Antidote and standard treatment management for carbamazepine (CBZ) poisoning. This paper describes and summarizes the detailed clinical evidence of the treatment and management of CBZ poisoning, including gastric lavage and activated carbon therapy, hemoplavage, hemodialysis, continuous renal replacement treatment and plasmapheresis. Finally, this paper also provides the lipid resuscitation therapy to provide help for clinical treatment. In general, this paper summarized the results of CBZ poisoning related research, and provided the best plan for CBZ poisoning treatment.
---
Citation: Wang L, Wang Y, Zhang RY, Wang Y, Liang W, Li TG. Management of acute carbamazepine poisoning: A narrative review. World J Psychiatry 2023; 13(11): 816-830
---
INTRODUCTION
Carbamazepine (CBZ) was discovered by Walter Schindler in 1953 and first utilized to treat partial tonic-clonic seizures in the United States in 1974[1]. Currently, CBZ is widely used for the treatment of epilepsy and peripheral neuralgia. Broad indications for the use and widespread availability of CBZ increase the risk of overdose, and CBZ intoxication accounts for a large proportion of life-threatening cases of anticonvulsant toxicity[2-4]. A systematic review of CBZ was published in 2014 by the Extracorporeal Treatments in Poisoning (EXTRIP) workgroup that provides recommendations for the use of extracorporeal treatments (ECTRs) in cases of CBZ poisoning[5]. Currently, standard management protocols are lacking and specific antidotes for acute CBZ poisoning are unavailable; thus, we reviewed and summarized the various therapeutic methods for the treatment of CBZ poisoning described in previous studies. Our goal was to provide currently available information on acute CBZ poisoning, including its management. We believe this paper will help clinicians effectively manage patients suffering from CBZ intoxication.
METHODOLOGY
A literature search was performed in the following databases: PubMed, Embase, Chinese National Knowledge Infrastructure (CNKI), and Wanfang. The search strategy, in English and Chinese, used the terms "acute" and "carbamazepine" in combination with the keywords "poisoning", "intoxication", "toxication", "toxicity", "overdose", and "overdosage". These search terms identified 861 records. In addition, the reference lists of the identified articles were screened for additional relevant studies, and these additional searches added three records. Non-peer-reviewed sources were also searched, including books and Internet resources, which yielded 10 records. A total of 874 records were found, which were screened based on title, author, journal name, and publication date for repeatability and relevance. We excluded papers that were duplicates, non-English or non-Chinese papers, letters to editors, and those not referring specifically to the mechanisms of action, clinical features, and management of CBZ toxicity in humans. Finally, 154 articles were considered eligible for review. The majority of papers were case reports or small case series. The literature selection process is described in Figure 1.
PHARMACOLOGY
CBZ is an iminostilbene derivative that is structurally similar to tricyclic antidepressants and is mainly used as a potent first-line agent to treat epilepsy, including simple partial, complex partial, and general tonic-clonic seizures[6,7]. The therapeutic effects of CBZ have also been proven for the treatment of neuropathic pain, especially prosopalgia, central diabetes insipidus, attention-deficit/hyperactivity disorder, and bipolar disorder. CBZ is thought to exert its anticonvulsant effects by blocking presynaptic voltage-gated sodium channels in the central nervous system (CNS), which further prevents the release of glutamate and similar neurotransmitters, ultimately inhibiting high-frequency epileptic foci.
CBZ has a molecular weight of 236 Da and high protein binding affinity (70%-80%) for both albumin and alpha-1-acid glycoprotein. This percentage does not markedly decline, even in cases of overdose[8]. CBZ is highly lipophilic, a property that allows it to be rapidly distributed after ingestion with a moderately large volume of distribution ranging between 0.8 L/kg and 1.4 L/kg. Thus, at therapeutic doses, the immediate-release tablets and controlled-release formulation of CBZ have peak serum concentrations at approximately 6-8 h and 12-24 h post-ingestion, respectively[9-11]. However, following overdose, peak concentrations may be delayed up to 106 h[12] due to the anticholinergic properties of CBZ, which are responsible for decreased gastrointestinal (GI) motility and delayed and prolonged absorption[10,13].
CBZ metabolism predominantly and extensively occurs in the liver by epoxidation and hydroxylation reactions through the cytochrome P450 system. Only 1%–3% of the drug is not metabolized and excreted through the kidney. CBZ-10,11-epoxide is the primary active metabolite and equally produces antiepileptic and toxic effects based on its capacity to form covalent protein conjugates[14,15]. CBZ-10,11-epoxide blood concentrations vary substantially between individuals, ranging from 15% to 55% of CBZ levels in adults and from 5% to 81% of CBZ levels in children[11]. CBZ metabolism is complicated because both normal metabolism and autoinduction of metabolism occur with chronic use.
There is wide interindividual variability in the pharmacokinetics of CBZ, as well as general adaptation[16]. CBZ is eliminated according to zero-order kinetics (i.e. a constant amount of drug is eliminated per unit time) in the case of elevated plasma drug levels, as seen in overdose; however, a delay in CBZ elimination occurs when no intervention is available[16]. The reported biological half-life of the initial dose of CBZ is 25-65 h, but is shortened to 12-17 h in chronically treated epileptic patients due to self-induction[17]. Nevertheless, the half-life is apparently much longer after excessive dosing and the use of controlled-release preparations[1,12], likely reflecting delayed or continuous absorption, impaired elimination, or a combination of both.
OVERVIEW OF CBZ POISONING
Toxicity from CBZ overdose was first described by Guntelberg in 1967[18]. CBZ intoxication increasingly accounts for a large proportion of life-threatening cases among anticonvulsant poisonings[2,3]. A total of 3734 toxic exposures to CBZ were reported in 2014 by the American Association of Poison Control Centers. Of these, 1880 were isolated ingestions. There were no deaths, but 62 cases were life-threatening or severely disabling due to the significant toxicity[19].
Although the toxic concentration of CBZ in patients is not completely consistent with clinical manifestations of toxicity, doctors often initially treat patients based on the patient's clinical status. However, serum CBZ concentration is a practical method used to confirm clinical exposure, and severe intoxication occurs at serum levels > 20 mg/L [therapeutic index range: 4-12 mg/L (17-51 μmol/L)][20]. Serum CBZ levels > 40 mg/L are generally predictive of severe toxicity[21], which potentially occurs at a lower concentration[22], especially in children[23-25], and tends to be associated with an increased risk of seizure, coma, respiratory depression, and cardiotoxicity[26,27]. In addition, the pharmacologically active metabolite of CBZ, CBZ-10,11-epoxide, contributes to the risk of toxicity[28,29]. Based on the circulating level of CBZ in blood, the effects of CBZ on the CNS can be classified into four stages: (1) Seizures and coma at levels > 25 mg/L; (2) Combativeness, hallucinations, and choreiform movements at levels of 15-25 mg/L; (3) Disorientation, drowsiness, and ataxia at levels of 11-15 mg/L; and (4) Potentially catastrophic relapse at levels < 11 mg/L[30]. The duration and severity of these stages are variable and depend upon the magnitude of the overdose[31]. The detailed clinical symptoms corresponding to the toxic dose are described in Figure 2.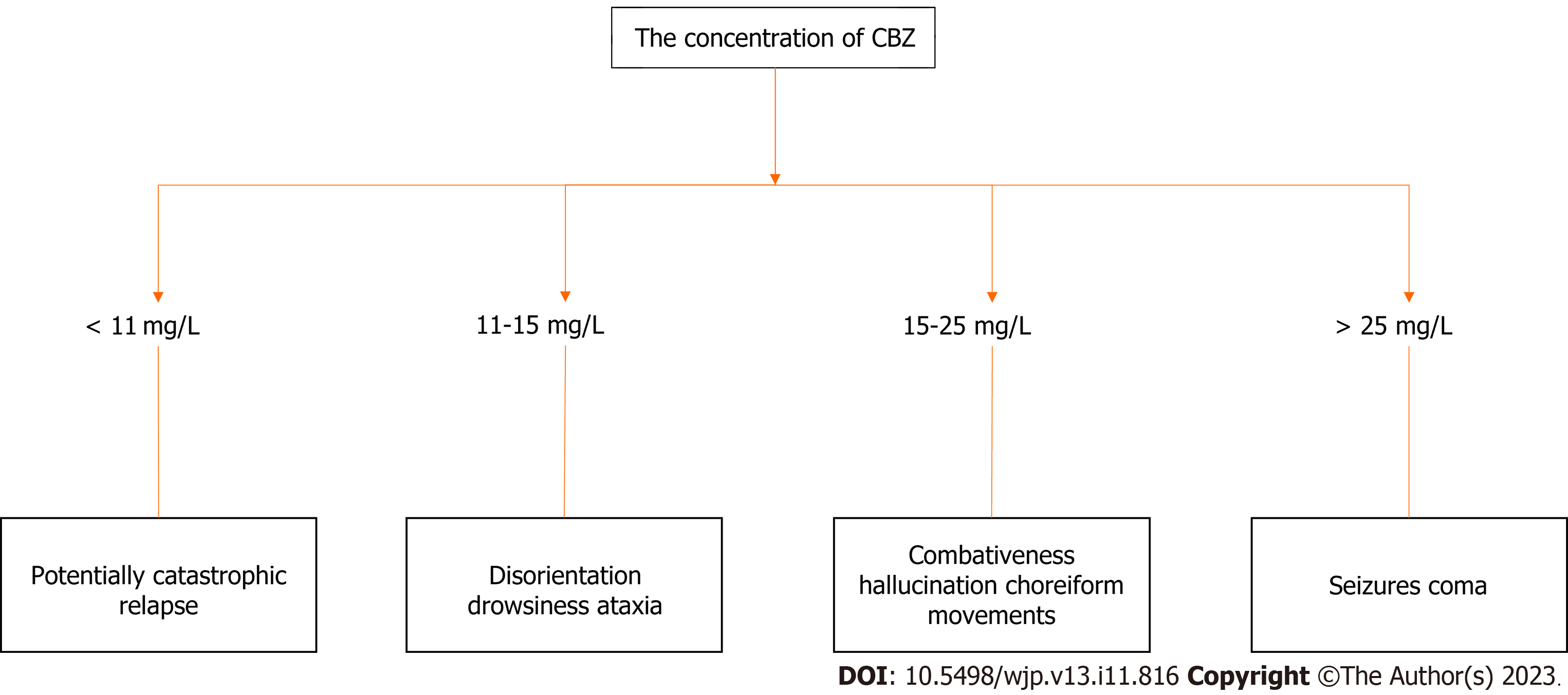 Figure 2 Toxic dose and clinical manifestations of carbamazepine according to blood concentration.
CBZ: Carbamazepine.
Toxicity usually occurs within 1-3 h after ingestion, but may be prolonged due to the delayed and erratic absorption of CBZ[32,33]. A wide diversity of clinical manifestations such as neurologic, respiratory, and cardiac findings can be seen in CBZ poisoning[22,34]. CBZ intoxication primarily manifests as CNS symptoms including nystagmus, movement disorders, disturbance of consciousness, altered mental status ranging from drowsiness to coma, and convulsions[35-39]. Seizures are not uncommon, occurring in 11%-18% of overdose cases[40,41]. Respiratory depression, a common mani-festation of severe overdose, may delineate the severity of toxicity in the respiratory system and may be complicated by concomitant aspiration. Myocardial depression, sinus tachycardia, hemodynamic instability hypotension, and cardiac conduction disturbances are characteristics of CBZ cardiotoxicity. Some rare electrocardiogram (ECG) abnormalities may also occur such as atrioventricular block, QRS interval prolongation, QTc (corrected QT time in ECG) prolongation (> 420 ms), bundle branch block, Brugada-type patterns, and premature ventricular contractions[42,43]. Death, though very uncommon (approximately 2% of cases), generally results from cardiovascular toxicity[44,45]. An overall mortality rate of 13% was documented and reported in a cohort study of 427 patients with CBZ intoxication, with an average CBZ intake in lethal cases of 23.6 g[22]. Refractory cardiovascular toxicity has also been reported[46,47].
MANAGEMENT OF ACUTE POISONING
In clinical practice, doctors initially treat patients based on their clinical symptoms, and supportive care plays a key role at this stage. For example, seizures are treated with benzodiazepines[48], hypotension is treated with vasopressors, and endotracheal intubation is used for patients with respiratory insufficiency. GI decontamination techniques such as gastric lavage (GL) and single-dose activated charcoal (AC) (SDAC) can be applied if patients are administered care within 1-2 h after ingestion without contraindications[49]. However, CBZ metabolism and distribution are complicated, and specific life-saving antidotes for CBZ poisoning are unavailable. Several modalities have been proposed to enhance CBZ clearance in patients with severe or life-threatening ingestion, including multiple-dose AC (MDAC), ECTRs, and lipid resuscitation therapy (LRT)[50].
DISCUSSION
We conducted a retrospective review of selected literature. The case reports contained detailed data describing patient status and treatments, and an aggregate description was made (Table 1). After discussion and analyses of CBZ poisoning cases, we established recommendations for the treatment of CBZ poisoning (Table 2); 67 patients were included and no randomized controlled trials were identified. The median CBZ peak concentration was 39.0 mg/L and the median age was 42.3 years. Notably, all patients had varying degrees of consciousness impairment, which were due to individual differences. In addition, some patients experienced respiratory depression, dysrhythmias, hypotension, seizures, or a combination of these symptoms. Among the patients, 32 showed varying degrees of respiratory depression. Overall, 4 cases were described as deaths caused by CBZ poisoning rather than the effect of the treatment[43,44,105]. GL is a simple and convenient treatment, but only 6 patients received GL because the treatment is prohibited in patients with impaired consciousness, recent surgery, no airway protection, risk of GI bleeding and perforation, or potential for increased risk and severity of aspiration[16,19,21,23,26,28]. In these situations, considering the patient's economic conditions and affordability, MDAC was chosen instead of GL. For decades, MDAC has been used as a universal antidote for the majority of poisons because of its ability to prevent absorption of the most toxic agents from the GI tract and enhance the elimination of some agents already absorbed[143,144]. The optimum dose of MDAC is difficult to precisely determine for an individual patient. Optimum dosage depends on many variables such as the volume and pH of gastric and intestinal fluid, and the presence of other agents or food absorbed by AC[145-148]. Notably, repeated administration is still effective against substances that stay longer in the stomach, which is another advantage of MDAC. The recommended dose for adults is typically 50 g; however, the amount administered to children is determined based on body weight (0.5-1 g/kg). Reported complications and adverse effects of MDAC include diarrhea, constipation, vomiting, pulmonary aspiration, and intestinal obstruction. Consequently, MDAC should be used with caution in the following situations: unprotected airway; presence of intestinal obstruction; or GI tract not anatomically intact. Therefore, intestinal motility in patients receiving MDAC should be continuously monitored as necessary to maintain electrolyte and water balance.
Patient demographics

---

Values

---

Median age (yr)
25 (1.5-85)
Male sex
49.3
Poisoning exposure
Mean peak carbamazepine concentration in mg/L
39.0 (17.7-93.8)
Clinical symptoms and signs
Respiratory depression
47.8
Decreased consciousness
100
Seizure
20.9
Hypotension
14.9
Dysrhythmias
19.4
Treatment measure1
Supportive care
9.0
Gastric lavage
29.9
Multiple-dose activated charcoal
58.2
Hemoperfusion
22.4
Hemodialysis
22.4
Continuous renal replacement treatment
12.0
Plasma exchange and plasmapheresis
4.5
Lipid resuscitation therapy
4.5
Outcome
Recovery
82.0
Sequelae
12.0
Fatalities
6.0
General statement
    The primary treatment for CBZ poisoning is GL
    A mainstay of treatment is multiple-dose activated charcoal
    ECTR is suggested in cases of severe CBZ poisoning
    Intermittent hemodialysis is the preferred ECTR for CBZ poisoning
    Lipid resuscitation therapy is an effective adjunctive treatment to ECTR
Supportive care
    Severe central nervous system depression requires endotracheal intubation
    To avoid masking subsequent seizures, short-acting neuromuscular blockers are recommended
    Isotonic crystalloid to correct hypotension should be considered first; when isotonic crystals do not work, direct-acting vasopressors can be applied
    QRS prolongation is treated with sodium bicarbonate
Management precautions
    GL is contraindicated when patients have impaired consciousness, recent surgery, no protection of airway, risk of gastrointestinal bleeding and perforation, and the potential for increased risk and severity of aspiration
    Multiple-dose activated charcoal should be used with caution in cases of an unprotected airway, presence of intestinal obstruction, or gastrointestinal tract not anatomically intact
HP was the most common treatment for the patients in our review, accounting for 58.2% of cases. HP was considered the most timely and effective treatment for patients with excessive CBZ toxicity and life-threatening symptoms because it can remove mid-to-large-sized toxin molecules bound to proteins. However, the earlier enthusiasm for HP has decreased and HD is currently the treatment of choice for poisoned patients. HP presents some challenges compared with HD. For example, HP is associated with more complications than HD (namely, hypocalcemia, leucopenia, thrombocytopenia[147,148]), and the rate of complications is greater during HP than HD. Furthermore, HP is more expensive and results in the early saturation of columns. Notably, the same percentage of patients received HD and CRRT therapy (22.4%). HD and CRRT are commonly used to provide renal support to critically ill patients with acute kidney injury, particularly those who are hemodynamically unstable. Although initially developed as an arteriovenous therapy, most CRRT is now performed using pump-driven venovenous extracorporeal circuits. However, initiation of CRRT requires vascular access, which is generally established through placement of a large-bore double lumen catheter in an internal jugular, femoral, or subclavian vein. Furthermore, hypotension during CRRT is common, occurring in some series in more than one-third of patients, but is most often unrelated to the CRRT procedure. Increased hemodynamic instability due to ultrafiltration may be the most likely treatment-related factor contributing to hypotension[149]. Therefore, we conclude that in the absence of accurate, scientific data indicating effectiveness and risk, a sound recommendation for the use of CRRT cannot be made. Again, the treating physician must weigh the theoretic benefit against the potential for complications in each clinical scenario. HD is indicated for the therapeutic management of acute poisoning or drug overdose and is the most commonly favored extracorporeal technique in poisoning situations due to its availability, cost, and safety profile. With the development of science and technology, the advent of high-efficiency, high-flux dialyzers has rendered other techniques, such as HP, almost obsolete. Furthermore, HD enables the correction of acid-base and electrolyte abnormalities.
Among patients, plasma exchange and plasmapheresis as well as lipid emulsion were the least frequent (both 4.5%). Plasma exchange and plasmapheresis refer to the extracorporeal technique preformed in an apheresis device where the patient's plasma is separated from whole blood and removed, and the cellular blood components are returned to the patient together with a replacement fluid[150]. Therapeutic procedures commonly include therapeutic plasma exchange and red blood cell exchange with or without depletion, in addition to more specialized procedures, such as low-density lipoprotein (LDL) apheresis and extracorporeal photopheresis, which was widely used in China to treat patients with coronavirus disease 2019[151]. However, because performing extracorporeal photopheresis is complex and requires precision, the method is rarely used in drug intoxication cases. The mechanism of action in LDL apheresis creates an expanded, intravascular lipid phase in which equilibria are established that drive the offending drug from target tissues into the newly formed "lipid sink". Based on this theory, LDL has been considered a candidate for generic reversal of toxicity caused by overdose of any lipophilic drug. However, the use of LDL apheresis requires caution, especially in patients with a history of hypersensitivity to lipid emulsion or ingredients (e.g., eggs, soy), severe sepsis, severe liver disease, acute pancreatitis, and acute myocardial infarction. Therefore, we suggest that LDL apheresis be considered under circumstances of refractory hemodynamic instability.
CONCLUSION
Herein, we presented recommendations for therapies in CBZ poisoning. Risk assessment of selected case reports showed that in most poisoned patients, general supportive measures usually suffice, including airway management and protection, ventilatory support, fluid resuscitation, correction of electrolyte and acid-base disorders, and management of poison-related hypo/hyperthermia. Primary GI decontamination with AC and routine GL are widely used. Aggressive ECTR is required for rapid and substantial removal of CBZ and its metabolites when clinical symptoms and signs are serious or deteriorated. Choice of ECTR modality should be based on clearance efficiency, availability, cost, and complications. Among the various ECTRs available, HD provides the best expected removal for CBZ poisoning with the lowest incidence of complications and should therefore be the preferred modality in most cases.
Provenance and peer review: Unsolicited article; Externally peer reviewed.
Peer-review model: Single blind
Specialty type: Psychiatry
Country/Territory of origin: China
Peer-review report's scientific quality classification
Grade A (Excellent): 0
Grade B (Very good): B
Grade C (Good): C
Grade D (Fair): 0
Grade E (Poor): 0
P-Reviewer: Chudzik A, Poland; Keeler J, United Kingdom S-Editor: Lin C L-Editor: A P-Editor: Chen YX