Copyright
©2013 Baishideng.
All rights reserved.
World J Otorhinolaryngol.
Aug 28, 2013;
3(3): 58-70
Published online Aug 28, 2013. doi: 10.5319/wjo.v3.i3.58
Noise-induced hearing loss in the 21st century: A research and translational update
Ann Chi Yan Wong, Kristina E Froud, Translational Neuroscience Facility, Department of Physiology, Faculty of Medicine, School of Medical Sciences, University of New South Wales, Sydney, NSW 2052, Australia
Yves Shang-Yi Hsieh, School of Chemistry, University of Sydney, Sydney, NSW 2052, Australia
Author contributions: All authors contributed equally to this work.
Correspondence to: Ann Chi Yan Wong, PhD, Translational Neuroscience Facility, Department of Physiology, Faculty of Medicine, School of Medical Sciences, University of New South Wales, UNSW, Sydney NSW 2052, Australia. acy.wong@unsw.edu.au
Telephone: +61-2-93852443 Fax: +61-2-93851485
Received: May 21, 2013
Revised: July 10, 2013
Accepted: July 17, 2013
Published online: August 28, 2013

Millions of people worldwide are exposed to harmful levels of noise daily in their work and leisure environment. This makes noise-induced hearing loss (NIHL) a major occupational health risk globally. NIHL is the second most common form of acquired hearing loss after age-related hearing loss and is itself a major contributing factor to presbycusis. Temporary threshold shifts, once thought to be relatively harmless and recoverable, are now known to cause permanent cochlear injury leading to permanent loss of hearing sensitivity. This article reviews the current understanding of the cellular and molecular pathophysiology of NIHL with latest findings from animal models. Therapeutic approaches to protect against or to mitigate NIHL are discussed based on their proposed action against these known mechanisms of cochlear injury. Successes in identifying genes that predispose individuals to NIHL by candidate gene association studies are discussed with matched gene knockout animal models. This links to exciting developments in experimental gene therapy to replace and regenerate lost hair cells and post-noise otoprotective therapies currently being investigated in clinical trials. The aim is to provide new insights into current and projected future strategies to manage NIHL; bench to bedside treatment is foreseeable in the next 5 to 10 years.
Core tip: Noise-induced hearing loss (NIHL) affects millions of people worldwide irrespective of age, sex, and race. Hearing aids and cochlear implants are currently the only available interventions. This review article summarizes the cellular and molecular mechanisms of NIHL to-date. Significant milestones in uncovering genetic predisposition to NIHL in humans, experimental gene therapies and post-noise otoprotective strategies to reduce the impact of NIHL are reviewed.
---
Citation: Wong ACY, Froud KE, Hsieh YSY. Noise-induced hearing loss in the 21st century: A research and translational update. World J Otorhinolaryngol 2013; 3(3): 58-70
---
INTRODUCTION
Noise-induced hearing loss (NIHL) is a major health problem indiscriminately affecting people of all ages, sex, or race worldwide[1]. A single traumatic exposure to loud sound, such as gun-shot or fireworks, or prolonged or repeated exposure to excessive sound over the acceptable daily exposure (85 dBA for 8 h, a guideline set by the National Institute for Occupational Safety and Health), cause sensorineural damage to the cochlea. This damage leads to either immediate hearing loss (impulse noise) or chronic progressive NIHL. Besides traditional hazardous exposure to occupational noise in industrial (construction, mining, forestry, aircraft, agricultural) and military settings, recreational exposure is equally accountable, since many leisure activity venues (clubs, discos, gyms, sport arenas) exceed recommended sound levels. Further, the Action on Hearing Loss (United Kingdom) has issued a serious warning that approximately two-thirds of 18- to 30-year olds are exposed to dangerously high-intensity sounds (> 85 dB) which can cause hearing damage, through personal listening devices[2]. NIHL causes social isolation, impaired communication with family and coworkers, lost productivity, decreased self-esteem, depression and cognitive decline. With an aging population and the global expectation to delay retirement age, the compounding socioeconomic impact of NIHL and age-related hearing loss (ARHL) is set to become even more significant. Despite this, hearing aids and cochlear implants are the only currently available management strategies for NIHL. It is therefore crucial to develop pharmacological and molecular therapies for NIHL that can ameliorate or repair injury to the cochlea and reduce the impact of hearing loss. This paper reviews the current knowledge of the cellular and molecular mechanisms of NIHL as well as genetic predisposition to NIHL in humans and matched animal models. Significant research milestones and treatment avenues including gene therapies and post-noise otoprotective strategies achieved in recent years are discussed.
Mechanisms of noise induced cochlear injury
Sound detection by the cochlea is made possible by its sensorineural cellular elements, namely sensory hair cells and supporting cells. Outer hair cells (OHC) are electromotile and contract upon depolarization (reverse-transduction). These cells mechanically enhance the vibration of a narrow region of the basilar membrane to improve detection sensitivity (approximately 40-60 dB)[3] and frequency selectivity of the organ of Corti through cochlear amplification. The mechanical vibration is then transduced by inner hair cells (IHC), the classical sensory receptor cells, into auditory neurotransmission. This transduction is achieved through electrochemical coupling to its postsynaptic auditory afferent neurons, the spiral ganglion neurons (SGN). The structural organization of the cochlea is maintained by supporting cells lining the sensory epithelium and lateral wall tissues, the stria vascularis and spiral ligament. The supporting cells are also critical in maintaining endolymph ion homeostasis and cochlea blood supply.
The classical features of NIHL at the cellular level include damaged hair cell stereocilia, hair cell loss, swelling of afferent dendrites and SGN in Rosenthal's canal. The organ of Corti is compressed as result of damages to the supporting pillar cells, strial shrinkage, and loss of fibrocytes in the spiral limbus and spiral ligament. The cellular architecture of the high-frequency encoding basal region of the organ of Corti is more vulnerable to noise injury compared to the low-frequency apical region. This is consistent with the "half-octave shift" phenomenon[4,5] whereby the largest noise-induced threshold shifts are observed at the frequency approximately one-half octave above the stimulus frequency. This is especially true with pure tone and higher-level noise exposure, since the OHC are more prone to noise induced damage affecting their cochlear amplifier function. This sensorineural tissue damage is irreversible in the mammalian cochlea since the hair cells, which provide trophic support to the SGN, cannot regenerate. Figure 1 shows the cochlear cell types affected in NIHL.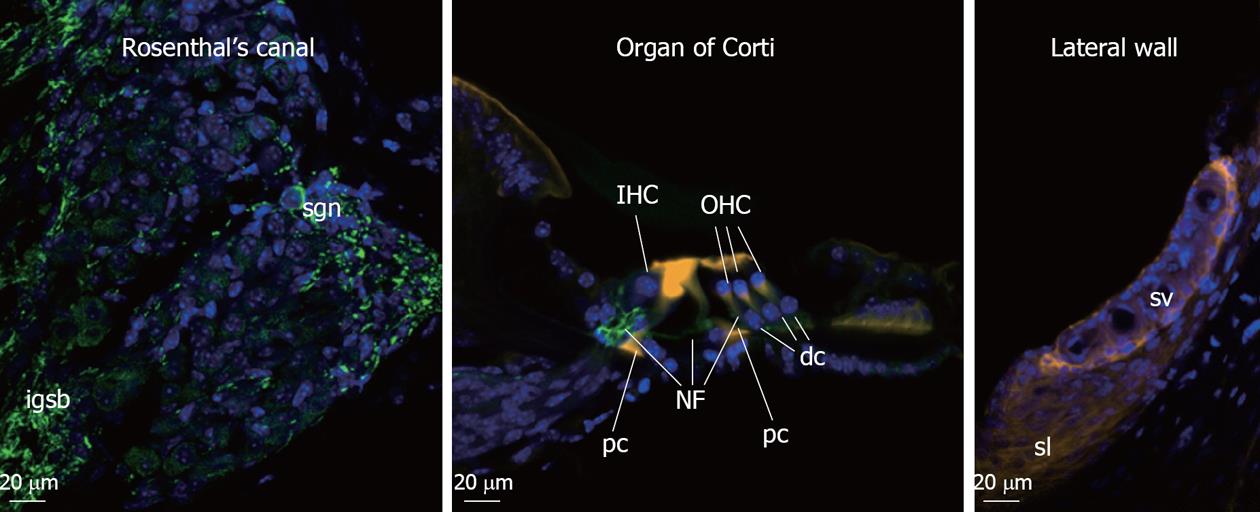 Figure 1 Cochlear cell types susceptible to noise-induced hearing loss.
Fluorescence micrographs of mouse cochlea tissues by confocal scanning microscopy. Transverse cochlear section was immunolabelled to show spiral ganglion neurones and neuritis (with anti-neurofilament-F200 antibody, green), actin filament of the sensory hair cell stereocilia (Phalloidin stain, orange), and cell nuclei (DAPI, blue). In cochlea exposed to noise stress, the integrity of inner and outer hair cell (IHC and OHC) stereocilia is affected, loss of the hair cells and nerve fiber (NF), damage to supporting pillar cells (pc) and Deiters cells (dc), swelling of spiral ganglion neuron (sgn) nerve fiber (intraganglionic spiral bundle, igsb) in the Rosenthal's canal as well as loss of fibrocytes in lateral wall stria vascularis (sv) and spiral ligament (sl) can be detected.
Research using animal models of NIHL suggests two routes of cochlear damage following noise exposure. The first is that intense noise causes direct mechanical disruption of the hair cell stereocilia and direct damage to supporting and sensory cells leading to hair cell loss[6,7]. The other route is metabolic damage through various biochemical pathways that converge and cumulatively trigger hair cell death through either apoptosis or necrosis[8,9].
Current theories of metabolic damage focus on oxidative stress, which includes excessive generation of reactive oxygen species (ROS) and reactive nitrogen species (RNS) in the cochlea triggered by exposure to loud sound, followed by caspase-mediated cell death by apoptosis[8,10-12]. ROS have been detected in cochlear tissue immediately after noise exposure[13] and seen to persist for 7-10 d after, spreading from the basal end of the organ of Corti to the apical turn; the RNS product peroxynitrite (ONOO-), generated by the combination of nitric oxide (NO) and superoxide has also been found[14]. This prolonged oxidative stress is proposed to induce the delayed and continued cochlear injury. This time might, therefore, provide a "window of opportunity" for post-noise otoprotective interventions to ameliorate or repair injury to the cochlea and reduce the impact of hearing loss. Apoptosis-inducing factor and EndoG are also released by mitochondria into the cytosol of cochlear cells following noise exposure[15]. Translocation of these pro-apoptotic factors into the nucleus triggers apoptosis. Activation of the c-Jun N-terminal kinase/mitogen-activated protein kinase (JNK/MAPK) signaling pathway is also implicated in OHC apoptosis in response to oxidative stress[16].
Free radicals (ROS and RNS) can cause damage by reacting with DNA, proteins, cytosolic molecules, cell surface receptors, and breaking down membrane lipids. ROS produced by the mitochondria induce lipid peroxidation in the cochlea through the formation of malondialdehyde and 4-hydroxynonenal byproducts[14]. This overloads the cochlear antioxidant enzyme system, including superoxide dismutase, catalase (CAT), glutathione peroxidase and glutathione reductase, and depletes glutathione, the endogenous antioxidant. Figure 2 provides an overview of oxidative stress pathways and the production of free radicals. In addition to apoptosis, ROS generation also leads to inflammation, and production of the pro-inflammatory cytokines interleukin-6 (IL-6)[17] and tumor necrosis factor α[18]. The presence of vasoactive lipid peroxidation products such as isoprostanes potentially also lead to the reduced cochlear blood flow associated with excessive noise[19-21]. Noise-induced ischemia and subsequent re-perfusion further potentiate the generation of ROS. A recent study has implicated the NO synthase/cGMP-dependent protein kinase (Prkg-1) signaling pathway, normally involved in vasodilation, in NIHL[22]. Treatment with the phosphodiesterase type 5 inhibitor vardenafil (Levitra) almost completely prevented NIHL in the rat model.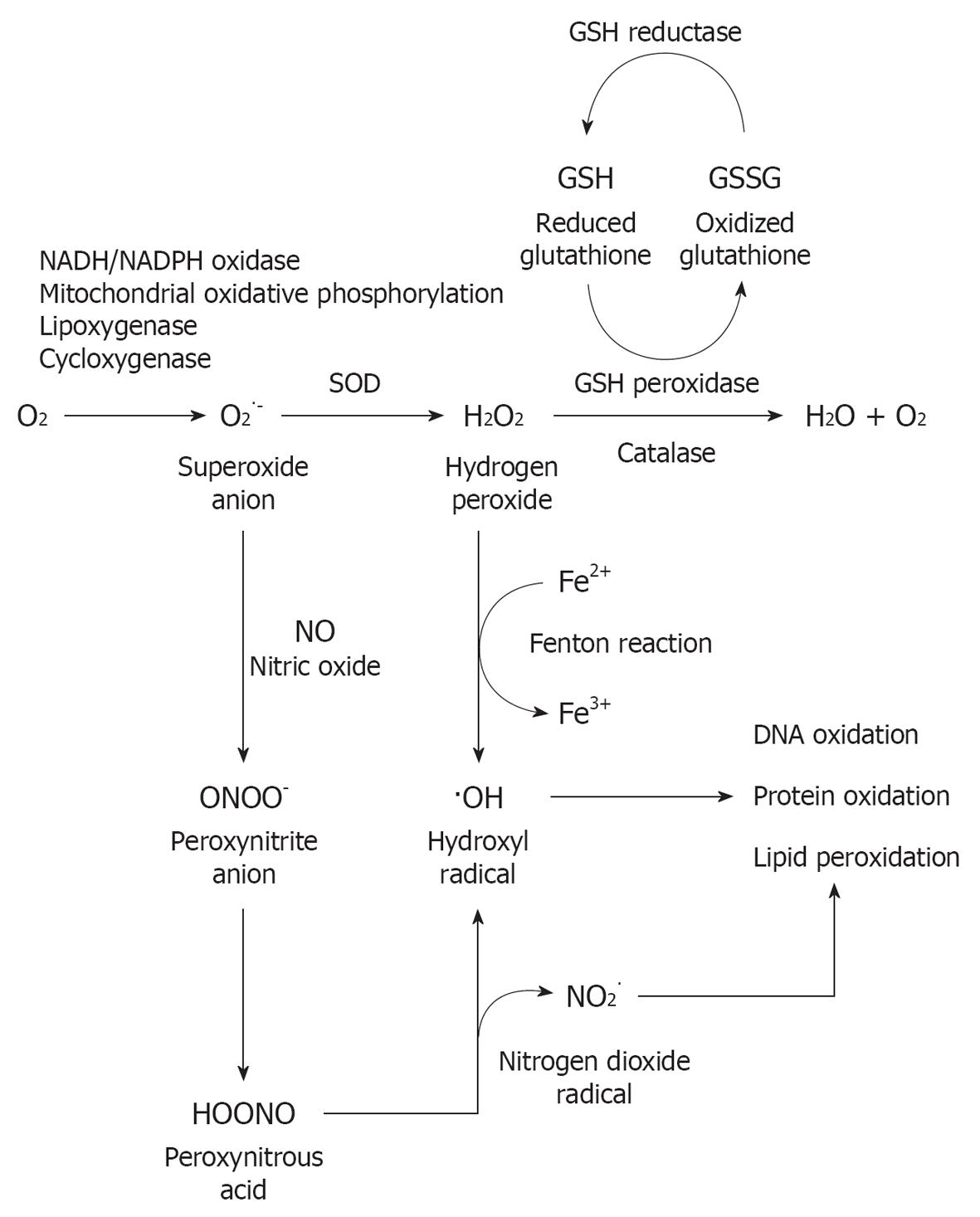 Figure 2 Mechanism of oxidative cellular damage. Mechanism of oxidative cellular damage. Reactive oxygen species (ROS, including superoxide anion, O2·-, and hydroxyl radical, ·OH), reactive nitrogen species (RNS, nitrogen dioxide radical, NO2·), and lipid peroxides are generated as result of oxidation of oxygen (O2) to superoxide anion by multiple cellular oxidases. Oxidases convert oxygen to O2·-, which is then dismutated to H2O2 by superoxide dismutase (SOD). H2O2 can be converted to H2O by catalase or glutathione peroxidase (GSH-Px) or to hydroxyl radical (·OH) after reaction with Fe2+. In addition, O2·- reacts rapidly with nitric oxide (NO) to generate peroxynitrite (OONO-). This further leads to production of NO2· and cellular damages through membrane lipid peroxidation and oxidation of DNA and proteins.
Excessive noise also leads to an increase in free Ca2+ in cochlear hair cells immediately post-noise[23]. This increase can be caused by Ca2+ entry through ion channels, such as L-type Ca2+ channels and P2X2 ATP receptor subunit, and lead to further release of Ca2+ from intracellular stores[24]. Elevated Ca2+ levels in the cochlea may link to ROS production as well as triggering apoptotic and necrotic cell death pathways independent of ROS formation[24]. In knock-out mice lacking expression of the canonical transient receptor potential channel subtype 3 (TRPC3 channel), a non-selective cation-permeable receptor expressed in sensorineural cochlear tissue[25,26], cochlear hair cells displayed approximately 40% reduction in Ca2+ re-entry following intracellular calcium depletion. The TRPC knockout mice have hyperacusis at frequencies tonotopically encoded by mid-apical basilar membrane, a region highly reliant on OHC cochlear amplification[27]. The consequence of disrupted calcium homeostasis on noise susceptibility is also demonstrated in plasma membrane Ca2+-ATPase isoform 2 (Pmca2 or Atp2b2) mutant mice. The C-terminally truncated PMCA2a is the only isoform detected in the stereocilia of hair cells[28]. Pmca2 null mice are deaf while their heterozygous littermates have significant hearing loss[29]. People carrying a homozygous mutation in cadherin 23 (CDH23) and a heterozygous, hypofunctional variant in PMCA2 have exaggerated hearing loss compared to those having CDH23 mutation alone[30].
An established mechanism of NIHL damage is the excess release of the excitatory neurotransmitter glutamate at the IHC afferent synapse. Glutamate excitotoxicity resulting from excessive glutamate release following noise overstimulation leads to an influx of cations such as Ca2+ across the post-synaptic membrane. The osmotic imbalance results in swelling of the postsynaptic afferent dendrites. Secondary to this cellular degeneration is calcium-dependent caspase-mediated apoptosis by intrinsic (mitochondria-mediated) pathway[31-33]. This may lead to degeneration of type 1 SGN weeks and months after a noise exposure[34]. The inhibitory neurotransmitter γ-amino butyric acid (GABA) is also associated with the regulation of auditory function[35]. Mice lacking the GABAB1 receptor subunit have elevated hearing thresholds but increased resistance to permanent acoustic injury[35].
A theory much revisited recently is the role of intrinsic feedback pathways providing endogenous cochlear tissue protection against noise damage. Purinergic signaling through ATP activation of the ATP-gated ion channel P2X2 receptor subunit within the cochlea is known to modulate cochlear function through regulating ion homeostasis[36-38]. In a recent study, Housley et al[39] have shown that ATP is released into the cochlear partition upon sound exposure, activating P2X2 receptors, which reduce the sensitivity of the hair cells through K+ shunting. This purinergic regulation of hearing sensitivity was revealed by the absence of noise-induced temporary threshold shift (TTS) in P2X2 receptor knockout mice. P2X2 receptor knockout mice also showed higher threshold shifts in response to moderate noise exposure and more substantial permanent loss of hearing sensitivity compared to their wild-type littermates, supporting the protective role of P2X2 receptor signaling pathway in NIHL[40].
Noise causes psychological stress. The hypothalamic-pituitary-adrenal (HPA) axis can be activated by noise stress and directly modulate the sensitivity of the auditory system[41-43]. Glucocorticoid receptors are expressed in human and rodent cochlea[44-46]. Systemic glucocorticoids or steroid hormones are widely used to treat sudden hearing loss with variable success[47-49]. For example, dexamethasone decrease the auditory thresholds in mice subjected to a moderate acoustic trauma, while the pre-treatment with glucocorticoid receptor antagonists exacerbates threshold shifts[50]. The corticotropin-releasing factor (CRF) involved in the activation of the HPA axis also modulates hearing sensitivity. CRF receptor-1 knockout mice showed elevated auditory thresholds, while CRF receptor-2 knockout mice exhibits lower auditory thresholds than wild type mice, but increased susceptibility to acoustic trauma[51,52]. Figure 3 summarizes the mechanisms of NIHL discussed.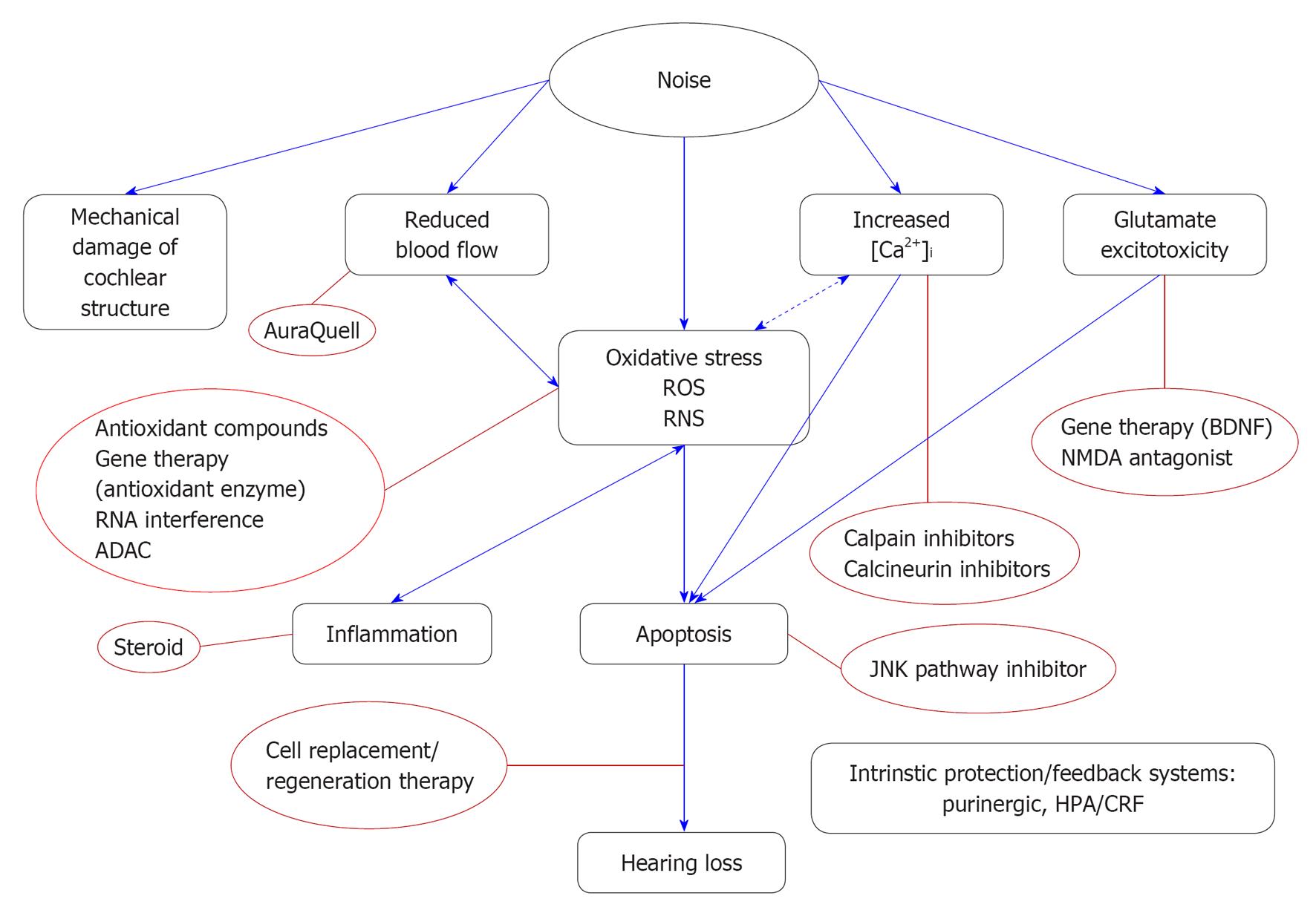 Figure 3 Overview of the mechanisms of cochlear injury in noise-induced hearing loss and interventions. HPA: Hypothalamic-pituitary-adrenal; CRF: Corticotropin-releasing factor; BDNF: Brain-derived neurotrophic factor; JNK: c-Jun N-terminal kinase; ADAC: Adenosine amine congener; ROS: Reactive oxygen species; RNS: Reactive nitrogen species; NMDA: N-methyl-D-spartate.
Genetic predisposition to NIHL
NIHL is a complex condition caused by the interaction of genetic and environmental factors. Therefore, individual vulnerability to NIHL is highly variable. Understanding the genetic makeup of people susceptible to NIHL will assist in early interventions and may lead to personalized therapies. Knockout mouse studies have implicated deficits in genes involved in antioxidative pathways or the structure of the cochlea to increase susceptibility to acoustic overstimulation. These include genes encoding proteins of the hair cell (Cdh23[53], Pmca2[29]), oxidative stress (Sod1[54]; Gpx1[55]), stress-activated heat shock factor (Hsf1[56,57]) and potassium recycling[58,59]. In contrast, until recently little was known about the genetic factors that influence NIHL in humans. The advance in high-throughput DNA sequencing technologies, or next-generation sequencing (reviewed in Metzker[60]) has greatly accelerated understanding of human NIHL genetic predisposition. Genes shown to be associated with oxidative stress and cochlear function in mice are obvious candidate genes for human studies.
Some original linkage studies on oxidative stress genes apparently showed a link between NIHL and mutations in these genes. Glutathione S-transferase Mu 1 and theta 1 (GSTM1 and GSTT1) deletion polymorphisms were found in 58 noise-exposed workers[61] and deletion polymorphisms of antioxidant genes paraoxonase 1, paraoxonase 2 and superoxide dismutase 2 (SOD2) were seen in 94 noise-exposed male workers[62]. However, these studies need to be interpreted with caution due to sample size and conflicting results from repeated studies with larger populations[63] (Swedish workers, 103 susceptible to noise and 114 resistant to noise). Association with the CAT gene was revisited by Konings et al[64] in two large independent populations (Swedish and Polish). In their study, additional single nucleotide polymorphisms (SNPs) were investigated to cover most of the common genetic variants. Interactions between noise exposure and genotypes and their effect on NIHL were also analyzed. Konings' study confirmed that two SNPs in CAT have associations with NIHL susceptibility, but only when noise exposure levels are taken into account. Konings et al[65] extended their study in the two populations and analyzed 644 SNPs in 53 candidate genes. Positive associations were shown for protocadherin 15 (PCDH15) and myosin 14 (MYH14). These are of great importance to hearing function since cadherins 23 and PCDH15 form hair cell tip links to convey force to mechanotransduction (MET) channels in sensory hair cells[66] and patients with MYH14 mutations are affected by autosomal dominant hearing impairment (DFNA4)[67].
Hair cell stereocilia are bathed in endolymph with high K+ content, which provides the driving force for mechanosensory transduction. K+ enters the hair cells through MET channels, exits through basolateral K+ channels, and is recycled back to the endolymph through the outer sulcus cells, Reissner's membrane, spiral ligament and spiral limbus[68]. Mutations in genes involved in K+ recycling, including GJB2, GJB3, GJB6, KCNE1, KCNQ1, and KCNQ4 cause both syndromic and nonsyndromic hearing loss (detailed in the Hereditary Hearing loss Homepage http://hereditaryhearingloss.org). Indeed, three SNPs in KCNE1 have been shown to have significant associations with NIHL[69] and the D85N polymorphism variant, when expressed in cell culture model, showed faster channel opening and larger K+ entry current. The same KCNE1 SNPs and one KCNQ4 SNP was confirmed to associate with NIHL in a later study[70].
TTS
In their seminal papers, Kujawa et al[71] have demonstrated that early-life exposure to noise exacerbates ARHL and that SGN are initially unharmed but dramatically degenerate 2 years after exposure to noise levels that cause TTS[34]. Their studies provided insight into the synergy between NIHL and ARHL, and also reinforced the importance of TTS in the development of progressive NIHL. A recent study of a rare heterozygous allele, P2X2 c.178G>T (p.V60L), presented in the DFNA41 type of progressive sensorineural hearing loss, in two unrelated large Chinese families has demonstrated neatly how environment and genetic predisposition interplay leading to NIHL[40]. DFNA41 family members heterozygous for the mutated ATP-gated P2X2 receptor (P2X2) exhibited elevated hearing thresholds in their 20 s. Mutation carriers with history of occupational noise exposure as young adults have increased threshold shifts of 10-20 dB in the 2-
8 kHz range compared to carriers with no previous noise exposure. On par with their human counterparts, p2rx2-null mice showed aggravated high-frequency hearing loss following continuous exposures to moderate noise from birth (8-16 kHz at 75 dB SPL). Patch-clamping and the use of fluorescent probes for membrane permeability analysis of transfected cells expressing P2X2 p.V60L showed abolished P2X2 receptor ion channel activity, suggesting impaired channel function in the mutant allele carriers. P2X2 receptors are expressed in the sensory hair cells and supporting cells of the organ of Corti and the afferent SGN[38,72]. Sustained noise exposure causes up-regulation of the p2rx2 transcripts and P2X2 protein[73,74]. Noise induced ATP release into the endolymphatic compartment (the scala media) activates P2X2 receptors, producing a cation shunt across the cochlear partition that reduces the driving force for both inner and OHC-mediated sound transduction[38,75,76]. The collective findings suggest the cochlear P2X2 receptor/ATP-gated ion channel signaling pathway confers protection from NIHL and the absence or mutation of P2X2 receptor increases susceptibility to NIHL and presbyacusis.
CONCLUSION
NIHL is a preventable condition. However, even temporary hearing loss can incur cochlear injury that eventuate to permanent damage and hearing loss. Noise management and hearing loss prevention remain the principal strategies for reducing the burden of NIHL on the society and individuals. On the bright side, signifiant milestones have been reached in understanding the underlying cellular and molecular mechanisms of NIHL. The elucidation of oxidative stress as a major cause of NIHL has opened up therapeutic avenues, which was previously limited to electrical interventions of cochlear implants and hearing aids. Orally administered otoprotective compounds with antioxidant actions to protect against NIHL and "hearing pill" for post-exposure rescue will likely be available within the next decade. Advance in decoding the genetic predisposition for NIHL will facilitate early screening and will aid the development of personalized NIHL prevention and treatment strategies. Synergistically, advances in gene and stem cell therapy in animal models provide a promising path to remedy these genetic defects, and to regenerate sensory cells in the inner ear to restore hearing. These interventions would have been unthinkable until recently and these novel developments will likely change the face of NIHL research in the 21st century and reduce the impact of this sensory disability on global health.
ACKNOWLEDGMENTS
We thank Dr. Srdjan Vlajkovic and Dr. Jennie Cederholm for their helpful comments in the manuscript preparation.
P- Reviewer Coate TM S- Editor Wen LL L- Editor A E- Editor Zheng XM