Copyright
©2014 Baishideng Publishing Group Inc.
All rights reserved.
Psoriatic arthritis: Epidemiology, diagnosis, and treatment
Jung-Tai Liu, Department of Physical Medicine and Rehabilitation, Chi-Mei Medical Center, Liouying, Tainan 736, Taiwan
Horng-Ming Yeh, Division of Rheumatology, Department of Internal Medicine, Tainan Municipal Hospital, Tainan 701, Taiwan
Shyun-Yeu Liu, Chi-Mei Medical Center, Tainan 710, Taiwan
Kow-Tong Chen, Department of Occupational Medicine, Tainan Municipal Hospital, Tainan 701, Taiwan
Kow-Tong Chen, Department of Public Health, College of Medicine, National Cheng Kung University, Tainan 701, Taiwan
Author contributions: Liu JT was contribution to conception, design, and drafting the article; Yeh HM was contribution to conception and design of this article; Liu SY was contribution to design of this article; Chen KT was contribution of conception, design, revising, supervision, and final approval of version of this article.
Correspondence to: Kow-Tong Chen, MD, PhD, Department of Occupational Medicine, Tainan Municipal Hospital, No. 670, Chongde Road, East District, Tainan 701, Taiwan. kowton@ms81.hinet.net
Telephone: +886-6-2609926 Fax: +886-6-2606351
Received: December 24, 2013
Revised: January 24, 2014
Accepted: June 18, 2014
Published online: September 18, 2014

Our understanding of psoriatic arthritis has evolved as new knowledge of the disease has emerged. However, the exact prevalence of psoriatic arthritis is unknown, and its pathogenesis has not been fully elucidated. Genetic, environmental, and immunologic factors have all been implicated in disease development. Early diagnosis and treatment have become primary objectives in clinical rheumatology. Psoriatic arthritis not only causes functional impairment, but also increases mortality risk of patients. The advent of new therapeutic agents capable of arresting the progression of joint damage is expected. However, early psoriatic arthritis assessment remains limited. The objectives of this article are to outline the epidemiology, diagnosis, and treatment of psoriatic arthritis and to suggest a paradigm for identifying early psoriatic arthritis patients.
Core tip: Psoriatic arthritis, usually seronegative for rheumatoid factor, involves the inflammation of synovial tissue, entheses, skin. Clinical manifestation of psoriatic arthritis varies and is under-diagnosed in psoriasis patients. This article presented the epidemiology, diagnosis, and treatment of psoriatic arthritis and to suggest a paradigm for use in standard clinical practice.
---
Citation: Liu JT, Yeh HM, Liu SY, Chen KT. Psoriatic arthritis: Epidemiology, diagnosis, and treatment. World J Orthop 2014; 5(4): 537-543
---
INTRODUCTION
Psoriatic arthritis (PsA) is a chronic disease which involves the inflammation of synovial tissue, entheses, skin and usually seronegative for rheumatoid factor[1]. Spondyloarthritis complex includes ankylosing spondylitis, reactive arthritis, arthritis associated with inflammatory bowel disease, undifferentiated spondyloarthritis, and PsA[2,3]. PsA is belonged as one part of the spondyloarthritis complex. PsA patients have heterogeneous clinical presentations, with diverse articular and dermatological features and varied disease courses and outcomes. PsA was initially considered to be a mild disease, but in the past decade, 40%-60% of patients have developed erosive and deforming joint complications[4]. PsA-induced joint damaging complications not only lead to lower articular function and higher mortality but also affect patients' ability to work and affect their social relationships[4]. The remission of PsA symptoms has been attributed to early diagnosis and treatment in recent studies[5,6]. However, PsA is underdiagnosed in psoriasis patients, which may be due to under-recognition of PsA symptoms and a lack of effective screening tools. The aims of this article were to present the epidemiology, diagnosis, and treatment of PsA and to suggest a paradigm for use in standard clinical practice.
DATA COLLECTION
We collected all of the articles published from January 2005 through October 2013 that described patients who were affected by PsA. By searching MEDLINE (National Library of Medicine, Bethesda, Maryland, United States), we used the key words "psoriatic arthritis" and "epidemiology of psoriatic arthritis" or "diagnosis of psoriatic arthritis" or "management of psoriatic arthritis" to obtain these articles. Articles that were not published in English, manuscripts without an abstract (which were assumed to not be original), and opinion articles were excluded from the review. The relevant information was extracted from the selecting articles and classified based on the following: PsA epidemiology, PsA diagnosis, PsA management, the setting of study, and the methodology of study.
The article searches were conducted from August 2013 to September 2013. Using the search terms previously described, a total of 853 papers were collected. All selected articles were reviewed by the authors and 109 articles were considered to be relevant. The study settings mostly located in European countries, the United States, Australia and Japan. The region that produced the most original information was Europe, which accounted for 35% of the articles. After analyzing the abstracts, we found that 85% of the studies were case reports, and 10% were retrospective. Additionally, 5% referenced other designs.
EPIDEMIOLOGY
It is difficult to determine the epidemiology of PsA due to the absence of universally accepted criteria for its diagnosis. The first classification criteria for PsA were proposed by Moll et al[7]. However, the pattern of disease may change over time and, therefore, is not useful for classification. The classification for psoriatic arthritis (CASPAR) criteria were developed in 2006 (Table 1)[7]. The CASPAR criteria are easier to use in epidemiologic studies. The specificity and sensitivity of these criteria are 98.7% and 91.4%, respectively[7].
Evidence of psoriasis (any of three)
Current1: Psoriatic skin or scalp disease present, as judged by a dermatologist or rheumatologist (score of 2)
Personal history: May be obtained from the patient, family doctor, dermatologist, or rheumatologist (score of 1)
Family history: In a first- or second-degree relative, according to patient report (score of 1)
Psoriatic nail dystrophy
Typical psoriatic Nail dystrophy, including onycholysis, pitting, and hyperkeratosis, observed on current physical examination (score of 1)
Negative rheumatoid factor
By any method except latex, but preferably by enzyme-linked immunosorbent assay or nephelometry, according to the local laboratory reference range (score of 1)
Dactylitis
Current: swelling of an entire digit (score of 1)
Personal history: recorded by a rheumatologist (score of 1)
Radiological evidence of juxta-articular new bone formation
Ill-defined ossification near the joint margins (but excluding osteophyte formation) on plain X-rays of the hand or foot (score of 1)
PsA usually occurs in the age of 40 to 50 years old, and the disease may occur in young children and elderly patients as well[8]. Psoriasis vulgaris is the most common type of psoriasis with PsA[9]. A few proportion (4%-5%) of PSA cases are related to guttate and pustular psoriasis[10]. One to two percent of cases involve single nail without skin involvement[11]. Male-to-female ratio is from 0.7:1 to 2.1:1[11]. Approximately 10%-37% of patients have skin and joint disease simultaneously, and 6%-18% of patients have arthritis preceding psoriasis[12,13]. Environmental factors, including infection (such as streptococcus, human immunodeficiency virus), drug use, and joint trauma (mainly in children), are known to contribute to PsA[14,15]. Emotional stress plays an important role as a trigger for both skin and joint psoriasis[15]. However, the neuroimmunoendocrine mechanisms involved in this phenomenon have not been elucidated. One population-based study suggested that pregnancy and steroid use might trigger PsA in patients with psoriasis[16].
Table 2 shows the incidence and prevalence of PsA worldwide. There is substantial variability in the incidence and prevalence of PsA by country. The incidence of PsA varies from 0.1/100000 in Japan to 23.1/100000 in Finland[17-22]. The prevalence of PsA in Europe and America varies from 0.02%-0.42%[22-30]. The prevalence in Japan is approximately at 0.001%[31]. In China, the disease prevalence is 0.02%[32]. Indians were found to have the highest prevalence of PsA among the multiethnic population in Singapore[33].
Country
Incidence (1/100000)
Ref.
Prevalence
Ref.
Asia
China
NA
0.02%
[33]
Japan
0.1
[17]
0.001%
[32]
Europe
NA
NA
Greece
3
[20]
0.17%
[29]
France
NA
0.19%
[23]
Italy
NA
0.42%
[25]
Germany
NA
0.29%
[24]
Finland
23.1
[18]
NA
Sweden
8
[19]
0.02%-0.25%
[30]
Iceland
NA
0.14%
[28]
Norway
NA
0.2%
[27]
Russia
NA
0.3%
[31]
Americas
United States
7.2
[22]
0.16%
[22]
Argentina
6.3
[92]
0.07%
[21]
Mexico
NA
0.02%
[26]
Collectively, compared to Americas and Europe, Asia has lower incidence and prevalence of PsA. The reasons for the difference of PsA morbidity in different areas are unclear. However, different case definitions and clinical settings in the studies may be one of the reasons.
DIAGNOSIS
Clinical manifestations
The clinical spectrum of PsA is diverse in nature; psoriatic patients might have axial skeleton disorders, nail changes, peripheral joint inflammation, entheses, tenosynovitis, or dactylitis. Each of these conditions can be found in isolation or in combination with others. The major clinical features of the disease are spondylitis (18%-46%), inflammatory neck pain (23%-39%), thoracic inflammatory pain (13%-21%), and axial symptoms (25%-50%)[8,34]. Most of patients with axial involvement can be no clinical symptoms and maintain their spinal mobility with no reduction in spinal flexion or chest expansion for more than 10 years [34,35].
Sacroiliitis is a common symptom among PsA patients[8,11,12,34,36]. Usually, it occur unilaterally and then become bilaterally in the following years. A study conducted in an Italian patient population using bone scans to detect active sacroiliitis found that the prevalence of sacroiliitis was 32%[37]. A multicenter study from the United States found that the prevalence of sacroiliitis was 78%[38]. It was found that one-third of PsA patients developed sacroiliitis after 5 years of illness and that half of patients developed sacroiliitis by 10 years[35]. Longer period of disease may be the cause of higher prevalence of sacroiliitis. Males have a three-fold greater risk of developing sacroiliitis than females have[11]. The onset time of PsA at younger age has higher risk to hip joint disease, however, there is no significant association between occurrence of enthesitis, dactylitis, and peripheral arthritis with the occurrence of hip joint disease[36].
PsA can simulate rheumatoid arthritis to involve the knee or a large joint with some small joints in fingers or toes (Figure 1)[39]. Polyarthritis is generally symmetrical and has dactylitis and enthesitis[37,39]. Oligoarthritis can be associated with dactylitis[37]. It is also found a shortening of the fingers with pencil-in-cup deformity[40].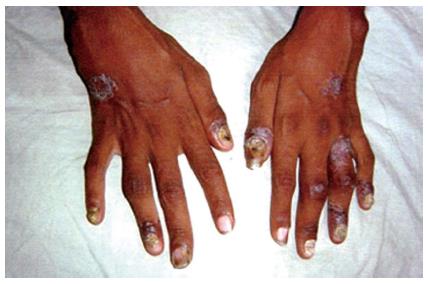 Figure 1 Peripheral hand joint involvement along with psoriatic skin lesion and nail changes.
Reproduced with permission from Dhir et al[39].
Dactylitis was present in 32%-48% of patients with PsA in various studies[37,40-45]. Seventy-five percent of patients have toes with dactylitis and 50% of patients have multiple digits involved simultaneously[43]. The morbidity of dactylitis increases as the duration of disease prolongs[40-45].
Twenty-five to fifty three percent of PsA patients present enthesitis[36,44]. One study in Canada demonstrated that only 15% of patients had enthesitis at the beginning of treatment, but the incidence increased to 36% as the disease progressed[44]. The Achilles tendon, plantar fascia, and greater trochanter are the most common sites affected[44,45].
From 4% to 18% of patients with PsA are found to have acute anterior uveitis[8,46,47]. Uveitis is more common in PsA patients with the spondylitis, with or without peripheral joint involvement[9]. However, uveitis is uncommonly clinical presentation in Spain and Israel. The prevalence of uveitis among PsA patients in these areas is only 1%-3%[11,41].
Imaging findings
Radiography, ultrasonography, magnetic resonance imaging (MRI), computed tomography (CT), and bone scintigraphy[48] are imaging techniques for diagnosis of PsA. In recent years, MRI and ultrasonography are increasingly used for assessment of PsA, providing additional information of the pathogenesis of the disease.
The most characteristic radiological finding indicative of PsA is bone destruction and proliferation[49]. Figure 2 shows the characteristics of radiological findings of peripheral PsA: an asymmetrical distribution, distal interphalangeal joints involvement, periostitis, bone density preservation, bone ankylosis, and pencil-in-cup deformity[39]. Axial involvement includes paravertebral ossification, syndesmophytes, interspinous or anterior ligament calcification, apophysis, sclerosis, and asymmetrical sacroiliitis[49]. Cervical intervertebral discs may be narrowed, and ankylosis may be present with atlantoaxial fusion or subluxation[50,51]. Bone erosion and condyle osteolysis might be found in the temporomandibular joint[52].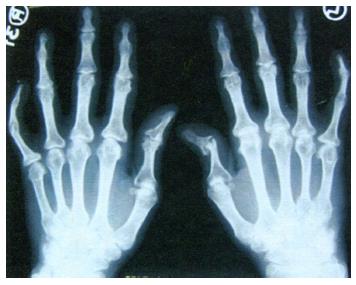 Figure 2 Ankylosis of distal interphalangeal joint on both hands, pencil in cup deformity in the first left interphalangeal joint on radiography.
Reproduced with permission from Dhir et al[39].
Ultrasonography is a reliable method for investigating subclinical enthesopathy in the Achilles tendon and for confirming a diagnosis in symptomatic patients[53]. This method can be used to identify acute or degenerative tendinitis, rupture, peritendinitis, and retrocalcaneal or pre-Achilles bursitis[53]. Ultrasonography has been considered an important tool in the evaluation of PsA. Power Doppler ultrasonography is not only a useful tool to assess musculoskeletal and cutaneous involvement, but also a functional tool to monitor the efficacy of therapy and to guide steroid injections at the level of inflamed joints, tendon sheaths, and entheses[54].
MRI examination has improved our understanding of PsA by establishing that synovial inflammation is usually secondary to extrasynovial involvement, which helps to differentiate PsA from rheumatoid arthritis[55]. However, this diagnosis cannot always be precisely determined. The use of gadolinium contrast increases the odds of differentiation by calculating the relative enhancement and rate of early enhancement[55]. MRI has improved the quality of diagnosis and objective observation of the disease spectrum in PsA[55,56]. In addition, direct visualization of inflammation in the peripheral and axial joints and peripheral and axial entheses is the advantage of MRI. It may show the images among enthesitis, synovitis, and osteitis in PsA and support an spondyloarthritis (SpA) pattern of inflammation of enthuses, in which is the primary target of inflammation[56].
CT is another useful tool for diagnosis of PsA. CT plays a limited role in the diagnosis of peripheral joints, however, it may be useful in assessing spine disease[57]. The sensitivity of CT in the detection of erosions of sacroiliac joint is similar to that of MRI, but MRI is more effective in monitoring synovial inflammation. The specificity of bone scintigraphy for diagnosis of PsA has improved when supplanted with ultrasonography and MRI techniques[57].
Taken together, conventional radiography, ultrasonography, and MRI have similar diagnostic efficacy in the assessment of joint space width[48]. Radiology is less sensitive than ultrasonography and MRI in the assessment of other features of joint inflammation[48]. Radiography allows the detailed analysis of morphostructural and blood flow changes in multiple psoriasis-affected sites (skin, joints, tendons, entheses, and nails)[58]. Ultrasonography with power Doppler has shown that psoriasis patients without PsA more commonly exhibit synovitis and enthesopathy than do patients with other skin diseases. Additionally, ultrasonography has shown a significant prevalence of musculoskeletal asymptomatic involvement (3.2% synovitis and 11.6% enthesopathy)[59]. MRI is more sensitive in detecting small erosions and enthesitis[48].
TREATMENT
The basic goals of PsA treatment are helping patient to alleviate from the suffering of the disease, to preserve the joint structure, to improve patients' physical activities, and to reduce the risk of mortality. As a rule, all PsA patients must be informed of the characteristics of the disease and given psychological counseling and physiotherapy.
CONCLUSION
The incidence and prevalence of PsA vary worldwide. The incidence and prevalence of PsA in Asia are lower than in North American and European countries. Early diagnosis and treatment for PsA improve patient's outcomes. PsA is underdiagnosed among psoriasis patients. Physicians should be alert the possibility of PsA when a patient with preexisting psoriasis has arthritis. If needed, counsel a rheumatologist for help. The treatment of PsA should be considered all aspects of the disease, including clinical manifestations, mental problems, and maintenance of articular function.
P- Reviewer: Chen GS, La Montagna G S- Editor: Gou SX L- Editor: A E- Editor: Wu HL