Copyright
©2014 Baishideng Publishing Group Inc.
All rights reserved.
World J Gastrointest Pharmacol Ther.
Aug 6, 2014;
5(3): 148-155
Published online Aug 6, 2014. doi: 10.4292/wjgpt.v5.i3.148
Pharmacological therapy of feed intolerance in the critically ills
Nam Q Nguyen, Departments of Gastroenterology and Hepatology, Royal Adelaide Hospital, 5000 South Australia, Australia
Nam Q Nguyen, Discipline of Medicine, University of Adelaide, North Terrace, Adelaide, 5000 South Australia, Australia
Author contributions: Nguyen NQ contributed to conception and design, analysis and interpretation of the data, drafting of the article, critical revision of the article for important intellectual content, and final approval of the article.
Correspondence to: Nam Q Nguyen, Associate Professor, Department of Gastroenterology and Hepatology, Royal Adelaide Hospital, North Terrace, Adelaide, 5000 South Australia, Australia. quoc.nguyen@health.sa.gov.au
Telephone: +61-88222-5207 Fax: +61-88222-5885
Received: December 12, 2013
Revised: April 24, 2014
Accepted: May 31, 2014
Published online: August 6, 2014

Feed intolerance in the setting of critical illness is associated with higher morbidity and mortality, and thus requires promptly and effective treatment. Prokinetic agents are currently considered as the first-line therapy given issues relating to parenteral nutrition and post-pyloric placement. Currently, the agents of choice are erythromycin and metoclopramide, either alone or in combination, which are highly effective with relatively low incidence of cardiac, hemodynamic or neurological adverse effects. Diarrhea, however, can occur in up to 49% of patients who are treated with the dual prokinetic therapy, which is not associated with Clostridium difficile infection and settled soon after the cessation of the drugs. Hence, the use of prokinetic therapy over a long period or for prophylactic purpose must be avoided, and the indication for ongoing use of the drug(s) must be reviewed frequently. Second line therapy, such as total parenteral nutrition and post-pyloric feeding, must be considered once adverse effects relating the prokinetic therapy develop.
Core tip: Feed intolerance during critical illness must be promptly recognized and treated due to the associated morbidity and mortality. The current first line treatment for feed intolerance is prokinetic therapy with erythromycin and metoclopramide (alone or in combination), which are highly effective and free of significant adverse effects. Although diarrhoea occurs commonly after combination prokinetic therapy, it is not associated with Clostridium difficile colitis and settled shortly after stopping the treatment. The use of prokinetic therapy over a long period or for prophylactic purpose, therefore, must be avoided and the indication for ongoing use of the drug(s) should be frequently reviewed.
---
Citation: Nguyen NQ. Pharmacological therapy of feed intolerance in the critically ills. World J Gastrointest Pharmacol Ther 2014; 5(3): 148-155
---
INTRODUCTION
Enteral nutrition is preferred method of nutritional support during critical illness given its major benefit in preserving intestinal mucosal barrier function, cheap and has significantly fewer infective complications as compared to total parenteral nutrition[1-6]. Unfortunately, gastrointestinal motility is frequently impaired in these patients and consequently, naso-gastric (NG) feeding cannot be tolerated in approximately 50% patients[1-3] due vomiting, feed reflux or regurgitation, pulmonary aspiration[3-5]. Not only these feeding complications are associated with higher morbidity and mortality[4-6], they also prevent adequate delivery of nutrition to meet the daily caloric requirement of these patients. Thus, it is important that feed intolerance is promptly identified and treated.
Prokinetic agents are currently considered as the first-line therapy for feed intolerance given issues relating to parenteral nutrition and post-pyloric feeding[7-9]. In addition to the technical difficulties related to the placement of post-pyloric feeding tube, the morbidity and mortality benefits of post-pyloric feeding have not been demonstrated in these patients, especially in those who do not have impaired gastric emptying, and thus, routine use of post pyloric feeding is not recommended[10-12]. Even in feed-intolerant patients who failed to response to prokinetic therapy[13], evidence to support post-pyloric feeding in these patients is also lacking. Although total parenteral nutrition offers an alternative approach to deliver nutrition to these patients, it is associated with a higher rate of infective and hyperglycemic complication morbidity, necessitate the need for meticulous care of intravenous lines and blood glucose managment. This review aims to provide an overview of the current pharmacological approach to treat feed intolerance and gastrointestinal dysmotility during critical illness.
UPPER GASTROINTESTINAL DYSMOTILITY AND FEED INTOLERANCE DURING CRITICAL ILLNESS
Gastric emptying (GE) is commonly impaired during critical illness with up to 50% of mechanically ventilated patients have delayed GE[14-19]. Furthermore, antro-pyloro-duodenal as well as intestinal motilities during both fasting and fed stage are also frequently impaired in these patients[2,20], characterized by (1) an absence gastric phase III motility and a loss of antro-pyloro-duodenal integration during the fasting state[21]; and (2) a delayed fundal relaxation, a reduced antral motility[20,22], an increased isolated pyloric activity[20] and a disrupted motor integration between the proximal and distal stomach[23] during feeding (Figure 1). Compared to healthy subjects, proximal gastric relaxation is more prolonged in critically ill patients and is associated with a greater suppression of fundic wave activity in response to intestinal nutrient infusion[24,25]. There is also a marked reduction in number of antral pressure waves and antral motility index but an increase in the isolated pyloric pressure waves and pyloric tone during a gastric meal[20,23]. The organisation of the duodenal contractions in these patients is also markedly abnormal with approximately 50% of these contractions being propagated in a retrograde manner[20,23]. Furthermore, the motor integration between the proximal and distal stomach, which is important for meal distribution and emptying, is also disrupted and leads to increased retention of the meal in the proximal stomach[23].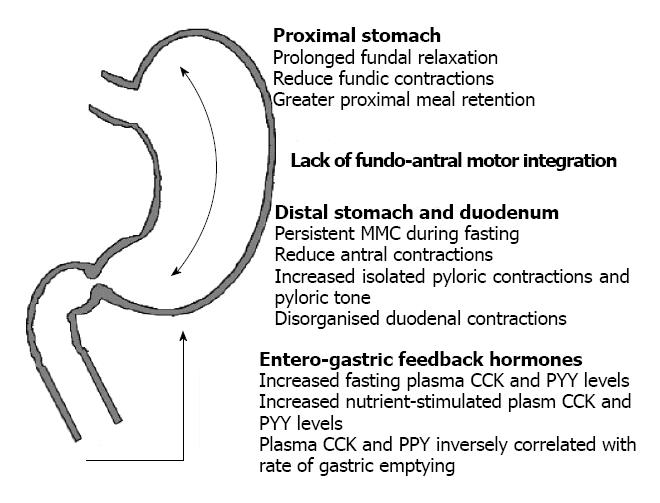 Figure 1 Gastric motor abnormalities reported during critical illness.
CCK: Cholecystokinin; PYY: peptide YY.
The mechanisms underlying gastrointestinal motility dysfunction during critical illness remain uncertain. Overall, the prolonged fundal relaxation, reduced antral activity and increased pyloric activity in response to a nutrient meal is consistent with enhanced motor feedback responses to the entero-gastric reflex. In keeping with this notion, the gastric motor disturbances in critically ill patients are associated with enhanced increases plasma cholecystokinin (CCK) and peptide YY (PYY) concentrations (gut hormones that mediate the entero-gastric motor feedback responses) during both fasting and in response to intestinal nutrients[26-28]. Together with the known adverse effects of CCK and PPY on gastric emptying, reciprocal relationship between the rate of gastric emptying and plasma concentrations of CCK and PYY suggests a potential role of these hormones in the pathogenesis of impaired gastric empyting during critical illness[26].
Other potential contributors that have been implicated in the pathogenesis of upper gastrointestinal motor dysfunction during critical illness are: admission diagnosis, severity of the critical illness, pre-existing morbidities, recent abdominal surgery, shock, electrolyte abnormalities, hyperglycaemia, age, gender, and drugs including those that used for sedation (benzodiazepines), analgesia (opioids) and maintaining blood pressure (catecholamines)[29-31].
Current pharmacological therapy of feed intolerance
Given the impaired gastric emptying is the main cause of feed intolerance, the main aim of the current available drug therapy for feed intolerance is to improve gastric emptying.
Dopamine agonists: Metoclopramide and domperidone are the dopamine agonists that have been used to treat feed intolerance in critical care for a long time. In contrast to metoclopramide, domperidone is a peripherally acting dopamine antagonist, which avoids the central nervous side effects and thus, has little extra-pyramidal adverse effects. Whilst these agents have been reported to improve gastric emptying in these patients, its efficacy in improving feed intolerance remains controversial[7-9]. The effect of metoclopramide on the gastric residual volume (GRV) was not observed after an enterally administered 10 mg dose, and not after the third dose, a modest reduction in GRV was detected[7-9]. Recently, metoclopramide [10 mg qid iv] has been shown to improve feed intolerance during critical illness but its therapeutic efficacy declines progressive over the 7 d (from 85% in the first days of therapy to less than 35% after 7 d of treatment, Figure 2)[32]. Metoclopramide, however, is not effective[33] and, in fact, contraindicated[34] in patients with brain injury, as it can raise intracranial pressure further.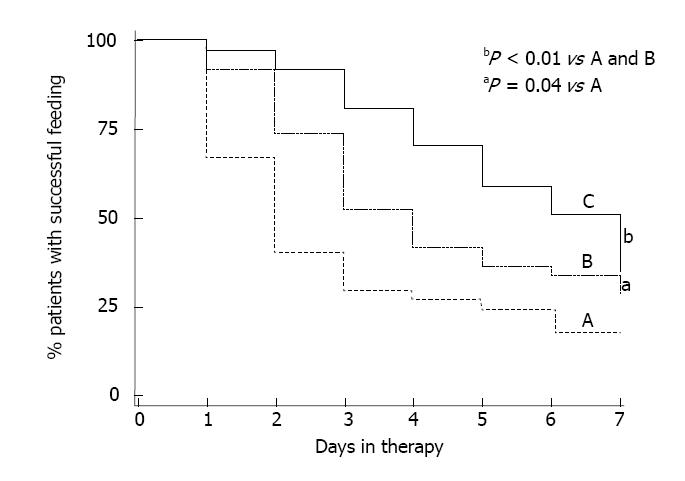 Figure 2 Efficacy of metoclopramide (A), erythromycin (B) and combined erythromycin and metoclopramide (C) in the treatment of feed intolerance of critical illness over 7-d period.
Motilin agonists: Erythromycin is the only available motilin agonist uses in clinical practice. Given at a low dosage, ranging between 3 to 7 mg/kg per day, erythromycin has been shown to increase both gastric emptying and improve feed intolerance in critically ill patients[7-9]. Whilst enterally administered metoclopramide and cisapride have been shown to have a more rapid onset of action than erythromycin, the overall effect of these agents on GRV in these patients is similar to that of erythromycin[7-9]. In a recent randomized, double-blind trial, low dose erythromycin (200 mg bid iv) was found to be more efficacious than metoclopramide in improving feed intolerance in these patients[32]. The major issue with both agents, however, is the rapid development of tachyphylaxis, leading to a marked reduction in efficacy after a week of therapy (approximately 30% at day 7)[32] (Figure 2). For patients who failed to respond to either agent, the use of rescue combination therapy (i.e., erythromycin and metoclopramide) was highly effective and minimized the development of tachyphylaxis[32] (Figure 3).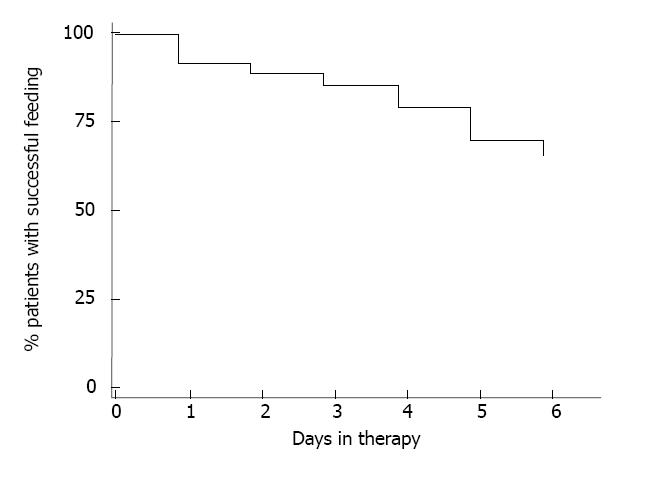 Figure 3 Efficacy of rescue combined metoclopramide and erythromycin in critically ill patients who failed to response to either erythromycin or metoclopramide in the treatment of feed intolerance.
The role of combination prokinetic therapy as the first line therapy for feed intolerance has also been evaluated in a double-blind randomized study[35]. The use of first-line combination therapy to treat feed intolerance was significantly more effective than erythromycin alone, allowing a significantly greater amount of feed to be given to the patients during treatment. First-line combination therapy was also associated with a lesser degree of drug tachyphylaxis and up to 60% of patients remained responsive at day 7 of treatment[35] (Figure 2). Major adverse effects were not observed in either mono- or dual-therapy groups during both studies[32,35], supporting the use of low dose erythromycin, particularly in combination with metoclopramide, in the management of feed intolerance during critical illness. Despites these data, routine use of erythromycin for feed intolerance has not been universally recommended amongst the Intensive Care Physicians due the major concern of promoting bacterial resistance development with the widespread use of low dose erythromycin[36,37].
Serotonin (5-Hydroxytryptamine) receptor agonists: Serotonin is a monoamine neurotransmitter that acts on a variety of receptor types in the gastrointestinal tract, and has been shown to stimulates peristalsis[37]. This property leads to the use of this pharmacological agent as a prokinetic drug. Cisapride is the most well known agent in this class, and has dual stimulatory effects on the 5-Hydroxytryptamine (5-HT4) serotonin receptors and the parasympathetic nervous system, leading to increases in both 5-HT4 and acetylcholine in the enteric nervous system. The use of cisapride has been shown to associate with improved gastric emptying in critically ill patients as well as reduced the occurrence of feed intolerance[38-42]. Due to case reports of cisapride induced lethal cardiac toxicity[43], however, the drug has been withdrawn and is not available for clinical use.
Tegaserod is another serotonin (partial) agonist that have been trialed in critically ill patients. Similar to cisapride, although tegaserod improved gastric motility and accelerated gastric emptying[44], the drug was withdrawn in 2007 due to cardiovascular adverse effects. Together, evidence indicated that this class of drug is not an ideal prokinetic agent due to the associated cardiovascular side effects, and it use in critically ill patients is not recommended.
Novel prokinetic agents
Opiate receptor antagonists: The use of this class of drug bases on the fact that opiate reduces both gastric and intestinal motility, leading to an increase in feed intolerance during critical illness. Although the regular use of nasogastric naloxone (an opioid antagonist) has been shown to reduce GRV and incidence of ventilation associated pneumonia (VAP) in critically ill patients who were receiving iv fentanyl, it had not impact on the time to wean from mechanical ventilation or the time to discharge from ICU[45]. Thus, the use of naloxone (8 mg qid nasogastric) has not been routinely adopted in clinical practice given its lack of easy administration and increases expense.
Recent data on mu (µ) receptor antagonists are, however, more promising. Unlike naxolone, these peripherial mu-opioid receptor antagonists do not antagonise the analgesic effects of analgesia and induce withdraw effects[46]. Alvimopan, a peripheral µ-opioid receptor antagonist, has been shown to counteract the inhibitory effect of opiate on small bowel motility[47] and significant reduce both the time to bowel recovery and time to discharge from hospital in patients with abdominal surgery[48]. The efficacy of alvimopan in the management of feed intolerance during critical illness, however, has not been formally assessed and warranted further evaluation.
CCK receptor antagonists: Compared to healthy subjects, critically ill patients have increased plasma fasting and nutrient-stimulated CCK concentration, which is further elevated in those who have delayed gastric emptying[49] or feed intolerance[50]. Given CCK plays a major role in the negative feedback inhibition of gastric emptying in response to meal, the higher plasma concentrations of CCK in critically ill patients are thought to potentially contribute to the gastric dysmotility and feed intolerance. In health, the use of loxiglumide has been found to associate with enhanced lower oesophageal sphincter function and gastric emptying. Given these findings, the use of CCK receptor antagonist may have a potential role in the management of impaired gastric emptying and feed intolerance during critical illness. Unfortunately, such study has not been conducted.
Ghrelin agonist: Ghrelin, a motilin related peptide, has a number of actions on the gastrointestinal tract, including stimulation of appetite[51] and gastrokinetic effects[52]. Physiologically, ghrelin induces phase III gastric contractions and increases the resting tone of the fundus[53]. Based on these actions, the use of ghrelin analogue has been shown to improved gastric motility and the rate of gastric emptying in diabetic patients with gastroparesis[54]. Unfortunately, in addition to the prokinetic property, ghrelin also has anabolic effects by induce releases of growth hormones. Given the use of growth hormone has been reported to associate with increased mortality in the critically ill[55], the potential clinical use of exogenous ghrelin as a prokinetic agent has been cautious, and thus, has not been further evaluation in this patient group.
ADVERSE EFFECTS OF PROKINETIC THERAPY
Cardiovascular side effects
The potentially fatal ventricular arrhythmia relating to prolongation of the QT interval, torsades de pointes, has always been a major concern with the use of currently available prokinetics[56], as all agents have been shown to block the human ether-a-go-go-related gene currents which is important in mediation of cardiac rhythm[57,58]. Compared to metoclopramide and erythromycin, cisapride and domperidone are approximately 100 times more potent in the inhibition of human ether-a-go-go-related gene currents and, thus, carry the highest risk of inducing cardiac arrthymia[57,58]. The risk of arrhythmia, however, can be potentiated by a number of patient-related factors such as known history of cardiac arrhythmia, structural heart disease, poor left ventricular function and electrolyte disturbances[59]. In addition, it is important to recognize a number of drug interactions that can increase the risk of cardiac arrhythmia, which is particularly relevant in critical ill setting as poly-pharmacy is common. Concurrent administration of erythromycin and drugs that metabolized by CYP3A4 isoenzyme, such as antifungal and anti-arrhythmic drugs, calcium channel blockers, haloperidol and pimozide can increase the risk of adverse cardiac events and should be avoided[59]. It is important to recognize, however, that these concerns related to the cardiac adverse effects are extrapolated from reports or studies performed in non-critically ill patients. Thus far, there has been report of cardiac toxicities or arrhythmias with the use of metoclopramide or erythromycin in clinical studies that involved adults or pre-term infants during critical illness[31,34,60-62].
Another potential cardiovascular side effect of erythromycin is hypotension. In healthy volunteers, a reduction in systolic blood pressure by 10 mmHg has been observed after a single dose of erythromycin[63]. Such haemodynamic effects of erythromycin may be more relevant in critically ill patients given their cardiovascular function is already compromised. Our study[62], however, failed to demonstrate any impact of low dose erythromycin on blood pressure and heart rate, reassuring that erythromycin is safe to be used a prokinetic during critical illness.
Neurological side effects
In non-critical illness setting, long-term use of metoclopramide can be associated with somnolence, nervousness, extra-pyramidal dyskinesis, galactorrhea and menstrual disorders in up to 20% of patients[64,65], especially the elderly females. These side effects are difficult to detect, and thus, not reported during critical illness as the patients are paralyzed for mechanical ventilation. However, the use of metoclopramide is contraindicated in head injury patients as it is not effective[32] and more importantly, can increase intra-cranial pressure[33]. Similarly, in patients with a known history of myasthenia gravis, erythromycin can precipitate myasthenia crisis[66] and should be avoided in these patients.
Gastrointestinal side effects
Up to 25% patients with enteral feeding have watery diarrhoea[67,68] and the majority of cases are not related to infection. The aetiology is likely to be multi-factorial and can relate to increased gastrointestinal transit[69], reduced intestinal absorption[70], disturbed carbohydrate fermentation from altered bowel flora[67], and the hyper-osmolar effects of enteral feeds[67,68], leading to osmotic diarrhoea in most patients. Consequently, diarrhoea is more frequently observed in patients who receive enteral feeding at a high rate (e.g., greater than 50 mL/h)[71], which improves when the rate of enteral feeding is reduced[67,68]. Recently, in a study of 180 critically ill patients who had feed intolerance, 40% patients developed diarrhoea after 10 d after commencement of prokinetic therapy (erythromycin and/or metoclopramide), and was most prevalent in those who received combination therapy [49% vs 30% (erythromycin) vs 32% (metoclopramide)][61]. The diarrhea lasted for a mean duration of 3.6 ± 1.2 d and directly correlated with the amount of feeds delivered[61]. More importantly, none of the patients with diarrhoea had Clostridium difficile infection and the diarrhoea resolved quickly with the cessation of prokinetic therapy[61].
ISSUES RELATED TO THE DEVELOPMENT OF BACTERIAL RESISTANCE
Given the prokinetic dose of erythromycin is low and in the "sublethal" concentrations of antibiotic effects, the widespread use of this medication as a prokinetic has been cautioned[35,36] as it can exert selective pressure on bacteria and can lead to the development of bacterial resistance[72], particularly in the setting of critical illness. The concerns, however, remain hypothetical as there are no data in the current literature to support this hypothesis with the short-term use of low-dose erythromycin[73]. In order to overcome this issue, a number of motilin derivatives that have no antibiotic property have been developed. Unfortunately, the prokinetic effects of these new agents are less durable, and are most likely due to the rapid development of drug tachyphylaxis[74-76].
TREATMENT ALGORITHM FOR FEED INTOLERANCE DURING CRITICAL ILLNESS
In addition to pharmacotherapy, there are a number of factors in the general management of the ICU patient which can help to prevent gut dysmotility and avoid its sequelae. These include patient posture, which should be at least 30º head up to reduce aspiration and nosocomial pneumonia in the setting of absent gastro-esophageal pressure[77,78]. Reduction in the dosage of opiates[30,45] and catecholamines to minimal tolerated levels and avoidance of the use of dopamine[79] will also reduce exogenous causes of delayed gastric emptying. If analgesia is required, short-acting agents like fentanyl or remifentanil are preferred and the uses of morphine should be minimised. Hyperglycemia may contribute to slow gastric emptying and blood glucose should be controlled. Prolonged fasting may affect gastrointestinal motility in healthy subjects[80], but early initiation of feeding has not been shown to affect subsequent gastric emptying or gastrointestinal hormones[81] but does improve subsequent nutrient absorption[82].
If feed intolerance develops despite the above preventive measures, prokinetic therapy should be commenced in patients who have no contraindications. Available data indicate that the combination of low dose erythromycin (200 mg bid iv) and metoclopramide (10 mg qid iv) is the most effective treatment with the lowest risk of developing drug tachyphylaxis. In Units which are concerned about the risk of bacterial resistance or Clostridium difficile infection, metoclopramide can be used the first line therapy and if this agent fails, rescue combination therapy with erythromycin should be adopted. In all cases, prokinetic treatment can be ceased after 7 d of therapy if successful feeding has been achieved or as soon as diarrhoea becomes a problem. In cases where prokinetic therapy fails, particularly with the combination use of erythromycin and metoclopramide, post-pyloric delivery of enteral feed to overcome impair gastric emptying should be considered. If this approach also fails or is not available, parenteral nutrition support with good glycemic care can be adopted.
CONCLUSION
Feed intolerance is common amongst the critically ill patients and, if not treated promptly, can lead to increased morbidity and mortality. Currently, treatment with prokinetics is considered as the first line therapy given the related technical difficulty of post-pyloric placement and the potential infective morbidities of parenteral nutrition. Metoclopramide and erythromycin are the two agents that have been shown to improve feed intolerance in these patients with a relatively good safety profile. Available data suggest that the agents should be used in combination to achieve the highest efficacy with a least incidence of tachyphylaxis. The major but hypothetical concern with the widespread use of low dose erythromycin as a prokinetic in clinical practice, however, is the development of bacterial resistance. Further development and evaluation of novel prokinetic agents, therefore, are warranted to overcome problems relating to drug tachyphylaxis and development of bacterial resistance.
P- Reviewer: Hsu CW S- Editor: Ji FF L- Editor: A E- Editor: Lu YJ