World J Gastrointest Pharmacol Ther.
Aug 6, 2010;
1(4): 81-86
Published online Aug 6, 2010. doi: 10.4292/wjgpt.v1.i4.81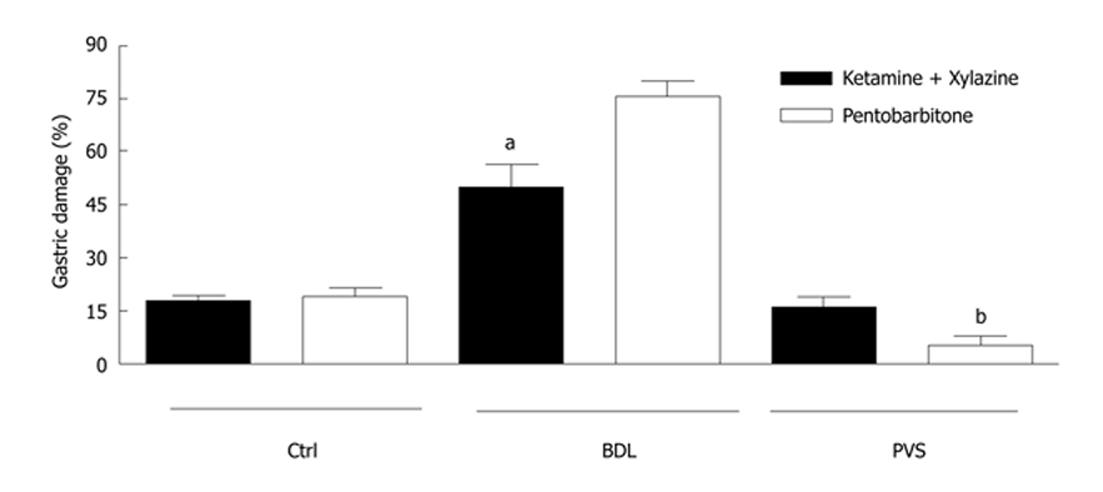 Figure 1 Gastric damage in control and portal hypertensive rats. Ethanol (EtOH)-induced gastric damage was significantly increased in cirrhotic bile duct ligation (BDL) rats compared to controls when sodium pentobarbitone (SP) anesthetic was administered. In BLD rats, ketamine/xylazine (KX) anesthesia partially restored the resistance of the portal hypertensive gastric mucosa to ethanol-induced damage. An inverse effect was obtained from KX and SP anesthetics in portal vein stenosis rats. Asterisks denote significant differences between the two anesthesia treatments in BDL and portal vein stenosis rats (n = 5; aP < 0.001; bP < 0.05). PVS: Portal vein stenosis.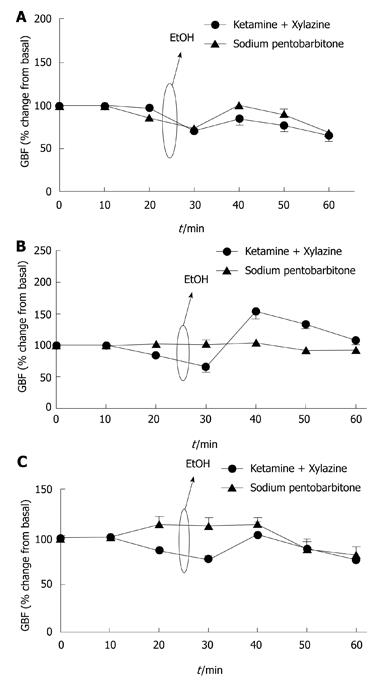 Figure 2 Gastric blood flow responses by topical application of ethanol (40%) in control (A), bile duct ligation (B) and portal vein stenosis (C) rats. A: Under both sodium pentobarbitone and ketamine/xylazine anesthesia, a reduction in gastric blood flow (GBF) was observed in control rats followed by hyperemic response of the gastric microcirculation (n = 5); B: GBF responses were absent in bile duct ligation rats under sodium pentobarbitone anesthesia whereas ketamine/xylazine anesthesia partially restored GBF responses to ethanol (n = 5); C: GBF rates increased in portal vein stenosis rats under sodium pentobarbitone anesthesia while under ketamine/xylazine anesthesia was reduced (n = 5).
---
Citation: Câmara PR, Moi GP, Ferraz JGP, Zeitune JMR. Effect of anesthetics on gastric damage using two models of portal hypertension. World J Gastrointest Pharmacol Ther 2010; 1(4): 81-86
---