Copyright
©The Author(s) 2023.
Published by Baishideng Publishing Group Inc. All rights reserved.
Hepatocellular carcinoma: State of the art diagnostic imaging
Cody Criss, Heritage College of Osteopathic Medicine, Ohio University, Athens, OH 45701, United States
Arpit M Nagar, Mina S Makary, Department of Radiology, The Ohio State University Medical Center, Columbus, OH 43210, United States
Author contributions: Cody C designed and wrote the review; Nagar AM reviewed and critically advised the paper; Makary MS supervised and critically revised the paper.
Conflict-of-interest statement: All the authors report no relevant conflicts of interest for this article.
Open-Access
: This article is an open-access article that was selected by an in-house editor and fully peer-reviewed by external reviewers. It is distributed in accordance with the Creative Commons Attribution NonCommercial (CC BY-NC 4.0) license, which permits others to distribute, remix, adapt, build upon this work non-commercially, and license their derivative works on different terms, provided the original work is properly cited and the use is non-commercial. See:
https://creativecommons.org/Licenses/by-nc/4.0/
Corresponding author: Mina S Makary, MD, Assistant Professor, Attending Doctor, Director, Department of Radiology, The Ohio State University Medical Center, 395 W. 12th Ave., Columbus, OH 43210, United States. mina.makary@osumc.edu
Received: December 18, 2022
Peer-review started: December 18, 2022
First decision: January 31, 2023
Revised: February 12, 2023
Accepted: March 22, 2023
Article in press: March 22, 2023
Published online: March 28, 2023

Primary liver cancer is the fourth most common malignancy worldwide, with hepatocellular carcinoma (HCC) comprising up to 90% of cases. Imaging is a staple for surveillance and diagnostic criteria for HCC in current guidelines. Because early diagnosis can impact treatment approaches, utilizing new imaging methods and protocols to aid in differentiation and tumor grading provides a unique opportunity to drastically impact patient prognosis. Within this review manuscript, we provide an overview of imaging modalities used to screen and evaluate HCC. We also briefly discuss emerging uses of new imaging techniques that offer the potential for improving current paradigms for HCC characterization, management, and treatment monitoring.
Core Tip: Successful tumor assessment can be a critical component to patient management and prognosis. The expansion of imaging techniques beyond conventional modalities (e.g. ultrasound, computed tomography, magnetic resonance imaging) provides an opportunity to improve the identification of small or well-differentiated hepatocellular carcinoma tumors, along with the capability to monitor treatment responses to surgery or locoregional therapy.
---
Citation: Criss C, Nagar AM, Makary MS. Hepatocellular carcinoma: State of the art diagnostic imaging. World J Radiol 2023; 15(3): 56-68
---
INTRODUCTION
Hepatocellular carcinoma (HCC) is the most common liver malignancy, accounting for 90% of liver tumors, and a leading cause of mortality worldwide[1,2]. Global risk factors for HCC include cirrhosis, existing in up to 90% of new cases[3], or patients with long-standing liver infections such as viral hepatitis B and C[4]. East Asia and sub-Saharan Africa account for greater than 80% of cases, and incidence within the United States continues to rise[3,4]. Unfortunately, many patients are diagnosed in the advanced stages of the disease, which emphasizes the importance of early detection and surveillance[5]. Surveillance and early tumor detection using ultrasonography is recommended by the American Association for the study of Liver Diseases (AASLD) for high-risk populations driven by ultrasound-guided imaging. Unlike other malignancies, HCC expresses distinctive characteristics that can be diagnosed based on imaging features alone, without the need for confirmation from tissue sampling[6]. In this review, we provide a summary of diagnostic criteria and imaging modalities used to detect and stage HCC, as well as emerging methods to further assist in the surveillance and characterization of the disease.
SURVEILLANCE AND SCREENING
Conventional ultrasound
Tumor burden can significantly impact management, where patients with small, localized tumors can receive curative methods such as liver transplantation, resection, or locoregional therapies. On the other hand, treatment options are limited in patients with HCC displaying more aggressive features (e.g., extrahepatic metastases, multifocal tumors, and vascular invasion). As a result, early detection may offer a significant benefit in select patients. Patient populations recommended for HCC surveillance differs between AASLD[7], the European Association for the Study of the Liver (EASL)[8] and the Asian Pacific Association for the Study of the Liver (APASL)[9], but largely consist of adults with cirrhosis or patients with hepatitis B virus (HBV)[10]. Across surveillance recommendations, biannual abdominal ultrasonography (Figure 1) is the standard modality for HCC detection with major advantages including accessibility, cost-effectiveness, and safety[10].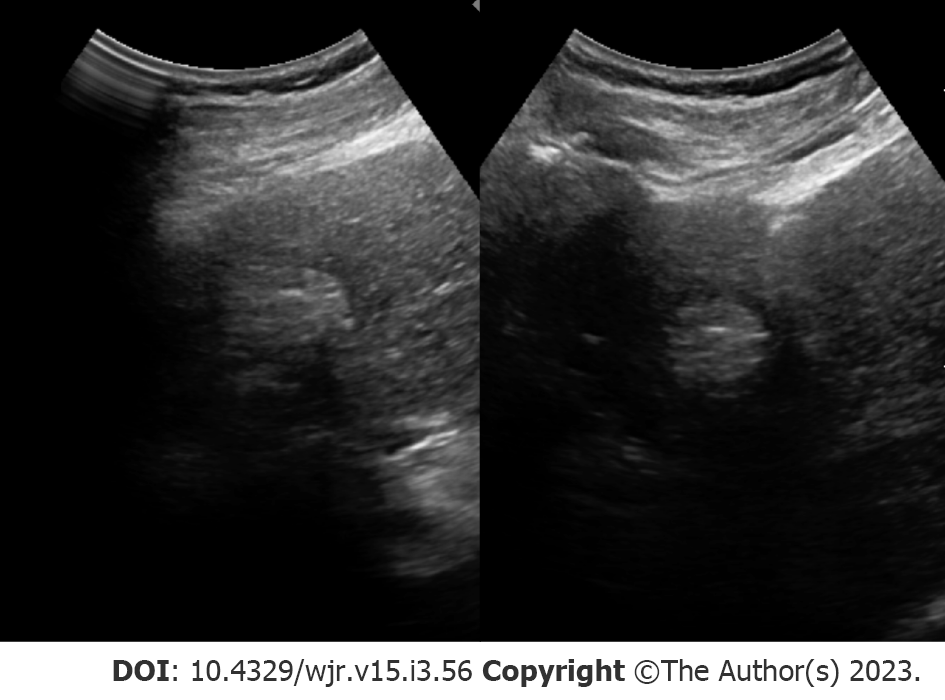 Figure 1 Screening ultrasound.
Hyperechoic segment IV liver lesion compatible and later characterized as hepatocellular carcinoma.
Surveillance programs typically consist of ultrasound examination performed at either 6- or 12-mo intervals. Across all stages of HCC, ultrasound detection carries 84% sensitivity. A number of investigations have found a mortality and cost-benefit of biannual ultrasonography for imaging surveillance of HCC[10-12]. For example, a study in HBV-infected patients in China found a 37% reduction in mortality in those receiving biannual ultrasonography examinations compared to the control group[12]. Suboptimal visualization poses a major limitation for ultrasound screening. Poor visualization and sonographic sensitivity to HCC lesions can be caused by a number of different extrinsic factors such as morbid obesity, patient inability to suspend respiration, obscured portions of the liver by bowel gas or rib shadowing, and intrinsic factors such as hepatic steatosis or fibrosis causing parenchymal heterogenicity[13]. A recent investigation reported approximately 20% of scans were inadequate to exclude liver lesions[14]. Detecting smaller nodules (< 2 cm) appears to be a major limitation of ultrasound, with studies reporting detection rates as low as approximately 28%[15]. In response, the American College of Radiology (ACR) screening guidelines have recommended the use of systematic documentation and scoring for visualization (A: No or minimal limitations; B: Moderate limitations; C: Severe limitations). The use of tumor biomarkers, such as alpha-fetoprotein (AFP), in concert with ultrasound examination appears to have an additive effect on detection rate[16]. For example, a recent meta-analysis of prospective studies found the sensitivity for ultrasound alone to detect any stage of HCC was 78% compared to 97% when adding AFP[17]. Interestingly, the synergistic impact of combining ultrasound with AFP also exists for detection of earlier, smaller nodules (45% vs 63% sensitivity, respectively)[17] which is particularly salient given the limitations of ultrasound and earlier stages of HCC. This is not without controversy, however. The 2018 AASLD guidelines do not designate any preferences between adjunctive use of AFP while the 2017 APASL guidelines recommend the combination of ultrasound and AFP[18]. In contrast, the 2018 EASL guidelines discourage the use of ultrasound with AFP for 6-mo HCC surveillance, citing concerns of false-positives in the setting of active liver inflammation with infection[18].
While the objective of this review is to elucidate the latest advancements in technological imaging for the screening and diagnosis of HCC, it is important to note the efficacy of detection can be limited due to multifactorial screening challenges. In fact, less than 1 in 5 patients with cirrhosis receive surveillance screening for HCC[19]. Previous reviews have extensively examined the numerous challenges encountered during the screening process, including the inability to properly stratify high-risk patients, the presence of socio-economic and logistical impediments to accessing healthcare, as well as training and detection limitations using conventional imaging techniques, as previously discussed. One of the most common attributable factors to surveillance underuse includes lack of surveillance orders or unrecognized cirrhosis[5]. Therefore, strategies to improve education and integrating primary care providers in surveillance efforts can have a drastic and meaningful effect on rates of patients undergoing HCC screening[20]. The implementation of patient-centered outreach programs such as reminder protocols or embedding best-practice advisories within the electronic health record may be solutions to improve barriers of patients undergoing surveillance[5,20]. The decision to select which patients to screen also been discussed and studies have developed scoring systems across different risk factors (e.g. hepatitis or cirrhosis) to refine and improve risk stratification have been proposed[21]. Other methods have also focused on improving surveillance outcomes and detection rates, such as utilizing serological biomarkers (e.g. AFP) either as a single screening modality or in concert with imaging to improve sensitivity, at the potential cost of increased rates of false positivity. The use of biomarkers may also be especially helpful for smaller HCCs, not easily visible with ultrasound[21].
HCC DIAGNOSTIC MODALITIES
Liver imaging reporting and data systems diagnostic reporting system
Established by the ACR, standardized methods for imaging interpretation and reporting are defined using the liver imaging reporting and data systems (LI-RADS). The application of the LI-RADS diagnostic algorithm was initially developed for computed tomography (CT)/magnetic resonance imaging (MRI). LI-RADS is subdivided into 8 categories and ranges in greater probability of malignancy from LR-1 to LR-5 with additional categories including LI-RADS M (LR-M) (probably or definitely malignant but not HCC specific), LR-definite tumor in vein, and LR-cannot be categorized (NC)[13,22]. Observation of lesions categorized in LR-5 is designated as almost certainly HCC, with a systematic review of 454 studies reporting 94% of LR-5 lesions confirmed to be HCC and 97% malignant[23]. The Organ Procurement and Transplantation Network (OPTN) is another diagnostic criterion established by National Organ Transplant Act, with subcategories ranging from class 0-5. Specificities are similar between LI-RADSv2018 LR-5 and OPTN class 5[24]. However, inter-reader agreement and sensitivity of LI-RADS (sensitivity: 63.9%) is higher than that of OPTN (sensitivity: 53.6%)[24].
Cross-sectional imaging: Multiphase CT and MRI
Standard recommendations for HCC diagnosis include multiphase CT or MRI which are beneficial modalities for highlighting unique features of HCC (Figures 2 and 3). Physiological differences in blood perfusion between hepatocarcinogenic lesions and non-neoplastic tissue display distinguishing differences in imaging characteristics using multiphasic contrast examinations[25]. Phases consist of late hepatic arterial (20-40 s), portal venous (60-90 s), and delayed (3-5 min). Late arterial phase is useful for detecting hypervascular lesions with HCC lesions characteristically enhancing relative to surrounding liver parenchyma. Arterial lesion enhancement can be appreciated within lesions as small as 1 cm. Within the portal venous and delayed phases, washout or hypointensity is commonly observed for HCC lesions[26]. During the delayed or equilibrium phase, other characteristics of HCC such as capsule features (e.g. lesion washout with pseudocapsule enhancement) and mosaic architecture can be visualized[26]. The introduction of gadolinium-based contrast agents (Gadobenate dimeglumine and gadoxetate acid) may aid LI-RADS categorization. These agents are taken up by hepatocytes of normal liver parenchyma and there is little uptake in non-functioning or dysfunctional hepatocytes, such as the case for HCC. Gadolinium-based agents function similarly to extracellular agents, but can aid in the diagnosis of lesions with atypical features (e.g. without washout, arterial hyperenhancement) or distinguish HCC from pseudolesions[27,28]. For example, these agents permit an additional post-contrast hepatobiliary phase, which will display a majority of HCC lesions (90%-95%) as hypointense relative to surrounding hyperintense liver parenchyma[27,29].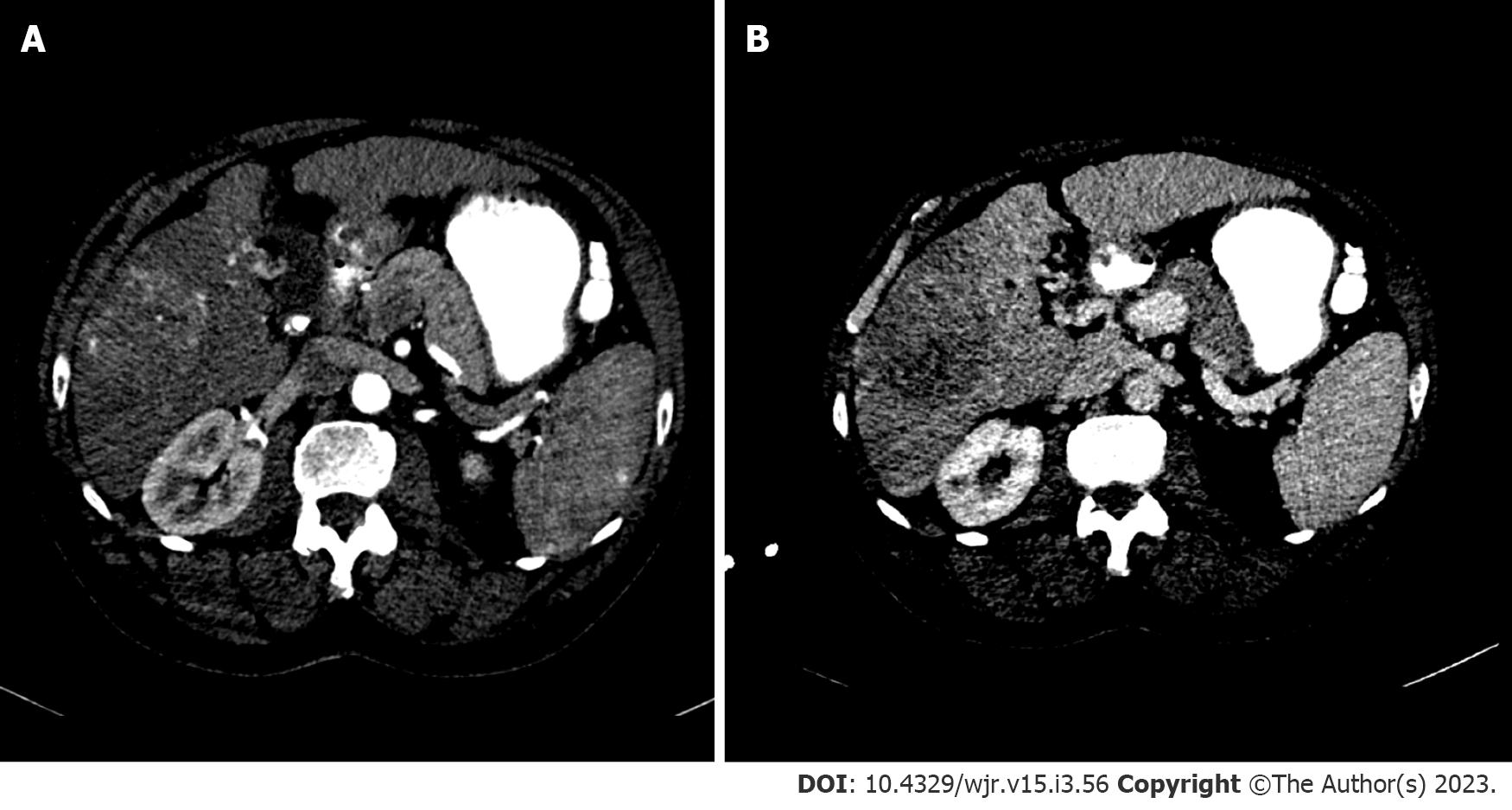 Figure 2 Axial multiphasic computed tomography imaging 75-year-old male with suspected hepatocellular carcinoma.
A: Hyperenhancing liver lesion in segment VIII during the arterial phase; B: Corresponding washout within the delayed venous phase.

Figure 3 Axial multiphasic magnetic resonance imaging.
A: T2-weighted axial sequence imaging of the abdomen; B: T1-weighted fat saturation post-contrast axial sequence image of the abdomen with arterial enhancement of segment VIII lesion; C: Delayed venous phase washout.
MRI is recommended for staging of HCC disease given that some reports have estimated CT to underestimate 52% of cases[1,2]. MRI also has superior diagnostic efficiency to CT in the detection of small (≤ 3cm) lesions[30]. However, CT is more readily available than MRI, and limitations to using MRI including greater costs and technical complexity make CT a complementary diagnostic alternative[31,32]. A report showed that the combined use of CT/MRI provides better diagnostic accuracy in characterizing liver lesions using LI-RADS (91.29%) than MRI (85.37%) or CT (67.6%) alone, but combined protocols should be limited to difficult or uncertain cases in order to warrant use[32].
Contrast-enhanced ultrasound
In recent years, there has been an emerging use of contrast-enhanced ultrasound (CEUS) for the evaluation of focal liver lesions (Figure 4). CEUS combines the benefit of accessible, non-invasive assessment without ionizing radiation as well as improvements in temporal resolution. Given some of the limitations in ultrasound sensitivity, CEUS may offer a useful solution. CEUS utilizes highly echogenic microbubble contrast agents (such as SonoVue®, Definity®) which are rapidly injected via the antecubital vein. These agents circulate freely among capillary beds, and the use of dynamic phases of contrast enhancement [e.g. arterial (start 10-20 s), portal (start 30-45 s), late (start > 120 s) phases] can help differentiate liver lesions[33].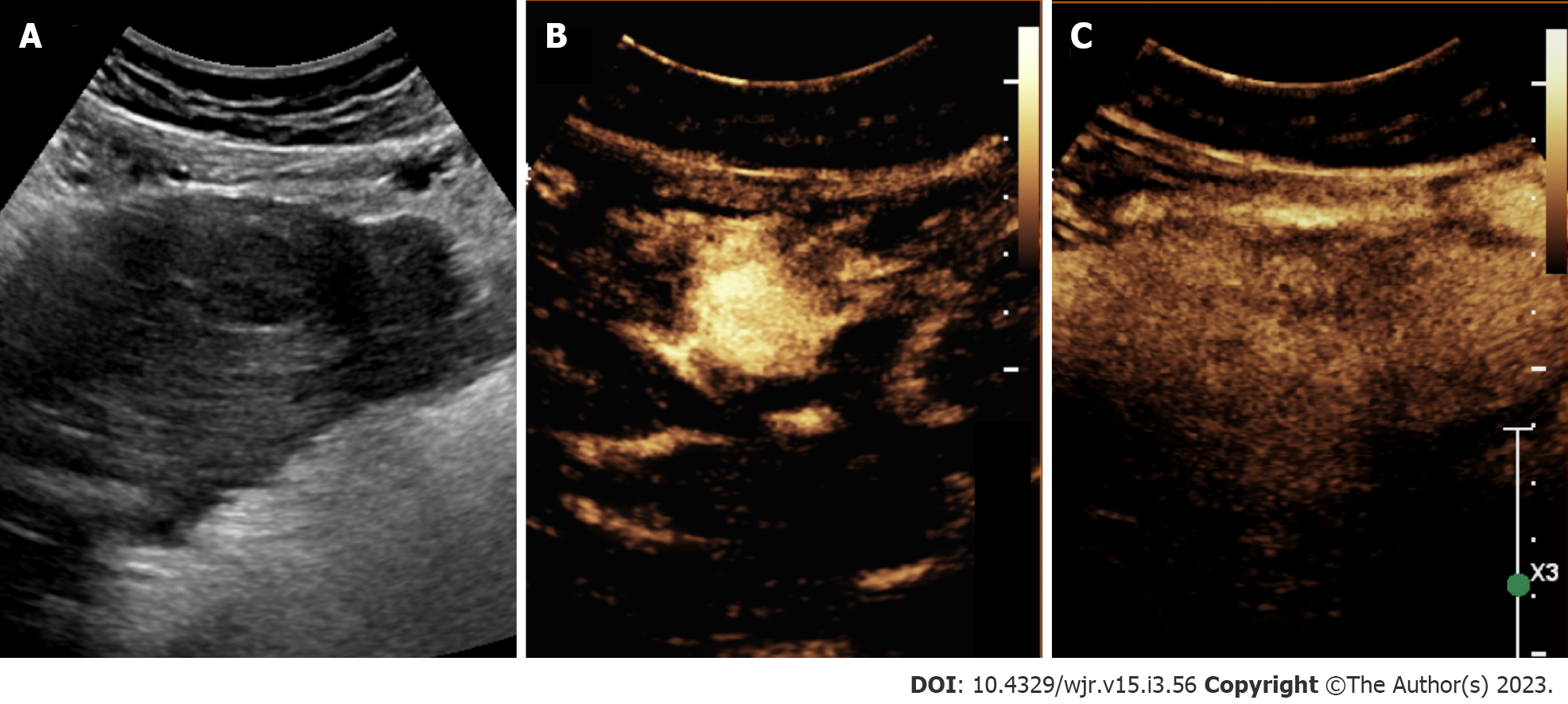 Figure 4 Contrast-enhanced ultrasound.
A: 62-year-old female with lesion in segment III with hepatocellular carcinoma; B: Gray-scale conventional ultrasound; C: Contrast-enhanced ultrasound revealing hyperechoic lesion in arterial phase with corresponding washout in venous phase.
The reporting system was initially developed for CT and MRI; however, in 2016, CEUS-LIRADS was released to improve standardization in reporting and interpretation specific to CEUS for nodule evaluation[33]. CEUS LI-RADS consists of 8 categories and ranges in greater levels of severity from LR-1 to LR-5, with additional categories such as LR-M (probably or definitely malignant but not HCC specific), LR-TIV, and LR-NC[33]. Diagnostic features of CEUS LI-RADS are based on arterial phase hyperenhancement and washout, or reductions in enhancement relative to the liver[33]. Features specific to HCC include arterial phase hypervascularity and late or low washout[34,35]. HCC displays earlier levels of enhancement compared to native liver tissue, and detection rates are greater for larger lesions (2-3 cm) compared to smaller ones (≤ 1 cm)[36]. Within nodules approximately 2 cm or greater, detection rates for ultrasound approach that of CT or MRI. For example, Gaiani et al[37] reported a detection rate of 91%-97.3% for evaluating hypervascularity in 103 cirrhotic nodules > 2 cm using CEUS[37]. Limitations of CEUS are like that of conventional ultrasound. Disadvantages of CEUS include user-dependent accuracy, the requirement for multiple contrast injections to survey or investigate separate liver lesions, and restricted ability to distinguish HCC from cholangiocarcinoma and stage disease[34,38].
EMERGING ADVANCED IMAGING PROTOCOLS
CONCLUSION
In summary, the use of imaging is an essential component to the diagnosis and management of HCC. Ultrasound is cost-effective modality for the screening. The utility of diagnostic modalities such as MR or CT for differentiation and grading of HCC continues to expand, especially with the advancement of new techniques and image analyses. The implementation of techniques, including elastography, T1 mapping, perfusion imaging and CEUS provide multiple unique benefits to further aid in the characterization of HCC. Other methods, such as radiomics/radiogenomics, which seek to integrate imaging data to predict prognostic risk factors and determine treatment response probability, will be a new frontier for informing clinical decision-making with the ultimate goal to generate more precise and personalized treatment management strategies for patients with HCC.
Provenance and peer review: Invited article; Externally peer reviewed.
Peer-review model: Single blind
Specialty type: Radiology, nuclear medicine and medical imaging
Country/Territory of origin: United States
Peer-review report's scientific quality classification
Grade A (Excellent): A
Grade B (Very good): B
Grade C (Good): 0
Grade D (Fair): 0
Grade E (Poor): 0
P-Reviewer: Kumar SKY, India; Papadopoulos N, Greece S-Editor: Fan JR L-Editor: A P-Editor: Fan JR