Copyright
©2014 Baishideng Publishing Group Inc.

Figure 1 3 D computed tomographic image.
A: Of the skull demonstrating normal appearance to the coronal (curved arrows), sagittal (straight arrow), and lambdoid sutures (arrow heads); B, C: Of the cranium demonstrating bony bridging of bilateral squamosal sutures consistent with premature craniosynostosis. The approximate region of the normal squamosal sutures is indicated by straight arrows.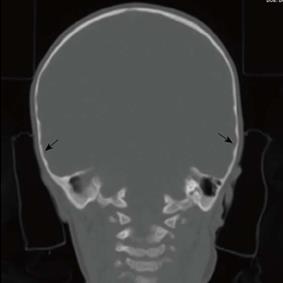 Figure 2 Coronal computed tomography image of the brain demonstrating a local thumb printing/ beaten copper appearance (straight arrows) of the inner cortex in the region of bilateral squamosal fusion.
---
Citation: Tandon YK, Rubin M, Kahlifa M, Doumit G, Naffaa L. Bilateral squamosal suture synostosis: A rare form of isolated craniosynostosis in Crouzon syndrome. World J Radiol 2014; 6(7): 507-510
---