Copyright
©The Author(s) 2015.
Published by Baishideng Publishing Group Inc. All rights reserved.
World J Diabetes.
Feb 15, 2015;
6(1): 92-108
Published online Feb 15, 2015. doi: 10.4239/wjd.v6.i1.92
Ocular complications of diabetes mellitus
Nihat Sayin, Department of Ophthalmology, Kanuni Sultan Suleyman Education and Research Hospital, 34303 Istanbul, Turkey
Necip Kara, Department of Ophthalmology, Gaziantep University, 27000 Gaziantep, Turkey
Gökhan Pekel, Department of Ophthalmology, Pamukkale University, 20070 Denizli, Turkey
Author contributions: Sayin N, Kara N and Pekel G contributed to this paper.
Conflict-of-interest: The authors declare no conflicts of interest regarding this manuscript.
Open-Access: This article is an open-access article which was selected by an in-house editor and fully peer-reviewed by external reviewers. It is distributed in accordance with the Creative Commons Attribution Non Commercial (CC BY-NC 4.0) license, which permits others to distribute, remix, adapt, build upon this work non-commercially, and license their derivative works on different terms, provided the original work is properly cited and the use is non-commercial. See: http://creativecommons.org/licenses/by-nc/4.0/
Correspondence to: Nihat Sayin, MD, Department of Ophthalmology, Kanuni Sultan Suleyman Education and Research Hospital, Atakent Mahallesi, 4. Cadde. C 2-7 Blok. Kat: 3 Daire: 13. Kücükcekmece, 34303 Istanbul, Turkey. nihatsayin@yahoo.com
Telephone: +90-533-4383755 Fax: +90-212-5714790
Received: July 9, 2014
Peer-review started: July 9, 2014
First decision: September 23, 2014
Revised: November 22, 2014
Accepted: December 3, 2014
Article in press: December 10, 2014
Published online: February 15, 2015

Diabetes mellitus (DM) is a important health problem that induces ernestful complications and it causes significant morbidity owing to specific microvascular complications such as, retinopathy, nephropathy and neuropathy, and macrovascular complications such as, ischaemic heart disease, and peripheral vasculopathy. It can affect children, young people and adults and is becoming more common. Ocular complications associated with DM are progressive and rapidly becoming the world's most significant cause of morbidity and are preventable with early detection and timely treatment. This review provides an overview of five main ocular complications associated with DM, diabetic retinopathy and papillopathy, cataract, glaucoma, and ocular surface diseases.
Core tip: Ocular complications associated with diabetes mellitus (DM) are progressive and rapidly becoming the world's most significant cause of morbidity and are preventable with early detection and timely treatment. This review provides an overview of five main ocular complications associated with DM, diabetic retinopathy and papillopathy, cataract, glaucoma, and ocular surface diseases.
---
Citation: Sayin N, Kara N, Pekel G. Ocular complications of diabetes mellitus. World J Diabetes 2015; 6(1): 92-108
---
INTRODUCTION
Complications of diabetes mellitus (DM) are progressive and almost resulting by chronic exposure to high blood levels of glucose caused by impairments in insulin metabolism and biological macromolecules such as carbohydrates, lipids, proteins and nucleic acids[1]. DM and its complications are rapidly becoming the world's most significant cause of morbidity and mortality[2,3]. The DM pandemic has expanded speedily in the developed and developing countries. It is expected that DM will reach epidemic proportions within the near future[4]. DM affects more than 240 million people worldwide, and this number is expected to reach roughly 370 million by 2030[5,6]. DM can lead to several ocular complications such as diabetic retinopathy, diabetic papillopathy, glaucoma, cataract, and ocular surface diseases[7]. Diabetes related ocular complications are general public health problem, so we purpose of putting emphasis on the frequencies, pathogenesis, and management of these ocular com-plications.
DIABETIC RETINOPATHY
Diabetic retinopathy (DR), a microangiopathy affecting all of the small retinal vessels, such as arterioles, capillaries and venules, is characterized by increased vascular permeability, ocular haemorrhages, lipid exudate, by vascular closure mediated by the development of new vessels on the retina and the posterior vitreous surface[8]. DR, the most common microvascular complication of DM, is predicted to be the principal reason of new blindness among working population[9,10]. DR is the major reason of blindness in adults 20-74 years of age in the United States of America[11]. In patients with type 1 and type 2 diabetics with disease duration of over twenty years, the prevalences of DR are 95% and 60%, respectively[12]. Roughly 25% of type 1 diabetic patients have been reported to be influenced with DR, with the frequency increasing to about 80% after 15 years of anguish[13]. The type 2 DM is responsible for a higher percentage of patients with visual loss[13]. The incidence of DR is related primarily to duration and control of diabetes and is related to hyperglycemia, hypertension, hyperlipidemia, pregnancy, nephropathy, and anemia[14-16]. According to reports published by Wisconsin epidemiologic study of diabetic retinopathy (WESDR)[17], the general 10-year incidence of DR was 74%. Moreover in 64% of people with baseline DR developed more severe DR and 17% of those advanced to occur proliferative DR[18].
Pathogenesis
There is a very strong relationship between chronic hyper-glycemia and the development of DR[19,20]. Hyperglycemia triggers a sequence of events causing vascular endothelial dysfunction. Many interdependent metabolic pathways have been put forward as important connections between hyperglycemia and DR. These implicated metabolic pathways include increased polyol[21] and protein kinase C (PKC) pathway[22] activity, upregulation of growth factors of which vascular endothelial growth factor (VEGF)[22], generation of advanced glycation endproducts (AGEs)[23,24], chronic oxidative damage[25], increased activation of the renin angiotensin system (RAS)[26], chronic inflammation and abnormal clumping of leukocytes (leukostasis)[26].
When excessive amounts of glucose increase the polyol way is activated to reduce glucose into sorbitol. The aldose reductase enzyme and nicotinamide adenine dinucleotide phosphate are involved in this biochemical reaction. Sorbitol is further metabolized to fructose by sorbitol dehydrogenase. Since sorbitol movement is severely restricted by cellular membrane, excessive accumulation of sorbitol in the cell occurs[27,28]. The increased sorbitol has potential osmotic damage in retinal cells[29] (Figure 1).
Chronic hyperglycemia increases quantity of diacy-lglycerol (DAG), which is leading to activate protein kinase C[30]. This activation leads to increase vascular permeability and upregulation of VEGF in the retinal structure. However, this abnormal pathway may lead to increase the activation of leukostasis[31-33] and significant changes in extracellular matrix (ECM) protein synthesis (Figure 2). Eventually, DAG and PKC pathway adversely affect inflammation, neovascularization, and retinal haemodynamics, which redounds to progression of DR[26].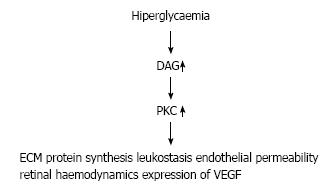 Figure 2 The protein kinase C pathway.
DAG: Diacylglycerol; PKC; Protein kinase C; VEGF: Vascular endothelial growth factor; ECM: Extracellular matrix.
VEGF is a crucial mediator in microvascular comp-lications of DM. Normally, numerous retinal cells such as, retinal pigment epithelial (RPE) cells, Mueller cells, and pericytes, produce VEGF[31-33]. When a hypoxia occurs VEGF is secreted much more than normal production by hypoxic retinal tissues[31]. Clinical studies have rep-orted that there is a strong correlation between DR and intraocular VEGF concentrations. Intravitreal and intracameral VEGF levels were prominently increased in patients with proliferative diabetic retinopathy (PDR)[34]. Additionally, VEGF has a crucial role in the pathogenesis of diabetic macular edema (DME) by increasing vascular permeability[35,36].
AGEs have been implicated in several diabetic complications, such as DR, and DME. Under chronic hyperglycemic circumstances, proteins are nonenzymatically glycated and the excessive amount of AGEs alter structures and functions of ECM, basement membranes, and vessel wall.
Oxidative stress is also a serious condition that may result in microvascular complications[37,38]. Severe prod-uction of reactive oxygen radicals may increase the oxidative stress and reduce antioxidant capacity[39].
RAAS is the endocrine system that takes an essential role to regulate vascular blood pressure, electrolyte, and fluid balance and shows an aberration in patients with DM[40], although the accurate process of RAAS leads to DR is not well clarified.
Inflammation is a prominent part of the pathogenesis of DR[41,42]. In response to hyperglycemic stress, AGE formation, and hypertension, a sequence of inflammatory mediators are increased in DM. Retinal subclinical inflammation contributes to elevated intraocular perfusion pressure by means of endothelial nitric oxide synthase (eNOS), the development of neovascularization (NV) due to hypoxia and VEGF. Although there are no strong association between systemic inflammation and development of DR[43,44], leukostasis is a likely to be a significant local factor in DR pathogenesis, causing capillary occlusion.
The classification of DR
Previously, DR was classified into three forms, such as, background, pre-proliferative, and proliferative DR. The current classification is based on the location, extent, and degree of various clinically significant features, such as microaneurysms, intraretinal hemorrhages, venous abnormaities such as beading, intraretinal microvascular abnormalities (IRMA), and NV. Recently, DR is classified as either nonproliferative or proliferative.
Nonproliferative diabetic retinopathy: (1) Mild non-proliferative diabetic retinopathy (NPDR): There are a few microaneurysms; (2) Moderate NPDR: In this form, there are less than 20 microaneurysms. Hard yellow exudates, cotton wool spots, and venous beading are present also in only one quadrant; (3) Severe NPDR: It is identified as any of following clinic features; Microaneurysms in all 4 quadrants; Venous beading in 2 or more quadrants; IRMA in 1 or more quadrant; and (4) Very severe NPDR: This form includes 2 or more of the criteria for severe NPDR.
PDR: As a response to ischemia, NV grows at the optic nerve (NVD) and elsewhere in the retina except the optic disc (NVE). In general, NV grows at the border zone of perfused and non-perfused retina. These new vessels are permeable, and the leakage of plasma contents probably causes a structural change in the adjacent vitreous. Also, NV may cause preretinal and subhyaloid vitreous hemorrhages and can become membrane formations on the posterior hyaloid surface.
Diabetic macular edema
Macular edema is defined as retinal thickening or the existence of hard exudates at 2 disk diameter of the macula. Diabetic macular edema (DME) is the most common cause of moderate or severe visual loss in diabetic patients. DME occurs apart from the stage of DR, so it should be evaluated independently. In diabetic eyes, central macular thickness does not correlate directly with visual acuity, but there is a vigorous link between the unity of the photoreceptor inner/outer segment junction and visual acuity[45].
Clinically significant macular edema
The Early Treatment Diabetic Retinopathy Study (ETDRS) described the clinically significant macular edema (CSME) as the following conditions: (1) Retinal thickening within 500 microns of the center of the fovea; (2) Hard yellow exudate within 500 microns of the center of the fovea with adjacent retinal thickening; and (3) Retinal thickening 1 disc area or larger, any part of which is within 1 disc diameter of the center of the fovea.
The ETDRS indicated that the presence of CMSE guide ophthalmologyst for the focal laser treatment.
DME classification based on optical coherence tomography
Optical coherence tomography (OCT) shows four diff-erent types of DME: Sponge like retinal swelling, cystoid macular edema (CME), macular edema with serous retinal detachment (SRD) and tractional macular edema (TDME)[46-48].
Sponge like retinal swelling: There is an increased diffuse retinal thickness with reduced intraretinal reflectivity. This type of retinal swelling has a better visual outcome than the CME, SRD and TRD types after laser treatment[49].
CME: In this type, there is diffuse or focal retinal thick-ening with intraretinal cystic spaces.
SRD: There is an accumulation of subretinal fluid below reflective elevation. It is possible to confirm the presence of SRD only by OCT.
TDME: TDME is identified by a hyperreflective mem-brane on OCT with loss of foveal depression and macular edema.
First examination and follow-up
The WESDR study represented that, for type 1 diabetic patients, the frequency of NPDR at less than 5 years was 17% and the frequency of PDR was nearly 0%[50]. These frequencies were nearly 99%, and 50% after 20 years later, respectively. So, the first eye exam should be performed almost 4 years after diagnosis with annual follow-up exams.
The same study indicated that, for type 2 diabetic patients, the frequency of NPDR at 5 years was nearly 30% and the frequency of PDR was nearly 2%[51]. These frequencies were nearly 80%, and 15% after 15 years later, respectively. So, the first eye exam should be examined at diagnosis with annual follow-up exams.
Mild NPDR can be followed with dilated fundus exams every 12 mo. If DME that is not CSME is present, follow-up every 3 mo is advised. If CSME is present, treatment is advised promptly. Severe NPDR should be followed up every 2 mo. If very severe NPDR is present, patients should be followed more closely. After treatment of PDR, they should be observed every 3 mo not to overlook complications, such as TRD and CSME.
Current therapy
The treatment of DR includes increased metabolic control, laser treatment, intravitreal medication, and surgery.
Metabolic control
Poor metabolic control is a good marker for development and progression of DR. So, related risk factor such as, hyperglycemia, hypertension, and hyperlipidemia should be controlled. It reduces the risk of retinopathy occurrence and progression[52].
Glysemic control
The trial research group[53] showed that, for type 1 diabetic patients, a 10% reduction in the hemoglobin A1c (HbA1c) was associated with a 43% and 45% diminution in improvement of DR in the rigorous and traditional treatment group, respectively[53]. The another trial group[54] found that, for type 2 diabetic patients, tighter blood glucose control had been found to correlate most closely with a lower rate of DR[54]. However, very strict control of blood glucose may lead to cause worsening of DR due to up regulation of insulin-like growth factor-1 (IGF-1)[52,55,56].
Control of blood pressure
Hypertension is more common in type 2 diabetic patients rather than patients with type 1 DM. Approximately 40%-60% of patients with hypertension are over the age range of 45 to 75[57]. Although the relationship between hypertension and progression of retinopathy is not certain, good blood pressure control pulls down the risk of DR. An another study[58] reported that strict control of blood pressure reduces the risk of diabetic ocular complications[58].
Control of serum lipids
There is a positive correlations between the severity of DR and plasma lipid levels, particularly LDL-HDL cholesterol ratio[59]. Hard yellow exudates, which are lipid rich, have been found to correlate with plasma protein levels. Dietary and medicine therapy may reduce hard exudates[60,61]. Systemic lipid-lowering drugs such as, fenofibrate reduced the need for focal laser treatment of CSME in type 2 diabetic patients[62].
Laser treatment
Laser treatment has been considered the evidence-based treatment for DME and PDR for a long time. Randomized studies have demonstrated the efficacy of laser photocoagulation to prevent vision loss from DME[63,64]. In eyes observed with CSME, prompt photocoagulation is highly recommended. Treatment is performed at areas of focal leaking microaneurysms by using focal laser photocoagulation or at areas of diffuse leakage by using grid laser photocoagulation. Laser spot size should not be greater than 100 μm for focal laser treatment. Grid laser treatment is characterized by mild RPE whitening spots as far as 2 optic disks diameters from the center of the fovea[65]. Combination treatment is applied in most patients, which involves focal and grid laser treatment.
Patients are reevaluated for retreatment at 3 mo intervals. For each retreatment, clinicians repeat the flu-orescein angiogram to determine sites of persistent dye leakage. If patients have focal leakage with a circinate lipid ring, it may not be necessary to repeat angiogram before the treatment because the leaking focal lesions are in the lipid ring.
Panretinal laser photocoagulation (PRP) treatment became a standard of care for DR when the results of the Diabetic Retinopathy Study (DRS) were published[66,67]. DRS showed that PRP enormously reduced the risk of severe vision loss from 16% to 6.4% in patient with PDR. The goal of PRP is not to improve visual acuity. It is applied to regress of the NVD or NVE and to prevent the blinding complications of DRP. Generally, laser treatment should be performed over a period of 4-6 wk by applying 1.500-2.000 burns, with a size of 500 μm, spacing spots 0.5 burn widths from each other with a 0.1-0.2 s duration[65].
Intravitreal medication
The results of several investigations showed that these different intravitreal agents are effective not only in the prevention of visual loss, but also allowed a regain of visual acuity. The two main categories of intravitreal drugs recently used in the management of DME and PDR are steroids and anti-VEGF agents.
The use of intravitreal steroids are preferred to manage the DME. They have antiinflammatory and antiangiogenic effects that stabilize of the inner blood-retina barrier. Intraocular steroid injections have bene-ficial effects in PDR, by inhibiting production of the VEGF[68,69]. Many various studies reported the benefits of injections of triamcinolone acetonide (IVTA) to reduce DME and increase visual acuity[70-74].
The effects of intravitreal steroids are temporary and last for about 3 mo. In this cases, intravitreal steroids may be repeated. But complications such as elevated intraocular pressure and infection may occur. However, IVTA is more likely to be associated with cataract progression. Combination of IVTA and laser treatment has more beneficial effects in pseudophakic eyes than laser alone[74].
Recently, a novel, biodegradable, slow-release de-xamethasone implant (DEX implant, Ozurdex) was developed to gradually release 0.7 mg of preservative-free dexamethasone in the vitreous cavity after a small incision[75]. DEX implant have the advantage of a lower incidence of cataract and glaucoma than IVTA[76]. The maximum effects of the DEX implant occur at 3 mo and gradually diminish from month 4 to 6[77].
Anti-VEGF agents (pegaptanib, bavacizumab, ranibizumab, aflibercept) have been investigated as a treatment for DME and for PDR. Also, anti-VEGF injections might be useful adjuncts to facilitate effective fibrovascular membrane dissection in eyes with active vascularity components[78]. TRD occur or progress within 1-4 wk of anti-VEGF injection, so, in general, these cases should be scheduled in a timely manner after the injection[79].
Nowadays, clinicians have the option of four anti VEGF agents: Pegaptanib (Macugen), Bevacizumab (Avastin), Ranibizumab (Lucentis), Aflibercept (Eylea).
Pegaptanib is a selective VEGF antagonist that binds to the VEGF165 isoform. Intravitreal pegaptanib is currently an approved treatment in neovascular choroidal membrane, but several trials addressed the efficacy and safety of intravitreal pegaptanib injections in the treatment of PDR and DME[80-82].
Bevacizumab[83] is a full-size humanized antibody that binds to all VEGF-A isoform. Intravitreal bevacizumab is currently used beneficially in the off-label treatment of DR. There have been many studies with intravitreal bevacizumab injections and DME. The results of these retrospective or prospective trials showed an improvement in visual acuity and OCT outcomes. However, bevacizumab injections were also associated with short-term efficacy and a high recurrence rate[83-88].
Ranibizumab is a high affinity anti-VEGF Fab specifically designed for ophthalmic use. It binds to all isoforms of VEGF-A and related degradation products and neutralizes their biological activity. Several studies confirmed its efficacy in treating DME[89-94].
Aflibercept[95] is an intravitreally administered fusion protein that is designed to bind both the VEGF-A and the placental growth factor with higher affinity in comparison to other anti- VEGF agents[95]. Aflibercept has a longer duration of action in the eye after intraocular injection. This new agent has been recently investigated in the treatment of DME[96,97].
Surgery
Pars plana vitrectomy (PPV) is considered an option for patients not responding to combined anti-VEGF- laser and/or steroid-laser theraphy in DME[98]. PPV, including posterior hyaloid, internal limiting membrane (ILM) and epiretinal membrane (ERM) removal, might achieve DME resolution. However, the removal of the vitreous gel might improve inner retina oxygenation and thus promote the resolution of DME[98-101].
PPV was introduced in the early 1970 as a promising treatment for the severe late complications of PDR, including vitreous hemorrhage, TRD, and fibrovascular proliferation[102]. The proper timing for PPV in PDR was under discussion for a long time. The Diabetic Retinopathy Vitrectomy Study (DRVS) considered the early PPV effects compared to deferral PPV in patients with severe vitreous hemorrhage (VH)[103]. The DRVS showed that at 2-year follow up, early PPV for nonclearing VH primarily increased the chance for retaining vision ≥ 20/40. Today, PPV can be performed as early as it is needed by the patients. The aim of PPV in PDR includes removal of opacity from the vitreous space, and the removal of tractional membrane from the retinal surface. Anti-VEGF injections might be useful adjuncts to ease effective fibrovascular membrane dissection in eyes with active vascularity components[78].
Finally, enzymatic vitrectomy performed by the intravitreal injection of autologous plasmin enzyme might be effective and could be considered as an alternative for diabetic patients before performing other treatments, such as intravitreal injections of anti-VEGF or steroids, surgical vitrectomy or laser. Several investigations on enzymatic vitreolysis, such as microplasmin, showed that many agents might achieve vitreous dissolution, PVD, or VH clearance[104,105].
Indications for PPV in PDR: Severe nonclearing vitreous hemorrhage; Nonclearing vitreous hemorrhage; Premacular subhyaloid hemorrhage; TRD involving the fovea; Tractional and rhegmatogenous retinal detach-ment; Macular edema due to vitreomacular traction; Nontractional macular edema that is refractory to pharmacotherapy and laser therapy.
GLAUCOMA
Association of DM and glaucoma has been investigated much in the literature. DM is the major etiologic factor for neovascular glaucoma (NVG)[119]. However, the association of DM with other types of glaucoma such as open angle glaucoma (OAG) and angle closure glaucoma (ACG) is controversial. Since glaucoma is a type of optic neuropathy and DM alone could cause optic neuropathy, a complex relation may occur between DM and glaucomatous optic neuropathy. On the other hand, central corneal thickness (CCT) is found to be thicker in patients with DM that could cause higher intraocular pressure (IOP) readings[120]. Since the mechanisms of glaucoma subtypes are different from each other; it would be more logical to investigate the association of glaucoma subtypes individually with DM.
OCULAR SURFACE DISEASES
Ocular surface diseases, such as dry eye is frequently present in diabetic patients. Ocular surface diseases related with DM are developed in many mechanisms including abnormal ocular surface sensitivity[178,179], decreased tear production[179-181], and delayed corneal re-epithelialization[181].
CONCLUSION
DM and its ocular complications remain a major cause of blindness despite increased understanding of these ocular conditions and identification of successful treatments. All of diabetic ocular complications can be prevented by early diagnosis and theraphy. Therefore, periodic eye examinations are required for the reduction of diabetes-related vision loss. Good blood glucose control and other systemic risk factors such as hypertension, and hyperlipidemia are main goal to prevention of ocular complications of DM.
P- Reviewer: Hong YJ, Irons BK S- Editor: Ji FF L- Editor: A E- Editor: Lu YJ