Copyright
©The Author(s) 2023.
Published by Baishideng Publishing Group Inc. All rights reserved.
Diabetes and fatty liver: Involvement of incretin and its benefit for fatty liver management
I Dewa Nyoman Wibawa, I Ketut Mariadi, Gde Somayana, Cokorda Istri Yuliandari Krisnawardani Kumbara, Department of Internal Medicine, Gastroentero-hepatology Division, Udayana University, Faculty of Medicine, Denpasar 80233, Bali, Indonesia
Dwijo Anargha Sindhughosa, Internal Medicine Resident, Udayana University, Faculty of Medicine, Denpasar 80233, Bali, Indonesia
Author contributions: Wibawa IDN contributed to conception of design, literature acquisition, drafting and critical revision of the article for important intellectual content and manuscript supervision; Mariadi IK contributed to conception of design, data searching, literature analysis, drafting and critical revision of the article for important intellectual content; Somayana G contributed to literature analysis, critical revision of the article for important intellectual content; Krisnawardani Kumbara CIY contributed to analysis of the study, drafting and editing of the paper; Sindhughosa DA contributed to conception of design, analysis of the study, drafting and revision of the article for important intellectual content. All authors approved the final version of the article.
Conflict-of-interest statement: All authors declare that they have no competing interests.
Open-Access
: This article is an open-access article that was selected by an in-house editor and fully peer-reviewed by external reviewers. It is distributed in accordance with the Creative Commons Attribution NonCommercial (CC BY-NC 4.0) license, which permits others to distribute, remix, adapt, build upon this work non-commercially, and license their derivative works on different terms, provided the original work is properly cited and the use is non-commercial. See:
https://creativecommons.org/Licenses/by-nc/4.0/
Corresponding author: I Dewa Nyoman Wibawa, MD, PhD, Professor, Department of Internal Medicine, Gastroentero-hepatology Division, Udayana University, Faculty of Medicine, Jalan PB Sudirman Denpasar, Denpasar 80233, Bali, Indonesia. agusbobwibawa@yahoo.com
Received: December 3, 2022
Peer-review started: December 3, 2022
First decision: December 26, 2022
Revised: February 2, 2023
Accepted: April 11, 2023
Article in press: April 11, 2023
Published online: May 15, 2023

Fatty liver disease is defined as liver condition characterized by hepatic steatosis, closely related to pathological conditions in type 2 diabetes and obesity. The high prevalence of fatty liver disease in obese patients with type 2 diabetes reached 70%, reflecting the importance of these conditions with fatty liver. Although the exact pathological mechanism of fatty liver disease, specifically non-alcoholic fatty liver disease (NAFLD) remains not completely revealed, insulin resistance is suggested as the major mechanism that bridged the development of NAFLD. Indeed, loss of the incretin effect leads to insulin resistance. Since incretin is closely related to insulin resistance and the resistance of insulin associated with the development of fatty liver disease, this pathway suggested a potential me-chanism that explains the association between type 2 diabetes and NAFLD. Furthermore, recent studies indicated that NAFLD is associated with impaired glucagon-like peptide-1, resulting in decreased incretin effect. Nevertheless, improving the incretin effect becomes a reasonable approach to manage fatty liver disease. This review elucidates the involvement of incretin in fatty liver disease and recent studies of incretin as the management for fatty liver disease.
Core Tip: Type 2 diabetes mellitus (T2DM) is correlated with various metabolic disorders, including fatty liver. The influence of T2DM on incretin hormones contributed to fatty liver development. Impairment in lipid and glucose metabolism, fat oxidation, oxidative stress, and other effects lead to liver fat deposition. Therefore, drugs targeting the incretin hormones may provide beneficial effects on patients.
---
Citation: Wibawa IDN, Mariadi IK, Somayana G, Krisnawardani Kumbara CIY, Sindhughosa DA. Diabetes and fatty liver: Involvement of incretin and its benefit for fatty liver management. World J Diabetes 2023; 14(5): 549-559
---
INTRODUCTION
Fatty liver disease is a spectrum of inflammatory diseases, ranging from hepatic steatosis to cirrhosis. In a continuous process, it may develop into fibrosis and cirrhosis. The diagnosis of non-alcoholic fatty liver disease (NAFLD) remains challenging since the current definition is a diagnosis of exclusion. Consensus stated that the diagnosis of NAFLD could be made if liver fat accumulates > 5% without any other cause. This makes the diagnosis very challenging due to the influence of other variables. The current definition also suggests that a liver biopsy is required to determine the degree of fat accumulation. The health burden of NAFLD present significant concern, since the prevalence of NAFLD is increased and affects 25% of people globally. The economic impact of NAFLD also become major concern since the financial burden reaching $100 billion per year[1].
The pathophysiology of NAFLD is multifactorial, involving metabolic factors. Among all factors contributing to the development of NAFLD, impairment in hormones become important variables to be considered. Impairment of hormones affected lipid and glucose metabolism, interference with other hormones' signaling, and oxidative stress[2]. Among hormones associated with the development of NAFLD, incretin hormones become an interest.
Incretin hormones influence glucose homeostasis and are involved with the pathophysiology of type 2 diabetes mellitus (T2DM). Incretin hormone is a gut peptide which secreted after nutritional intake. Incretin hormones consist of GIP (glucose-dependent insulinotropic polypeptide) dan GLP-1 (glucagon-like peptide-1). Both affect lipid metabolism, insulin release, oxidative stress, and other factors associated with glucose metabolism. This important aspect of incretin hormones makes it involved in other metabolic diseases, including NAFLD. Hence, it also served as the target to improve the outcome of metabolic diseases. In this review, we elaborate on the mechanism of incretin hormones and the reported recent studies which evaluate the clinical aspect of incretin hormones in NAFLD[3,4].
THE WORK OF INCRETIN HORMONES
The work of incretin hormones, known as the incretin effect, works more effectively when the glucose is administered orally compared to administered intravenously (two to three times more effective). Other substances are also involved in the mechanism of incretin hormone; inhibitors of dipeptidyl peptidase-4 (DPP-4 inhibitors) involved in the therapeutic efficacy of incretin effects. The DPP-4 inhibitors increase the concentration of GLP-1[3,4].
Oral glucose intake leads to an increment of insulin secretion stimulation compared to intravenous glucose infusion. This effect occurred even though the iso glycemic condition was reached[5]. This phenomenon occurred because of incretin hormone release (GIP and GLP-1) after oral glucose intake from the gut entero-endocrine. This condition did not occur after intravenous glucose infusion[5,6]. The secreted incretin hormones acted as endocrine signals to the pancreatic islet of Langerhans. These lead to the increment of insulin secretion and glucagon secretion modulation when glucose concentration is above 66 mg/dL.
Pancreatic β-cells have GIP and GLP-1 receptors in their membrane. In the event of the binding of its receptor with its ligands, the activated receptors will bind with adenylate cyclase. This resulted in increased cyclic adenosine monophosphate (AMP) production, leading to protein kinase A activation[7,8]. However, this signaling pathway did not release pre-formed insulin secretory granules from pancreatic β-cells. In order to release the granules, the closure of the potassium channel, depolarization, and calcium ion influx initiated by the hyperglycemic condition is needed. Therefore, the effects of an increase in insulin release due to incretins always require hyperglycemia in certain limits (66 mg/dL)[9].
Another effect of incretin hormone is glucagon release. GIP molecule stimulates glucagon release, particularly in decreased glucose concentration, while GLP-1 suppresses glucagon secretion in hyperglycemia, resulting in hepatic glucose production[10,11]. The mechanism of incretin hormones in the liver is indirectly mediated since no GLP-1 receptors exist. The mechanism responsible for this phenomenon is the autonomous nervous system.
The incretin hormones possess additional biological effects on other organs. GLP-1 hinders appetite and food intake. GLP-1 also increases satiety. The GLP-1 receptors were observed in the hypothalamus[12]. GLP-1, derived from blood flow circulation, enter the brain through the circumventricular organ, characterized by a leaky blood-brain barrier. Therefore, GLP-1, with chronic stimulation of its receptor, is considered a signal to suppress appetite, which acts as a basic mechanism for a decrease in body weight[4,13].
Another additional effect of incretin hormone is the triglycerides storage in adipose tissue. GIP induces lipoprotein lipase, an enzyme that releases fatty acid from triglycerides chylomicrons in adipose tissue; hence it eliminates triglycerides chylomicrons. However, this is still based on animal studies; it is still uncertain whether the same occurred in humans[14,15].
Gastric emptying is also affected by GLP-1 but not by GIP[16,17]. The consequence of this effect is the nutritional delivery to the intestinal lumen is hampered. The decreased absorption of nutrition resulted in the stagnant increase of blood glucose and triglycerides after a meal[18].
Other effects of incretin include bone metabolism and cardiovascular function. Regarding bone metabolism, animal study of GIP found that the signaling pathway through GIP receptors inhibits bone resorption, both from the amount and the function of osteoclast, and supports bone formation (osteoblast function)[19]. The effect of incretins on the cardiovascular system is related to their role in cardiac blood supply, vasodilatation, inflammation response in adipose tissue and blood vessels, substrate intake, cytokine release and atherosclerosis formation, and plaque stabilization[20,21].
It should be noted that the dogma of proglucagon produced in α-cells of the pancreas and GLP produced by intestinal L cells has been challenged. It has been suggested that after total pancreatectomy, glucagon produced by intestinal cells and GLP-1 exist in pancreatic α-cells[22,23]. The animal study suggested that GLP-1 produced by pancreatic α-cells have more potent effect on glucose homeostasis than intestinal cells-produced GLP-1[24]. This showed that the physiological mechanism of the incretin hormones is not as simple as it is known currently. The mechanism of glucagon formation by pancreatic α-cells primarily mediated by prohormone convertase (PC) 2[25], while PC 1/3 acts as the main prohormone for the formation of GLP-1 and GIP[26,27]. It has been suggested that irregular expression of PC 1/3 in the pancreas and PC2 in the intestinal becomes a reason for the existence of GLP-1 in the pancreas[23,28,29] and glucagon in intestinal (Figure 1)[22,30].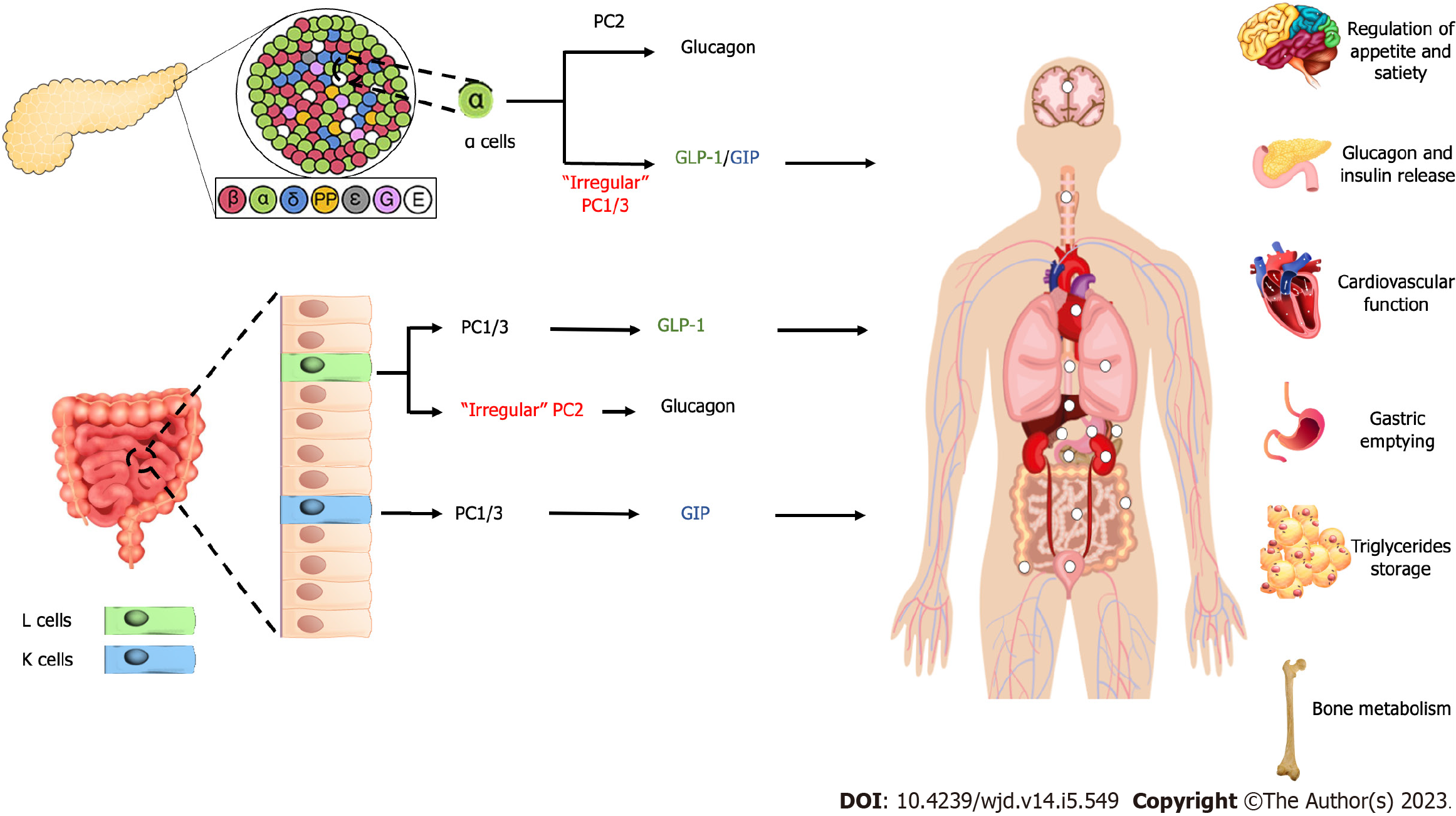 Figure 1 Production of incretin and its benefits.
Glucagon-like peptide-1 and glucose-dependent insulinotropic polypeptide produced in the pancreas and intestine mediated by prohormone convertase. The incretin hormones affect appetite and satiety, glucagon and insulin release, cardiovascular function, gastric emptying, triglycerides, and bone metabolism. GIP: Glucose-dependent insulinotropic polypeptide; GLP-1: Glucagon-like peptide-1; PC1/3: Prohormone convertase 1/3; PC2: Prohormone convertase 2.
The intracellular mechanism of incretin hormone started with the binding of GIP and GLP-1 with their respective receptors, GIP receptors and GLP-1 receptors. It resulted in the activation of adenylate cyclase and the increase of intracellular cyclic adenosine monophosphate (cAMP), leading to protein kinase A (PKA) activation and protein activated by cAMP2 (EPAC2). The activation of PKA induces the closure of the adenosine triphosphate-sensitive potassium channel and facilitates membrane depolarization and the prolongation of potential action. Depolarization opens the voltage-gated Ca2+ channel, which leads to an increase in intracellular Ca2+. The increased Ca2+ concentration triggers the fusion of insulin-containing granules with the plasma membrane and insulin secretion from pancreatic β cells. The increase of Ca2+ levels also drives the transcription of the proinsulin gene, therefore increasing the insulin content of β cells. Furthermore, the activation of EPAC2 increases the density of insulin-containing granules near the plasma membrane to potentiate the secretion of insulin from β cells (Figure 2)[31].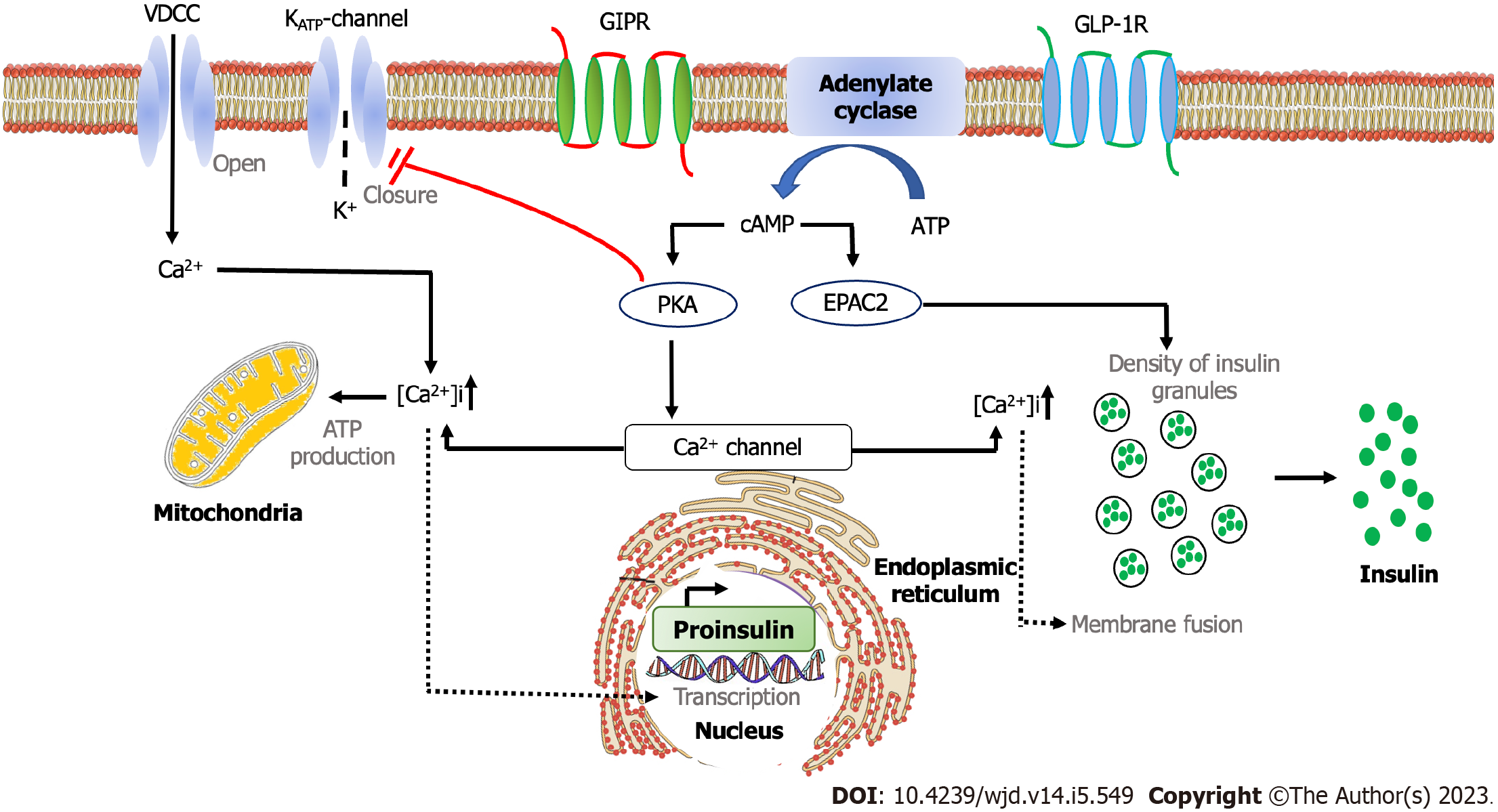 Figure 2 Intracellular mechanism of incretin hormones. The binding of glucose-dependent insulinotropic polypeptide and glucagon-like peptide-1 with their respective receptors increase cyclic adenosine monophosphate and activation of protein kinase A. This result in the increase of Ca2+ levels, mediating the fusion of insulin-containing granules with the plasma membrane and insulin secretion from pancreatic β cells. ATP: Adenosine triphosphate; cAMP: Cyclic adenosine monophosphate; Ca2+: Calcium; [Ca2+]i: Calcium influx; EPAC2: Exchange protein activated by cAMP2; GIPR: Glucose-dependent insulinotropic polypeptide receptor; GLP-1R: Glucagon-like peptide-1 receptor; KATP-channel: ATP-sensitive potassium channel; K+: Kalium; PKA: Protein kinase A; VDCC: Voltage-gated calcium channels.
DEVELOPMENT OF FATTY LIVER DISEASE
The pathophysiology of fatty liver disease related to metabolic factors, including NAFLD, is intricate due to its multifactorial nature and related to various comorbidities. The accumulation of liver fat is caused by the imbalance in fatty acid influx (lipolysis of fat tissue), fat disposition (fatty acid disposition), lipogenesis hepatic de novo and very low density lipoprotein secretion by the liver[32]. The progressivity of fatty liver disease involves the interaction of cellular stress response (lipotoxicity and increase of oxidative stress)[33] and liver fat accumulation along with cytotoxicity[33]. The association of gut and hormones released from the pancreas, insulin resistance in muscle, adipose tissue and liver, and gut microbiome are also involved in the pathophysiology of NAFLD. Obesity contributes to fatty liver disease by causing adipocyte hypertrophy and hypoxia, resulting in macrophage influx and pro-inflammatory conditions[34]. The pro-inflammatory condition causing the development of insulin resistance leads to hepatic steatosis. The insulin resistance increases lipolysis and causes the increase of free fatty acids. Hepatic lipotoxicity is caused by the increment of long-chain fatty acids, diacylglycerol, and ceramide, which stored in the liver, causing the release of reactive oxygen species. These contributed to inflammation and liver fibrosis, along with the apoptosis of hepatocytes. Moreover, the increase in hepatic steatosis leads to the resistance of the liver toward insulin, worsening the condition[35].
Type 2 diabetes and metabolic syndromes are closely related to NAFLD[36]. Individuals with T2DM possess a five times greater risk of NAFLD and a greater likelihood to progress toward non-alcoholic steatohepatitis (NASH) when compared to people without T2DM[37]. However, liver steatosis is partly an adaptive and protective response; lipotoxic free fatty acids is stored as a more stable component. However, this protective nature becomes weakened with continuous liver problems along with other contributed factors, e.g., T2DM and genetic predisposition. This, in turn, causes hepatocyte injury and fibrosis[38]. Insulin resistance in the liver is caused by proinflammatory cytokine (tumor necrosis factor α, interleukin-6), proinflammatory pathway, e.g. c-Jun and nuclear factor-kappaB, endoplasmic reticulum stress, and lipid metabolism product.
DIABETES, INCRETIN HORMONE AND FATTY LIVER DISEASE
Incretin hormones are secreted in T2DM patients as well as healthy individuals and obese patients. An early study showed a slight increase of GIP in patients with T2DM and decreased response to GLP-1[39,40], while subjects with impaired glucose tolerance have an intermediate response to GLP-1. Therefore, it has been hypnotized that there is a progressive loss in GLP-1 secretion along with the severity of T2DM. Study has been conducted to compare the secretion of GIP and GLP-1 between healthy and T2DM subjects after oral glucose loads administration and mixed food. There is a slight difference in which lower secretion in T2DM patients. However, another study also found no difference in GIP and GLP-1 between those two populations. A meta-analysis study showed no difference in the secretion of GIP and GLP-1 after nutrition loads between T2DM and healthy subjects[41-43].
Even though the excretion of incretin is approximately normal in T2DM patients, the difference in the characteristic between T2DM and healthy subjects exist in the insulinotropic activity of GIP and GLP-1. GIP is considered a drug candidate for the development of a glucose-lowering agent. In this regard, there is no doubt that physiological and pharmacological concentrations of GLP-1 also exhibit insulinotropic features in T2DM patients[10]. Inappropriate response to GIP may explain the lower effects of incretin hormones in T2DM patients compared to healthy subjects[10,44]. Previously conducted studies have found that the reduced incretin effects occurred after the diagnosis of T2DM was confirmed. Hence it has been suggested that the decrease in incretin effects is secondary to this condition[45]. It is still not fully elucidated which features of T2DM, e.g., inflammatory infiltration of β-cells, hyperglycemia, islet lipid overload, or other mechanisms may trigger this phenomenon[5,45]. The reduced expression of GIP receptors or substances involved in the GIP signaling pathway is also suggested to explain the impairment in insulin secretion[46]. Although animal study with diabetic hyperglycemia has found that GIP receptors are decreased, the same is not found in the human pancreas. In conclusion, type 2 diabetes condition reduces the incretin effect and worsens glycemic control. This situation leads to glucotoxicity. Glucotoxicity resulted in a reduction of beta cell mass in the pancreas and reduced expression of GIP receptors. These will further reduce the incretin effect, creating a vicious cycle. Numerous studies with insulin treatment to control hyperglycemia to reach a near-normal value of glucose concentrations have been done. Insulin treatment may improve the insulinotropic of GIP and GLP-1 in T2DM patients, therefore leads to improvement of the incretin effects[47,48].
The reduced incretin effects may result in further damage of hepatocytes. Reduced incretin effects may reduce satiety and caloric intake, resulting in increased body weight. The increase in body weight leads to adipose tissue insulin resistance, increased lipolysis and leptin, and decreased adiponectin. The final result leads to increased hepatic insulin resistance, de novo lipogenesis, and hepatic fat deposition. Reduced incretin effects also lead to reduced insulin release, resulting in increased adipose tissue insulin resistance and increased hepatic insulin resistance and hepatic fat deposition. Another mechanism of decreased incretin is increased dietary fats and chylomicrons, resulting in increased hepatic fat deposition (Figure 3)[2].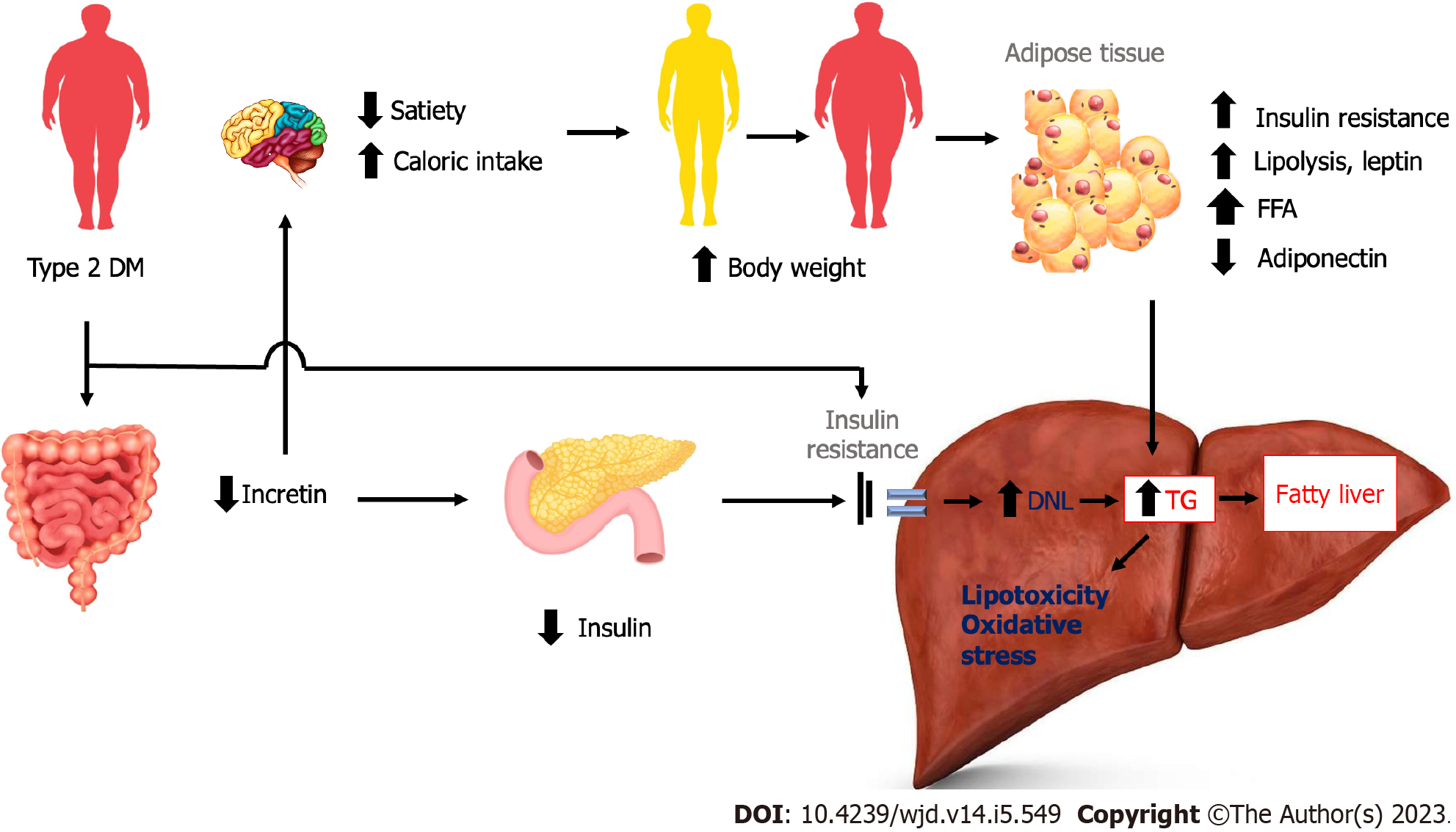 Figure 3 The effect of type 2 diabetes mellitus on incretin hormone and the development of non-alcoholic fatty liver disease.
Increased body weight as the result of reduced incretin effects leads to adipose tissue insulin resistance, increased lipolysis and leptin, and decreased adiponectin, resulting in hepatic fat deposition. DM: Diabetes Mellitus; DNL: De novo lipogenesis; FFA: Free fatty acids; TG: Triglycerides.
An approach to modulate the expression and activity of incretin hormones may benefit fatty liver disease. The effect of incretin could improve the satiety, therefore reduced caloric intake. The insulin resistance could be improved, leading to downregulation of lipid in liver, lipotoxicity and oxidative stress, providing beneficial effect in NAFLD patients.
CLINICAL ASPECT OF INCRETIN IN FATTY LIVER DISEASE
The primary treatment of fatty liver, particularly NAFLD, is decreasing body weight. The decrease of body weight by 10% with regulating diet and physical activity decreases the triglycerides concentration by 60% in overweight people[49]. Another modality is bariatric surgery for patients with severe obesity. This modality may significantly improve lobular inflammation and NASH in 50%-85% of cases[50]. Management with pharmacologic agents remains explored to discover the agent that can give significant efficacy. In short, the pharmacological agents may be classified into agents to improve metabolic impairment, including body weight, inflammation with oxidative stress and dysregulation in the gut-liver axis[51]. In regards to those specific points, the pharmacological agent is ideally able to work in all those mechanisms.
A study showed that GLP-1 had the effect of inducing satiety through the central mechanism in hypothalamus and brain stem. The use of GLP-1 also decreases caloric uptake. These results were obtained from observation of person with obesity and T2DM. A decrease in body weight is also a consistent discovery obtained from clinical trials with GLP-1 receptor agonists (GLP-1RAs). Chronic use of GLP-1 is also expected to improve insulin sensitivity since it is related to its effect on decreasing body weight. Other effects of GLP-1RA administration in NAFLD patients are also related to increased total adiponectin serum concentration and improvement of dysfunctional adipose tissue[52]. Liraglutide also decreases fasting leptin serum levels. Adiponectin is able to repair liver impairment related to fatty liver injury by regulating liver fatty acid oxidation and activity of acetyl-CoA carboxylase as well as fatty acid synthase, which acts as the main enzyme to synthesize fatty acid[53]. The randomized controlled trials of several studies already conducted on the effects of GLP-1RAs toward fatty liver conditions are summarized in Table 1.
Ref.

---

Subjects

---

Intervention (dose)

---

Comparator

---

Effects

---

Jendle et al[59], 2009
T2DM
Liraglutide (1.8-1.2-0.6 mg/day) with additional metformin administration
Glimepiride 4 mg or placebo with metformin
10% attenuation ratio of liver-spleen
Fan et al[60], 2013
Overweight T2DM
Exenatide (2 x 10µg)
Metformin
Decrease in liver enzyme
Shao et al[61], 2014
Overweight/obese T2DM
Exenatide (2 x 10 µg)
Insulin glargine
Decrease of liver enzymes and degree of fatty liver on ultrasound
Tang et al[62], 2015
Overweight/obese T2DM
Liraglutide 0.6 to 1.8 mg/day
Insulin glargine
No difference in the decrease of liver fat
Armstrong et al[63], 2016
Overweight/obese (17 out of 52 subjects with T2DM)
Liraglutide (1.8 mg/day)
Placebo
Improvement in NASH histology by 39%
Smits et al[64], 2016
Overweight/obese T2DM
Liraglutide (1.8 mg/day)
Sitagliptin, placebo
No difference in liver fat content
Dutour et al[65], 2016
T2DM
Exenatide 5-10 mcg twice a day
Placebo
Significant decrease in body weight and liver fat content in the exenatide group
Khoo et al[66], 2017
Obesity patients without T2DM
Liraglutide (3 mg/day)
Lifestyle intervention
No difference in reducing liver fat
Feng et al[67], 2017
T2DM
Liraglutide (1.8 mg/day)
Metformin or glicazide
Improvement in hepatic/renal index ratio
Frøssing et al[68], 2018
Women with PCOS and NAFLD
Liraglutide 1.8 mg/day
Placebo
Decrease of body weight by 5.2 kg (5.6% from baseline), liver fat content by 44%, decrease the prevalence of NAFLD by about two-thirds and decrease of fasting blood glucose
Yan et al[69], 2019
T2DM and NAFLD
Liraglutide 1.8 mg/day
Insulin glargine and sitagliptin
Decreased liver fat content, reduction of HbA1c levels in all groups, decrease in body weight
Khoo et al[70], 2019
Obese and NAFLD
Liraglutide 3.0 mg/day
Lifestyle changing
The two groups had decrease of liver fat content
Liu et al[71], 2020
T2DM and NAFLD
Exenatide 1.8 mg/day
Insulin glargine
Decrease of liver fat content, greater reduction of visceral adipose tissue
Bizino et al[72], 2020
T2DM and NAFLD
Liraglutide 1.8 mg/day
Placebo
Reduced body weight, but the liver content was not different
Kuchay et al[73], 2020
T2DM and NAFLD
Dulaglutide 1.5 mg/week
Placebo
Control-corrected absolute change in liver fat content of -3.5% and relative change of -26.4%
Newsome et al[74], 2020
NASH and liver fibrosis
Semaglutide 0.1 mg/day, 0.2 mg/day, and 0.4 mg/day
Placebo
A higher percentage of NASH resolution without worsening of fibrosis, dose-dependent decrease of serum ALT and AST, and higher mean percentage weight loss
Dual incretin receptor agonists are new pharmacological agents that act on GLP-1 and GIP receptors[54]. The new dual incretin receptor agonists have a synergistic effect. The synergistic effects of these pharmacologic agents lead to reduced total liver fat content, risk of cardiovascular disease, body weight and blood glucose levels [determined by glycated hemoglobin, or hemoglobin A1c (HbA1c)][55].
The clinical aspect of dual incretin receptor agonists has been showed in several studies. Tirzepatide, the dual receptor agonist which administered subcutaneously, was approved by the United States US Food and Drug Administration for glycemic control in T2DM patients, In May 2022[56]. Tirzepatide, compared to semaglutide and insulin, showed a greater reduction of HbA1c[56]. A study by Hartman et al[57] in 2020 showed that tirzepatide reduce several biomarkers of steatohepatitis, including N-terminal type III collagen propeptide, keratin-18, aspartate aminotransferase, and alanine aminotransferase. The study also showed the increase of adiponectin levels. A phase 2b, 26-wk trial of tirzepatide in T2DM patients showed superior effect of tirzepatide compared to dulaglutide in terms of glucose control and reduction in body weight[58]. Tirzepatide of 5 mg, 10 mg, and 15 mg decrease HbA1c levels by 1.6%, 2.0%, and 2.4%, respectively. When compared to 1.5 mg of dulaglutide administration, the decrease of HbA1c only 1.1%. A total of 48% of patients achieved normoglycemia (HbA1c 5.7%) compared with 2% of subjects treated with dulaglutide[58].
CONCLUSION
In conclusion, incretin hormones affect various signaling and mechanisms of lipid and glucose metabolism, insulin release, regulation of glucagon, oxidative stress, the central mechanism of satiety, and various other effects, involved in the development of NAFLD. The importance of the incretin effect on the development and progressivity of NAFLD makes it an ideal target for its management. Clinical research has provide evidence toward beneficial effect on liver content and other metabolic parameters. Further recommendations for drugs targeting the regulation of the incretin effect need to be considered in future studies. Also, future studies on the adverse events of incretin modulation for fatty liver disease should be directed, therefore its safety could be emphasized.
Provenance and peer review: Invited article; Externally peer reviewed.
Peer-review model: Single blind
Corresponding Author's Membership in Professional Societies: The Indonesian Society of Internal Medicine, 111.1986.0015.00692; Indonesian Society of Gastroenterology.
Specialty type: Endocrinology and metabolism
Country/Territory of origin: Indonesia
Peer-review report's scientific quality classification
Grade A (Excellent): 0
Grade B (Very good): B
Grade C (Good): C, C, C
Grade D (Fair): 0
Grade E (Poor): 0
P-Reviewer: L Cai, United States; Huang W, China; Liao Z, Singapore; Srinivasan AR, India S-Editor: Liu GL L-Editor: A P-Editor: Zhang XD