Copyright
©The Author(s) 2021.
Published by Baishideng Publishing Group Inc. All rights reserved.
Gastrointestinal and hepatic diseases during the COVID-19 pandemic: Manifestations, mechanism and management
Dina Zakaria Mohamed, Sally El-Sayed Abu-Risha, Department of Pharmacology and Toxicology, Faculty of Pharmacy, Tanta University, Tanta 31511, Egypt
Mai El-Sayed Ghoneim, Department of Pharmacology and Toxicology, Faculty of Pharmacy, University of Sadat City, Menoufia 32632, Egypt
Ramy Ahmed Abdelsalam, Department of Pathology, Faculty of Medicine, Mansoura University, Mansoura 35511, Egypt
Mohamed Abdelhalem Farag, Department of Pediatrics, Nebru General Hospital, Nebru 35511, Egypt
Author contributions: All authors contributed equally to the conception and topics for this review and to revising the article critically for intellectual content; all authors approved the final version of the manuscript for submission.
Conflict-of-interest statement: The authors have no conflicts of interest to declare. The authors only are responsible for the content and writing of the article.
Open-Access
: This article is an open-access article that was selected by an in-house editor and fully peer-reviewed by external reviewers. It is distributed in accordance with the Creative Commons Attribution NonCommercial (CC BY-NC 4.0) license, which permits others to distribute, remix, adapt, build upon this work non-commercially, and license their derivative works on different terms, provided the original work is properly cited and the use is non-commercial. See:
http://creativecommons.org/Licenses/by-nc/4.0/
Corresponding author: Dina Zakaria Mohamed, MSc, Assistant Lecturer, Department of Pharmacology and Toxicology, Faculty of Pharmacy, Tanta University, El-Geish Street, Tanta 31511, Egypt. m_halem1986@yahoo.com
Received: January 15, 2021
Peer-review started: January 15, 2021
First decision: January 31, 2021
Revised: February 12, 2021
Accepted: June 7, 2021
Article in press: June 7, 2021
Published online: July 28, 2021

Severe acute respiratory syndrome coronavirus 2 (SARS-CoV-2) is considered the causative pathogen of coronavirus disease 2019 (COVID-19) and has become an international danger to human health. Although respiratory transmission and symptoms are still the essential manifestations of COVID-19, the digestive system could be an unconventional or supplementary route for COVID-19 to be transmitted and manifested, most likely due to the presence of angiotensin-converting enzyme 2 (ACE2) in the gastrointestinal tract. In addition, SARS-CoV-2 can trigger hepatic injury via direct binding to the ACE2 receptor in cholangiocytes, antibody-dependent enhancement of infection, systemic inflammatory response syndrome, inflammatory cytokine storms, ischemia/reperfusion injury, and adverse events of treatment drugs. Gastrointestinal symptoms, including anorexia, nausea, vomiting, and diarrhea, which are unusual in patients with COVID-19, and some digestive signs may occur without other respiratory symptoms. Furthermore, SARS-CoV-2 can be found in infected patients' stool, demonstrating the likelihood of transmission through the fecal-oral route. In addition, liver function should be monitored during COVID-19, particularly in more severe cases. This review summarizes the evidence for extra-pulmonary manifestations, mechanisms, and management of COVID-19, particularly those related to the gastrointestinal tract and liver.
Core Tip: The coronavirus disease 2019 (COVID-19) pandemic has affected millions worldwide, with high lethality. In addition to typical respiratory symptoms of COVID-19, gastrointestinal and hepatic symptoms have been frequently observed in COVID-19 patients. The main purpose of this article is to focus on the manifestations, mechanisms, and management of the gastrointestinal tract and liver that occurred during the course of COVID-19. Therefore, physicians must not undervalue the digestive symptoms during COVID-19 and rapidly adjust the treatment options for COVID-19 patients with gastrointestinal symptoms and liver enzyme abnormalities.
---
Citation: Mohamed DZ, Ghoneim MES, Abu-Risha SES, Abdelsalam RA, Farag MA. Gastrointestinal and hepatic diseases during the COVID-19 pandemic: Manifestations, mechanism and management. World J Gastroenterol 2021; 27(28): 4504-4535
---
INTRODUCTION
Coronaviruses (CoV) is the largest group of spike-like viruses in the Nidovirales family. In the last two decades the CoVs have caused three worldwide outbreaks, with the most recent pandemic caused by severe acute respiratory syndrome coronavirus 2 (SARS-CoV-2) which has resulted in coronavirus disease 2019 (COVID-19). The first 21st century outbreak in Guangdong Province, China, in November 2002, caused by SARS-CoV (SARS-CoV-1), an extreme SARS, resulted in 8098 fatalities (9.6%) globally[1,2]. The second outbreak in Saudi Arabia in 2012 was caused by Middle East respiratory syndrome (MERS)-CoV, with 2521 (36%) confirmed deaths[3].
SARS-CoV-2 first originated in China in December 2019 and critically threatened worldwide health[4,5]. On February 12, 2021, 108 million cases and 2 million deaths have been recorded in over 219 countries and regions worldwide[6]. The lung is the primary organ involved in COVID-19 pneumonia, and most COVID-19 patients suffer typical respiratory symptoms (e.g., dyspnea, cough with sputum production, fatigue, and in severe cases, acute respiratory distress syndrome (ARDS), respiratory failure, and even death). On the other hand, extrapulmonary clinical manifestations of COVID-19 affect multiple other organs including cardiovascular (e.g., arrhythmias, myocarditis, pericarditis, acute coronary syndrome, and heart failure), renal (e.g., acute kidney injury and acute tubular necrosis), hepatic [e.g., elevated alanine aminotransferase (ALT), aspartate aminotransferase (AST), and bilirubin], gastrointestinal (e.g., diarrhea, nausea, vomiting, and abdominal pain), ocular (e.g., epiphora, conjunctivitis, and chemosis), dermatologic (e.g., erythematous rash, urticaria, and chickenpox-like vesicles), and neurological systems (e.g., headache, neuropathy, encephalopathy, cerebrovascular disorders, and dizziness)[7] (Figure 1). Considering all the previously mentioned data, this article examines the effects of gastrointestinal (GI) and hepatic symptoms, their associated mechanisms, and management caused by SARS-CoV-2 infection and provides a guide for clinical prevention and treatment (Figure 2).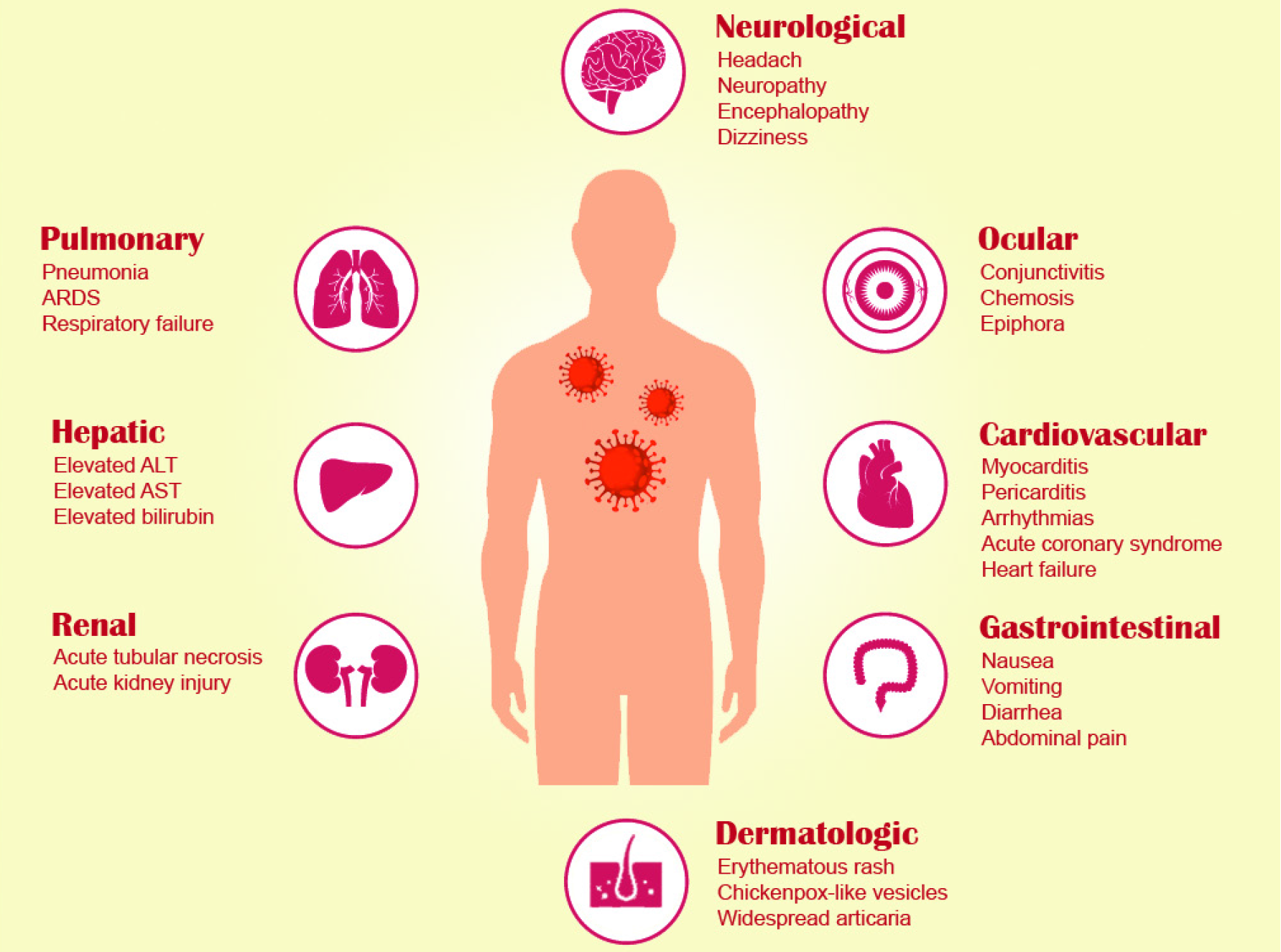 Figure 1 Pulmonary and extrapulmonary manifestations of coronavirus disease 2019.
ARDS: Acute respiratory distress syndrome; ALT: Alanine aminotransferase; AST: Aspartate aminotransferase. Headache and urticaria spelled wrongly.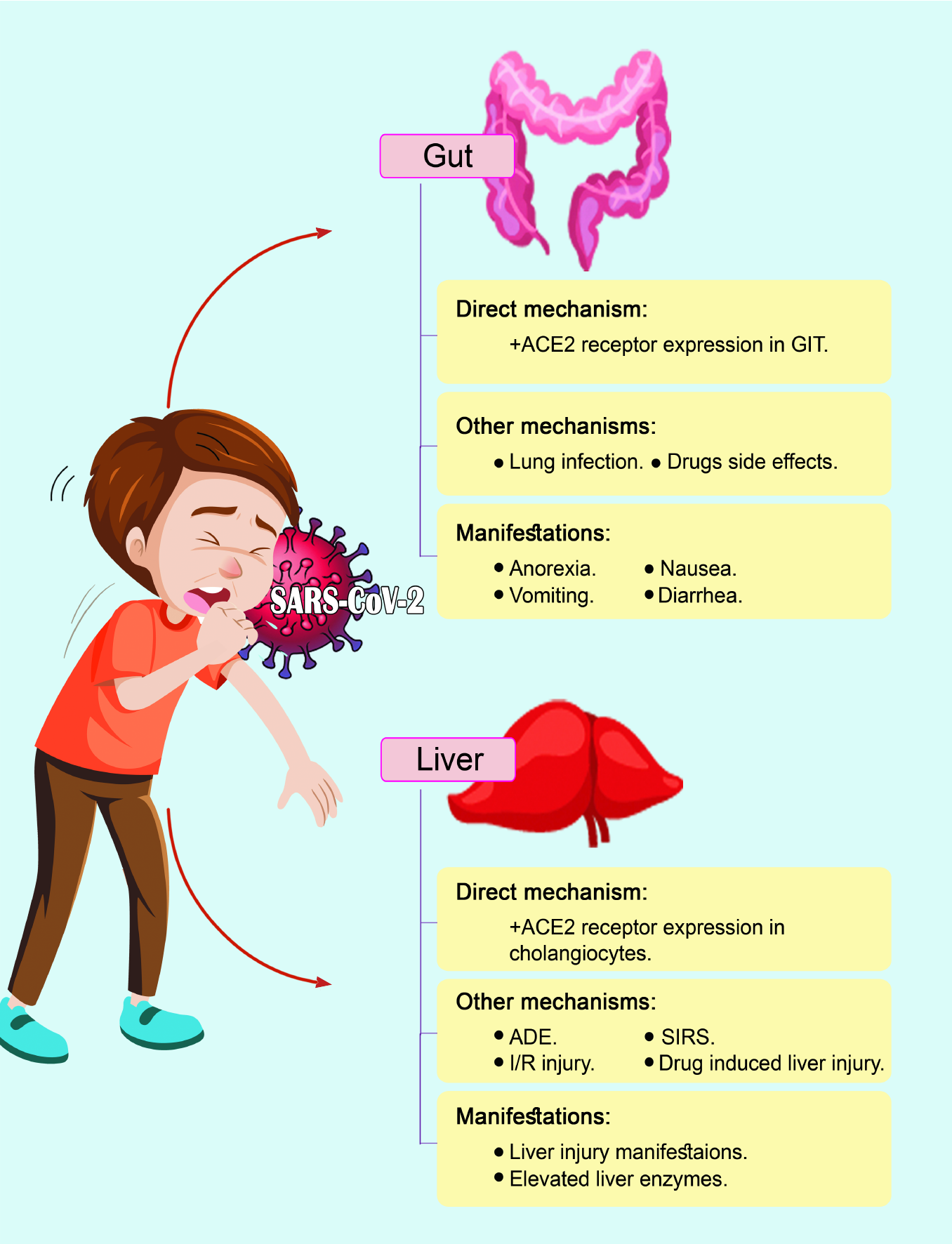 Figure 2 Mechanisms and manifestations of coronavirus disease 2019 in the gut and liver. SARS-CoV-2: Severe acute respiratory syndrome coronavirus 2; ACE2: Angiotensin-converting enzyme 2; GIT: gastrointestinal tract; ADE: Antibody-dependent enhancement of infection; SIRS: Systemic inflammatory response syndrome; I/R: Ischemia and hypoxia reperfusion injury.
DISEASE COURSE OF COVID-19
For SARS-CoV-2, the incubation period is an average of 4-5 d, with most patients having symptoms before 14 d, although there have been instances where the incubation period was longer[8]. The infection and hospitalization onset was documented from 9.1 to 12.5 d and emphasizes the difficulty in the early stage of the diagnosis and isolation of populations[9]. The average period for recovering patients from initial symptoms is 22 d, and for those who succumbed the time to death is approximately 18.5 d[9].
Overall, the case fatality ratio of COVID-19 is reported to be around 1-2% in patients aged 80 years, to over 15%[10]. Currently, WHO data show that most COVID-19 cases have mild to moderate signs of illness (80%), and 13.8% of cases have serious signs within 24-48 h with the following symptoms: shortness of breath; hypoxia < 300% and/or pulmonary infiltration > 50%; tachypnea > 30 breaths/min[11]. 6.1% of patients with critical infections also have septic shock, respiratory and multiple-organ failure[11,12]. Approximately 25% of hospitalized patients require intensive care unit (ICU) care, and 4.3% die[12].
GENDER AND RACE DURING COVID-19
It has been demonstrated that 51% of reported cases of COVID-19 are male patients. This may be due to the higher levels of estrogen in female COVID-19 patients which can reduce COVID-19 severity and mortality via the elevation in innate and humoral immunity[13-19]. Moreover, in vivo studies have demonstrated that there are higher levels of angiotensin-converting enzyme 2 (ACE2) expression in male kidneys than in female kidneys, which may explain the differences in the susceptibility and development of COVID-19 between male and female patients.
Whether ACE2 expression varies in the lungs of male and female COVID-19 patients, is still unclear[20,21]. Furthermore, preclinical trials have suggested that ACE2 expression may increase vulnerability to COVID-19 in pregnant patients[22,23].
In the same way, COVID-19 varies between different ethnic groups in terms of severity and mortality. During the COVID-19 pandemic, American, Hispanic, and African communities have displayed higher rates of infection and hospitalization in comparison to Caucasian communities[24]. These discrepancies may be due to the higher occurrence of heart diseases, hypertension, obesity, diabetes, and asthma in minority groups[24].
GASTROINTESTINAL SYMPTOMS AND COVID-19
COVID-19 IN THE ENDOSCOPY UNIT
Although millions of people have remained at their houses to decrease the transmission of SARS-CoV-2, the risk of COVID-19 amongst health workers is high.
For example, the Chinese National Health Commission determined that approximately 3300 health workers were infected in early March[185]. It is well-known that endoscopic staff are at high risk of airborne droplet infection, conjunctiva contact and surface contact contamination[182,186]. Airway suction and other cough-induced procedures result in an increased risk of SARS-CoV-2 transmission[182]. It must be noted that the possible risk of exposure to feces removal is not confined to upper endoscopy[35].
A prospective study conducted by Johnston et al[187], revealed the quantification of unrecognized bacteria to endoscopists exposed to biological samples leading to infection transmission. In this investigation, 227 endoscopic face shields were examined for colony-forming units (CFUs), and 1-15 CFU, 91/227 (40%); 16-30 CFU, 6/227 (2.6%); 30 or more CFU, 6/227 (2.6%) significantly increased after endoscopy. Similarly, in 1999, a research study carried out by Mohandas and Gopalakrishnan[188] in a tertiary care hospital in India of 786 endoscopies (149 lower and 162 therapeutic endoscopies) concluded that the splash rate to the skin of the forearms, feet, and face was 9.5%, while the splash rate to the eyes was 4.1%.
The duodenoscope is the most complex medical equipment that undergoes disinfection after patient use[189]. Virus risk factors include non-compatibility with disinfection guidelines, the promotion of biofilm deposition because of its complicated nature, surface defects and infected automated endoscopes[190,191]. It is considered that endogenous infections due to the gut flora of patients are the most common infections after endoscopy[192]. Exogenous infections such as Escherichia coli (71%), Klebsiella (14%), and Enterobacter (5%) can occur due to contaminated scopes and may be avoided by thorough cleaning[192,193]. Currently, Pseudomonas aeruginosa is the most common organism isolated from contaminated endoscopes[194]. Other microorganisms include, Mycobacteria, Helicobacter pylori, Clostridium difficile, HBV and HCV[195]. Recently, studies on duodenoscopy-associated infections including multidrug-resistant organisms, particularly carbapenem-resistant Enterobacteriaceae, have surfaced[196]. Numerous infections occurred despite sufficient disinfection, indicating that professional and government bodies should provide additional recommendations for duodenoscope processing[197,198]. To date, The Food and Drug Administration and Centers for Disease Control and Prevention have recommended comprehensive cleaning followed by high-level disinfection for reprocessing of flexible GI endoscopes[199-201].
In COVID-19 patients single-use duodeno-scopes may be important. However, they are not accessible worldwide and have cost-related constraints[202]. Several societies have advocated the use of room negative pressure, particularly for COVID-19 patients, or if endoscopy is urgently needed[203]. Intraprocedural changes such as minimal verbal communication, avoiding procedures in patients with inadequate bowel preparation, and avoiding spillage of GI contents via the biopsy channel should be introduced[204]. A previous study reported the use of a "double gauze technique"; one for the endoscopists and the other for technicians in a controlled fashion to prevent the "whip" effect of accessories and spillage of GIT secretions[204] Institutional requirements for minimum staff involved in the procedure have been developed[205]. Thus, the risk of exposure among endoscopy personnel is diminished. Endoscopy techniques performed with moderate sedation without the need for anesthetic agents (endoscopy driven sedation) can also reduce the risk of transmission. However, in the case of procedures requiring general anesthesia, policymakers recently recommended the use of endotracheal intubation to diminish the risk of aerosolization due to suspected or confirmed COVID-19[206]. Other methods to avoid splashes include the use of regular precautions such as full-sleeve gowns and suitable footwear[187].
GAPS IN KNOWLEDGE
Although there is a theoretical risk of fecal-oral transmission of COVID-19, the actual risk of transmission is extremely low. Despite this risk, endoscopy units have been functioning and reopening with no significant outbreaks noted.
CONCLUSION
COVID-19 can lead to lead to acute respiratory infection, and a high rate of morbidity and mortality. The main signs of COVID-19 are respiratory system reactions, and gastro-intestinal symptoms are also very common. COVID-19 patients with GIT symptoms are more probably associated with severe complications such as ARDS and liver damage, with a poor prognosis. Hence, during diagnosis and treatment of the disease, GIT symptoms should be taken into consideration as well as virus transmission via the fecal-oral route. In addition, it is advisable to take care of patients with chronic liver disease and they should be treated with medications that are able to prevent inflammatory responses and protect liver functions during COVID-19. Furthermore, the harmful effects of some drugs on the gut and liver during hospitalization must be identified and evaluated frequently. Further studies on the intrinsic relationship between COVID-19, hepatology and gastroenterology are urgently required.
Manuscript source: Invited manuscript
Specialty type: Gastroenterology and hepatology
Country/Territory of origin: Egypt
Peer-review report's scientific quality classification
Grade A (Excellent): A, A
Grade B (Very good): B, B
Grade C (Good): C, C, C
Grade D (Fair): 0
Grade E (Poor): 0
P-Reviewer: Perisetti A, Song B, Vij M, Watanabe T S-Editor: Fan JR L-Editor: Webster JR P-Editor: Yuan YY