Copyright
©The Author(s) 2017.
Published by Baishideng Publishing Group Inc. All rights reserved.
Autoimmune hepatitis: Standard treatment and systematic review of alternative treatments
Benedetta Terziroli Beretta-Piccoli, Epatocentro Ticino, 6900 Lugano, Switzerland
Giorgina Mieli-Vergani, Paediatric Liver, GI and Nutrition Centre, MowatLabs, King's College Hospital, Denmark Hill, London SE5 9RS, United Kingdom
Diego Vergani, Institute of Liver Studies, MowatLabs, King's College Hospital, Denmark Hill, London SE5 9RS, United Kingdom
Author contributions: Terziroli Beretta-Piccoli B contributed to writing up the manuscript; Mieli-Vergani G and Vergani D contributed to critical revision and final approval of the report.
Conflict-of-interest statement: No potential conflicts of interest.
Open-Access: This article is an open-access article which was selected by an in-house editor and fully peer-reviewed by external reviewers. It is distributed in accordance with the Creative Commons Attribution Non Commercial (CC BY-NC 4.0) license, which permits others to distribute, remix, adapt, build upon this work non-commercially, and license their derivative works on different terms, provided the original work is properly cited and the use is non-commercial. See: http://creativecommons.org/licenses/by-nc/4.0/
Correspondence to: Diego Vergani, Professor, Institute of Liver Studies, MowatLabs, King's College Hospital, Denmark Hill, London SE5 9RS, United Kingdom. diego.vergani@kcl.ac.uk
Telephone: +44-20-32994643 Fax: +44-20-32994224
Received: June 6, 2017
Peer-review started: June 7, 2017
First decision: June 22, 2017
Revised: July 18, 2017
Accepted: August 2, 2017
Article in press: August 2, 2017
Published online: September 7, 2017

Autoimmune hepatitis is a rare chronic inflammatory liver disease, affecting all ages, characterised by elevated transaminase and immunoglobulin G levels, positive autoantibodies, interface hepatitis at liver histology and good response to immunosuppressive treatment. If untreated, it has a poor prognosis. The aim of this review is to summarize the evidence for standard treatment and to provide a systematic review on alternative treatments for adults and children. Standard treatment is based on steroids and azathioprine, and leads to disease remission in 80%-90% of patients. Alternative first line treatment has been attempted with budesonide or cyclosporine, but their superiority compared to standard treatment remains to be demonstrated. Second-line treatments are needed for patients not responding or intolerant to standard treatment. No randomized controlled trials have been performed for second-line options. Mycophenolate mofetil is the most widely used second-line drug, and has good efficacy particularly for patients intolerant to azathioprine, but has the major disadvantage of being teratogenic. Only few and heterogeneous data on cyclosporine, tacrolimus, everolimus and sirolimus are available. More recently, experience with the anti-tumour necrosis factor-alpha infliximab and the anti-CD20 rituximab has been published, with ambivalent results; these agents may have severe side-effects and their use should be restricted to specialized centres. Clinical trials with new therapeutic options are ongoing.
Core tip: The first part of this review summarizes the standard therapeutic approach for autoimmune hepatitis (steroids and azathioprine) and the evidence on which it is based. The second part reviews systematically published data on first and second line alternative treatments. This information is summarized in two comprehensive tables, one for adult and one for paediatric patients.
---
Citation: Terziroli Beretta-Piccoli B, Mieli-Vergani G, Vergani D. Autoimmune hepatitis: Standard treatment and systematic review of alternative treatments. World J Gastroenterol 2017; 23(33): 6030-6048
---
INTRODUCTION
Autoimmune hepatitis (AIH) is a rare inflammatory liver disease of unknown origin characterised by high transaminase and immunoglobulin G (IgG) levels, positive autoantibodies, and, histologically, by interface hepatitis[1-4]. The condition affects all ages, and has a female preponderance[5]. There is no single diagnostic test[1,2]. The International Autoimmune Hepatitis Group (IAIHG) established comprehensive diagnostic criteria in 1993[6], based on expert opinion, intended to be used for research purposes. After their evaluation in a number of studies, the criteria were updated in 1999[7]. A simplified, clinical practice-friendly version was published in 2008[8]. These criteria are intended to help in guiding diagnosis and decision on therapy initiation in patients presenting with a clinical picture suggesting AIH, and have received extensive external validation since publication[9-11].
AIH is divided in type 1 and type 2, the latter being rare in adults and representing 30% of juvenile AIH. The distinction is made serologically: type 1 AIH is positive for anti-nuclear antibodies (ANA), and/or anti-smooth muscle antibodies (SMA), while type 2 AIH is positive for anti-liver kidney microsomal antibodies type 1 (anti-LKM1) and/or anti-liver cytosol type 1 (anti-LC1)[12].
AIH is the first liver disease for which pharmacologic treatment has been shown to improve survival. Indeed, it has an excellent response to steroid-based immunosuppressive therapy, with a reported response rate of 75%-90%[2]. Steroid-response is a crucial feature of AIH, and it is part of the IAIHG revised diagnostic criteria[7]. Lack of response to steroids should prompt a review of the diagnosis.
Treatment indications
If untreated, AIH has a severe prognosis. This knowledge derives from early clinical trials, when "HBsAg-negative hepatitis" (as AIH was called then) patients were treated with corticosteroids vs placebo. One placebo controlled study reported a 5-year survival rate of 32% in untreated patients vs 82% in patients treated with steroids[13]. According to the guidelines on the management of AIH by the American Association for the Study of Liver Diseases (AASLD)[2], the 6-mo survival rate in untreated patients is about 60%. Therefore, once diagnosed, AIH should be treated promptly. Elderly patients with mild pauci- or a-symptomatic disease, who have a high risk of developing steroid side effects, may be an exception, and in this clinical context treatment vs watchful waiting should be carefully evaluated case by case[14-16]. Untreated patients need a close follow-up. Treatment must be always initiated in the presence of clinical symptoms, severe biochemical and/or histological disease activity. Younger subjects, particularly children and adolescents, who have a more aggressive disease, should be treated without delay[17].
Treatment aims
The aim of treatment is disease remission, which is reached if the following criteria are met: (1) absence of clinical symptoms; (2) normal transaminase levels; and (3) normal IgG levels. In children/adolescents, negative or very low-titre autoantibodies (< 1:20 for ANA/SMA; < 1:10 for anti-LKM1) are an additional criterion of remission[3], which remains to be evaluated in adults by longitudinal studies.
In the past, transaminase levels below twice the upper limit of normal (ULN) have been considered proof of remission, but it is now clear that patients with abnormal transaminase levels have progressive disease[2,18]. Once remission is achieved, the lowest possible dose of immunosuppressive drugs should be used to maintain long-term remission with no or minimal side effects.
Disease relapse is defined as transaminase levels rising above the ULN after remission[12]. Relapse occurs mostly if the dose of the immunosuppressive drugs is reduced, or in case of non-adherence. Non-adherence is a frequent clinical problem, particularly in adolescents[19] and young adults, and is often due to real or perceived treatment side effects. It should always be suspected in case of relapse while on a stable dose of immunosuppressive drugs.
AIM AND METHODOLOGY OF THE SYSTEMATIC REVIEW
The aim of this review is, in its first part, to critically summarize the evidence on which standard AIH treatment (prednisone and azathioprine) is based, and, in its second part, to provide a systematic review of the published data on alternative treatments. For the purpose of the systematic review of the literature on alternative AIH treatment, publications cited in PubMed (http://www.ncbi.nlm.nih.gov/pubmed) were selected using the search words "autoimmune hepatitis" and "treatment". Citations were chosen on the basis of their relevance to the aim of this article (Figure 1). Fundamental characteristics of the abstracts judged pertinent to the review were noted, and full-length original articles were selected from the abstracts. Seventy-six articles were identified, 22 of them are not discussed in this review because of anedoctal reporting, the remaining 54 are included in Table 1 (adults) and Table 2 (children). Children/adolescents have a more aggressive disease, with a more frequent acute presentation[20] and therefore need a different management[17]. For this reason, the present review article discusses adult and pediatric treatment separately.
Prednisone mg/d
Azathioprine
Week 1
60.0
Check transaminase levels every week before reducing the prednisone dose: if transaminase levels stop decreasing, add azathioprine 1-2 mg/kg per day, if jaundice is subsiding
Week 2
50.0
Week 3
40.0
Week 4
30.0
Week 5
25.0
Week 6
20.0
Week 7
15.0
Week 8-9
12.5
Week 10-11
10.0
If severe steroid side effects: consider reducing to 2.5 mg/d for 2 wk and then stopping prednisone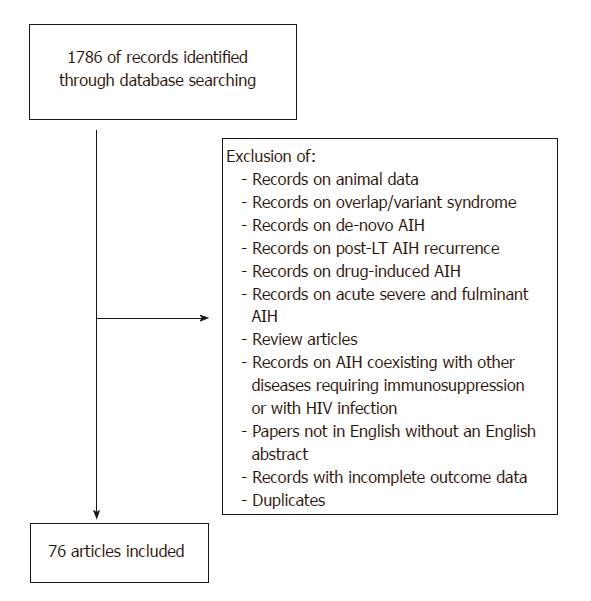 Figure 1 Selection of relevant articles for the systematic literature review on alternative AIH treatments.
AIH: Autoimmune hepatitis; LT: Liver transplantation.
Prednisone mg/kg/d
Azathioprine
Week 1
2.0
Check transaminase levels every week before reducing the prednisone dose: if transaminase levels stop decreasing, add azathioprine starting with 0.5 mg/kg per day, if jaundice is subsiding, at increasing doses up to 2-2.5 mg/kg/d until biochemical control
Week 2
1.75
Week 3
1.50
Week 4
1.25
Week 5
1.00
Week 6
0.75
Week 7
0.50
Week 8-9
0.25
Week 10-11
0.10-0.20
If severe steroid side effects: consider reducing to 2.5 mg/d for 2 wk and then stopping prednisone
ALTERNATIVE TREATMENTS
For patients who experience azathioprine side effects, ranging from the relatively frequent early gastrointestinal intolerance to the rarer and more serious bone marrow suppression, and for poor responders to standard treatment, alternative regimens are needed, primarily to avoid high-dose steroid side-effects. A systematic review of the published clinical data on pharmacological treatments different from prednisone and azathioprine is provided in this section. Treatments for whom there are only anecdotal data are not discussed cyclophosphamide[59], methotrexate[60-62], ursodeoxycholic acid[63-69], etanercept[70], plasma exchange[71], intravenous immunoglobulin[72], leukapheresis[73], chloroquine[74], thymostimulin[75], deflazacort[76,77], saireito[78], sympathomimetic amines[79], glycyrrhizin[80], fenofibrate[81].
TREATMENTS UNDER INVESTIGATION
New compounds are currently under investigation in AIH. Preliminary results of a phase 1, first-in-human trial of preimplantation factor in AIH demonstrated good safety and tolerability, but a non-significant decrease in mean transaminase levels[175]. Other investigational drugs in AIH include VAY736, which leads to B-cell depletion and B-cell activating factor receptor blockade (NCT03217422), JKB-122, which is a toll-like receptor 4 antagonist (NCT02556372) and low dose interleukin 2 (NCT01988506).
CONCLUSION
The pharmacological treatment of AIH should be personalized, because of the heterogeneity of the disease. Treatment schedules in children differ, because of the more aggressive disease course in this age group. Standard treatment, based on steroids and azathioprine, is effective in the vast majority of patients, and side-effects can be minimised by rapid prednisone tapering. Budesonide was tried as first-line treatment in an attempt to reduce steroids side-effects, but the results of a randomized controlled trial do not allow to universally recommending it as first-line treatment instead of prednisone. A minority of patients prove difficult-to-treat, either because of severe side effects from standard treatment, or resistant disease. Mycophenolate mofetil is the most widely used second-line drug, and also the drug with the highest amount of available data. Calcineurin inhibitors are alternative options, but data on their efficacy are scanty. Infliximab and rituximab may represent an additional treatment option for selected difficult-to treat cases, but their use should be restricted to specialised centres because of potentially severe side effects. New pharmaceutical treatments are currently under investigation.
Manuscript source: Invited manuscript
Specialty type: Gastroenterology and hepatology
Country of origin: United Kingdom
Peer-review report classification
Grade A (Excellent): 0
Grade B (Very good): B, B, B, B
Grade C (Good): C
Grade D (Fair): D
Grade E (Poor): 0
P- Reviewer: Dehghani S, Drenth JPH, Lee HC, Rodrigues AT, Watanabe T, Wirth S S- Editor: Ma YJ L- Editor: A E- Editor: Xu XR