Copyright
©The Author(s) 2016.
Published by Baishideng Publishing Group Inc. All rights reserved.
Combination antiretroviral studies for patients with primary biliary cirrhosis
Ellina Lytvyak, Aldo J Montano-Loza, Andrew L Mason, Division of Gastroenterology and Hepatology, University of Alberta, Edmonton T6G 2E1, Alberta, Canada
Author contributions: Both Lytvyak E and Mason AL wrote the manuscript; Lytvyak E analyzed and interpreted the data, edited the manuscript; Mason AL conceived the studies, contributed new analytic tools, analyzed and interpreted the data; all the authors contributed to this manuscript.
Supported by Research support from Alberta Innovates Health Solutions, Canadian Institutes for Health Research (to Mason AL, MOP 97798); and Canadian Liver Foundation relevant to this manuscript.
Conflict-of-interest statement: All authors have no conflict of interest to declare. Abbott and Gilead have provided antiviral therapy for patients with primary biliary cirrhosis participating in clinical trials.
Open-Access: This article is an open-access article which was selected by an in-house editor and fully peer-reviewed by external reviewers. It is distributed in accordance with the Creative Commons Attribution Non Commercial (CC BY-NC 4.0) license, which permits others to distribute, remix, adapt, build upon this work non-commercially, and license their derivative works on different terms, provided the original work is properly cited and the use is non-commercial. See: http://creativecommons.org/licenses/by-nc/4.0/
Correspondence to: Andrew L Mason, MBBS, FRCPI, Professor of Medicine, Division of Gastroenterology and Hepatology, University of Alberta, 7-142 Katz Group Rexall Centre, Edmonton T6G 2E1, Alberta, Canada. andrew.mason@ualberta.ca
Telephone: +1-780-4928176 Fax: +1-780-4921655
Received: June 8, 2015
Peer-review started: June 10, 2015
First decision: July 14, 2015
Revised: August 12, 2015
Accepted: November 9, 2015
Article in press: November 9, 2015
Published online: January 7, 2016

Following the characterization of a human betaretrovirus in patients with primary biliary cirrhosis (PBC), pilot studies using antiretroviral therapy have been conducted as proof of principal to establish a link of virus with disease and with the eventual aim to find better adjunct therapies for patients unresponsive to ursodeoxycholic acid. In the first open label pilot study, the reverse transcriptase inhibitor lamivudine had little demonstrable biochemical or histological effect after 1 year. Whereas, lamivudine in combination with zidovudine was associated with a significant reduction in alkaline phosphatase as well as improvement in necroinflammatory score, cholangitis and ductopenia over a 12 mo period. A double blind, multi-center randomized controlled trial using lamivudine with zidovudine for 6 mo confirmed a significant reduction in alkaline phosphatase, ALT and AST in patients on antiviral therapy. However, none of the patients achieved the stringent endpoint criteria for normalization of alkaline phosphatase. Furthermore, some patients developed biochemical rebound consistent with drug resistance. A major fault of these studies has been the inability to measure the viral load in peripheral blood and therefore, provide a direct correlation between improvement of hepatic biochemistry and reduction in viral load. Nevertheless, viral mutants to lamivudine with zidovudine were later characterized in the NOD.c3c4 mouse model of PBC that has been used to test other antiretroviral regimens to betaretrovirus. The combination of tenofovir and emtricitabine reverse transcriptase inhibitors and the HIV protease inhibitor, lopinavir were found to abrogate cholangitis in the NOD.c3c4 mouse model and the same regimen normalized the liver tests in a PBC patient with HIV and human betaretrovirus infection. This combination antiretroviral therapy has now been used in a double blind randomized controlled crossover study for patients with PBC followed by an open label extension study. Only a third of the PBC patients were able to tolerate the lopinavir but those maintained on tenofovir, emtricitabine and lopinavir experienced sustained and clinically meaningful reduction in hepatic biochemistry. While we await the histological and virological evaluation, it is clear that better tolerated regimens of antiretroviral treatment will be required in future clinical trials.
Core tip: Early experience with antiretroviral therapy in primary biliary cirrhosis (PBC) patients strongly suggests that reverse transcriptase inhibitors alone lack efficacy to provide sustained and clinically meaningful biochemical responses. In contrast, combination antiretroviral therapy with human immunodeficiency virus protease inhibitors have been linked with robust and long-lived biochemical responses in PBC patients capable of tolerating the therapy. The use of digital droplet polymerase chain reaction has markedly improved the sensitivity of viral detection in peripheral blood and should enable studies to link reduction in viral load with improvements in hepatic biochemistry and histology.
---
Citation: Lytvyak E, Montano-Loza AJ, Mason AL. Combination antiretroviral studies for patients with primary biliary cirrhosis. World J Gastroenterol 2016; 22(1): 349-360
---
INTRODUCTION
In 2003, our group characterized a human betaretrovirus (HBRV) in patients with primary biliary cirrhosis (PBC) as part of an international collaboration. The discovery of a virus in PBC was unexpected because most researchers at the time were studying the role of molecular mimicry of bacterial proteins with mitochondrial antigens[1]. Although studies have linked infection with a disease specific mitochondrial phenotype in cell culture and in mouse models of PBC, we currently lack definitive ways to prove a causal association between HBRV infection and PBC[2]. Indeed, it is challenging to provide proof of any infectious process in a complex and chronic disease with genetic predisposition[3]. Accordingly, there is a justification for performing interventional studies aimed at investigating a causal association between microbe and disease[4,5]. One of our clinical objectives, therefore, has been to conduct a proof of principal interventional study to link HBRV infection with PBC[6] and to identify safe and efficacious antiviral regimens for patients with PBC[7,8].
At the time we initiated pilot clinical studies prior to 2003, lamivudine was commonly used to treat patients with hepatitis B virus infection[9]. As this reverse transcriptase inhibitor had broad coverage and a proven safety record in patients with liver disease, we embarked on the first antiviral study in patients with PBC. We subsequently progressed to using dual reverse transcriptase inhibitors[9,10] and then HIV protease inhibitors[11], once we had demonstrated utility of these regimens in vitro and in mouse models of PBC[8]. Herein, we give an overview of the investigation of antiretroviral activity against betaretroviruses and our experience to date in treating patients with PBC with antiviral therapy.
DISCOVERY OF THE HUMAN BETARETROVIRUS IN PRIMARY BILIARY CIRRHOSIS
In the years running up to 2003, several exploratory studies were conducted looking for potential environmental triggers for PBC. We found no evidence of bacterial infection in PBC patients livers using 16s RNA PCR and turned to the subtractive hybridization methodology, representational difference analysis to uncover viral sequences in a PBC patient's liver[12]. Follow up studies were performed to demonstrate serum reactivity to viral proteins in PBC patients serum using Western blots[13] and virus-like particles in biliary epithelium isolated from PBC patients by electron microscopy[14]. Then an unbiased approach was employed using consensus PCR primers capable of amplifying retroviral pol gene sequences to identify a betaretrovirus pol sequence. The full-length virus was cloned from PBC patient samples that shared marked nucleotide similarity with the mouse mammary tumor virus (MMTV), a betaretrovirus associated with breast cancer in mice[14,15]. The HBRV was also found to have 97% identity with human mammary tumor virus sequences found in human breast cancer samples[16,17]. The agent was referred to as HBRV because of the similarity with the mouse betaretrovirus, MMTV[14-16]. HBRV is an exogenous virus that is not encoded within the human genome as an endogenous retrovirus. Whereas MMTV is encoded in the genome of most mice and infection can be acquired from an exogenous source, such as breast milk or from an endogenously expressed provirus[18]. At present, it is not known whether HBRV infection in humans is passaged as a zoonosis from mice or acquired as a result of spread from other infected individuals.
ROLE OF HUMAN BETARETROVIRUS IN PRIMARY BILIARY CIRRHOSIS
The role that HBRV plays in the pathogenesis of PBC is still debated[2,19]. In early studies, the virus was predominantly detected in lymph nodes rather than in the liver, similar to observations of MMTV infection in mice[20]. Approximately 75% of peri-hepatic lymph node samples derived from PBC patients at the time of liver transplantation were positive for HBRV protein and RNA, whereas only 1 in 3 PBC patients had detectable HBRV RNA in the liver[14]. Other groups experienced difficulty with detection virus in the liver. For example, one lab was unable to detect viral DNA in PBC liver using a single round of PCR and a separate group found HBRV in 5% of patients with PBC during a survey of liver disease patients for infection[21]. In agreement, our lab rarely found hepatic HBRV DNA (about 5%) using nested-PCR. Taken together, these studies are concordant and suggest that more sensitive techniques have a higher detection rate in different tissue compartments[4,14]. Nevertheless, the perceived lack of detection of HBRV at the site of disease has caused considerable controversy and confusion[21,22]. Indeed, Selmi et al[22] suggested, "In our opinion, the only possible final evidence for a role of a betaretrovirus in PBC could be provided by the direct demonstration, possibly through chromatograms, of the insertion of viral sequences in the genome of a large number of patients with PBC".
It is generally agreed that the detection of proviral integrations is considered the gold standard to confirm retroviral infection. To address this issue, ligation mediated-polymerase chain reaction (PCR) was used to identify the junction regions where the betaretroviral long terminal repeat joins up with the human genome. Next generation sequencing was employed to characterize the proviral integrations and increase the sensitivity of the reactions. In these studies, HBRV proviral integrations and HBRV RNA were detected in two thirds of PBC patients' biliary epithelium samples[23]. Viral integrations studies also established the presence of HBRV in PBC patients' lymph nodes, whereas integrations were rarely observed in the liver, in keeping with clinical observations from most laboratories. In vitro studies confirmed that PBC patients' lymph nodes harbored infectious virus following the isolation of the HBRV in cell culture[24]. Taken together, these data suggest that HBRV can be found at the site of disease and isolated from patients with PBC.
The prevalence studies also revealed the presence of HBRV in patients without PBC, bringing up the concern with lack of specificity. In our viral integration studies, infection was commonly found in patients with cryptogenic liver disease and autoimmune hepatitis (AIH) as well as a small a proportion of control samples[23]. We had previously observed HBRV in patients with AIH[25], which is consistent with the knowledge that up to 20% of patients with PBC have overlap features with AIH[26,27]. These data suggest a hypothesis that HBRV may be associated with different phenotypic manifestations of liver disease modulated by genetic and other factors. However, another lab using nested PCR found HBRV in patients with various hepatic diagnoses - but not healthy controls[21]. If HBRV infection is associated with the development of liver disease per se, these data could be compared with early observations following the discovery of hepatitis C virus. Viral infection was not just confined to those with blood transfusions and high risk behavior but also found in patients with various diagnostic categories, such as alcoholic liver disease, hepatitis B virus co-infection, autoimmune hepatitis and cryptogenic cirrhosis to name a few. Another consideration is that better diagnostic methods will be required to determine the true prevalence of HBRV infection in patients and healthy subjects as PCR studies can be prone to artifact.
It is important to emphasize that the association of HBRV with PBC does not imply causation as many further layers of proof are required to support an etiological role for virus and in the disease process[2]. In this regard, it is interesting that HBRV has been linked with a disease specific phenotype of PBC. It is thought that patients with PBC make anti-mitochondrial antibodies (AMA) because the mitochondrial antigen that reacts with AMA is found exposed on the cell surface of biliary epithelium and peri-hepatic lymph nodes[28]. This in turn leads to the loss of tolerance to self-proteins. HBRV is implicated in the process because viral proteins have been found in the same cells that have the aberrant mitochondrial protein expression in PBC patients' lymph nodes[14]. As lymph nodes are a major reservoir for HBRV in humans, we used lymph nodes homogenates to construct an in vitro transmission model of PBC. In these studies, the homogenates were co-cultured with normal biliary epithelial cells that developed cell surface expression of the AMA reactive mitochondrial proteins[29]. Subsequently, pure isolates of MMTV and HBRV were shown to promote the PBC phenotype, whereas control viruses did not. Taken together, these studies provide a theoretical model for the viral induction of autoimmunity where the virus triggers an immune response to viral proteins but at the same time the lymphocytes respond to self antigens that are usually hidden within the cells[1].
ROLE OF MOUSE MAMMARY TUMOR VIRUS IN AUTOIMMUNE BILIARY DISEASE
MMTV has also been linked with a disease specific phenotype of PBC in mice models of autoimmune biliary disease[8,30]. These PBC mouse models are mainly derived from immunodeficient mice that develop spontaneous liver disease with AMA production[3,31]; they include the NOD.c3c4 mouse[32,33], IL-2 receptor α-/-[34], T cell TGF-β receptor II dominant-negative (dnTGFβRII)[35], and Scurfy mouse lacking T regulatory cells[36]. The NOD.c3c4 mouse has several features of PBC with progressive granulomatous cholangitis and liver failure, whereas the other models die from multi-organ disease[36-39]. However, the NOD.c3c4 mouse also has features inconsistent with PBC, such as cystic dilatation of bile ducts (Figure 1).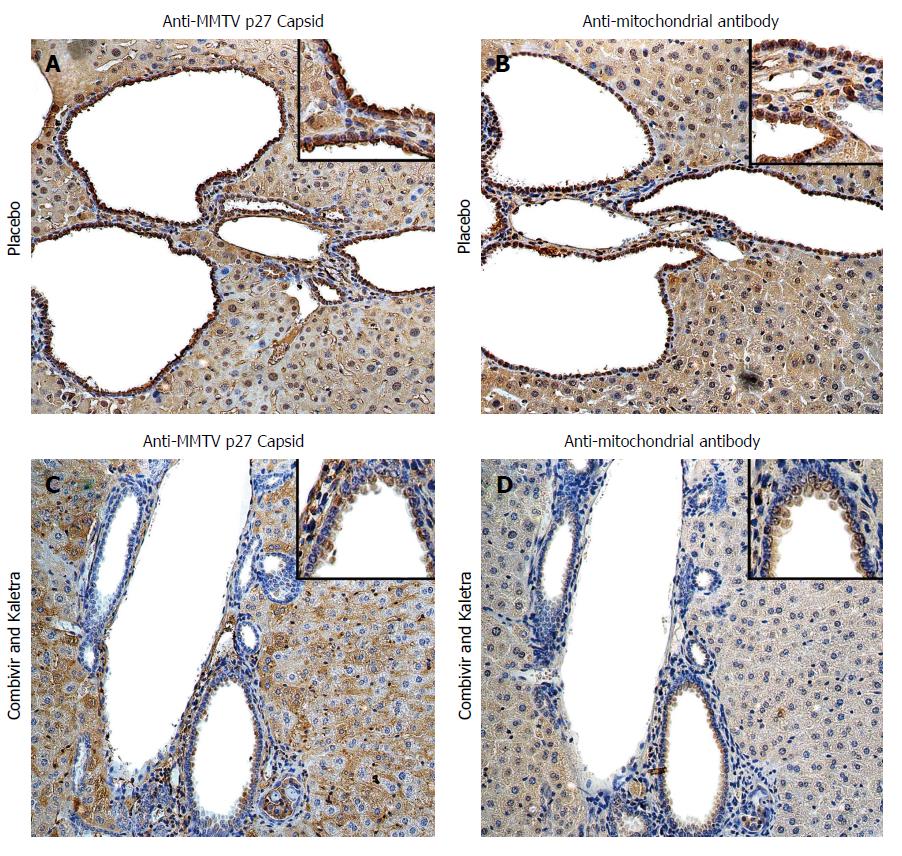 Figure 1 Hepatic immunohistochemistry study of NOD.
c3c4 mice treated with placebo (A and B) or tenofovir/emtricitabine and lopinavir/ritonavir (C and D) for 12 wk. A: Mice receiving placebo showed anti-MMTV p27 Capsid reactivity in biliary epithelial cells and hepatocyte nuclei to a lesser extent; B: The distribution of anti-mitochondrial antibody staining was observed in a similar biliary distribution pattern on the bile duct epithelium; C and D: The reactivity to both viral and mitochondrial proteins was attenuated in mice treated with tenofovir/emtricitabine and lopinavir/ritonavir. Haematoxylin eosin staining, magnification × 2009 with × 4009 in insets showing staining in biliary epithelial cells. With permission from Sharon et al[8].
MMTV is common in laboratory mice and the frequent appearance of AMA in immunodeficient mice suggested a hypothesis that disease was being triggered by MMTV[31]. The viral infection may be acquired from an endogenous MMTV provirus source or from an exogenous infection passaged in milk[18]. Indeed, it is known that endogenous retroviruses can recombine and emerge as pathogens in mice with defective innate and adaptive immune responses[40,41]. Evidence for a similar process was found in autoimmune biliary disease mouse models, where MMTV infection was located in lymphoid tissues that also expressed AMA reactive protein[30]. The NOD.c3c4 had evidence of MMTV proteins in the bile ducts associated with mitochondrial protein expression (Figure 1A and B). Moreover, the NOD.c3c4 mice were found to develop contemporaneous humoral immune responses to MMTV with AMA production[30]. These data are consistent with the model that betaretrovirus infection triggers autoantigen expression that in turn, breaks tolerance to self-antigens[1].
Using mouse models to test combination antiretroviral therapy against betaretrovirus
The NOD.c3c4 model has been treated with anti-retroviral therapy to investigate whether MMTV is implicated in the development of autoimmune biliary disease. It has been established that MMTV is sensitive to the HIV reverse transcriptase inhibitors zidovudine[42] and tenofovir[43] and the HIV protease inhibitor lopinavir[7] in vitro. Accordingly, the in vivo mouse model studies have served the dual purpose for examining whether specific antiviral regimens may be useful for testing in translational studies for patients with PBC as well.
For the NOD.c3c4 studies, mice were treated from age 8 weeks to 20 wk and evaluated for reduction in alkaline phosphatase (ALP), hepatic MMTV levels as well as liver histology using the Ishak score. Up to 20 mice per group were treated with the reverse transcriptase inhibitors lamivudine and zidovudine (CombivirTM) alone or in combination with lopinavir boosted with ritonavir or tenofovir and emtricitabine (TruvadaTM) alone or in combination with KaletraTM. The important finding was that groups treated with combination antiretroviral with lopinavir - with either lamivudine/zidovudine or tenofovir/emtricitabine - developed a significant reduction in ALP, hepatic MMTV RNA levels and viral proteins within the liver (Figure 1) associated with marked amelioration in cholangitis and necroinflammatory score in the liver[8]. Whereas NOD.c3c4 mice treated with lamivudine/zidovudine or tenofovir/emtricitabine alone fared less well with hepatic biochemistry and histology. Indeed, some mice treated with lamivudine and zidovudine developed high levels of MMTV indicative of viral resistance to therapy. This occurrence was associated with variants in the MMTV pol gene (Figure 2), which are consistent with escape variants similarly reported with HBV and HIV infection as a result of lamivudine treatment[8]. Indeed, we observed evidence for virological resistance in our pilot studies of lamivudine and zidovudine therapy in patients with PBC, where one individual developed a picture of biochemical and virological rebound (Figure 3). In summary, the NOD.c3c4 studies suggest a role of MMTV in the development of autoimmune biliary disease and have provided a valuable resource for evaluating potential regimens in randomized controlled trials for patients with PBC.

Figure 2 Variations in MMTV pol gene were observed after 12 wk lamivudine/zidovudine therapy in the NOD.
c3c4 mouse. Alignment of amino acid sequence 136-198 of MMTV Pol P03365.2 using ClustalW alignment (MacVector 11.1 software) showing the amino acid variations W150R, R176G, Y183H, M188V and L192P in five clones derived from two mice treated with lamivudine/zidovudine that were not observed in control mice on placebo. Variants G160S and D181N were observed in mice receiving placebo and antiretroviral therapy. With permission from Sharon et al[8].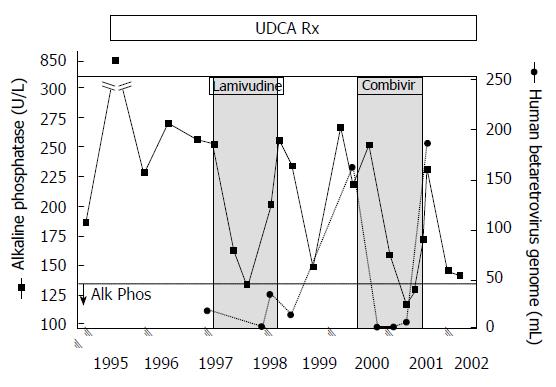 Figure 3 Viral and biochemical rebound in a patient with primary biliary cirrhosis treated with antiviral therapy.
Partial biochemical response was observed after starting lamivudine treatment by 3 mo that relapsed. With the commencement of CombivirTM therapy, the patient normalized alkaline phosphatase from months 6 and 9 with a concomitant loss of viremia, which then rebounded with increased alkaline phosphatase levels and recurrent viremia. With permission from Mason et al[9].
EXPERIENCE IN TREATING PBC PATIENTS WITH ANTIRETROVIRAL THERAPY
Two major issues arise with evaluating new therapies for PBC. The first is who to treat and the second is what endpoints to use. It has been well documented that patients unresponsive to the standard of care with ursodeoxycholic acid (UDCA) have a diminished survival and are in need of additional therapy[5,44]. As multiple criteria have been used to predict response to treatment, a global PBC consortium has used collective data to demonstrate that both ALP and bilirubin act as good surrogate markers for survival and have arrived at a Global scoring system to predict patients at risk for transplantation[45-47]. These studies help to provide guidance for an accurate assessment of the patients in need of treatment with adjunctive therapy to UDCA as well as inclusion criteria for clinical trials.
The Global PBC studies also provide insight into appropriate endpoints for clinical trials. Large prospective studies have been performed to study outcomes with PBC without providing positive data leading us to rethink the appropriate endpoints for studying intervention in PBC[48,49]. For example, the methotrexate multi-center RCT of 265 PBC patients was stopped after 11 years due to lack histological effect of the treatment in 2005[49]. Subsequently, the American Association for the Study of Liver Disease (AASLD) have recommended the following for PBC studies: patients should be on UDCA (unless the medication was not tolerated), biochemical markers with drop in ALP levels and normalization of bilirubin are satisfactory primary endpoints after 6 mo therapy and histology can be used as a primary endpoint[50]. The major discussion now is what constitutes a meaningful reduction. The criteria most recently used in a phase 3 study of obeticholic acid for patients with PBC was a reduction of ALP to less than 1.67 × the upper limit of normal and ≥ 15% reduction and a total bilirubin less than or equal to the upper limit of normal[51].
However, these measures were not in practice for the first studies of antiretroviral therapy in patients with autoimmune liver disease. These were designed to determine whether antiviral therapy might have any biochemical or histological impact on the disease process and find out whether antiviral treatment is safe and well tolerated in patients with PBC[6,9-11].
FUTURE DIRECTIONS FOR ANTIRETROVIRAL THERAPY IN PATIENTS WITH PBC
There is a need to find better adjunctive therapy for PBC patients unresponsive to UDCA. This cohort constitutes over a third of all PBC patients and contributes up to 10% of patients requiring liver transplantation worldwide. There are now credible data based on our long-term extension study that combination antiretroviral therapy should be studied further in the setting of randomized controlled trials as adjunctive therapy with UDCA. Some of the previous barriers to investigating antiretroviral therapy in PBC have been circumnavigated. It has been established that the majority of PBC patients have evidence of HBRV in their bile ducts and digital droplet PCR has considerably improved the frequency of detecting HBRV in peripheral blood.
While the lack of tolerability of lopinavir is disappointing, the in vitro studies and combination antiretroviral studies stand as a proof of principal that protease inhibitors for HIV may also serve to inhibit HBRV as well. However, HBRV was still present in all but one patient after six months therapy suggesting that despite the additional benefit of a protease inhibitor, the antiviral potency of tenofovir/emtricitabine and lopinavir/ritonavir is limited for HBRV. Ongoing laboratory studies in vitro and in vivo suggest that other HIV protease inhibitors and integrase inhibitors may provide superior antiviral effect and most of these medications are better tolerated than lopinavir/ritonavir. Once better regimens have been identified, it will be worth conducting pilot studies to assess efficacy and safety in patients with PBC, in order to provide better outcomes for those with progressive liver disease unresponsive to UDCA.
P- Reviewer: Gatselis NK, Malnick SDH S- Editor: Yu J L- Editor: A E- Editor: Wang CH