Copyright
©2014 Baishideng Publishing Group Co.
, Limited. All rights reserved.
Proteomics for discovery of candidate colorectal cancer biomarkers
Paula Álvarez-Chaver, Unidad de Proteómica, Servicio de Determinación Estructural, Proteómica y Genómica, Centro de Apoyo Científico y Tecnológico a la Investigación, Universidad de Vigo, Campus As Lagoas-Marcosende, 36310 Vigo (Pontevedra), Spain
Olalla Otero-Estévez, María Páez de la Cadena, Francisco J Rodríguez-Berrocal, Vicenta S Martínez-Zorzano, Área de Bioquímica y Biología Molecular, Departamento de Bioquímica, Genética e Inmunología, Facultad de Biología, Universidad de Vigo, Campus As Lagoas-Marcosende, 36310 Vigo (Pontevedra), Spain
Author contributions: Álvarez-Chaver P and Martínez-Zorzano VS designed this review; Álvarez-Chaver P, Otero-Estévez O, Páez de la Cadena M, Rodríguez-Berrocal FJ and Martínez-Zorzano VS contributed equally to the writing of this manuscript.
Supported by Xunta de Galicia (10PXIB310215PR), REGICC (CN 2012/217), Fundación Científica de la Asociación Española contra el Cáncer (GCB13131592CAST), Fondo de Investigaciones Sanitarias (PI12/00117) and FEDER founding
Correspondence to: Vicenta S Martínez-Zorzano, PhD, Área de Bioquímica y Biología Molecular, Departamento de Bioquímica, Genética e Inmunología, Facultad de Biología, Universidad de Vigo, Campus As Lagoas-Marcosende, 36310 Vigo (Pontevedra), Spain. vzorzano@uvigo.es
Telephone: +34-986-812575 Fax: +34-986-812556
Received: October 25, 2013
Revised: January 24, 2014
Accepted: March 8, 2014
Published online: April 14, 2014

Colorectal cancer (CRC) is the second most common cause of cancer-related deaths in Europe and other Western countries, mainly due to the lack of well-validated clinically useful biomarkers with enough sensitivity and specificity to detect this disease at early stages. Although it is well known that the pathogenesis of CRC is a progressive accumulation of mutations in multiple genes, much less is known at the proteome level. Therefore, in the last years many proteomic studies have been conducted to find new candidate protein biomarkers for diagnosis, prognosis and as therapeutic targets for this malignancy, as well as to elucidate the molecular mechanisms of colorectal carcinogenesis. An important advantage of the proteomic approaches is the capacity to look for multiple differentially expressed proteins in a single study. This review provides an overview of the recent reports describing the different proteomic tools used for the discovery of new protein markers for CRC such as two-dimensional electrophoresis methods, quantitative mass spectrometry-based techniques or protein microarrays. Additionally, we will also focus on the diverse biological samples used for CRC biomarker discovery such as tissue, serum and faeces, besides cell lines and murine models, discussing their advantages and disadvantages, and summarize the most frequently identified candidate CRC markers.
Core tip: Proteomics is an important tool for the identification of candidate cancer biomarkers since it allows the simultaneous analysis of multiple differentially expressed proteins in a single study. This review provides an overview of recent reports focused on the different proteomic tools used for the discovery of candidate protein markers for colorectal cancer (CRC), such as two-dimensional electrophoresis methods, quantitative mass spectrometry-based techniques or protein microarrays. We also emphasize the use of different samples including cell lines, murine models, clinical samples as tissue, serum or faeces, for CRC biomarker discovery, discussing their advantages and disadvantages, and finally summarize the candidate CRC markers most frequently identified.
---
Citation: Álvarez-Chaver P, Otero-Estévez O, Páez de la Cadena M, Rodríguez-Berrocal FJ, Martínez-Zorzano VS. Proteomics for discovery of candidate colorectal cancer biomarkers. World J Gastroenterol 2014; 20(14): 3804-3824
---
INTRODUCTION
Colorectal cancer (CRC) is the second most frequently diagnosed cancer and the second most common cause of cancer-related deaths in Europe and other Western countries[1]. This is mainly due to the lack of well-validated and clinically useful biomarkers with adequate sensitivity and specificity to detect this disease at early stages. Over the last two decades CRC survival rates have barely changed, with more than 50% of the patients having regional or distant metastasis at the time of presentation[2].
However, CRC is potentially curable if detected early before the development of metastasis. After the surgical resection of a tumour that is still localized to the colon or rectum (Duke's stage A) patients have a 5-year survival rate of more than 90%. Contrarily, patients with Duke's stage D cancer, where the tumour has spread to other organs, have a 5-year survival rate of less than 10%[2]. Nowadays it is well known that the pathogenesis of CRC is a progressive accumulation of mutations in multiple genes such as APC, KRAS and p53[3]. CRC development is a multi-step process that usually spans about 5-10 years, which offers a period of several years to detect the tumour in an early stage and to interfere with the natural course of the disease[4].
Early detection of CRC can therefore significantly reduce the mortality for this malignancy. However, current screening methods including faecal occult blood test (FOBT), sigmoidoscopy, colonoscopy and virtual computed tomography scanning either lack the required sensitivity and specificity or are costly and invasive[5]. Some biomarkers such as the circulating carcinoembryonic antigen (CEA) levels and tumour-associated gene mutations have only shown some prognostic or predictive value. In particular, the KRAS mutation has been proposed as a marker of probable failure of epidermal growth factor receptor (EGFR)-targeted therapy[6]. In patients with metastasis, for whom no curative options remain, therapies include the combination of traditional chemotherapy with the use of new drugs. There is therefore an urgent need for developing new screening tests and identifying new biomarkers to diagnose, predict, and monitor the progress of CRC, and eventually find more efficient drug targets for this disease.
Following the genomics revolution, recent technological advancements allow the proteomic analyses of complex protein mixtures. Proteins, not only genes, are responsible for the phenotypes of cells, therefore it is impossible to elucidate mechanisms of disease solely by studying the genome. Proteomics is the large-scale study of proteins to comprehensively map biological processes such as the molecular mechanisms of carcinogenesis[7]. The proteome is more complex than the genome due to alternative transcription initiation, alternative splicing, RNA editing, proteolytic processing and post-translational modifications (phosphorylation, glycosylation, etc.), among others. Therefore, the knowledge of the human proteome is an extraordinary challenge. Proteomics can be defined as the discipline that includes the set of methodologies used for the large-scale study of a proteome, i.e. the set of proteins in an organism, a cell or any biological system, in a given time and under certain conditions. It should be noted that proteomics does not focus exclusively on the identification and quantification of these proteins, but also in the study of their location, their modifications, their interactions and their functions.
Proteomic studies generate large protein databases and an expanding list of candidate protein markers that are differentially expressed in CRC patients, identified using two-dimensional electrophoresis (2-DE) and two-dimensional differential in-gel electrophoresis (2D-DIGE) techniques[8]. As an alternative to 2-DE and 2D-DIGE, proteomic studies have also employed the technique of direct expression profiling of tumour and normal tissue by surface-enhanced laser desorption/ionization time-of-flight mass spectrometry (SELDI-TOF-MS) or by matrix-assisted laser desorption/ionization time-of-flight mass spectrometry (MALDI-TOF-MS)[9]. With these approaches, the reproducible spectra profiles of tumour and normal tissue are used to generate classification models. More recently, the technique of choice is the LC-MS/MS (liquid chromatography-tandem mass spectrometry), as it is more rapid and sensitive. With this methodology, commonly referred to as shotgun analysis, proteins from a complex mixture are collectively in-solution digested and the resulting complex mixture of peptides is separated by high-performance liquid chromatography (HPLC). Then, chromatographic fractions are introduced directly into a sensitive tandem mass spectrometer capable of isolating and fragmenting individual peptides. Protein identification is performed at the level of peptide fragmentation patterns acquired during tandem MS, which are indicative of the amino acid sequence.
Briefly, in this review we provide an overview of recent reports describing the different proteomic techniques used and the diverse biological samples employed for the discovery of new candidate protein markers for CRC.
PROTEOMIC TECHNIQUES FOR COLORECTAL CANCER BIOMARKER DISCOVERY
The analysis of the proteome changes between normal and diseased samples is known as comparative proteomics and is fundamental for the discovery of candidate cancer biomarkers. This area of proteomics employs the techniques described below and the workflows outlined in Figure 1.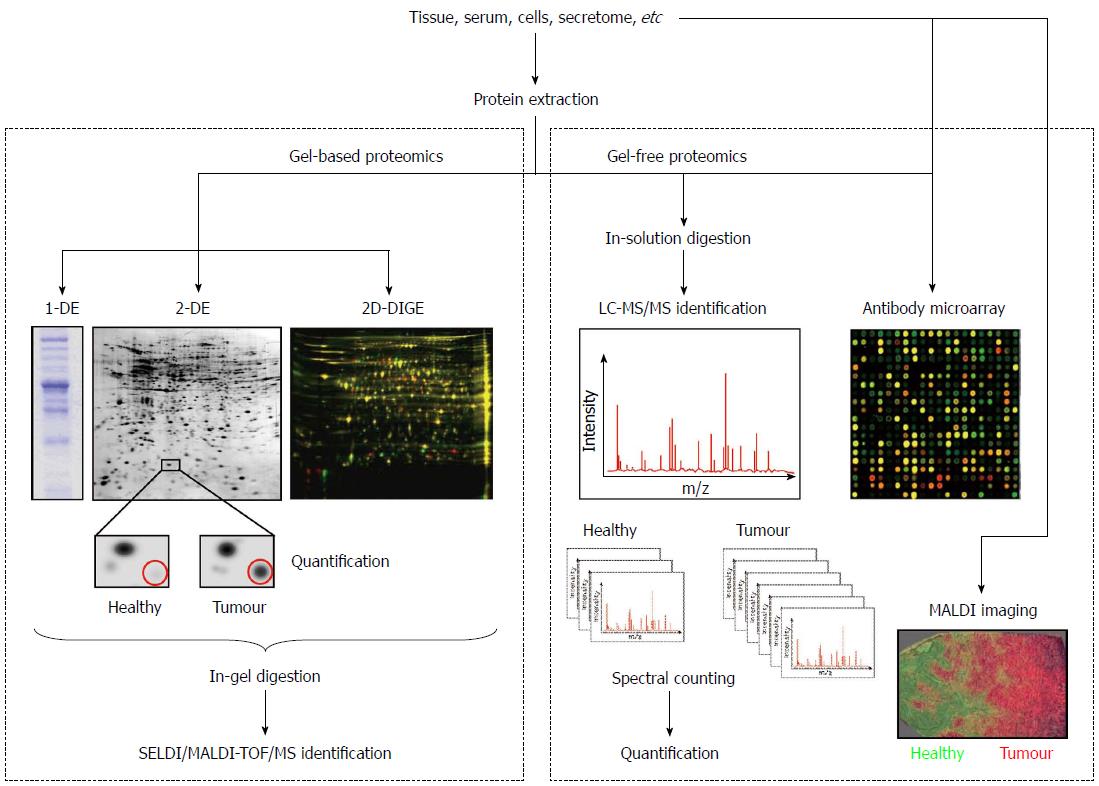 Figure 1 Schematic representation of the principal workflows used in proteomics for colorectal cancer biomarker discovery.
Please note that for both gel-based and gel-free proteomics only one of the quantification methods is shown. DE: Dimensional electrophoresis; 2D-DIGE: Two-dimensional differential in-gel electrophoresis; SELDI: Surface-enhanced laser desorption/ionization; MALDI: Matrix-assisted laser desorption/ionization; TOF: Time of flight; MS: Mass spectrometry.
1-D electrophoresis
For many proteomic applications, 1-D electrophoresis (1-DE) is the method of choice to resolve protein mixtures. Proteins are solubilised in sodium dodecyl sulphate (SDS) and then separated on the basis of their molecular weight (MW). This technique is simple to perform, is reproducible, and can be used to resolve proteins with molecular masses ranging between 10 and 300 kDa[10]. Due to its limited resolving power, the most common application of 1-DE is the characterization of proteins after a purification procedure[11]. Nowadays, it is also often employed to carry out the digestion of samples to be analysed by LC-MS/MS because it is more effective than in-solution digestion. For example, Lim et al[12] employed SDS polyacrylamide gel electrophoresis (PAGE) to overcome the limitation of two-dimensional (2-D) electrophoresis for resolving extreme acidic, basic, or membrane proteins. In their study, the protein bands were subjected to in-gel digestion and protein analysis was performed using electrospray ionization (ESI) ion trap mass spectrometer. Among the differentially expressed proteins they identified low abundant proteins and proteins with extreme pH, which were previously not detected in 2-D gels. In another study, a lectin affinity-based approach followed by the same proteomic strategy (SDS-PAGE coupled to LC-MS/MS) was employed to detect differentially expressed secreted proteins in the secretome (conditioned media) of cultured paired normal and CRC tissues. EGF-containing fibulin-like extracellular matrix protein 2 (EFEMP2) was found up-regulated and was further validated by immunohistochemistry (IHC) at tissue level and enzyme-linked immunosorbent assay (ELISA) at serum level. The expression level of EFEMP2 was dramatically increased in CRC patients, even at early stages. Moreover, the diagnostic accuracy of EFEMP2 was superior to that of CEA, with an area under the receiver operating characteristic curve of 0.923 and 0.728, respectively. These authors concluded that EFEMP2 is a promising serum biomarker for the early detection of CRC[13].
2-D electrophoresis
Although 2-DE is commonly described as a laborious technique with low throughput that requires a relatively large amount of sample, its capability to separate thousands of proteins in a single analysis made it a major player in the profiling of protein expression in cancer and the core technology for protein separation prior MS characterization. In fact, this procedure offers a good resolution because it combines two types of gel electrophoresis techniques: isoelectric point (pI)-based protein separation by isoelectric focusing (IEF) and MW separation by SDS-PAGE.
Traditionally, a comparative proteomic study involves the extraction of the protein content from the samples (tissue, serum, cells, etc.) in an appropriate lysis buffer, the separation of samples on 2-D gels, the staining of gels with a protein stain such as Coomassie brilliant blue, silver nitrate or SYPRO, the acquisition of images and the matching of protein spots using a statistical package[14] such as Melanie, PDQuest or Progenesis Samespots. These analyses generate two master 2D maps, one for the healthy samples and another one for the pathological samples. Subsequent analyses with the same software compare the two maps to detect proteins which are present in greater or lesser quantities in one of the samples. Then, differentially expressed proteins are excised and subjected to in-gel digestion with trypsin for MS identification in protein databases.
Using 2-DE, often referred to as gel-based proteomics, protein isoforms and variants expressed by a biological system (tissue, cells, etc) may be displayed, allowing the visualization of different phenotypes[15,16]. However, it is clear that classical 2-DE has several limitations. For example, proteins that are low-abundant, or have a MW lower than 10 kDa or higher than 150 kDa, as well as those with very basic pI values, are seldom detected using conventional gels. Moreover, insolubility precludes the penetration inside the gels of hydrophobic or membrane-associated proteins that are of special interest in the biomarker discovery field. However, since its development in the 1970s as the first approach to separate complex protein mixtures, the role of 2-DE in the proteomics workflow has been well preserved due to the emergence of new methodologies and protocols that overcome its limitations. In 1975 the first buffer for protein solubilisation was introduced, but the proposed procedure was not very suitable for membrane-associated, alkaline or hydrophobic proteins separation[14]. To perform a complete protein solubilisation several additives must be included in the buffers, such as chaotropes (urea, thiourea) to prevent protein aggregation, detergents (Triton x 100 or CHAPS) to increase the solubility of certain proteins, and reducing agents such as dithiothreitol (DTT) to reduce disulphide bonds. After disulphide links reduction, the newly produced free sulphidryl groups must be protected by alkylation, being iodoacetamide (IAA) the alkylating reagent most compatible with 2-DE. Moreover, sample solubilisation can be improved by procedures such as agitation and ultra-sonication[17].
Using gel-based proteomics, many studies have been carried out in order to find new CRC biomarkers. Among the most recent we can highlight the work of Chen et al[18] who found an overexpression of alpha-enolase, the heat shock protein HSP27 and macrophage migration inhibitory factor (MIF) in tumour tissue of CRC patients with low preoperative serum CEA. They corroborated that serum alpha-enolase and MIF were significantly overexpressed in those patients, improving the diagnosis of primary CRC when combined with the determination of preoperative CEA levels. Other examples of 2D gel-based discovery studies that have yielded novel candidate CRC serum markers include S100A8 and S100A9[19], and desmin[20].
Besides comparisons between normal and tumour-derived tissues, several 2D gel studies have analysed metastatic and non-metastatic CRC tissues and have validated candidates for CRC markers using IHC and functional analyses in cell lines and mouse models. Zhao et al[21] performed a comparative proteomic analysis to show that Rho GDP-dissociation inhibitor (RhoGDI) is markedly up-regulated in metastatic CRC, validating the result by Western blot in tissue and cells and by IHC in 126 pathologically characterized CRC cases. RhoGDI was shown to correlate with tumour invasion, lymph node metastasis and clinical stage. Authors also demonstrated that the transfection of the RhoGDI gene in HT29 cells with low levels of this inhibitor resulted in an increase in cell proliferation and motility in vitro. In another similar study, the same authors showed that gene transfection-mediated overexpression of LIM and SH3 domain protein 1 (LASP-1) in SW480 human colon adenocarcinoma cells resulted in an aggressive phenotype of cancer cells and promoted cancer growth and metastasis[22]. More recently, using 2D serum proteome analysis combined with MS, transthyretin (TTR) was also identified by these authors as a specific marker of CRC metastasis[11]. Other CRC tumour markers, which have been widely studied by our group through the use of 2D technology, are the proteins clusterin[23] and nucleoside diphosphate kinase A (NDK A)[24].
As we have mentioned above, many proteomic studies from the past 10 years have focused on the comparison of colorectal tumour and adjacent normal mucosa tissues. These analyses predominantly employed 2D gel separation of total tissue lysates which limit the loading amount of sample, restricting the analysis to the more abundant proteins that mask minor proteins that could be interesting as possible CRC marker candidates. In an attempt to identify less abundant CRC proteins, few studies have combined more targeted approaches with 2-DE, including studies focusing on membrane proteins[25,26] or basic proteins[27,28]. Despite these targeted attempts, the analyses still are largely limited to abundant proteins that are found overexpressed in several tumours, such as structural proteins, glycolytic enzymes or heat shock proteins. In serum 2D analysis, the previous depletion of albumin and IgG, which account for more than 60% of the total serum proteins, may result in the loss of potentially important proteins bounded to them. Therefore, sample preparation improvements like sonication before the depletion and desalting steps allowed the detection of valuable, low abundant proteins in serum of CRC patients[11]. Other improvements of 2-DE were the introduction of new gels which can separate proteins with extreme pI values and/or make use of narrow range pH gradients for increased resolution, as well as the use of improved pre-fractionation strategies. Consequently, 2-DE remains as a pivotal methodology for the display of an extensive image of a complex mixture of proteins.
Differential in-gel electrophoresis
An exciting advance in 2-DE, which improved the speed and reproducibility of conventional 2-DE, was introduced by Unlü et al[29]. This technology is called differential in-gel electrophoresis (DIGE). Basically, different protein samples (healthy vs pathological, for example) are labelled on lysine side chains with succinimidyl esters of propyl-Cy3 and methyl-Cy5, two fluorophores that emit light at different wavelengths (Figure 1). An internal standard is prepared by pooling equal amounts of samples, labelled with a third dye (Cy2). The protein samples are mixed prior to separation and loaded onto the 2D gel together. After electrophoresis, the 2-D pattern is visualized by imaging the gel with a fluorescence scanner by sequential excitation of the fluorescent dyes. Three images are obtained, which are combined to identify pattern differences. Because the samples run together, differences in gel preparation, running conditions and local gel structure are eliminated, making this technique of great utility for biomarker studies. However, 2D-DIGE also has its drawbacks: fluorescent labels are less sensitive than both SYPRO dyes and silver staining, proteins differ in their labelling efficiency, and the technique is relatively expensive compared to silver or Coomassie staining of gels.
Using 2D-DIGE, proteome analysis of membrane fractions in colorectal carcinomas revealed several proteins with an altered expression[26]. Among them, annexins (A2, A4, A5 and A7), lamin B, calponin 1 and voltage-dependent anion channel (VDAC) were analysed by IHC using tissue microarrays. Authors proposed annexin A2, annexin A4 and VDAC as candidate markers for colorectal cancer diagnosis and, presumably, also for therapy. More recently, Ma et al[30] used 2D-DIGE coupled with MS to screen for biomarker candidates in the serum proteome of CRC patients and healthy donors. They identified and validated transaldolase 1 and thyroid receptor interactor as CRC-associated serum biomarkers. Sawhney et al[31] demonstrated the compatibility between the subcellular fractionation by laser microdissection (LMD) of human colon tissue and 2D-DIGE. They observed a greater coverage of proteins from very small amounts of micro-dissected material. Sugihara et al[32] compared the proteome of normal colorectal epithelial tissues with that of the tumour in 59 CRC patients using 2D-DIGE. They found a higher expression of 110 protein spots and focused on the adenoma polyposis coli-binding protein (EB1). This protein was originally discovered as a binding protein of the tumour suppressor gene product APC, and had been associated with poor prognosis in several malignancies but not in CRC. Immunohistochemical analysis of 132 CRC cases revealed that EB1 was overexpressed in tumour cells and was correlated with poor prognosis. Therefore, they proposed EB1 as a candidate biomarker and therapeutic target for CRC. In another study, the proteomic analysis of six paired normal and CRC tissues by 2D-DIGE and MALDI-TOF-MS showed two markedly down-regulated proteins, which were identified as cytoplasmic carbonic anhydrase I and II and whose changes were further validated by IHC and Western blot. The down-regulation of these enzymes is an early event in colorectal carcinogenesis, but is not correlated with lymph node metastasis[33]. More recently, Zhou et al[34] showed that overexpression of carbonic anhydrase II remarkably suppressed tumour cell growth both in vitro and in vivo. Using the Caco-2 cell line, an in vitro model to study colorectal carcinogenesis, our research group identified the translationally-controlled tumour protein (TCTP) and the transforming growth factor-β-induced protein ig-h3 (TGFβ1p), among others, as candidate biomarkers for CRC[35]. Grandjean et al[36] used the new methodology of sequential immunoaffinity depletion-differential in gel electrophoresis (SID-DIGE), that allowed the efficient screening of sera for the identification of autoantibodies as candidate biomarkers. The identification of autoantibodies is based on the characterization of tumour-associated antigens against which they are directed. Among the 25 tumour-associated antigens identified, 7 were also detected using the conventional SERPA (serological proteome analysis) technique, validating their new approach. The identification of the additional 18 autoantibodies proved the potential of this new method.
Protein microarrays
Using protein microarrays, the simultaneous analysis of different proteins is performed in one single experiment, allowing the study of the protein identity, quantity, interaction and function. There are two types of protein arrays: forward-phase protein arrays and reverse-phase protein arrays.
For forward-phase protein microarrays (also known as capture arrays), the elements of the array are capture molecules (antibodies, proteins, nucleotides or aptamers), each binding specifically to a particular protein. Antibody arrays are the most common, and use antibodies immobilized on a solid surface or membrane to specifically interact with the proteins of interest. For the detection, samples can be labelled with different fluorophores like in 2D-DIGE (Figure 1), allowing two possible samples to undergo the same treatment for comparison[37]. This technology has started to be implemented extensively in cancer research. For example, Ellmark et al[38] prepared a cell suspension from a colorectal tumour containing a mixed population of cells which was captured on an antibody microarray. Cancer cells were detected using a fluorescently tagged antibody for carcinoembryonic antigen (CEA-Alexa647) or epithelial cell adhesion molecule (EpCAM-Alexa488). Using this multiplexing procedure, authors found a differential expression of CD45, CD71 and CEA in cancer cells, among others proteins.
In a reverse-phase protein microarray, the samples are immobilized on the surface or membrane and antibodies are then be applied to the array to detect specific epitopes, protein sequences or structures[37]. For example, Oliveira et al[39] used tissue microarrays and found that NDK A protein expression was higher in tumour tissue of CRC patients than in adjacent non-neoplastic mucosa. In another study, serum CRC biomarker candidates Apolipoprotein AI (Apo A1) and C9 complement component (C9) were selected by liquid chromatography (LC) and MS, and then validated using a reverse-phase protein microarray[40].
Currently, antibody microarrays are attracting considerable attention in cancer biomarker discovery. Several aspects of microarray technology make it well suited to cancer research because of the low-volume requirements and its multiplexed detection capability that make optimal use of precious clinical samples. These assays are rapid and highly amenable to automation, which makes them ideal for biomarker studies[41]. For a review of array-based detection of serum autoantibodies in CRC the reader is referred to Tan et al[42]. In addition, the equipment of SPR (Surface Plasmon Resonance) is now available for the analysis of protein microarrays, allowing the study of interactions and the identification by MS of ligands of interest. A protein array variant vastly used in the search for new biomarkers for CCR is the technique named Surface-Enhanced Laser Desorption/Ionization Time-Of-Flight Mass Spectrometry (SELDI-TOF-MS). It is a widely used technology platform for biomarker discovery in tissue, plasma and serum, though it is most commonly associated with the development of serum-based markers. SELDI-TOF-MS combines two powerful technologies, chromatography and MS, and consists of solid supports or chips made of aluminium or stainless steel coated with specific chromatographic surfaces, including reverse phase, anionic exchange, cationic exchange and immobilised metal affinity surface. In the case of serum samples, the prefractionation technique called ProteoMiner™ (Bio-Rad Laboratories, Hercules, CA, United States) is widely used prior to the analysis by SELDI-TOF-MS due to the presence of a wide range of protein concentrations.
Mass spectrometry-based proteomics
For the protein identification by MS two strategies can be pursued. On one hand the so-called peptide mass fingerprinting (PMF) and on the other hand, the sequencing or tandem mass spectrometry (MS/MS). In both cases it is necessary to digest the protein, and its fragments (peptides) should pass to a gas state. At the end of the 1980s, two revolutionary methods for the ionization of peptides and proteins were developed: the electrospray ionization (ESI) and the matrix-assisted laser desorption/ionization (MALDI), for which the authors received the Nobel Prize in Chemistry in 2002[43].
Less than five years ago, the strategy used in most of the proteomic studies aimed at the search of new tumour markers was firstly the separation of the proteins in the sample using 2-DE or 2D-DIGE to compare the proteome between healthy and tumour tissues and, secondly, the removal of the spots of interest from the gel for the subsequent identification by SELDI/MALDI-TOF-MS[44]. However, as an alternative to 2-DE and 2D-DIGE, most of the proteomic studies in the last three years have employed another technique of MS to carry out studies of differential expression between samples from healthy individuals and patients: the liquid-chromatography coupled to tandem mass spectrometry (LC-MS/MS). This methodology allows performing a previous separation of the peptides typically in a reverse phase chromatographic column. As the LC equipment is usually connected on-line to the mass spectrometer, the fractions obtained after the chromatography enter successively in the mass analyser, allowing the one by one slicing of the peptides present in the sample. This analysis can be performed with digested bands from a 1-D gel, with digested spots from a 2-D gel or with a complex mixture of proteins not previously separated so that the peptides from different proteins are mixed after digestion. This latter type of analysis is known as shot-gun proteomics or multidimensional protein identification technology (MudPIT). However, prior to the MS analysis, it is necessary to perform two independent chromatographic separations in different conditions to resolve the complexity of the sample. In addition, mass spectrometers used for this type of studies have great resolution and sensitivity, obtaining a much higher number of proteins identified compared to that obtained with classical proteomic studies based on 2-DE or 2D-DIGE[45]. Several authors have described the advantages of this technology in comparison with gel-based proteomics. For example, the proteasome activator complex subunit 3 (PSME3), an intracellular CRC-associated protein, was identified in a 2D gel-based study comparing normal and cancer tissues. This candidate was then selected for follow-up analysis by immunoblotting[46]. One year later, in a second study of the same authors, PSME3 was validated as a novel CRC serum marker using MS[47]. This new study detailed the technical advantages of the mass spectrometry-based approach for relative quantification of protein abundance, as compared to the traditional image analysis approach. Importantly, PSME3 up-regulation would have been missed by image analysis because this protein was masked by another co-migrating high-abundant protein, annexin A4. As another interesting example, Thierolf et al[48] analysed the same paired normal and CRC tissues by 2-DE and 2D-LC-MS/MS, showing the complementarity of these two different strategies since a set of proteins were uniquely identified by each one. Among the identified proteins S100A12 was validated in serum, and authors concluded that this protein was more sensitive for the detection of CRC patients than CEA.
Another MS approach, the MALDI-TOF-MS, is most commonly used to discriminate tumour from normal tissue and in some cases can sub-classify disease. For example, Liao et al[49] evaluated the potential value of this approach to classify various clinic-pathological features in CRC. They found 73 protein peaks with a higher expression in tumours than in adjacent normal mucosa tissues in the mass range of 1800-16000 Da. Using "leave-one-out" cross validation algorithms for tumour spectra they correctly classified poorly, well and moderately differentiated tumours. Similar analyses of normal mucosa spectra correctly predicted disease recurrence, disease-free survival and metastasis. More recently, Fan et al[50] employed a well-defined technology platform called ClinProt (Bruker Daltonics, Germany), based on magnetic bead purification of peptides and MALDI-TOF-MS. They successfully detected 61 short peptides, from 1 to 18 kDa, which were differentially expressed in the serum of patients with CRC, concluding that this peptidome pattern may provide an alternative for CRC diagnosis or may help in tailoring the use of chemotherapy to each patient. MALDI is also a method of ionization used for analysing the molecular content of tissue sections, including formalin-fixed and paraffin-embedded tissue samples, which are the standard embedding techniques used in clinical routines. This technique is named imaging mass spectrometry (MALDI-IMS), commonly known as MALDI imaging. It has emerged in the last few years as a useful tool for the molecular classification of tissue samples regarding disease stage, risk stratification and therapy response, as well as for the identification of disease biomarkers[51]. Recently, this approach was employed to evaluate fresh frozen sections of CRC tissue and adjacent healthy mucosa, offering novel insights into tumour micro-environmental biochemistry[52].
SELDI-TOF-MS
As mentioned above, SELDI-TOF-MS is a widely used technology platform for biomarker discovery. It can be described as a type of MALDI-TOF-MS where the sample matrix, known as protein chip, has an active role in the sample purification as well as in the desorption/ionization step[53].
Several peptide-profiling studies using serum of CRC patients have reported the combination of SELDI-TOF-MS with bioinformatics in order to perform pattern diagnostics. For an overview of these studies, readers can refer to the work of Gemoll et al[54]. As an example, Liu et al[55] determined a set of two protein peaks that had the ability to distinguish patients with different stages of CRC from healthy subjects, with a sensitivity of 95.0% and a specificity of 94.9%. More recently, Helgason et al[56] identified 13 candidate biomarkers for CRC (m/z 2.0-31.9 kDa) and 2 peaks (m/z 2022 and 28100 Da) that changed during chemotherapy in accordance with patient response to the treatment. Nevertheless, when human serum or plasma is studied with this technique, its sensitivity is restricted due to the wide dynamic range of serum protein concentrations. In this context, sample pre-fractionation targeting the low abundant proteins may help to overcome these limitations. Therefore, the combination of ProteoMiner™ (Bio-Rad Laboratories, Hercules, CA, United States) pre-fractionation and SELDI based protein profiling is suitable for large-scale serum proteome profiling studies yielding reliable and reproducible results[57].
In tissue studies, only Melle et al[58] have reported the detection of differences between normal mucosa and colorectal carcinoma by SELDI. In 2005 they found that pituitary adenylate cyclase activating polypeptide precursor (PACAP), heterogeneous nuclear ribonucleoproteína A1 (HNRNP A1), flavin reductase, calgizzarin (S100A11), nucleoside diphosphate kinase B (NDK B), cyclophilin A and smooth muscle protein 22-alpha showed significantly differential abundance between colorectal tumour tissue and adjacent normal mucosa. In another study published a year later, these authors validated the differential expression of the calgizzarin (S100A11) by immunological techniques[59]. Regarding other clinical material, Ward et al[60] used urine of CRC patients as sample to detect proteomic changes in MALDI and SELDI spectra. They found a number of changes in peak intensity significantly associated with colon cancer and these, in conjunction with class prediction models, yielded a diagnostic sensitivity of 78% and a specificity of 87% (values higher than those obtained with serum CEA).
MS-based strategies for protein quantification
Although the quantification in gel-based approaches as 2-DE and 2D-DIGE is very accurate and sensitive, the relative high amount of protein sample necessary for protein identification, as well as the multiple experimental steps required, are the major disadvantages of these techniques. Due to these drawbacks and as a consequence of the technical improvements in the fields of chromatography and mass spectrometry, novel MS-based quantification strategies have been developed, allowing high throughput proteome analyses complementary to gel-based approaches, leading to a higher proteome coverage.
Current MS-based strategies for protein quantification can be divided into two main groups: strategies based on labelling a specific amino acid residue and the so-called label-free proteomics. In all labelling strategies the first and maybe the most critical step is to modify the molecular mass of a specific amino acid so it can be distinguished from its unlabelled counterpart in the detection phase. This can be done in various ways: in one approach stable isotope labelling is used without changing the chemical identity of the amino acid, as in the case of introducing stable isotopes of 2H, 13C, 15N and 18O within various functional groups. In a second approach, chemical modification with or without stable isotope labelling is used. Alkylating Cys is an example of the first case, while guanidination which transfers C-terminal Lys to homoarginine is an example of the latter[61]. Basically, proteins or peptides in one of the samples are modified with an isotope tag. The two samples are then mixed before being processed and analysed by MS. Although the physical characteristics of the peptides remain the same, the masses of the isotopically labelled peptides are proportionally shifted in the spectrum, and the ratio between the intensities of the differentially labelled peptides peaks then permits accurate relative quantitation of the proteins. Stable isotopes can be incorporated into proteins or peptides using different techniques: O18 proteolytic labelling, isotope-coded affinity tags (ICAT), isotope-coded protein labelling (ICPL), iTRAQ (isobaric Tags for Relative and Absolute Quantification), or SILAC (Stable Isotope Labelling with Amino acids in cell Culture), where stable isotopes are incorporated into growing cells. The advantage of labelling strategies is that in the same experiment several samples can be analysed and very small changes of expression can be detected. For example, Kim et al[62] combined 2-DE with ICAT and found a set of five proteins (VCP, TPM2, ITLN1, TAGLN and FABP1) differentially expressed in the tumour tissue of CRC patients, with value for the prognosis of the disease. Using the iTRAQ-based quantitative proteomics approach Ghosh et al[63] validated the role of calcyclin binding protein (CacyBP) in promoting colorectal cancer metastasis.
The goal in the search for new CRC biomarkers is not the identification of proteins with small changes of expression; instead, large variations in their expression are desirable. Therefore, proteomic techniques based on LC-MS/MS without prior marking of the samples (label-free proteomics) are frequently used, despite these are time-consuming since the samples are analysed one by one. Using this approach with the insoluble fractions from tissues from CRC patients, Yang et al[64] found four proteins (KRT5, JUP, TUBB, and COL6A1) that gave specific network information for CRC. Their panel of novel markers proposed as candidate targets for treatment was further validated by Western-blotting. By label-free quantitative mass spectrometry and protein microarray, Matsubara et al[65] reported that adipophilin is a plasma biomarker potentially useful for the detection of early-stage CRC, showing improved diagnostic performance.
A novel label-free quantitative proteomics technique is the so-called SRM (Selected Reaction Monitoring). It is an MS/MS method, which consists in selecting a specific precursor ion or peptide that will later be divided, allowing the selection of one of its product ions. This detection is used to make a relative or absolute quantification of the peptide and, by extension, of the protein to which it belongs in the analysed sample. Although this approach can be used without making a prior labelling, a recent study combined this technique with ICAT to compare healthy mucosa and tumour tissues of CRC patients, identifying more than 1000 proteins overexpressed in tumours, related to endocytosis, mitochondrial dysfunction and various cell signalling pathways[66]. Other MS-based strategy for protein quantification is label-free spectral counting. Considering that the detected spectral counts are correlated with the abundance of corresponding proteins, Yao et al[13] compared and identified proteins in the secretome of paired normal and CRC cultured tissues before and after a lectin capture method. After lectin capture the percentage of spectral counts of secreted proteins was significantly increased from 45% to 80% for the conditioned medium of normal tissues, and from 50% to 85% for the CRC ones, indicating that secreted proteins were effectively enriched by the lectin affinity based approach.
BIOLOGICAL SAMPLES FOR COLORECTAL CANCER BIOMARKER DISCOVERY
The first critical issue in the proteomic analysis for CRC biomarker discovery is the selection of the sample. Different samples can be used for searching candidate protein markers, including clinical samples such as serum, tissue or faeces from patients, as well as other biological samples like cell lines or animal models. Below, we will briefly discuss the advantages and disadvantages of these different types of samples, and summarize the putative CRC markers most frequently identified.
VALIDATION OF CANDIDATE BIOMARKERS
Many proteomic studies have identified CRC-associated proteins, but little work has been done to validate these candidate biomarkers. Therefore, it would be worthwhile to collect samples from larger cohorts of healthy individuals and CRC patients and to analyse their peptidome and proteome in depth to fully assess the biomarker potential of proteomic changes. Only this validation will then allow transferring novel biomarkers into clinical use for a better detection and treatment of CRC.
Nowadays, antibody-based methods (Western blotting, IHC, microarrays and particularly ELISA) are the most widely used for quantitative biomarker measurement. Nevertheless, antibody specificity is often lacking and considerable care must be taken in the validation of the signals observed. Insufficient samples, often of poor quality, are a key problem, as well as a lack of suitable antibodies or ELISA kits. Additionally, developing a validated ELISA is expensive and time-consuming. This fact, together with the recent advances in MS technology, is further stimulating the development of quantitative MS technologies for protein and peptide biomarker analysis. Multiple reaction monitoring (MRM, also known as selective reaction monitoring, SRM) is rapidly becoming the method of choice[94]. With this technique tens of protein candidates can be followed up in one LC-MS/MS analysis without the use of antibodies, and employing only microliters of sample though it cannot be still performed routinely. Nowadays, MALDI-TOF-MS for peptide profiling acquisition may be also applied as an alternative method for diagnosis of CRC[50]. Moreover, it is expected that combining several markers for CRC and applying multivariate analyses will significantly improve their diagnostic performance[114-116].
Future work should also be directed to evaluate the functional protein interaction networks derived from the proteomics data, in order to elucidate the molecular mechanisms of CRC carcinogenesis. Recently, Jimenez et al[83] reported a summary of differently expressed proteins in clinical proteomics studies comparing colorectal healthy and cancer tissues. Authors also analysed these proteins using the STRING tool (http://string.embl.de/) to visualize the protein-protein interaction networks. At the heart of the network they found a cluster of five up-regulated and well-connected proteins in CRC (enolase 1, glyceraldehyde-3-phosphate-dehydrogenase, pyruvate kinase isoenzymes M1/M2, fructose-bisphosphate aldolase A and transketolase), all involved in glycolysis. Glycolytic activity is increased in almost all cancers to provide cells with enough energy for proliferation, a phenomenon called "Warburg effect"[117]. Other molecular and cellular functions associated with the up-regulated proteins include "Cell Death", "Cell-To-Cell Signalling and Interaction" and "Cellular Assembly and Organization"[83].
CONCLUSION
The discovery of novel biomarkers in CRC is crucial for the early detection of the disease, the characterization of the disease progression and the prediction to therapy response. Recent advances in proteomic technologies allow large-scale analysis of proteins which can be applied for discovering aberrant protein profiles of clinical and other biological samples related to CRC. A first critical issue in the search for candidate markers is the selection of the sample set. Tumour tissue is the most direct approach for biomarkers discovery as they are most likely present in cancer tissues at higher concentration than in serum or plasma. In the next step, protein candidate markers must be assessed by a targeted assay and validated in large independent cohorts. Only this validation will allow the translation of the candidate CRC markers to the clinical practice. Finally, it is now generally accepted that a combination of proteins rather than a single individual candidate can better discriminate CRC patients from controls, or determine the prognosis of the patients, implying the advantage of using proteins involved in different physio-pathological pathways. In conclusion, there has been a significant amount of research for the identification of CRC biomarkers using proteomic techniques; however, these are yet to yield stronger candidates. A single unique biomarker, of sufficient sensitivity and specificity, may not be a realistic goal, but instead a panel of markers may be a useful way to overcome the difficulties imposed by inter-individual variability.
P- Reviewers: Armengaud J, Bozdayi AM, Kadiyska YK S- Editor: Ma YJ L- Editor: A E- Editor: Ma S