Copyright
©2007 Baishideng Publishing Group Co.
, Limited. All rights reserved.
Role of iron in hepatic fibrosis: One piece in the puzzle
Marie A Philippe, Richard G Ruddell, Grant A Ramm, Hepatic Fibrosis Group, The Queensland Institute of Medical Research, PO Royal Brisbane and Women's Hospital, Brisbane 4029, Australia
Author contributions: All authors contributed equally to the work.
Supported by NHMRC Program Grant 339400
Correspondence to: Grant A Ramm, PhD, Associate Professor, Hepatic Fibrosis Group, The Queensland Institute of Medical Research, PO Royal Brisbane and Women's Hospital, Brisbane 4029, Australia. grant.ramm@qimr.edu.au
Telephone: +61-7-33620177 Fax: +61-7-33620108
Received: March 27, 2007
Revised: April 10, 2007
Accepted: April 17, 2007
Published online: September 21, 2007

Iron is an essential element involved in various biological pathways. When present in excess within the cell, iron can be toxic due to its ability to catalyse the formation of damaging radicals, which promote cellular injury and cell death. Within the liver, iron related oxidative stress can lead to fibrosis and ultimately to cirrhosis. Here we review the role of excessive iron in the pathologies associated with various chronic diseases of the liver. We also describe the molecular mechanism by which iron contributes to the development of hepatic fibrosis.
---
Citation: Philippe MA, Ruddell RG, Ramm GA. Role of iron in hepatic fibrosis: One piece in the puzzle. World J Gastroenterol 2007; 13(35): 4746-4754
---
INTRODUCTION
Iron, created by stellar nucleosynthesis, is the most abundant element on Earth in terms of mass, making up 35% of total planetary mass. Iron, in its ferrous (Fe2+) and ferric (Fe3+) forms, is critical to all life forms from the simplest filamentous algae through to the most complex multicellular organisms. Iron is an essential element mainly present within the cells in association with haemoprotein (haemoglobin, myoglobin) or within an iron-sulphur cluster of various metalloproteins (e.g., aconitase and Rieske proteins of the respiratory chain)[1]. Iron is involved in the redox-driven processes of oxygen transport, electron transport and various enzymatic reactions such as DNA synthesis, transcriptional regulation, catalysis as well as nitric oxide (NO) and oxygen sensing[1]. Mammals do not have any major physiological pathway for iron excretion. Therefore, iron uptake and storage is closely regulated so as to avoid deficiency, and excess. In humans, iron deficiency is manifested as anaemia and with increasing severity can eventually result in cardiac failure. Iron overload, especially at sites of storage, enhances oxidative stress ultimately leading to lipid, nucleic acid and protein peroxidation. Within the liver, which is the major site of iron storage, enhanced oxidative stress can lead to fibrosis, cirrhosis, hepatocellular carcinoma (HCC) and death.
In this review, we outline the hepatic disease states where iron is an important factor in disease progression. We also discuss the role of iron in promoting liver fibrosis and those cells and mechanisms most important in the underlying wound healing/fibrotic processes.
HEPATIC FIBROSIS
Hepatic fibrosis is promoted by various pathogenic, mechanical and toxic insults to the liver, and is part of a physiological wound healing response. If the injurious stimuli are chronic, the degree of fibrosis worsens, leading to cirrhosis, and eventually to hepatic failure and death. The interactions between various resident hepatic cell populations and immune cells that lead to the establishment of fibrosis are complex, and not yet fully understood. However, some profibrogenic pathways and clinical outcomes are common to several disease states, and these will be briefly outlined below.
In the normal liver, a balance is struck between extracellular matrix (ECM) deposition and degradation, a process that is tightly regulated by matrix metalloproteinases (MMP) and their specific inhibitors (TIMPs)[2]. Fibrosis is associated with major quantitative and qualitative changes in the ECM. These changes are mainly due to an increase in the expression of TIMP-1[3] and an increase in the expression of various ECM components, which include fibrillary collagensIand III, collagen IV, fibronectin, elastin and laminin[4].
The hepatic stellate cell (HSC) resides within the space of Disse, and is responsible for the majority of ECM deposition in the normal and fibrotic liver[5,6]. In the normal liver the primary role of the HSC is the regulation of vitamin A homeostasis and storage[6]. In times of chronic injury, the HSC transdifferentiates into a myofibroblastic cell exhibiting contractile, proliferative, inflammatory and fibrogenic properties. Transdifferentiation occurs in response to soluble fibrogenic and proliferative factors released mainly by Kupffer cells (KC), (PDGF, TGFβ1) or by damaged hepatocytes (IGF-1, TNFα, EGF)[2]. Once transdifferentiated, the HSC expresses a number of myogenic markers (including α smooth muscle actin (αSMA), c-myb and myocyte enhancer factor-2) that allows them to be readily identified by immunohistochemical techniques[4]. In addition, HSC also express a number of neuroendocrine proteins (e.g., glial fibrillary acidic protein or GFAP, synaptophysin and nestin[4]) and receptors for various neurotransmitters[7]. Once activated, HSC also release TGFβ1 and PDGF-BB, thereby ensuring a self-sustained phenotypic change[8,9]. Fibrosis was once thought to be irreversible; however, a growing body of evidence now suggests that once the underlying source of liver injury is treated, fibrosis, and even cirrhosis, to some extent, are reversible. Fibrosis resolution is known to be accompanied by HSC apoptosis, and to some degree of reversion of HSC to their original phenotype[10].
IRON AND DISEASES OF THE LIVER
Iron is proposed to play a role in promoting hepatic fibrosis in a number of different chronic liver disease states. The evidence supporting or contradicting those propositions is outlined in the following section.
MOLECULAR MECHANISMS OF IRON-INDUCED FIBROSIS
This section outlines the mechanisms by which iron is able to cause liver damage and the subsequent pathways activated that lead to hepatic fibrosis.
Role of iron in oxidative stress
In hepatocytes and KC, iron catalyses the production of hydroxyl radical (OH•) from reactive oxygen species (ROS), superoxide (O2•-) and hydrogen peroxide (H2O2) via a chemical reaction known as the Fenton reaction (Figure 1). ROS are the by-products of aerobic respiration reactions by cytochrome P450 (CYP) 2E1, and are also produced by the membrane-bound NADPH oxidase complex[54]. In addition, Fe catalyses the formation of NO2+ from peroxynitrite (ONOO-). ONOO- is formed when the cellular level of O2•- is elevated as this later reacts with nitric oxide (NO), produced by the constitutive and inducible nitric oxide synthase (NOS)[55,56] (Figure 1). Interestingly, nitric oxide has also a protective effect against oxidative stress, as it can inhibit lipid peroxidation and the generation of OH• by reacting with Fe3+[56,57]. NO2+ and OH• induce oxidative deterioration of biomolecules (lipid, protein and DNA), leading to tissue injury and cell death. In addition, iron can modulate gene expression in the cells leading to an alteration of cell function[58,59].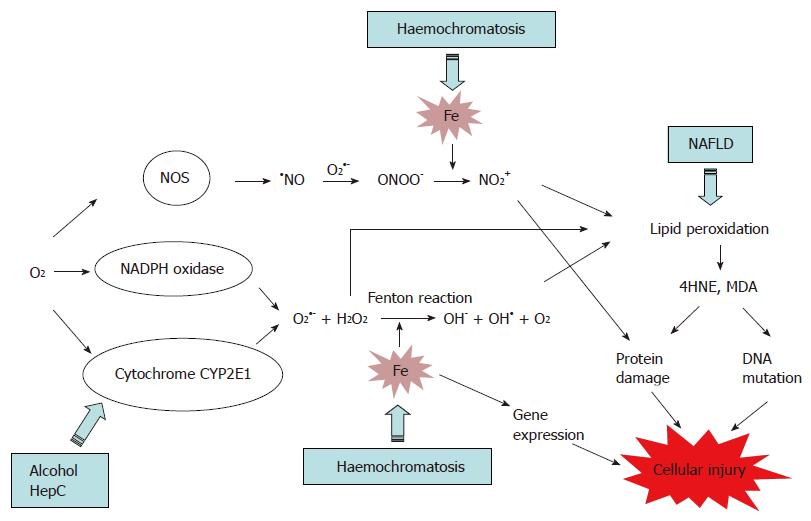 Figure 1 The involvement of iron in oxidative stress and its cytotoxic conse-quences. Iron catalyses the production of the reactive molecules OH• (via the Fenton reaction) and NO2+, which promote lipid peroxidation and protein damage leading to cellular injury. NOS, nitric oxide synthase; •NO, nitric oxide; ONOO-, peroxynitrite; O2•-, superoxide radical; OH•, hydroxyl radical; H2O2, hydrogen peroxide; NO2+, nitronium anion; Fe, iron; NAFLD, non-alcoholic fatty liver disease.
Alteration of essential biomolecules: NO2+ and OH• catalyse lipid peroxidation which is the process whereby electrons are transfered from the lipids in cell membranes to the free radical, resulting in cell damage. This process proceeds by a free radical chain reaction mechanism. It affects polyunsaturated fatty acids, as they contain multiple double bonds, between which lie methylene -CH2- groups that are especially susceptible to peroxidation. Lipid decomposition leads to the generation of thiobarbituric acid (TBA)-reactants and breakdown by-products 4-hydroxynonenal (4HNE) and malondialdehyde (MDA), which are used as marker of lipid peroxidation.
Lipid peroxidation affects the plasma membrane of the cell, but also increases the membrane fragility of a number of different cell organelles, such as lysosomes, which store excess iron, mitochondria and endoplasmic reticulum, leading to impaired cell funtion[2]. Lipid peroxidation of the mitochondrial membrane can lead to an increase in their permeability resulting in loss of the electrochemical gradient and release of the proapoptotic cytochrome C. This phenomenon is called mitochondria permeability transition. Damaged mitochondria generate yet more ROS that further enhance cell damage and activate proapoptotic signals[60].
Another consequence of lipid peroxidation is the damage of DNA and proteins, as lipid peroxidation products such as 4HNE and MDA can react with DNA bases[61] and the ε-NH2 group of lysine and histidine residues[62]. The presence of acetaldehyde, resulting from ethanol oxidation, increases the binding of MDA and its own binding to proteins in a synergistic manner, generating new hybrid adducts called MDA-acetaldehyde adducts[63]. These adducts may play a role in the development and progression of liver fibrosis as they have been shown to stimulate the secretion of several cytokines and chemokines by liver endothelial cells (TNFα, MCP-1, MIP-2, fibronectin) and HSC (MCP-1, MIP-2, uPA)[64-66].
Gene expression modulation: Iron or iron-induced oxidative stress have also been found to activate cell signalling cascades triggering apoptosis and necrosis pathway via NF-κB and AP-1 pathways respectively[60]. NF-κB promotes the synthesis and release of cytotoxic, proinflammatory and fibrogenic factors such as TNFα, IL-6 and MIP-1 that alter KC and hepatocyte function, and trigger HSC activation[58,59]. In HSC, AP-1 transcription factors are involved in the regulation of procollagen (I)[56]. In addition, AP-1 and NF-κB-dependent gene products modulate hepatocyte death induced by oxidative stress[67].
Regulation of intracellular levels of ROS: In the normal liver, hepatocytes are able to remove or neutralize oxidative molecules via enzymatic and non-enzymatic antioxidant processes, thereby maintaining a safe cellular level of ROS. For example gluthatione (GSH) is a tripeptide that neutralizes free radicals and ROS directly via a chemical reaction or via enzymatic reactions involving gluthatione-reductase or gluthatione-peroxidase[68]. Antioxidant agents such as vitamin A, C and E are also able to impair lipid peroxidation by breaking the chain reaction. Other antioxidants can act as inhibitors of CYP2E1, such as diallylsulfide[56]. However, when cellular defences are overwhelmed, there is an accumulation of ROS, which trigger cellular damage and apoptosis and, when this occurs in the liver, it can lead to fibrosis.
Iron driven oxidative stress promotes the development of hepatic fibrosis: Iron from the diet is absorbed into the enterocyte, and is either stored bound to ferritin or exported out into the plasma coupled to transferrin. In the liver, iron is taken up mainly by hepatocytes, and secondarily by KC. Hepatic iron uptake is mediated via HFE and the transferrin receptor, and iron is stored within the storage protein, ferritin[69]. Macrophages phagocytose senescent blood cells, and recycle the iron back to plasma. In iron-loading disorders, although hepatocytes remain the dominant site of iron deposition, KC can also store iron[70]. As mentioned earlier, the interplay between hepatocytes, KC and HSC and other extracellular proteins in the liver is important in the progression of hepatic fibrosis, and can be influenced by iron. Iron, as a key player in the oxidative reaction, may contribute directly and indirectly to HSC activation although the precise pathways remain unclear (Figure 2).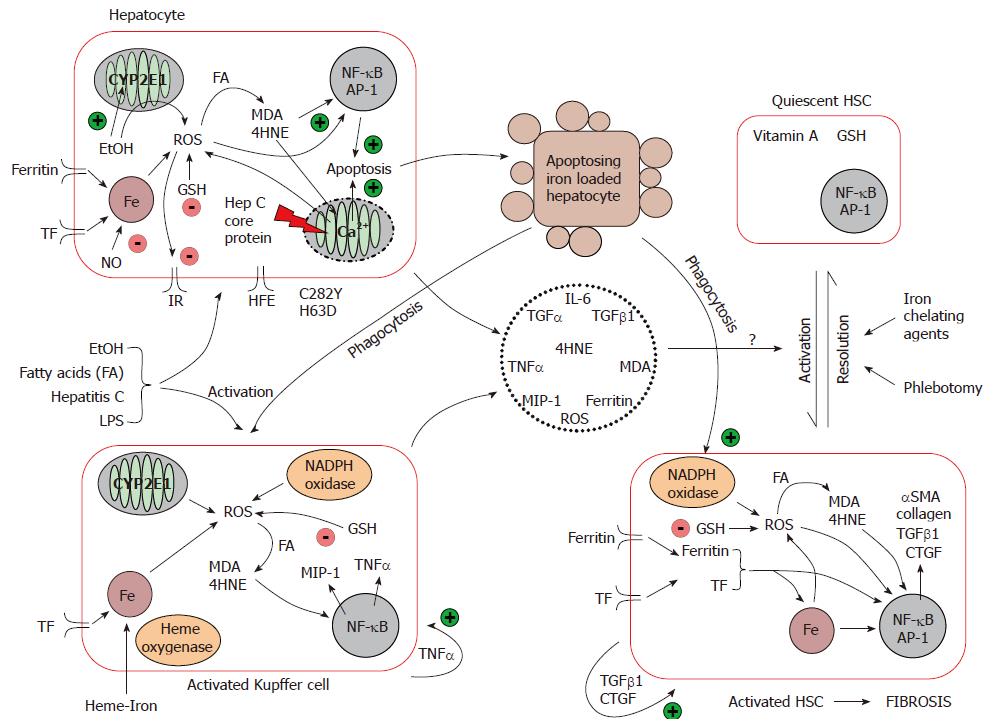 Figure 2 Mechanisms of iron-induced liver injury and fibrosis.
Iron catalyses the formation of several reactive oxygen species in hepatocytes. Under normal circumstances, hepatocytes are able to effectively cope with oxidant stress. When the liver is subjected to a secondary insult that enhances hepatic oxidant stress, hepatic fibrosis begins to develop. Increased oxidative stress and other pathological modes of action of HCV, ethanol and steatosis, lead to mitochondrial dysfunction and hepatocyte apoptosis. Kupffer cell activation is achieved by phagocytosis of apoptosing hepatocytes in conjunction with the direct effects of iron, HCV infection, ethanol and steatosis on Kupffer cells. The concomitant hepatocyte damage/apoptosis and Kupffer cell activation is able to drive and maintain hepatic stellate cell activation leading to fibrosis and ultimately cirrhosis if left unchecked. Fe, iron; TF, transferrin; ROS, reactive oxygen species; FA, fatty acids; IR, insulin receptor; GSH, glutathione; TNFα, tumour necrosis factor α; NO, nitric oxide; IL-6, interleukin 6; TGFβ1, transforming growth factor β1; CTGF, connective tissue growth factor; αSMA, α smooth muscle actin; MDA, malondialdehyde; 4HNE, 4-hydroxynonenal; MIP-1, macrophage inflammatory protein-1; TGFα, transforming growth factor α; NF-κB, nuclear factor κB; AP-1, activating protein-1.
Indirect activation of HSC: Hepatocytes and KC are the main cells where iron–induced oxidative damage occurred as described earlier, i.e. lipid peroxidation and activation of proapoptotic/necrotic signalling. It is proposed that HSC activation occurs as a result of soluble factors (TGF-α/β1, TNFα, MIP-1, IL-6) produced by injured hepatocytes or KC following oxidative stress[71-73]. Indeed, the gene expression of two markers of HSC activation, collagen typeIand αSMA, is increased in studies where HSC are incubated with conditioned medium from iron loaded hepatocytes[72,74]. Collagen upregulation was also observed when HSC were co-cultured with hepatocytes expressing CYP2E1, which is the principal cytochrome involved in the oxidation of ethanol when the concentration of ethanol is elevated[74]. This effect was even more pronounced in the presence of iron, and was prevented by several antioxidants suggesting a oxidation mediated upregulation of these profibrogenic genes[74].
KC have been shown to play a role in HSC activation. When KC and HSC are co-cultured, HSC proliferation is increased along with HSC expression of αSMA and collagen typeI, when compared to the culture of HSC alone[73]. Friedman and Arthur demonstrated that KC conditioned medium activated HSC and stimulated HSC proliferation[75]. After exposure to several stimuli such as LPS, ethanol, fatty acid, HCV infection or the phagocytosis of injured hepatocytes, KC become activated and produced ROS via PKC dependant activation of NADPH oxidase and via the CYP1E2[55,59,76,77]. Deugnier and colleagues observed KC containing phagocytosed hepatocellular debris in hemochromatosis liver tissue[78]. Tsukamoto and colleagues demonstrated that haeme-derived iron primed hepatic macrophages for NF-κB activation, and enhanced the expression of the pro-inflammatory genes TNFα and MIP-1[79]. TNFα is known to play a key role in promoting KC activation[80], and also prevents the HSC from undergoing apoptosis[81] thereby promoting fibrosis.
In addition to the production of profibrogenic and proinflammatory cytokines that activate HSC, KC release iron-loaded tissue ferritin that may interact with the ferritin receptor on activated HSC[82]. Furthermore, hepatocyte and KC-generated ROS can be released from the cell, and enhance the perpetuation of HSC activation[83]. In contrast, the role of the toxic by-products of lipid peroxidation such as MDA and 4HNE has been studied by Olynyk and others who showed that these compounds did not directly activate HSC[84,85].
Direct activation of HSC: Activated HSC express a specific receptor for H-ferritin[86] which appears to regulate the expression of αSMA[82]. Ruddell and colleagues have preliminary evidence which suggest that ferritin upregulates genes involved in HSC activation via a PKCζ dependent pathway[87]. In addition, activated HSC are also known to express a transferrin receptor which can enhance the expression of αSMA and collagen type I within these cells[88]. The role of free iron in the induction of HSC activation has been studied by Gardi and colleagues who demonstrated that iron can stimulate type I collagen gene expression but this was not mediated by lipid peroxidation[89]. This is supported by other studies which rule out the involvement of intracellular lipid peroxidation in the activation of HSC[84,85,90].
However, in other studies, intracellular oxidative stress has been shown to induce collagen expression in HSC, and that HSC lipid peroxidation can be triggered by hepatocytes[91,92]. A recent study by Zhan and colleagues supports the role of lipid peroxidation in HSC in the upregulation of procollagen expression[93]. They showed that HSC are able to phagocytose apoptotic bodies (i.e. injured hepatocytes), which triggers the activation of the stellate cells NADPH oxidase and its production of superoxide within and outside the cell. They also showed that the upregulation of procollagen I following the phagocytosis of apoptotic bodies was NADPH oxidase-dependent.
In conclusion, iron may have a direct effect on the activation of HSC or via the modulation of intracellular oxidative stress. However, this may be a minor role in the activation of the HSC when you consider that hepatocytes are the main cells that take up iron, and that quiescent HSC do not express the transferrin or ferritin receptors[86,88]. The inherent ability of iron to catalyse the production ROS in hepatocytes and KC appears likely the main mechanism by which it is able to influence hepatic disease progression. Iron, in conjunction with other factors, may overwhelm the liver in terms of its innate ability to cope with oxidative stress thereby causing disease.
Iron and other oxidation-related molecules
As described in Figure 1, iron is a key player in oxidative reactions that produced toxic ROS. However, the cellular level of other molecules, such as H2O2 and unsaturated lipids, also influence the degree of oxidation that occurs in the cells and thereby the degree of fibrosis. Indeed, the role of iron along with alcohol, steatosis and HCV in exacerbating liver injury has been the subject of fairly intensive study. The effects of feeding rats a diet supplemented with iron and alcohol was found to enhance hepatic localisation of MDA and 4HNE as well as increase serum levels of ALT and AST to two-fold that of rats fed ethanol alone[94]. Both liver tissues and HSC isolated from rats fed ethanol and iron were also found to express elevated levels of procollagenα1 (I) and TGFβ1 mRNA compared to those fed ethanol alone[94]. Kato and colleagues also suggested TGFα derived from alcohol exposed hepatocytes may also contribute to hepatic fibrosis in ALD[95]. Ethanol is known to upregulate the expression of CYP2E1[74] which would exacerbate the potential oxidative stress exerted by iron in hepatocytes due to the catalysis of more ROS. In the same manner, accumulation of fatty acid within the cells will increase oxidative damage due to the enhanced peroxidation of lipid.
HCV alone has been shown to increase ROS generation and also lipid peroxidation in hepatocytes[96]. It does this via the core protein, which is able to alter mitochondrial Ca2+ uptake, and also it induces endoplasmic reticulum (ER) stress and enhances ER to mitochondria Ca2+ transfer[97]. Iron overload is also able to induce mitochondrial dysfunction (as visualised by ultrastructural alterations), and in mice over expressing the HCV core polyprotein, iron increases the risk of those mice going on to develop HCC[98].
CONCLUSION
Iron plays an integral part in the progression of hepatic fibrosis, and it does this via its ability to catalyse the formation of highly reactive and damaging ROS. The damage done by ROS includes lipid peroxidation, protein and DNA modification leading ultimately to apoptosis and necrosis. However, the literature also indicates that co-factors such as steatosis, ethanol and HCV infection contribute to iron-induced hepatic injury. Antioxidant therapies have been tested in clinical trials with limited success with regards to the prevention and reversal of liver fibrosis. Iron depletion therapies have also been used with varying degrees of success to treat all four diseases of the liver outlined in this review. Continued investigation into the molecular mechanisms of iron toxicity, and how it leads to hepatic fibrosis may give a better understanding of the role of iron as a cofactor in the progression of liver disease leading ultimately to novel anti-fibrotic therapies.
Co-first-authors: Richard G Ruddell
S- Editor Liu Y L- Editor Negro F E- Editor Ma WH