Copyright
©2007 Baishideng Publishing Group Inc.
All rights reserved.
Metabolic liver disease of obesity and role of adipose tissue in the pathogenesis of nonalcoholic fatty liver disease
Kamran Qureshi, Gary A Abrams, Department of Medicine, University of Alabama at Birmingham, United States
Author contributions: All authors contributed equally to the work.
Correspondence to: Gary A Abrams, MD, Department of Medicine, University of Alabama at Birmingham, 1918 University Blvd 286 MCLM Birmingham, AL 35294, United States. gabrams@uab.edu
Telephone: +1-205-9962863 Fax: +1-205-9964977
Received: February 16, 2007
Revised: February 18, 2007
Accepted: March 21, 2007
Published online: July 14, 2007

Nonalcoholic fatty liver disease (NAFLD) is an increasingly recognized cause of liver-related morbidity and mortality. It can develop secondary to numerous causes but a great majority of NAFLD cases occur in patients who are obese or present with other components of metabolic syndrome (hypertension, dyslipidemia, diabetes). This is called primary NAFLD and insulin resistance plays a key role in its pathogenesis. Obesity is characterized by expanded adipose tissue, which is under a state of chronic inflammation. This disturbs the normal storage and endocrine functions of adipose tissue. In obesity, the secretome (adipokines, cytokines, free fatty acids and other lipid moieties) of fatty tissue is amplified, which through its autocrine, paracrine actions in fat tissue and systemic effects especially in the liver leads to an altered metabolic state with insulin resistance (IR). IR leads to hyperglycemia and reactive hyperinsulinemia, which stimulates lipid-accumulating processes and impairs hepatic lipid metabolism. IR enhances free fatty acid delivery to liver from the adipose tissue storage due to uninhibited lipolysis. These changes result in hepatic abnormal fat accumulation, which may initiate the hepatic IR and further aggravate the altered metabolic state of whole body. Hepatic steatosis can also be explained by the fact that there is enhanced dietary fat delivery and physical inactivity. IR and NAFLD are also seen in various lipodystrophic states in contrary to popular belief that these problems only occur due to excessive adiposity in obesity. Hence, altered physiology of adipose tissue is central to development of IR, metabolic syndrome and NAFLD.
---
Citation: Qureshi K, Abrams GA. Metabolic liver disease of obesity and role of adipose tissue in the pathogenesis of nonalcoholic fatty liver disease. World J Gastroenterol 2007; 13(26): 3540-3553
---
INTRODUCTION
Non-alcoholic fatty liver disease (NAFLD) is a disease of this modern era. It has burst out onto the clinical landscape over the past 25 years[1] and is likely to become the most common cause of chronic liver disease[2]. The prevalence of NAFLD in the general US population is approximately 20% (17% to 33%)[3,4]. Similar data are obtained in the Japanese and Italian populations[5,6]. NAFLD comprises a morphological spectrum of liver lesions ranging from simple triglyceride accumulation in hepatocytes (hepatic steatosis; HS) to inflammatory and hepatocellular ballooning injury (non-alcoholic steatohepatitis; NASH), eventually leading to fibrosis and cirrhosis[7]. Excessive alcohol intake (> 20 mg/d in females and > 40 mg/d in males) must be excluded to diagnose NAFLD[8]. NAFLD is the most frequent cause of abnormal liver function tests (80% of cases) in the US[9]. Although elevated liver enzymes often correlate poorly with degree of chronic liver injury[10], steatosis and fibrosis, a persistently elevated alanine aminotransferase (ALT) level is often the tipping point for further diagnostic evaluation. With adoption of the new ALT standard (≤ 30 U/L in men and ≤ 19 U/L in women)[11,12], NAFLD can be detected in early stages and thus may be useful in counseling patients about further workup. Liver biopsy is subsequently required to confirm the diagnosis of NASH. Recently, a NAFLD activity score (NAS) was proposed[13] to assess natural progression and therapy; however, it requires repeated liver biopsies (Table 1). Recently, it has been suggested that the non-invasive blood test called NASH FibroSURE TMwhich includes quantitative surrogate markers for steatosis (SteatoTest)[14], fibrosis (FibroTest)[15] and NASH (NASH Test)[16] is able to assess the liver status of subjects with NAFLD. These have a sensitivity/specificity of 71%/72% for significant steatosis; 88%/50% for NASH and 83%/78% for advanced fibrosis. Further novel non-invasive tests are needed that will improve the diagnostic accuracy for the presence, grade and stage of NAFLD.
Steatosis Macrovesicular
Steatohepatitis

---

Stages of NASH Fibrosis
Lobular Inflammation
Ballooning
Definition and score
Large fat droplet with signet cell appearance of hepatocytes
Assessment of inflammatory foci on 200 × field
Swollen hepatocytes
On trichome staining
0
Less than 5%
Less than 2 foci
None
None
1
5% to 33%
2 to 4 foci
Few
Perisinusoidal (zone 3) or periportal 1a-mild, zone 3 1b-moderate, zone 3 1c-portal or periportal
2
33% to 66%
More than 4 foci
Many cells or prominent ballooning
Perisinusoidal (zone 3) and portal/periportal
3
More than 66%
-
-
Bridging
4
-
-
-
Cirrhosis
The pathophysiology of NAFLD is complex and available data suggest that environmental factors such as diet, exercise, and/or toxins[17] are likely to be important in its causation. The fact that the prevalence of NAFLD varies among different racial groups[18,19] and that there are variable rates of disease progression within individuals with similar risk factors strongly indicates that genes also play a role[20]. A recent study suggests that abnormalities in at least 23 genes may be involved[21]. However, like other common complex metabolic diseases, there is likely to be an interaction between the environment and genetics that determines phenotypic expression of NAFLD in any individual patient. The great majority of NAFLD occurs in the setting of so-called metabolic syndrome (MS), in which insulin resistance (IR) plays a key role[22,23]. The prevalence of MS (22%) and of NAFLD (20%) in the general US population are amazingly similar[24]. These observations support that primary NAFLD is a hepatic complication of MS. Other much less common causes of NAFLD (secondary NAFLD) are drugs; amiodarone[25] glucocorticoids[26], tamoxifen[27] and isoniazid[28], surgical procedures; gastroplasty and bypass surgeries for morbid obesity[29-31], total parenteral nutrition[32], metabolic genetic disorders; abetalipoproteinemia[33], tyrosinemia and lipodystrophy; congenital disorders[34] and anti-HIV drugs[35].
The Third Report of National Cholesterol Education Program (Adult Treatment Panel III; ATPIII) provides a working definition of MS[36] based on a combination of 5 categorical risk factors: central obesity, hypertension, hypertriglyceridemia, low levels of HDL-cholesterol, and hyperglycemia. The prevalence of MS is on the rise due to obesity and sedentary life style. Obesity is defined by World Health Organization as excess weight gain for a given height. The prevalence of obesity (BMI ≥ 30 kg/m2) in the US is 31%, and the prevalence of morbid obesity (BMI ≥ 40 kg/m2) is growing even at a greater rate than that of obesity[37]. The most obvious body change in obesity is increase in the fat mass, which becomes a key pathological contributor to MS and is related to abnormal production of cytokines, chronic sub-clinical inflammatory state and abnormal coagulation. The prevalence of NAFLD increases to 74% in obese persons and 90% in morbidly obese persons[38,39]. The probability of NAFLD progression increases with the degree of obesity, and about 15%-30% of morbidly obese patients (BMI ≥ 35 kg/m2) have NASH[40].
The presence and severity of NAFLD/NASH are closely related to coexistence of MS components[41], obesity and other risk factors for IR[42]. This paper reviews the chemical and molecular basis of IR, highlighting the role of adipose tissue and adipocytokines in its development especially in obese people. Brief consideration is also given to normal lipid metabolic pathways of liver to explain the involvement of IR in pathogenic mechanisms of NAFLD.
NORMAL LIPID METABOLISM
After meals, dietary triglycerides (TAG) are transported to the liver from intestines (via chylomicrons). In addition, hepatic TAG synthesis from fatty acids (FA) and glycerol occurs under the influence of insulin in the postprandial state[43]. TAG are secreted into blood as very low density lipoproteins (VLDL) that are either stored in adipose tissue as re-esterified TAG or metabolized into FA and used as energy source. Excessive TAG within the liver may be stored as lipid droplets in hepatocytes (Figure 1). The sources of FA for hepatic TAG formation are either from the plasma (nonesterified fatty acid; NEFA) pool or FA newly synthesized within the liver through de novo lipogenesis (DNL). Metabolic steps of DNL are important, precisely regulated and involve mitochondria[44]. In the postprandial state of energy (Adenosine triphosphate; ATP) excess, surplus glucose is used as FA substrate. Glucose via its conversion to pyruvate enters the Kreb's cycle of mitochondria. Citrate formed in the Kreb's cycle is shuttled to cytosol where it is converted to acetyl-CoA by ATP citrate lyase. Acetyl-CoA carboxylase 1 (ACC1) enzyme then converts acetyl-CoA to malonyl-CoA, which is used by fatty acid synthase to form different long chain FA in cytosol. The hepatic uptake of FA from NEFA pool is not regulated and as a result the influx directly relates to plasma FA concentration. The affluent diets of modern age hence promote accumulation of surplus fat in the hepatocytes by providing more dietary TAG[45], FA (expanding NEFA pool) as well as glucose (substrate of DNL). Increased insulin levels after meals promote all of the steps of hepatic fat accumulation. Oxidation of FA occurs in mitochondria, peroxisomes, and microsomes. Short-chain and medium-chain FA are oxidized in mitochondria only[46]. Long-chain and very long-chain FA are shortened by the extramitochondrial (peroxisomes and microsomes) oxidation first and then mitochondrion enzymes complete the process. Entry of FA into mitochondria is the rate-limiting step of oxidation. FA must be activated by fatty acyl-CoA synthase to fatty acyl-CoA in the cytoplasm. The transport of fatty acyl-CoA into the mitochondria is accomplished by the intermediation of carnitine acyltransferaseI(CPT-1), an enzyme that resides in the outer mitochondrial membrane[47].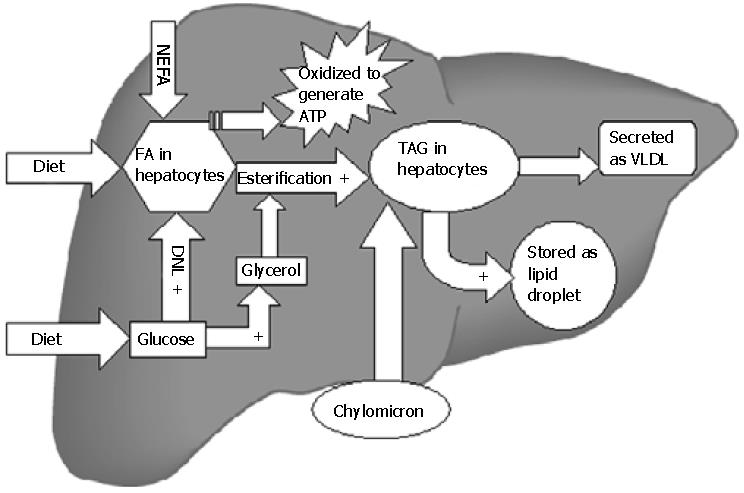 Figure 1 Lipid metabolism in liver.
All steps indicated by + are stimulated by insulin. Insulin suppresses the secretion of VLDL and the β-oxidation of fatty acids. Thus hyperinsulinemia in the setting of insulin resistance favors TAG accumulation in liver. TAG: triglycerides; VLDL: very low density lipoprotein; FA: fatty acid; NEFA: nonesterified fatty acids; DNL: de novo lipogenesis; ATP: adenosine triphosphate.
Three molecular mediators of lipid metabolism namely: Sterol regulatory element-binding protein (SREBP1-c), carbohydrate response element-binding protein (ChREBP) and peroxisome proliferative activated receptor (PPAR-γ) are worth mentioning at this point. Insulin acts on SREBP1-c on hepatocyte cell membranes[48], which transcriptionally activates most of the genes involved in DNL. SREBP1-c also activates ACC-2, an isoform of ACC that produces malonyl-CoA at the mitochondrial membrane[49]. Increase in malonyl-CoA decreases β-oxidation because it inhibits CPT-1 at higher concentrations[50] and hence leads to FA build up. Hyperglycemia can also stimulate lipogenesis directly by activating ChREBP[51], which induces gene expression of liver-type pyruvate kinase (L-PK), a key regulatory enzyme in glycolysis[52]. L-PK catalyzes the conversion of phosphoenolpyruvate (PEP) to pyruvate, which enters the Kreb's cycle to generate citrate. Citrate is a principal source of acetyl-CoA used for FA synthesis. ChREBP stimulates gene expression of most enzymes involved in DNL[53]. Hence hyperglycemia stimulates both glycolysis and lipogenesis, thereby facilitating the conversion of glucose to FA under conditions of energy excess. PPAR-γ transcription factor participates in the development of HS in rodents. Normally, PPAR-γ is expressed at very low levels in the liver; however, in animal models with IR and fatty livers its expression is markedly increased[54]. Studies demonstrate that SREBP-1c can also transcriptionally activate PPAR-γ[55]. The genetic deletion of hepatic PPAR-γ in livers of ob/ob mice markedly alleviates the development of HS[56], independent of the presence of hyperinsulinemia or hyperglycemia. The precise molecular events mediated by PPAR-γ that promote hepatic TAG deposition have not been fully defined. It is also not known whether PPAR-γ expression is increased in human fatty livers.
INSULIN RESISTANCE
Insulin resistance (IR) may be defined as altered metabolic condition in which higher than normal insulin levels are needed to achieve normal metabolic responses or normal insulin concentrations fail to achieve a normal metabolic response. IR manifests with a reduced efficiency of insulin to inhibit hepatic glucose production and stimulate glucose utilization in skeletal muscle and adipose tissue. Subsequent high glucose levels result in compensatory hyperinsulinemia, which accounts for the elevation of Homeostasis Model Assessment (HOMA)-IR values[57,58]. Incidence of IR increases with age[59] and is almost always higher in males[60]. Other important conditions associated with IR include hyperuricaemia[61], gallstones[62], thrombophilia[63], endothelial dysfunction and polycystic ovary syndrome[64].
The biological action of insulin depends upon interaction of insulin with its specific receptor (Table 2). The insulin receptor is a glycosylated tetramer consisting of two extra cellular insulin binding (alpha) subunits and two trans-membranous (beta) subunits with tyrosine kinase activity. Insulin activates the receptor and causes subsequent tyrosine phosphorylation of insulin receptor substrate proteins (namely IRS-1 and IRS-2). This initiates a cascade of events leading to translocation of a specific glucose transporter-4 (GLUT-4) from intracellular pool to the cell membrane. GLUT-4 facilitates glucose transport along the concentration gradient from extracellular space into the cytoplasm of myocytes and adipocytes. The mechanisms responsible for IR may involve insulin binding, IRS proteins or even GLUT-4[65]. IR can be central (hepatic) or peripheral (muscle, fat tissue) depending upon the primary site of involvement. Peripheral IR impairs uptake of glucose from blood into skeletal muscles and adipose tissues. It manifests with increased free FA liberation from adipose tissue secondary to the unopposed antilipolytic action of insulin on hormone-sensitive lipase (HSL)[66] and is best measured through the euglycemic clamp technique[67]. Hepatic IR manifests with unrestrained hepatic glucose production resulting from impaired glycogen synthesis and failure of insulin to suppress gluconeogenesis[68]. Hepatic IR may also be caused by fat accumulation in hepatocytes itself[69]. Regarding the primary site of IR in NAFLD (peripheral vs hepatic), recent data indicate the periphery to be the initial site followed by or resulting in HS exacerbating hepatic IR and thus the degree of overall IR[70].
| | | | |
| --- | --- | --- | --- |
| Actions of insulin | Mechanism of action of insulin | Alterations in insulin resistant states | Net metabolic effect |
| (a) Stimulatory Increases glucose transport: In adipocytes In myocytes | -Insulin binds to its membrane receptor to cause up regulation of GLUT-4 via mediation of IRS-1/2(activated by phosphorylation at tyrosine sites) | -Impaired post receptor signaling involving IRS proteins -Abnormal phosphorylation of IRS-1 makes it inhibitor of the receptor kinase -Activation of IKK-β by free FA and cytokines leads to activation of NF-κB which further inhibits the genes involved in GLUT synthesis | -Hyperglycemia -Decreased glucose utilization as energy source -Reactive hyperinsulinemia |
| Increases glycogenesis In hepatocytes In myocytes | -By providing the building blocks -Increases expression and activity of glycogen synthase and inhibiting the glycogenolytic enzymes | -Decreased glycogen synthesis | -Hyperglycemia -Decreased postprandial glycogen stores in liver |
| Increases lipogenesis In adipose tissue In liver (DNL) | -Increases the supply of substrates -Postprandial stimulation of FAS, ACC and SCD1 -Increases supply of free FA in AT | -Further increase in lipogenesis,esp. DNL -Increased delivery of free FA to liver -Decreased oxidation in hepatocytes | -Excessive fat storage in AT and in other tissues (lipotoxicity) -Hepatic steatosis -Increased adiposity |
| Increases protein synthesis in muscles | -Activates the translational machinery -Activates protein kinase B which activates the protein synthesizing enzymes -In long term exposure increases ribosome in cells | -Decreased protein synthesis | -Sarcopenia |
| Increases glucose oxidative pathways | -Enhances glycolysis and Kreb's cycle by activating all the key regulator enzymes | -Inhibited -Lipid oxidation preferentially used for energy purposes | -Hyperglycemia -Oxidative stress in hepatocytes |
| (b) Inhibitory Decreases gluconeogenesis in liver | -Inhibits pyruvate carboxylase, glucose 6 phosphatase and PEP kinase -Shuttles substrates to lipogenesis | -Enhanced gluconeogenesis -Decreased inhibition of keyregulatory enzymes -Activation of AMPK | -Increased hepatic glucose output -Excessive availability of substrates for lipogenesis -Fasting hyperglycemia |
| Decreases hepatic glucose output | -Decreases gluconeogenesis -Increases glycogen synthesis -Increases oxidation of glucose | -Increased gluconeogenesis -Decreased glycogenesis and oxidative disposal of glucose | -Hyperglycemia |
| Suppresses lipolysis in adipose tissue | -Suppression of HSL | -Increased rate of free FA release in fasting state in lean and obese -When corrected for body weight in obese, postprandial lipolysis may seem to be normal or even decreased | -Increased plasma free FA both in fasting and post-prandial states(May be due to a mass effect of overall expansion of body fat depots in case of obese) -Increased free FA efflux -Increased VLDL |
| Decreases apolipoprotein secretion | -Insulin decreases the synthesis and secretion of Apo-B and Apo-C | -Hyperinsulinemia causes further suppression of expression of apolipoprotein genes and also inhibits post translational modifications and secretion -Enhanced synthesis of Apo-B 48 in intestines | -Trapping of TAG inside the liver -Hepatic steatosis -Increased VLDL |
| Suppresses β oxidation of fatty acids | -Insulin acts via binding to SREBP-1 transcription factor to cause increased expression of ACC-1 leading to generation of FAS substrates for lipogenesis | -Reactive hyperinsulinemia with unrestricted effect on SREBP causes further inhibition of β-oxidation of free FA in hepatocytes mitochondria | -Hepatic steatosis -CYP system over expression and generation of ROS |
Organ-specific deposition of fat is a strong predictor of hyperinsulinemia and IR. Analogous to fat in the liver, increased intramyocellular TAG content closely correlates with muscle IR. The aberrantly high availability of NEFA reduces muscle use of glucose (main consumer of glucose in the body)[71]. The resultant hyperglycemia potentiates glucose-stimulated insulin secretion, which chronically burns out β-cells. This explains the link between obesity, IR and development of type 2 diabetes.
The metabolic and cellular mechanism(s) linking IR to NAFLD are complex and are not fully understood. There are several distinct clinical syndromes associated with severe IR, which are also associated with NAFLD, e.g. obesity, diabetes mellitus and lipoatrophy[72,73]. The severity of NAFLD improves after pharmacological and non-pharmacological interventions aiming at restoring insulin sensitivity[74]. This demonstrates the role of IR in pathogenesis of NAFLD and a 'two hit' process has been proposed to explain it[75].
Two hit hypothesis
Non-alcoholic fatty liver disease represents a continuum of hepatic injuries, which progress from simple fatty liver (FL or HS) to hepatocellular ballooning degeneration, formation of Mallory bodies and fibrosis (NASH). The first hit involves accumulation of TAG in hepatocytes as described above. It has also been recognized that HS in itself leads to hepatic IR by activating protein kinase-theta (PKC-theta;) and Jun N-terminal kinase (JNK)[65,76], which interfere with tyrosine phosphorylation of IRS-1 and IRS-2 and impairs insulin action in hepatocytes[77]. Steatosis and IR can cause and potentiate each other creating a vicious cycle of metabolic dysfunction.
Once the presence of hepatic steatosis is established, progression to steatohepatitis involves a 'second hit' and oxidative stress is thought to play a key role. Fatty liver is more susceptible to oxidative injury[78]. Oxidative stress results from an imbalance of prooxidants (enhanced reactive oxygen species; ROS/reactive nitrogen species; RNS) and antioxidants (nutritional deficiencies) and leads to lipid peroxidation[79]. The chemical modification of biologic molecules may be directly toxic to the cells or may stimulate host-immune response that leads to inflammation, collagen production and further progression of disease[80-82]. The factors promoting prooxidant generation include mitochondrial dysfunction (NADPH oxidase, electron transport chain leakage)[83] and induction of hepatic cytochrome (microsomal, peroxisomal CYP2E1)[84,85] resulting from overburden of FA oxidation system (described above)[86]. It is now believed that IR itself may predispose to oxidative stress by stimulating microsomal lipid peroxidases and by decreasing mitochondrial β-oxidation[81]. CYP2E1 is normally suppressed by insulin but is invariably increased in the livers of patients with NASH[87] and in rodent dietary models of steatohepatitis CYP2E1 is the catalyst of microsomal lipid peroxidation[88]. Attention should now shift from considering hepatic steatosis as a benign process to an important unhealthy condition, which leads to IR, oxidative stress and further progression of NAFLD. This is evident from the fact that severe forms of NASH correlate well with presence of hepatic steatosis, visceral obesity and MS[89].
ADIPOSE TISSUE AND OBESITY
Earlier it was generally believed that the purpose of adipose tissue (AT) was simply a repository of fat. The first report suggesting the fat was an active metabolic tissue was published by Von Gierke[90]. Presently it is considered an endocrine organ and a key regulator of both metabolism and inflammation[91]. In adult mammals, the major bulk of AT is a loose association of lipid-filled adipocytes which are held in a framework of collagen (stroma) containing stromal-vascular cells, fibroblastic connective tissue cells, leukocytes, macrophages and pre-adipocytes (not yet filled with lipid). Approximately 60% to 85% of the weight of white adipose tissue is lipid, with 90%-99% being TAG. Small amounts of free FA, diglycerides, cholesterol and phospholipids are also present. AT is the only organ with unlimited growth potential at any stage of our life. The size of adipose tissue mass is a function of both adipocyte number and size. It can expand by hyperplastic (increase in number) and hypertrophic (increase in the size of adipocytes) growth. Hypertrophy occurs primarily by lipid accumulation within the cell and is reversible, however once adipocyte hyperplasia occurs, they remain throughout the life. Adipocytes are specially adapted for the uptake and release of energy in the form of FA. Fatty acids are converted to TAG inside adipocytes which accumulate as surplus fuel during caloric abundance and released as NEFA back to the circulation as needed in the periods of food shortage and calorie debt (e.g. fasting, starvation, exercise). Adipose tissue is extensively supplied with blood circulation. Insulin plays a major role in the control of AT development and function. It not only regulates lipogenesis but also the rate of lipolysis and NEFA efflux. Adipose tissue in adults can be divided into two types depending on its location: subcutaneous and visceral (intraperitoneal: omental and mesenteric fat). Both fat depots differ in pathophysiology. Insulin actions are blunted in omental compared with subcutaneous AT[92] and can be explained by the increased endogenous protein tyrosine phosphatase 1B (which down regulates the insulin receptors) levels in omental adipocytes[93]. Visceral adiposity is more strongly correlated with NALFD/MS and is measured by waist-to-hip ratio[94]. CT and MRI are the gold standards for measuring visceral fat[95].
ROLE OF ADIPOSE TISSUE IN NON-ALCOHOLIC FATTY LIVER DISEASE
Excess adipose tissue predisposes towards the development of IR by virtue of its secreted factors[96]. Well over 100 secreted factors have been identified. Adipokines are biologically active proteins secreted both by cellular and stromal fractions of AT. In addition adipocytes also secrete FA, cytokines, cholesterol, steroid hormones and prostaglandins[97]. Secretion of all factors except adiponectin increases as AT enlarges in obesity[98]. Various stimuli have been proposed to explain the overproduction of adipokines in obesity. These include increase in mass, chronic inflammation with infiltration of AT by macrophages, hypoxia (growth of adipose tissue ahead of angiogenesis), endoplasmic reticulum stress and oxidative stress[99]. This increase in synthesis is however reversible and decreases with weight loss[100].
The links between adiposity and development of IR and NAFLD thereafter can be explained by the following hypotheses.
Portal/visceral hypothesis
From an anatomical perspective, visceral adipocytes can be a crucial source of FA and other factors entering portal circulation[101]. FA are elevated in sera of obese and diabetic patients. Like protein hormones free FA are also thought to be potent signaling molecules[102]. Enhanced delivery of FA from enlarged visceral adipose tissue to the liver leads to reduced hepatic insulin clearance with further increase of circulating insulin levels[103]. FA stimulate hepatic gluconeogenesis, TAG synthesis and impair insulin suppression of hepatic glucose output[103]. Intrahepatic lipids increase by 22% for any 1% increase in total, by 21% for any 1% increase in subcutaneous and by 104% for 1% increase in intra-abdominal adipose tissue[104]. NEFA levels are raised in the peripheral blood of NASH patients[105], however measurements of portal NEFA levels are still needed to justify the portal theory (Figure 2).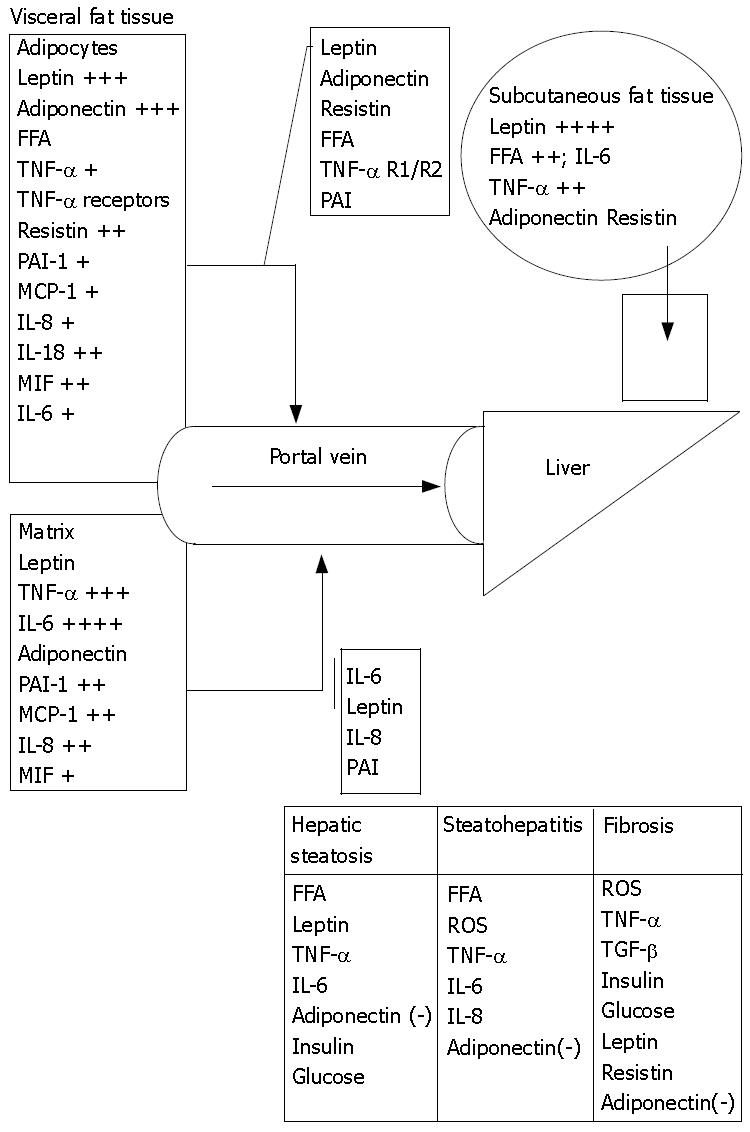 Figure 2 Portal/Visceral hypothesis. Human adipose tissue (AT) is a potent source of inflammatory cytokines and that the majority of this release is due to the nonfat cells in the AT except for leptin and adiponectin that are primarily secreted by adipocytes. Adipocytes secrete at least as much PAI-1 (plasminogen activator inhibitor-1), MCP-1 (macrophage chemotaxis protein), IL-8 (Interleukin), and IL-6 in vitro as they do leptin but the nonfat cells of AT secrete even more of these proteins. The secretion of leptin by the nonfat cells is negligible. Obesity markedly elevates the total release of TNF-α, IL-6, and IL-8 by AT. Visceral fat releases more resistin, IL-6, PAI-1, TGF β1, IL-8 and IL-10 per gram of tissue than subcutaneous fat. (+) indicates fold increase in secretion in obesity; (-) indicates protective effect.
Endocrine paradigm
Adipocytokines have wide-ranging effects on food intake, energy expenditure and metabolism. These are secreted by one cell for the purpose of altering either its own function (autocrine effect) or those of adjacent cells (paracrine effect). In many instances, individual cytokines have multiple biologic activities. Different cytokines have similar activity, which provides biologic redundancy within the inflammatory and immune systems. As a result, it is infrequent that loss or neutralization of one cytokine will markedly interfere with either of these systems. This fact has great significance in the studies of genetic knock out animals. FA released from adipose tissue have a variety of systemic effects including induction of peripheral IR. In myocytes free FA compete with glucose for its entry and utilization[106] and as a consequence, lead to ATP depletion, diminished GLUT-4 translocation and reduced muscular glycogen synthesis[107].
Leptin: Leptin is the first adipokine that was described[108]. Encoded by "ob" gene, it is primarily synthesized and released into the circulation by mature adipocyte in response to changes in body fat mass and nutritional status[109]. In hypothalamus, leptin stimulates anorexigenic pathways and decreases food intake[110]. Circulating levels of leptin are high in obese, proportional to BMI[111,112] and acutely decrease in response to fasting or restriction of energy intake to a much larger extent than would be expected for smaller reductions of adiposity[113] and low levels act as a signal of negative energy balance. Adipocyte size and anatomical location (subcutaneous) appear to be the major determinants of leptin mRNA expression and secretion. In vivo, overfeeding and obesity, glucocorticoid treatments, glucose, and insulin administration increase circulating leptin levels[114,115] , whereas fasting, sustained exercise, cold exposure, and weight loss reduce leptin levels[116,117]. Leptin acts as an insulin-sensitizing hormone and reduces lipid content of myocytes, hepatocytes and pancreatic β-cells[118]. In muscle, insulin sensitization is achieved through inhibition of malonyl-CoA synthesis[119], which increases transport of FA into mitochondria. Leptin directly stimulates adenosine monophosphate kinase (AMPK), which activates ATP-producing catabolic pathways, such as β-oxidation, glycolysis and inhibits ATP-consuming anabolic pathways[120]. Animals lacking leptin effects; ob/ob mice (leptin gene mutation), db/db mice and fa/fa rats (leptin receptor gene mutations) are obese, insulin resistant and have HS[121,122] , while leptin injections attenuate their fatty livers and metabolic abnormalities[123]. In humans with lipoatrophic diabetes, there is little or no fat mass, diminished leptin levels, markedly elevated TAG and also fatty liver[124]. Leptin therapy in them reduces liver enzymes, BMI, hepatic fat content and histological features of steatohepatitis[125]. In obese NAFLD patients, leptin levels are elevated and are directly correlated with the severity of HS[126]. This brings up the concept of leptin resistance[127]. The anti-steatotic and insulin-sensitizing actions of leptin are blunted in obesity. The reason for this phenomenon is currently poorly understood and it may result from defects in leptin signaling or transport across blood brain barrier[128]. In animal models leptin is a critical fibrogenic factor[129]. This action may be mediated by transforming growth factor (TGF)-β or may involve activation of hepatic stellate cells (HSC) directly. HSC, upon activation produce leptin[130], which further stimulates fibrogenesis, as both quiescent and activated HSC express leptin receptors[131].
Adiponectin: Adiponectin, an antilipogenic and insulin-sensitizing protein[132] is almost exclusively expressed in white AT adipocytes and circulates at high levels[133]. In contrast to other adipokines, its expression and serum levels are reduced in obesity and a variety of insulin resistant states[134]. In obese rats the cellular mRNA and circulating levels of adiponectin are low[135,136] and prompt increase is seen with body weight reduction through food restriction[134]. Similar inverse correlation between BMI and adiponectin is also observed in Pima Indians[137]. IL-6 and TNF-α are potent inhibitors of adiponectin expression[138] and high levels of these cytokines in obesity and NAFLD explain this relationship. The decline in adiponectin levels coincide with the onset of IR[135,139] and various links have been suggested between low circulating adiponectin, increased liver fat content and the degree of hepatic IR[140,141]. Administration of adiponectin ameliorates IR in mouse models of obesity and diabetes[142]. The insulin sensitizing properties of adiponectin are due to its ability to activate AMPK in hepatocytes, myocytes and locally in adipocytes. In turn, it enhances hepatic FA oxidation and insulin suppression of glucose production[143], myocellular FA oxidation (by inactivation of ACC-1)[144] and lipolysis in AT. Adiponectin also has anti-inflammatory effects and inhibits the local production of TNF-α and IFN. Low adiponectin levels might predispose liver to cell necrosis and[145,146] correlate with the severity of NASH and liver enzyme abnormalities[147]. Adiponectin therapy improves IR in lipodystrophy, however, complete reversal of IR in the animal models requires co-administration of leptin, further supporting the importance of coordinated roles of different adipokines in causation of this complex disease.
Tumor necrosis factor-α: TNF-α is synthesized and secreted by visceral adipocytes, stromovascular cells and endotoxin-activated macrophages[148]. Unstimulated adipose tissue releases relatively small amounts of TNF-α[149]. Its effects depend upon interaction with TNF receptors (TNF-R1 and TNF-R2) and also with more than 20 different cytokine receptors. TNF receptors are also secreted by adipocytes. TNF-R1 mediates apoptosis and lipolysis while TNF-R2 is involved in the induction of IR[150]. TNF-α mainly acts in an autocrine/paracrine fashion in AT and plays a central role in the generation of IR in rodents. It does so directly by reducing mRNA expression of GLUT-4[148], reducing lipoprotein lipase (LPL) activity and increasing expression of hormone sensitive lipase in AT. Also TNF-α impairs insulin signaling through JNK mediated serine phosphorylation of IRS proteins in the surrounding adipocytes[151]. TNF-α causes activation of PPAR-γ also and reduces expression and secretion of leptin by adipocytes. In vitro studies on human adipose tissue do not show any clear role of TNF-α in causing these direct metabolic derangements. Circulating TNF-α is increased in obese[152] and diabetic subjects while weight loss decreases its levels. Although the correlation between IR and plasma TNF-α is weak, adipocyte TNF-α mRNA levels correlate well with BMI, body fat and hyperinsulinemia. To date no study has demonstrated whether TNF-α, via the portal vein reaches the liver and causes hepatic injury. However, the local production of TNF-α by Kupffer cells has been proposed to play a key role in the pathogenesis of NASH/NAFLD. FL in ob/ob mice is significantly improved by inhibition of hepatic TNF-α production or by infusion of anti-TNF-α antibodies[153]. TNF-α knockout could prevent the development of IR induced by a high fat diet in mice, suggesting a role of TNF-α in mediating free FA-induced IR.
Interleukin-6: IL-6 is predominantly an endocrine cytokine[154] with multiple systemic effects ranging from inflammation to host defense (regulation of B and T cell functions) and tissue injury. Approximately 33% of circulating IL-6 come from the AT, of which the matrix components with immune cells (monocytes), fibroblasts and endothelial cells contribute the major part (90%). Omental fat secretes 3 times more IL-6 than subcutaneous AT. However, IL-6 expression in subcutaneous fat is prone to rapid changes following meals, exercise (mediated via stimulation) and weight changes. Plasma IL-6 levels are increased in obesity[152] and predict the development of type 2 diabetes, metabolic syndrome and cardiovascular diseases[155,156]. It has a weak inhibitory effect on adipogenesis. In paracrine fashion, it decreases adiponectin secretion from the surrounding adipocytes, inhibits lipoprotein lipase (LPL) on endothelial cells and activates lipolysis (post exercise). IL-6 can enter the liver via portal circulation from visceral adipose tissue and mediates its effects on hepatocytes by interacting with its receptor, activating suppressor of cytokines signaling-3 (SOCS-3). This causes inhibition of IRS phosphorylation, which leads to hepatic IR[157]. IL-6 also has pro-inflammatory properties and causes activation of Kupffer cells resulting in fibrogenesis. It also enhances hepatic C-reactive protein synthesis. Paradoxically, administration of IL-6 in the cerebrospinal fluid of rats decreases body weight and IR, probably by enhancing the energy expenditure due to its action on hypothalamus.
Resistin: Resistin is claimed to represent an important link between obesity and IR[158]. In humans the major source of resistin is probably from the peripheral blood macrophages and adipocytes[159] and its levels correlate with IL-6[160] and BMI[161,162]. In mice, recombinant resistin promotes systemic IR by AMPK activation and decreasing upregulation of GLUT-4 in adipocytes whereas anti-resistin antibody administration improves IR[163]. Mice lacking resistin (rstn-/-) exhibit low blood glucose levels after fasting owing to reduced hepatic glucose production[164]. Its serum levels are higher in mouse models of obesity and decrease by PPARγ agonist treatment[165].
Acylation-stimulating protein: Adipose tissue releases substantial amounts of acylation-stimulating protein (ASP), which is derived from the interaction of complement C3, factor B and adipsin[166]. ASP stimulates glucose transport and enhances TAG storage in adipocytes[167]. These stimulatory effects are independent of and complementary to those of insulin[168]. Insulin itself increases the production of ASP precursor C3 in adipocytes[169]. Production of ASP may also be increased by IL-6 [168] and its levels in NAFLD are high correlating with HOMA-IR score[170]. Although ASP levels are increased in obese subjects, resistance to ASP could redirect FA flux away from AT and towards the liver causing HS.
Angiotensinogen: Angiotensinogen is also found in adipocytes[171] and its levels are increased in obesity[172]. Nascent data suggest it may be important in NAFLD, because angiotensin II antagonists improve liver function tests in patients with NAFLD and attenuate fibrosis in animal models[173].
Lipodystrophy-the ectopic fat storage syndrome
Hepatic steatosis is not only confined to obese subjects with excessive fat tissue, but it occurs frequently in lipodystrophy characterized by severe loss of AT from different regions of the body[174] and correlates directly in severity with the extent of fat loss[175]. Patients with congenital or acquired generalized lipodystrophy often are insulin resistant, diabetic and their HS may progress to cirrhosis[176]. The mechanism for HS in lipodystrophy is related to the reduced storage capacity of AT depots and diversion of TAG to other tissues[69]. Also the failure of AT mass to expand and accommodate a high-energy influx causes impaired adipokine production. Experiments in mice and humans demonstrate development of severe IR with lipodystrophy[177,178]. IR in lipoatrophic mice is fully reversed by a combination of physiological doses of adiponectin and leptin, but only partially by either adiponectin or leptin alone. This suggests that reduced adiponectin and leptin levels might be causing NAFLD in subjects with lipodystrophy[179].
ROLE IN NON-ALCOHOLIC STEATOHEPATITIS AND CIRRHOSIS
Subjects with NASH are at significantly increased risk to develop cirrhosis. Once cirrhosis has developed, the characteristic hepatocellular changes, as well as steatosis, are often no longer conspicuous, possibly leading to such cases being mistakenly diagnosed as cryptogenic. Studies suggest that NAFLD is the most important cause of cryptogenic cirrhosis[180,181]. A fraction of NAFLD patients develop hepatocellular carcinoma[182]. The risk of this malignant complication is increased more than 4 times in cirrhotic patients compared to the general population[183]. About 3% of NASH cases may progress to terminal liver failure, requiring liver transplantation[184]. At present, up to 4% to 10% of liver transplants can probably be accounted for by end-stage NASH[4]; this estimate is very likely to rise. The pathogenesis of progression is not well understood and various risk factors are proposed. Low intake of antioxidant vitamins, high intake of saturated fat[185], presence of small bowel bacterial overgrowth[186] and obstructive sleep apnea[187] may contribute to it in different settings. Eventually, various factors (cytokines, hormones, neurotransmitters or FA) through their interactions modulate the necro-inflammatory component of NASH (Table 3).
| | | | | |
| --- | --- | --- | --- | --- |
| Factors | Increase in obesity | Source: tissue/cells | Basis of increased levels | Role in development of NASH |
| FFA[199] | 41% | Diet Adipose tissue: (adipocytes) visceral/subcutaneous | -Over nutrition -Unopposed peripheral lipolytic activity secondary to IR | -Lipotoxicity -Induce JNK dependent hepatocytes apoptosis -Cause Bax translocation to hepatocyte lysosomes leading to lysosomal degradation and release of cathepsin B -Enhance expression of apoptosis effectors(TNF-α and Fas) -Generation of ROS at ETC of mitochondria -Increase in hepatic lipid peroxidation |
| TNF-α[152] | 28% | Liver: Kupffer cells/macrophages/HSC/hepatocytes Adipose tissue: macrophages in matrix/adipocytes | -Chronic inflammation in adipose tissue with macrophage infiltration -LPS/endotoxins from small bowel overgrowth -Viral infection -Ethanol -Reactive oxygen species | -Receptor mediated mitochondrial injury with release of ROS and caspases -Induction of lipid peroxidation and cell necrosis (intermediation of ceramide) -TNF-α R1 activation leads to Fas induced apoptosis -Causes release of other cytotoxic cytokines(IL-6, TGF-β) from activated Kupffer cells |
| IL-6[152] | 46% | Blood: monocytes/endothelial cells Adipose tissue: subcutaneous/omental Liver: Kupffer cells/HSC/macrophages | -TNF-α mediated activation of Kupffer cells -Pro-inflammatory cytokines release by cells (macrophages) in adipose tissue | -Mediates synthesis of acute phase proteins by hepatocytes -Activates HSC to cause fibrosis and up regulate various genes involved |
| Leptin[111,112] | 4 .2 to 5.8 times | Adipose tissue: mature adipocyte/few matrix cells Liver: activated HSC | -Increased mass of adipose tissue -Chronic inflammatory mediators in adipose tissue -Leptin resistance | -Regulates hepatic fibrosis by activation of HSC(induction of α2 collagen gene) and modulation of Kupffer cell function -Protects HSC from apoptosis and enhances their regeneration -Up regulates profibrogenic TGF-β synthesis |
| Resistin[161,162] | Non significant | Adipose tissue: visceral/subcutaneous (adipocytes) Blood: monocytes Liver: Kupffer cells | -IL-6 and TNF-α release inadipose tissue secondary to inflammation -Chronic liver injury | -NF-κB mediated activation of HSC and release of pro-inflammatory(MCP, IL-8, TNF-α) and fibrogenic(TGF-β, leptin) cytokines |
| IL-8[200] | 33% | Inflammatory cells in adipose tissue,liver and blood | -Pro-inflammatory cytokines | -Mediates inflammatory response in NASH |
| PAI-1[201] | 3.5 times | Liver: (activated HSC) Adipose tissue: visceral/omental (matrix and adipocytes) | -Locally produced TGF-β and TNF-α | -Inhibits the activation of fibrinolytic plasmin during fibrogenesis |
| Angiotensinogen[172] | 14% | Liver: hepatocytes Adipose tissue: visceral/subcutaneous (adipocytes) | -Hyperinsulinemia of IR -FFA | -Activates HSC to secrete TGF-β to cause fibrosis |
The development of fibrosis indicates further progression of liver injury. Extracellular accumulation of collagen matrix is predominantly localized in pericentral and perisinusoidal areas of the hepatic lobule[188]. However, isolated portal fibrosis (IPF) is also found to be associated with hepatic steatosis in NAFLD[39,189]. HSC, owing to their localization in hepatic lobule play a pivotal role in the deposition of collagen. HSC undergo a phenotypic transition (activation) to myofibroblast-like cells that synthesize different extracellular matrix components[190]. HSC acquire ability to effectively proliferate and migrate to the area of liver injury and express soluble mediators of inflammation, angiogenesis and hepatocyte growth[191]. Obesity and IR are independently associated with the progression and degree of fibrosis[40,192]. This view is supported by the increase in cell proliferation and collagen production by insulin in cultured HSC[193]. Hyperglycemia also acts as a stimulus to secretion of the profibrogenic cytokine (connective tissue growth factor)[194]. Oxidative stress is implicated in activation of HSC and products of oxidative stress have been shown to have profibrogenic actions in in vitro studies[195]. Among adipokines, leptin stimulates collagen expression, proliferation and prevention of apoptosis of HSC[196]. However, association between plasma leptin levels and the degree of fibrosis is not clearly identified. The levels of anti-fibrogenic adiponectin are markedly diminished in obesity. Resistin is recently shown to modulate human HSC activity[197]. Other cytokines like IL-10 and TGF-β also dictate the extent of fibrosis in NASH. It is believed that release of TGF-β1 by necrotic hepatocytes may be one of the first signals to activate adjacent quiescent HSC[198].
CONCLUSION
NAFLD is emerging as one of the most common liver disorders claiming urgent attention of the public, clinicians and researchers. Obesity is an epidemic health disorder and NAFLD can be a major health problem. Lifestyle modifications including calorie restriction, physical activity and weight loss are main therapeutic modalities. Future research is warranted to elucidate the pathogenesis of NAFLD and NASH, thereby developing accurate non-invasive diagnostic tests and novel therapeutic protocols.
S- Editor Zhu LH L- Editor Zhu LH E- Editor Wang HF