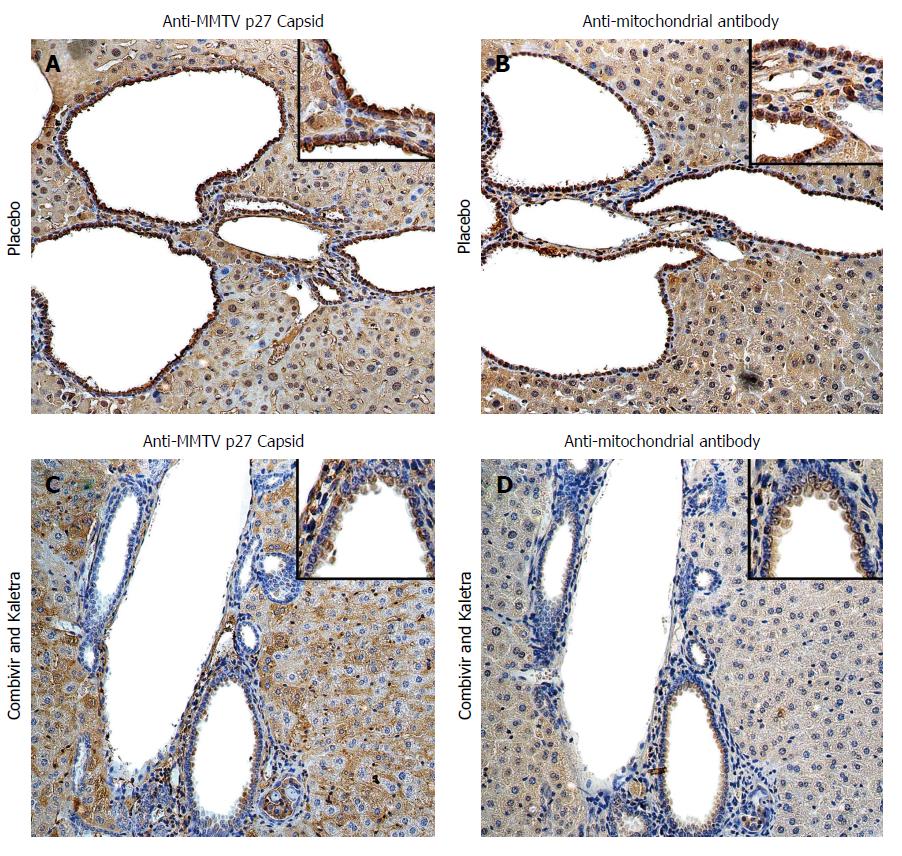 Figure 1 Hepatic immunohistochemistry study of NOD.
c3c4 mice treated with placebo (A and B) or tenofovir/emtricitabine and lopinavir/ritonavir (C and D) for 12 wk. A: Mice receiving placebo showed anti-MMTV p27 Capsid reactivity in biliary epithelial cells and hepatocyte nuclei to a lesser extent; B: The distribution of anti-mitochondrial antibody staining was observed in a similar biliary distribution pattern on the bile duct epithelium; C and D: The reactivity to both viral and mitochondrial proteins was attenuated in mice treated with tenofovir/emtricitabine and lopinavir/ritonavir. Haematoxylin eosin staining, magnification × 2009 with × 4009 in insets showing staining in biliary epithelial cells. With permission from Sharon et al[8].

Figure 2 Variations in MMTV pol gene were observed after 12 wk lamivudine/zidovudine therapy in the NOD.
c3c4 mouse. Alignment of amino acid sequence 136-198 of MMTV Pol P03365.2 using ClustalW alignment (MacVector 11.1 software) showing the amino acid variations W150R, R176G, Y183H, M188V and L192P in five clones derived from two mice treated with lamivudine/zidovudine that were not observed in control mice on placebo. Variants G160S and D181N were observed in mice receiving placebo and antiretroviral therapy. With permission from Sharon et al[8].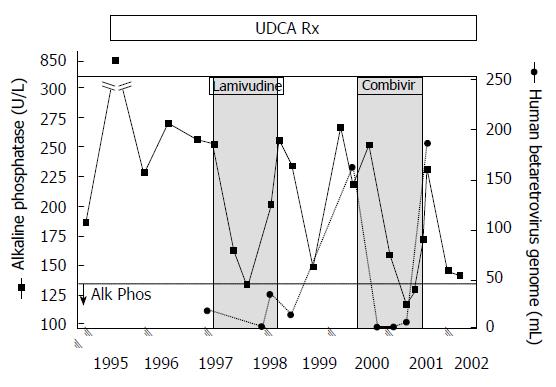 Figure 3 Viral and biochemical rebound in a patient with primary biliary cirrhosis treated with antiviral therapy.
Partial biochemical response was observed after starting lamivudine treatment by 3 mo that relapsed. With the commencement of CombivirTM therapy, the patient normalized alkaline phosphatase from months 6 and 9 with a concomitant loss of viremia, which then rebounded with increased alkaline phosphatase levels and recurrent viremia. With permission from Mason et al[9].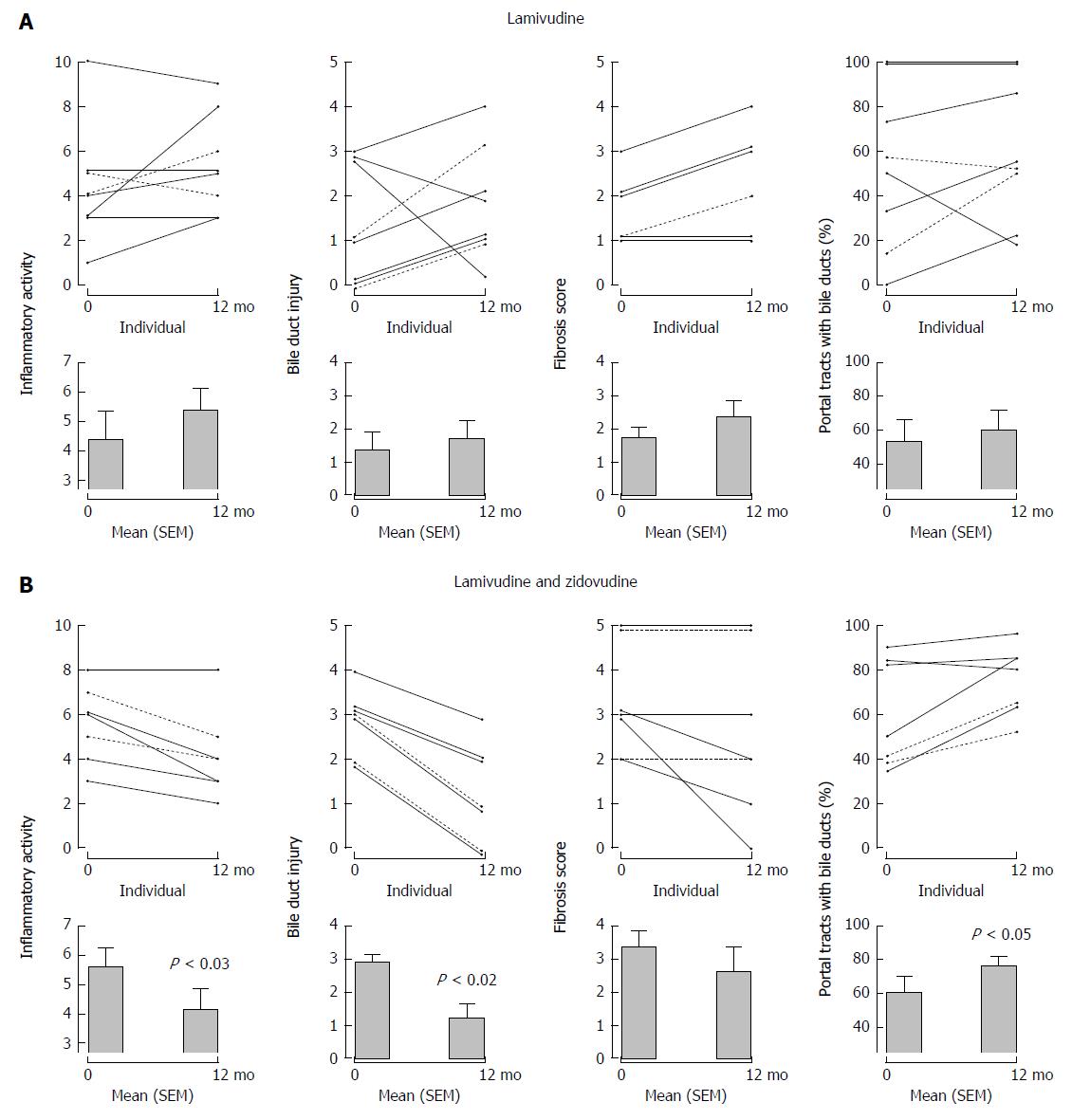 Figure 4 Serial liver biopsies assessed before and after 1 years' open label therapy with (A) lamivudine and (B) lamivudine and zidovudine showing a significant reduction in necroinflammatory activity, bile duct injury, and improvement in ductopenia for subjects receiving lamivudine and zidovudine therapy.
With permission from Mason et al[9].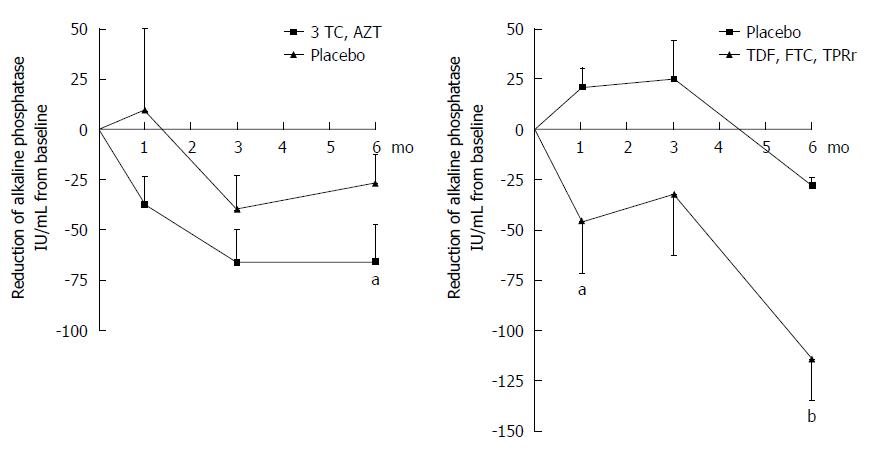 Figure 5 Incremental improvement of hepatic biochemistry observed in primary biliary cirrhosis patients maintained on UDCA receiving combination antiretroviral therapy with a protease inhibitor.
Patients treated with daily lamivudine 150 mg (3TC) and zidovudine 300 mg (AZT) developed a 66 IU/mL mean reduction in ALP, whereas those receiving daily tenofovir/emtricitabine 300/200 mg (TDF, FTC) and lopinavir/ritonavir 800/200 mg (LPRr) for 6 mo (n = 13) experienced a mean ALP reduction of 114 IU/mL (two-way ANOVA, bP < 0.001, aP < 0.05 vs control). With permission, adapted from Mason et al[11].
---
Citation: Lytvyak E, Montano-Loza AJ, Mason AL. Combination antiretroviral studies for patients with primary biliary cirrhosis. World J Gastroenterol 2016; 22(1): 349-360
---