Copyright
©The Author(s) 2015.
Published by Baishideng Publishing Group Inc. All rights reserved.
Complement activation in progressive renal disease
Amy Fearn, Neil Stephen Sheerin, Institute of Cellular Medicine, Newcastle University, NE2 4HH Tyne and Wear, United Kingdom
Author contributions: Fearn A and Sheerin NS contributed to the preparation of this manuscript.
Conflict-of-interest: The authors report no conflict of interest.
Open-Access: This article is an open-access article which was selected by an in-house editor and fully peer-reviewed by external reviewers. It is distributed in accordance with the Creative Commons Attribution Non Commercial (CC BY-NC 4.0) license, which permits others to distribute, remix, adapt, build upon this work non-commercially, and license their derivative works on different terms, provided the original work is properly cited and the use is non-commercial. See: http://creativecommons.org/licenses/by-nc/4.0/
Correspondence to: Dr. Amy Fearn, Institute of Cellular Medicine, Newcastle University, Newcastle upon Tyne, NE2 4HH Tyne and Wear, United Kingdom. amy.fearn@ncl.ac.uk
Telephone: +44-0191-2227146
Received: September 2, 2014
Peer-review started: September 4, 2014
First decision: October 17, 2014
Revised: November 14, 2014
Accepted: December 3, 2014
Article in press: December 10, 2014
Published online: February 6, 2015

Chronic kidney disease (CKD) is common and the cause of significant morbidity and mortality. The replacement of functioning nephrons by fibrosis is characteristic of progressive disease. The pathways that lead to fibrosis are not fully understood, although chronic non-resolving inflammation in the kidney is likely to drive the fibrotic response that occurs. In patients with progressive CKD there is histological evidence of inflammation in the interstitium and strategies that reduce inflammation reduce renal injury in pre-clinical models of CKD. The complement system is an integral part of the innate immune system but also augments adaptive immune responses. Complement activation is known to occur in many diverse renal diseases, including glomerulonephritis, thrombotic microangiopathies and transplant rejection. In this review we discuss current evidence that complement activation contributes to progression of CKD, how complement could cause renal inflammation and whether complement inhibition would slow progression of renal disease.
Core tip: Complement activation occurs in progressive chronic kidney disease and may contribute to the chronic inflammation that is characteristically found in the kidney. It is therefore possible that inhibiting complement activation would reduce inflammation, lead to reduced fibrosis and preservation of renal function.
---
Citation: Fearn A, Sheerin NS. Complement activation in progressive renal disease. World J Nephrol 2015; 4(1): 31-40
---
INTRODUCTION
Chronic kidney disease (CKD) is recognised worldwide as a major public health problem[1]. In 2007 the United Kingdom age-standardised prevalence of CKD stages 3-5 was 8.5% (10.6% in females and 5.8% in males)[2] and similar prevalences have been described in other countries. In 2012 in the United Kingdom, the number of new patients requiring renal replacement therapy was 6891, equating to 108 patients per million population, with diabetes and glomerulonephritis being the two most common diagnoses in incident dialysis patients. Although not all patients with CKD will progress to renal failure, all stages of CKD are associated with increased morbidity and mortality[1].
Tubulointerstitial inflammation and fibrosis is a major factor in the progressive loss of renal function in most kidney diseases[3]. The process is complex due to the number of interacting pathways which ultimately result in the replacement of functioning nephrons with scar tissue. Cellular stress and injury induces an inflammatory and pro-fibrogenic response involving growth factors[4-6] and pro-inflammatory cytokines as well as activation of the renin-angiotensin system. This leads to a chronic inflammatory cell infiltrate, increasing numbers of activated fibroblasts (myofibroblasts) and excessive matrix deposition. There is evidence from preclinical models that the immune system is important in the development of renal fibrosis[7,8]. A component of the innate immune system that may be important in driving renal inflammation is the complement system, which can directly affect cell function and also influence the adaptive immune response.
COMPLEMENT SYSTEM
The complement system is a biochemical cascade made up of approximately 30 serum and membrane-bound proteins and represents a major part of the innate immune system. Complement was identified in the late 19th century by German scientist Paul Ehrlich as a heat-labile blood serum component with non-specific antimicrobial activity that "complements" other immune functions. As part of the innate immune system, the complement system responds rapidly to defend the host against a variety of invading microorganisms[9]. The complement system can also participate during the inductive phase of the acquired immune response by contributing to the recognition and presentation of non-self antigen, triggering antigen presenting cell activation, maturation and proliferation[10,11].
The primary location for biosynthesis of complement is the liver. Although Erlich and Morgenroth suggested the liver as the main source of complement production in 1900, it was only confirmed in 1976 by Alper et al[12] who described recipient to donor C3 allotype conversion after liver transplantation. This is also supported by studies of hepatocyte cell function[13]. In addition, evidence for extrahepatic synthesis of complement increased and it is now known that extrahepatic complement synthesis contributes approximately 10% of circulating C3. The alternative sites for complement production include epithelial cells, fibroblasts, lymphocytes and macrophages derived from different organs, including the kidney[14]. In the kidney, local complement production has been shown to occur at different sites along the nephron and may be further enhanced by the presence of cytokines and infiltrating immune cells during acute inflammation[15-17].
ACTIVATION OF THE COMPLEMENT SYSTEM
Activation of the complement cascade is triggered by one of three distinct pathways: the classical pathway, the alternative pathway and the mannose-binding lectin (MBL) pathway (Figure 1). All three pathways converge to cleave complement component C3, which subsequently initiates activation of the terminal complement pathway and formation of the membrane attack complex (MAC). The classical pathway is initiated by the activation of the C1 complex when C1q binds the Fc region of IgG or IgM. There is sequential cleavage of activation of C4 and C2, leading to the assembly of the classical pathway C3 convertase.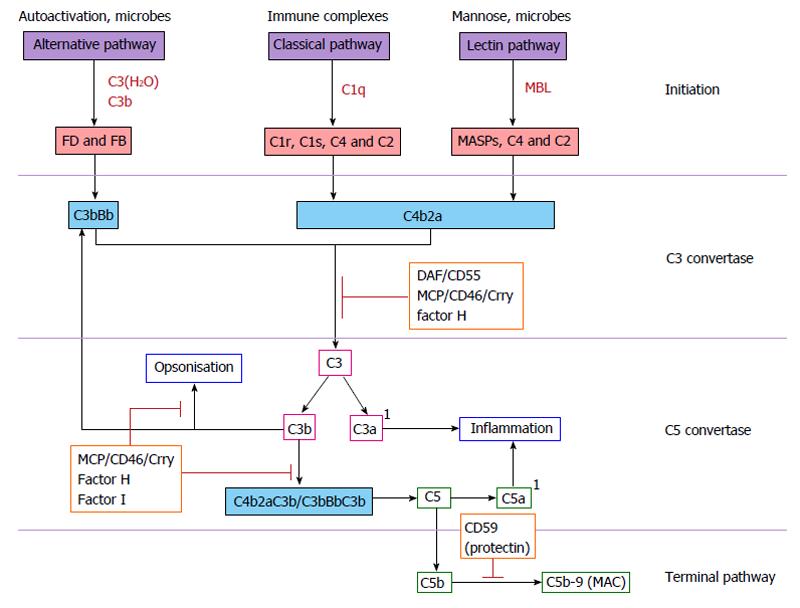 Figure 1 Complement activation pathways. Complement activation is triggered via activation of either the alternative, classical or lectin pathways, all three of which converge to cleave central component C3. Briefly, activation of the alternative pathway occurs following the spontaneous hydrolysis of C3 to C3(H2O). C3(H2O) binds factor B (FB) to form C3bB which is then cleaved by FD leaving the C3bBb complex. C3bBb is stabilised by properdin to form the alternative pathway C3 convertase. C3 is subsequently cleaved to C3a and C3b to form the C5 convertase C3BbC3b. Activation of the classical complement pathway occurs when immunoglobulin-bound antigens bind to and activate the C1 complex (consisting of C1qr2s2). Activated C1qr2s2 cleaves C4 to C4a and C4b. C4b becomes membrane-bound and binds to pro-enzyme C2, which is then cleaved to C2a and C2b fragments by C1s. C2a remains bound to C4b, forming the classical C3 convertase C4b2a. C3 is cleaved to C3a and C3b to form the C5 convertase C4b2aC3b. The lectin complement pathway is homologous to the classical pathway, with the exception that it is activated by the binding of lectin to microbial cell surface carbohydrates (mannose). Surface-bound lectin activates MBL-associated serine proteases (MASPs), which directly activate C3 and directly cleave C2 and C4. Activation of the terminal complement pathway occurs when the alternative and classical C5 convertases C3bBbC3b or C4b2aC3b cleave C5 in to C5a and C5b. C5b binds to C6 and C7, forming C5b67, which associates with an adjacent membrane. C5b67 then binds to C8 and multiple C9 molecules forming the transmembrane pore C5b-9, also known as the MAC. 1Denotes the anaphylatoxins C3a and C5a. Orange boxes highlight regulatory complement proteins. MBL: Mannose-binding lectin; MAC: Membrane attack complex; DAF: Decay accelerating factor; MCP: Membrane cofactor protein.
Activation of the alternative pathway is dependent on the spontaneous low level hydrolysis of the internal thioester bond of C3 to C3(H2O). C3(H2O) resembles C3b and can bind to factor B (FB). FB is activated by factor D forming the alternative pathway C3 convertase. The alternative pathway also amplifies the classical and lectin-binding pathways and is therefore critical for the full activity of complement. The third complement activation pathway, the lectin-binding pathway, is homologous to the classical pathway except that it is activated by the binding of a lectin to carbohydrates on microbial surfaces. The C3 convertase cleaves C3 resulting in assembly of the C5 convertase and sequential binding of C6, 7, 8 and 9 to form C5b-9, the membrane attack complex.
The main purpose of complement activation is to remove invading pathogenic organisms such as bacteria. This is achieved directly through the formation of the MAC or indirectly by opsonisation and stimulation of phagocytosis. Products of C3 and C4 activation on the surface of pathogens are recognised by the complement receptors CR1 and CR3 present on macrophages and neutrophils leading to phagocytosis of the opsonised target. Complement activation results in production of the small, biologically active anaphylatoxins, C3a and C5a. These readily diffusible complement components have a variety of functions, including chemotaxis and release of histamine from mast cells, mediated through binding to specific receptors[18]. These receptors, and also CRs1-4 (Table 1), are present on many immune cells and provide links between complement and the adaptive immune system[19,20].
Receptor
Alternative name(s)
Location
Specificity
Role
CR1
CD35
Macrophages Neutrophils B-cells Some T-cells Renal epithelium
C3b C4b
Binding of opsonised immune complexes for transport to phagocytes
CR2
CD21
B-cells Some T-cells Dendritic cells Epithelia
C3d
Link between innate and acquired immune response on B-cells Presentation of immune complexes to B-cells
CR3
CD11b/18
Macrophages Natural killer cells Neutrophils
iC3b
Cellular-extracellular matrix linkage Promotes phagocytosis of opsonised complexes
CR4
CD11c/18
Macrophages Neutrophils
iC3b C3dg
Receptor for iC3b-opsonised particles
C3aR
-
Renal epithelium Macrophages
C3a
Mediation of inflammation
C5aR
CD88
Neutrophils
C5a
C1qR
CD93
Leukocytes Platelets Monocytes Neutrophils
C1q
Up-regulation of phagocytic capacity Protein chaperone
The complement system contains proteins, both membrane bound and fluid phase, which regulate activation to prevent damage to host cells. They act by promoting decay of the convertase complexes, act as cofactors for the enzymatic degradation of the active proteins and by preventing the assembly of the MAC. The importance of these regulators is seen when their function is impaired, resulting in excessive complement activation and tissue injury.
COMPLEMENT ACTIVATION IN RENAL DISEASE
Complement activation is known to occur in immune mediated glomerular diseases (lupus nephritis, membranous nephropathy and post-infectious glomerulonephritis), atypical haemolytic uraemic syndrome and during antibody mediated rejection. However, what is less clear is whether complement activation contributes to the non-disease specific inflammation, tissue injury and fibrosis that are characteristic of progressive nephropathies.
COMPLEMENT ACTIVATION IN CLINICAL PROTEINURIC DISEASE
The association between proteinuria, tubulointerstitial fibrosis and declining renal function is well established, however, the mechanism by which proteinuric glomerular disease casuses interstitial injury is uncertain. Complement proteins will be filtered when glomerular permselectivity is impaired and enter the tubular compartment. Complement activation products can be found in the urine of patients with a wide variety of proteinuric diseases; diabetic nephropathy, membranous nephropathy, IgA nephropathy and focal segmental glomerulosclerosis (FSGS)[21]. In some cases this may be due to spill over of complement activated in the glomerulus, however, complement activation products can be found in diseases where glomerular complement activation is not a major feature, for example diabetic nephropathy and FSGS[21,22]. This implies that complement is activated within the tubular compartment.
The tubular epithelium activates complement on its apical surface[23,24], which occurs primarily via the alternative pathway[25,26]. There are several explanations for this. It may be related to urinary pH[21] or ammonia production from stressed epithelial cells[27] directly activating C3. There may be enzymes with convertase-like activity in the apical brush border of the proximal tubule which is also known to be relatively deficient in complement regulatory proteins[28]. Properdin, which stabilises the alternative pathway convertase binds to the glycosaminoglycans on the apical surface of tubular epithelium[26]. Factor H also binds but at a different site[29,30], suggesting a balance between complement activation and inhibition which may be disturbed in proteinuria as albumin reduces Factor H binding[31]. Whatever the explanation, proteinuria provides a source of complement proteins to a host cell surface which is unable to control activation.
Demonstrating that complement activation is the cause of tissue injury in clinical proteinuric disease is difficult. Mosolits et al[32], studying patients with proteinuria, found a spatial and quantitative relationship between renal MAC deposition and inflammatory cell infiltrate and tubulointerstitial expansion. Urinary MAC concentrations are increased in proteinuric renal diseases. The concentration can relate to disease activity[33] although this is not always the case[34,35] and is further complicated when there is glomerular immune complex deposition.
COMPLEMENT ACTIVATION IN PRECLINICAL MODELS OF PROTEINURIA
Pre-clinical models have significantly contributed to our understanding of the role of complement in proteinuric disease. Aminoglycosides (puromycin and adriamycin) disrupt glomerular epithelial function leading to glomerulosclerosis, proteinuria and tubulointerstitial fibrosis in rodents. Induction of disease in complement deficient mice has shown that complement activation contributes to glomerulosclerosis and tubulointerstitial fibrosis and that activation occurs via the alternative pathway[36,37]. These studies have also demonstrated the important function of complement regulatory proteins in controlling complement activation, as their deficiency exacerbates injury[36]. Evidence from studies in both mice and rats suggests that both MAC[38] and the anaphylatoxins may be responsible for the damage that occurs[36,39].
Other pre-clinical models have also been used to investigate how complement influences the development of tubulointerstitial injury including a model of mesangioproliferative glomerulonephritis[40] and the remnant kidney model[41,42]. Disease severity is reduced if an intact complement system is absent. These models also allow testing of the potential for therapeutic targeting of complement. There is strong evidence that either complement depletion[43] or inhibition[40] can reduce the severity of proteinuria-related tubulointerstitial disease. There is the potential to target therapeutic complement inhibition at the tubular epithelium. A recombinant protein with an antibody portion directed at the tubular brush border linked to a complement inhibitor reduced interstitial injury and preserved renal function in rats with puromycin nephrosis[44].
COMPLEMENT ACTIVATION IN NON-PROTEINURIC KIDNEY DISEASE
Less is known about the role of complement in non-proteinuric renal disease. Unilateral ureteric obstruction (UUO), induced by ligation of one ureter, is the most commonly used preclinical model of progressive renal disease. The injury is characterised by the gradual development of interstitial inflammation and fibrosis, macrophage, T cell and fibroblast infiltration and eventual loss of functioning nephrons, closely resembling the pathology of chronic renal disease observed in patients. The first study to address the role of complement in UUO used rats deficient in C6 which are unable to assemble MAC. No difference was seen in disease severity in normal or C6 deficient animals, indicating no role for MAC in disease development[45].
Boor et al[46] found that interstitial fibrosis and macrophage infiltration were significantly reduced in C5 deficient (C5-/-) mice after five days of UUO. Similarly, significant reductions in fibronectin, vimentin, platelet-derived growth factor (PDGF)-B and PDGF-D mRNA were observed in C5-/- mice. A protective effect was also observed when UUO mice were treated with a C5aR antagonist. In a more recent study of UUO in C3 deficient mice there was a significant reduction in interstitial fibrosis and tubular atrophy in the absence of complement activation[47]. It is clear from the above animal studies that activation of C3 and C5 contribute to the development of progressive renal fibrosis during experimental obstructive nephropathy, however, the mechanism by which this occurs remains largely uncharacterised. There are no corresponding clinical studies to support these pre-clinical observations.
COMPLEMENT FUNCTION IN DIABETIC NEPHROPATHY
Although diabetic nephropathy is initially glomerular, progression of disease is associated with both glomerulosclerosis and tubulointerstitial fibrosis. There is evidence that complement may be involved in susceptibility to and progression of diabetic nephropathy. The serum concentration of mannose-binding lectin is variable and determined by polymorphisms in the gene promoter and coding sequence. Higher MBL concentrations early after the onset of type 1 diabetes may predict the development of nephropathy many years later[48]. Serum MBL concentrations are higher in type 1 diabetics with albuminuria and overt nephropathy[49,50] although this does not appear to relate to genotype. The effect of MBL on the development of diabetic nephropathy has been studied in MBL deficient mice with streptozotocin induced diabetes. The absence of MBL retards the development of glomerular disease and albuminuria[51], although not in all mouse strains[52].
MAC can be detected in the glomeruli of the patients with diabetes. Deposition may be increased by the glycosylation and loss of function of CD59, an inhibitor of MAC assembly[53]. In diabetic disease there is differential regulation of complement genes in both the glomerulus and tubular compartment[54], suggesting a possible role for complement proteins synthesised within the kidney. In addition, complement activation may be involved in the coronary and renal vascular disease associated with diabetes[53,55] and again the MBL pathway may be involved[56].
POLYCYSTIC KIDNEY DISEASE
In patients with inherited cystic kidney disease cysts develop within the nephron disrupting normal renal structure and function. It is evident that inflammatory and fibrotic changes occur in renal tissue surrounding the cyst and this may in part be responsible for the loss of renal function that occurs. In mouse models of cystic kidney disease there is increased expression of complement genes in cyst epithelium, particularly C3, and also evidence of complement activation[57,58]. To investigate a role for complement in cystogenesis Cys1cpk/cpk polycystic kidney disease mice were crossed with C3 deficient mice which lack the main effector functions of complement[58]. Mice deficient in C3 developed fewer cysts and had reduced renal volume, suggesting that complement, possibly by modifying inflammation, has a role in cyst development. This is supported by studies of complement inhibition in two different animal models of cystic disease[59]. Complement inhibition reduced kidney volume, cyst number and reduced the inflammatory infiltrate in tissue adjacent to cysts. Critically complement inhibition also preserved renal function.
Proteomic analysis of cyst fluid from patients with autosomal dominant polycystic kidney disease (ADPKD) identified complement proteins within the cysts[60]. Increased concentrations of complement proteins, including C3, Factor B and C9, can also be found in the urine and by immunostaining along the cyst epithelium, suggesting activation of the alternative pathway[59,61]. Song et al[62] described the pattern of gene expression in ADPKD kidneys. Complement genes were consistently up regulated suggesting that a proportion of the complement proteins in the cyst fluid may be derived from local synthesis.
COMPLEMENT AND PROGRESSIVE LOSS OF TRANSPLANT FUNCTION
Complement is important at many stages during the course of a kidney transplant: complement polymorphisms may alter outcome after transplantation[63], complement gene expression is increased in pre-implantation biopsies and this can predict outcome[64], complement has a role in the development of ischaemia reperfusion injury[65] and augments the alloimmune response[66]. All of these factors may impact upon long-term transplant outcome, however it is the role of complement in antibody mediated rejection (AMR) that has generated most interest recently.
Antibody binding to graft endothelium will activate complement, initially via the classical pathway. Complement can then alter endothelial function to enhance thrombosis and leukocyte chemotaxis. When this occurs acutely, most frequently seen in pre-sensitised or ABO incompatible transplants, it can lead to rapid graft loss. The most compelling evidence that complement is important in acute AMR is the reported experience of complement inhibition with monoclonal anti-C5 in the treatment[67,68] or prevention of AMR[69].
The role of complement in chronic AMR, increasingly recognised as a cause of graft failure, is less clear. When the classical pathway is activated C4 covalently binds the endothelium. It is degraded to limit activation leaving a biologically inert fragment, C4d, attached to the endothelium. This can persist in the glomerulus and peri-tubular capillaries and act as a biomarker of antibody binding to endothelium. Detection of C4d in a transplant biopsy is now routinely used in the diagnosis of AMR and when present predicts a poor long-term outcome. Antibody can directly affect endothelial function[70] and whether complement further contributes to injury is less clear. There is currently a trial ongoing (NCT01327573) to assess the efficacy of anti-C5 treatment in treating chronic AMR which will answer this question.
EFFECT OF COMPLEMENT ON RENAL CELL FUNCTION
Complement activation, through generation of anaphylotoxin and sub-lytic concentrations of MAC can alter cell function. This may be the mechanism by which complement influences the progression of renal disease (Figure 2). Complement activation by the alternative pathway and deposition of sub-lytic concentrations of MAC on tubular epithelial cells stimulates the synthesis and release of pro-inflammatory cytokines (including tumor necrosis factor α and interleukin 6)[71], reactive oxygen species[25] and increases the synthesis of matrix proteins[72]. Complement can also induce expression of major histocompatibility antigens on tubular cells, allowing these cells to drive T cell proliferative responses, potentially augmenting allo and autoimmunity[73].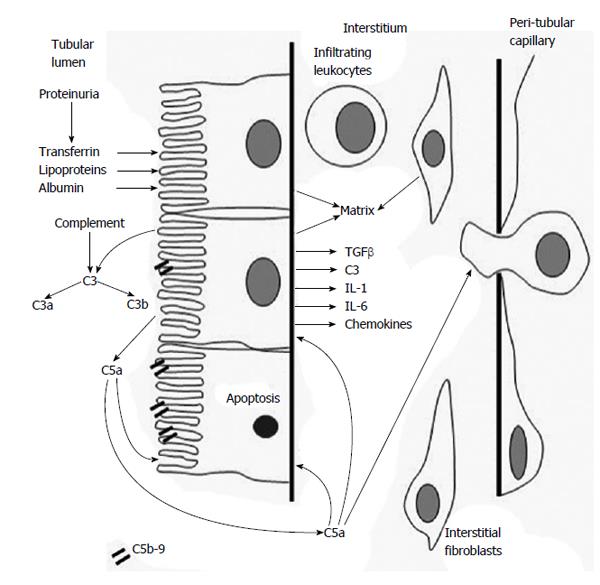 Figure 2 Complement-mediated renal injury.
Complement proteins can access the tubulointerstitial compartment from the tubular lumen, the circulation or due to local synthesis. Activation can injure and activate the tubular epithelium inducing the synthesis of pro-inflammatory and pro-fibrotic cytokines. This results in an increase in interstitial inflammatory cells and fibroblasts, finally resulting in the deposition of excess matrix proteins. TGFβ: Transforming growth factor beta; IL-1: Interleukin 1.
Renal epithelial can also respond to the anaphylatoxins, expressing both C3a receptor (C3aR)[74] and C5aR[75]. Tubular cells exposed to C3a, possibly synthesised from the tubular cells themselves[76], increase collagen synthesis[74] and adopt a more mesenchymal phenotype[39]. Similar effects can be seen in tubular epithelial cells exposed to C5a. The effect of C3a and C5a on tubular cells may in part be indirect due to increased activation of transforming growth factor beta and other growth factors that can be induced by the anaphylatoxins[77]. In an attempt to mimic more physiological conditions, the tubular cell line HK2 was grown on a microfluidic device allowing flow across its apical membrane. When the medium contained normal human serum or C3a the cells underwent mesenchymal transition and migrated into the supporting basement membrane[78].
LOCAL RENAL COMPLEMENT SYNTHESIS
The first study to demonstrate that human renal proximal tubular epithelial cells synthesised and secreted complement component C3 in vitro was published by Brooimans et al[15] more than 20 years ago. It is now evident that resident renal cells, including tubular[79-82] and glomerular epithelial cells[16,83], mesangial cells[16,84,85] and endothelial cells[17] can synthesise many, if not all complement proteins[86]. Complement production is stimulated by pro-inflammatory cytokines and gene expression is increased in biopsies form patients with inflammatory glomerulonephritis[87], acute rejection[88] and chronic kidney disease[89]. Making use of polymorphisms in C3 it is possible to quantify the amount of protein produced from a transplanted kidney when the donor and recipient are mismatched for these polymorphisms. Renal derived C3 can contribute up to 10% of circulating C3 when the transplant is undergoing acute rejection[90].
Several pre-clinical studies have highlighted the importance of intrarenal synthesis of complement as an important mediator of local tissue. Renal complement production is increased in models of renal disease[91]. A strategy of renal syngenic or allogeneic transplantation in knockout mice can create a mouse which has a deficiency only in local complement synthesis. Application of this strategy has demonstrated a role for local C3 synthesis in transplant rejection[66], ischaemic reperfusion injury[92] and tubulointerstitial injury in proteinuric disease[93].
CONCLUSION
Chronic, non-resolving inflammation drives fibrosis in the kidney leading to a progressive loss of renal function. Complement activation occurs in the kidney during the progression of a broad range of renal diseases and could contribute to the inflammatory environment in which fibrosis occurs. There is increasing from pre-clinical models that complement activation may be linked with fibrosis, with some evidence for this from clinical studies. However, further work is required to define the role of the complement system in clinical disease progression.
P- Reviewer: Friedman EA S- Editor: Ji FF L- Editor: A E- Editor: Liu SQ