Copyright
©2012 Baishideng.
All rights reserved.
West Nile virus: A re-emerging pathogen revisited
Miguel A Martín-Acebes, Juan-Carlos Saiz, Department of Biotechnology, Instituto Nacional de Investigación y Tecnología Agraria y Alimentaria, 28040 Madrid, Spain
Author contributions: Martín-Acebes MA and Saiz JC equally contributed to this paper.
Supported by Grants No. RTA2011-00036, SAF2008-04232 and FAU2008-00006 from the Spanish Ministerio de Ciencia e Innovación; and the European Community's Seventh Framework Programme (No. FP/2007-2013) under Grant Agreement 28394
Correspondence to: Juan-Carlos Saiz, Research Leader, Director of the Department of Biotechnology, Instituto Nacional de Investigación y Tecnología Agraria y Alimentaria, 28040 Madrid, Spain. jcsaiz@inia.es
Telephone: +34-91-3471497 Fax: +34-91-3478771
Received: August 19, 2011
Revised: February 16, 2012
Accepted: March 5, 2012
Published online: April 12, 2012

West Nile virus (WNV), a flavivirus of the Flaviviridae family, is maintained in nature in an enzootic transmission cycle between avian hosts and ornithophilic mosquito vectors, although the virus occasionally infects other vertebrates. WNV causes sporadic disease outbreaks in horses and humans, which may result in febrile illness, meningitis, encephalitis and flaccid paralysis. Until recently, its medical and veterinary health concern was relatively low; however, the number, frequency and severity of outbreaks with neurological consequences in humans and horses have lately increased in Europe and the Mediterranean basin. Since its introduction in the Americas, the virus spread across the continent with worrisome consequences in bird mortality and a considerable number of outbreaks among humans and horses, which have resulted in the largest epidemics of neuroinvasive WNV disease ever documented. Surprisingly, its incidence in human and animal health is very different in Central and South America, and the reasons for it are not yet understood. Even though great advances have been obtained lately regarding WNV infection, and although efficient equine vaccines are available, no specific treatments or vaccines for human use are on the market. This review updates the most recent investigations in different aspects of WNV life cycle: molecular virology, transmission dynamics, host range, clinical presentations, epidemiology, ecology, diagnosis, control, and prevention, and highlights some aspects that certainly require further research.
---
Citation: Martín-Acebes MA, Saiz JC. West Nile virus: A re-emerging pathogen revisited. World J Virol 2012; 1(2): 51-70
---
VIRUS
West Nile virus (WNV) is a small enveloped virus about 50 nm in diameter. The genomic RNA is enclosed within a nucleocapsid formed by the capsid (C) protein that constitutes the core of the virion and is enveloped by a lipid bilayer derived from the host cell. Mature virions display a smooth outer surface with no projections or spikes. This outer shell is constituted by 180 copies of the small membrane (M) protein and an equal number of copies of the E glycoprotein disposed as 90 anti-parallel homodimers arranged in three distinct symmetry environments (Figure 1), thus resulting in a particle of icosahedral symmetry[1].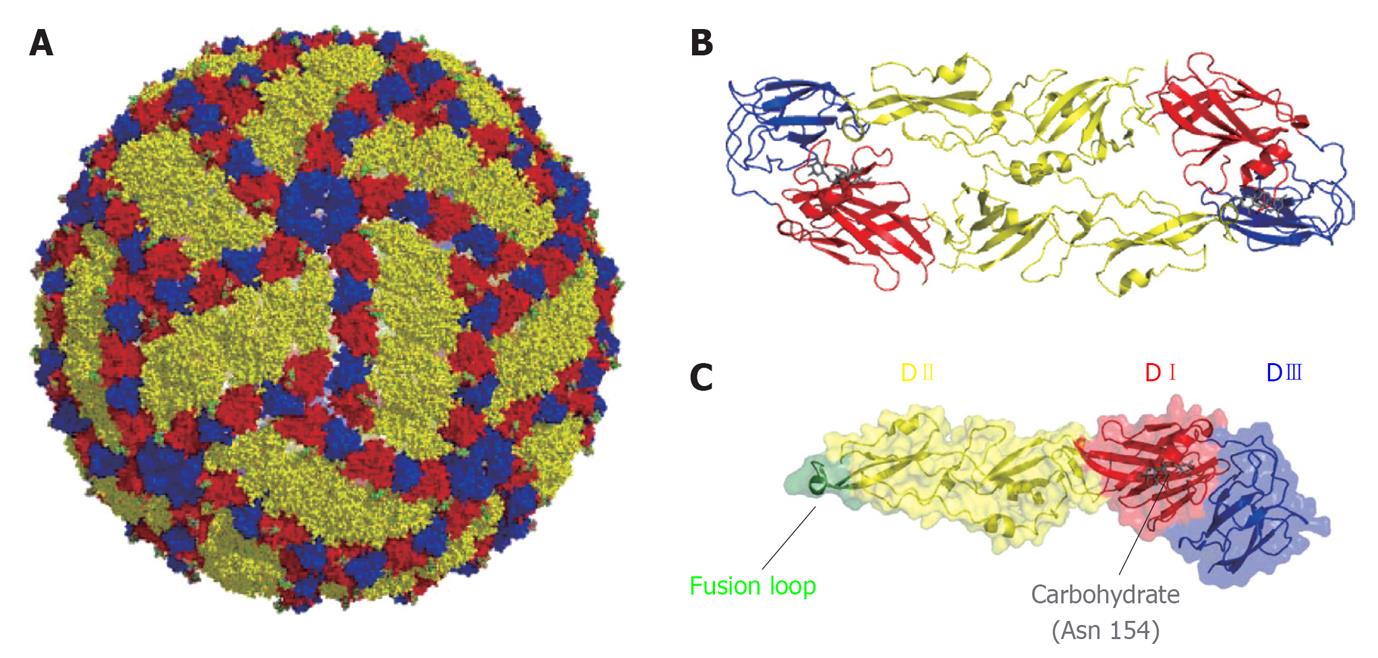 Figure 1 Organization of West Nile virus particle.
A: Representation of West Nile virus particle based on cryoelectron microscopy data[230]. Glycoprotein E is shown on the surface of the particle. Color code: DI (red), DII (yellow) and DIII (blue); B: Ribbon diagram of a dimer of E glycoprotein; C: Structure of a monomer of the soluble ectodomain of E glycoprotein based on the atomic coordinates solved by X-ray crystallography[58]. Fusion loop is highlighted in green. The carbohydrate located at Asn 154 is shown in gray.
Genome
The WNV genome is constituted by a single-stranded RNA molecule of positive polarity (Figure 2). This RNA molecule of about 11 000 nucleotides in length encodes a polyprotein in a single open reading frame that is flanked by two non-coding regions (NCRs) located at the 5' and 3' ends of the genome (about 96 and 635 nucleotides in length, respectively)[2,3]. The polyprotein is proteolytically processed by viral and cellular proteases rendering ten major viral proteins: three structural (C, prM and E) and seven non-structural, NS (NS1, 2A, 2B, 3, 4A, 4B y 5)[3]. WNV genome has a cap structure at 5' end, but it lacks a 3' poly(A) tract and ends with CUOH[3]. Proper methylation of the cap structure at the guanine N-7 and the ribose 2'-OH positions of the first transcribed adenine is necessary for optimal infectivity of WNV RNA. Viruses defective in the N7 methylation mechanism are non-replicative, and recently the 2'-OH methylation has been related to evasion of innate immunity by evading certain components of interferon response, therefore WNV defective in this methylation mechanism can replicate but is attenuated in vivo[4,5].
Virus cell host interactions
Early steps: Attachment, entry and fusion: Infection by WNV is initiated by binding of virions to its cellular receptor (Figure 3). Glycosaminoglycans, c-type lectins, and, although still controversial, integrin αvβ3 have been proposed as the cellular receptors for WNV[6-9]. Viral particles are internalized into host cells via a clathrin dependent mechanism and are transported to endosomal compartments with the involvement of cellular actin and microtubules[10,11]. Entry of WNV has been suggested to be dependent on cellular protein Cas-Br-M (murine) ecotropic retroviral transforming sequence-like 1[12], although a role of this protein on viral replication rather than in WNV entry has been recently proposed[13]. Transport of WNV particles to early endosomes is dependent on the activity of small GTPase Rab5[14]. Inside endosome, acid pH triggers rapid conformational changes on the envelope protein that result in its fusion with endosomal membrane, thus allowing nucleocapsid release to the cytoplasm for genome uncoating. The optimal pH for conformational rearrangements and viral fusion is 6.3-6.4, and this fusion process is dependent on the presence of cholesterol in the target membrane[15,16]. In this way, exposure of viral particles to acid pH in absence of target membranes induces conformational rearrangements that resemble those induced inside endosomes and causes loss of fusion capacity, thus reducing its infectivity[15]. Freezing virus particles in a pre-fusion intermediate by antibodies that neutralize WNV infection after attachment, likely by impairing acid-induced fusion within the endosome, have been described[17,18].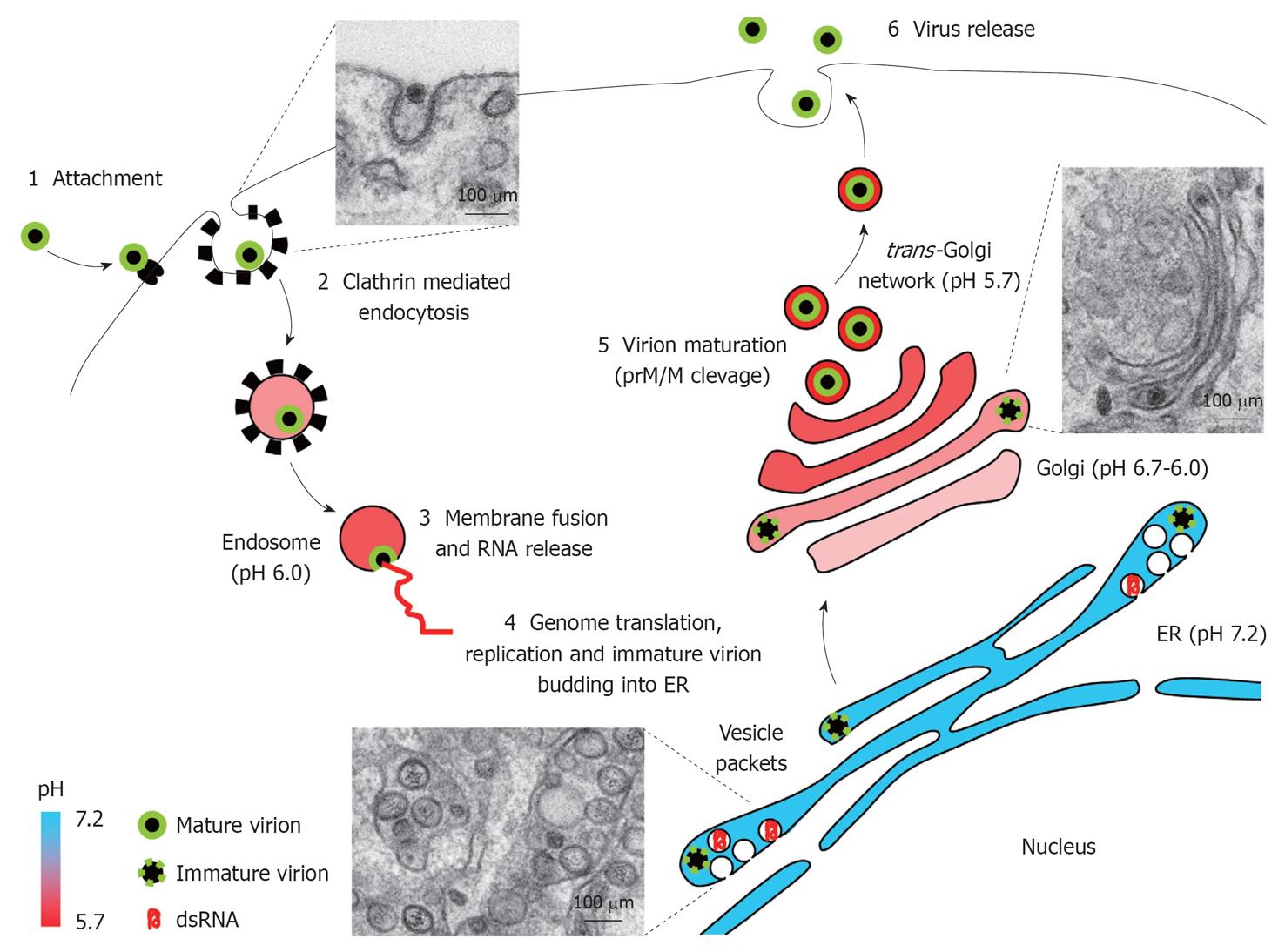 Figure 3 West Nile virus replication cycle.
Schematic view of West Nile virus replication cycle in an infected cell. Electron micrographs of West Nile virus-infected Vero cells illustrate distinct snapshots from infectious cycle: entry of virions, vesicle packets formation, and virion trafficking through Golgi complex. See text for details. ER: Endoplasmic reticulum; prM/M: Premembrane/membrane protein.
Replication complex assembly: Once viral RNA reaches the host cell cytoplasm it is translated to raise structural and non-structural proteins involved in viral replication and virion assembly (Figure 3). The genome is translated into a single RNA polyprotein that is processed to render mature viral proteins. RNA replication requires the synthesis of a minus-strand RNA which acts as template[3]. Cells infected by WNV undergo notable intracellular membrane remodelling. Major membrane reorganizations leading to different well defined structures aimed to establish the viral replication complex have been described. The primary membrane source for these structures is provided by the endoplasmic reticulum (ER)[19]. The presence of markers from organelles involved in the endocytic pathway (endosomes/lysosomes) or from the Golgi complex have been also suggested[20]. However, recent data did not support this hypothesis[19,21]. These structures are termed convoluted membranes (CM), paracrystalline arrays (PC) and vesicle packets (VP)[22,23]. Viral replication takes place at VPs, which are generated as invaginations of the membrane of ER and contact by pores with the cell cytoplasm[19]. VPs contain dsRNA replication intermediates, and assembled virions bud into the ER[19] (Figure 4). A specific role of cholesterol and fatty acids in WNV-induced membrane structures has been proposed[21,24,25], and proteasome activity seems to be also important for viral replication[13,26]. Apart from providing the adequate platform for viral replication, these membrane rearrangements may also play a role for the evasion of innate immune response by interfering with the interferon signalling machinery[24,27]. Replication of WNV and accumulation of non-structural proteins at the ER induces ER stress and activates the unfolded protein response[28,29]. In addition, replication of WNV also induces apoptosis of infected cells[30].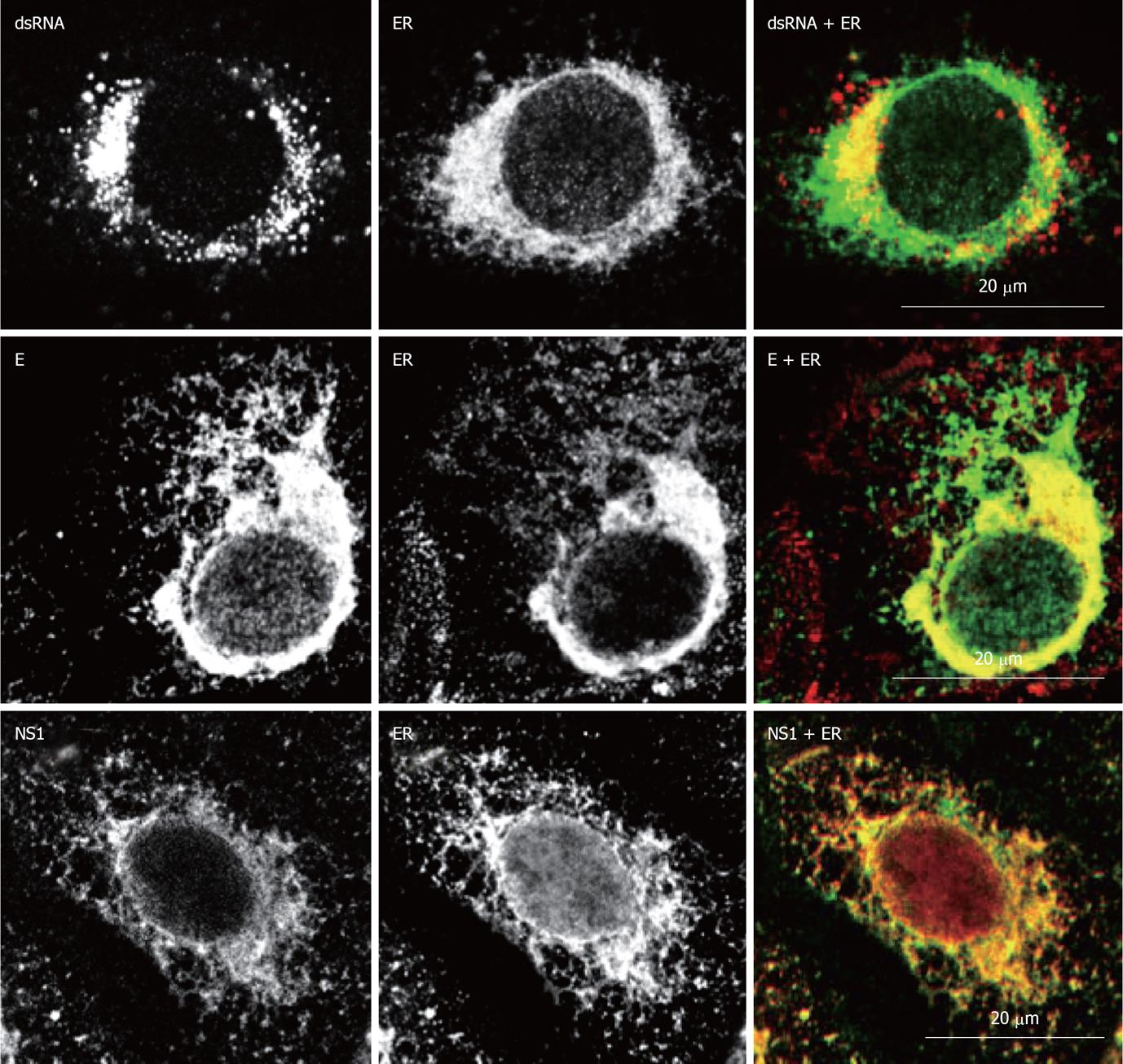 Figure 4 Localization of West Nile virus dsRNA, structural and non-structural proteins at the endoplasmic reticulum of infected cells.
Double immunofluorescence labeling of Vero cells 24h post-infection with West Nile virus (MOI of 1 PFU/cell) and stained for dsRNA, using monoclonal antibody J2 (English and Scientific Consulting Bt., Hungary), E glycoprotein or NS1, using monoclonal antibody 3.67G and 3.1112G (Millipore, Temecula, CA), respectively, in combination with rabbit polyclonal antibody against calnexin (Abcam, Cambridge UK) as an specific marker for endoplasmic reticulum. Procedures for immunostaining have been previously described[21].
Particle maturation and viral egress: To render infectious virions, immature viral particles assembled at the ERs traffic through Golgi complex for maturation (Figure 3). This maturation process requires the cleavage of Premembrane/membrane protein (prM/M) by a furin-like protease located at the acidic environment of the trans-Golgi network[3]. After maturation, viral particles are released from infect cells following the secretory pathway.
Non-coding genomic regions
The NCRs located at 5' and 3' ends of viral genome contain conserved secondary RNA structures that play important roles in genome replication, may function as protein translation enhancers and, in the case of 3'NCR, display translational regulatory properties similar to those of a poly(A) tail[3]. Different cellular proteins that interact with both 5' and 3' NCRs have been involved in viral replication, including elongation factor 1α which binds 5' NCR, T cell-restricted intracellular antigen (TIA)-related protein (TIAR), and a closely related protein TIA-1 which bind to 3' NCR in minus-sense strand[3,31-33]. Several short conserved sequences located at both NCR are important for establishment of two pairs of long-distance RNA interactions that mediate genome cyclization and replication[34]. Functional analyses have confirmed that mutations that abolish these interactions affect viral replication, but not RNA translation[35]. As the RNA dependent RNA polymerase binds to a stem loop within the 5' NCR, genome cyclization should facilitate binding of the polymerase to the 3' end of the genome and, thus, to the initiation of minus strand synthesis[34,36]. The balance between circular and lineal forms of flavivirus genomes are essential for efficient RNA replication and control of translation initiation, as well as for switch between translation and RNA synthesis during the viral life cycle[37].
Apart from the involvement in genome cyclization, 5' NCR acts as a template for recognition of the enzyme responsible for methylation reactions required for cap assembly[36]. Mutational analysis of six terminal nucleotides of the 3' NCR have revealed that it displays a conserved RNA structure, which may function as contact sites for specific assembly of the replication complex or for efficient initiation of minus-sense RNA synthesis[38].
Structural proteins
Capsid (C): The capsid, or core, (C) protein contains a large number of scattered charged amino acids[39] and is implicated in viral assembly and replication[40]. The protein dimerizes and tetramerizes to build the nucleocapsid that, together with viral RNA, forms the electron-dense core of the virion that is enveloped by the lipid bilayer. The N and C-terminal parts of the protein are intrinsically disordered regions and may play a role in RNA folding during viral replication by conferring RNA chaperoning activity to the C protein[41]. X-ray crystallography analysis of the central part of the C protein structure showed the presence of four α-helices[39]. In WNV-infected cells, capsid protein can be detected in the cytoplasm, nuclei and the nucleolus of the cell, and it has been related to the induction of apoptosis[42]. Nuclear location of the C protein is mediated by a bipartite nuclear location signal and requires specific interaction with cellular importins[43]. The capsid protein also interacts with other cellular factors, as the inhibitor of the serine/threonine phosphatase PP2A, I(2) (PP2A), Hsp70 and Jab1[44-46]. The phosphorilation status of the protein and Jab1 can regulate nuclear location and RNA binding activity[46-48]. The C protein has been also implicated in degradation of claudin proteins and disruption of epithelia barrier, thus helping to virus dissemination[49].
prM/M: The prM/M is a short transmembrane glycosylated protein associated to the lipid bilayer of the virion. The cleavage of this protein by a furin-like protease occurs within the trans-Golgi network and is necessary for particle maturation[3]. This protein protects virions from fusion inside acidic vesicles of the Golgi complex[50]. The furin-like protease cleaves the prM/M membrane protein, enabling a conformational rearrangement in the viral particle from immature particles[51] to mature ones[1]. Modulation of the proportion of prM/M cleavage can also modulate the sensitivity of antibody-mediated neutralization[52].
Envelope: The envelope (E) is a transmembrane protein anchored to the lipid envelope by a C-terminal α-helical hairpin. It is the most immunogenic protein of the virus and the target for most neutralizing antibodies. The protein is glycosylated on position 154 on most WNV strains[53]. Glycosylation is important for efficient transmission in mosquito and birds[54,55] and may be related to neuroinvasiveness[56]. The atomic structure of the E glycoprotein as a soluble ectodomain has been solved by X-ray crystallography[57,58], showing that it presents the typical folding of the flavivirus E glycoproteins and is organized in three domains (Figure 1): DI, DII, that contains a hydrophobic peptide responsible for virus fusion termed fusion loop, and DIII, an immunoglobulin-like domain. DII mediates the homodimerization of the protein on the surface of the virion (Figure 1). DIII is involved in receptor binding and contains multiple epitopes that are recognized by neutralizing antibodies. Upon acid exposure, the E glycoprotein undergoes conformational rearrangements and changes from dimers to trimers, exposing the fusion loop to enable viral fusion of the virion with cellular endosomal target membranes. For other flaviviruses, as tick-borne encephalitis virus, this process is triggered by protonation of an individual His residue on E glycoprotein[59] that should act as a critical pH sensor. However, this hypothesis has not been validated for WNV[60], although point mutations can modulate the fusion threshold[15].
Non-structural proteins
NS1: This viral glycoprotein, which can be secreted from infected cells[61], may vary its oligomeric state between monomers, dimers (the primary form) and hexamers, and this seems to be related to its cellular retention or secretion stage[3,53]. Intracellular NS1 functions as an essential cofactor for viral replication, and it localizes to WNV replication sites[62], whilst cell surface and secreted NS1 act as immunomodulators. NS1 antagonizes complement activation[63] and inhibits Toll-like receptor 3 (TLR3) signalling[64]. Recently, a larger NS1-related protein (termed NS1'), produced by a ribosomal frameshift near the beginning of the NS2A gene, has been detected in infected cells and related to neuroinvasiveness[65].
NS2A: This is a small hydrophobic transmembrane protein involved in the production of intracellular virus-induced membranous structures and virion assembly[66,67]. In fact, NS2A has been detected by immunogold labelling primarily within VP, associated with labelled dsRNA[62]. In addition, NS2A seems to have an immunomodulatory role because it inhibits α/β interferon production[68], and mutations in this protein result in viral attenuation in vivo[68,69].
NS2B: It is also a small hydrophobic protein that acts as a cofactor of NS3 protease and may function as a membrane anchor for viral protease[3,53,70]. Alanine scanning approaches of NS2B has revealed two sites critical for regulation of the proteolytic activity of NS2B-NS3 complex[71]. The interaction between NS2B and NS3 may also confer specificity for RNA unwinding of NS3 discriminating from DNA[72].
NS3: This is a highly conserved protein, which N-terminal encodes the viral trypsin-like serine protease. However, it is not active unless tethered to its cofactor, NS2B[70]. This protease cleaves the viral polyprotein to release structural and non-structural proteins and, thus, disruption of its activity is lethal for virus replication. The NS3 protein also encodes other enzymatic activities within its sequence (helicase, nucleoside triphosphatase, RNA triphosphatase) important for viral replication[3,53,70]. NS3 (and also its cofactor NS2B) has been localized within PC or CM, suggesting that these membranes are the sites of proteolytic cleavage[62]. The structure of the helicase domain has been solved by X-ray crystallography[73] and a single substitution in this domain has been related to increased virogenesis in American crows[74]. All these properties of NS3 made of this protein and its active form, NS2B-NS3, a promising antiviral target.
NS4A: It is also a small hydrophobic protein with several transmembrane domains that has been localized to the viral replication complex in virus induced membranes (VP, CM and PC)[62]. It may be responsible of membrane rearrangements in infected cells upon cleavage of its C-terminal region (designated 2K fragment) that, in dengue virus, acts as a signal sequence for translocation into the ER of the adjacent NS4B protein[75]. NS4A has been also related, together with NS2A and NS4B, to the inhibition of interferon signalling in flavivirus infected cells[76]. Accumulation of NS4A (and also NS4B) into ER of infected cells seems to be involved in induction of the unfolded protein response upon WNV infection[29]. Mutations in the 2K fragment have been related to resistance against the antiviral action of the interferon-inducible 2', 5'-oligoadenylate synthetase 1b protein[77], and also to resistance against the flavivirus inhibitor lycorine thanks to the enhancement of RNA replication[78]. NS4A has been proposed to also act as a cofactor regulating ATPase activity of the NS3 helicase[79].
NS4B: This small hydrophobic protein plays a major role on inhibition of WNV interferon signalling[80,81]. Mutations in NS4B can result in attenuation of WNV in vivo[82,83]. NS4B has been found in perinuclear membranes and in the nucleus of WNV infected cells[84] and it may be involved in the formation of viral replication complex.
NS5: It is the largest protein encoded by the virus. NS5 localizes to virus induced membranes in infected cells and colocalizes with dsRNA at viral replication complexes[85]. It has two different enzymatic activities: the N-terminal encodes the methyltransferase[86], while the C-terminal encodes the viral RNA-dependent RNA polymerase for replication of viral genome[87]. Due to the lack of proof-reading activity of NS5, WNV populations display a variable level of sequence diversity that favours selection of variants in response to selective pressures. The methyltransferase activity is necessary for capping the 5' end of the viral RNA, which is performed by sequential methylation reactions[88]. NS5 is also a potent antagonist of interferon signalling[89]. The methyltransferase activities together with the polymerase activities made of NS5 also a promising antiviral target.
MOLECULAR CLASSIFICATION
First classifications of WNV were based on cross-neutralization reactions and revealed that WNV is a member of the Japanese encephalitis virus serocomplex. This complex includes also other neurovirulent viruses such as Murray Valley encephalitis virus, St. Louis encephalitis virus, or Usutu virus[53,90]. Recent advances on molecular phylogeny support this antigenic classification and reveal the existence of up to five distinct genetic lineages of WNV[91-94].
Lineage 1 is subdivided into three clades (Figure 5). Clade 1a includes African, European and American isolates; clade 1b groups the Australian Kunjin virus (KUNV), which has been shown to be a subtype of WNV[95]; and clade 1c clusters isolates from India[53,92]. Interestingly, clade 1a displays close genetic relationships between geographically distant areas which are supposed to be the result of WNV introductions via migratory birds (Figure 5). WNV inside clade 1a can be further grouped into different clusters[96]. The fact that only one endemic genotype has been detected in India (1c) and one in Australia (1b), suggests that WNV was successfully introduced into these locations only once, as well as it was the case in the American continent, where WNV was introduced in 1999 in the East Cost of the US[2,96]. The first North American WNV isolate was most closely related to a strain isolated from a dead goose in Israel (lineage 1) during the 1998 outbreak, suggesting that North American WNV was derived from this epidemic[2]. However, recent data suggest that the epidemic in Israel in 1998 was not the direct progenitor of North American epidemics, but rather that both epidemics originated from the same (unknown) location[96].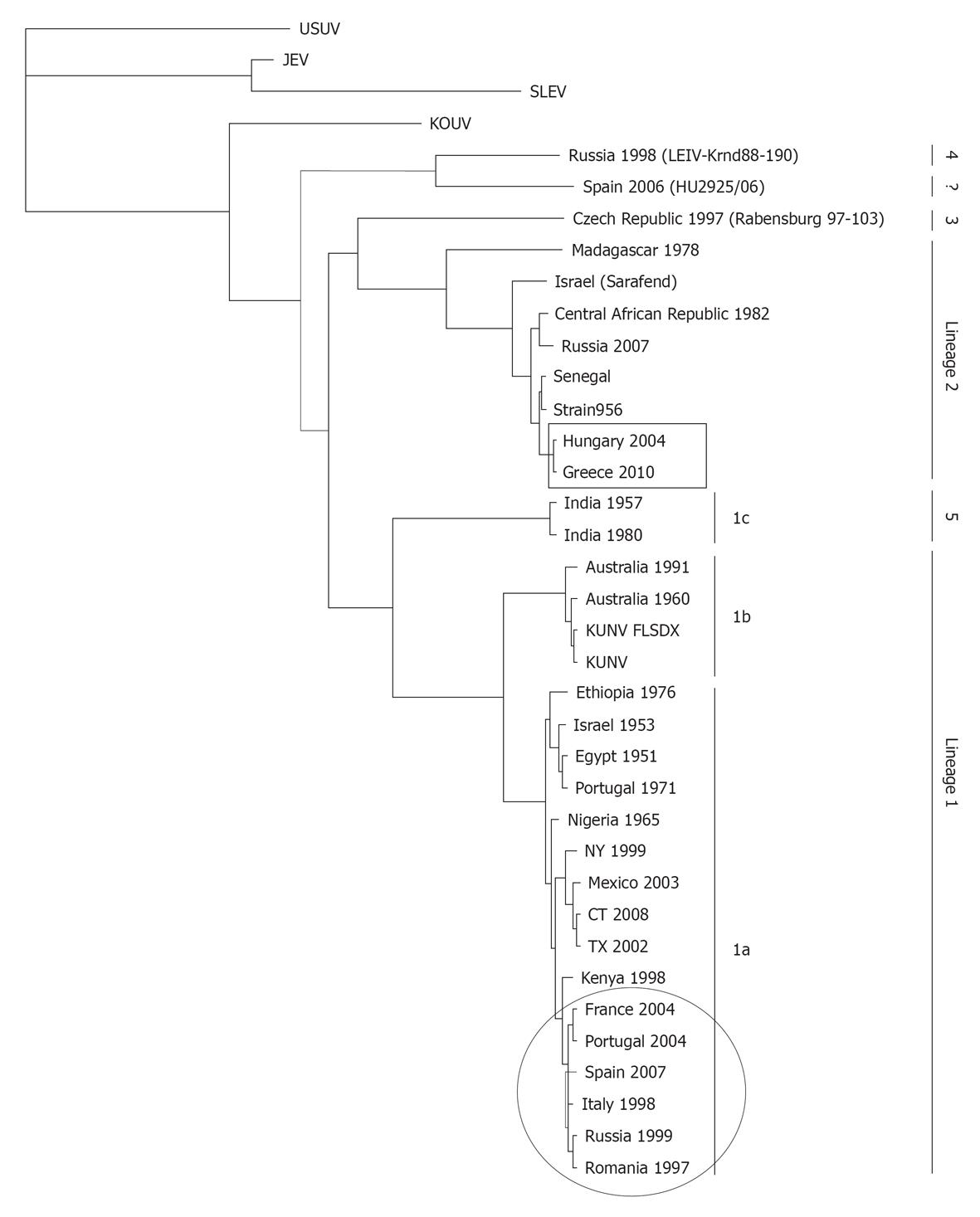 Figure 5 Representative phylogram showing the relationships between West Nile virus strains.
The country of origin and year of isolation is displayed when available. The scale indicates 0.1 substitutions/site. The tree was based on complete NS5 nucleotide sequence (except for HU2925/06), built from a multiple alignment using ClustalW and Phylogeny.fr[231] and visualized with TreeView. Bootstrap values correspond to 500 replications. Squared and circled isolates correspond to lineage 1 and 2 recently circulating in Europe. GeneBank Accesions: Usutu virus (USUV) (AY453412), Japanese encephalitis virus (JEV) (NC_001437), St. Louis encephalitis virus (SLEV) (AY167443), KOUV (EU082200), Russia 1998 (AY277251), Spain 2006 (GU047875), Czech Republic 1997 (AY765264), Madagascar 1978 (ABB01532), Sarafend (AY688948), Central African Republic 1982 (DQ318020), Russia 2007 (FJ425721), Senegal (DQ318019), Strain 956 (NC_001563), Hungary 2004 (DQ116961.1), Greece 2010 (HQ537483), India 1957 (GQ851605), India 1980 (ABC40712), Australia 1991 (GQ851603), Australia 1960 (GQ851602), KUNV_FLSDX (AY274504.1), KUNV (D00246.1), Ethiopia 1976 (AY603654), Israel 1953 (HM051416), Egypt 1951 (EU081844), Portugal 1971 (AM404308), Nigeria 1965 (GQ851607), NY 1999 (AF196835), Mexico 2003 (AY660002), CT 2008 (AEF33448), TX 2002 (DQ176637), Kenya 1998 (AAP20887), France 2004 (DQ786573), Portugal 2004 (AJ965626), Spain 2007 (FJ766332), Italy 1998 (AF404757), Russia 1999 (AF317203), Romania 1997 (AF260969), Italy 2008 (HM641229), and Italy 2009 (HM641225).
Lineage 2 initially included WNV strains only detected in Africa and Madagascar, which have been speculated to be less neurovirulent than those included in lineage 1[92]. However, recent outbreaks in Europe (Austria, Hungary and Greece) have been associated to lineage 2 strains[97]. Other lineages of WNV of unknown human pathogenicity are lineage 3 (Rabensburg isolate 97-103), isolated from Culex pipiens mosquitoes in the Czech Republic in 1997[93], and Lineage 4 (LEIVKrnd88-190), isolated from Dermacentor marginatus ticks in 1998 in Russia[94]. It has been proposed that WNV Indian isolates that were grouped as linage 1c make a new cluster termed lineage 5[91]. A putative new lineage of WNV (strain HU2925/06) that forms a common evolutionary branch with lineage 4 has been recently reported in Spain[98]. In addition to these minor lineages, an unusual KUNV isolate from Malaysia (KUN MP502-66) and the African virus Koutango (KOUV) could also constitute additional lineages of WNV[95].
ECOLOGY
A primary role of migratory birds in WNV introduction, reintroduction, and spread across Europe[135-139] and the Americas[140,141] is well documented. However, comparison of the levels of neutralizing antibodies in migratory and resident birds in the south of Spain[135,136], the seroconversion observed in some recaptured resident birds of the same area[137], and the significant number of positive resident birds found in Great Britain[142] and Italy[143] support that there is also local circulation of the virus. Contribution of resident birds to the initiation of annual infection cycles in the USA has also been suggested[144].
Since viral cycle may persist in a given geographical region from year to year without reports of human or horses cases, epidemics seem to be more related to the concomitant profusion of birds and mosquitoes populations in the same area, generally wastelands and mashes where migratory birds are abundant, than to other factors. Thus, in addition to the viral load present on the blood of the hosts[103], the efficiency with which mosquitoes transmit WNV seems to be clearly dependent upon various environmental and climate factors, particularly temperature, humidity and rainfall[122,145].
RNA viruses have the capability to replicate at elevate temperature, particularly arboviruses present a wide range of temperatures at which they replicate in order to be propagated within different hosts, vertebrates and invertebrates. In vitro experiments have demonstrated that selection of viruses with increased capability to replicate in vertebrates resulted in a lower capacity to replicate in mosquito[146]. WNV replication in mosquitoes is constrained below 14 °C[147] and strains isolated in 2002 in the USA disseminate more rapidly and efficiently at elevated temperatures than the original strain isolated in New York in 1999[148]. All these data strongly suggest that temperature is a key factor on WNV evolution and dissemination.
Climate changes have a direct effect on WNV amplification and transmission. Lately, mosquitoes expanded to more extreme latitudes and elevations, thus reaching new host populations to feed on and sharing new ecological niches with different vector species. Heavy rainfall as well as warm and dry temperatures benefit the increase of mosquitoes population and positively correlate with WNV transmission[149,150].
Although the way in which the virus causes sporadic outbreaks in humans and horses is still unclear, it is quite reasonable to think that overabundance of birds that share urban and rural areas with ubiquitous fastidious mosquitoes that feed in birds and mammals plays an important role on it. In fact, in two of the major urban outbreaks reported, the ones that took place in Bucharest (Romania)[151] and Volgograd and Volzhskiy (Russia)[152], the regions were heavily infected by potentially mosquito vectors. Hence, new human and animal behaviors and climate changes are facilitating contact between vectors and hosts.
EPIDEMIOLOGY
WNV was first detected in the blood of a febrile woman in the West Nile district of Uganda, currently the Arua district, in 1937[153]. Further studies showed that the virus was widely distributed across Africa, Europe, Asia and Australia[100-102,108] but, since only sporadic outbreaks with low clinical incidence were reported until recently, WNV infection was not considered a serious animal or human health treat.
Europe and the Mediterranean basin
The first recorded human WNV outbreak took place in Israel in 1950s[154,155]. Since then, there were some sporadic reports of WNV circulation in Albania, Bulgaria, Belarus, Ukraine, and Moldavia[108], but viral activity was low until the 1990s, when the virus re-emerged with a worrisome increase in the number, frequency and severity of the outbreaks reported in human and horses. In fact, evidence of WNV activity, with or without recorded human or horse clinical cases, have been lately reported in Algeria, Morocco, Tunisia, Egypt, Israel, Romania, Russia, Poland, Czech Republic, Hungary, Croatia, Serbia, France, Portugal, Spain, and Italy, which, overall, have accounted for hundreds of cases and dozens of deaths[100,156].
Early serological studies in Greece had detected anti-WNV antibodies in mammals and humans, but later intensive serosurveillance studies in blood donor in 2006-2007 failed to do so[157]. Along 2010 (Figure 6) WNV outbreaks were reported in Greece and neighboring countries with more than 250 laboratory confirmed cases and 27 deaths[158]. Analysis of the circulating virus has shown that it was genetically closely related to the virus that emerged in Hungary in 2004[158]. An increasing activity of WNV in horses has also been observed lately in Europe[156,159,160], including a large outbreak that took place in northeast Italy in 2008 involving 251 stables with 794 cases and 5 deaths[156,161]. At the same time, nine human cases of West Nile fever (WNF) were reported in the area[161]. In southern Spain, during summer 2010, the first outbreaks of severe WND in horses were reported with 41 diagnosed cases and 10 deaths, and 2 laboratory confirmed human cases (http://www.oie.int/wahis/). Similar figures have been reported during 2011. The strains responsible for the Italian and Spanish outbreaks are closely similar to those previously circulating in the western-Mediterranean region (Figure 5) and differ from the one that circulate in Greece[162]. All these data suggest that new epidemiological scenarios are being developed in Europe and, thus, that assessment of WNV activity and implementation of coordinated surveillance programs are necessary across the continent.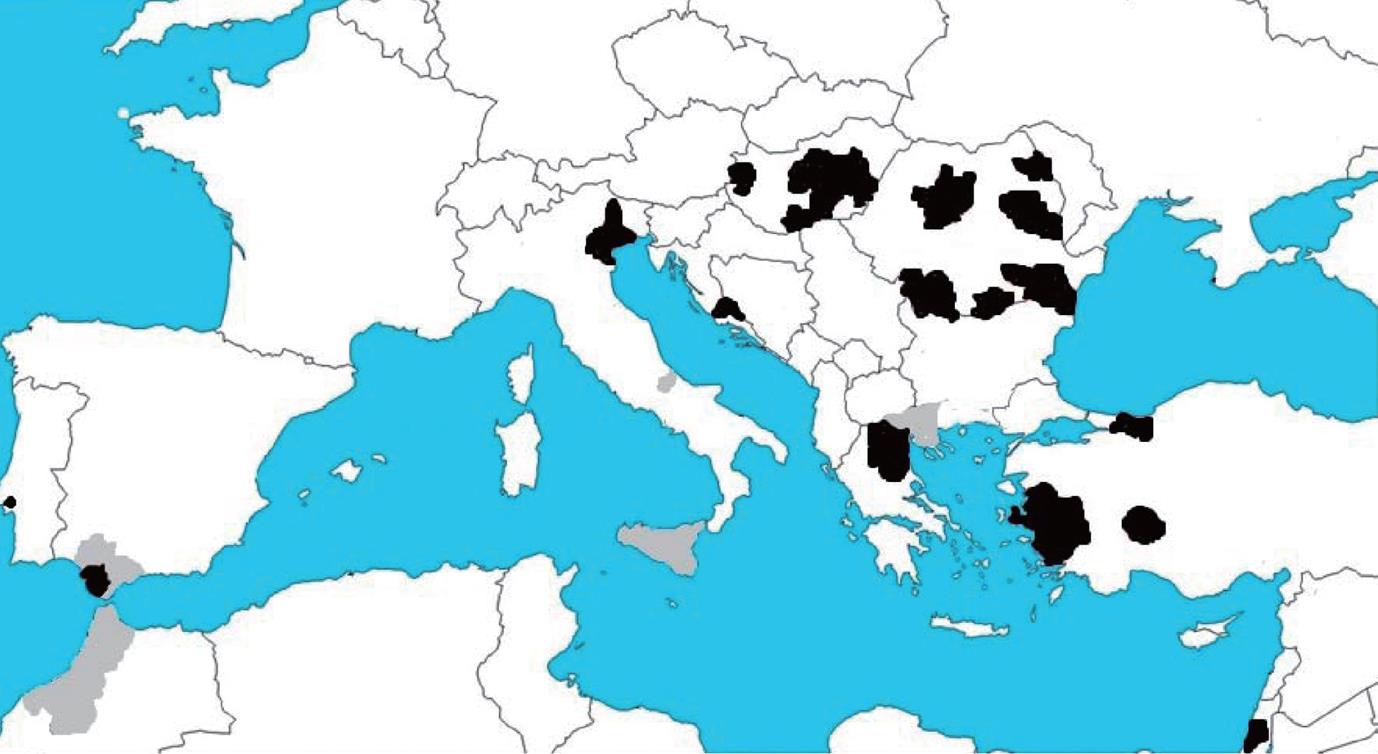 Figure 6 West Nile activity in Europe and the Mediterranean basin in 2010.
Areas with West Nile virus confirmed cases in horses (gray) and humans (black). Data collected from http://ecdc.europa.eu.
Africa, Asia and Oceania
Since the first detection of WNV in Uganda[153], little information has been available about its activity there. Studies conducted in several sub-Saharan countries have reported a quite variable seroprevalence in humans[120,163-165], with few documented clinical cases, but these data should be taken carefully since most studies have not addressed possible cross-reactivity with other circulating flaviviruses, and clinical cases may have been attributed to other diseases that present similar symptoms. Serological evidence of WNV infection has also been described in horses in the continent[165].
WNV is frequently detected in southern Asia, where some human cases have been reported, and sporadically in South-East Asia[166]. In Australia, the lineage 1 circulating WNV strain is known as KUNV[101] and, although may cause febrile illness and even encephalitis, its clinical effects are usually mild[101,166].
The Americas
WNV was first detected in North America in the New York metropolitan area in 1999[2], but the way the virus was introduced is still unknown, and several options have been proposed: transport of infected mosquitoes by airplane or other means, arrival of an infected person, or, what it seems more probable, carried by infected migratory or imported birds.
During the first outbreak in New York the virus caused 62 human cases with seven deaths, 25 equine cases with nine deaths, and an enormous mortality of birds, particularly among corvids. Since then, the virus has spread quickly across the country, being, so far, responsible for over 1100 fatalities, over 12 000 cases of meningitis/encephalitis, and more than 30 000 diagnosed human infections (http://www.cdc.gov). In addition, more than 25 000 accumulated cases were reported in horses until the introduction of veterinary vaccines that have greatly contributed to reduce equine mortality and morbidity in the country[167].
Several studies conducted on experimental animal models and birds have demonstrated that the strain introduced, belonging to lineage 1, was highly virulent[111,168]. Further analyses have identified possible determinants in the structural and non-structural proteins of the virus that may account for its neurovirulence[169,170]. Then, the combination of the introduction of highly virulent strains acting over a naïve population in the presence of competent amplifying vectors may have been responsible for the devastating consequences that WNV had in the US early after its introduction.
The virus has also expanded to neighboring regions, and serological evidence of WNV activity has been reported in Canada, Central America, the Caribbean, and South America in mosquitoes, humans, horses, birds, and other animals, from some of which the virus has been occasionally isolated[53,122]. Sequencing analysis of the Mexican strains suggests that the virus was introduced into Mexico in two different events, once in the northern states and another in the Yucatan region, more probably by migratory birds. However, WNV pathogenicity in these regions seems to be lower than in the US, as very few human or horse cases have been reported[122]. In fact, only 5 and 7 human cases have been reported in the Caribbean and in Mexican states bordered to the US, none of them fatal. These differences are intriguing and could be due to a combination of several factors, like to the wide distribution of other related and potentially cross-protective flaviviruses in the region (because individuals that had previously been in contact with them may have natural acquired immunity against WNV), to the species composition, abundance and/or susceptibility of hosts and vectors in the regions, or to a different virulence of the circulating WNV strains that could also contribute to the apparent paucity of the disease there[171,172]. In fact, although slightly divergent in their genomes, strains with attenuated phenotypes in cell culture and/or lower virulence have been isolated after the first introduction in America[173,174]. Even more, although stasis of WNV evolution was initially described in the US[175], recent data suggest that the virus is continuously evolving[176].
CLINICAL MANIFESTATIONS AND PATHOGENESIS
DIAGNOSIS
Laboratory diagnosis relies on isolation of virus, detection of viral antigens or RNA in blood or tissues, or detection of virus-specific IgM antibody that should be further confirmed by detection of IgG antibody in the same or a subsequent sample.
Antibody
Cross-reactivity between Flavivirus antigens is the greatest drawback for proper serological diagnosis and epidemiological studies and, thus, sera have to be tested against different related viruses and results have to be subsequently confirmed by different assays, namely hemagglutination inhibition, immunoflourescence or plaque reduction neutralization test (PRNT), considered as the gold-standard[205]. A 4-fold increase in PRNT titers between 2 sequential serum samples collected 2-3 wk apart usually confirms an acute WNV infection, and WNV neutralizing titers 4-fold higher than titers to other related-flavivirus is usually taken as a probe of the specificity of the infection.
Initially, serological testing was based on IgM antibody capture assays (MAC-ELISA) and in indirect IgG ELISAs, followed by retesting of positive samples by PRNT. Later on, ELISAs using monoclonal antibody blocking assays were set up. Presence of IgM in the cerebrospinal fluid is indicative of infection of the CNS, because IgM does not cross the blood-brain barrier; however, data should be taken with caution since IgM may persist for extended period of time[206]. All these assays have been extensively used for detection of anti-WNV antibodies in human and animal samples[53].
ELISAs, both commercial and in-house, were mainly based in the use of inactivated whole virus as antigen, either produced in mammalian cells or suckling mice; however, its production implies risks for laboratory personnel and needs highly sophisticated biosafety level 3 (BSL-3) containment facilities to grow the virus. For these reasons, several ELISAs have been developed using recombinant viral proteins, mainly the envelope E protein or parts of it, because this protein is highly exposed to the host immune system and bears most of the neutralizing epitopes described[206]. These recombinant antigens have been expressed in a variety of systems, including bacteria[207], mammalian cells[208,209], insect cells[209-211], and larvae[211]. Other formats, such as microsphere particles in conjunction with fluorescent labelled antibodies and lateral-flow assays have also been recently assayed[53].
Antigen
Virus isolation in susceptible cell culture is the gold standard for virus detection, but it is usually hampered by the typical short duration and low levels of viremia and by the need of BSL-3 facilities, which has lead to the development of alternative methods. Detection of viral antigens is based on antigen-capture ELISAs, dipstick assays, or immunohistochemical methods[212,213].
Nucleic acid
Several methods for detection of viral RNA have been applied for WNV surveillance and diagnosis, mainly reverse transcription polymerase chain reaction (RT-PCR) assays, quantitative real-time RT-PCR and nucleic acid sequenced-based amplification[214]. All these assays have been extensively used in mosquito pools, and animal and human samples (blood and/or CFS), although the latter are usually collected after the onset of clinical signs, when virus is unlikely to be present on them.
PROPHYLAXIS
Although great effort on the understanding of the molecular biology of WNV has been paid recently, to date no vaccine or specific therapy has been approved for humans, and clinical treatment is only supportive[186]. However, promising approaches are developing, which can be summarized as the search for antivirals, therapeutic antibodies and the design of vaccines.
CONCLUSION
The recent emergence and expansion of WNV in America and the increase in the number, frequency and severity of outbreaks in Europe represent one of the major zoonotic treats in recent years, and indicate that new epidemiological and ecological scenarios are being developed around the world. Although our knowledge about WNV infection has greatly increased during recent years, some aspects of WNV activity still need to be further addressed: the ways WNV colonizes new ecological niches and the role that climate (temperature, humidity, etc.) and anthropogenic factors play; the differences in WNV disease manifestations between the US and other regions of the world, mainly Central and South America; a better understanding of WNV immunity, pathogenicity, and the molecular basis of virulence; the long-term manifestations and sequelae of WNV infection and the outcome of persistent infections; the development of national and international surveillance programs to monitor WNV spread and to take appropriate measures to control it; the search for more efficient, rapid, and specific diagnostic assays that can be easily adopted worldwide; and the search for cost-effective human vaccines for high-risk targeted populations and for new antiviral targets for therapeutic usage. Advances on our current knowledge on WNV infection will greatly help to fight not only future expansion of WNV to new niches around the world, but also of other arboviruses.
Peer reviewer: Parin Chaivisuthangkura, PhD, Associate Professor, Department of Biology, Faculty of Science, Srinakharinwirot University, Sukhumvit 23, Wattana, Bangkok 10110, Thailand
S- Editor Zhang SS L- Editor A E- Editor Zheng XM