Copyright
©The Author(s) 2021.
Published by Baishideng Publishing Group Inc. All rights reserved.
Healthy diet, depression and quality of life: A narrative review of biological mechanisms and primary prevention opportunities
Octavio Pano, Miguel Angel Martinez-Gonzalez, Preventive Medicine and Public Health, University of Navarre, Pamplona 31008, Spain
Elena H Martínez-Lapiscina, Department of Neurology Center of Neuroimmunology, Hospital Clinic of Barcelona, Institut d'Investigacions Biomèdiques August Pi Sunyer, Barcelona 08036, Spain
Carmen Sayón-Orea, Department of Preventive Medicine and Public Health, University of Navarra, Pamplona 31008, Spain
Carmen Sayón-Orea, Jose Alfredo Martinez, IdiSNA, Navarra Institute for Health Research, Pamplona 31008, Spain
Carmen Sayón-Orea, Department of Public Health, Navarra Institute of Public Health and Epidemiology, Pamplona 31003, Spain
Miguel Angel Martinez-Gonzalez, Jose Alfredo Martinez, Almudena Sanchez-Villegas, CIBER Pathophysiology of Obesity and Nutrition, Institute of Health Carlos III, Madrid 28049, Spain
Miguel Angel Martinez-Gonzalez, Department of Nutrition, Harvard T.H. Chan School of Public Health, Boston, MA 02115, United States
Jose Alfredo Martinez, Department of Food Sciences and Physiology, University of Navarre, Pamplona 31008, Spain
Jose Alfredo Martinez, Precision Nutrition and Cardiometabolic Health Program, IMDEA Food Institute, Madrid 28049, Spain
Almudena Sanchez-Villegas, Department of Clinical Sciences, University of Las Palmas Gran Canaria, Las Palmas Gran Canaria 35080, Spain
Author contributions: Pano O provided supportive literature and wrote the manuscript; Sánchez-Villegas A provided supportive literature and gave expert advice and guidance on the topic; Martínez-Lapiscina EH, Sayón-Orea C, Martínez JA and Martínez-González MA gave their expert opinion and supervised the review; All authors have read and approved the final manuscript.
Conflict-of-interest statement: The authors have no conflicts of interest to declare.
Open-Access
: This article is an open-access article that was selected by an in-house editor and fully peer-reviewed by external reviewers. It is distributed in accordance with the Creative Commons Attribution NonCommercial (CC BY-NC 4.0) license, which permits others to distribute, remix, adapt, build upon this work non-commercially, and license their derivative works on different terms, provided the original work is properly cited and the use is non-commercial. See:
http://creativecommons.org/Licenses/by-nc/4.0/
Corresponding author: Almudena Sanchez-Villegas, PhD, Professor, Department of Clinical Sciences, University of Las Palmas Gran Canaria, PO Box 550, Las Palmas Gran Canaria 35080, Spain. asanchez@dcc.ulpgc.es
Received: February 27, 2021
Peer-review started: February 27, 2021
First decision: June 5, 2021
Revised: June 19, 2021
Accepted: August 27, 2021
Article in press: August 27, 2021
Published online: November 19, 2021

Unipolar depressive disorder (UDD) affects more than 264 million people worldwide and was projected well before the severe acute respiratory syndrome coronavirus 2 pandemic to be the leading cause of disability-adjusted life years lost in 2030. It is imperative for leading economies to implement preventive strategies targeted towards UDD, given consistent policies are currently lacking. Recently established similarities between the aetiological hypotheses of depression and cardiometabolic diseases are shifting paradigms within this field. It is believed that dietary practices could potentially reduce the incidence of depression; similar to their effects on metabolism. Thus, the aim of this review was to compile current evidence on healthy dietary patterns as suitable contributors towards primary prevention strategies against UDD. Most of the well-known biological mechanisms behind depression have been positively associated with healthful diets and dietary patterns to varying degrees. Interestingly, a common factor of UDD is the production and overall effects of inflammatory cytokines, such as interleukin-6, tumor necrosis factor-α, and C-reactive protein. These compounds have been associated with depressive symptoms, disturbances in neuroendocrine function, leaky gut, monoamine activity and brain function, while also being key factors in the development of cardiometabolic diseases. The Mediterranean diet (MD) in particular, is well supported by first-level evidence regarding its preventive qualities against metabolic and cardiovascular diseases and thus considered a model for healthy eating by various organizations. In one of the few clinical trials investigating these associations, the PREDIMED trial, individuals with diabetes assigned to a MD supplemented with mixed tree nuts experienced a 41% relative risk reduction for developing depression. Lastly, there is a need to include health related quality of life as an indicator of physical and mental well-being, considering its putative associations with depression and suicide risk. Going forward, focusing on clinical trials, using precise nutritional assessments, and identifying nutritional biomarkers which may be related to depression are needed to fully support the implementation of dietary recommendations in the field of psychiatry.
Core Tip: Parallel biological mechanisms are being uncovered that link both depression and cardiometabolic diseases. Based on this evidence, it has been theorized that a healthful diet could improve the prognosis and prevent depression incidence, similar to its effects on cardiovascular risk. Current epidemiological studies support the link between healthy diets and better symptom management, biomarkers, and health related quality of life related to depression. However, additional longitudinal studies and dedicated clinical trials are needed to fully understand these initial findings. With greater evidence, healthy dietary patterns, such as the Mediterranean diet, could facilitate the management and reduce the risk of depression.
---
Citation: Pano O, Martínez-Lapiscina EH, Sayón-Orea C, Martinez-Gonzalez MA, Martinez JA, Sanchez-Villegas A. Healthy diet, depression and quality of life: A narrative review of biological mechanisms and primary prevention opportunities. World J Psychiatr 2021; 11(11): 997-1016
---
INTRODUCTION
More than 264 million people suffer from unipolar depressive disorder (UDD) worldwide, making it a leading cause of years of life lost as a result of disability[1]. In 2019, unipolar depressive disorder was ranked in 6th place amongst the top causes of burden of disease for the age groups between 25-49 years[2]. Previous projections had already speculated that depressive disorders would be the leading cause of disability-adjusted life years lost by the year 2030[3]. These estimations will inevitably rise as a result of the COVID-19 pandemic, requiring the implementation of public health policies to contain this expansive global health issue[4].
Current efforts to prevent mental illness, including depression focus on early diagnosis with prompt medical attention and treatment, in addition to sufficient drug availability[5]; in other words, secondary prevention. Despite moderate success in some countries, current research is offering both a better understanding of this condition and the rationale to apply new preventive strategies based on this knowledge. Examples of such research have been carried out by Sanchez-Villegas et al[6,7] in a population of southern Europeans. In this study sample, poor dietary and sedentary behaviors were associated with a higher incidence of mental illnesses (including UDD), which are also determinants typically associated with cardiometabolic health[8]. Due to common biological pathways, nutritional epidemiology now offers further insights in the field of mental illnesses[9].
Regardless of promising reports which support the possibility of improving mental health through nutrition, evidence remains limited[10]. Some of the findings refer to the importance of maternal and early-life nutrition for prevention, but also the role of diet as a determinant of adequate symptom management and enhanced anti-depressant drug efficacy. Such findings have led to an exponential growth and interest in the prevention of UDD through primary prevention strategies[11-13]. Nonetheless, the implementation of such strategies requires solid, reproducible evidence which can only be obtained from nutritional intervention trials.
In this narrative review we summarize the available evidence on the biological mechanisms common to UDD and cardiometabolic diseases, in support of the implementation of dietary interventions as plausible preventive measures for these diseases. For this purpose, we provide an overview of the aetiological hypotheses of depression with a particular interest in the role of diet on these pathways. Finally, current epidemiological evidence on the best known healthful dietary pattern, the Mediterranean diet (MD), will be presented in support of dietary interventions to reduce depression incidence and aid overall prognosis.
AETIOLOGICAL HYPOTHESES OF DEPRESSION
A wide array of determinants are involved in the aetiology of depression, including biological, psychological, and environmental factors[5]. It is not unlikely that these mechanisms coexist in varying degrees with plausible synergistic activity; adding complexity and variability to the causes and clinical manifestation of UDD. Among the most accepted pathways is the dysregulation of hormonal signaling involving the Hypothalamus-Pituitary-Adrenal (HPA) axis, although monoamine activity, neurogenesis, neuronal activity and plasticity play fundamental roles in the aetiology of mental illnesses in general. Of note, oxidative stress and inflammation play a common role in most of these hypotheses[14].
LINKS TO OTHER CARDIO-METABOLIC DISEASES
Along with UDD, cardiometabolic diseases are amongst the top causes of global burden of disease (GBD)[2]. Based on the mechanisms previously described, more and more evidence supports the role of diet and lifestyle as key determinants of mental health, quality of life, and cardiometabolic disorders[3]. Around the world, unbalanced diets, consumption of sugary beverages, and fast foods have been associated with and increased risk and presence of metabolic disturbances such as elevated fasting plasma glucose, and high blood pressure[77]. Sedentary behavior, a mayor cause of obesity and metabolic syndrome, has been associated with an increased risk for various mental disorders[7]. These observations further reflect the implications of (poor) lifestyle patterns habits on physical and mental health, both of which flourish under similar biological conditions. Likewise, the chronic pro-inflammatory state present in metabolic syndrome is the ideal scenario for glucose intolerance, lower insulin secretion, and the accompanying glucocorticoid dysregulation that precedes the onset of diabetes[78-81]. The cycle of damage persists once these changes have been established due to the detrimental effects of pro-inflammatory cytokines across various organs and systems, including pancreatic β-cells, endothelial cells, various strains of immune cells, among others. Unfortunately, advancements have been limited, however, biomarkers such as the myokine irisin are beginning to emerge as bridging biomarkers both in UDD and cardiometabolic diseases. This myokine, also produced in the adipose tissue, has been found to be a potent predictor of post-stroke depression in addition to solid associations with physical exercise and adiposity[82]. Considering these interactions, it is not outlandish to argue that the actual impact of depression has been underestimated, as prior researchers have suggested[83,84].
WHY A MD PATTERN FOR THE PREVENTION OF DEPRESSION?
The literature surrounding the MD and its characteristics is vast and well documented. When referring to the MD, researchers address a pattern of dietary characteristics and lifestyle found in countries of the Mediterranean basin, specifically in the 1960s[85]. In this geographical and temporal period, diets were characterized for their high consumption of olive oil (as primary source of dietary fats), nuts, fatty fish, local seasonal fruits and vegetables, in addition to a low consumption of meat (with a preference for poultry rather than red meats), dairy products, sugared beverages and confectionary/baked goods, and a moderate consumption of red wine. Furthermore, traditional culinary practices such as the "sofrito" (a tomato and olive oil-based sauce with various vegetables) enhance not only the flavors in this dietary pattern but also their innate nutrients. For the purpose of nutritional epidemiological studies, dietary questionnaires have been developed to assess the consumption of key foods and culinary techniques of this dietary pattern. Pioneering to this field was the development of the MD score (MDS) by A. Trichopoulou and collaborators, which considers the consumption of 9 key foods characteristics of the MD[86,87]. More recently, the 14-item questionnaire developed for the PREDIMED trial is the most wide-spread questionnaire evaluating the adherence to the MD pattern and its health benefits[88]. A novel, more precise approach is presently being developed with the inclusion of metabolomic assessment in order to objectively ascertain adherence to the MD. These analyses are based on the identification of key end-products of human metabolism that prevail when an individual adheres to this dietary pattern; also referred to as the "metabolic signature" of the Mediterranean diet[89].
The cardio-protective effects of the MD are mainly attributed to its anti-inflammatory and antioxidant properties. For this and other reasons, the American College of Cardiology and the American Heart Association amply recommend this dietary pattern in their 2019 guidelines[90], in addition to its inclusion in the Dietary Guidelines for Americans 2020-2025. All three institutions advocate for dietary patterns which emphasize the consumption of seafood, vegetables, fruits and nuts for the prevention of cardiovascular disease. However, in relation to UDD, the 2015 American dietary guidelines advisory committee deemed the evidence on the risk reduction of depression to be limited in its actual state[91]. When compared with other dietary patterns, the MD provides adequate concentrations of most micronutrients, particularly antioxidant compounds[92-94].
Based on these characteristics and reflecting on the biological hypotheses previously described, we could argue that the MD could also be beneficial for UDD prevention. Epidemiological studies have found that these compounds exert positive effects on endothelial function and inflammation based on biomarkers such as TGF-β1 and IL-6, ICAM-1 VCAM-1, among others[95]. As evidenced in the study by Sánchez-Villegas et al[63] in 2011 a dietary intervention with a MD supplemented with nuts in patients improved BDNF concentrations in patients with prevalent depression. Additional benefits to the endothelium of cardiovascular and neural cells originate from the adequate ratio of "healthy fats" in this dietary pattern [reflected in the mono- and polyunsaturated fat (MUFA/PUFA) and mono- and saturated fat (MUFA/SFA) ratios][96,97]. Among the most researched effects of fatty acids on membrane function surround the effects of Omega-3 fatty acids (also n-3). N-3 fatty acids include are polyunsaturated fatty acids (PUFA) that derive from alpha linolenic acid. The two primary forms of n-3 are eicosapentaenoic (EPA) acid and docosahexaenoic (DHA) acid, both of which are found in seafoods. EPA in particular plays a critical role in the adequate functioning of dendritic and synaptic membranes, hence its advised supplementation for patients with UDD[74,98]. In this line, DHA is an integral component of macular and dendritic cell membranes, further supporting its supplementation[6,99]. Consumption of fish and nuts in the MD has demonstrated to improve overall lipid composition (n-3 and other unsaturated fatty acids instead of trans-fatty acids or saturated fatty acids) which ensures adequate membrane functioning[6,98].
Folate and vitamin B12 intake are a major concern for subjects following plant-based diets. Nonetheless, nutrient deficiencies were scarce in a sample of free-roaming individuals adhering to the MD[93]. These micronutrients are critical for BDNF function but also necessary for an adequate production and activity of monoamines. Green leafy vegetables, legumes, grains, nuts and fruits within the MD have a high nutritional value for their folate and vitamin B12 content as well as other nutrients, such as fiber, vitamins, and minerals. Most of these foods are responsible for the positive effects of the MD on gut microbiome, further evidenced by improvements in insulin sensitivity and diabetes risk[100,101]. In this study, it was estimated that the prevalence of vitamin B12 deficiency among the 4th and 5th quintiles of adherence to the MD was 1%. Hence, the prevention of UDD by a MD pattern has been partially attributed to this dietary pattern's adequate intake of vitamin B12[102]. This was further supported by a comparison between categories of MD adherence and UDD incidence risk; compared to the lowest adherence to the MDS, the top 4 categories were associated with a risk reduction for incident depression of 26%, 34%, 51% and 42%, respectively[8], observing a significant dose-response relationship[8,103]. Although subject to debate, caloric restriction has been demonstrated to play a role in UDD and aide in the progression of non-alcoholic fatty live disease[104]. Hunger-related stress induced anti-oxidant effects in the brain through increased blood flow and the removal of damaged cellular organelles. Interestingly, the hippocampus is particularly benefited from the increased perfusion, resulting in an increase in neurogenesis mediated by BDNF and a decrease in apoptosis rates[105,106]. However, this theory would imply that the release of glucocorticoids and the subsequent HPA-axis activation, as a result of stress, is also capable of promoting neurogenesis despite its impairment in patients with depression. In a meta-analysis, the mean weighted effects of a very low calorie diet on depressive symptom scores revealed a Hedges' g = −0.728 (95%CI: −1.204, −0.253)[107]. These results were further analyzed in order to understand the mediator effects of exercise, duration of the caloric restriction, and cognitive behavioral therapy. It was concluded that exercise and longer duration of caloric restrictions partially explain the improvements in depressive symptoms, but more importantly, the exclusion of behavioral therapy yields no significant improvement of symptoms[107]. These mechanisms and the UDD hypotheses to which they are linked, have been summarized in Figure 1.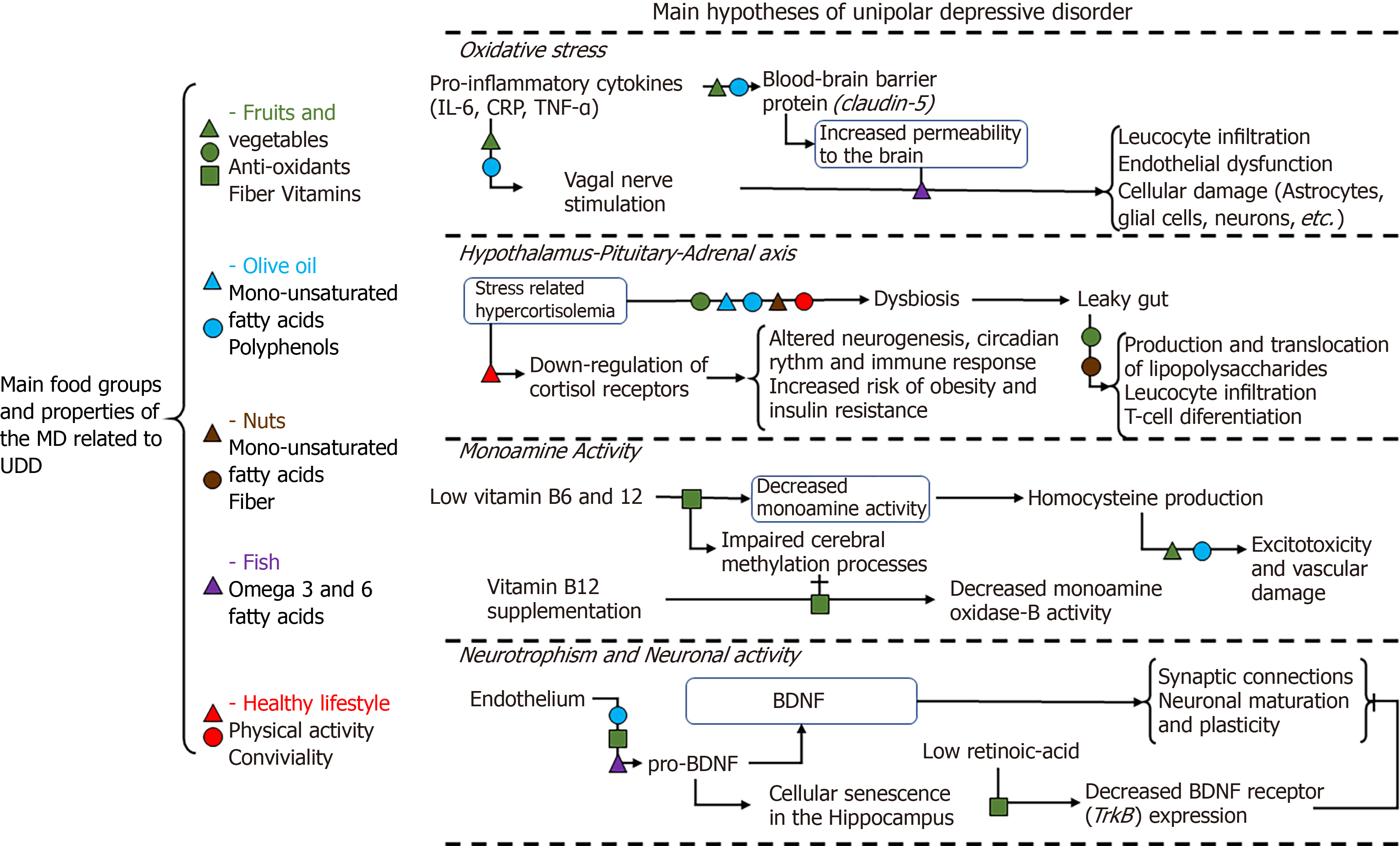 Figure 1 Summary of interactions between the Mediterranean diet and the unipolar depressive disorder hypotheses.
On the left side of the panel are the main food groups and their bioactive compounds, with known interactions with unipolar depressive disorder pathways. Each bioactive compound has a designated figure and color. The right side of the panel summarizes the aetiological hypotheses of depression and the main contributors to the disease. Black arrows designate the sequence of biological events in each mechanism, whereas "T" shaped lines designate an inhibitor effect. The figures designated for each compound are located within the sequence of biological events to designate the site of interaction with these mechanisms. See the main text for a detailed description of these interactions and associations. MD: Mediterranean diet; UDD: Unipolar depressive disorder; IL-6: Interleukin-6; CRP: C-reactive protein; TNF-α: Tumor necrosis factor-α; BDNF: Brain-derived neurotrophic factor.
These promising reports signal an under-developed field for UDD prevention, however, the long-term psychiatric effects that could arise from the severe acute respiratory syndrome coronavirus 2 pandemic demand for an exponential development of this knowledge. Front line workers should be considered at a double risk for COVID-19 and psychiatric disorders as suggested by the high prevalence of anxiety and burn-out in this group, with serious implications for the health and well-being of the population in general[108,109].
Some of the most noteworthy results from observational studies and clinical trials regarding the role of the MD, individual nutrients, and foods on incident depression are summarized on Table 2. This summary includes studies conducted in the Seguimiento Universidad de Navarra (The SUN study), studying the associations between diet and lifestyle with incident depression.
Dietary components
Total/number of cases
mean follow-up t (yr)
Main Results1 [comparisons between quantiles (q) or the designated categories]
Cohort studies
Nutrients
Omega-3 fatty acids[6]
7903/512
2.4
q4 vs q1: OR (95%CI) 0.65 (0.47–0.90). P for trend = 0.376
Trans fatty acids[37]
12059/657
6.1
q5 vs q1: 1.42 (1.09-1.84); P for trend = 0.003
MUFA[37]
12059/657
6.1
q5 vs q1: 0.80 (0.62-1.03); P for trend = 0.05
PUFA[37]
12059/657
6.1
q5 vs q1; 0.76 (0.59-0.99; P for trend = 0.03
Magnesium[123]
12939/737
6.3
q5 vs q1: 1.11 (0.77-1.59) No association.
Nutritional adequacy[124]
13983/953
8.5
≥ 4 nutritional deficiencies vs ≤ 1: 1.37 (1.01-1.85)
Total Fiber[40]
548/198
Cross-sectional
q4 vs q1: OR = 0.54 (95%CI: 0.11–2.63); Non significant association
Foods and food groups
Fast food[125]
8964/493
6.2
q5 vs q1: 1.36 (1.02-1.81); P for trend = 0.03
Ultra-processed foods[126]
14907/774
10.3
q4 vs q1: 1.33 (1.07, 1.64); P for trend = 0.004
Baked goods[125]
8964/493
6.2
q2-5 vs q1: 1.38 (1.06-1.80);
Olive oil[37]
12059/657
6.1
q5 vs q1: 0.80 (0.62-1.04); P for trend = 0.06
Seafoods[127]
6587/1367
Cross-sectional
q3 vs q1 of fatty fish consumption: OR 0.72 (0.59–0.88). Higher intakes were non-significant
Coffee[128]
14413/199
10
≥ 4 cups/d vs < 1 cup/d: 0.37 (0.15–0.95); P for trend = 0.220
Yoghurt[36]
14542/727
9.3
Low fat: max vs min: 1.32 (1.06–1.65); P for trend = 0.001
Whole fat: max vs min: 0.78 (0.63–0.98); P for trend = 0.02
Dietary patterns
MD score[8]
10094/480
4.4
3pts vs 0-2pts: 0.74 (0.57-0.98)
4pts vs 0-2pts: 0.66 (0.50-0.86)
5pts vs 0-2pts: 0.49 (0.36-0.67)
6-9pts vs 0-2pts: 0.58 (0.44-0.77); P for trend <0.001
MD score (updated)[103]
15093/1051
8.5
q5 vs q1: 0.84 (0.69-1.02); P for trend = 0.001
Pro-vegetarian[103]
15093/1051
8.5
q5 vs q1: 0.74 (0.61-0.89); P for trend < 0.001
AHEI 2010[103]
15093/1051
8.5
q5 vs q1: 0.60 (0.49-0.72); P for trend < 0.001
DASH-Fung diet[102]
14051/410
8
< 2pts vs 3-9pts: 0.76 (0.61-0.94):
Pro-inflammatory pattern[129]
15093/1051
8.5
q5 vs q1: 1.47 (1.17, 1.85); P for trend = 0.010
Lifestyle
Mediterranean lifestyle[130]
11800/806
8.5
High vs low : 0.50 (0.32-0.81)
Healthy lifestyle score[131]
14908/774
10.4
Max vs min: 0.68 (0.49-0.95); P for trend 0.010
Alcohol[132]
13619/459
8
Moderate vs no consumption: 0.62 (0.43-0.89) in female subjects
CV risk equation[133]
16739/927
6
q5 vs q1: 3.45 (2.40-4.95) starting at 40 yr
Physical activity[7]
10381/923
6
q5 vs q1: OR (95% CI) 0.81 (0.65-1.00) P for trend < 0.01
Leisure time physical activity[134]
6343/311
10.5
> 20 METs-h/wk vs < 10 METs-h/wk; 0.84 (0.72–0.99); P for trend 0.046
Tobacco[135]
8556/190
4
Smokers vs non-smokers: 1.30 (0.97-1.73)
Childhood obesity (5 yr)[136]
11825/651
6.1
Obese vs low weight: 1.50 (1.06-2.12); P for trend = 0.012
Youth obesity (20 yr)[136]
11825/651
6.1
Obese vs low weight: 2.22 (1.20-4.08); P for trend = 0.005
Clinical trials
The PREDIMED study[119]
3923/224
5.4
MD + EVOO2 or nut supplements vs Low fat diet: multivariable adjusted 0.85 (0.64 to 1.13); Non significant associations
The MoodFOOD Study[117]
512/54
1
Multi-nutrient supplement vs placebo groups: OR = 1.06 (0.87-1.29); Non significant associations.
Epidemiological evidence supporting MD
In recent years epidemiological evidence on the benefits of the MD on UDD include several studies both within and outside the Mediterranean area. In the InChianti cohort study including 1362 participants aged 18-102 years, adherence to a dietary pattern rich in vegetables, olive oil, grains, fruit, fish and moderate in wine and red and processed meat, labelled as the 'typical Tuscan dietary pattern', was associated with a reduction in depressive symptoms over a 9-year follow-up period[99]. In the Greek center of the EPIC cohort, a total of 732 men and women 60 years or older were analyzed to determine the association between risk factors for cognitive function and depressive symptoms in the elderly. Adherence to the Mediterranean Diet, as well as olive oil consumption were associated with better scores in both outcomes[110]. Some non-Mediterranean reports include the study by Rienks et al[111]. In this study, the authors found that a Mediterranean-style diet was inversely associated with both prevalence (cross-sectional analysis) and incidence of depressive symptoms (longitudinal analysis) with an overall risk reduction of 17% among a sample of mid-aged women from the Australian Longitudinal Study on Women's Health. In the Chicago Health and Aging Project, MD adherence was associated with a reduced number of new depressive symptoms over 7.2 years of follow-up; 98.6% fewer symptoms among subjects in the highest tertile of adherence compared with those in the lowest[112].
So far, most of the evidence on diet and UDD derives from cross-sectional studies which could lead to false inferences of causal relationships. Furthermore, methodological analyses must address potential confounding, such as the adherence to a particular dietary pattern as a result of a recent diagnosis of chronic diseases or the co-occurrence of lifestyle-related and sociodemographic factors. These issues could be solved by carrying out large randomized trials with interventions based on changes in the overall food pattern. As of today, only small intervention trials have been carried out attempting to prove these and other hypotheses. The SMILES study was an intervention trial that promoted a healthy diet based on Australian and Greek dietary guidelines. In this trial, a dietary intervention with MD significantly improved depressive symptoms as an aid for standard acute depression treatment[113,114]. Focused on an elderly sample, the MedLey study aimed to determine the effect of an intervention with a Mediterranean dietary pattern on this population's cognitive function, depressive symptoms, and quality of life. Despite significant improvements in endothelial function and MD adherence, the study showed no improvements in depressive symptoms nor quality of life after six months of intervention[115]. Examples of multi-country intervention trials include the MooDFOOD prevention trial which examined the feasibility and effectiveness of two different nutritional strategies (multi-nutrient supplementation and food-related behavioral change therapy) to prevent depression. The trial included individuals who were overweight, highly burdened with depressive symptoms, but did not meet clinical criteria for an episode of major depressive disorder in the last 6 mo[116]. In comparison to the placebo, micronutrient supplementation and behavioral therapy failed to prevent incident depression[117].In contrast to these results, the HELFIMED trial has shown promising results in patients with self-reported depression. In this trial, a MD intervention supplemented with fish oil for 6 mo significantly improved depressive symptoms and quality of life[118]. To this day, the PREDIMED study is the longest trial (mean follow-up of 5.4 years) evaluating the effects of a dietary intervention on the risk of incident cases of clinical depression. In this trial the relative risk (RR) estimates for an intervention with MD supplemented with extra-virgin olive oil (9% risk reduction) or a Mediterranean Diet supplemented with mixed tree nuts (22% risk reduction) suggested an inverse association. However, the confidence intervals for both estimates were wide and they showed that the results were compatible with a null result. Even when both Mediterranean diets were merged together and analyzed as a single group, the results were not statistically significant. Only when the analysis was limited to participants with type 2 diabetes (approximately 50% of the sample), a significantly reduced risk of depression was observed only for participants in the group with nut supplementation (significant risk reduction: 41%)[119].
Future research of great interest to this field includes the upcoming results from the PREDI-DEP trial, which was designed to study the impact of the MD on UDD. In this trial, patients over 18 years with a record of a major depressive episode, but with total or partial remission in the previous 6 mo, were recruited in four centers across Spain. With a target sample size of 250 participants per arm, subjects were randomly allocated to a MD intervention with supplemental olive oil, or to a control group who received no dietary advice nor supplements. Over the course of 24 mo participants were assessed every 3 mo to evaluate MD adherence (in the group of intervention) and every 4 mo to ascertain changes in depressive symptoms (in the overall sample)[120]. Food frequency questionnaires, HRQoL questionnaires (Short-Form 36), and physical activity questionnaires were administered in addition to blood sample collections, which were collected at baseline, and yearly during two years[121]. The upcoming results of this trial will aide in the endeavor to elucidate the mechanisms behind diet and UDD, in addition to discerning the particular effects of a MD diet supplemented with olive oil on the incidence and overall prognosis of patients at risk for this disease.
INITIAL DIETARY RECOMMENDATIONS FOR THE PREVENTION OF DEPRESSION
Although there are a number of important gaps in the scientific literature to date, existing evidence suggests that a combination of healthful dietary practices (including the adherence to the Mediterranean Diet) may reduce the risk of developing depression. In 2015, a group of experts with several backgrounds (epidemiology, psychiatry and nutrition) constructed the first Dietary Recommendations for the Prevention of Depression[122]. These dietary recommendations also provide additional and/or concurrent benefits for obesity, cardiovascular disease, diabetes and metabolic syndrome, and essentially pose no risk of harm. (1) "Follow 'traditional' Mediterranean Diet."; (2) "Increase your consumption of fruits, vegetables, legumes, whole grain cereals, nuts and seeds."; (3) "Include a high consumption of foods rich in omega-3 polyunsaturated fatty acids (PUFAs)."; (4) "Limit your intake of processed-foods, 'fast' foods, commercial bakery goods and sweets."; and (5) "Replace unhealthy foods with wholesome nutritious foods."[123]. Recommendations such as these are crucial steps towards a widespread implementation of diets as preventive measures for diseases, such as UDD, with substantial evidence of its benefits on cardiovascular and metabolic diseases.
CONCLUSION
UDD is and will remain a global health issue that researchers should strive to further understand and prevent. To this day, the hypothesized biological mechanisms that drive this disease include oxidative stress, HPA-axis dysregulation, monoamine and overall neuronal function deregulation. Based on analogous mechanisms, the MD could be a safe and inexpensive contributor to primary prevention strategies for depression, as it is characterized by various advantageous cardiovascular health qualities. Some of these properties include adequate B-group vitamin and folate content, promotion of a healthy gut microbiome, and high levels of various antioxidant compounds. Initial observational studies and trials, such as the PREDIMED study, suggest that implementing nutritional measures has an influence on disease risk and symptoms control. However, dedicated clinical trials are required to confirm the initial observations in order to fully support and understand the impact of diet on unipolar depressive disorder.
ACKNOWLEDGEMENTS
The group would like to acknowledge Ms. Maria Soledad Hershey, PhD candidate at the Department of Preventive Medicine and Public Health at the University of Navarre for providing the English language editing certificate and proofreading this manuscript.
Provenance and peer review: Invited article; Externally peer reviewed
Specialty type: Psychiatry
Country/Territory of origin: Spain
Peer-review report's scientific quality classification
Grade A (Excellent): 0
Grade B (Very good): B
Grade C (Good): C
Grade D (Fair): 0
Grade E (Poor): 0
P-Reviewer: Socea B, Tu WJ S-Editor: Ma YJ L-Editor: A P-Editor: Yu HG