Copyright
©2013 Baishideng Publishing Group Co.
, Limited. All rights reserved.
Extracorporeal membrane oxygenation for pediatric respiratory failure: History, development and current status
Anna Maslach-Hubbard, Susan L Bratton, Division of Critical Care Medicine, Department of Pediatrics, University of Utah, Salt Lake City, UT 84158, United States
Author contributions: Maslach-Hubbard A and Bratton SL contributed equally to the work and both participated in research, drafting and editing the review.
Correspondence to: Dr. Anna Maslach-Hubbard, MD, Division of Critical Care Medicine, Department of Pediatrics, University of Utah, 295 Chipeta Way, PO Box 581289, Salt Lake City, UT 84158, United States. anna.hubbard@hsc.utah.edu
Telephone: +1-801-5877560 Fax: +1-801-5818686
Received: August 8, 2013
Revised: September 21, 2013
Accepted: October 17, 2013
Published online: November 4, 2013

Extracorporeal membrane oxygenation (ECMO) is currently used to support patients of all ages with acute severe respiratory failure non-responsive to conventional treatments, and although initial use was almost exclusively in neonates, use for this age group is decreasing while use in older children remains stable (300-500 cases annually) and support for adults is increasing. Recent advances in technology include: refinement of double lumen veno-venous (VV) cannulas to support a large range of patient size, pumps with lower prime volumes, more efficient oxygenators, changes in circuit configuration to decrease turbulent flow and hemolysis. Veno-arterial (VA) mode of support remains the predominant type used; however, VV support has lower risk of central nervous injury and mortality. Key to successful survival is implementation of ECMO before irreversible organ injury develops, unless support with ECMO is used as a bridge to transplant. Among pediatric patients treated with ECMO mortality varies by pulmonary diagnosis, underlying condition, other non-pulmonary organ dysfunction as well as patient age, but has remained relatively unchanged overall (43%) over the past several decades. Additional risk factors associated with death include prolonged use of mechanical ventilation (> 2 wk) prior to ECMO, use of VA ECMO, older patient age, prolonged ECMO support as well as complications during ECMO. Medical evidence regarding daily patient management specifically related to ECMO is scant, it usually mirrors care recommended for similar patients treated without ECMO. Linkage of the Extracorporeal Life Support Organization dataset with other databases and collaborative research networks will be required to address this knowledge deficit as most centers treat only a few pediatric respiratory failure patients each year.
Core tip: Extracorporeal membrane oxygenation (ECMO) is a very important mode of support for patients of all ages with acute severe respiratory failure, non-responsive to conventional treatments. Goal of this review is to describe evolution of ECMO support for respiratory failure, changes and advances in technology, epidemiology, outcomes and care of pediatric respiratory failure patients. Also, we would like to describe changes in modes of support and although veno-arterial (VA) mode of support remains the predominant type used, veno-venous (VV) support is increasingly used especially in older children and adults. We described advantages and limitations of VV ECMO comparing to VA support.
---
Citation: Maslach-Hubbard A, Bratton SL. Extracorporeal membrane oxygenation for pediatric respiratory failure: History, development and current status. World J Crit Care Med 2013; 2(4): 29-39
---
BACKGROUND
Extracorporeal membrane oxygenation (ECMO), a form of prolonged cardiopulmonary bypass (CPB), has been used to "rescue" patients suffering from severe cardiopulmonary failure unresponsive to conventional therapies for over 30 years. ECMO development has been guided by the Extracorporeal Life Support Organization (ELSO)[1], an International Consortium of Health Care Centers that voluntarily contribute detailed data to a registry supporting the vast majority of ECMO clinical research. ELSO also develops and disseminates standards and guidelines for the member programs and sponsors medical education[2,3]. In addition to supporting patients with acute, severe respiratory failure failing conventional management, there are new applications for ECMO recently reported. These include support of patients with chronic respiratory failure as a bridge to transplant[4,5] as well as cardiopulmonary support for organ donation after circulatory determination of death both in vivo[6] and ex vivo[7] Although ECMO is currently used in both adults and children, the pioneering initial application of ECMO was for neonates with severe respiratory failure.
This focus on newborns was because initial applications in patients with respiratory failure[8] found that veno-arterial (VA) bypass dramatically improved survival in "moribund" infants, while the first randomized trial in adults with severe hypoxic respiratory failure reported dismal overall survival (9%) that was not improved by ECMO support[9]. The initial success in newborns was because ECMO support could interrupt the spiral of unrelenting hypoxia and acidosis from severe pulmonary hypertension, while adults with hypoxic respiratory failure treated in the original study reported by Hardart et al[10] had already suffered severe ventilator induced lung injury (VILI) that was not reversible. Early recognition that ECMO support is only potentially effective, when implemented before irreversible organ injury develops, became the key to successful ECMO patient selection. Another lesson learned from early reports was that potential candidates should not have high risk of severe bleeding complications. Premature newborns with gestational age < 35 wk suffered high rates of severe of intraventricular hemorrhage that continues to limit ECMO use for premature infants.
EPIDEMIOLOGY OF NEONATAL RESPIRATORY FAILURE AND ECMO
In the 2013 ELSO international summary 26205 of 53190 (49%) of all patients treated with ECMO reported to ELSO were neonates with respiratory failure, and patients less than a month of age comprised 60 percent of patients treated with ECMO if neonates with cardiac failure (9%) or failed cardiopulmonary resuscitation (3%) are also considered[3].
However, ECMO use to treat severe neonatal respiratory failure peaked in 1992 and steadily declined since, as advances in other less invasive therapies occurred[11,12] such as high frequency oscillatory ventilation[13-15], inhaled nitric oxide[15-20], surfactant[21,22] and maternal antibiotic therapy[23,24]. In 2011, neonatal respiratory failure accounted for 24% of cases reported to ELSO. The neonatal respiratory failure population for whom the annual cases treated with ECMO have remained relatively unchanged over time are infants with congenital diaphragmatic hernia and unfortunately approximately 40%-50% mortality persists among these patients[3,25-27]. Understanding the contribution of reversible pulmonary hypertension relative to lung hypoplasia in these newborns continue to complicate prognosis assessment.
EPIDEMIOLOGY OF PEDIATRIC RESPIRATORY AND ECMO
ELSO annual reports of ECMO use to support pediatric patients with respiratory failure have remained fairly stable over last 5 years (300-500 cases/year) with some transient increases during years of severe influenza outbreaks[3,28-31]. Compared to neonates much less ECMO experience involves pediatric respiratory failure and no clinical trials have established efficacy in this patient group. A United States study led by James Fackler[32] was initiated, but concurrent changes in critical care practices resulted in lower pediatric mortality from acute hypoxic respiratory failure and providers were largely unwilling to enroll patients in an ECMO trial. However, studies of pediatric hypoxic respiratory failure found that centers with ECMO available had lower mortality among patients with respiratory failure compared to centers treating patients without ECMO available for select cases[32]. Furthermore, recent randomized trial in adult ARDS patients reported by Peek et al[33] found that adults transferred to a centralized ECMO center died less frequently when both standardized conventional care and "rescue" ECMO was available compared to patients treated at multiple centers with only conventional care as a treatment option.
Trials in the United Kingdom in both neonates[34,35] and adults[33] have shown that ECMO is an effective treatment for severe respiratory failure compared to conventional support with acceptable cognitive and functional status. The remaining studies in this review refer to children treated with ECMO for respiratory failure but lack key information including: the number of children with a given pulmonary process at risk for severe respiratory failure compared to the number treated with ECMO. The unanswered questions are would a child with a unique set of clinical and demographic features survive without ECMO yesterday, today and tomorrow?
ORIGINAL TECHNOLOGY
Initial ECMO support relied exclusively on VA support typically with arterial (carotid) and venous (internal jugular) cannula in the neck with the distal end of the carotid artery permanently ligated (Figure 1). The cannula drained venous blood by gravity into a reservoir (bladder) and a roller pump provided non-pulsatile propelled blood flow through an oxygenator and returned blood to the infant's aorta. With this configuration, venous drainage can be augmented by elevating the patient on multiple cushions to increase the pressure gradient between the patient and the ECMO bladder enhancing circulating volume. Systemic anti-coagulation was primarily monitored with activated clotting times. The blood moved through a circuit, and diffusion of gases occurred across a semi-permeable membrane with oxygenation limited by time in the oxygenator membrane, so larger membranes are required to support larger patients. A blood primed bridge existed in the circuit so that flow could be diverted away from the patient to preserve the circuit from clotting when testing to see if the patient was ready for ECMO support to be removed.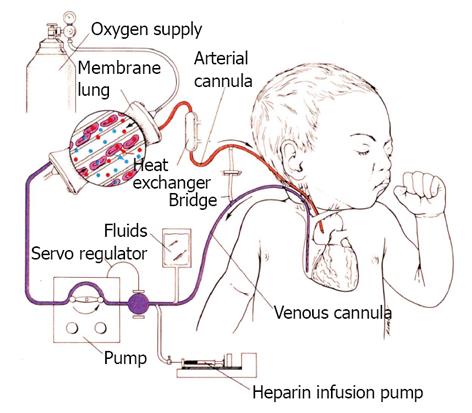 Figure 1 Classic veno arterial extracorporeal membrane oxygenation in an infant with cannulation of the right internal jugular vein draining blood by gravity to a roller pump that generates non pulsatile flow to a membrane oxygenator.
Oxygenated blood is returned to the aorta by a catheter inserted in the right internal carotid artery.
TECHNICAL PROBLEMS
The technical limitations to early ECMO primarily revolved around complications due to inadequate flow and oxygen delivery, hemolysis, and anti-coagulation (clot and bleeding complications). Arterial cannulation for infants is primarily limited to either accessing the heart and great vessels either via a sternotomy or open cannulation of the carotid because extremity vessels are inadequate until the child is ambulatory at which time the femoral artery is an option. Infants usually tolerate loss of a unilateral carotid artery, but adults are at greater risk of hemispheric stroke complicating carotid artery cannulation and ligation. Like other neonates treated with CPB[36-39], the majority of critically ill neonates treated with ECMO survive with subtle cognitive deficits, but approximately 10%-15% of survivors manifest more severe neurologic complications and central nervous system complications also increase mortality risk[40-47].
CHANGES AND ADVANCEMENTS IN TECHNOLOGY IN ECMO FOR RESPIRATORY FAILURE
As care for patients with respiratory failure evolved during last 30 years, technological advances in ECMO have also changed to enhance safety, accessibility and facilitate its use, contributing to decreased morbidity and improved survival of patients requiring ECMO support[48].
Major advances in ECMO deployment paralleled advances in conventional CPB including cannulas, pumps, oxygenator bubble detectors and heparin bonded circuits which decrease platelet activation, circuit clotting and prolong the circuit life. There is an overall tendency to use smaller circuit size decreasing priming volume, and exposure to foreign material and blood products.
CANNULAE
Double lumen venous cannulae were initially developed for use in neonates and small infants for veno -venous (VV) support, while multiple single lumen venous cannulas were used for VV support in toddlers, older children, adolescent and adults with respiratory failure. Newer double lumen cannulas with better flow profiles and less blood recirculation have increased ease of VV use in older children.
VV double lumen catheter provides drainage of SVC and IVC and more directed "arterial flow" towards tricuspid valve but require echocardiography or fluoroscopy for initial placemen[49,50]. Insertion of these cannulas can be done percutaneously, theoretically decrease risk of infection and bleeding. In adult patients, use of these cannulas is associated with less sedation use and active rehabilitation of patients during ECMO support[51,52]. Finally manufacture of double lumen catheters for older patients made this technique possible for all size patients[53,54]. However rigorous evaluation of these catheters compared to VV ECMO accomplished with use of multiple venous catheters is needed. Although the catheters appear to decrease reperfusion and provide adequate flow, reported complications include right heart perforation during insertion[55].
PUMPS
The majority of programs traditionally used roller-head (semi-occlusive) pumps, but use of smaller, low-friction centrifugal pump has increased over last several years. These pumps have potential advantages compared to roller-head pumps where circuit flow is dependent on gravity drainage and a reservoir or "bladder" is required. These mechanical features increase turbulent flow, and tubing rupture can occur so longer circuit tubing is needed to "walk the raceway". Thanks to magnetic drives centrifugal pumps enable use of shorter tubing and smaller priming volume. Hemolysis and renal injury appear to be more common with centrifugal pumps especially in neonates. However, hemolysis can occur with both pump types[56-59].
OXYGENATORS
Initial silicon oxygenators had very large surface areas, which were more difficult to prime and debubble and furthermore their use was associated with a large inflammatory response. Polypropylene, hollow fiber devices were developed and appeared to elicit less inflammation but have a tendency to leak plasma, which decreased oxygenator life span. Some ECMO programs used the hollow fiber devices for rapid deployment and reserved the silicon oxygenators for replacement after ECMO initiation. The newest polymethyl pentene, nonporous hollow fiber oxygenators, are now widely used, provide very efficient gas exchange, with low resistance to flow and use smaller priming volumes[59-61].
CIRCUIT CONFIGURATION AND ANTICOAGULATION
Attention to flow monitoring and pressure changes across the circuit prompted modification to decrease clotting and hemolysis. Removal of the bridge blood prime during ECMO initiation potentially could lower risk of embolic events during trials off when the circuit flow is decreased and the bridge "flashed" periodically. Heparin coated tubing often decreases requirement for anticoagulation use during the initial hours after ECMO initiation, which can be especially important for patients with bleeding complications and requiring surgical procedures.
Anticoagulation strategies to prevent circuit clotting vary widely between institutions. Currently no consensus exists regarding the best way to manage anticoagulation and blood product administration for patients supported on ECMO[62-64]. All centers use unfractionated heparin as the primary anticoagulant, while few centers reported use of alternative anticoagulation agents (direct thrombin inhibitors: Argatroban and Lepirudin or Bivalirudin) when heparin-induced thrombocytopenia is suspected.
Likewise practice varies regarding anticoagulation monitoring. ACT remains the predominant diagnostic test utilized to monitor and adjust anticoagulation, but more specific tests including anti-factor Xa level, antithrombin III (AT III) as well as thromboelastograms are used with increasing frequency at many centers. No studies have demonstrated advantages of one test over another either in complications or cost of monitoring.
VENO VENOUS ECMO VS VENO ARTERIAL
Recognition that profound respiratory failure frequently could be supported with VV ECMO (Table 1), a mode where deoxygenated blood from the patient and oxygenated blood from the ECMO circuit mix in the venous circulation and any venous clots are "filtered" by the patient's native lungs. Thus for this approach to succeed in pediatric patients, native cardiac output must be adequate and in order to limit VILI, medical providers must accept relative hypoxia in some patients as a treatment goal (saturations 75%-85%).
Factors
Veno venous
Veno arterial
Systemic emboli
Lower rate unless intra cardiac shunt present
Increased rate of stroke and seizures with carotid cannulation, risk increases with patient age
Limb ischemia with femoral arterial cannulation
Cardiopulmonary support
Does not provide direct hemodynamic support
Provides full hemodynamic support
Lower systemic oxygenation
High systemic oxygenation
Increased rate of hypertension during ECMO
Non pulsatile flow
Usually requires some degree of pulmonary gas exchange and lung recruitment
More commonly used with severe air leak
Indirect support with more oxygenated blood provided to pulmonary circulation
Organ injury
Less acute kidney injury- preserved pulsatile blood flow
More acute kidney injury
Less central nervous system injury risk
More central nervous system injury risk
Monitoring
Mixed venous oxygen saturation less reliable due to recirculation
Reliable mixed venous saturation measurements
Bleeding
Increased cannula site bleeding
More bleeding with multiple site cannulation and femoral arterial cannulation compared to carotid
Infection
Less risk with percutaneous and single cannula use
Greater rates of infection
Rehabilitation
Less sedation use if adequate oxygen delivery possible
Mobilization of patients more feasible with single catheter neck catheter
VV ECMO can be accomplished using two separate venous catheters or a double lumen catheter. However, recirculation of blood can complicate both blood saturation monitoring and limits effective blood flow. As described above, double lumen catheter improvements decreases recirculation and improved patient arterial oxygenation when optimally positioned.
While extracorporeal support for patients with severe respiratory failure is implemented as a life saving and lung protective measure, it also carries significant risks of complications. Most commonly described and feared are neurological complications: intracranial hemorrhage, thromboembolic or ischemic strokes and seizures as they can have a profound impact on the patient's overall outcome[42-47]. These complications are related to mode of support, with VV ECMO thought to be safer from thromboembolic stand point. Also sparing of the carotid artery, which remains the most common arterial cannulation site in children with respiratory failure, could contribute to less neurological injury.
In a single center report comparing neonates who survived ECMO, infants treated with VV had significantly lower risk evidence of embolic brain lesions compared to those supported with VA when patients were routinely imaged with MRI[43]. Similarly analysis of ELSO data for pediatric patients with respiratory failure compared to patients found lower rates of central nervous system radiological injury and seizures for children treated with VV compared to VA, however, reports to ELSO, review clinical data and ascertainment of these complications likely vary by reporting center and asymptomatic patients are not routinely evaluated[65]. These findings are also similar to reports of patients supported with VA ECMO to treated failed CPR in adults[66] and children[67-69].
Surveillance of brain function among pediatric patients supported on ECMO varies. Although most centers routinely follow serial cranial ultrasound studies in infants with an open fontanel, imaging of the brain among older patients is often reserved for patients with new neurological deficits. Thus avoidance of prolonged neuromuscular blockage and minimal sedation when possible enhances neurologic monitoring for frequent patient assessment. However assessment of sedated patients if often difficult, and a quarter of pediatric patients with intracranial pathology detected by CT did not have clinical evidence of neurological compromise[70].
Rates of other commonly reported complications during ECMO support including renal failure; bleeding and infection differ by support mode. Development of acute kidney injury (AKI) and fluid overload are common among patients supported on ECMO and especially renal failure is seen more commonly during VA support[3]. It is impossible to assess how much ECMO support contributes to renal failure distinct from injury related to pre-ECMO events. Overzealous fluid removal with diuretics or continuous renal replacement therapy (CRRT), lack of pulsatile flow with VA support and hemolysis all may contribute to development of renal insufficiency[71-75]. A recent report by Wolf et al[76] of patients with congenital heart disease supported on ECMO, highlighted that early implementation of CRRT and too aggressive fluid removal may lead to intravascular volume depletion, aggravate AKI and worsen outcome.
As with other modes of mechanical support, ECMO also carries risk of acquired infection during the bypass run. In 2010 the ELSO international summary data reported the incidence of culture-proven bacterial infection increased with age: 6.1 % in neonates, 18.7% in children and 20.5% in adults and was associated with increased mortality[77,78]. Duration of catheter use, ECMO to support CPR, VA mode were all associated with increased infection risk[79,80].
Bleeding on ECMO is the most frequently described complication resulting from necessity of continuous anti-coagulation to prevent circuit clotting and thromboembolic events. Surgical cannulation site and other procedural incisions are the most commonly reported bleeding sites. Rollins et al[65] evaluated bleeding from surgical cannula site among pediatric patients receiving ECMO for respiratory failure and reported hemorrhage rates were significantly greater for VV (19%) than VA (15%) but among arterial cannula site rates of hemorrhage were greater in the femoral artery (28%) compared to carotid artery (15%).
Trials off VV support are simplified compared to VA because the oxygenator can be "isolated" from the patient at full flow by simply removing the gas source. Trials off VA support increase risk of clot development and emboli due to both stasis with lower pump flows, changes in blood volume relative to heparin dosing and flushing the bridge, which leads to turbulent flow. Finally, among patients treated with VA ECMO for respiratory failure, infants, children and adults have higher mortality compared to patients supported with VV[3,48]; however, this observation is likely confounded at least in part by severity of illness as high need for vasoactive medications and cardiopulmonary arrest immediately preceding initiation of ECMO are viewed by many critical care physicians as a contraindication for VV ECMO use.
OUTCOME/MORTALITY
Because the ELSO registry and other administrative data sets do not systematically collect information regarding disability, hospital mortality is most commonly reported. Among patients treated with ECMO mortality varies by pulmonary diagnosis, underlying condition, other non-pulmonary organ dysfunction as well as patient age[48,81], but has remained relatively unchanged overall (43%) over the past several decades. Although survival among patients without concurrent non-pulmonary disease has improved, ECMO has increasingly been reserved for medically complex patients with acute other organ failure and/or underlying chronic diseases (Table 2). This is logical as ECMO continues to be a "rescue" therapy and mortality from acute respiratory failure in children has declined concurrent with recognition of successful strategies to decrease VILI as well as other improvements in critical care[82-84]. Indirect evidence that "gentle" ventilation has been embraced by the pediatric critical care community is provided by the most recent ELSO registry analysis, in which the duration of pre-ECMO mechanical ventilation was no longer associated with lower survival until ECMO deployment occurred at 2 wk or more after initiation of mechanical ventilation[48,85].
| | | |
| --- | --- | --- |
| Factors | Increased survival | Increased death |
| Age | Younger | Age > 10 yr |
| Pulmonary process | Asthma | Pertussis |
| | Viral pneumonia/bronchiolitis | Sepsis |
| | Aspiration pneumonia | Opportunistic infections |
| Organ dysfunction | | Renal failure/dialysis |
| | | Liver injury |
| | | Immune impairment/deficiency |
| | | Cardiac arrest prior to ECMO |
| Severity of ventilator associated lung injury prior to ECMO | | Severe acidosis |
| | | High mean airway pressure |
| | | Duration ventilation > 14 d |
| Mode | VV | VA |
| Complications during ECMO | | Infection |
| | | Stroke |
| | | Cardiac arrest |
| | | Organ failure |
ECMO use and prognosis in pediatric patients with intractable respiratory failure differs from use in newborns in several obvious (e.g., range of patient size, age, survival) and less obvious ways (reversibility of disease process). Like neonates, use of VV ECMO is increasing but remains less common than VA support. Recent advances in availability of double lumen catheters that decrease recirculation for use in patients of all sizes may continue to enhance use of VV; however, VV cannulation is technically more difficult and associated with increased cannulation site bleeding and flow issues[65]. VV support should be the default choice for pediatric respiratory failure because central nervous system injury is less common, and recent ELSO analysis did not find increased mortality from a "failed" trial of VV requiring conversion to VA support. Among pediatric patients who require VA, firm recommendations cannot be made regarding arterial site. Although carotid cannulation is avoided in adults due to concern for hemispheric stroke, insufficient data are available in older children to make firm recommendations when children requiring VA support should transition to femoral artery use rather than carotid[65]. When using the femoral artery for VA ECMO, a bypass graft or reperfusion catheter to maintain adequate limb perfusion is often required.
Other factors associated with increased survival among pediatric ECMO patients with respiratory failure include: young age, obstructive lung diseases compared to restrictive processes (e.g., asthma or bronchiolitis vs acute lung injury), and primary lung injury compared to secondary lung injury (e.g., pneumonia vs sepsis)[48,86,87]. Risk of mortality increases for potential ECMO patients with acute respiratory failure if they have either pre-existing chronic non-pulmonary organ failure or develop additional acute organ failure before or after institution of ECMO. Patients who can tolerate net fluid loss while receiving ECMO support have lower risk of death[88], while development of renal failure during ECMO has repeatedly been associated with increased mortality[71-75]. It remains unclear if early fluid removal on ECMO improves outcome. Recently Selewski et al[75] examined the association between fluid overload and outcomes in pediatric ECMO patients receiving continuous renal replacement therapy (CRRT). Among patients treated with ECMO, 28% received concurrent CRRT and survival was significantly lower (34% vs 58%) compared to those not treated with CRRT. However, it is likely that those receiving CRRT had greater severity of illness and greater risk of death.
As expected patients with underlying immune disorders or an active malignancy have lower survival compared to patients with intact immune function[48]. Although profound immunosuppression was once considered an absolute contraindication, now decisions regarding whether a child is an ECMO candidate include nuisances such as the anticipated duration of neutropenia, other organ failure and ultimate cancer prognosis. Although numbers of patients treated with ECMO after hematopoietic stem cell transplantation are few, some cases have survived to hospital discharge; however, long term cancer survival was not reported.
Complications occurring after institution of ECMO that reflect either inadequate cardiorespiratory support or end organ failure arising from pre-ECMO injury have consistently been associated with increased risk of mortality[48,87]. Thus care to avoid complications during ECMO may increase survival. Although most pediatric patients with respiratory failure are able to be liberated from ECMO within 3 wk, survival decreases with prolonged duration; however, no studies have enumerated factors that clearly predict death and typically support is continued till either complications ensue causing multiple organ dysfunction or pulmonary status improves and the patient can be supported without ECMO. Survival among patients treated with ECMO for longer than 3 wk decreases to 38%.
CARE OF PEDIATRIC RESPIRATORY FAILURE ECMO PATIENTS
Many management aspects of respiratory failure for patients treated with ECMO are not based on medical evidence specific to ECMO care, but mirrors care recommended for similar patients treated without ECMO. However, ECMO does affect management. For instance some medications bind to or interact with the ECMO circuit (e.g., fentanyl) or clearance may be altered by addition of dialysis (e.g., barbiturates) so critical care teams should include expertise from a pharmacologist. Certainly patients must be able to cooperate with care without risk of unplanned medical appliance dislodgement. Some pediatric age patients require high levels of sedation; however, when possible neuromuscular blocking agents (NMBA) should be avoided and sedation minimized to allow spontaneous coughing, optimize respiratory secretion clearance and decrease respiratory and peripheral muscle de-conditioning. In addition, reduced use of deep sedation and NMBA will allow better assessment of patient neurological status[62,89]. As with survivors of any critical illness, ECMO survivors may be left with significant psychological and functional disabilities[90]. Recently more attention is paid to early recognition of possible neurological injury which should lead to early implementation of rehabilitation. Although implementation of physical therapy (PT) for patients while still on ECMO is very challenging due to increased risk of acute decompensation, medical device dislodgment , some authors suggest use of simple PT interventions to avoid motor and cardio-respiratory deconditioning[91]. Reports from multiple centers show that cooperative patients can assist with mobility including pulmonary rehabilitation while on ECMO without high risk of appliance movement and that prone positioning is routinely possible in pediatric patients[91-94]. However, it is unclear which components of rehabilitation are essential to maintain and improve functional outcomes (e.g., passive limb range of motion, splinting, active limb exercises/strengthening, ambulation) are not known. If tolerated by the patient, rehabilitation should be continued through post-ECMO hospitalization period and following hospital discharge[94].
No studies have evaluated optimal nutrition goals, but many critical care providers consider enteral feeds preferable to intravenous nutrition. Our center routinely uses trans pyloric feeding tubes rather than nasogastric to decrease risk for aspiration of formula. The optimal transfusion threshold during ECMO also remains unclear. Especially for patients treated with VV ECMO, providers must weigh potential benefits from increased oxygen deliver and potential harm from increased fluid overload. Recent trends in both adult and pediatric critical care medicine have found similar patient outcomes with lower red blood cell administration thresholds[95,96]. Many providers now accept lower transfusion thresholds (hgb > 10 g/dL) for ECMO pediatric patients with normal arterial saturations but maintain higher thresholds for desaturated patients. Trending mixed venous desaturation is an additional measure to aid transfusion decisions. If the mixed venous saturation increases after a transfusion then a higher hemoglobin concentration may provide physiologic benefit However, ECMO patients who tolerate fluid loss either using diuretics or hemoconcentration have higher rates of survival[88,97].
The mechanical ventilator strategy for respiratory ECMO should limit VILI[98-100]. Maintaining lung recruitment is ideal unless severe air-leak syndrome has developed, our practice is to reduce positive end expiratory pressure till the leak is minimized. Otherwise, PEEP is maintained and a low stretch ventilation strategy initiated as the circuit removal of carbon dioxide is efficient. No studies have compared conventional to high frequency oscillation ventilation in ECMO patients but patient care and avoidance of NMBA is easier to achieve during conventional ventilation.
Other care should be directed to decrease complications. Because they are intensively monitored ECMO patients have increased risk of catheter associated blood stream infections[101] and other nosocomial infections. Development of other organ failure substantially increases mortality. ECMO should be removed as soon as pulmonary compliance and gas exchange have improved and the patient can be maintained on non-toxic ventilator settings.
CONCLUSION
ECMO continues to be used as a rescue therapy for increasingly complex pediatric patients with respiratory failure. VV ECMO should be the used as the default mode due to lower complication rates and many aspects of ideal care remain unstudied. Linkage of the ELSO dataset with other databases or collaborative research networks will be required to address this knowledge deficit as most centers treat only a few pediatric respiratory failure patients each year.
P- Reviewers: Inaba H, Ntoumenopoulos G S- Editor: Gou SX L- Editor: A E- Editor: Lu YJ