Copyright
©2013 Baishideng Publishing Group Co.
, Limited. All rights reserved.
Neuritin: A therapeutic candidate for promoting axonal regeneration
Tadayuki Shimada, Hiroko Sugiura, Kanato Yamagata, Neural Plasticity Project, Tokyo Metropolitan Institute of Medical Science, Setagaya-ku, Tokyo 156-8506, Japan
Author contributions: All the authors contributed to the writing and editing of all aspects of this mini-review.
Supported by JSPS KAKENHI partly, No. 24700349, No. 24659093, No. 25293239; and MEXT KAKENHI, No. 25110737
Correspondence to: Kanato Yamagata, MD, Neural Plasticity Project, Tokyo Metropolitan Institute of Medical Science, 2-1-6 Kamikitazawa, Setagaya-ku, Tokyo 156-8506, Japan. yamagata-kn@igakuken.or.jp
Telephone: +81-3-68342358 Fax: +81-3-53163150
Received: June 19, 2013
Revised: August 19, 2013
Accepted: September 14, 2013
Published online: December 28, 2013

Following injury, the axons of the mammalian central nervous system do not regenerate. Many studies have aimed at understanding the mechanisms that prevent axonal regeneration and at designing ways to overcome the obstacles preventing axonal regrowth. These studies have identified numerous proteins as promoters of axonal regeneration. In this minireviews, we focus on neuritin as a therapeutic candidate for promoting axonal regeneration. Neuritin was first identified as a neuronal-activity-inducible gene product in the rat brain. The overexpression of neuritin in neurons or the application of neuritin to neurons induces neuritogenesis, neurite arborization, and axonal elongation both in vitro and in vivo. These morphological changes are often observed during the first step of axonal regeneration. Indeed, neuritin expression increases during axonal regeneration in the peripheral nervous system (PNS). Conversely, in a mouse model of diabetes mellitus, neuritin expression decreases in the PNS, and this reduced expression may result in deficient axonal regeneration. Neuritin is induced in the hippocampal dentate gyrus after temporal lobe epilepsy or brain ischemia; however, in these conditions, neuritin induction may exacerbate brain dysfunction through mossy fiber sprouting. Together, these findings support the hypothesis that tightly controlled regulation of neuritin may be required for the treatment of each unique axonal pathology.
Core tip: Neuritin has been shown to be an activity-regulated protein in neurons. Its expression also increases after neuronal damage. Neuritin induces neuritogenesis, arborization, and axonal elongation. These functions may be beneficial for axonal regeneration after nerve injury. Here, we review neuritin as a therapeutic candidate for promoting axonal regeneration in the peripheral and central nervous systems. We also discuss the possible involvement of neuritin in mossy fiber sprouting after epileptic seizures or brain ischemia.
---
Citation: Shimada T, Sugiura H, Yamagata K. Neuritin: A therapeutic candidate for promoting axonal regeneration. World J Neurol 2013; 3(4): 138-143
---
INTRODUCTION
After neuronal injury, axonal regeneration is not observed in the mammalian central nervous system (CNS). The regeneration of an axon itself is the only way to recover neuronal function after CNS injury. For decades, many investigators have tried to develop methods that promote axonal regeneration.
In canonical axonal regeneration, new growth is expected to occur from the tip of a transected axon and reinnervate its normal target. Because CNS neurons maintain the intrinsic ability of axonal outgrowth[1], the promotion of neurite outgrowth can contribute to the regrowth of axons (Figure 1A). In addition to canonical regeneration, other processes can achieve the functional recovery of transected neurons. New axon branches could arise from the axonal region close to the injury site, and these branches could connect with other newborn neurons near the lesion. Alternatively, neural precursor cell grafts enable the production of newborn neurons. New neurons close to the injury site are expected to extend their axons to the target organs. In this model, enhancements of neuritogenesis and arborization help form new axons and branches, respectively (Figure 1B). A few transplant models have succeeded in promoting axonal functional recovery[2,3]. Thus, axonal elongation, branch formation, and neuritogenesis may be crucial for axonal regeneration.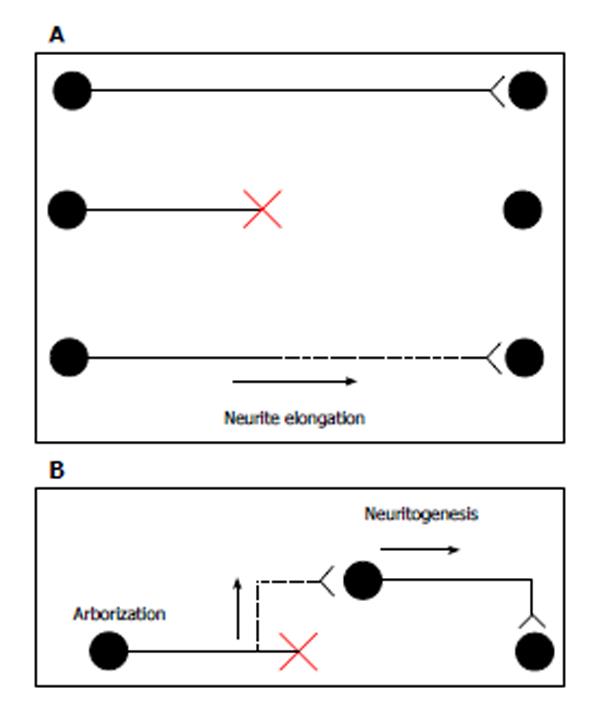 Figure 1 Schematic illustration of axonal regeneration.
A: Top, intact axon; middle, transected or crushed axon; bottom, canonical axon regeneration. New growth occurs from the tip of the transected axon, and the regenerating axon reinnervates its normal target; B: Regenerating axon: the branch arises from the axon close to the injury site. The new axon branch connects to the surrounding neuron, which extends an axon to the original target. Figures are modified from Tuszynski et al[50].
In this minireviews, we focus on the protein neuritin, which is one candidate for the promotion of axonal regeneration. The expression level of neuritin is altered in CNS and peripheral nervous system (PNS) diseases. In addition, the overexpression or application of neuritin promotes neurite formation, branch formation, and neurite elongation in cultured neurons. These changes may promote axonal regeneration.
NEURITIN: ITS CHARACTERISTICS AND DISTRIBUTION
Neuritin, which is also known as candidate plasticity gene 15 (CPG15), was first identified during a screen for neural-activity-regulated genes in the hippocampus[4]. Neuritin mRNA is predominantly expressed in the brain. Minor expression is observed in the lungs and liver[5]. Within the brain, the highest levels of expression are in the dentate gyrus of the hippocampus[5]. Expression of neuritin is increased by neural stimulation. Neuritin mRNA was increased both in the cerebral cortex by light[6], sensory experience[7], and exercise[8] and in the hippocampus by exercise[8] and electroconvulsive seizure[9]. Immunohistochemical analysis showed the expression of neuritin in the sciatic nerve[10] and facial motor neuron[11], indicating that neuritin is also expressed in the PNS.
An open reading frame of the neuritin sequence predicts a protein with 143 amino acids and a 27-amino-acid signal peptide. The 27 C-terminal amino acids contain a consensus cleavage signal that is found in glycosylphosphatidylinositol-anchored proteins. The predicted mature protein is a membrane-bound 12-kDa protein with no apparent phosphorylation or glycosylation site. Neuritin shows no significant homology with any known protein[5]. A portion of neuritin may be cleaved from the membrane and exists as a soluble form[12].
Neuritin protein is concentrated in the neuronal soma and is unevenly dispersed along neuritic projections in the rat brain[5]. Neuritin is expressed in puncta throughout cell bodies, dendrites, and axons, although its expression in axon terminals is particularly strong[13].
NEURONAL FUNCTIONS OF NEURITIN
The neuronal functions of neuritin have been investigated primarily through studies involving the overexpression, gene silencing, and application of neuritin protein. These functions of neuritin can be categorized into the following three groups: neuritogenesis, neurite arborization, and neurite extension (Figure 2A).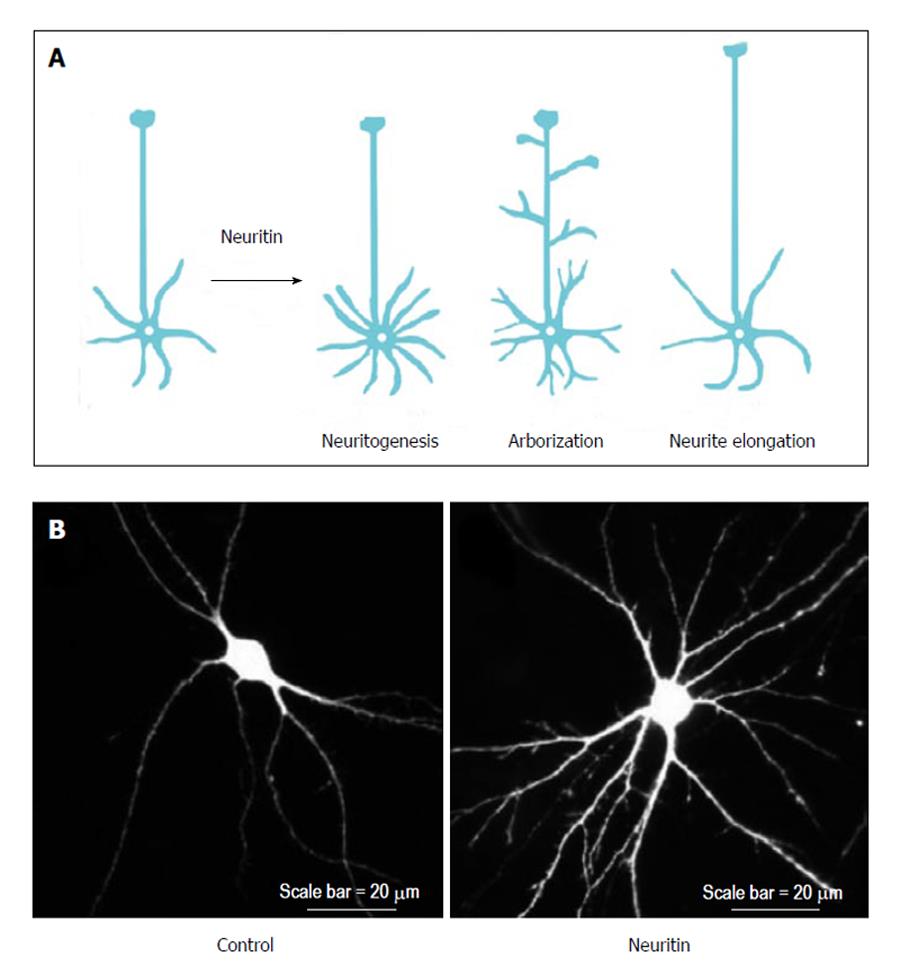 Figure 2 Neuritin induces neurite arborization. A: Neuritin regulates neuritogenesis, neurite arborization, and neurite extension; B: Hippocampal neurons were prepared from rat embryos that were transfected with green fluorescent protein (GFP) (left) or GFP and neuritin (right) after 5 d in vitro, and then they were immunostained after 12 d in vitro.
Neuritogenesis
After the administration of purified neuritin to cultured hippocampal and cortical neurons, neurons showed extensive dose-dependent neuritogenesis compared with control neurons[5,13]. In contrast, gene silencing of endogenous neuritin caused a robust reduction in nerve growth factor (NGF)-induced neurite formation[14]. Because NGF induces neuritin expression in dorsal root ganglion (DRG) neurons[10], NGF may promote neurite formation through neuritin expression; however, it remains unclear how NGF regulates neuritin expression. Furthermore, the application of a neutralizing antibody against neuritin to cultured cortical neurons significantly decreased the number of their primary dendrites and their total dendritic length[13]. These findings suggest that neuritin enhances neuritogenesis in developing neurons.
Neurite arborization
Neuritin can promote branch formation in neuronal dendrites. The overexpression of neuritin increased dendritic arbors in the optic tectal neurons of Xenopus tadpoles[15]. Cultured rat hippocampal neurons overexpressing neuritin also exhibited significant increases in dendrite arborization (Figure 2B). Furthermore, neuritin targets axons to promote branch formation. The overexpression of neuritin changed the dynamic behavior of axonal branches. In the neuritin-expressing Xenopus motoneurons, the axonal branches grew significantly faster than those of control neurons owing to increased branch formation and decreased branch retraction[16].
Neurite extension
In addition to neuritogenesis and branch formation, neuritin promotes the elongation of axons and dendrites. Dissociated cortical neurons plated on neuritin-coated dishes extended longer neurites than those plated on bovine serum albumin-coated dishes[5]. In addition, dissected hippocampal explants co-cultured with neuritin-expressing cells showed significantly longer neurites than those co-cultured with control cells[17]. Conversely, down regulation of neuritin expression completely abolished NGF-induced neurite outgrowth. The longest neurite of neuritin-reduced neurons treated with NGF was comparable to that of control neurons cultured without NGF[10]. Thus, there has been progress in our understanding of neuritin's functions, but by contrast, little is known about its mechanisms of action. A recent study has shed light on its signaling pathway (e.g., the effects of neuritin on cerebellar granule neurons is attenuated by ERK, Akt, or mTOR inhibitors[18]); however, further work will be needed to dissect the mechanistic contributions of neuritin to different forms of neuronal function.
POSSIBLE ROLES OF NEURITIN IN AXONAL REGENERATION
Neuritogenesis, axonal elongation, and axonal branching may be necessary for axonal regeneration. Accordingly, neuritin could contribute to axonal recovery. Several lines of evidence indicate that neuritin is involved in axonal regeneration in the PNS (Figure 3). In diabetes mellitus, axonal regeneration is nearly nonexistent in both experimental animal models[19,20] and clinical cases[21,22]. Streptozotocin (STZ) treatment causes experimental diabetic neuropathy in rats. Neuritin mRNA and protein have been shown to be significantly reduced in the DRG after STZ treatment[10]. The sections proximal to a ligature in the sciatic nerve exhibited a significant reduction in neuritin levels in diabetic rats compared with those in control rats, while distal sites did not[10]. These results suggest that the axonal transportation of neuritin to the ligature site may be reduced in diabetic rats, raising the possibility that experimental diabetic neuropathy could result from a deficiency in axonal regeneration caused by a decrease in neuritin expression.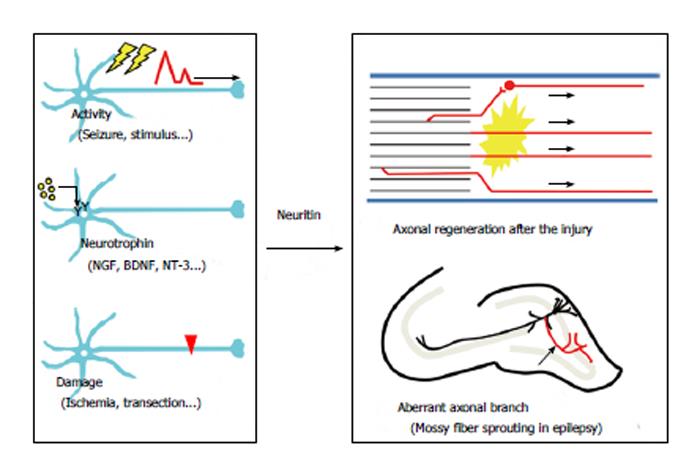 Figure 3 Induction of neuritin and its pathophysiological functions.
Representative neuronal events that increase the expression of neuritin. Seizures, neurotrophins, and neuronal damage induce the expression of neuritin (left). The physiological roles of neuritin. Neuritin-induced changes might promote axonal regeneration after nerve injury, whereas the same morphological changes could exacerbate temporal lobe epilepsy (right). NGF: Nerve growth factor; BDNF: Brain-derived neurotrophic factor; NT-3: Neurotrophin-3.
What mechanism is involved in the reduction of neuritin in diabetic neuropathy In cultured sensory neurons, NGF has been shown to increase neuritin mRNA and protein in a dose-dependent manner. NGF treatment reverses the decrease in neuritin levels in the DRGs of STZ-induced diabetic rats[10]. In addition, NGF levels are reduced in the diabetic PNS[23,24]. These results indicate that exogenous NGF may promote axonal regeneration in human diabetic patients via neuritin induction.
Androgen has been shown to induce axonal regeneration after the axotomy of various motor neurons[25]. After axotomy of the hamster facial nerve, exogenous androgen treatment lead to functional recovery by axonal regeneration[26]. Androgen treatment after axotomy of the facial nerve increased the expression of neuritin mRNA in vivo[11]. This androgen-dependent increase in neuritin mRNA was blocked by an antagonist of the androgen receptor[27]. Androgen-induced neuritin expression may participate in the axonal regeneration of other motor neuron injuries. Androgen may induce neuritin expression through a different mechanism than NGF signaling does. The neuritin promoter harbors seven putative androgen response elements[27], suggesting that the androgen receptor may directly control neuritin gene expression in motor neurons.
Neuritin mRNA has also been observed to increase after spinal cord injury. Fourteen days after injury by the weight-drop method, the amount of neuritin mRNA peaked near the injury site[28]. This finding may suggest that neuritin contributes to axonal regeneration in the CNS as well as in the PNS; however, future experiments are required to provide more definitive evidence. In addition, many questions remain regarding the molecular mechanisms by which neuritin expression is regulated under each pathological condition.
INVOLVEMENT OF NEURITIN IN EPILEPTOGENESIS
Neuritin was first identified as a neural-activity-regulated gene product in the brain. In addition to the induction following spinal cord injury, neuritin expression is also drastically increased in the hippocampus in models of epilepsy and brain ischemia (Figure 3).
In temporal lobe epilepsy, granule cells in the hippocampal dentate gyrus show axonal sprouting and branching. This axonal change, which is called mossy fiber sprouting, is one of the hallmarks of an epileptic hippocampus observed in both experimental animal models[29-33] and clinical cases[34-38]. Mossy fiber sprouting leads to axonal projections into the inner molecular layer of the dentate gyrus and results in the formation of a closed recurrent circuit[29,39-42]. The formation of a new excitatory circuit within the dentate granule cells induces spontaneous bursting in the dentate gyrus under certain conditions[33,43-45]. The idea that mossy fiber sprouting is the main reason for acquired epileptogenesis is controversial; however, it is probable that increased axonal branching in the granule cells results in the formation of epileptogenic recurrent circuits in the hippocampus[46,47]. We have observed that neuritin promotes the arborization and elongation of mossy fibers in hippocampal slice cultures (unpublished data). This neuritin-induced mossy fiber sprouting may contribute to the formation of closed circuits between the granule cells (Figure 3). In this instance, an upregulation of neuritin may be harmful to brain function. Inhibition of neuritin function could be necessary for the suppression of epileptogenesis in temporal lobe epilepsy.
Transient middle cerebral artery occlusion (MCAO) leads to permanent damage of the brain that affects the lateral striatum and the lateral parietal, temporal and occipital cortex[48]. Two hours after MCAO treatment in rats, an induction of neuritin mRNA was observed in the ipsilateral dentate gyrus of the hippocampus, as well as in the ipsilateral cerebral cortex[49]. The increase in the hippocampus was robust and confined to this area 6 h after reperfusion[49]. In this model, the significance of neuritin induction in the cortex remains unclear; however, the upregulation of neuritin in dentate granule cells might indicate its involvement in the pathogenesis of postischemic epilepsy through mossy fiber sprouting (Figure 3).
Thus, aberrant neuritogenesis, axonal branch formation, and axonal elongation by neuritin could exacerbate neuronal dysfunction in the CNS. Tightly controlled regulation of neuritin expression may be required for the treatment of various CNS diseases.
CONCLUSION
Neuritin is a small extracellular protein that is expressed in neurons, and its expression is upregulated by neuronal activity. The expression of neuritin increases in response to neuronal damage and neurotrophin treatment in the CNS and the PNS. Neuritin expression leads to morphological changes in neurons. The induction of neuritogenesis, the enhancement of neurite arborization, and the promotion of neurite extension are all elicited by neuritin. These morphological changes suggest that neuritin can contribute to axonal regeneration after axotomy. A variety of studies provide evidence that neuritin may contribute to axonal regeneration in PNS and CNS injuries. In contrast, neuritin induction in the hippocampus in response to epileptic seizures or brain ischemia may aggravate neuronal damage by enhancing mossy fiber sprouting. Thus, tightly controlled regulation of appropriate neuritin levels will be useful in the treatment of axonal pathology.
P- Reviewer: Osaka H S- Editor: Zhai HH L- Editor: A E- Editor: Liu XM