Copyright
©2014 Baishideng Publishing Group Inc.
All rights reserved.
Phytotherapy and psoriasis: Complementary and alternative medications
Sami A Gabr, Department of Anatomy, Faculty of Medicine, Mansoura University, Mansoura 35516, Egypt
Sami A Gabr, Ahmad H Alghadir, Rehabilitation Research Chair, King Saud University, Riyadh 11433, Kingdom of Saudi Arabia
Ahmad H Alghadir, Department of Rehabilitation Science, College of Applied Medical Sciences, King Saud University, Riyadh 11433, Kingdom of Saudi Arabia
Author contributions: Gabr SA and Alghadir AH contributed to this paper.
Correspondence to: Dr. Sami A Gabr, Rehabilitation Research Chair, King Saud University, 2454, Riyadh 11433, Kingdom of Saudi Arabia. nadalab2009@hotmail.com
Telephone: +966-56-2060018 Fax: +966-14-698541
Received: December 23, 2013
Revised: September 8, 2014
Accepted: October 14, 2014
Published online: November 2, 2014

Psoriasis comprises severe skin problems affects on quality of patient's life. It affects 2% of the general population with age before 35 years old. Most potent and cheap psoriatic drugs are still largely unavailable. Recently, as aresult of the apparent side effects of chemical drugs, treatments of herbal origin gains the popularity among patients with skin disorders especially those for psoriasis. In this review, the uses of complementary and alternative medications of various topical herbal formulae with different potency against psoriasis was greatly assessed. Modified Psoriasis scoring systems were performed as evident of improvement when various topical herbal formula including traditional chinese medicine ingredients such as Camptotheca acuminate, Oleum horwathiensis, Capsaicin, furocoumarins, Curcumin, and Tars were used against psoriasis. Also, plant extracts of Aleo Vera, and green tea were reported in topical form for the treatment of psoriasis. Most studies indicated a variety of biological activities of used herbs depending on their chemical constituents. This versatile range of biological activities explaining, the apparent benefits of these herbs in monitoring of psoriasis.
Core tip: Herbal medicine plays a significant role in the treatment of psoriasis; this review gives a shed of light on some herbal medicine formulae and extracts including Aleo Vera, and green tea. These plants extracts and its formulae exhibited efficiency as anti-psoriasis agents. This may relate to the varying biological activities especially tissue repair actions.
---
Citation: Gabr SA, Alghadir AH. Phytotherapy and psoriasis: Complementary and alternative medications. World J Dermatol 2014; 3(4): 86-91
---
INTRODUCTION
Psoriasis occurs in most populations with a range of 1%-3%[1,2]. As usual, synthesized drugs are more potent in psoriases, however severe unexpected binary effects will appeare with long period of drug use. Under advice of dermatologists, about 50% of psoriatic patients around the world used complementary interventions[3-8]. These include herbal medicine[9,10]; which applied to psoriatic patients with different formulae, topically[11]; internally[12]; and in combination with other forms like acitretin[13]. The biological activities of these constituents were discussed in most literatures[14,15]. Whereas these interventions were prescribed to patients alone or in combinations with different forms[16,17], to perform the targeted therapeutic effect with limited side effects.
Due to the beneficial prospects of traditional chinese medicine (TCM), it was applied in management of various dermatological conditions[18]. However, much concerns should performed regarding the safety of Chinese herbal treatment. Whereas, a bnormal actions as liver toxicity was reported during treatment[19-21]. So, the biological activities of some plant extracts used alone or in different combination forms against psoriasis were greatly reported in this review.
PSORIASIS
According to the type of diagnosis, it was reported as dermal disorders with varying shapes and severe lesions. This disease prevails a mong people with age ranges from 15-45 years. The extant of disease usually appears with chronic symptoms[22]. Many factors ranged between genetic, apoptotic, cellular, and immunological parameters were attributed with the pathological severity of the disease[23-25]. The diagnosis of the disease depends manily up on the type, location, and area of lesions or plaques. These parameters were included in many disease scoring systems. The most useful one is psoriasis area and severity index score which evaluated to measure disease severity especially during treatment trials[26-32].
HERBAL MEDICINE AND PSORIASIS
Traditional Chinese medicine and psoriasis
For most dermatologic disorders, TCM with different formulations were used as an alternative method of therapy[33]. Each part of the palnt can be used as source for herbal remedies to words many diseases[34,35]. The diversity of both function and plant parts used, promotes specialists developing new forms of biologically active constituents with minimum hazards[7,36]. Whereas, natural plants provide the essential requirements for human safty. It was reported that TCM is special good choice for many patients which in turn requires a well experienced dermatologists to select the more convenient TCM[37]. So, with TCM patients can be treated safely with little side effects[38]. The use of TCM in various forms to treat psoriasis depend mainly on the type of disease. Whereas each type has the recommended and definite mixture of herbs for treatment[39].
Local formulae of indigo plant was efficiently used to treat patients with severe psoriasis. However, recent ideas were discussed to enhance the potency of this crude herb by preparing extracts with better convenience and absorption[40]. Camptotheca acuminata decne is another example of active topical agents in china[41]. The biological activities of this herb mainly due to its alkaloids content with antineoplastic activities[42]. In open clinical trials, the efficiency of this topical agent was applied for many cases with psoriasis. The data showed that Camptotheca acuminate decne was significantly more effective with noticed possible enhancement of post inflammatory hyper- pigmentation[43]. Whereas, in another study a hazard effect like dermal allergy was reported against camptotheca acuminate decne which depends mainly on the type and disease intinisty[44-47]. Besides of local trials, some injectable forms of TCMs like Radix macrotomiae seu Lithospermi was used with better potent and minimum side effects against psoriasis compared to other forms of therapeutic modalities[7]. Similar to Western medications, another type of TCMs were used in capsules or tablets forms for monotherapies or in groups of herbs with higher safty and efficiency. It was found that, three years follow-up of psoriatic cases treated orally with TCM showed convenient results with no hematological or biochemical abnormalities compared to chemotherapeutic agents[19,48].
Extensive growing evidence was reported for using natural plant forms to treat psoriatic patients. Complementary and alternative medicine (CAM) was used by most patients as a complementary treatment along with conventional treatment. So, teaching of CAM should be integrated into the dermatology residency curriculum, and dermatologists need to increase their awareness of CAM use by their patients in order to improve therapeutic communication[49].
Some medicinal plants formulations with probable anti-psoriatic activity
Aloe vera extract: The plant characterized by its succulent pulpy leaves which contain clear gel. This plant was used since ancient times as potent remedy for many diseases[47,48]. The versatile range of its active constituents as analgesic, antipruritic, wound healing and anti-inflammatory promotes its use as good anti-psoriatic agent[50].
In double-blind, placebo-controlled study, 0.5% of local forms of Aloe vera extract were subjected for the treatment of psoriasis with diagnostic scores between 4.8 and 16.7 (mean 9.3). The data concluded that 0.5% of the extract has higher efficiency with no hazards, and could be used as successful herbal treatment against psoriasis[51]. However, in other study a commercial Aloe vera gel form showed modest effective treatment against psoriasis[52].
Oleum horwathiensis formula: Oleum horwathiensis formula contains many herbal constituents which showed higher potency in local forms against psoriasis. These constituents are; Achillaea herba, allium sativum, Calendula flos, Taraxaci radix, Urtica folium and Veronica officinalis. This herb was applied locally to treat psoriasis with varying severity. The results showed a promising effect against disease severity after 12 wk[53].
Capsaicin formula: It is the most popular active constituent present in cayenne pepper (C. frutescens) showed a probable activity towords psoriasis[54], through activation of cellular apoptotic factors[55]. Zero point zero two five percent of this formula was applied as local cream to enhance the psoriatic status of patients with varying disease intinisty. The data obtained showed an obvious decrease in disease severity within short period of time, however a minimum hazard effect like local site burning was reported, so the formulae was advised to be applied for only 2 successive days[56,57].
Furocoumarins formula: This formula contains many active agents obtained from different herbal plants including Ammi majus. The anti psoriatic activity of this formula depends mainly on photoactivation of furocoumarins via ultraviolet A (UV-A, 320-400 nm) when applied either locally or in oral forms. The activity mainly depend up on activation of skin cell apoptosis via photochemical linkage with DNA strands and in turn DNA fragmentation. Consequently, a reduction in overexpression of inflammatory and proliferative proteins was reported within psoriatic lesions[58]. These activity was further investigated in relation to standard therapy, the data obtained showed similar enhancement of disease profile with minimum side effects[59,60].
Curcumin formula of turmeric (Curcuma longa): This active formula is extracted from the rhizome of Curcuma longa plant, it is the most potent polyphenolic compound present as fumaric acid[61]. The extract is characterized by its versatile activities ranged between anti-inflammatory, antioxidant, antitumor, and anti microbial activities[33], the mode of action against tumor is through regulation of the role of some cellular and immunological parameters during cell cycle and apoptosis[62]. For centuries, it was reported that Turmeric was applied to heal wounds and reduce scare formation[63]. Similary, curcumin showed a significant enhancement of psoriatic lesions when applied locally on diseased skin or orally through capsules. The extract worked via induction of skin cell apoptosis[64-67].
Tars formula: It is one of the most efficient herbal formula applied since past times to treat skin disorders. This active ingredient was extracted from many herbal plants like birch (Betula spp.), beech (Fagus spp.), or juniper (Juniperus spp.) trees. The extract was applied as anti-psoriatic agent in different forms with 5%-10% concentration. The improvement capacity of extract depends on photoactivation mechanism using UV-B with varying light intinisty[68].
Green tea potential benefits for psoriasis: Tea considered the second worldwide beverage next to water. It consumed as green, black, or Oolong tea. It was reported that green tea is the most important agent targeting human health[69]. This may be related to its higher content of polyphenolic compounds, like flavanols and catechins, whereas dried green tea leaves produce more than 30% of these active constituents. Most studies indicated that green tea constituents have awide range of medical uses as antioxidant, antimicrobial, anti-tumor, anti-inflammatory, and thermogenic agents[70,71]. The vriable actions of green tea constituents along with its photo suppression action promotes dermatologists to use it as conventional treatment for skin diseases, especially psoriasis[72-75].
The treatment of skin with green tea extracts protect the skin from developing skin cancer through damaging DNA via photochemical action of ultraviolet A radiation[76]. It was reported that green tea or its active constituents when applied in psoriatic skin, promotes the formation of skin cell apoptosis via activation of certain apoptotic biological enzymes included in epidermal differentiation, cornification of the epidermal keratinocytes and skin barrier formation[77-82]. Finally, the activity of green tea against psoriasis summarized in, activation of a set of apoptotic genes which promotes epidermal differentiation and skin barrier formation along with enhancement of the healing process as in Figure 1[83-87].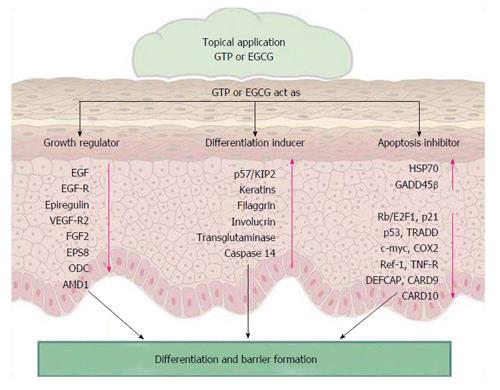 Figure 1 Green tea effects on human epidermal keratinocytes in molecular and immune response levels[85-87].
EGCG: Epigallocatechin-3-gallate; GTP: Green tea polyphenols; AMD1: Adenosylmethionine decarboxylase 1; CARD: Caspase recruitment domain; COX2: Cyclooxygenase-2; EGF-R: Epidermal growth factor receptor; EPS8: A substrate for the epidermal growth factor receptor kinase; GADD45β: Growth arrest and DNA damage 45β; HSP70: Heat-shock protein 70; ODC: Ornithine decarboxylase; Rb: Retinoblastoma; TNF-R: Tumor necrosis factor receptor; TRADD: Tumor necrosis factor receptor 1 associated death domain protein; VEGF-R2: Vascular epithelial growth factor-receptor 2; FGF2: Fibroblast growth factor 2; DEFCAP: Death-effector filament-forming caspase protein.
CONCLUSION
Clinical trials proved a significant potential benefits of herbs against psoriasis which appeared relatively safe. The varied biological activities of these topical herbal formulae may relate to its apparent benefits in psoriasis. Most advanced trials like molecular screening were needed for discovering new leads and drug safe candidates from plant natural products against psoriasis.
P- Reviewer: Manolache L, Naldi L S- Editor: Ji FF L- Editor: A E- Editor: Liu SQ