Copyright
©2014 Baishideng Publishing Group Inc.
All rights reserved.
World J Anesthesiol.
Jul 27, 2014;
3(2): 162-173
Published online Jul 27, 2014. doi: 10.5313/wja.v3.i2.162
Lumbar radiculopathy and its neurobiological basis
Jiann-Her Lin, Yung-Hsiao Chiang, Department of Neurosurgery, Taipei Medical University Hospital, Taipei 11031, Taiwan
Jiann-Her Lin, Yung-Hsiao Chiang, Graduate Institute of Neural Regenerative Medicine, College of Medical Science and Technology, Taipei Medical University, Taipei 11574, Taiwan
Jiann-Her Lin, Chih-Cheng Chen, Institue of Biomedical Sciences, Academai Sinica, Taipei 11574, Taiwan
Chih-Cheng Chen, Taiwan Mouse Clinic-National Comprehensive Mouse Phenotyping and Drug Testing Center, Academia Sinica, Taipei 11574, Taiwan
Author contributions: Lin JH collected articles and wrote the manuscript; Chiang YH provided critical clinical comments and contributed to part of the writing; Chen CC designed the scope of the review and helped write the manuscript.
Supported by Grant from Taipei Medical University (TMU101-AE3-Y24 to JH Lin) and MOST 103-2325-B-001-015 to Chen CC; and by grants from Ministry of Science and Technology, Taiwan, NO. NSC 102-2325-B-001-042, NSC102-2321-B-001-056, and NSC 102-2320-B-001-021-MY3 to Chen CC
Correspondence to: Chih-Cheng Chen, PhD, Institue of Biomedical Sciences, Academai Sinica, 128 Academia Road, Section 2, Taipei 11574, Taiwan. chih@ibms.sinica.edu.tw
Telephone: +886-2-26523917
Received: January 28, 2014
Revised: May 22, 2014
Accepted: June 10, 2014
Published online: July 27, 2014

Lumbar radiculopathy, a group of diseases in which the dorsal root ganglia (DRG) or dorsal roots are adversely affected by herniated discs or spinal stenosis, are clinically characterized by spontaneous and evoked types of pain. The pain is underpinned by various distinct pathophysiological mechanisms in the peripheral and central nervous systems. However, the diagnosis of lumbar radiculopathy is still unsatisfactory, because the association of the pain with the neurobiological basis of radiculopathy is largely unknown. Several animal models used to explore the underlying neurobiological basis of lumbar radiculopathy could be classified as mechanical, chemical, or both based on the component of injury. Mechanical injury elevates the intraneural pressure, reduces blood flow, and eventually establishes ischemia in the dorsal root and the DRG. Ischemia may induce ischemic pain and cause nerve damage or death, and the subsequent nerve damage or death may induce neuropathic pain. Chemical injury predominately induces inflammation surrounding the dorsal roots or DRG and consequent inflammatory mediators cause inflammatory pain. Furthermore, DRG neurons sensitized by inflammatory mediators are hypersensitive to innocuous mechanical force (stretch or compression) and responsible for mechanical allodynia in radiculopathy. As well, central sensitization in the spinal cord may play an important role in pain generation in lumbar radiculopathy. Increasing knowledge of pain-generating mechanisms and their translation into clinical symptoms and signs might allow for dissecting the mechanisms that operate in each patient. With precise clinical phenotypic characterization of lumbar radiculopathy and its connection to a specific underlying mechanism, we should be able to design optimal treatments for individuals. This review discusses the present knowledge of lumbar radiculopathy and proposes a novel mechanism-based classification.
Core tip: Lumbar radiculopathy is the most common form of neuropathic pain. However, the diagnosis of lumbar radiculopathy is still not satisfactory because of the largely unknown neurobiological basis of neuropathic pain and paresthesia. Accumulating evidence has shown that lumbar radiculopathy is a multi-factor disease and may involve almost all types of pain, including ischemic, inflammatory, mechanical, and neuropathic pain. Ion channels such as Acid-sensing ion channel 3, Piezo2 and transient receptor potential vanilloid receptor 1 responding to tissue acidosis, mechanical force, and inflammatory mediators may be the pathways transducing the pain.
---
Citation: Lin JH, Chiang YH, Chen CC. Lumbar radiculopathy and its neurobiological basis. World J Anesthesiol 2014; 3(2): 162-173
---
INTRODUCTION
Demographics
Lumbar radiculopathy or nerve root pain represents one distinct presentation of low back-related leg pain, which is generally characterized by pain radiating to below the knee and into the foot and toes. The annual prevalence of low back pain, varies from 9.9% to 25%. The point prevalence (4.6% to 13.4%) and lifetime prevalence (1.2% to 43%) are high[1], so lumbosacral radicular pain may be the most commonly occurring form of neuropathic pain[2,3].
Definition
The terms radicular pain and radiculopathy are sometimes used interchangeably, although they are not synonymous. With radicular pain, only radiating pain is present, whereas with radiculopathy, sensory and/or motor loss can be objectified. Both syndromes frequently occur together and radiculopathy can be a continuum of radicular pain.
Symptoms and signs
Patients with lumbar radiculopathy typically present a chief complaint of pain. The patient may experience the radiating pain as sharp, dull, piercing, throbbing, or burning. Pain caused by a herniated disc classically increases with bending forward, sitting, coughing, or (excessive) stress on the lumbar discs and can be avoided by lying down or sometimes by walking[4]. Conversely, pain due to lumbar spinal-canal stenosis can typically increase during walking and improve immediately with bending forward[5]. In addition to the pain, patients often report paresthesia in affected dermatomes. Although the distribution of pain along a dermatome can determine the affected levels of dorsal roots, the variation in radiation pattern is large. The S1 dermatome seems the most reliable[6]. If present, the dermatomal distribution of paresthesia is more specific[5]. Among the symptoms, pain and paresthesia are often referred to as positive symptoms of radiculopathy, whereas weakness and numbness are considered negative symptoms. Positive symptoms are believed to reflect neuronal hyperactivity, and negative symptoms may stem from diminished neural firing occurring with axonal loss or conduction block[7]. Commonly used physical tests include the straight-leg raise test, Lasègue's crossed straight-leg raise test, tendon reflexes, and signs of weakness, atrophy or sensory deficits[8-11].
CLINICAL SCENARIOS IN ANIMAL MODELS OF RADICULOPATHY
NEUROBIOLOGY BASIS
Mechanical injury and ischemia
Tissue acidosis and involvement of acid-sensing ion channels: The most pertinent mechanical effect of herniated disc material or degenerative stenosis on neural tissue is likely the result of increased intraneural pressure[7]. With increasing intraneural pressure, mechanical compression of the nerve root induces a decrease in intraradicular blood flow, histological changes such as intramural edema, eletrophysiological changes such as reduced nerve conduction velocity and enhanced excitability of DRG neurons, and reduced mechanical and thermal withdrawal thresholds[54-56] (Figure 1). In addition, compression of the periradicular venous plexus within the foramen and resulting blood stasis can lead to congestion, ischemia, intraneural edema, and increased intraneural pressure[57]. The resulting hypoxia causes tissue acidosis and damage or even death of DRG sensory neurons. Acid-sensing ion channel 3 (ASIC3) is a member of the proton-gated ion channels of the DEG/ENaC/ASIC superfamily, which are two-transmembrane proteins assembling as a trimeric sodium channel that is amiloride-sensitive and voltage-independent[58]. Tissue acidosis activates ASIC3 on DRG sensory neurons and the activation has been reported to be sufficient to cause pain[59]. However, the P2X3 receptor has been demonstrated to mediate nociceptive information of cell damage and inflammation, with activation dependent on peripheral ATP released from the damaged cells. The expression of P2X3 in DRG can be induced by local NP application[60]. Also, ATP may be involved in inducing mechanical and thermal hyperalgesia in experimental animal models. Finally, ATP works together with acid to increase the pH sensitivity of ASIC3 and may enhance the pain caused by acidosis[61].
Neuron damage or death: After damage to the DRG and the dorsal nerve root, primary afferent fibers often show aberrant "ectopic" activity, with an altered pattern of neuronal excitability and conduction causing spontaneous pain and hyperalgesia. The accumulation of sodium channels at or around the site of injury is thought to be responsible for the ectopic activity[62,63] Hyperpolarization-activated cyclic nucleotide-gated (HCN) channels located within the DRG are thought to generate spontaneous rhythmic activity and contribute to neuronal excitability and plasticity[64]. In particular, increased expression of HCN1 channels in large-diameter afferents is responsible for evoking spontaneous pacemaker-driven action potentials in the damaged nerve[65]. In addition, damage to peripheral nerves upregulates vanilloid receptors (TRPV1), which are only marginally expressed under physiological conditions at the membrane of primary afferents[66]. TRPV1 is essential for selective modalities of pain sensation and for tissue injury-induced thermal hyperalgesia[67]. Two studies demonstrated that nerve injury triggers downregulated TRPV1 in damaged afferents but upregulated TRPV1 in uninjured C- and A-fibers[66,68].
Role of mechanosensitive channels: In physiological status, nerve roots and spinal nerves typically demonstrate 2 to 8 mm of glide within their neural foramen depending on the model and measurement technique[69-76]. In compression injury, the presence of periradicular fibrosis will compound the nerve root pain by fixing the nerve in one position, thereby increasing the susceptibility of the nerve root to tension or compression[77-80]. Use of the intraoperative straight-leg raise test in humans has shown that hernia compresses the nerve roots and increases their flatness, thus resulting in a clear disturbance with gliding distance reduced to only a few millimeters, reduced intraradicular blood flow, and significantly deteriorated amplitude of the nerve root action potential after 30 s of the test[79,80]. This transient conduction disturbance probably results from temporary ischemic changes in the nerve root, which suggests that the primary cause of radicular pain is mechanical force of the nerve root induced by periradicular adhesive tissue around the herniated disc[79,80]. However, radicular pain can be produced via stimulation of a swollen or stretched nerve root alone. A normal or uncompressed nerve root could be manipulated, with associated paresthesia but without significant pain[81-83].
Although some intimate contact between the herniated disc material and the nerve root is required for the pain, neither the size of the disc herniation seen on MRI nor the amount of thecal sac deformation is necessarily related to the degree of pain experienced. A common assumption is that some portion of the inflammatory cascade is responsible. Thus, the potentiation or sensitization of the nerve roots or DRG is required for a stretch or tension force on the nerve root to cause radicular pain or ectopic spontaneous activity. The underlying mechanisms of the radicular pain or ectopic spontaneous activity are not clear, and the mechanosensitive channels that allow sensory neurons to transmit noxious mechanical stimuli when the nerve root is under stretch or tension force are still unknown. ASIC3, Piezo2, and channels of transient receptor potential C (TRPC) family have been reported to be essential for a neuron to sense the mechanical force[84-88]. Among these candidate channels, ASIC3 is upregulated in DRG neurons with application of NP[89] or a mixed inflammatory soup[90,91] containing serotonin, bradykinin, interleukins 1 and 6 (IL-1 and IL-6), and TNF-α. Moreover, serotonin potentiates the proton-evoked sustained current of ASIC3[92]. Thereafter, ASIC3, which is upregulated and potentiated in DRG neurons under an inflammatory condition, may be responsible for the neuron to sense the noxious mechanical stimuli.
Chemical injury
The application of autologous NP induces electrophysiological changes and similarly enhances DRG neuron excitability, reduces mechanical and thermal withdrawal threshold and nerve blood flow, and causes histological changes such as axonal degeneration, intramural edema, and Schwann cell edema in the nerve root and DRG[28-30,93-99]. Indeed, upon systemic exposure, the NP component of intervertebral disc tissue initiates a specific immune response, likely a consequence of its immune privileged avascular location bounded by the annulus fibrosus[97,100]. In an in vitro canine model, prostaglandin E2, a chemical mediator of inflammation, could provoke an ectopic eruption of impulses from the nerve roots[101]. Leakage of chemical mediators or inflammatory cytokines, which are produced in the painful disk, into the epidural space through anular tears could lead to injury to adjacent nerve roots and the leakage might be the primary pathophysiological mechanism of radiating leg pain without disk herniation[102,103].
Cytokines: TNF-α, IL-1, IL-6: Accumulating evidence shows that sciatica due to disc herniation and low back pain may be related to activation and sensitization of intraspinal nervous structures by disc-derived substances; one key substance for inducing such irritation is TNF-α[12,14,20,35,104-106]. In a rat model of lumbar disc herniation, endoneural macrophages (macrophages infiltrating the DRG), neurons, and activated satellite cells in DRG are the sources of TNF-α[34,51,105,107]. TNF-α can induce neuropathological damage, or neuropathic pain states, which can be prevented by selective TNF-α inhibitors[107,108]. However, initial clinical trials of TNF-α blockers for treating sciatica have shown good[109-112] or inconclusive results[113-116]. Therefore, blockage of other cytokines along with TNF-α may enhance the therapeutic effects because the cytokine network would be inhibited at multiple levels. In fact, cytokines such as IL-1 and IL-6 are strongly linked to radicular pain[21,28,117]. IL-1, IL-6, and TNF-α are activated in the spinal cord, DRG, and Schwann cells in the spinal nerve roots after lumbar spinal stenosis, and their expression is closely related to pain as well as motor nerve dysfunction and degeneration[118].
Glutamate: Discs are avascular and have low rates of cellular metabolism. Because of no reuptake systems for extracellular glutamate in and around cartilage, free glutamate may be cleared quite slowly and much less rapidly in discs than in neural tissue, which contain avid reuptake systems for glutamate[119]. A rat model showed that epidural glutamate infusion at several concentrations created dose-related focal hyperesthesia as measured by von Frey fiber testing[120]. The finding suggests a change in sensory neurotransmission through primary afferents if glutamate cleaved from disc matrix were to diffuse in high enough concentration to the DRG[119], where ionotropic and metabotropic glutamate receptors are found in high densities on cell bodies[121,122].
Protease-activated protein receptor 2: Protease-activated protein receptor 2 (PAR2) is a G-protein–coupled receptor that functions in hemostasis and thrombosis and in the inflammatory and proliferative response triggered by tissue injury[123]. PAR2 is expressed by a subset of sensory neurons and PAR2 agonists to elicit neurogenic inflammation by release of substance P and calcitonin gene-related peptide[124]. PAR2 activation could lower the pain threshold to thermal stimuli via an afferent pathway that involves the activation of spinal neurokinin 1 receptors and prostaglandins[125]. In an animal model of chronic compression of DRG, PAR2 activation was critical for induction of neuronal hyperexcitability induced by nerve injury[126].
Neurotrophic factor and brain-derived trophic factor: Neurotrophic factor (NGF) concentration is increased in response to tissue injury[127,128] and leads to increased brain-derived trophic factor (BDNF) gene expression, mainly in trkA-expressing small- and medium-sized neurons[129-131]. BDNF, a neuromodulator of nociceptive information in the spinal dorsal horn, causes the N-methyl-D-aspartate-mediated depolarization responsible for synaptic plasticity related to central sensitization[132-135]. In a rat model of lumbar disc herniation, Obata et al[34] demonstrated increased NGF-immunoreactive cells and BDNF-immunoreactive neurons within the DRG, which was closely related to pain behaviors, and endoneural injection of NGF led to the same findings in the DRG and in pain behaviors. Thus, increased NGF level in response to tissue or nerve injury upregulates BDNF level in primary sensory afferents, then BDNF causes synaptic plasticity related to central sensitization.
Microgliosis in the spinal dorsal horn
Microgliosis (accumulation of activated microglia) around degenerative neurons is a common pathological feature of various neurological disorders including radiculopathy. Microglia activation in the spinal cord progresses through a hypertrophic morphology, with thickened and retracted processes and an increase in cell number. Peripheral nerve injury leads to marked activation of microglia within the spinal dorsal horn[136] and increases the number of dorsal horn microglia by two- to fourfold[137-141]. Animal models based on compression injury of the DRG demonstrate resultant allodynia and functional deficits associated with increased microglial activation in the spinal cord[105,142-145]. Peripheral nerve injury increases the release of neurotransmitters such as glutamate, substance P, and ATP from primary afferent neurons activating both secondary neurons and surrounding glial cells. These changes appear to be crucial to the ability of glial cells to produce cytokines and other inflammatory agents. The release of inflammatory mediators including TNF-α, IL-1b, IL-6, nitric oxide (NO), and prostaglandins initiates self-propagating enhanced cytokine expression in glial cells. These agents are then capable of sensitizing primary afferent and dorsal horn neurons thereby contributing to neuropathic pain after nerve injury. Therefore, in contrast to behavioral findings, microglia were activated before pain-related behavior and returned to a normal state despite persistent mechanical and thermal hypersensitivity. Increasing evidence shows that microglia cells are involved in the initiation of chronic pain in neuropathic pain models, although no role for microglia in ongoing maintenance of pain has been reported[146].
THE WHOLE PICTURE OF LUMBAR RADICULOPATHY
Lumbar radiculopathy is no doubt a multi-factor disease and may involve almost all types of pain, such as ischemic, inflammatory, mechanical, and neuropathic pain (Figure 2). Mechanical injury elevates the intraneural pressure of the dorsal roots and the DRG, reduces blood flow, and eventually establishes ischemia. Ischemia may trigger ischemic pain and cause nerve damage or death. The subsequent nerve damage or death may further induce neuropathic pain. In contrast, chemical injury predominately induces inflammation surrounding the dorsal roots or DRG and the consequent inflammatory mediators cause inflammatory pain. Furthermore, DRG neurons sensitized by inflammatory mediators will produce a nociceptive signal with application of a mechanical force (stretch or compression). As well, central sensitization in the spinal-cord dorsal horn plays an important role in pain generation of lumbar radiculopathy. Here, we propose an overall picture of lumbar radiculopathy and attempt to translate the clinical symptoms and signs based on the present knowledge of the neurobiological basis of pain. (Table 2 and Figure 3)
| | | | |
| --- | --- | --- | --- |
| Symptoms/signs | Type of pain | Mechanism | Molecules/channels |
| Spontaneous shooting pain | neuropathic | Spontaneous ectopic DRG neuron activity | Na channels |
| Spontaneous ongoing pain | Inflammatory | Inflammation surrounding or within DRG | TNF-α, IL-1/6 |
| Positive straight-leg raise test | Inflammatory, mechanical, ischemic | Induction of ectopic neuron activity or ischemia when a sensitized and constricted nerve root stretches | ASIC3, Piezo2, 5-HTR |
| Sensory deficit | Neuropathic | Apoptosis or phenotype shift of DRG neurons | ? |
| Heat allodynia | Neuropathic | Reduced threshold to heat | TRPV1 |
| Cold allodynia | Neuropathic | Reduced threshold to cold | TRPM8 |
| Static Mechanical allodynia | neuropathic | Reduced threshold to mechanical | ASIC3?, Piezo2? |
| Dynamic Mechanical allodynia | neuropathic | Reduced threshold to mechanical | ASIC3?, Piezo2? |
| Soreness | Inflammatory, ischemic | Increased protons | ASIC3, TNF-α, IL-1, IL-6 |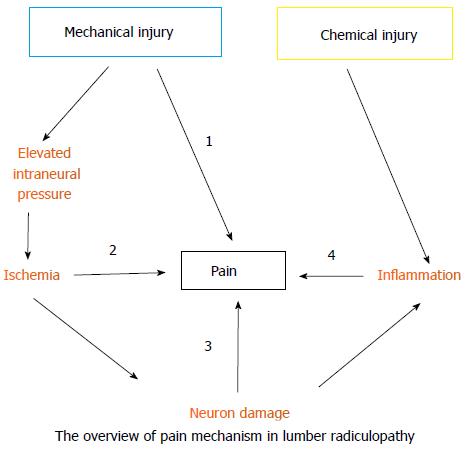 Figure 2 The overview of the pain mechanism in lumbar radiculopathy.
1: Mechanical pain, 2: Ischemic pain, 3: Neuropathic pain, 4: Inflammatory pain.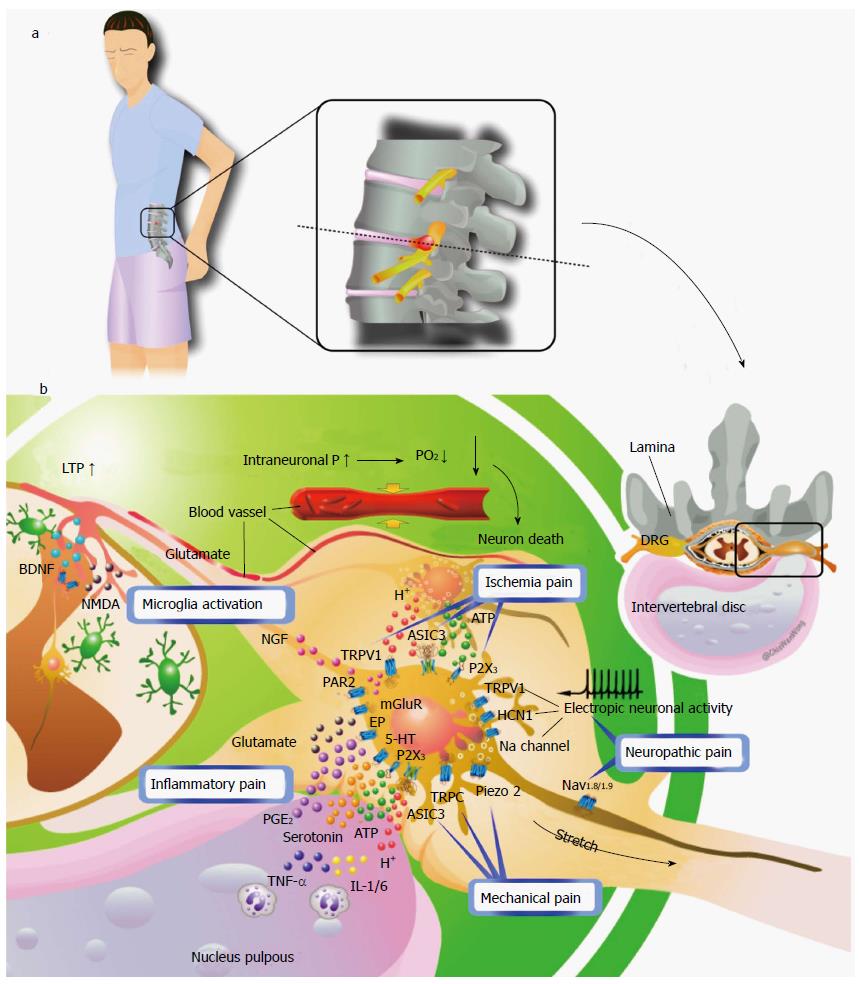 Figure 3 A hypothetical mechanism of lumbar radiculopathy. (a) The clinical scenario of lumbar radiculopathy in which a lumbar DRG is compressed by a lumbar herniated disc. (b) Lumbar radiculopathy includes multiple pain problems caused by mechanical stress, ischemia, inflammation, and nerve damage. Receptors or ion channels involved in neurosensory mechanotransduction (ASIC3, Piezo2, TRPC), acid chemosensation (ASIC3, TRPV1), inflammation responses (HTR2B, mGluR, P2X3, TRPV1, etc.), and ectopic neuronal activity (HCN1, Nav1.8) may be the key players in transducing the pain. DRG: Dorsal root ganglia; LTP: Long-term potentiation; BDNF: Brain-derived neurotrophic factor; NMDA: N-methyl-D-aspartate receptor; PGE2: Prostaglandin E2; TRPC: Transient receptor potential C; ASIC3: Acid-sensing ion channel 3; ATP: Adenosine triphosphate.
CONCLUSION
Lumbar radiculopathy remains an important and largely unresolved medical problem that requires further research into the etiological factors to determine the correct diagnosis, despite pronounced advances in the knowledge of the neurological basis of pain in the past decade. There is clear interest in identifying the cell populations affected by disc herniation-induced radiculopathy, and the role of neurotransmitters and their receptors that mediate the symptomatic and functional deficits of radiculopathy. However, our ability to translate pain complaints and sensory abnormalities into specific pathophysiological mechanisms that have treatment implications is in its infancy. Whether different underlying mechanisms cause different symptoms and signs in patients is unknown. Improvement in the animal models of lumbar radiculopathy and the methods of pain-behaviors is warranted.
P- Reviewer: Hanci V, Kapur S S- Editor: Song XX L- Editor: A E- Editor: Wu HL