Copyright
©The Author(s) 2016.
Published by Baishideng Publishing Group Inc. All rights reserved.
Major osteoporotic fragility fractures: Risk factor updates and societal impact
Paola Pisani, Maria Daniela Renna, Francesco Conversano, Ernesto Casciaro, Marco Di Paola, Sergio Casciaro, National Council of Research, Institute of Clinical Physiology, 73100 Lecce, Italy
Eugenio Quarta, Maurizio Muratore, O.U. of Rheumatology, "Galateo" Hospital, San Cesario di Lecce, ASL-LE, 73100 Lecce, Italy
Author contributions: All the authors were involved in designing the study and writing the manuscript.
Supported by FESR P.O. Apulia Region 2007-2013 - Action 1.2.4, No. 3Q5AX31.
Conflict-of-interest statement: No potential conflicts of interest.
Open-Access: This article is an open-access article which was selected by an in-house editor and fully peer-reviewed by external reviewers. It is distributed in accordance with the Creative Commons Attribution Non Commercial (CC BY-NC 4.0) license, which permits others to distribute, remix, adapt, build upon this work non-commercially, and license their derivative works on different terms, provided the original work is properly cited and the use is non-commercial. See: http://creativecommons.org/licenses/by-nc/4.0/
Correspondence to: Sergio Casciaro, PhD, Eng, National Council of Research, Institute of Clinical Physiology, (CNR-IFC), c/o Campus Universitario Ecotekne, via per Monteroni, 73100 Lecce, Italy. sergio.casciaro@cnr.it
Telephone: +39-0832-422310 Fax: +39-0832-422341
Received: July 10, 2015
Peer-review started: July 24, 2015
First decision: September 22, 2015
Revised: November 14, 2015
Accepted: December 7, 2015
Article in press: December 8, 2015
Published online: March 18, 2016

Osteoporosis is a silent disease without any evidence of disease until a fracture occurs. Approximately 200 million people in the world are affected by osteoporosis and 8.9 million fractures occur each year worldwide. Fractures of the hip are a major public health burden, by means of both social cost and health condition of the elderly because these fractures are one of the main causes of morbidity, impairment, decreased quality of life and mortality in women and men. The aim of this review is to analyze the most important factors related to the enormous impact of osteoporotic fractures on population. Among the most common risk factors, low body mass index; history of fragility fracture, environmental risk, early menopause, smoking, lack of vitamin D, endocrine disorders (for example insulin-dependent diabetes mellitus), use of glucocorticoids, excessive alcohol intake, immobility and others represented the main clinical risk factors associated with augmented risk of fragility fracture. The increasing trend of osteoporosis is accompanied by an underutilization of the available preventive strategies and only a small number of patients at high fracture risk are recognized and successively referred for therapy. This report provides analytic evidences to assess the best practices in osteoporosis management and indications for the adoption of a correct healthcare strategy to significantly reduce the osteoporosis burden. Early diagnosis is the key to resize the impact of osteoporosis on healthcare system. In this context, attention must be focused on the identification of high fracture risk among osteoporotic patients. It is necessary to increase national awareness campaigns across countries in order to reduce the osteoporotic fractures incidence.
Core tip: The osteoporosis burden is growing and 9 million fractures occur each year worldwide. Unfortunately, because of the underutilization of available preventive strategies, only a minority of women and men at high fracture risk are identified and successively referred for treatment. The aim of this review is to analyze the most important factors related to the enormous impact of osteoporotic fractures on population. Because early diagnosis is the key to reduce the impact of osteoporosis on healthcare system, attention must be focused on the identification of high fracture risk among osteoporotic patients.
---
Citation: Pisani P, Renna MD, Conversano F, Casciaro E, Di Paola M, Quarta E, Muratore M, Casciaro S. Major osteoporotic fragility fractures: Risk factor updates and societal impact. World J Orthop 2016; 7(3): 171-181
---
INTRODUCTION
Osteoporosis has been defined as a systemic disease which affects the skeleton and is characterized by low bone mass, deterioration of microarchitecture of bone tissue and bone fragility increase with consequent susceptibility to fracture[1].
This bone pathology can be classified in primary or secondary forms. Primary osteoporosis is characterized by a progressive mineral bone lost as a function of people aging and it is influenced by changes of sex hormone. Instead, different pathologies as well as the use of specific medications, which affect skeletal health, can induce secondary osteoporosis. Primary form of osteoporosis comprises postmenopausal or senile disease (type I or type II respectively)[2]. Type I osteoporosis takes place in a subgroup of postmenopausal women, usually aged from 50 to 65 years, due to estrogen deficiency and consequent trabecular bone resorption. In this set of women fracture pattern mainly involves the spine and wrist. There is no evidence that postmenopausal bone loss itself causes any symptoms, and therefore, progressive bone loss has been called "the silent epidemic" or "silent thief". The morbidity arises from the type of fracture sustained[3]. In senile osteoporosis, there is a balanced loss of both cortical and cancellous portions of bone tissue. Fractures of the hip, proximal humerus, tibia, and pelvis represent characteristic fractures of type II osteoporosis[4].
Although osteoporosis has long been considered a disease of women, an increase in age-related fractures has been observed also in men[5]. Nowadays, the number of males with osteoporosis is unknown, probably because of the infrequency of screening and controversies in bone mineral density (BMD) testing standards in men. Approximately the 50% of women and the 25% of men aged 50 and older will have an osteoporotic fracture in the lifetime[6]. Although many national and international organizations indicate to realize osteoporosis screening and treatment for men in their clinical guidelines, male osteoporosis remains recurrently not diagnosed and not treated[7,8].
The high socio-economic impact of osteoporosis is due to increased incidence of the disease, mortality and fracture-related costs. The occurrence of osteoporotic fractures is growing in several world areas as a consequence of the increased longevity of the population. Indeed, the number of hip fracture worldwide has reached 1.7 million by 1990[9,10]. In 2050, hip fractures could exceed 21 million[10,11]. In this context, attention must be focused on the identification of high fracture risk patients[12]. There is, therefore, the strong need to assess the best preventive methods and therapeutic approaches to contrast fracture widening accross populations. A large number of techniques can be used to assess the risk of fracture. In general, they fall into two major categories: Assessment of clinical risk factors (CRFs) and physical measurement of skeletal mass. Nowadays, the assessment of osteoporosis is based on bone density evaluation, and there are no satisfying clinical approaches, independent of BMD, for bone quality estimation[3].
The aim of this review is to analyze the main factors causing the huge impact of osteoporosis on the population, and to stress the importance of risk factors recognition and early identification of fracture risk in order to discriminate frail patients from non-frail patients. Currently, only a small number of high fracture risk patients are recognized and successively referred for therapy. In this context, the present report provides analytic evidences to assess the best practices in osteoporosis management as well as the indications for the adoption of a correct healthcare approach to decrease the socio-economic burden of osteoporosis.
PREVALENCE OF OSTEOPOROTIC FRACTURE
Between 1990 and 2000, osteoporosis caused a 25% worldwide increment in hip fractures. The peak for hip or other fracture types occurs for both women and men aged 75-79 years and 50-59 years, respectively[73]. The annual number of hip fractures will grow significantly with the sustained ageing of the people. It is estimated that this demographic trend could induce a global increment of hip fractures from about 2 million in 1990 to a projected 6 million in 2050[9,10]. However, the future worldwide load of age-related fractures (hip and others) should be predicted by analyzing the variations in fracture incidence rates adjusted for demographic changes in the global population. Assuming a 1% annual rise in incidence adjusted for age, hip fractures in 2050 could exceed 8 million; if rates stabilized in Europe and North America but rose by 3% per year in the rest of the world, the total could account for more than 21 million[10,11] (Figure 1).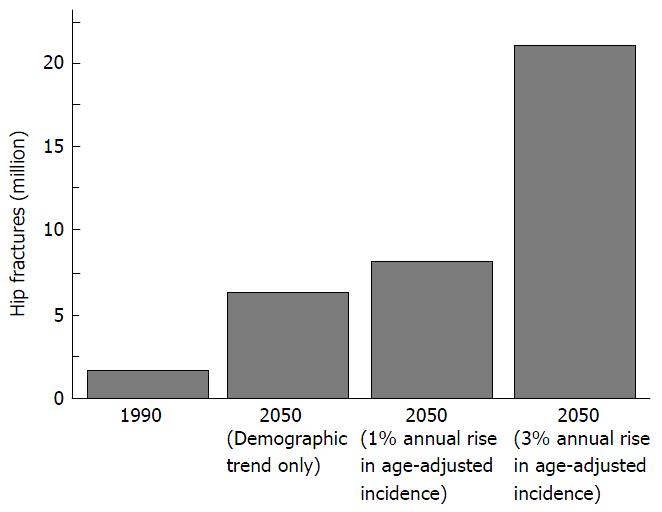 Figure 1 Hip fractures expected impact.
Incidence of hip fractures worldwide adjusted for demographic changes.
By 2050, the global incidence of hip fracture is expected to increase more than 300% and 240% in men and in women, respectively[11]. In women aged 45 years or more, the number of days spent in the hospital due to osteoporosis are greater than those due to other pathologies, such as breast cancer, diabetes, and myocardial infarction[74]. In Switzerland hospital bed days related to osteoporotic fracture are higher than those related to stroke and other cardiac disease[75]. In England, a fifth of all orthopedic beds are dedicated to hip fractures[10] and the cost related to osteoporotic fractures treatment in postmenopausal women has been estimated to reach about 2 billion dollars or more by 2020[76]. In Spain, there are around 2 million osteoporotic women (about 30% of them are aged 50 years or more): Each year 25000 fractures arise and cause, consequently, direct costs of about €120 million and indirect costs of about €400 million[77]. In Italy, approximately 4 million of women and 800 thousand men are thought to be affected by osteoporosis. In 1998, the European Commission estimated an incidence rise of hip fractures from 117000 to 240000 in the year 2000 in Germany[78]. However, the highest risk of hip fractures are shown in Northern Europe and the United States[79]. In Swedish male population the number of hospital bed days related to osteoporotic fractures are higher than those related to prostate cancer[80]. In Denmark, in population group aged 50 years or more, about 40% of women and 20% of men are osteoporotic[81]. In Finland, hip fractures total number augmented by 70% within a 10-year period (1992-2002)[82].
In the United States, among people aged 50 years or more, there were approximately 12 million cases of osteoporosis in 2010; this data are estimated to increase up to 14 million cases of disease by 2020[83], inducing the number of hip fractures to triple by 2040[84]. In Canada, osteoporosis affects 1.4 million postmenopausal women and the elderly. Almost 30000 hip fractures occur each year, and approximately 80% of these fractures are related to osteoporosis[85]. By the year 2030, the cases of hip fractures is estimated to quadruple[86].
In Australia, osteoporosis affects 2.2 million people (approximately 11% of men and 27% of women aged 60 years or more), causing 20000 hip fractures per year (growing by 40% every ten years), with total disease-related costs of $7.4 billion per year ($1.9 billion of direct costs)[87].
It is expected that approximately half of all osteoporotic hip fractures will take place in Asia by the year 2050[11]. Osteoporosis affects almost 70 million Chinese aged 50 years or more causing 687000 hip fractures each year[88]. In Japan, hip fractures total number was 153000 in 2010 and is projected to be 238000 in 2030[89].
Economic burden
In Europe, the total osteoporosis economic burden was estimated at €30.7 billion in 2010. The increment of direct costs is expected to be due to changes in demography to 76.7 billion in 2050[73]. In the United States, the medical cost of osteoporosis and related fractures is estimated at $20 billion per year[10], and can be predicted to be at $50 in 2050 due to the annual increase in incidence of osteoporotic fractures adjusted for age. China spent approximately $1.5 billion treating hip fracture in 2006. It is projected that this will grow to $12.5 billion in 2020 and to more than $264.7 billion by 2050[90] (Figure 2).
The WHO considers osteoporosis to be second only to cardiovascular diseases as a crucial health problem[74]. The disability caused by osteoporosis is comparable or even greater than that produced by cancers and by different chronic non-transmissible pathologies, as reported by Johnell and Kanis[73] in 2006. Furthermore, the total costs per year of osteoporosis exceeds those for a variety of brain disorders[91] (Figure 3).
Currently in Europe, the annual expenditure for osteoporosis corresponds about to 3.5% of the total spent on health care[40]. However, osteoporosis total cost in a country is difficult to estimate because it depends on various factors, such as fracture risk related to age, size of population, acute hospital care, cost per fracture, long-term care at home, needs of nursing home care after hip fracture occurrence, medications, rehabilitation, treatment and loss of working days. Sometimes estimated costs are based on many assumptions that are difficult to test. Moreover, not all costs related to fracture come from a country's healthcare budget (e.g., long-term care, community care).
Generally, a greater part of costs is related to incident fractures, whereas pharmacological treatment only represents less than 5% of total costs. The monetary burden depends mainly on the fracture risk; in fact, the cost per fracture increases with age (the 70% of the total costs are related to people aged more than 70 years). Also, fractures occurred in women represent the main part of the total cost[40].
Hip fractures account for more than half of the cost, whereas that of vertebral fractures is underestimated because of the difficulties of studying them. Only few people with clinical vertebral fractures become hospitalized[92] and, therefore, these cases are more complex to include in observational studies[93].
Outcome of osteoporotic fracture
Osteoporosis load is referred not only to fractures, costs, mortality, morbidity, but also to quality-adjusted life years (QALYs) lost.
Generally osteoporotic fractures caused more deaths and morbidity than cancer (except lung cancer). In particular, fracture of the hip is responsible for more deaths than suicide and transportation accidents[40].
The fractures effect on survival is related to the fracture type[94]. Hip fractures are the most dangerous, since approximately 10%-20% women with hip fractures die than expected for age within the first year. Moreover, the mortality is greater for men, and the death risk is greatest immediately after the fracture and decreases over time[10], even if it seems that mortality rates after fracture of hip have remained constant over the past 20 years[95]. Very often osteoporosis related fractures cause loss of physical functioning including loss of mobility and self-care. Approximately 7% of women become dependent on others to assist with the basic activities of daily living, and an additional 8% require nursing home care. The main long-term damage is in the capability to walk; half of patients able to walk before fracture cannot do so autonomously afterwards. Furthermore, up to a third of individuals who have a fracture of the hip can become totally dependent[96].
The principal vertebral fractures consequences are height loss, kyphosis, and back pain. Compression fractures cause acute symptoms[97] but many fractures seem to occur without pain. Women with vertebral deformities are substantially more likely to have chronic back pain as well as future fractures. Vertebral fractures, however, affect not only physical function but also physical aspect, and humor[10].
Osteoporosis load can also be quantified by loss of quality of life (QoL). Loss of QoL reflects the disutility or loss in utility due to both the pathology and increased mortality. The utility loss caused by fracture depend on the site of fracture; in fact, fractures of the axial anatomic sites (hip and vertebrae) induce more disutility with respect to forearm fractures. The loss of utility is similar for the both sexes[98]. During the first year after fracture of hip, vertebrae and wrist a person's utility (relative to the age-specific utility) has been estimated to be 0.70, 0.59 and 0.96, respectively. On the other hand, in the subsequent years quality of life was assumed to be 80% of that of a healthy individual[99].
Combining mortality and loss of QoL, it is possible to evaluate the annual number of lost QALYs due to fractures. It is estimated that Germany has the highest number of lost QALYs due to its high fracture incidence and its great population. The estimation of QALYs lost due to fracture-related deaths was done considering an averaged interval time of four months between fracture and death[82]. Mortality during the first year after fractures represents approximately 1% and 3% of the total QALY-loss in women and men, respectively. A great part of the QALYs lost derives from the long-term disability after fractures due to osteoporosis. This component is larger in women, because men have a higher absolute mortality after fracture.
CONCLUSION
Osteoporosis incidence is rising in many countries. Osteoporotic fractures are a crucial public health concern and represent one of the main and frequent cause of disability and medical costs worldwide. Therefore, early diagnosis of patients with high risk of osteoporotic fractures is essential. Fortunately osteoporotic fractures are preventable. The comprehension of the main factors causing this "silent disease" could help the prediction of fractures in high-risk individuals worldwide. Early diagnosis of a larger range of the population is the key to resizing the impact of osteoporosis on the healthcare system. With this, it is necessary to encourage the widespread use of quick, cheap, non-invasive screening techniques and to increase national awareness campaigns promoting a healthy lifestyle across countries.
P- Reviewer: Cheung WH, Lee YK, Vulcano E S- Editor: Ji FF L- Editor: A E- Editor: Li D