Copyright
©The Author(s) 2015.
Published by Baishideng Publishing Group Inc. All rights reserved.
Cystic lesion around the hip joint
Kiminori Yukata, Sho Nakai, Yuichi Ikeda, Yasunori Shimaoka, Issei Yamanaka, Jun-ichi Hamawaki, Department of Orthopedic Surgery, Hamawaki Orthopaedic Hospital, Hiroshima 730-0051, Japan
Tomohiro Goto, Koichi Sairyo, Department of Orthopaedics, Tokushima University Hospital, Tokushima 770-8503, Japan
Author contributions: All the authors were involved in designing the study and writing the manuscript.
Conflict-of-interest statement: All authors state that they have no conflicts of interest.
Open-Access: This article is an open-access article which was selected by an in-house editor and fully peer-reviewed by external reviewers. It is distributed in accordance with the Creative Commons Attribution Non Commercial (CC BY-NC 4.0) license, which permits others to distribute, remix, adapt, build upon this work non-commercially, and license their derivative works on different terms, provided the original work is properly cited and the use is non-commercial. See: http://creativecommons.org/licenses/by-nc/4.0/
Correspondence to: Kiminori Yukata, MD, PhD, Department of Orthopedic Surgery, Hamawaki Orthopaedic Hospital, 4-6-6 Otemachi Naka-ku, Hiroshima 730-0051, Japan. kyukata2004jp@yahoo.co.jp
Telephone: +81-82-2401166 Fax: +81-82-2401122
Received: April 21, 2015
Peer-review started: April 24, 2015
First decision: June 9, 2015
Revised: July 13, 2015
Accepted: September 7, 2015
Article in press: September 8, 2015
Published online: October 18, 2015

This article presents a narrative review of cystic lesions around the hip and primarily consists of 5 sections: Radiological examination, prevalence, pathogenesis, symptoms, and treatment. Cystic lesions around the hip are usually asymptomatic but may be observed incidentally on imaging examinations, such as computed tomography and magnetic resonance imaging. Some cysts may enlarge because of various pathological factors, such as trauma, osteoarthritis, rheumatoid arthritis, or total hip arthroplasty (THA), and may become symptomatic because of compression of surrounding structures, including the femoral, obturator, or sciatic nerves, external iliac or common femoral artery, femoral or external iliac vein, sigmoid colon, cecum, small bowel, ureters, and bladder. Treatment for symptomatic cystic lesions around the hip joint includes rest, nonsteroidal anti-inflammatory drug administration, needle aspiration, and surgical excision. Furthermore, when these cysts are associated with osteoarthritis, rheumatoid arthritis, and THA, primary or revision THA surgery will be necessary concurrent with cyst excision. Knowledge of the characteristic clinical appearance of cystic masses around the hip will be useful for determining specific diagnoses and treatments.
Core tip: The purpose of the present paper is to review clinical features of cystic lesions around the hip joint. Ultrasound, computed tomography and magnetic resonance imaging are useful modalities for detection of cystic lesions, but it is difficult to distinguish pathological differences between ganglion cysts and synovial cysts, including bursae. Although cysts around the hip are usually asymptomatic, enlargement of these cysts may cause pain and/or compression of the surrounding structures, such as nerves and vessels. Treatment of these cysts depends on their size, the severity of symptoms, and the nature of the underlying disease.
---
Citation: Yukata K, Nakai S, Goto T, Ikeda Y, Shimaoka Y, Yamanaka I, Sairyo K, Hamawaki JI. Cystic lesion around the hip joint. World J Orthop 2015; 6(9): 688-704
---
INTRODUCTION
Cystic lesions may occur around any of the joints or tendon sheaths in the body. Common locations of the cyst include the wrist, hand, foot, ankle, and knee, because it could be much easier to identify cysts near the body surface. Development of cysts associated with the hip joint is a rare clinical problem, but they may be incidentally observed on clinical inspection or imaging examinations, such as ultrasound, computed tomography (CT), or magnetic resonance imaging (MRI)[1]. Some researchers have examined the frequency of cysts in the hips of asymptomatic volunteers using MRI. Their results indicated that 5.8%-26.2% of asymptomatic hips had a cyst around the joint. In general, 15 synovial-lined bursae around the hip joint have been commonly imaged, particularly the iliopsoas bursa, which is the largest synovial bursa in the body and present bilaterally in 98% of adults[2]. In addition, herniation of the synovium into the surrounding tissue, displacement of the synovium in the embryonal stage, and degeneration of connective tissue in an adjacent joint or a tendon sheath have been suggested as possible etiological factors[3,4]. Histologically, there are 2 types of cysts around the joint or tendon: ganglion and synovial cysts. Ganglion cysts are generally believed to be the result of myxomatous degeneration of certain fibrous tissue structures and do not have a lining of synovial cells, whereas synovial cysts, including bursa, have a lining of synovial cells and sometimes directly communicate with the adjacent joint. Both ganglion and synovial cysts contain a similar gelatinous fluid that is highly viscous secondary to the presence of hyaluronic acid and other mucopolysaccharides or hemorrhage[3]. It is difficult to differentiate these cysts by clinical and radiological examinations or determine if the cysts communicate with the joint cavity. Accordingly, we primarily use the term "cyst or cystic lesion" when referring to bursae, synovial cysts, and ganglion cysts in this review because they have the same appearance radiologically. Cystic lesions around the hip are usually asymptomatic but may cause pain and compression of the surrounding nerves, veins, and arteries when they become enlarged. This narrative review article includes 5 main sections: Radiological examination, prevalence, pathogenesis, symptoms, and treatment for cystic lesions of the hip joint. For this review, we searched the key words "hip cyst" or "hip ganglion" or "hip bursa" using PubMed (National Library of Medicine, Bethesda, Maryland, United States) to obtain the articles published until December 2014. 1056 articles from the key word "hip cyst", 134 from "hip ganglion", and 239 from "hip bursa" were matched, respectively. All selected abstracts or articles were reviewed by the authors and articles without an English abstract that were not published in English were excluded. As a result searched with PubMed, total 151 articles were considered to be relevant for this review. Furthermore, we added the 140 related articles using the references of the articles, which is selected by PubMed, and finally 291 articles about cystic lesion around the hip were collected. The objective of the present article is to provide an overview of the clinical features of cystic lesions around the hip joint.
RADIOLOGICAL EXAMINATIONS
Conventional radiographs are useful for showing underlying hip joint disorders, such as osteoarthritis, rheumatoid arthritis, and acetabular dysplasia, but cannot detect cystic lesions[5-17]. Arthrography or cystography (bursography) can be used to demonstrate localization, size, and communication with the hip joint of cysts[9,12-15,18-33]. However, communication between cysts and the hip joint may not be demonstrated when the communication is very narrow or the root has a check valve mechanism[31]. Ultrasonography is a useful and noninvasive imaging modality for demonstrating the fluid-filled nature of a palpable mass. Cystic lesions can appear as hypoechoic areas on ultrasound examinations[12,15,16,34-47]. This modality may be used to guide needle aspirations and/or drug injections[34,48,49]. In contrast, ultrasonography does not show subtle sites of joint communication and has a limited ability to evaluate associated intra-articular abnormalities. CT scan is an excellent tool for assessing abnormalities of calcified tissues because of its high spatial resolution[8,9,11,12,16,19,25,26,35,50-58]. Cysts have lower attenuation than muscle and higher attenuation than fat. Rim enhancement may be observed after administration of intravenous contrast[26,59]. Similar to ultrasonography, CT can be used to guide needle aspiration of cysts[26,60]. MRI is superior to all other imaging modalities for investigating soft tissue abnormalities, particularly for demonstrating the exact location and extent of lesions around the cyst[6,9-11,16,17,27,37,40,41,52,56,61-75]. This technique offers superior soft tissue contrast and multiplanar capabilities and is noninvasive. Imaging can depict round or ovoid cystic masses with intermediate to low signal intensities on T1-weighted images and high signal on T2-weighed images. Detection of cystic lesions is much easier on fat-suppression T2-weighed or short tau inversion recovery images. MRI with intravenous administration of the contrast agent, Gd-DTPA, on T1-weighted imaging may show rim enhancement and is more useful for diagnosing synovial cysts because synovial proliferations exhibit rapid and marked increases in signal intensity[9,16,61,67,68,76]. However, after contrast agent injection, no enhancement of the cyst may be evident, even for synovial cysts[61]. In addition, MRI is very accurate in depicting associated joint disorders, such as acetabular labral tears and degenerative or inflammatory changes[4]. MR arthrography can show in detail the relationship of a lesion to a joint and the surrounding structures[77].
PREVALENCE
Most reports concerning cystic lesions around the hip joints have been single case reports, but O'Cooner[78] stated that the true incidence is probably higher than that indicated by infrequent cases in 1933. We found 3 reports on the prevalence of cysts in asymptomatic hips on MRI. In 1998, Cotten et al[79] first reported the MR appearance of the hip labrum in asymptomatic volunteers. They described that intralabral cysts were observed in 3 labra of 52 hips (5.8%). Recently, other studies have shown a high rate of cysts around the hip. Schmitz et al[80] described cystic lesions in 11 of 42 (26.2%) and 9 of 42 (21.4%) asymptomatic hips identified by 2 different radiologists. Register et al[81] reported that cysts were identified in 6 of 45 (13%) asymptomatic participants. These results indicate that detection of cysts around the hip joint is no longer an uncommon abnormal MRI finding and the increased sensitivity of MRI has enabled identification of these cysts.
PATHOGENESIS
There are pathologically some types of cystic lesions including ganglion cyst, synovial cyst, and bursa. Ganglion cysts histologically do not have a lining of synovial cells probably because of the result of myxomatous tissue degeneration[82]. While, synovial cysts have a lining of synovial cells because they may be caused by herniation of the synovium into the surrounding tissue or displacement of the synovium in the embryonal stage. However, the exact cause of these cysts is still unknown[12,26,61,83,84]. Bursae are fluid-filled sac lined by synovial membrane, which normally present and provide a cushion between bones and tendons and/or muscles. At least 15 synovial bursae have been described around the hip joint, including the trochanteric, iliopsoas, obturator, and ischial bursae[2,16,23,29,36,85-93] (Figure 1). The iliopsoas bursa is the largest synovial bursa in the body and is present bilaterally in 98% of adults[2] (Figure 2). This structure lies between the iliofemoral and pubofemoral ligaments, is adjacent to the thinnest and most vulnerable portion of the anterior capsule, and is the most problematic synovial bursa. In a cadaver study, Chandler found the communication between the iliopsoas bursa and the hip joint in only 14.25% (61 of 400) of adult cadavers and in as many as 40% of hips with osteoarthritis[11,14,56,94]. The iliopsoas bursitis was first reported by Fricke in 1834 according to Finder[95]. In 1887, Sprengel also reported a case of bursitis communicating with the hip joint, according to Gatch and Green[94]. Thus, it is believed that cysts that occur at the anterior of the hip could be inflammation and enlargement of the iliopsoas bursa itself or herniation of the anterior capsule caused by increased intra-articular pressure and an intrinsically weak capsule secondary to underlying inflammatory or degenerative joint disease[9,11,12,14,15,17,21-27,30,31,35,38-42,45,48,51,53,58,60,61,72,73,75,83,94,96-138]. On the other hand, a distended obturator bursa is believed to be formed by the protrusion of the posterior hip joint between the ischiofemoral capsular ligament and the zona orbicularis[85]. Trochanteric bursa is located at the lateral aspect of the greater trochanter of the femur[86-89]. An inflamed trochanteric bursa caused by various conditions is leading to pain in the lateral hip[70,139-159]. Anyways, it is difficult to distinguish isolated bursitis, pure articular synovial herniation without bursal involvement, or ganglion cysts on radiological or clinical examinations.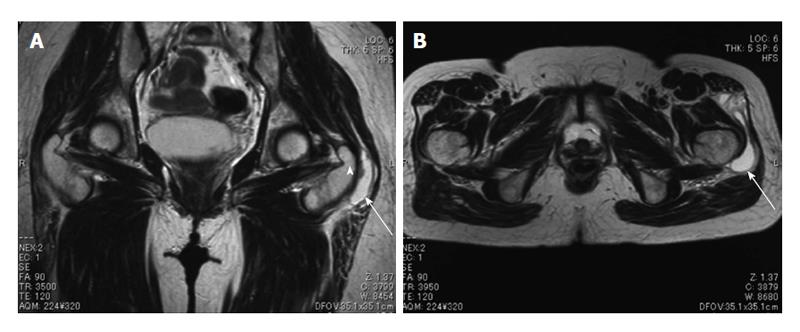 Figure 1 A 58-year-old female with greater trochanteric bursitis.
Coronal (A) and axial (B) T2-weighted magnetic resonance images of a cyst located at the characteristic position of the left greater trochanteric bursa (arrow). Arrowhead: Greater trochanter.

Figure 2 A 81-year-old female with femoral neuropathy caused by distended iliopsoas bursa.
Axial T2-weighted magnetic resonance image shows a cystic lesion, which extends anteriorly into the iliopsoas muscle (A). Computed tomography arthrography demonstrates no communication between the cyst (arrow) and right hip joint (B). Arrowheads: Contrast material.
Cysts of the hip are usually accompanied by the following various hip disorders such as trauma, avascular necrosis of the femoral head, osteoarthritis, rheumatoid arthritis, and total hip arthroplasty (THA).
Surgical capsular release for hip contracture following a spinal injury
Anterior soft tissue release of the hip is a common procedure for contracture of this joint, particularly in patients with cerebral palsy or following spinal cord injury. There has been only 1 reported case of a cyst formation communicating with the hip joint after this procedure[66].
Avascular necrosis of the femoral head
Avascular necrosis of the femoral head is one of the pathogenesis of hip synovial cyst formation[17,27,62,112,160,161]. The necrosis and deformity of the femoral head lead to joint synovitis and result in osteoarthritis of the hip. Cohen et al[62] first reported iliopsoas bursitis associated with avascular necrosis of the femoral head in a 34-year-old female receiving steroid therapy for systemic lupus erythematosus. Yoon et al[27] reported a similar case involving femoral neuropathy. Plain radiographs show deformity of the femoral head and narrowing of the joint space, which results in osteoarthritis[27,56,62].
Trauma
Acute or chronic trauma and sports injuries have been mentioned as causative factors of cyst formation around the hip[5,12,26,94,97,162-165]. O'Conner[78] suggested that the trauma imparted to the iliopsoas bursa during vigorous hip flexion and extension was the most likely etiological mechanism[95].
Developmental dysplasia
Lin et al[10] reported a case of a 35-mo-old boy with a hip ganglion cyst secondary to a labral tear. He was treated with adductor tenotomy, closed reduction, and a hip spica for developmental dysplasia of the hip when he was 14-mo-old.
Labral tear
When cysts around the hip joint are adjacent to the joint capsule and/or the acetabular labrum on MRI, the cause of these cysts has been believed to be synovial fluid that is forced through the labral tear via a one-way valve mechanism[166]. This type of cyst is designated radiologically as a "paralabral or labral cyst[5,6,26,40,48,61-64,167]" (Figure 3). In 1989, Haller et al[5] first described the relationship between a cystic mass adjacent to the acetabulum and a labral tear. They illustrated that synovial tissue or fluid may extrude from the joint through the labral tear and lead to accumulation of fluid and cyst formation in the adjacent soft tissues as one factor in the pathogenesis of juxta-acetabular cysts. In 1994, Tirman et al[168] determined that a glenoid labral tear of the shoulder was associated with a cystic mass and termed the mass a "labral cyst". The same group applied the term to similar cysts of the hip joint[6]. Schnarkowski et al[6] reported that of the 7 labral cysts, 5 were localized at the posterosuperior and 2 at the anterior. They described that the posterosuperior part of the labrum was the most vulnerable to mechanical stress and an easier site to detach by trauma, which could lead to cyst formation[169]. Furthermore, Magee et al[166] reported 10 patients who underwent surgery for labral cysts and had associated labral tears located in the area of the labral cyst. Seven of the tears occurred posteriorly and 3 occurred anteriorly. Recent reports of case series described that paralabral cysts were localized anterosuperiorly in 56% (10 of 18) of the patients, anteriorly in 22% (4 of 18), posterosuperiorly in 17% (3 of 18), anteroinferiorly in 6% (1 of 18), posteriorly in 0%, and posteroinferiorly in 0% on MR arthrographic analysis[77]. This result was consistent with the fact that most labral tears have occurred anterosuperiorly on evaluation by MR arthrography[170,171]. The labral cyst of the hip may be a predisposition to labral pathology. MR arthrography can increase the sensitivity and accuracy for detection of the associated labral tears. Recently, arthroscopic treatment for acetabular labral tear and paralabral cyst has been reported[63,172,173]. Tey et al[172] reported a case with acetabular labral tear and labral cyst caused by psoas impingement. In this case, the psoas tendon was released and the labral cyst was excised; reattachment of the labral tear was finally performed using a suture anchor. Kanauchi et al[173] also reported a combination treatment with arthroscopic labral repair and ultrasound-guided cyst aspiration for the acetabular paralabral cyst causing femoral nerve paresthesia. In contrast, Lee et al[63] described an arthroscopic treatment by cyst decompression and debridement of the degenerative labrum for labral cyst and tear. Thus, arthroscopic findings will be useful for further understanding of labral cysts.
Osteoarthritis
Osteoarthritis is a degenerative joint disease, which causes joint pain and stiffness. More than 80% of all cases of idiopathic osteoarthritis of the hip joint may be because of subtle congenital or developmental defects, which increase joint incongruity and concentrate the dynamic load (Figure 4). Dynamic loads cause displacement of synovial fluid, which in turn may cause synovial cyst development[11,12,14,22,26,30,32,35,38,51,68,83,96,119,127,174-180].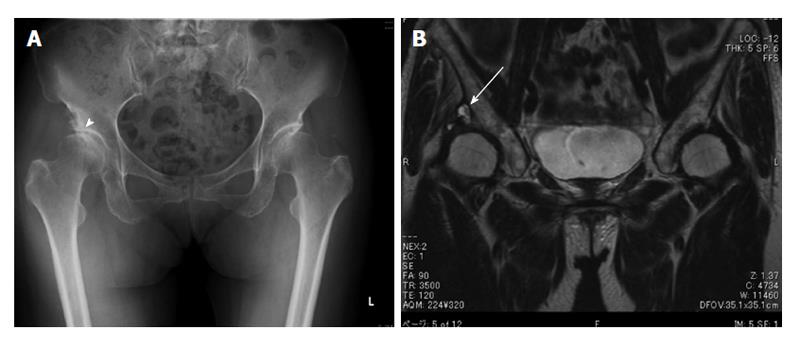 Figure 4 A 70-year-old female with a cystic lesion associated with osteoarthritis.
Plain radiograph of the lower pelvis reveals the secondary osteoarthritis of right hip due to acetabular dysplasia (arrowhead) (A). Coronal T2-weighted magnetic resonance image shows a cystic mass (arrow) located superiorly, connected to the right hip joint (B).
Rapidly destructive arthrosis of the hip
Rapidly destructive hip disease (RDHD) is a rare entity that involves aggressive hip joint destruction within 6-12 mo of onset. Inflammatory arthritis is always caused by cartilage and bone destruction in such cases. Iliopsoas bursitis also has been seen in 2 reported RDHD cases[129,135].
Rheumatoid arthritis
Rheumatoid arthritis is an autoimmune disease that results in a chronic inflammatory response of the synovial joint capsule secondary to swelling due to excess synovial fluid and development of the synovium. The occurrence of synovial cyst of the hip in patients with rheumatoid arthritis has been reported[7,9,12,13,21,26,28,37,45,54,56,65,72,99-101,106,114,115,130,134,135,138,160,176,178,181-190].
Coventry et al[7] described 3 cases of rheumatoid synovial cysts of the hip. Two of 3 patients had edema of the extremities due to compression of the femoral vein caused by enlarged synovial cysts. They documented 3 theories regarding the etiology of rheumatoid synovial cyst formation. First, overproduction of synovial fluid in a rheumatoid cyst may increase the intra-articular pressure and distend the joint capsule. Second, the iliopsoas bursa, which is sometimes directly connected with the hip joint, may be involved in the rheumatoid process with formation of excessive quantities of fluid[12,24,33]. Third, necrosis of a subcutaneous periarticular rheumatoid nodule possibly could result in the formation of a juxta-articular cyst. However, the exact etiology of rheumatoid synovial cysts cannot be determined. Although some similar cases of rheumatoid cysts have been reported following Coventry's cases[9,13,21,65], interestingly, all of the rheumatoid arthritis-associated cysts in the reported cases were localized anteriorly. This finding suggests that the iliopsoas bursa is involved in cyst formation associated with rheumatoid arthritis.
Juvenile idiopathic arthritis
Juvenile idiopathic arthritis (JIA) is an autoimmune arthritis in children less than 16 years of age. Iversen et al[41] described about the enlargement of the iliopsoas bursae communicated with the hips in a JIA patient.
Polymyalgia rheumatica
Polymyalgia rheumatica (PMR) is an inflammatory disorder that causes pain and stiffness in the neck, shoulder and pelvic girdle. Tani et al[128] reported a case of enlargement of iliopsoas bursa due to PMR.
Hip arthroplasty
In 1984, Kolmert et al[25] first reported 2 cases of cyst formation after THA. Moreover, some case reports have been published about cystic lesions after joint replacement[8,19,20,31,50,53,64,71,83,109,123,126,132,191-231]. Initially, these cysts were believed to be subclinical infections, but currently they are called "granulomatous pseudotumor" resulting from polyethylene, metal, or cement wear debris, which is phagocytosed by inflammatory cells and macrophages that cause a foreign body reaction[8,20,31,53,64,196,197,199-201,203-205,208,212,213,215,220-222] (Figure 5). On the other hand, some cysts may be distended iliopsoas bursitis as a tissue response to wear debris, but not newly formed granuloma[31,50,126,132,136,137,195,198,232].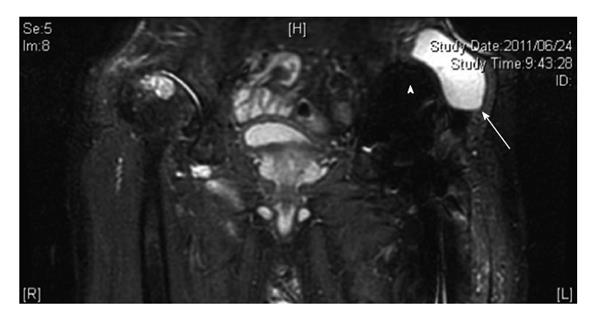 Figure 5 A 76-year-old male with a pseudotumor following cemented total hip arthroplasty, which was implanted 18 years earlier.
Coronal short tau inversion recovery magnetic resonance image shows a cystic lesion (arrow) adjacent to the acetabular component (arrowhead).
In 2005, Willert et al[214] first described the development of an inflammatory synovial reaction as a novel complication associated with metal-on-metal (MoM)-bearing hip replacements[211,214]. A distinct histological pattern is observed and characterized by diffuse perivascular infiltrates of T and B lymphocytes, high endothelial venules, fibrin exudation, eosinophils, and necrosis. It is thought to be a variation of a type IV delayed hypersensitivity and has been termed an aseptic lymphocyte-dominated vasculitis-associated lesion (ALVAL). Adverse reactions to metal debris, including ALVAL and pseudotumor formation, should be considered as a diagnosis in any patient with unexplained groin pain or a mass following a MoM THA[137,203,216,217,223,224,233-238]. In general, patients with pseudotumors may be asymptomatic[193,207,208] or present with mild groin pain[20,196,201,213,220]. If the expansive lesions are intrapelvic, they may compress the adjacent structures, including the ureters[212], intestines[218], vessels[50,137,192,195,198,199,203,220,222,223], and nerves[8,19,53,64,210,216,217,224]. Compared with cystic lesions, solid lesions can more easily cause femoral palsy and revision THA[217]. Cystic lesions associated with THA can be one of the signals for implant failure or loosening.
Others
Gas-containing cysts of the hip have been reported infrequently. Gas may be seen on conventional plain radiography, linear tomography, or CT[239]. This gas may be difficult to differentiate from overlying bowel gas and other causes of gas within soft tissues[240]. Gas may be present inside distended iliopsoas bursae because of a gas-pumping mechanism, which may lead to a misdiagnosis. Silver et al[239] reported 3 cases of gas-containing ganglia arising from the hip joints with advanced osteoarthritis. Haller et al[5] also reported that gas was demonstrated in 4 cystic lesions around the hip joint associated with degenerative hip disease.
It should be noted that a cystic mass around the hip may not be a synovial or ganglion cyst but may originate from the adventitia of the common femoral artery or vein. The latter has been called "adventitial cystic disease", which is an uncommon type of nonatherosclerotic peripheral vessel disease and is characterized by accumulation of a mucinous substance in the adventitia[241-244]. These substances cause symptoms of intermittent claudication or leg swelling because of obstruction of arteries or veins.
The differential diagnosis of a mass in the inguinal region includes various conditions, such as pigmented villonodular synovitis[245,246], synovial chondromatosis[93,108,247,248], arterial aneurisms, femoral hernias[249,250], inguinal lymphadenopathy, and abscess[25,33,40,60,70,90,120,140,142,145,149,151,153,154,156,181,229] (Figure 6). Careful clinical and radiological examinations will help confirm or exclude a diagnosis.
SYMPTOMS
Cysts around the hip joint are often asymptomatic[10,11,54] (Figure 7). When cysts impinge upon nerves or vessels, they may become symptomatic.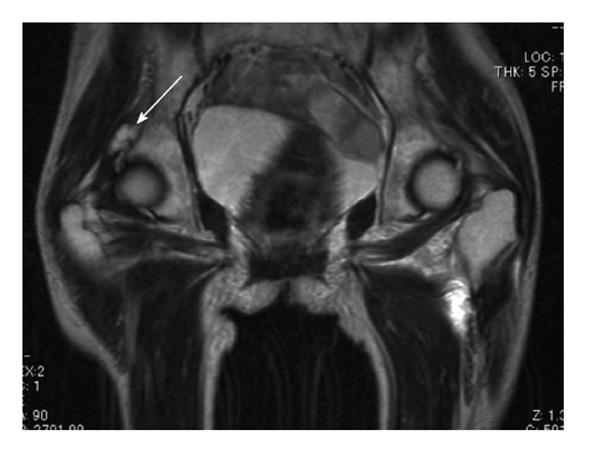 Figure 7 A 71-year-old female with the left femoral neck fracture.
Coronal T2-weighted magnetic resonance image shows an asymptomatic multilocular cystic mass (arrow), which is communicated with the right hip joint.
Pain and/or swelling
Although pain is not a universal feature, it is frequently the earliest and may be the only cyst symptom, which may include bursitis[9-11,13-15,20,25,31,32,43,56,61,63,65,74,111,113,114,118,122,141,144,174,175,196,201,213,220,228,251-253]. An inguinal mass and groin or thigh pain usually comprise the clinical presentation in some patients. Akman et al[252] reported a case of a hip ganglion presenting with symptoms of right-sided groin pain. A larger mass caused nocturnal femoral pain[254]. Inguinal swelling also has been reported as another rare presentation of a hip cyst when the cysts grow anteriorly[43,116,118,255,256] or posteriorly[257]. A soft mass over the femoral triangle could be misdiagnosed as a femoral hernia[249,250].
Snapping
Iliopsoas bursitis is often associated with the snapping hip syndrome[24,29,48,49,121,143]. The snapping hip syndrome involves the iliopsoas tendon snapping over the iliopectineal eminence and the anterior hip capsule or a lesser trochanteric bony prominence. Harper et al[24] reported 2 cases with a painful audible snapping hip. In literature, the snapping was reproduced voluntarily by extending the flexed, abducted, and externally rotated hip, and iliopsoas bursography was a useful technique for diagnosis of this syndrome. Snapping could disappear by release of the tendinous portion in these cases[21,29,49,121].
Peripheral nerve compression
Femoral nerve: Approximately 20 cases about femoral nerve compression due to a cystic lesion around the hip joint have been described in literature[8,17,27,35,52,53,55,66,68,73,112,130,134,138,173,189,254,258-260]. The symptoms were described as radicular pain caused by compression of the femoral nerve and by hypoesthesia and/or paresthesia in the groin radiating down to the medial thigh, the anterior aspect of the knee, and the medial side of the lower leg and foot. Some patients complained of their inability to climb stairs and walking because of hip pain and muscle weakness. These symptoms mimic L2-4 radiculopathy with lumbar disorders, such as lumbar disc herniation and lumbar spinal canal stenosis[68,258]. Physical examination may reveal tenderness over the anterior hip, limited range of motion of the affected hip joint, sensory disturbance of the femoral nerve area, and atrophy of the thigh. The iliopsoas and quadriceps femoris muscle may be weak[27,35], accompanied by diminished patellar tendon reflexes[8,35,53]. The hip is held in flexion with some adduction and external rotation. Pain is elicited by hyperextending, abducting, or internally rotating the hip. On radiological examinations, radiography of the pelvis may show severe degenerative hip disease, which causes iliopsoas bursitis in some cases[17,27,35,68,112,130,134,189]. The cysts with femoral nerve compression are always located in the anterior hip and are mostly synovial cysts because of the relationship with the iliopsoas bursa (Figure 2). On the other hand, although rare, a few cases with femoral nerve compression caused by ganglion cyst have been reported[52,259]. Recently, a few reports have described wear debris from THA that produced a clinically detectable mass that could provoke delayed femoral nerve palsy[8,53,173,217,261], although some cases had solid pseudotumors but not cystic lesions.
Obturator nerve: Obturator neuropathy can be caused by various conditions, such as pelvic fracture, THA, or obturator hernia, but obturator nerve compression by a cyst is extremely rare. Only 4 cases have been reported[34,68,262,263]. In 2002, Campeas et al[262] first reported a case with obturator neuropathy caused by a ganglion cyst arising from the hip joint. In 2005, Yukata et al[34] presented a case with obturator neuropathy caused by a cyst associated with an anterior acetabular labral tear and its detailed MRI findings. Stuplich et al[68] also reported a case with combined femoral and obturator neuropathy caused by synovial cyst from moderate arthrosis of the hip. The main symptom of obturator nerve compression is pain in the right groin and anteromedial thigh[34]. The tenderness occurs over the adductor muscles, and Patrick's sign (hip flexion, abduction, external rotation, extension position) may be positive and passive straight leg raising test is negative. The weakness of hip adductors due to pain and the absence of the adductor reflex could have been detected[68]. MRI of the pelvis has shown a cystic lesion at the medial aspect of the right acetabulum with its stalk continuing to the anterior labral tear[34] or extending into the obturator muscles toward the obturator nerve[68] (Figure 8). Further, the muscles of the obturator nerve area may show atrophy and increased signal intensity on T2-weighed images, which indicates denervation[34,263].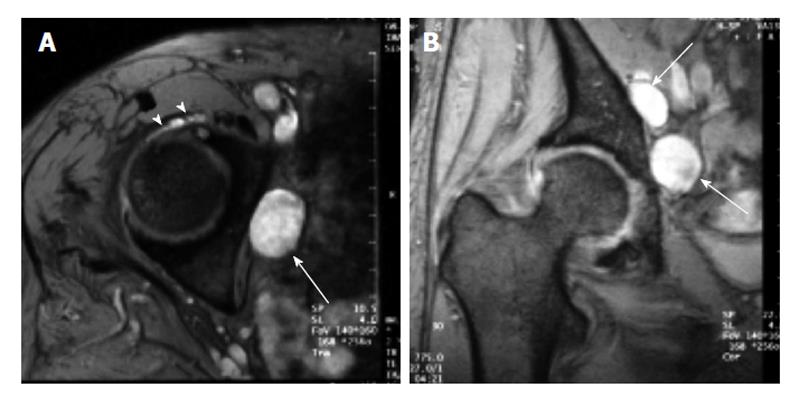 Figure 8 A 75-year-old female with obturator neuropathy.
Axial (A) and coronal (B) short tau inversion recovery magnetic resonance images show that the location of the cystic masses (arrows) is consistent with the site of obturator nerve (Ref: [26]). The stalk of the cyst was connected to the anterior joint capsule (arrowheads).
Sciatic nerve: Sciatic neuropathy has been reported secondary to a cystic lesion around the hip joint[19,64,67,69,264-268]. In 1991, Juglard et al[264] first reported a case with sciatic nerve compression by a cystic lesion. In addition, some similar cases have been reported until 2014[67,69,265-267,269]. These patients presented with increasing buttock pain radiating downward to the posterior thigh and knee and the lateral aspect of the lower leg and sole, which is the so-called sciatica. The patient may have a paresthesia of the lateral calf and sole. Physical examination may reveal no sensory disturbance or muscle weakness of the lower leg, and the hip range of movement is full or mildly limited. Tenderness may be over the posterior hip. The straight leg raising test was negative in all reported cases, but the pain around the hip was elicited by hip rotations[67,69]. MRI clearly showed a cystic mass in the sciatic notch or extending posteriorly to the femur intertrochanteric lesion. Histological evaluation of these cysts demonstrated that the cyst wall was composed of variably dense fibroconnective tissue with no lining cells, which suggests a ganglion cyst[67,69,264,267,268], while the recent case reported by Salunke et al[265] was histologically diagnosed as a synovial cyst. Sciatic neuropathy as a late complication is sometimes caused by a cystic formation due to polyethylene or titanium wear debris after THA[19,64,206]. Fischer et al[19] first described a patient with sciatic neuropathy following compression caused by an intrapelvic synovial cyst that formed in response to wear debris. Crawford et al[206] reported 3 cases of compression of the sciatic nerve caused by polyethylene wear debris at the revision THA surgery. Recently, Mert et al[64] also reported that minor polyethylene wear at the edge of the liner and cracking of the titanium acetabular shell were observed at the revision THA. Histological examination showed that the resected cyst included foreign-body giant cells along with abundant titanium deposits and polyethylene particles. These cystic masses with sciatic neuropathy following THA appear to be synovial cysts connected with the joint space. We present MRI findings of an unpublished case of sciatic neuropathy due to a cystic lesion in which the patient had a 1-mo history of increasing pain in the left buttock and lower leg with an insidious onset (Figure 9).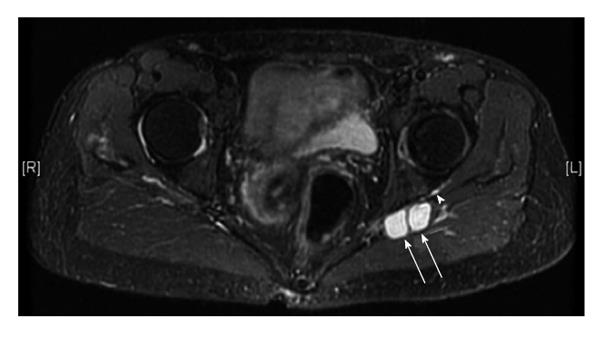 Figure 9 A 67-year-old female with a sciatica.
Axial short tau inversion recovery magnetic resonance image demonstrates cysts at the posterior aspect of the left acetubulum (arrows). The stalk is connected to the posterior joint capsule (arrowhead).
Lateral cutaneous femoral nerve: Meralgia paraesthetica is numbness or pain in the outer thigh caused by entrapment of the lateral cutaneous femoral nerve. Only one case was reported as a compression neuropathy caused by a hip joint synovial cyst associated with rheumatoid arthritis[270].
Artery compression
Compression of the femoral artery causes leg ischemia. Byström et al[51] reported a 75-year-old female with a large cyst that was compressing the femoral artery. The symptoms were an intermittent, unpleasant sensation of coolness in the foot and hip pain. The cyst was communicating with a severely osteoarthritic hip joint. Beardsmore et al[271] and Stanek et al[272] also reported ganglion cysts arising from the hip joint or psoas sheath that compressed the artery and caused symptoms of intermittent claudication. Furthermore, Zack et al[57] presented an occlusion of the external iliac artery due to a giant synovial cyst that was produced by polyethylene wear debris after THA. In such cases, angiography can demonstrate occlusions of the external iliac or common femoral artery[57,263,264].
Vein compression
Compression of the femoral or iliac vein caused by a cyst of the hip joint results in leg swelling, which resembles that caused by deep vein thrombosis, and is called pseudothrombophlebitis. Previously, over 40 cases of vein compression due to a cystic lesion around the hip have been described in literature[12,21,23,50,56,73,83,101-103,107,110,115,125,131,133,137,138,176,179,188,190,192,196,198,209,220,222,230,232,254,273-289]. Radiography of the pelvis was useful for observing the presence of hip disorders because rheumatoid arthritis or osteoarthritis was present in approximately two-thirds of the cases[276]. Extrinsic compression of the external iliac and femoral veins by the mass can be observed by venography. Venography is also useful if deep vein thrombosis is suspected and needs to be excluded. A cystic lesion of the hip joint should be taken into consideration in the differential diagnosis of deep vein thrombosis.
Urinary symptoms
When a cyst compresses the ureter or bladder, the patient may complain of dysuria, frequency, and nocturia, or have no symptoms[18,83,182,226]. Intravenous pyelography can reveal obstruction of the ureter, which results in hydronephrosis of the kidney[212]. Watson and Ochsner reported a case with high urinary frequency and dribbling caused by compression of the lateral walls of the bladder due to a distended iliopsoas bursa[182].
TREATMENT
Although variable therapeutic strategies have been used for cystic lesions of the hip, treatment of the cysts depends on their size, the severity of symptoms, the nature of the underlying disease or associated condition, and the presence or absence of local compression. When cysts of the hip are asymptomatic, they can be treated by observation[22,54,253]. When an enlarged and painful cyst is suspected to be a synovial cyst or bursitis, rest, nonsteroidal anti-inflammatory medications, application of local heat, and physical therapy may provide symptomatic relief[7,21,96,98,100]. If the cyst is a synovial cyst caused by rheumatoid arthritis, prednisone and methotrexate may be effective for decreasing the symptoms[40,114,136,152]. In addition, injection of local anesthetic and/or corticosteroids following needle aspiration may be considered as a treatment option[7,23,83,98,100,112,175,185,258]. When patients have compression neuropathy or obstruction of an artery, vein, or ureter due to a cyst, they are often treated by aspiration of the cyst or surgical excision. Colasanti et al[276] reviewed 27 cases with vessel compression due to cysts. Needle aspiration was initially performed in 8 of the patients, and the other 19 patients were treated by surgical removal of the cysts associated with synovectomy or capsulectomy[12,21,23,51,68,83,101-103,110,125,131,176,188,254,273,275-280,282-284,286]. Lower limb swelling recurred in 3 of 8 patients (37%) initially treated with needle aspiration, whereas recurrence was noted in only 1 surgically treated patient (5%). This result indicated that surgical excision is a more reliable technique for prevention of recurrence[107,130,134,147,148,189,260,290,291]. However, we still believe that needle aspiration/puncture should be the first treatment choice because simple needle aspiration/puncture has been shown to decrease the cyst size and symptoms in some cases involving vein or nerve compression[21,83,125,131,286], it is easier to perform and less invasive than surgery, and the contents of a cyst can aid diagnosis[34,195,286]. When a cystic lesion associated with osteoarthritis, rheumatoid arthritis, and THA is excised, primary or revision THA surgery may be necessary to relieve the pain and improve hip functions[9,38,119,127,180].
CONCLUSION
Almost all cystic lesions around the hip joint will be asymptomatic, but recently, they are frequently discovered by CT or MRI examinations. Enlargement of a cyst, including the bursa, might cause unexplained hip pain. Furthermore, when cysts compress their surrounding structures, such as nerves or vessels, various symptoms will appear depending on the compressed tissue. In orthopaedics, leg pain, intermittent claudication, or leg edema are common symptoms in lumbar spine or vascular disorders. In such cases, cysts around the hip should be considered as the differential diagnosis.
P- Reviewer: Musumeci G, Ohishi T S- Editor: Ji FF L- Editor: A E- Editor: Liu SQ