Copyright
©The Author(s) 2015.
Published by Baishideng Publishing Group Inc. All rights reserved.
Biotribology of artificial hip joints
Francesca Di Puccio, Lorenza Mattei, Department of Civil and Industrial Engineering, University of Pisa, 56126 Pisa, Italy
Author contributions: The two authors co-worked in the preparation of the paper, revision of the literature and collecting the data; Mattei L also performed numerical simulations.
Open-Access: This article is an open-access article which selected by an in-house editor and fully peer-reviewed by external reviewers. It distributed in accordance with the Creative Commons Attribution Non Commercial (CC BY-NC 4.0) license, which permits others to distribute, remix, adapt, build upon this work non-commercially, and license their derivative works on different terms, provided the original work is properly cited and the use is non-commercial. See: http://creativecommons.org/licenses/by-nc/4.0/
Correspondence to: Lorenza Mattei, MD, PhD, Department of Civil and Industrial Engineering, University of Pisa, Largo Lazzarino, 56126 Pisa, Italy. l.mattei@ing.unipi.it
Telephone: +39-050-2218019 Fax: +39-050-2218069
Received: December 28, 2013
Peer-review started: December 29, 2013
First decision: February 13, 2014
Revised: March 25, 2014
Accepted: May 14, 2014
Article in press: May 14, 2014
Published online: January 18, 2015

Hip arthroplasty can be considered one of the major successes of orthopedic surgery, with more than 350000 replacements performed every year in the United States with a constantly increasing rate. The main limitations to the lifespan of these devices are due to tribological aspects, in particular the wear of mating surfaces, which implies a loss of matter and modification of surface geometry. However, wear is a complex phenomenon, also involving lubrication and friction. The present paper deals with the tribological performance of hip implants and is organized in to three main sections. Firstly, the basic elements of tribology are presented, from contact mechanics of ball-in-socket joints to ultra high molecular weight polyethylene wear laws. Some fundamental equations are also reported, with the aim of providing the reader with some simple tools for tribological investigations. In the second section, the focus moves to artificial hip joints, defining materials and geometrical properties and discussing their friction, lubrication and wear characteristics. In particular, the features of different couplings, from metal-on-plastic to metal-on-metal and ceramic-on-ceramic, are discussed as well as the role of the head radius and clearance. How friction, lubrication and wear are interconnected and most of all how they are specific for each loading and kinematic condition is highlighted. Thus, the significant differences in patients and their lifestyles account for the high dispersion of clinical data. Furthermore, such consideration has raised a new discussion on the most suitable in vitro tests for hip implants as simplified gait cycles can be too far from effective implant working conditions. In the third section, the trends of hip implants in the years from 2003 to 2012 provided by the National Joint Registry of England, Wales and Northern Ireland are summarized and commented on in a discussion.
Core tip: In this paper, the biotribology of hip implants is described at different levels, from the more general definitions of friction, lubrication and wear and from some basic equations, to clinical data of different implants. The topic is presented both qualitatively and quantitatively, which we believe is an original approach for a review of this kind. Some simple mathematical tools are provided, which can also be useful for non-specialists to better understand the matter and to deal with simple tribological problems. Finally, the trends of artificial hip joints over the last ten years are discussed on the basis of tribological concepts.
---
Citation: Puccio FD, Mattei L. Biotribology of artificial hip joints. World J Orthop 2015; 6(1): 77-94
---
INTRODUCTION
Although tribological phenomena are widespread in everyday life, the word tribology sounds new and strange to most people. Thus, it is usual, before speaking of tribology to non-tribologists, to introduce its literal meaning. The term tribology comes from the Greek words tribos = rubbing/friction and logos = science, so it is defined as the science of rubbing surfaces. In other words, it is known as the science of interacting surfaces in relative motion and encompasses many concepts, such as friction, wear and lubrication[1]. Therefore, tribology is in the tyre rolling over the road, in the head-disk interface of a hard disk driver, in the blinking of the eye, and so on.
When interacting surfaces belong to the human body or animals, including artificial joints, the term biotribology is usually preferred. The importance of the tribological performance of an artificial hip joint is well known in clinical practice. In fact, although hip arthroplasty is considered one of the major successes of orthopedic surgery, wear still remains a critical issue that limits the implant lifespan to 10-15 years. The incidence of hip arthroplasties is proved by the increasing rate of procedures per year, about 332000 in 2010 in the United States[2] and 76500 in 2012 in the United Kingdom (+ 7% compared to 2011)[3]. Additionally, according to the United Kingdom National Report 2013[3], 10000 revision surgeries were performed, with a 12% increment that can be attributed to the younger and more active patients who were treated with this procedure.
This paper describes the tribological features of hip implants with the aim of providing some key concepts for analyzing and improving current designs and maybe suggesting new solutions. A background on the main concepts of tribology is premised. Finally, the trend of hip arthroplasty over the last ten years is discussed.
HIP REPLACEMENT OVERVIEW
Nowadays, the world market has several hundred different brands of hip replacements, among which the surgeon will select one on the basis of patient symptoms and characteristics (e.g., gender, age) and her/his own clinical experience. This huge number of hip replacements can be classified according to their geometry (structure and dimensions) and materials. The structure of a total hip replacement (THR) and resurfacing hip replacement (RHR) can be compared (Figure 1).
The former is made up of a stem, a femoral head, an acetabular cup combined with, if cementless, a metallic shell which helps bone grow into it. RHR covers the articulating surfaces with a traditional cup and a head liner, thus preserving more bone. Both types of implants are available in several sizes but, in general, RHRs are characterized by bigger heads which should improve the implant stability.
The most commonly used materials for implant components are plastic (P), metal (M) and ceramic (C). The plastic is used only for the socket, whilst the others are used for both head and cup. The most common material combinations for the bearing surfaces are: metal-on-plastic (MoP), ceramic-on-plastic (CoP), ceramic-on-ceramic (CoC) and metal-on-metal (MoM) (Figure 2). In these acronyms, the first letter refers to the cup material and the third to the head. It is worth noting that RHRs are available only in MoM (MoMRHR) or CoM combinations. As the materials strongly influence the device tribological behavior, some further details on their properties will be discussed in Sec. 4.2.
BASIC BACKGROUND ON TRIBOLOGY
In this section, the basic aspects of tribological phenomena are summarized in order to provide the main concepts for understanding the behavior and design of implants. More detailed explanations can be found in tribology textbooks as in[4,5].
Let us consider two interacting surfaces in relative motion. Phenomena that occur between them can be considered at macro or micro scale and are mainly dependent on the loading and kinematic (motion) conditions, as well as the presence of a lubricant.
IMPLANT TRIBOLOGY
In this section, the general concepts described above are applied to hip implants in order to discuss their tribological behavior.
TRENDS
Some major trends are recognized in the implant of a hip prosthesis which reflects the clinical outcomes of hip arthroplasty and thus the revision risk associated with each implant type. A meaningful statistical analysis on this topic is provided by the National Joint Registry of England, Wales and Northern Ireland[3] which has collected data on clinical procedures and outcomes since 2003. This source has been adopted as the main reference of this section as it is one of the more extended and complete registries to the best of our knowledge.
The trends of bearing couplings from 2003 to 2012, expressed as percentages of implant type per year, are depicted in Figure 21. MoP implants, the traditional ones, are still the most widely used, covering about the 60% of all procedures in 2012. This is partly due to the introduction of the high wear resistant HXLPE (see Sec. 4.2). The use of the ceramic components is increasing, with an increase of 22% of CoC and 16% of CoP implants in 2012. Also in this case, the improvements in material properties leading to Biolox delta characterized by a high mechanical strength and high wear resistance have been a determinant. As mentioned above, the wear of ceramic implants is irrelevant and one of the main concerns in their employment is still the squeaking. It is worth noting that the incidence of squeaking reported in the literature varies in the range < 1%-21%, depending on how the sound is defined[30,54]. On the contrary, the use of metal bearings, both total and resurfacing, has decreased in the last few years. After reaching a peak between 2006 and 2008, these implants have been largely abandoned, their use now reduced to 1.5%. This trend is due to the ongoing concerns on pseudotumors caused by toxic metallic ions and the high failure rates of large head and RHRs related to the edge loading, as discussed in Sec. 4.6. Certainly, the decreased implantation of these implants has been further enhanced by the voluntary recall of the RHR system ASR by DePuy (2010). An additional reason behind such percentages can be found in implant costs (Figure 17).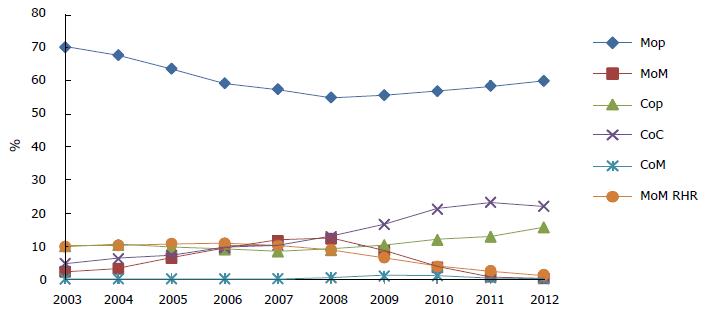 Figure 21 Trends in hip replacement implantation from 2003 to 2012.
Data from[3]. MoM: Metal-on-metal; CoC: Ceramic on ceramic; MoMRHR: Metal on metal resurfacing.
In terms of femoral head size, the trend is characterized by a gradual increase in the use of larger heads, which is in agreement with both theoretical and experimental findings, as bigger implants, i.e., more conformal couples, promote the lubrication and prevent dislocation (Figure 22). The 28 mm heads, mostly used in 2003, have been declining in favor of 32 and 36 mm heads. Whilst the increase of 32 mm heads is continuing, the 36 mm heads trend has been slightly reversing since 2010, which reflects the actual concerns on large head MoM THRs and MoMRHR.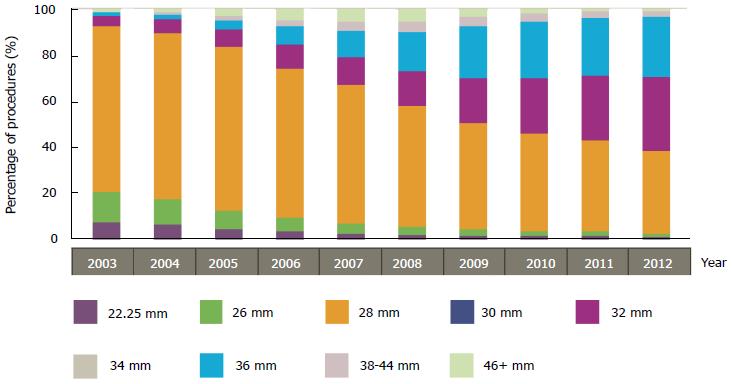 Figure 22 Trend of femoral head size from 2003 to 2012.
Data from[3].
In order to complete this overview on hip implant procedures, the revision risk for hip articulation type is provided in Figure 23. The trends are in full agreement with the above discussion. The highest revision risk (up to 15%) is reported for MoM bearings, with revision rates of 17.7% and 12.3% for cementless total and resurfacing implants, respectively, and up to 33% for the cemented ASR RHRs. The lowest revision rates, less than 2%, were observed for MoP and CoP implants and similar performances were also reported for CoC.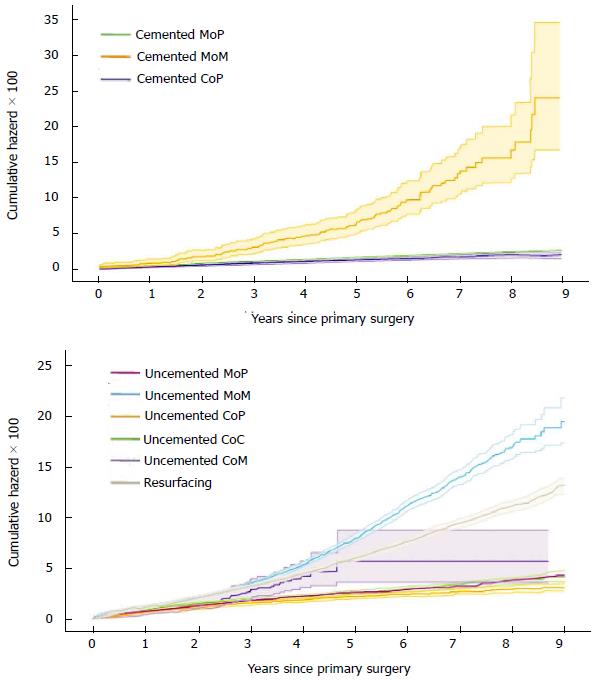 Figure 23 Revision risk (Cumulative hazard with 95%CI) for hip articulation.
Data from[3]. MoM: Metal-on-metal; CoC: Ceramic on ceramic.
CONCLUSION
The present review aims to describe the biotribology of hip replacements both qualitatively and quantitatively. The fundamental concepts of tribology, provided in the first part particularly for non-specialists, are applied to artificial hip joints, thus allowing interpretation of the actual trends in hip arthroplasty. The interest in larger head sizes, the increasing use of CoC implants, the squeaking of hard-on-hard couples and even the high failure rates of RHR implants are considered and explained from a tribological point of view.
The wide discussion on the tribological features of each implant type highlights how friction, lubrication and wear are strongly interconnected and cannot be discerned one from the other: the study of biotribology of hip implants should thus be treated as a whole, where each aspect helps, completes and confirms the understanding of the others. Moreover, such tribological features depend on the characteristics of the system taken into consideration, the materials (e.g., Young's modulus, hardness), geometry (e.g., head diameter, clearance, surface finishing), kinematic and loading conditions and lubricant type. Consequently, for each bearing type, friction, lubrication and wear vary during a single activity as well as in the implant lifetime as the patient characteristics, lifestyle and wear itself modify the tribological scenario continuously. These considerations raise some concerns of the suitability of in vitro tests for hip implants since simplified gait cycles can be too far from the effective implant working conditions.
This paper points out the complexity of biotribology science and its fundamental role in analyzing and improving hip implant design, as well as the need for further investigations in order to improve hip arthroplasty outcomes.
P- Reviewer: Azzoni R, Meng QE S- Editor: Song XX L- Editor: Roemmele A E- Editor: Lu YJ