Copyright
©2014 Baishideng Publishing Group Inc.
All rights reserved.
Inflammation, lipid metabolism and cardiovascular risk in rheumatoid arthritis: A qualitative relationship?
Carmen García-Gómez, Maria Bianchi, Department of Rheumatology, Consorci Sanitari de Terrassa (CST), Unitat Investigació Biomèdica CST-UAB (Universitat Autònoma de Barcelona), 08227-Terrassa, Barcelona, Spain
Diana de la Fuente, Department of Rheumatology, Hospital de Viladecans, 08840-Viladecans, Barcelona, Spain
Lina Badimon, Teresa Padró, Cardiovascular Research Center, CSIC-ICCC, Biomedical Research Institute Sant-Pau, 08025-Barcelona, Spain
Emili Corbella, Xavier Pintó, Lipid and Vascular Risk Unit, Department of Internal Medicine, Hospital Universitari de Bellvitge-IDIBELL, L'Hospitalet de Llobregat, Barcelona University, 08907 Fipec, CIBERobn ISCIII, Spain
Author contributions: García-Gómez C conception, design and draft of the manuscript, and initial outline of the illustrations; Bianchi M development of the illustrations and bibliographic research; de la Fuente D bibliographic research and reference order; Badimon L, Padró T and Pintó X correction and critical review with contributions to improve the scientific quality of the manuscript and provide novel categories; Corbella E acquisition of research articles and data.
Correspondence to: Carmen García-Gómez, MD, PhD, Department of Rheumatology, Consorci Sanitari de Terrassa (CST), Unitat Investigació Biomèdica CST-UAB (Universitat Autònoma de Barcelona), Ctra, Torrebonica S/N, 08227-Terrassa, Barcelona, Spain. ggcarme@gmail.com
Telephone: +34-93-7839488 Fax: +34-93-70003637
Received: December 27, 2013
Revised: February 26, 2014
Accepted: April 17, 2014
Published online: July 18, 2014

Life expectancy in patients with rheumatoid arthritis (RA) is reduced compared to the general population owing to an increase in cardiovascular diseases (CVD) not fully explained by traditional cardiovascular risk factors. In recent years, interest has been focused on the alterations in lipid metabolism in relation to chronic inflammation as one of the possible mechanisms involved in the pathogenesis of atherosclerosis of RA patients. Research regarding this issue has revealed quantitative alterations in lipoproteins during the acute-phase reaction, and has also demonstrated structural alterations in these lipoproteins which affect their functional abilities. Although many alterations in lipid metabolism have been described in this regard, these structural changes associated with inflammation are particularly important in high-density lipoproteins as they affect their cardioprotective functions. In this respect, excessive oxidation in low-density lipoprotein (LDL) and increased lipoprotein(a) with a predominance of smaller apolipoprotein(a) isoforms has also been reported. This article will discuss proinflammatory high-density lipoproteins (piHDL), oxidized LDL and lipoprotein(a). Elevated concentrations of these lipoproteins with marked pro-atherogenic properties have been observed in RA patients, which could help to explain the increased cardiovascular risk of these patients.
Core tip: Inflammation plays a major role in the process of accelerated atheromatosis in rheumatoid arthritis patients by modifying the structural and functional properties of lipoproteins.
---
Citation: García-Gómez C, Bianchi M, de la Fuente D, Badimon L, Padró T, Corbella E, Pintó X. Inflammation, lipid metabolism and cardiovascular risk in rheumatoid arthritis: A qualitative relationship? World J Orthop 2014; 5(3): 304-311
---
INTRODUCTION
Rheumatoid arthritis (RA) is a systemic disease of unknown etiology, which affects all ethnic groups at a rate of approximately 0.5% to 1% of the adult population, being more prevalent in North America than in Asian countries[1,2]. RA is characterized primarily by chronic inflammation of the joints, although it is increasingly recognized that comorbid conditions, especially cardiovascular disease (CVD), play a pivotal role in RA outcomes[3]. These patients have reduced life expectancy[4] owing to an increased mortality rate attributable mainly to CVD, primarily coronary heart disease[5], which results from a process of accelerated atherosclerosis[6], irrespective of the traditional cardiovascular risk factors[7], and is frequently silent and subclinical[8]. The excess risk observed in RA and other autoimmune diseases appears to be driven by a complex interaction between traditional and non-traditional cardiovascular risk factors, where inflammation plays an important role through direct or indirect mechanisms[9,10] such as damaging effects on the vasculature. Possible mechanisms involved include lipid metabolism disorders related to the inflammatory process itself[11].
LIPID ABNORMALITIES IN RA
Lipid abnormalities have been shown to contribute to accelerated atherosclerosis, leading to an increased risk for CVD[12]. For decades, increased low-density lipoprotein (LDL) levels have been recognized as strong predictors of CVD, and it is also known that high-density lipoproteins (HDL) usually protect from atherosclerosis. Data on dyslipidemia in RA are conflicting and it appears to be present in RA patients with both early and advanced disease. Although the exact mechanisms are unknown, changes in lipid profiles and acute-phase reactants are associated with early atherosclerosis in RA[13]. In this respect, it has been reported that active and untreated RA showed a proatherogenic lipid profile, with a decrease in high-density lipoprotein cholesterol (HDL-C) being a more convincing finding. This appears to be secondary to chronic inflammation rather than to primary metabolic alterations in RA[14], since lipid abnormalities can be improved by effectively treating RA without using a lipid-lowering agent[15]. Further, higher HDL values were reported by our group in RA patients treated with low doses of glucocorticoids than in those not treated with these drugs, with no increase in LDL cholesterol (LDL-C) or triglycerides[16], resulting in apparently beneficial effects on the cardiovascular system.
Apart from plasma lipid values, the size and density of these particles are also clinically important. Smaller HDL particles probably perform reverse cholesterol transport more successfully and therefore confer greater cardio-protection[17], whereas small dense LDL particles more readily infiltrate the endothelium and thus become more susceptible to oxidative changes[18]. In RA, higher levels of small dense LDL particles and lower levels of small HDL particles compared with controls have been reported[19]. Indeed, this increased level of small dense LDL seems to be common in drug-naïve patients with early RA[20].
Nevertheless, all this would probably still be insufficient to explain the increased cardiovascular risk in RA compared to the general population. In the context of inflammation, structural alterations of these particles, which undoubtedly affect their function, have also been described[11]. Similarly, other less established CVD risk factors such as elevated lipoprotein (a) [Lp(a)] may be implicated. In this respect, a high prevalence of hyperlipoproteinemia has been observed in RA patients[21,22]. All these aspects will be developed below.
HIGH-DENSITY LIPOPROTEIN
Heterogeneity and function of HDL
During the 1970s, numerous studies showed an inverse correlation between plasma HDL-C concentrations and cardiovascular risk. Decades later, HDL-C was recognized as an independent risk factor for coronary heart disease and incorporated into clinical practice. This lipoprotein is highly heterogeneous[23], with subfractions which can be identified by their density, size, charge and protein composition. During maturation of HDL in plasma (passage of nascent HDL, HDL2 and HDL3), this particle undergoes a series of modifications or renovations with redistribution of lipids among lipoprotein particles. This remodelling involves mainly the phospholipid transfer protein (PLTP), cholesteryl ester transfer protein (CETP) and hepatic lipase (HL). HDL2 is a larger particle that is rich in cholesterol and apolipoprotein AI (apo AI). HDL3 are small particles, lipid-poor and contain apo AI and apo AII. In general, controversy exits regarding the importance of HDL cholesterol subfractions, HDL2 and HDL3, in relation to the anti-atherogenic effect[17,24].
A variety of functions that may contribute to the cardiovascular protective effect have been attributed to HDL particles[25]. One of the most widely accepted mechanisms is that HDL facilitates the process known as reverse cholesterol transport[26], by which the non-esterified cholesterol from peripheral tissues is transferred to HDL and transported to the liver to be excreted in bile and feces. There are two main routes for liver uptake of transported HDL cholesterol: one is selective uptake via receptor type BI (SR-BI), very important in rodents that have no natural CETP pathway, and the second pathway, important in humans, which involves the transfer of cholesterol esters by CETP enzyme to Apo B-containing lipoproteins, which are taken up by the liver. In addition, specific qualitative aspects have been attributed to HDL particles such as the anti-inflammatory, antithrombotic and promoting antioxidant properties of nitric oxide, which render a molecule with pleiotropic functions. Regarding their antioxidant properties, HDL are involved in the inhibition of LDL oxidation and endothelial inflammation[27], effects due in part to paraoxonase 1 (PON1). PON1 is closely linked to HDL particles and confers on them antioxidant properties, which represent the main mechanism of inhibiting the oxidation of LDL and HDL itself[28] (processes directly involved in the early stages of atherosclerosis), and also anti-inflammatory properties, through activating acetylhydrolase, the enzyme that hydrolyzes platelet-activating factor (PAF-AH), with a recognized proinflammatory effect.
Proinflammatory HDL
The role of HDL is not always predictable based on their quantitative values[29]. In healthy individuals, in the absence of oxidative stress and systemic inflammation, HDL is anti-inflammatory, i.e., with cardioprotective properties. However, in patients with chronic diseases, which are characterized by oxidative stress and systemic inflammation, HDL may have proinflammatory properties (piHDL) and therefore lose their cardioprotective function[30]. During the acute-phase reaction, protein and enzymatic changes occur in HDL particles. Serum amyloid protein A, apolipoprotein J and pancreatic phospholipase A2 are present in serum at high concentrations and are incorporated into HDL, displacing the usual components thereof such as apo AI, CETP and LCAT (Figure 1). Furthermore, other variations in the enzymatic content of HDL have also been observed; these include a reduction in PON1 and elevated PAF-AH levels as a result of a decreased enzyme acetylhydrolase activity. Together, all these changes that occur during the inflammatory process will confer pro-atherogenic properties on HDL particles[31].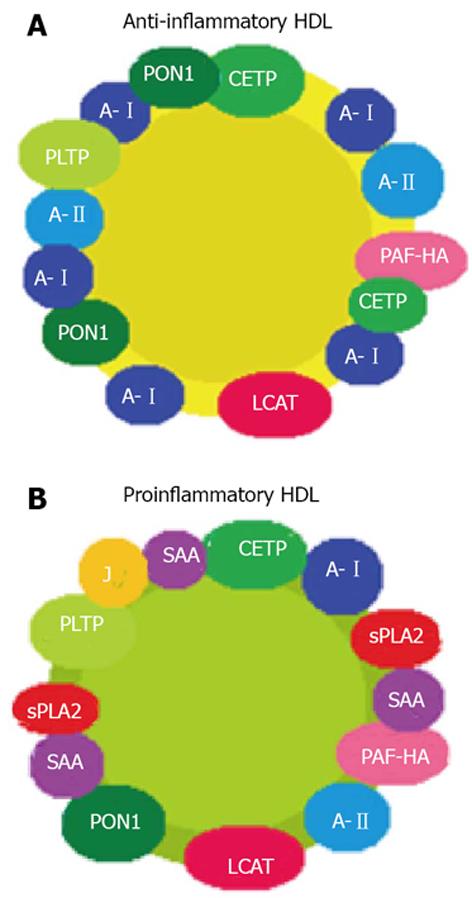 Figure 1 Structural change from normal protective anti-inflammatory high-density lipoproteins (A) to proinflammatory high-density lipoproteins (B) in the context of inflammation.
A-I: Apolipoprotein AI; A-II: Apolipoprotein AII; J: Apolipoprotein J; PON1: Paraoxonase 1; PLTP: Phospholipid transfer protein; CETP: Cholesteryl ester transfer protein; PAF-HA: Hydrolyzes platelet-activating factor; LCAT: Lecitin cholesterol acil transferasa; sPLA2: Pancreatic phospholipase A2; SAA: Serum amyloid protein A.
In accordance with this, it was observed that quantitative measurements of HDL were not predictive of subclinical or clinical atherosclerosis in any studies on patients with rheumatic diseases[13]. The importance of HDL to atherosclerosis in RA becomes apparent when qualitative rather than quantitative properties of HDL are measured. Autoimmune rheumatic diseases, being states of chronic inflammation, might be associated with piHDL and contribute as an additional risk factor to the development of atherosclerosis[32]. A recent publication showed lower activity and mass of CETP in RA patients on glucocorticoid therapy compared with those not taking glucocorticoids and controls[33], which could imply a functional impairment of HDL given that this enzyme plays a pivotal role in reverse cholesterol transport. Also, PiHDL have been reported to be present in approximately 45% of systemic lupus erythematosus (SLE) patients and 20% of RA patients compared to 4% of healthy controls, with statistically-significant differences[34]. Thus, it would be easy to deduce that controlling disease activity reduces inflammation and that normalization of the lipid profile is achieved. However, in the same study, interestingly, no correlation was found between SLE and disease activity (assessed by SLEDAI), nor was a fluctuation in piHDL levels observed over time, even if disease activity changed, thereby suggesting that in these patients there is a sustained low-grade level of inflammation that is adequate for altering HDL particles, or that genetic effects play a major role in determining whether an individual has protective or proinflammatory HDL.
Published articles regarding the effect of anti-rheumatic therapies or statins on HDL functionality are scant. It has been reported that anti-tumor necrosis factor (anti-TNF) agents and rituximab could have a beneficial effect on HDL antiatherogenic capacity[35]. Infliximab is able to improve HDL antioxidative capacity, even 6 mo after initiation of therapy[36]. Also, changes in the composition of HDL, rendering the molecule anti-atherogenic, have been described with adalimumab and etanercept[37], as well as in patients with good response to treatment with rituximab[38]. However, no difference in HDL antioxidative capacity was found after six weeks of tocilizumab and, to our knowledge, no studies have been published on the effect of abatacept on HDL function. Furthermore, some statins may improve anti-inflammatory and anti-oxidative actions of HDL in the general population[39], although only atorvastatin has been studied in RA and has proved to significantly reduce the anti-inflammatory capability of HDL[40]. However, it is unclear whether these changes would result in a lower incidence of cardiovascular events in these patients.
LOW-DENSITY LIPOPROTEIN
For decades, raised LDL levels have been recognized as strong predictors of CVD, and guidelines developed to date have a reduction in LDL as the primary focus for lipid-lowering therapy[12]. LDL are sub-classified according to size and density, and the smallest and densest are those associated with greater CVD risk[41]. The main function of LDL is to transport cholesterol from the liver to tissues, essential as a basic structural element of the skeleton of cell membranes, precursor of some vitamins and hormones and as energy input. Nevertheless, an excess accumulation of cholesterol in tissues causes atherosclerosis. When the endothelial cells of the arterial wall are altered, increased space permits the entry of LDL, especially those small and dense, which are modified by the effects of oxidation and converted into oxidized LDL (Ox-LDL) (Figure 2).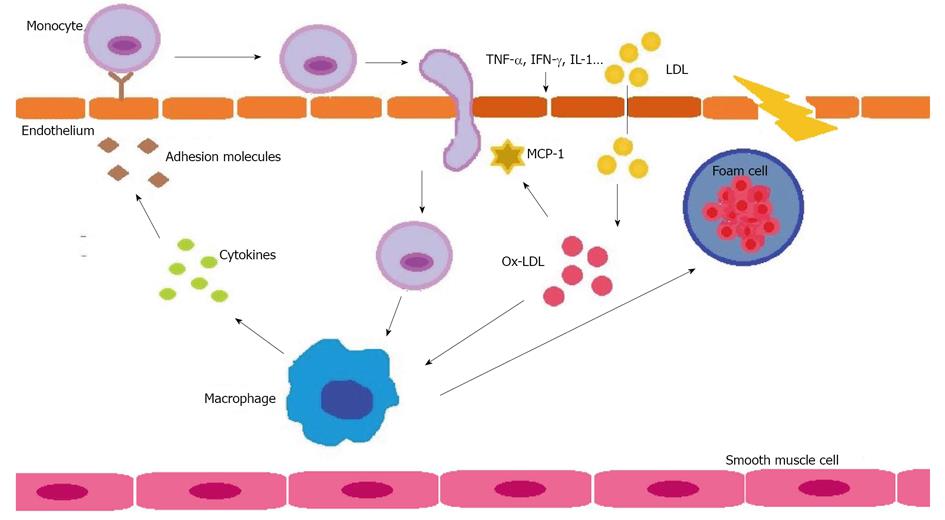 Figure 2 Oxidation of low-density lipoprotein in the context of inflammation to produce atherosclerosis (see text).
Ox-LDL: Oxidation of low-density lipoprotein; MCP-1: Monocyte chemotactic protein-1; TNF-α: Tumor necrosis factor α; IFN-γ: Interferon γ; IL-1: Interleukin-1.
Oxidized LDL
Oxidized LDL play a central role in the pathogenesis of atherosclerosis. They have the ability to activate endothelial cells as an initial step in the process of atherosclerotic disease to finally be engulfed by macrophages to form foam cells that are the nidus of plaque[42,43]. Increased oxidized lipids have been described during infection and inflammation[44,45]. Several mechanisms have been associated with increased LDL oxidation during the acute-phase response. PON1, an HDL-associated enzyme, protects LDL from oxidative stress by destroying biologically-active phospholipids, and a decreased PON1 activity during inflammation has been reported[40,46]. A further mechanism suggested is a possible rise in ceruloplasmin during inflammation, which has been shown to increase LDL oxidation[47]. Also, transferrin, a metal-binding protein associated with HDL, decreases during the acute-phase response, and less transferrin in HDL reduces their ability to protect against LDL oxidation in vitro[48].
Ox-LDL has been detected in the synovium and synovial fluids of RA patients[49,50]. Also, it has been reported that active RA patients had significantly increased serum Ox-LDL levels than inactive RA or age-matched controls[51]. Nevertheless, few studies have been conducted on the subject. Furthermore, although a few of those studies had conflicting results questioning the pathogenic role of Ox-LDL in increasing CVD in these patients[52], most confirmed that Ox-LDL are raised in RA[53]. Indeed, the relationship of Ox-LDL with the presence or not of subclinical atherosclerosis has been evaluated and a positive association of Ox-LDL levels with intima-media thickness has been demonstrated[54,55]. Less is known of the effect of treatment on Ox-LDL levels. To our knowledge, the sole study published reported that both anti-TNF and rituximab had increased Ox-LDL levels temporarily at three months[56], however the impact of these effects on future CVD events requires further studies.
LIPOPROTEIN (a) AND APOLIPOPROTEIN (a)
Lp(a) was first described by Berg in 1963 as an antigenic variant of LDL[57]. This lipoprotein is structurally similar to the LDL molecule which, in addition to apolipoprotein B100 (apoB100), has an additional protein, apolipoprotein (a) [apo(a)][58]. This apolipoprotein is a glycoprotein of the plasminogen family, which binds to apo B100 by a single disulfide bond. Apo(a) gives Lp(a) more atherogenic properties which mostly depend on its size (Figure 3). The size heterogeneity of apo(a) is related to the variable number of copies of one of the protein domains, the Kringle IV type 2[59]. This variable number of copies confers marked heterogeneity on the molecular mass of apo(a) isoforms, which may vary from 200 to 800 kDa. The size of apo(a) isoforms has an inverse relationship with density and the plasma concentration of Lp(a)[60]. As the size of apo(a) increases, secretion by liver cells is more difficult and this leads to a lower Lp(a) concentration. Thus, individuals with small apo(a) are those with the highest Lp(a) concentrations and increased cardiovascular risk. Hence, Lp(a) may have different sizes mainly due to the structural polymorphism of apo(a), which has a strong genetic component[61]. Plasma levels of Lp(a) remain fairly stable throughout life, given its strong genetic component, and are not influenced by diet or treatment with standard lipid-lowering drugs, except niacin[62]. Presumably for the same reason, the differences observed in the population depend on race, with the lowest being in Caucasians, modest in Hispanics, Chinese and Japanese, and the highest in Blacks[63]. The particles of Lp(a) with smaller isoforms are considered more pathogenic because they seem to have increased ability to bind to oxidized phospholipids, are more likely to be located in the vascular wall due to their ability to bind to lysine and interact with fibrin, and appear to have a thrombogenic effect due to an increase in the inhibition of plasmin activity.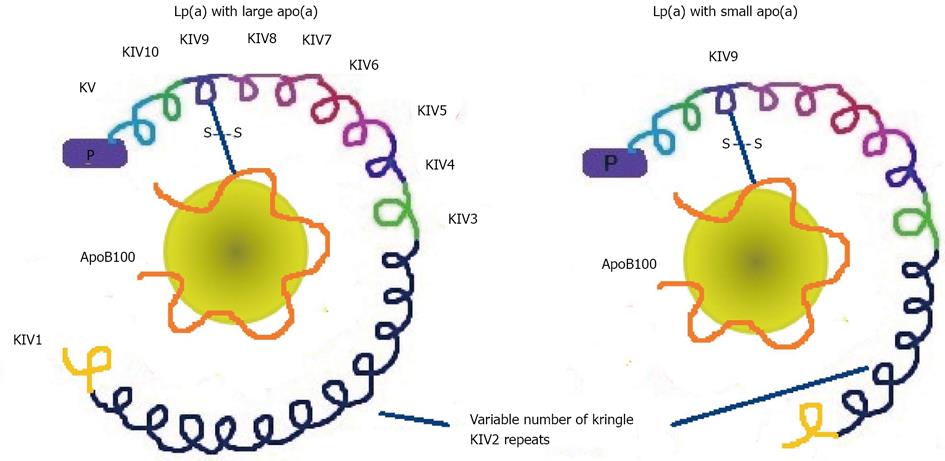 Figure 3 Outline of the different lipoprotein (a) sizes depending on apolipoprotein (a) size, which in turn depends on the number of copies of one of the domains of the protein, the Kringle IV type 2.
Apo(a) is formed by 10 different types of plasminogen Kringle IV-like repeats and also contains other regions that are homologous to plaminogen, the Kringle V and protease (P) regions. Fynally, apo(a) is linked in its kringle IV type 9 domain to the apolipoprotein B100 (apoB100) by a single disulfide bond (S-S). Lp(a): lipoprotein (a); Apo(a): Apolipoprotein (a); KV2: Kringle IV type 2.
In recent years, the relationship between Lp(a) and cardiovascular risk has emerged reinforced as a key factor in the development of atherosclerosis owing to new genetic techniques[64]. Numerous studies confirmed this positive association between excess Lp(a), defined by a > 300 mg/L concentration, and increased CVD[65]. This may, in part, be due to the structural similarities with plasminogen, competing for its binding site. Thus, Lp(a) may competitively inhibit some physiologic actions of plasminogen in the coagulation and fibrinolytic cascade, and act as a procoagulant[66]. The other hypothesis as to why Lp(a) is believed to have atherogenic properties is based on the structural similarity of Lp(a) and LDL[67]. Lp(a), in contrast to LDL, binds very poorly to the LDL receptor, leading to an accumulation of tissue cholesterol. Lp(a) would be captured by macrophages through the scavenger pathway and transformed into foam cells, precursors of the formation of atheromatous plaque.
Although values remain fairly stable in individuals owing to the strong genetic component, increases in Lp(a) in acute stress situations or chronic inflammatory diseases have been described with behavior similar to an acute- phase reactant[22]. In this respect, some authors have reported elevated plasma Lp(a) levels in RA patients[21,22]; furthermore, a correlation between Lp(a) and high carotid intima-media-thickness[68] has also been observed in these patients. The significant increases in Lp(a) in RA may be due exclusively to a direct result of inflammation or perhaps to increased genetic expression. Interestingly, in our previous work[21], we showed that many of the lipid changes described in active and non-treated RA patients were reversible with treatment aimed at reducing inflammation, including glucocorticoids, disease-modifying agents and anti-TNF therapy, except for Lp(a) that remained consistently elevated despite antirheumatic therapy. No relationship with disease activity was found. These findings would reinforce the idea that the hyperlipoproteinemia (a) observed in these patients has a strong genetic involvement. On the other hand, other studies showed that methotrexate or methotrexate combined with a anti-TNF appeared to significantly reduce Lp(a) in RA[69], and also that Lp (a) levels decreased significantly after treatment with tocilizumab in rheumatoid diseases[70]. Therefore, in contrast to the above, these other findings suggest that Lp(a) might be related to systemic inflammation, or that the examined drugs might reduce Lp(a) by other mechanisms. Nevertheless, despite these significant findings, the distribution of the apo(a) isoforms in RA remains unknown, a significant aspect that is related to the atherogenic potential of Lp(a). Furthermore, the role of the Lp(a) and different apo(a) isoforms in the atherosclerotic disease of these patients remains unclear.
CONCLUSION
RA patients are exposed to chronic systemic inflammation, which could explain the accelerated atheromatosis observed in these patients due in part to the structural and functional alterations in lipoprotein in relation to inflammation. Although future studies are required, qualitative aspects of lipoproteins should be considered in the estimation of cardiovascular risk in RA patients, since the quantitative values currently used underestimate the real risk in these patients.
ACKNOWLEDGMENTS
The authors thank Christine O'Hara for help with the English version of the manuscript.
P- Reviewers: Faggiano P, Ma JY, Vasarhelyi B, S- Editor: Song XX L- Editor: A E- Editor: Lu YJ