Copyright
©The Author(s) 2016.
Published by Baishideng Publishing Group Inc. All rights reserved.
Current imaging strategies for the evaluation of uterine cervical cancer
Charis Bourgioti, Konstantinos Chatoupis, Lia Angela Moulopoulos, Department of Radiology, School of Medicine, National and Kapodistrian University of Athens, Aretaieion Hospital, 11528 Athens, Greece
Author contributions: All authors equally contributed to the conception and design of the study and acquisition of data; all authors participated in drafting the article; all authors approved the final draft of the article.
Conflict-of-interest statement: No potential conflicts of interest. No financial support.
Open-Access: This article is an open-access article which was selected byan in-house editor and fully peer-reviewed by external reviewers. It is distributed in accordance with the Creative Commons Attribution Non Commercial (CC BY-NC 4.0) license, which permits others to distribute, remix, adapt, build upon this work non-commercially, and license their derivative works on different terms, provided the original work is properly cited and the use is non-commercial. See: http://creativecommons.org/licenses/by-nc/4.0/
Correspondence to: Charis Bourgioti, MD, Department of Radiology, School of Medicine, National and Kapodistrian University of Athens, Aretaieion Hospital, 76 Vas. Sofias Ave., 11528 Athens, Greece. charisbourgioti@yahoo.com
Telephone: +30-210-7286246 Fax: +30-210-7220253
Received: September 27, 2015
Peer-review started: October 5, 2015
First decision: December 28, 2015
Revised: January 15, 2016
Accepted: January 28, 2016
Article in press: January 31, 2016
Published online: April 28, 2016

Uterine cervical cancer still remains an important socioeconomic issue because it largely affects women of reproductive age. Prognosis is highly depended on extent of the disease at diagnosis and, therefore, accurate staging is crucial for optimal management. Cervical cancer is clinically staged, according to International Federation of Gynecology and Obstetrics guidelines, but, currently, there is increased use of cross sectional imaging modalities [computed tomography (CT), magnetic resonance imaging (MRI), positron emission tomography-CT (PET-CT)] for the study of important prognostic factors like tumor size, parametrial invasion, endocervical extension, pelvic side wall or adjacent/distal organs involvement and lymph node status. Imaging indications also include cervical cancer follow-up, evaluation of tumor response to treatment and selection of suitable candidates for less radical surgeries like radical trachelectomy for fertility preservation. The preferred imaging method for local cervical cancer evaluation is MRI; CT is equally effective for evaluation of extrauterine spread of the disease. PET-CT shows high diagnostic performance for the detection of tumor relapse and metastatic lymph nodes. The aim of this review is to familiarize radiologists with the MRI appearance of cervical carcinoma and to discuss the indications of cross sectional imaging during the course of the disease in patients with cervical carcinoma.
Core tip: Although cervical cancer staging is based on clinical assessment, there is a wide use of cross sectional imaging [magnetic resonance imaging, computed tomography (CT), positron emission tomography-CT] in the pre- and post-treatment work up of these patients. Imaging may provide important information for the discrimination between operable and advanced cervical cancer, the evaluation of tumor response to therapy and the detection of recurrent disease. The aim of this study is to summarize current literature data regarding the use of imaging in cervical carcinoma evaluation and to familiarize radiologists with the available imaging techniques and the corresponding imaging features of cervical tumors.
---
Citation: Bourgioti C, Chatoupis K, Moulopoulos LA. Current imaging strategies for the evaluation of uterine cervical cancer. World J Radiol 2016; 8(4): 342-354
---
INTRODUCTION
Worldwide, uterine cervical carcinoma is the second most common gynecologic malignancy. The incidence of invasive cervical cancer is higher in low-income countries due to lack of screening programs. In developed countries, the incidence of invasive cervical cancer dropped after implementation of the Papanicolaou smear test[1]; indeed, in the United States, cervix uteri cancer represents only 0.8% of all new cancer cases. It affects mostly women of reproductive age; 14.0% of patients diagnosed with cervical cancer are between 20 and 34 and 25.9% between 35 and 44 years of age[2].
Invasive cervical cancer remains, however, a fatal disease with no significant improvement of survival rates for patients with advanced disease. It is estimated that 275000 die annually from cervical cancer. In the United States, 4100 women with invasive cervical cancer were expected to die from the disease in 2015, according to Surveillance, Epidemiology and End Results data[2].
Squamous cell carcinoma (SCC) accounts for 85% of all cervical cancers. Non squamous histologies (adenocarcinoma, adenosquamous, undifferentiated) are less common (15%) and are usually associated with poorer prognosis. The main risk factor for developing cervical cancer is infection by the human papilloma virus (HPV), especially subtypes 16 (mostly associated with SCC) and 18 (mostly associated with adenocarcinoma). Other predisposing factors include low socioeconomic background, early sexual life, multiple partners, immunosuppression and smoking[3].
Prognosis of invasive cervical carcinoma is strongly associated with the stage of the disease at the time of diagnosis. Approximately 46.4% of patients with invasive cervical cancer are diagnosed at an early (local) stage; 5-year survival for these patients remains high (up to 91.5%). When there is regional lymph node or distant metastases, the 5-year survival drops to 57.4% and 16.5%, respectively[2].
RESEARCH
A systematic literature search was conducted using MEDLINE (PubMed) Library; applied key words included "cervical cancer", "FIGO guidelines", "uterine cervical cancer staging", "MRI", "CT", "PET-CT". Search period extended from 1988-2015. Original research articles (prospective or retrospective), observational studies and review articles with or without meta-analysis data were reviewed. A total of 62 studies were selected with consensus by all authors. Eligibility criteria included adequate study population (> 20 patients), use of clear diagnostic evidence and reliable statistical data.
THE ROLE OF IMAGING IN THE EARLY DETECTION OF CERVICAL CANCER
Early cervical cancer diagnosis remains a clinical issue and it is based on results derived from the Pap smear test, colposcopy and diagnostic biopsies. Despite significant improvements in the field of imaging technology, imaging alone is not adequate for the diagnosis of cervical cancer since it cannot discriminate between invasive cancer and precursor (Cervical Intraepithelial Neoplasm) lesions or other non-neoplastic pathological processes, like cervicitis; therefore, biopsy of suspicious lesions on colposcopy, is currently the gold standard method for cervical cancer diagnosis.
Most of the published literature regarding cervical cancer imaging refers to the evaluation of patients with macroscopically visible tumors [International Federation of Gynecology and Obstetrics (FIGO) ≥ IB]. Inherently, microscopic cervical cancer (stage ≤ IA) cannot be reliably detected by any of the available imaging modalities; therefore the use of imaging is not suggested as a routine neither for the diagnosis nor for the staging of these patients. However, due to technical advances, like the use of endovaginal coils and the wide implementation of magnetic resonance imaging (MRI) functional techniques [dynamic contrast enhanced (DCE) or diffusion weighted imaging (DWI) sequences] to conventional MRI protocols, even small (≤ 1 cm) cervical tumors may be detected[4]; small tumors may be seen on MRI, as foci of enhancement on early arterial DCE images or as foci of restricted diffusion within the cervix[5]. Positron emission tomography/computed tomography (PET/CT) may detect small FDG-avid tumors 7 mm or less[6]; PET/MRI, a new hybrid imaging method, may have the potential to improve imaging performance rate for detection of small cervical cancers, but more data is needed to establish clinical implementation.
FIGO CLASSIFICATION SYSTEM: DESCRIPTION, TREATMENT STRATEGIES AND LIMITATIONS
Cervical cancer is the only gynecological cancer still clinically staged. The FIGO staging system provides health care professionals with a common language and can be easily applied to countries with a low socioeconomic background and high prevalence of cervical cancer. Currently, FIGO clinical classification is the most commonly used staging system for uterine cervical cancer[7] (Table 1).
Stage
Sub-stage
Sub-stage
(description)
(description)
(description)
In situ
I
IA
IA1
Tumor confined to the cervix (may extend to the uterine corpus)
Miscroscopic tumor: Depth of invasion ≤ 5 mm, horizontal spread ≤ 7 mm
Depth of invasion ≤ 3 mm, horizontal spread ≤ 7 mm
IA2
Depth of invasion > 3 mm and ≤ 5 mm, horizontal spread ≤ 7 mm
IB
IB1
Macroscopically visible tumor
Lesion of maximal diameter ≤ 4 cm
IB2
Lesion of maximal diameter > 4 cm
II
IIA
IIA1
Cervical carcinoma extends to the upper vagina or parametrium
Cervical cancer extents to the upper 2/3 of the vagina
Lesion of maximal diameter ≤ 4 cm
IIA2
Lesion of maximal diameter > 4 cm
IIB
Tumor invades parametrial space (uni- and/or bilateral)
III
IIIA
Cervical cancer invades pelvic sidewall and/or lower 1/3 vagina and/or causes hydronephrosis
Tumor invades lower 1/3 of vagina
IIIB
Tumor invades pelvic wall and/or ureter causing hydronephrosis
IV
IVA
Cervical cancer invades adjacent pelvic organs and/or extending distally (beyond the pelvis)
Bladder and/or rectal mucosa invasion
IVB
Distant metastasis, peritoneal or paraaortic node involvement
Early-stage cervical carcinoma (FIGO < IIB) is effectively treated with either surgery or external radiation plus brachytherapy, but for most gynecologic-oncology centers, radical hysterectomy (Wertheim type) combined with pelvic lymphadenectomy is the therapeutic option of choice; the application of neoadjuvant chemotherapy followed by debulking surgery is another acceptable treatment option for bulky, early-stage tumours (IB2, IIA2)[8].
More conservative surgeries, like radical trachelectomy (through a vaginal or abdominal approach) may be applied to young patients with early cervical cancer who wish to preserve their fertility potential. However, strict eligibility criteria, including tumor size < 4 cm, internal os integrity and absence of extrauterine spread, are required to ensure low recurrence rates in this subset of patients[9,10].
Chemoradiation is the optimal treatment for advanced cervical cancer (≥ IIB); in these patients, surgery provides no additional survival benefit, while it exposes the patients to the surgical risk and delays radiation therapy. In a significant number of patients treated with surgery, more advanced disease requiring adjuvant chemoradiation is found on final surgicopathological examination; interestingly, it has been shown that surgical treatment followed by chemoradiation, increases significantly the morbidity of these patients. Therefore, the ability to distinguish early (operable) from advanced (non-operable) cervical cancer is crucial[8,11].
The FIGO staging system has several limitations which may lead to under- or overestimation of the extent of disease at diagnosis, adversely affecting patient optimal care. Literature data report erroneous clinical staging in 17%-32% of patients with early disease (< FIGO IIB) and in up to 65% of patients with advanced disease (FIGO II-IV)[12-14]; difficulties of clinical staging include assessment of tumor growth to the endocervix and parametria.
The internal cervical os (ICO) is not accessible to clinical examination and more invasive techniques, like hysteroscopy, are required. ICO involvement is an important adverse prognostic factor because it is associated with a high incidence of nodal metastases[15]. Lack of free margins between ICO and tumor, precludes fertility-sparing surgery[16].
Another important limitation of the FIGO staging system is that nodal involvement, which is associated with poor survival in patients with cervical carcinoma, cannot be addressed. Furthermore, clinical examination cannot detect distant metastases in patients with advanced disease.
IMAGING MODALITIES FOR CERVICAL CANCER STAGING
FIGO guidelines for the staging of cervical cancer include a significant number of time-consuming "old fashioned" imaging methods (barium enema, intravenous urography, lymphangiography, chest and skeletal radiographs) and invasive procedures (cystoscopy, rectosigmoidoscopy); today, in clinical practice, these are rarely used. Cross-sectional imaging (CT, MRI, PET-CT) provides more accurate evaluation of local and extrauterine cervical cancer spread and, at the same time, limits the cost of staging. Although the last revision of FIGO staging criteria recommends inclusion of these imaging techniques when possible, their use remains optional[7].
A significant number of clinicians prefer CT for the evaluation of oncologic patients, due to its wide availability[17]. Reported CT accuracy for overall cervical cancer staging, ranges from 32%-80%. CT though, cannot discriminate between normal cervical stroma and cancerous tissue; it performs poorly, therefore, in assessing local spread with lower than 58% PPV for detection of early parametrial invasion[13,18]. Recent studies with multislice CT, exhibit somewhat better results[19]. Relative to extrauterine tumor spread, most authors consider CT the imaging modality of choice, even though the ACRIN trial reported low CT sensitivity values (42%) for depicting advanced cervical disease[20,21]. Currently, staging with CT is limited to patients with clinical evidence of advanced disease or contraindications to MRI.
Transvaginal ultrasound (TVUS) is not part of the routine cervical cancer staging; the location of the cervix deep within the pelvis and the relatively small field of view may be responsible for poor TVUS performance. However, several dedicated imaging centres, report high TVUS accuracy for cervical cancer staging and assessment of parametrial involvement, comparable to those of MRI[22,23].
Hybrid imaging (PET-CT or PET-MRI) is superior to conventional cross- sectional techniques for identifying metastatic lymph nodes, with excellent diagnostic accuracy, ranging from 85%-99%[24,25]. However, its role in the initial evaluation of cervical cancer has not been established. Accuracy of PET-CT for local staging of cervical cancer is moderate (53.3%). PET-MRI may be promising for the assessment of primary tumor, with sensitivity and specificity values over 90%, but further studies with larger patient populations are needed to support clinical implementation[25].
MRI is the preferred imaging modality for evaluating local extent of cervical cancer due to its high contrast resolution which enables differentiation between cancerous and normal tissues[5,26,27]. In the following paragraphs, we will focus on the role of MRI in the pre-treatment staging of cervical cancer.
MRI: INDICATIONS, FINDINGS AND LIMITATIONS
Currently, in cervical cancer patients, MRΙ is primarily used for the evaluation of tumor morphology and local extent; it accurately evaluates tumor features with a significant prognostic value, like size, endocervical growth, parametrial infiltration and pelvic side wall or adjacent organ (bladder, rectum) involvement. Reported MRI accuracy values for determining tumor stage (operable vs advanced disease) range from 75%-96%[5,21,26,28-30]. Clinical staging of early cervical cancer and assessment of important prognostic factors significantly improves when MRI information is added to the clinical data; MRI helps select surgical candidates among patients with cervical cancer, because it has a high negative predictive value (94%-100%) for parametrial involvement. Also, when findings of clinical examination are unclear or when it cannot be performed due to patient obesity or discomfort, MRI may be used for treatment planning.
GUIDELINES FOR CERVICAL CANCER FOLLOW-UP (CT, MRI, PET-CT)
Cervical cancer follow-up includes physical examination, vaginal inspection/colposcopy and Pap smear, every 3 mo for a total of 2 years and then less often[41]. When there are suspicious findings, vaginal biopsy is performed.
There is no consensus regarding the use of imaging for monitoring patients treated for cervical cancer. The use of cross-sectional modalities (CT, MRI, PET-CT) for routine follow-up should be rational, because of high cost and radiation exposure.
Currently, in surgically treated patients with no clinical evidence of tumor, no imaging is recommended. In some centers and mostly for patients with adverse surgico-pathological features predisposing to relapse, like large tumor volume, small cell histology, lymph-vascular space invasion, FIGO stage ≥ IIB and positive surgical margins, follow-up MRI is recommended every 6 mo for a total of 2 years; the same follow-up is recommended for patients who had fertility preserving surgery. In patients with clinical evidence of tumor recurrence, PET-CT is the preferred imaging modality because it can more accurately evaluate lymph node status and extrapelvic spread of the disease[42].
In patients with advanced cervical cancer who received conservative therapy (chemotherapy, external radiation and brachytherapy), determination of complete vs partial response of the tumor is important due to differences in management; patients with residual cancer after completion of chemoradiation, may be candidates for pelvic exenteration (Figure 10); patients with complete regression of tumor do not need further imaging, if suspicious clinical findings are not present[39,42].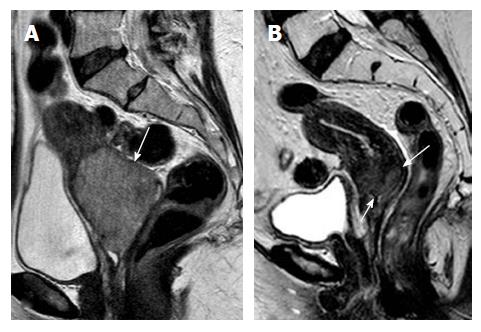 Figure 10 Advanced cervical cancer.
Sagittal T2-weighted images, before (A) and 2 mo after (B) radiation treatment. There is marked decrease in tumor size (> 50%), indicative of partial response to therapy. Residual tumor is seen as a high signal intensity area (arrows in B).
In patients with advanced disease, there are several findings on MRI studies following initiation of treatment, which may help early prediction of the therapeutic outcome. MRI features good response to treatment include: Significant decrease in tumor size 2 mo after initiation of the therapy[43], increased tumor ADC values on DWI 2 wk after indicative of the start of radiotherapy[44] and changes in quantitative pharmacokinetic parameters on DCE-MRI during the course of early (after 20-25 Gy) and mid-term (after 45-50 Gy) radiotherapy treatment[45]. Some authors have proposed DWI with ADC measurements, as a cancer biomarker for tumor response to therapy[46]; however, since there is variability amongst imaging protocols and heterogeneity in ADC analysis, its use is still restricted. Complete reconstitution of cervical architecture and normal low T2 signal of cervical stroma, are the most reliable MRI features for successful response to radiation therapy, with NPV up to 97%[31].
Tumor recurrence may be local (e.g., cervix, vaginal vault after radical hysterectomy), regional (e.g., pelvic side wall, pelvic lymph nodes) or distal (e.g., lung, liver, paraaortic, inguinal and supraclavicular lymph nodes). CT detects enlarged lymph nodes or distant metastases, but its role is limited in the evaluation of local recurrence. MRI provides excellent anatomic detail of the uterus, vagina and pelvic floor muscles. Local relapse on MRI is shown as a lobulated, moderate to high signal intensity soft-tissue mass on T2-W images, with heterogeneous contrast enhancement. Distinction between tumor recurrence and post-treatment fibrosis may be difficult within the first 6 mo of treatment; lack of high signal intensity on high b value DWI, is more suggestive of treated disease. PET-CT is more reliable than CT or MRI for evaluating distant or nodal spread. Therefore, a combination of MRI and PET-CT is preferred for the diagnosis of cervical cancer relapse[42].
MRI PROTOCOLS
In dedicated centers, special preparation before pelvic MRI is recommended[47]; patients are instructed to fast for at least 6-8 h prior to the MRI to limit bowel peristalsis and/or they may receive antiperistaltic agents (e.g., 20 mg hyoscine butyl bromide or 1 mg glucagon via intramuscular or intravenous injection) just before the exam. Endovaginal sterilized ultrasound gel may be applied for better evaluation of the vaginal wall, in cases of exophytic cervical tumors. The urinary bladder should be moderately distended to avoid distortion of pelvic anatomy.
Dedicated external phased array coil should be used for the staging of cervical cancer. Endovaginal coil is more sensitive than the external array coil for detecting small tumors; however, in the presence of a large mass, its utility is limited, because of the inherent small field of view and technical difficulties[48]. The use of high field magnets (3T) may improve image resolution in the pelvis but does not provide significantly higher diagnostic accuracy to the overall staging in patients with cervical carcinoma[49].
MRI should be performed at least ten days after biopsy, to avoid false positive results due to local inflammation.
Conventional MRI study protocols for cervical cancer include T2-W sequences, in all imaging planes (axial, oblique sagittal, oblique coronal); T2-W images provide optimal contrast difference between tumor and normal cervical tissue and, also, enable detection of enlarged lymph nodes. High-resolution images of the lesser pelvis, with small field of view, are performed in axial oblique plane, perpendicular to the long axis of the cervix, for better evaluation of the parametrial tissues. T2-W images with fat suppression may be helpful for the evaluation of parametrial tissues in young patients with prominent periuterine vascular plexus, as well as for detection of fluid collections or bone marrow changes. T1-W images provide information on pelvic anatomy, lymph nodes and bone marrow.
DCE-MRI is not a routine part of MRI protocols for cervical cancer staging; its role is limited to the detection of small tumors, equivocal T2-W findings, or for post-treatment assessment[47]. Some imaging centers have incorporated DCE-MRI to dedicated MRI protocols for staging cervical cancer and have supported its role in identifying endocervical extent, more accurately defining tumor borders and discriminating between cervical and endometrial carcinomas (Figure 11)[50].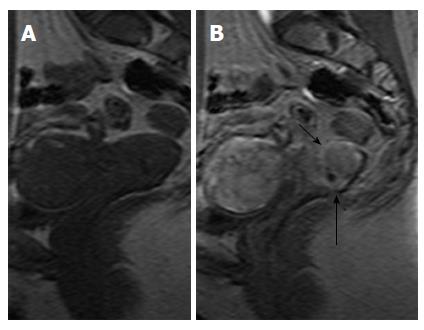 Figure 11 Dynamic contrast enhanced images, cervical cancer.
Sagittal pre- (A) and early arterial (30 s) post contrast (B) images. Cervical tumor borders are clearly delineated on the enhanced image (arrows in B). Note early arterial enhancement of cervical tumor in (B) synchronous with that of myometrium.
DWI has been recently implemented to MRI protocols for cervical cancer staging. Cervical invasive carcinoma exhibits significantly lower ADC values than normal cervix, facilitating tumor detection and definition of extent. It may also be used to discriminate between post-biopsy changes and residual cancer; however, haemorrhage may also exhibit restricted diffusion and may, therefore, be responsible for false positive results[34,51]. DWI is excellent in identifying small, even a few mm, lymph nodes; however, so far it has not been able to discriminate between normal and malignant nodes. DWI may be especially helpful in the evaluation of pregnant patients, in whom intravenous contrast is contraindicated. Combination of DWI and T2-W images is more accurate than T2-W images alone in identifying parametrial extension or recurrent disease[52].
A dedicated MRI protocol for the pre-treatment staging of cervical cancer is presented in Table 2.
Sequence
Plane
Technical characteristics
Utility
T2-W TSE (mandatory)
Axial (renal hilum-pubis)
TR/TE: 3500/90, NSA: 2, SL/G: 4.5/1, Matrix: 340 × 350, FOV: 38
Tumor detection and morphology, evaluation of pelvic tissues, lymph node status
Sagittal
TR/TE: 3500/90, NSA: 3, SL/G: 3.5/1.2, Matrix: 348 × 276, FOV: 25
Axial oblique (perpendicular to cervical axis)
TR/TE: 3900/125, NSA: 6, SL/G: 4/0.4, Matrix: 256 × 176, FOV: 18
T1-W TSE (mandatory)
Axial (renal hilum-pubis)
TR/TE: 400/13, NSA: 1, SL/G: 6/2, Matrix: 300 × 205, FOV: 36
Pelvic anatomy, lymph nodes, bone marrow, haemorrhage
DWI-EPI (mandatory)
Axial
TR/TE: 3000/68,
Tumor detection, lymph nodes, post-treatment evaluation
NSA: 12, SL/G: 6/1
Matrix: 124 × 174
FOV: 35
DCE (optional)
Sagittal; one native, post contrast images every 17 s, total acquisition time about 3 min
TR/TE/FA: 15/4.2/45°, NSA: 2, Matrix: 228 × 75, FOV:17
Small tumor detection, tumor borders, endocervical extent
T2-W TSE FS (optional)
Axial
TR/TE: 1650/70, NSA: 2, SL/G: 4.5/1, Matrix: 288 × 250, FOV: 35
Parametrial plexus, fluid, bone marrow evaluation
SPECIAL SUBSETS OF PATIENTS WITH CERVICAL CANCER
Trachelectomy patients
As previously mentioned, uterus-sparing operation is an alternative option for patients with early cervical cancer who wish to preserve their childbirth potential. Eligibility criteria for vaginal radical trachelectomy (VRT) and abdominal radical trachelectomy (ART) include age (< 40 years), tumor size (≤ 2 cm for VRT vs≤ 4 cm for ART), tumor to ICO distance (> 1 cm for VRT vs > 0.5 cm for ART), absence of extrauterine spread and strong desire to keep fertility potential. With ART, inclusion criteria are more flexible than with VRT, since with the abdominal approach a wide resection of parametrial tissue and upper vagina can be achieved, similar to that of abdominal radical hysterectomy[16,53].
Tumor size, ICO integrity and extrauterine spread should be accurately evaluated before fertility-sparing surgery. Tumor size is considered most significant for successful treatment; tumors > 2 cm are more often associated with recurrence (29% vs 1.6% for smaller tumors) after treatment with radical trachelectomy[54]. There is a substantial number (17%) of scheduled trachelectomies that may be abandoned during surgery because of unexpected findings of more advanced disease, like endocervical involvement or metastatic lymph nodes[55]. Preoperative MRI provides useful information on tumor size, parametrial status and lymph nodes, contributing to the more accurate selection of candidates for trachelectomy. Recently, it has been shown that patients with a ≤ 5 mm distance between tumor and ICO on MRI, fare better with radical hysterectomy than trachelectomy[56].
MRI may also be used for monitoring patients after trachelectomy. Typical MRI features after trachelectomy include: Utero-vaginal anastomosis, neo-vaginal fornix formation, diffuse vaginal wall edema which may persist for over a year, and vaginal wall hematomas/submucosal fluid collections, which gradually resolve on follow-up. Susceptibility artefacts may be present on MR images after trachelectomy, because of the placement of a metallic cerclage suture at the end-to-end anastomosis of the uterine body with the vaginal vault; these artefacts, usually, do not pose a problem for MRI interpretation. The most frequently reported post-trachelectomy complications include utero-vaginal stenosis, infections/abscess and lymphocysts. Hydrosalpinges may develop after ART and should be looked for, since their presence may compromise the reproductive potential of trachelectomy patients. MRI helps the detection of tumor relapse, which most commonly involves the vaginal vault or the lymph nodes (Figure 12)[32,57].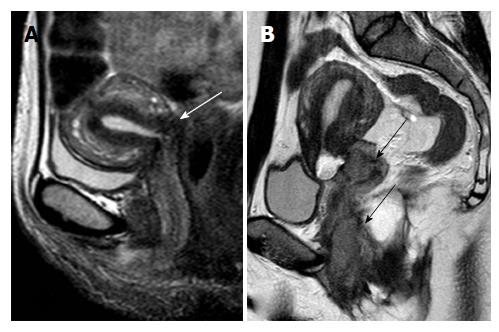 Figure 12 Post-operative sagittal T2-weighted images in two different patients treated with abdominal radical trachelectomy for early cervical cancer.
A: Normal postoperative appearance of the uterovaginal anastomosis (white arrow); B: Tumor relapse at the uterovaginal anastomosis extending to the lower vagina and pelvic floor (black arrows).
Cervical vs endometrial cancer
In a small number of patients with bulky uterine masses, conventional biopsy may not be able to establish a cervical or endometrial origin. In such patients, with uterine tumors of unclear histology, the use of immunohistochemistry (IHC) may provide a diagnosis; however, no single antibody is totally specific for cervical or endometrial cancer and IHC results should be always interpreted in conjunction with imaging findings[58].
Diagnosis of cervical vs endometrial carcinoma is of critical importance due to differences in staging, prognosis and therapeutic approach. Hysterectomy (simple or radical) with pelvic lymphadenectomy when tumor invades deep into the myometrium or cervical stroma, is the optimal treatment for endometrial carcinoma. Radical hysterectomy, combined with pelvic lymphadenectomy is the preferred option for early stage invasive cervical carcinoma. Advanced cervical cancer is treated with primary chemoradiation[7,59].
There is limited data on discriminant MRI features between primary cervical and endometrial carcinomas (Figure 13). Most studies[60,61] reported high accuracy (up to 88%) of tumor epicenter determination with MRI for identification of tumor origin[61]. In another study a significantly higher prevalence of certain MRI features, such as presence of an endometrial mass in patients with endometrial vs cervical cancer, was observed[62].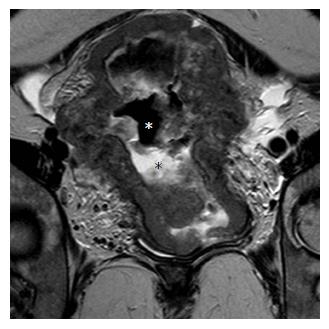 Figure 13 Bulky uterine cancer of indeterminate initial histology.
Oblique coronal T2-weighted image shows a large tumor involving the entire uterine corpus and cervix. Note retained secretions (black asterisk) and gas (white asterisk) in the endometrial cavity. When such extensive involvement is present, it may be difficult to determine the site of tumor origin (cervix or endometrium).
A recently published study, reported seven MRI features with significant discriminant predictive ability for cervical vs endometrial cancer: Tumor epicentre (uterine body or cervix), and the presence or absence of tumor hypervascularity on early arterial DCE-MRI, full depth cervical stromal invasion on T2-W images, mass within the endometrial cavity, distended endometrial cavity with secretions, deep (≥ 50%) myometrial invasion and enhancing rim at the periphery of the tumor. Based on the possible likelihood ratio values assigned to each of the above features, a 7-feature MRI scoring system was designed with the potential to help radiologists predict the histology of a bulky uterine cancer; the developed scoring system proved to be quite accurate in tumor origin prediction with high sensitivity and specificity values up to 96.6% and 100%, respectively[50].
CONCLUSION
Currently, clinical staging of cervical cancer cannot be replaced by cross- sectional imaging for various reasons including lack of availability in low-income countries, variability of imaging protocols or agreement between readers and need for dedicated imaging centres with radiologists, experts in the field. However, imaging studies provide more information than clinical examination for the evaluation of patients with cervical cancer and their results may be used by clinicians to make appropriate therapeutic decisions. MRI is the preferred imaging modality for the initial staging of uterine cervical cancer and its use may increment the clinical prognostic value. MRI is particularly helpful in evaluating patients with cervical cancer who are candidates for trachelectomy or for predicting tumor origin in patients with bulky uterine masses of indeterminate histology. In patients with clinical evidence of tumor relapse, the combination of MRI and PET/CT data may reliably evaluate both local and distant spread of the disease, optimizing the therapeutic management of these patients. Functional imaging techniques, like DWI, appear to be promising cancer biomarkers for predicting therapeutic outcome but further studies and imaging protocol standardization are needed to support clinical implementation.
P- Reviewer: Chu JP, Chow J, Storto G S- Editor: Song XX L- Editor: A E- Editor: Jiao XK