Copyright
©The Author(s) 2015.
Published by Baishideng Publishing Group Inc. All rights reserved.
Vascular endothelial dysfunction and pharmacological treatment
Jin Bo Su, INSERM U955, 94700 Maisons-Alfort, France
Jin Bo Su, Université Paris-Est Créteil Val-de-Marne, 94700 Créteil, France
Author contributions: Su JB wrote the paper.
Conflict-of-interest statement: None declared.
Open-Access: This article is an open-access article which was selected by an in-house editor and fully peer-reviewed by external reviewers. It is distributed in accordance with the Creative Commons Attribution Non Commercial (CC BY-NC 4.0) license, which permits others to distribute, remix, adapt, build upon this work non-commercially, and license their derivative works on different terms, provided the original work is properly cited and the use is non-commercial. See: http://creativecommons.org/licenses/by-nc/4.0/
Correspondence to: Jin Bo Su, PhD, INSERM U955, Equipe 3, ENVA, 7 avenue du Général de Gaulle, 94700 Maisons-Alfort, France. jin-bo.su@inserm.fr
Telephone: +33-1-43967386 Fax: +33-1-43967399
Received: May 5, 2015
Peer-review started: May 8, 2015
First decision: June 3, 2015
Revised: July 23, 2015
Accepted: September 16, 2015
Article in press: September 18, 2015
Published online: November 26, 2015

The endothelium exerts multiple actions involving regulation of vascular permeability and tone, coagulation and fibrinolysis, inflammatory and immunological reactions and cell growth. Alterations of one or more such actions may cause vascular endothelial dysfunction. Different risk factors such as hypercholesterolemia, homocystinemia, hyperglycemia, hypertension, smoking, inflammation, and aging contribute to the development of endothelial dysfunction. Mechanisms underlying endothelial dysfunction are multiple, including impaired endothelium-derived vasodilators, enhanced endothelium-derived vasoconstrictors, over production of reactive oxygen species and reactive nitrogen species, activation of inflammatory and immune reactions, and imbalance of coagulation and fibrinolysis. Endothelial dysfunction occurs in many cardiovascular diseases, which involves different mechanisms, depending on specific risk factors affecting the disease. Among these mechanisms, a reduction in nitric oxide (NO) bioavailability plays a central role in the development of endothelial dysfunction because NO exerts diverse physiological actions, including vasodilation, anti-inflammation, antiplatelet, antiproliferation and antimigration. Experimental and clinical studies have demonstrated that a variety of currently used or investigational drugs, such as angiotensin-converting enzyme inhibitors, angiotensin AT1 receptors blockers, angiotensin-(1-7), antioxidants, beta-blockers, calcium channel blockers, endothelial NO synthase enhancers, phosphodiesterase 5 inhibitors, sphingosine-1-phosphate and statins, exert endothelial protective effects. Due to the difference in mechanisms of action, these drugs need to be used according to specific mechanisms underlying endothelial dysfunction of the disease.
Core tip: The endothelium is involved in the regulation of vascular tone and permeability, coagulation and fibrinolysis, inflammatory and immunological reactions and cell growth. Cardiovascular risk factors cause vascular endothelial dysfunction through impairing endothelium-derived vasodilators, enhancing endothelium-derived vasoconstrictors, producing reactive oxygen species and reactive nitrogen species, activating inflammatory and immune reactions and promoting thrombosis. Among these mechanisms, a reduction in nitric oxide bioavailability plays a central role in the development and progression of endothelial dysfunction. A variety of currently used or investigational drugs exert endothelial protective effects according to specific mechanisms underlying endothelial dysfunction of the disease.
---
Citation: Su JB. Vascular endothelial dysfunction and pharmacological treatment. World J Cardiol 2015; 7(11): 719-741
---
INTRODUCTION
The endothelium is formed by a monolayer of endothelial cells. It constitutes a physical barrier between blood and tissues and regulates the exchange of molecules between blood and tissues. In addition, endothelial cells metabolize, synthesize and release a variety of substances, including vasoactive substances regulating vascular tone, blood pressure and local blood flow, the substances participating in coagulation, fibrinolysis and inflammatory and immunological reactions, reactive oxygen species (ROS) and reactive nitrogen species (RNS) involved in oxidation and nitrosylation of proteins and lipids, and growth factors promoting cell growth (Table 1). Any perturbation affecting the capacity and equilibrium of the endothelium as a physical barrier and to metabolize, synthesize and release these substances will cause endothelial dysfunction, which contributes to the development and progression of cardiovascular diseases. After summarizing the role of a number of endothelium-derived vasoactive substances and risk factors of endothelial dysfunction, this review focus on several categories of pharmacological substances that may be used for improving endothelial function.
Vasoactive substances
Endothelium-derived vasodilators
Adrenomedullin
Endothelium-derived hyperpolarizing factors
Kinins
Nitric oxide
Prostacyclin
Endothelium-derived vasoconstrictors
Angiotensin II
Endothelin-1
Vasoconstrictor prostanoids
Coagulation and fibrinolysis
Coagulation
Factor V
Heparan sulfate
Protein C
Protein S
Thrombomodulin
Tissue factor
von Willebrand factor
Fibrinolysis
Plasminogen activator inhibitor
Tissue plasminogen activator
Urokinase
Growth factors
Basic fibroblast growth factor
Insulin-like growth factor
Platelet-derived growth factor
Transforming growth factor
Inflammatory and immunological mediators
Cytokines
Interleukins
Monocyte chemoattractant protein 1
Transforming growth factor
Tumor necrosis factor-α
Adhesion molecules
Intercellular adhesion molecules
Platelet-endothelial cell adhesion molecules
Selectins
Vascular cell adhesion molecules
Reactive oxygen species and reactive nitrogen species
Reactive oxygen species
Hydrogen peroxide (H2O2)
Hydroperoxyl (HO2)
Superoxide (O2-)
Reactive nitrogen species
Nitrite (NO2-)
Nitrogen dioxide (NO2)
Peroxynitrite (ONOO-)
Nitryl chloride (NO2Cl)
ENDOTHELIUM-DERIVED VASOACTIVE SUBSTANCES
The endothelium releases a variety of vasoactive substances, including different vasodilators such as nitric oxide (NO), prostacyclin, kinins, and endothelium-derived hyperpolarizing factors (EDHF), vasoconstrictors such as endothelin-1 and PGH2, and ROS. Among endothelium-derived vasodilators, NO occupies a central position because changes in the release of endothelial NO play a crucial role in the perturbation of vascular homeostasis and in the development of endothelial dysfunction associated with various cardiovascular disorders.
RISK FACTORS CAUSING ENDOTHELIAL DYSFUNCTION
Clinically, endothelial dysfunction is characterized by impaired endothelium-dependent vasorelaxation in response to endothelium-dependent agonists such as acetylcholine and bradykinin, or to maneuvers that increase shear stress such as flow-mediated dilatation. Although mechanisms leading to endothelial dysfunction are multiple, a reduction in NO bioavailability is largely observed in many cardiovascular disorders. As shown in Figure 1, reduced NO bioavailability can be the consequence of decreased L-arginine availability[92], increased ADMA[1,2], altered interaction with hsp90[93] and phosphorylation of eNOS[94], as well as increased NO scavenging by excessive ROS generated by NADPH and xanthine oxidases[10,11,95] and eNOS uncoupling. It is worth noting that changes in caveolin-1[96], BH4[97], S-glutathionylation of eNOS[15,98] and OxLDL[12] are all involved in eNOS uncoupling. Importantly, a reduction in eNOS protein expression also leads to impaired eNOS activity and NO production, which can be observed in different cardiovascular diseases such as atherosclerosis, acute myocardial infarction and heart failure in animals and in humans[99-103]. However, mechanisms underlying endothelial dysfunction in different cardiovascular disorders may be different, depending on risk factors contributing to the development of specific disease.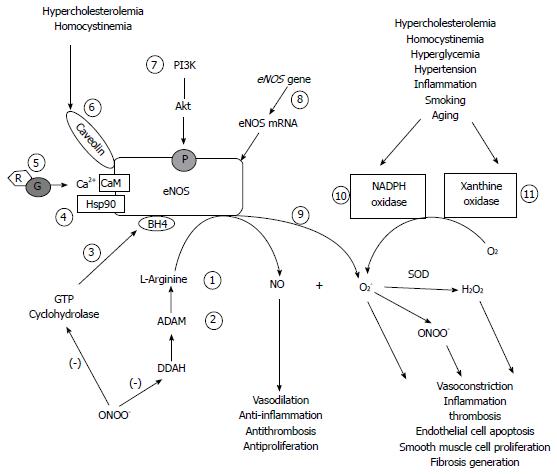 Figure 1 Mechanisms underlying the reduction in nitric oxide bioavailability involve both reduced nitric oxide production and increased nitric oxide scavenging.
A reduction in NO production can be resulted from: (1) decreased L-arginine availability due to L-arginine deficiency and/or changes in L-arginine transporter; (2) accumulation of asymmetric dimethylarginine (ADMA), an endogenous inhibitor of endothelial NO synthase (eNOS); (3) deficiency or modification of cofactor tetrahydrobiopterin (BH4); (4) altered interactions between eNOS and caveolin due to increased caveolin-1; (5) changes in receptor-coupled G proteins; (6) altered eNOS-heat shock protein 90 (Hsp90) interaction due to changes in Hsp90 abundance; (7) changes in calcium-independent phosphatidylinositol 3-kinase (PI3K)/protein kinase B (Akt)-mediated eNOS activation by tyrosine or serine phosphorylation; and (8) decreased eNOS expression due to reduced eNOS gene transcription and/or decreased eNOS mRNA stability. Increased NO scavenging by reactive oxygen species (ROS) and reactive nitrogen species (RNS) can be due to: (9) eNOS uncoupling related to changes in BH4, caveolin-1 and oxidized low density lipoproteins; (10) increased NADPH (reduced form of nicotinamide adenine dinucleotide phosphate) expression and activity; and (11) increased xanthine oxidase expression and activity. CaM: Calmodulin; DDAH: Dimethylarginine dimethylaminohydrolase; SOD: Superoxide dismutase; NO: Nitric oxide.
Hypercholesterolemia/atherosclerosis
Atherosclerosis is a chronic arterial disease involving the formation of multiple atheromatous plaques within arteries by accumulation of lipids due to the inability to remove LDL from macrophages. In this process, endothelial dysfunction related to hypercholesterolemia plays a pivotal role in the development of atherosclerosis. Hypercholesterolemia induces endothelial cell activation, leukocyte recruitment and adherence, platelet activation and adhesion within the vasculature, reflecting an inflammatory response and high thrombotic state that may cause endothelial dysfunction. Hypercholesterolemia increases superoxide and hydrogen peroxide production by increasing NAD(P)H oxidases[79], xanthine oxidase[95], and myeloperoxidase[104]. Increased superoxide reacts with NO, resulting in the formation of RNS and reduced eNOS-derived NO bioavailability. ROS induce oxidation of lipids, proteins and DNA, which cause cell damage, necrosis and cell apoptosis. Increased RNS induce nitrosylation reactions that modify the structure and function of proteins. Hypercholesterolemia increases caveolin-1 levels[105], also contributing to impaired eNOS activity. In addition, hypercholesterolemia disturbs reactions between oxygen radicals or enzymatic oxidation and lipoproteins, particularly LDL phospholipids and results in the production of oxidized phospholipids. These phospholipids contain arachidonic acid and bind to their membrane receptors, resulting in their accumulation within the cellular membrane, immune and inflammatory responses and ROS generation, which in turn induces eNOS uncoupling that impairs endothelium-dependent vasodilation induced by endogenous vasodilator such as kinins but enhances the role of endogenous vasoconstrictors such as angiotensin II and endothelin-1, and promote endothelial dysfunction[106,107]. Therefore, endogenous vasoactive substances such as NO, prostanoids, ROS, RNS, AM, angiotensin II, endothelin-1 and other substances interact and reduced NO bioavailability due to eNOS uncoupling is a key event contributing to the development of endothelial dysfunction and ultimately atherosclerosis.
Hyperhomocysteinemia
Homocysteine is a non-protein α-amino acid synthesized from methionine. Hyperhomocysteinemia is observed in patients with coronary disease and is correlated with endothelial dysfunction[108]. Homocysteine causes endothelial dysfunction through NO inhibition, vasoconstrictor prostanoid production, EDHF inhibition[109,110], angiotensin AT1 receptor activation, and ROS generation[111]. Homocysteine reduces eNOS activity by increasing asymmetric dimethylarginine production[112] and eNOS uncoupling via decreasing intracellular do novel synthesis of BH4[97], leading to decreased NO bioavailability and increased ROS generation. Furthermore, homocysteine downregulates eNOS expression in human endothelial cells[113], and induces endothelial loss, vascular deendothelialization and increases platelet adherence and consumption in baboons[114]. Homocysteine also increases ROS generation by phosphorylating NAPDH oxidase[115], and/or by increasing ACE activity via ACE homocysteinylation to generate angiotensin II that activates NAPDH oxidase[116].
Hyperglycemia/diabetes mellitus
Endothelial dysfunction is associated with both insulin-dependent and independent diabetes mellitus. In this setting, hyperglycemia increases ROS generation through activating protein kinase C-mediated NAD(P)H oxidases[117] and peroxynitrite-mediated eNOS uncoupling[118], which also leads to reduced NO bioavailability. In addition, hyperglycemia increases iNOS expression and iNOS-derived NO and peroxynitrite production, leading to increased ROS and RNS levels and pancreatic islet endothelial cell apoptosis[119]. Moreover, hyperglycemia promotes platelet aggregation by increasing expression and circulating levels of endothelial adhesion molecules through protein kinase C-NFκB signaling pathway[120-122], and increases endothelial apoptosis[123]. All of these effects of hyperglycemia contribute to endothelial dysfunction observed in diabetes mellitus. Otherwise, increased release of vasoconstrictors such as prostanoids and endothelin-1 through protein kinase C-mediated pathway in response to hyperinsulinemia and hyperglycemia appears to precede changes in vascular complication or NO production[124,125]. Changes in EDHF also contribute to endothelial dysfunction, especially in type 2 diabetes as suggested in rat models in which an impaired EDHF-mediated vasorelaxation was observed before marked alteration in NO-mediated responses[126-129]. Therefore, altered NO bioavailability in type 2 diabetes appears to be a relatively late event worsening endothelial dysfunction.
Hypertension
An impaired endothelium-dependent vasorelaxation has been observed in patients with essential hypertension[130] and in several animal models of hypertension. This is related to a lower production of endothelium-derived vasodilators and/or over production of vasoconstrictors. An increased endothelin-1 production also plays a role in endothelial function, especially in pulmonary hypertension as lung is an important metabolic organ of circulating peptides such as adrenomodullin and endothelin-1. In this regard, pulmonary endothelin-1 extraction affects the incremental resistance of pulmonary vascular bed in response to increased cardiac work[131] and plasma endothelin-1 levels are closely related to clinical worsening of patients with pulmonary hypertension[132]. An impaired NO and EDHF-mediated vasorelaxation linked to an increased ADMA that inhibit eNOS and downregulates SKca in endothelial cells has been reported in hypertensive patients and in spontaneous hypertensive rats[133]. Interestingly, alterations in EDHF appears to occur before alterations in NO pathways in different rat models of hypertension[134]. An reduced vasodilator response to AM has been observed in hypertensive patients[45]. However, an increased eNOS expression is generally observed in animal models of hypertension associated with angiotensin II. In this case, angiotensin II-induced oxidative stress and increases in the production of vasoconstrictor prostanoids and cytokines may account for the development of endothelial dysfunction. Furthermore, a reduced NO bioavailability has been reported in some models of hypertension. This appears to be linked to reduced substrate availability due to L-arginine deficiency and changed L-arginine transport[92] and to eNOS uncoupling due to oxidation of BH4 and/or S-glutathionylation, leading to increased ROS production[4,15]. Thus, although altered NO bioavailability may not be an initial event to induce endothelial dysfunction, it participates in its progression in hypertensive subjects.
Smoking
Endothelial dysfunction is one of the primary damages induced by cigarette smoke. Circulating cigarette toxins such as free radicals and reactive glycation products can react with endothelial cells and cause vascular impairment[135]. Cigarette smoking induces inflammatory state as indicated by elevation of white blood cells, adhesion molecules and cytokines, and increases ROS production and lipid peroxidation[136-141]. These mechanisms may contribute to impaired endothelium-dependent vasodilation observed in active smokers, even at young healthy adult, and in passive smokers[142,143]. However, despite a reduced NO bioavailability, eNOS expression has been shown to be increased in different endothelial cells or decreased in platelets in response to cigarette smoke[144,145]. Cigarette smoke extracts inhibits eNOS activity of pulmonary arterial endothelial cells through modifying eNOS phosphorylation pattern, which cannot be protected by antioxidants such as vitamin E and C[146,147]. In this setting, decreased NO bioavailability is probably the consequence of decreased eNOS activity due to modified eNOS phosphorylation and uncoupling as well as NO scavenging by increased ROS.
Inflammation
Endothelial cells produce inflammatory and immune mediators (Table 1) and undergo morphological modifications in response to inflammatory stimuli. The inflammatory and immune mediators increase endothelial permeability and promote adhesion of leukocyte to endothelial cells and interactions between chemokine receptors on leukocyte and proteoglycans on endothelial cells, leading to leukocyte transendothelial migration to inflammation sites. Inflammation induced endothelial dysfunction is often associated with impaired NO bioavailability. For example, typhoid vaccination induced an inflammatory response as indicated by increased cytokines and oxidative stress as well as a decreased endothelium-dependent vasodilation that was partially restored by antioxidant vitamin C[148]. In patients with viral myocarditis, acetylcholine induced a coronary vasoconstriction rather vasodilation[149]. Similar responses were also observed in mice with virus-induced myocarditis, which was attributed to reduced eNOS activity and expression[150]. In some autoimmune diseases, anti-endothelial antibodies cause abnormal immune activation that activates endothelial cells to release adhesion molecules and cytokines, leading to inflammation, increased permeability of the endothelium, thrombosis and cell apoptosis[151-153], which are, at least in part, responsible for endothelial dysfunction in this setting. Patients with rheumatoid arthritis have increased levels of cytokines and ADMA and impaired flow-mediated dilation[154]. Similarly, increased arterial stiffness is closely correlated with ADMA blood levels in systemic lupus erythematosus patients[155]. The increase in ADMA levels may account for reduced NO bioavailability in these autoimmune diseases.
In some cases, an over production of NO occurs in response to inflammation. Septic shock associated with a severe infection and sepsis is characterized by a profound hypotension, widespread endothelial injury and activation, multiple organ failure and death. In this setting, toxic microbe products, including endotoxins (bacterial membrane lipopolysaccharides, LPS) of gram-negative bacteria and analogous molecules in the walls of gram-positive bacteria and fungi, dramatically activate mononuclear cells to release cytokines[156] that upregulate bradykinin B1 receptors[157,158], inducible NO synthase[159] and COX-2[160], which increase NO and prostaglandin E2. In this regard, blocking or deleting bradykinin B1 receptors might yield benefits for the treatment of septic shock. However, experimental studies showed conflicting results regarding the role of kinins in septic shock in animals. Mice with overexpression of B1 receptors exhibited an increased susceptibility to develop septic shock and mice lacking B1 receptors or both B1 and B2 receptors had an enhanced resistance to LPS-induced sepsis[161-163], whereas mice lacking B1 receptors had an higher mortality in response to LPS[164] and additional B1 receptor blockade suppressed the beneficial effect of B2 receptor blockade[165]. Similarly, B2 receptor blockade showed no effect or amelioration in porcine sepsis[165,166]. Results regarding the role of NO, particularly iNOS in septic shock are also elusive. Experiments in rats and in human blood cells showed that iNOS expression is correlated with cell apoptosis in septic shock[167,168]. Selective iNOS inhibition improved hemodynamics and mortality in nondiabetic rats with LPS-induced sepsis but not in diabetic rats[169], whereas depletion of iNOS resulted in increased dysfunctional mitochondria, IL-1β production and caspase-1 activation in response to LPS in myeloid cells from both mice and humans and increased NLRP3 inflammasome-mediated cytokine production and mortality in mice with LPS-induced sepsis, which was prevented by NLRP3 deficiency[170]. Although treatment with methylene blue that has the ability to scavenge NO and to inhibit NO synthase showed a transient and reproducible beneficial effect on systemic vascular resistance, arterial pressure and organ function in patients with septic shock, but its effect on mortality remains unknown[171,172].
Aging
Aging is accompanied by complex structural and functional modifications of the vasculature, leading to dysfunction of both the endothelium and smooth muscle cells. Changes in aged smooth muscle cells are characterized by changed migration, proliferative and apoptotic behavior, increased response to vasoconstrictors and decreased expression of Ca2+-activated K+ channels in coronary arteries[173,174]. Aged endothelial cells are associated with decreased NO synthesis and sensitivity to agonist and mechanic stimuli that promote eNOS expression but increased sensitivity to be apoptotic[175,176]. Loss of PI3K/Akt-dependent eNOS phosphorylation seems to be a main mechanism explaining the reduction in NO production in old rats[94]. In addition, aging of endothelial cells is associated with increased production of vasoconstrictor prostanoids, endothelin-1 and ROS[176-178]. ROS are mainly produced by mitochondrial respiratory chain and NADPH oxidases, although eNOS uncoupling my also contribute to increased ROS during aging[179].
METHODS FOR MEASURING ENDOTHELIAL DYSFUNCTION
In animals, endothelial dysfunction can be measured by examining vasodilator responses to endothelium-dependent substances such as acetylcholine, bradykinin and serotonin in comparison with responses to endothelium-independent molecules such as NO donor in the absence and presence of NOS inhibitor and COX inhibitor in vivo[180,181] and in isolated vessels[19,182].
The methods used in clinical practice to measure endothelial dysfunction are detailed elsewhere[183]. This includes invasive methods by using quantitative angiography and intracoronary Doppler wire within coronary circulation and non-invasive methods, including venous occlusion plethysmography to measure forearm blood flow, flow-mediated dilatation in brachial artery, and peripheral arterial tonometry measuring pulsatile volume changes in the distal digit[183].
In addition, some circulating biomarkers such as endothelin-1, E-selectin, von Willebrand factor, thrombomodulin, intercellular adhesion molecules and vascular cell adhesion molecules can also be analyzed to detect endothelial dysfunction, although none of them are specific[183].
CARDIOVASCULAR DRUGS IMPROVING ENDOTHELIAL FUNCTION
Experimental and clinical studies have shown that numerous currently used or investigational drugs can improve endothelial function, although they have different structure and mechanisms of actions.
CONCLUSION
Endothelial dysfunction is a common mechanism involved in many cardiovascular diseases, although in some diseases such as atherosclerosis, endothelial dysfunction plays a critical role in the development of diseases, whereas in others such as essential hypertension and type II diabetes, endothelial dysfunction generally occurs as a complication but thereafter contributes to the development and progression of organ damages. Clearly, multiple mechanisms such as inflammation, increased ROS and RNS, cellular apoptosis, increased vasoconstrictor production, decreased vasodilator production and vascular remodeling are involved in endothelial dysfunction and a specific pathology may involve more or less them as described above. However, a decreased NO bioavailability appears to play a central role because in many pathologies such as atherosclerosis, diabetes, essential and pulmonary hypertension and heart failure except for septic shock where there is a overproduction of NO, a reduction in NO bioavailability occurs sooner or later in response to different risk factors. This may explain the beneficial effects of some drugs in the treatment of a variety of cardiovascular disorders. It appears that a drug with endothelium-protective property may yield more therapeutic benefits than that without such feature. For this reason, the evaluation of endothelium-improving action may be helpful for the development of a novel cardiovascular drug. Moreover, due to the differences in risk factors contributing to the different cardiovascular diseases and the differences in mechanisms of action, treatment of endothelial dysfunction with drugs needs to be carried out according to specific mechanisms underlying endothelial dysfunction of the disease.
P- Reviewer: Lee TS, Letizia C, Li YL S- Editor: Tian YL L- Editor: A E- Editor: Wu HL