Copyright
©2014 Baishideng Publishing Group Inc.
All rights reserved.
Matrix metalloproteinases and gastrointestinal cancers: Impacts of dietary antioxidants
Sugreev Verma, Kousik Kesh, Nilanjan Ganguly, Sayantan Jana, Snehasikta Swarnakar, Drug Development Diagnostic and Biotechnology Division, CSIR-Indian Institute of Chemical Biology, Jadavpur, Kolkata 700032, India
Author contributions: All authors contributed to this paper.
Supported by Council of Scientific and Industrial Research, India; (CSIR)-INDEPTH and HUM projects
Correspondence to: Dr. Snehasikta Swarnakar, Drug Development Diagnostic and Biotechnology Division, CSIR-Indian Institute of Chemical Biology, 4 Raja S C Mullick Road, Jadavpur, Kolkata 700032, India. snehasiktas@hotmail.com
Telephone: +91-33-24995824 Fax: +91-33-24735197
Received: April 3, 2014
Revised: May 7, 2014
Accepted: June 10, 2014
Published online: August 26, 2014

The process of carcinogenesis is tightly regulated by antioxidant enzymes and matrix degrading enzymes, namely, matrix metalloproteinases (MMPs). Degradation of extracellular matrix (ECM) proteins like collagen, proteoglycan, laminin, elastin and fibronectin is considered to be the prerequisite for tumor invasion and metastasis. MMPs can degrade essentially all of the ECM components and, most MMPs also substantially contribute to angiogenesis, differentiation, proliferation and apoptosis. Hence, MMPs are important regulators of tumor growth both at the primary site and in distant metastases; thus the enzymes are considered as important targets for cancer therapy. The implications of MMPs in cancers are no longer mysterious; however, the mechanism of action is yet to be explained. Herein, our major interest is to clarify how MMPs are tied up with gastrointestinal cancers. Gastrointestinal cancer is a variety of cancer types, including the cancers of gastrointestinal tract and organs, i.e., esophagus, stomach, biliary system, pancreas, small intestine, large intestine, rectum and anus. The activity of MMPs is regulated by its endogenous inhibitor tissue inhibitor of metalloproteinase (TIMP) which bind MMPs with a 1:1 stoichiometry. In addition, RECK (reversion including cysteine-rich protein with kazal motifs) is a membrane bound glycoprotein that inhibits MMP-2, -9 and -14. Moreover, α2-macroglobulin mediates the uptake of several MMPs thereby inhibit their activity. Cancerous conditions increase intrinsic reactive oxygen species (ROS) through mitochondrial dysfunction leading to altered protease/anti-protease balance. ROS, an index of oxidative stress is also involved in tumorigenesis by activation of different MAP kinase pathways including MMP induction. Oxidative stress is involved in cancer by changing the activity and expression of regulatory proteins especially MMPs. Epidemiological studies have shown that high intake of fruits that rich in antioxidants is associated with a lower cancer incidence. Evidence indicates that some antioxidants inhibit the growth of malignant cells by inducing apoptosis and inhibiting the activity of MMPs. This review is discussed in six subchapters, as follows.
Core tip: Matrix metalloproteinases (MMPs), a group of zinc dependent endopeptidases, substantially contribute to extra cellular remodelling, angiogenesis, cellular differentiation, proliferation and apoptosis. MMPs are also important regulators of tumor growth both at the primary site and in distant metastasis; thus the enzymes are considered as important targets for cancer therapy. This review describes the roles and regulation of different MMPs and their subsequent actions over different gastrointestinal cancers both in epigenetic and cellular level. Furthermore, this review summarizes the current state of knowledge of dietary antioxidants in preventing gastrointestinal cancer progression as well as mechanism of action.
---
Citation: Verma S, Kesh K, Ganguly N, Jana S, Swarnakar S. Matrix metalloproteinases and gastrointestinal cancers: Impacts of dietary antioxidants. World J Biol Chem 2014; 5(3): 355-376
---
EPIDEMIOLOGY AND GENETIC BASIS OF GASTRIC CANCERS
As far the incidence rate is concerned, gastric cancer holds the fourth position among the most common cancers in men and fifth in women, from a worldwide perspective. The death rate goes hand to hand with lung cancer, the most frequent cancer globally[1]. Approximately, one million cases of gastric cancer were reported in the year 2008, which accounted for almost 8% of all cancerous incidents throughout the world[1]. Regions of Asia, eastern Europe, South America were highlighted in the reports as the most affected continents[2]. Carcinogenesis in the gastrointestinal tract, accounts for marked geographic variations in incidence and shows morphological heterogeneity. Histologically, gastric cancers are mainly of two types, diffuse and localized intestinal types. Poorly differentiated cancer cells, scattered within the stromal cells diagnosed as diffuse-type gastric cancer (DGC), whereas tubular gland like structures formed by the cancer cells having a few stromal components give rise to intestinal-type gastric cancer (IGC). Recognized as a familial disease many years ago, hereditary diffuse gastric cancer has now been identified as an autosomal dominant cancer susceptibility syndrome. This familial disease was probably most elegantly demonstrated in the family of Napoleon Bonaparte[3,4].
ELEVATED INDUCTION OF MMPS IN GASTROINTESTINAL CANCERS
The MMPs are comprised of a family of endopeptidases, which can cleave almost every component of the extra cellular matrix (ECM) proteins. It is documented that many non-ECM proteins can also be cleaved by selected MMPs. Structurally, they all have a zinc ion in the catalytic domain and their activity is dependent on divalent ions, mainly, Zn2+ and Ca2+[30,31]. There are about 27 different MMPs discovered so far and they are subdivided in groups according to substrate specificity and structural integrity (Table 1). Induction and expression of MMPs are regulated at the level of transcription and translation, respectively. Further complexity of MMPs is the activation from zymogen to active enzyme and, secondly, the mRNA stability of few MMPs play critical role. ProMMPs are converted to active MMPs by intra-molecular cleavage of cysteine bridge between thiol group at the prodomain and Zn2+ near the catalytic site. The overall activity depends on the availability of the substrate as well as inhibitor in pericellular space, though a high concentration of MMPs exists near the plasma membrane.
Collagenase
Gelatinase
Stromolysin
Matrilysin
Membrane type MMPs
Others
MMP-1
MMP-2
MMP-3
MMP-7
MMP-14
MMP-12
MMP-8
MMP-9
MMP-10
MMP-26
MMP-15
MMP-20
MMP-13
MMP-11
MMP-16
MMP-28
MMP-18
MMP-19
MMP-17
MMP-24
MMP-25
Cancer progression can be explained in six major steps: self-support in growth signals; resistance to growth-inhibitory signals; reduced apoptosis; uncontrolled replication; sustained angiogenesis; and tissue invasion followed by metastasis[32]. Considerable evidence has demonstrated that disease progression in experimental animal models of cancer invasion and metastasis correlate with enhanced secretion of specific MMPs by tumor cells and/or stromal cells. Gastrointestinal cancer can be subdivided into different types, e.g., cancers of upper digestive tract, esophageal cancer, gastric cancer, pancreatic cancer, liver cancer, gallbladder cancer and others like MALT lymphoma, gastrointestinal stromal tumors, cancer of the biliary tree, cancer of the lower digestive tract, colorectal and gastrointestinal carcinoid tumor.
Role of MMPs in esophageal and gastric cancer
Role of MMPs in gastrointestinal cancer has been well studied. IHC analysis of tumor biopsy samples suggest the expression of MMP-1 in 24% of oesophageal cancers, while MMP-2 and MMP-9 in 78% and 70% of samples respectively[33]. Similarly, studies revealed that MMP-13 is localized predominantly in tumor cells; and the presence of MMP-13 together with MT1-MMP is implicated in determining tumor aggressiveness of human oesophageal carcinomas. Etoh et al[34] found a significant correlation in survival period for subjects with the expression of MMP-13 and MT1-MMP in tumor tissue. Moreover, the activities of MMP-2, -3, -9, and -10 enzymes were detected in each of the 24 cancer cases. MMP overexpression was reported in tumors in comparison to normal tissue; having elevated levels of the activated form of MMP-3 and -10 in tumors. In addition, MMP-3 and -10 mRNA levels were significantly higher in tumors than paired normal tissues in both the stromal and epithelial component of tissues[35].
One of the important features of the malignant phenotype in both colorectal and gastric cancer is the overexpression of MMP-2 and -9 as well as activation of proMMP-2 to active MMP-2. Expression of MMP-2, -1 and -9 was found in 94%, 73% and 70% respectively in gastric specimens when studied in 74 patients. Conversely, MMP-3 was only present in 27% of tumors while MMP-1 and -9 were present mostly in all intestinal phenotypes of gastric cancer. In addition to MMPs, TIMP-1 and TIMP-2 were detected in approximately 50% of gastric tumors. Progression of gastric cancer is associated with MMP-13 expression along with its coexpression with MT1-MMP and/or MMP-2 that may have a synergistic effect in the progression of the disease[36]. The expression of TIMP-3 was significantly higher than that of MMP-3, and MMP-3/TIMP-3 was lower in gastric cancer tissue at the early stages (n = 18) than in that of the advanced stage group (n = 26) (P < 0.05)[37]. MMP-7 expression has been found to be prognostic marker for metastasis of gastric carcinoma because MMP-7 mRNA as well as protein was pronounced in aggressiveness carcinoma tissues.
Role of specific MMPs in colorectal cancer
The critical event in the process of cancer invasion and metastasis is the degradation of the ECM surrounding the tumor tissue[38]. This ECM is degraded by the action of a set of proteases, in which several types of MMPs play major role, of which MMP-2 and -9 are most prominent. The basement membrane which prevents an invading epithelial tumor is mainly made up of type IV collagen, which is substrate of MMP-2 and -9. The event of basement membrane degradation promotes epithelial tumor invasion. Higher levels of MMP-1, -2, -3, -7, -9, -13, and MT1-MMP expression have been documented in human colorectal. Murray et al[33] demonstrated that MMP-1 in colorectal cancer specimens was linked to a poor prognosis of the disease. This study was later confirmed by performing IHC, FISH, and RT-PCR on 142 samples of colorectal carcinomas[39]. The latent form of MMP-2, i.e., proMMP-2, is expressed in significant levels almost in all normal tissues. MMP-2 acts as the 'house-keeping' gene due to its importance in normal cellular physiology. While active MMP-2 is found in neoplastic tissues, it is lacking in most normal tissues. Parsons et al[40] in 1992, were the first who described the role of MMP-2 in colorectal cancer and the ratio of MMP-2 to proMMP-2 was 20 fold higher in colorectal cancer specimens in comparison to non-malignant biopsies as judged by gelatin zymography. Parsons et al[40] demonstrated increased expression of proMMP-9 in colorectal cancer. The increased activity of proMMP-9 from inflammatory cells may cause an early change in progression from adenoma to carcinoma, when colonic adenoma is compared to normal mucosa. Increased co-expression of MMP-3 and MMP-9 has been found in colorectal tumors. Co-expression of uPA with MMP-9 in colorectal cancers is responsible for the activation of plasminogen to plasmin[41]. Plasmin stimulates proMMP-3 to active MMP-3 which in turn promotes proMMP-9 to active MMP-9, thus, resulting in colorectal cancer progression[41]. Excess MMP-9 expression in colorectal cancer contributes to the inflammation related to neoplasms but not to aggressive tumors[42]. Low levels of microsatellite instability and poor prognosis is observed with increased expression of MMP-3 in colorectal cancer. Moreover 90% of colonic adenocarcinomas demonstrated high levels of MMP-7 expression. Studies on surgically resected colorectal cancer specimens elucidated the clinical importance of MMP-7 expression in this cancer type. It demonstrated that overexpression of MMP-7 in colorectal cancer (measured by IHC and in situ hybridization) directly relates to nodal or distant metastasis[43,44]. On the contrary, MMP-12 overexpression is associated with increased survival in colorectal cancer because of its influence as protective factor presumably by inhibiting tumor angiogenesis[43]. In fact, inhibition of tumor growth with upregulation of MMP-12, also known as macrophage metalloprotease, is well accepted. It was reported by Dong et al[45] that macrophages capable of producing MMP-12 in tumors that are responsible for increased production of angiostatin, an inhibitor of tumor neovascularization[45,46]. High expression of MMP-13 results in poor survival of colon cancer patients. Colorectal tumor biopsy specimens were examined for the identification of MMP-13 by Leeman et al[47]. MMP-13 was found in 91% of cases and was localized to cytosol of tumor tissues. Significantly higher activity of MMP-13 was observed in malignant than the non-malignant tissues. Moreover, plasmin, MT1-MMP and MMP-2 are key molecules in the production of active MMP-13. Active MMP-13 was found to be responsible for activation of MMP-9 during cancer progression[48].
MMPs polymorphism in tumor formation
Unlike classical oncogenes, MMPs are not upregulated by gene amplification or mutations. The increased MMP expression in tumours is mainly due to transcriptional changes rather than genetic alterations. The only two reported genetic alterations in cancer cells are translocation of the MMP-23 gene in neuroblastoma[49] and amplification of the MT5-MMP gene[50]. Polymorphisms in MMP promoters also affect gene transcription and influence cancer susceptibility (Figure 1). The estimated number of single nucleotide polymorphisms (SNPs) in the human genome is 10 million, while only a small part of these polymorphisms are functionally relevant. The differences in allele transcription caused by polymorphisms in the MMP promoters are subtle compared with the overexpression that arises from the amplification of oncogenes. Most of the functional SNPs are located in the promoter region of the MMP-1,-2,-3,-9 and -7 genes that are associated with gastric cancer risk.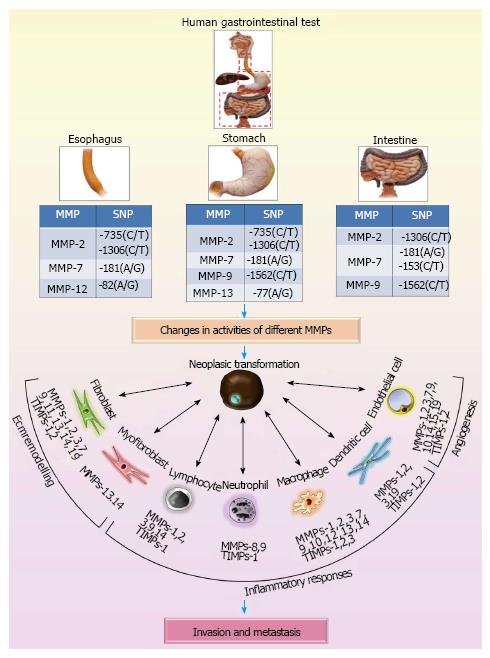 Figure 1 Matrix metalloproteinases polymorphism in gastrointestinal cancers. Single nucleotide polymorphism (SNP) for matrix metalloproteinases (MMP) genes in gastrointestinal organs (e.g., esophagus, stomach and intestine) of human has been reported. These SNPs are involved in changing MMPs activities in neoplastic transformation of gastric tissues in cancer patients. In addition to cancerous cells, the secretion of MMPs by fibroblasts, myofibroblasts, lymphocytes, neutrophils, macrophages, dendritic cells and endothelial cells has been documented. Both MMPs and tissue inhibitor of metalloproteinases (TIMPs) are important in regulation of extracellular matrix (ECM) remodeling, inflammatory responses and angiogenesis for cancer invasion and metastasis.
MMP1-1607 1G/2G polymorphism was found to be associated with gastric cancer risk as presence of extra guanine (2G) creates a binding site for Ets-1 transcription factor that enhances transcription of MMP-1. Bradbury et al[51] reported an elevated esophageal cancer risk in 1G/2G and 2G/2G carrier. MMP-1 protein expression is higher in tumors from gastric cancer patients who carry the 2G allele not 1G homozygotes[52]. Moreover, 2G homozygotes are more likely to develop invasive tumors. Dey et al[52] reported that MMP-1 promoter polymorphism is significantly associated with lower stomach tumor formation. MMP-1 -1607 1G/2G polymorphism is also involved with colon cancer risks.
MMP-2 polymorphism was investigated mainly in the promoter region, e.g., MMP-2 -1306 C/T, -735 C/T, -790T/G, -955A/C, and -1575G/A in the context of gastrointestinal cancer risk[53]. Studies reported association of gastrointestinal cancer risk with -1306 C/T and -735 C/T polymorphic site worldwide. Price et al[54] characterized genetic variants in the human MMP-2 -1306 C/T allele-specific transcriptional regulation. The common C>T transition at -1306 disrupts a Sp1-type promoter site (CCACC box), leading to lower promoter activity with the T allele[54]. On the other hand, G to A substitution at the MMP-2 -1575 site reduces gene expression due to a reduction of estrogen receptor-α binding to A allele[55]. Fruh et al[56] found the presence of CC allele at MMP-2 -1306 position in H. pylori infected individuals which provide protection against esophagus adenocarcinoma. Studies also reported that presence of CC allele at -1306 site increases the risk of ESCC, although Chen et al[54,57] did not observe any positive association of MMP-2 -1306 C/T polymorphism with ESCC in Mongolian population suggests differences in genetic susceptibility between Han-ethnic Chinese and the Mongolian population. However, both positive and negative influences of MMP-2 -1306 C/T polymorphism with gastric cancer in Asian and Caucasian population were reported[58]. Studies were performed to evaluate the association of MMP-2 -1306 C/T polymorphism with colon cancer risk[59]. Langer et al[53,60] reported that presence of CC or CT genotype enhances the survival rate of colon cancer patients. There is also a significant association of MMP-2 -735 C/T polymorphism with esophageal cancer risks[54].
MMP-9 over expression is associated with almost all the hallmark steps of cancer progression that make MMP-9 an ideal candidate gene for genetic association studies. Functional polymorphisms, e.g., MMP-9 promoter (-90CA(n), -1562C/T) as well as structural region (R279Q, P574R, R668Q) polymorphism were studied, assuming it might influence the MMP-9 gene expression or protein activity. MMP-9 polymorphism and gastrointestinal cancer risk is apparent in both Chinese and Caucasian populations[61,62]. In a hospital based case control study in Chinese population, MMP-9 polymorphism in individual carrying RR genotype at P574R have increased risk of ESCC while R279Q and R668Q polymorphism has no association with cancer risk. In contrast Fang et al[63] reported that individuals having RR genotype at R279Q site have enhanced risk towards colon cancer. Tang et al[62] showed R279Q and P574R polymorphism were associated with lymph node metastasis of gastric cancer. Positive association of MMP-9 -1562 C/T polymorphism and colon cancer risk has been reported by Woo et al[61] in Korean population. Other studies reported a higher incident of lymph node metastasis in gastric and colon cancer patients having CC genotype at -1562 bp[64,65].
Association of SNPs in MMP-3 promoter and gastrointestinal cancer has been investigated in MMP-3 -1171 6A/5A site, since transcription repressor bind strongly with 6A allele leading to reduced gene expression. Bradbury et al[51] suggested a positive association of EA risk with 6A/5A or 5A/5A carrier. In addition, Zhang et al[64] found a higher ESCC risk among smokers having the 5A allele and reported that an elevated risk of lymph node metastasis in patients having 5A allele instead of the 6A allele. Interestingly, Dey et al[52] reported that the frequency of homozygotes for the 6A allele is lower in gastric cancer patients than in controls of eastern Indian population[66]. On contrary, only one study performed in Japanese population that showed higher incidents of colon cancer in individuals having 6A/6A genotype.
Two common functional MMP-7 SNPs (-181A/G, -153C/T) are believed to control gene expression in several diseases, including gastrointestinal cancer[67-69]. MMP-7 up-regulation was significantly related to the promoter activity variation of the –181A/G alleles. Jormsjö et al[68] reported that the expression and promoter activity of the MMP7 -181G allele was higher in G over A and, attributed to the formation of a putative binding site (NGAAN) for a heat-shock transcription factor to G-allele. On the contrary, Richards et al[69] reported that elevated plasma MMP-7 level in AA genotype was governed by the G to A transition in -181 bp resulting in higher binding for the forkhead box A2 transcription factor to AA genotype. Studies reported a positive association of MMP-7 -181A/G polymorphism in esophagus, and gastric adenocarcinoma in Chinese population with an increased gastric cancer risk in G allele carrier[70]. However, in contrast, Kubbent et al[58] reported more AA and less AG in gastric cancer group. Moreover, MMP-7, -181 A/G and -153 C/T polymorphism is also significantly associated with colon cancer risk[71].
REGULATION OF MMPS IN GASTROINTESTINAL CANCER
An understanding of the MMP regulation in different cellular processes, e.g., apoptosis, angiogenesis, invasion, metastasis as well as immune function is important for early prognosis and better therapeutics of gastrointestinal cancers. The regulation of MMPs goes awry at any or all cellular processes during cancer development[30]. The regulatory mechanisms shared among different cellular processes might control the invasive property of cells. The presence of MMP-1, -2, -3, -9, and MT1-MMP mRNA and protein in gastric and colorectal cancer tissues are evident from IHC and FISH assay. It is also known that MMPs are produced by inflammatory and fibroblast cells, in the vicinity of cancer cells. Among various signaling pathways, mitogen-activated protein kinases (MAPKs) pathways are important in the regulation of MMP induction as most of MMP promoters contain AP-1 and NFκB-binding sites, the downstream target of MAPK pathways. NFκB and AP-1 activity are significantly enhanced during cancer progression. JNK pathway induces MMP expression through activation as well as nuclear translocation of multiple transcription factors such as Jun D, ATF and most of the MMP promoter contain putative-binding sites for these DNA-binding proteins[72]. It is now conceivable that the function of MMPs is not only confined to invasion and metastasis steps of cancer but they also facilitate initial phases of cancer development. In cancer, special emphasis has been placed on the degradation of type IV collagen, a major protein component of basement membranes that can be cleaved by MMP-2 and -9. Disease progression in experimental animal models of cancer invasion and metastasis correlate with enhanced secretion of specific MMPs by tumor cells and/or stromal cells. Specific MMPs appear to have different functions depending on the stage of cancer and tissue type.
MAJOR IMPACT OF OXIDATIVE STRESS ON GASTROINTESTINAL DISEASES
For many years, researchers have recognized ROS only as causative factor in pathological processes, although the opinion has now changed. ROS were shown to meet the criteria for signalling molecules and they have significant roles in biological functions. This section deals with involvement of ROS in physiological and pathological processes and, subsequent responses in cancer cells under oxidative stress.
DIETARY ANTIOXIDANTS AS A MODULATOR OF MMPs IN GASTROINTESTINAL CANCER
Human diet contains a mixture of oxidants and antioxidants substances. Dietary and endogenous antioxidants are important for cellular protection by reacting and/or eliminating oxidizing free radicals. The question of whether antioxidant supplements might protect against cancer has drawn much attention since the mid '80s and different antioxidants were extensively studied thereafter, although the results of the investigations are mixed and contradictory. Antioxidant and endogeneous redox enzymes act as the first-line defense against ROS in all cellular compartments and also extracellularly. The most important of these enzymes include SOD, GPx, catalase and peroxiredoxins. The specific role of above enzymes in carcinogenesis is still unambiguous since their roles in ROS detoxification are well known. It is noteworthy that we do not yet fully understand the chemopreventive role of phytochemicals as antioxidants, or as modulators of other processes related to carcinogenesis. In this section, we highlight the effects of dietary antioxidants in prevention of cancers with particular emphasis on the regulation of MMPs activity.
CONCLUSION
The immense complexity of cancer disease is not yet fully characterized despite numerous advances in modern molecular biology. Complexity in cancer cells arise from heterogeneity of tumor microenvironment, inflammatory stimuli, immune responses, diet effects as well as intestinal micobiota. All these factors determine whether the fate of cancer cells undergo apoptosis or proliferation or even develop resistance to drugs. Cancer is a multi-factorial disease, which varies from patient to patient. Even the complexity lies in a certain tumor cells that may refer to tumors with diverse genetics. In fact, every cancer types is unique. Hence, intramolecular heterogeneity poses another dimension during cancer progression. Significant intra-tumor heterogeneity is present in many patients, thus drug resistance may develop. Sequencing technology is used to monitor clonal dynamics of cancer cells. In this context, careful attention should be given to detect minor clones of clinical significance. Tumor heterogenity was documented by the Cancer Genome Atlas and the Cancer Genome Analysis projects.
In the future, personalised cancer medicine may be possible by accounting for both interpatient and intrapatient heterogeneity. Additionally, new therapeutic strategies are important for targeting cellular conditions like cellular senescence rather than targeting a particular biomolecule. Given the complexity of cancer, it is unlikely universal therapeutic strategy will be employed for different cancer types and stages. The MMP family of enzymes occupies a major importance in the field of gastric cancer research. Literature in last two decades of MMP biochemistry and cancer biology supports the possibility of particular MMP in particular types of cancer, including gastrointestinal cancer. Both basic and applied research is needed to decipher the mechanisms of cancer progression and regulatory roles of particular MMP associated with different cancer types. Drug discovery efforts have uncovered pharmacological inhibitors of different MMPs. Specific MMP inhibitors at a specific dose would be an important achievement to treat particularly gastric cancer and to halt to the progression of these diseases.
ACKNOWLEDGMENTS
Authors are thankful to Dr. Russel J Reiter, University of Texas, United States for critical reading of the manuscript.
P- Reviewer: Akbulut S, Casadesus D, Sun XY S- Editor: Ji FF L- Editor: A E- Editor: Lu YJ