Copyright
©The Author(s) 2016.
Published by Baishideng Publishing Group Inc. All rights reserved.
World J Diabetes.
Feb 25, 2016;
7(4): 50-66
Published online Feb 25, 2016. doi: 10.4239/wjd.v7.i4.50
Management of diabolical diabetes mellitus and periodontitis nexus: Are we doing enough?
Abhijit N Gurav, Department of Periodontology, Tatyasaheb Kore Dental College and Research Centre, New Pargaon, Kolhapur 416137, Maharashtra State, India
Author contributions: Gurav AN is the sole contributor to this paper with conception and design of the study, literature review and analysis, drafting and critical revision and editing, and final approval of the final version.
Conflict-of-interest statement: No potential conflicts of interest. No financial support.
Open-Access: This article is an open-access article which was selected by an in-house editor and fully peer-reviewed by external reviewers. It is distributed in accordance with the Creative Commons Attribution Non Commercial (CC BY-NC 4.0) license, which permits others to distribute, remix, adapt, build upon this work non-commercially, and license their derivative works on different terms, provided the original work is properly cited and the use is non-commercial. See: http://creativecommons.org/licenses/by-nc/4.0/
Correspondence to: Abhijit N Gurav, BDS, MDS, Professor, Head of Department of Periodontology, Tatyasaheb Kore Dental College and Research Centre, New Pargaon, NH204 Road, Kolhapur 416137, Maharashtra State, India. dr_abhijitg@yahoo.co.in
Telephone: +91-230-2477081 Fax: +91-230-2477654
Received: August 10, 2015
Peer-review started: August 10, 2015
First decision: September 28, 2015
Revised: October 16, 2015
Accepted: January 16, 2016
Article in press: January 19, 2016
Published online: February 25, 2016

Periodontitis is the commonest oral disease affecting population worldwide. This disease is notorious for the devastation of tooth supporting structures, ensuing in the loss of dentition. The etiology for this disease is bacterial biofilm, which accumulates on the teeth as dental plaque. In addition to the biofilm microorganisms, other factors such as environmental, systemic and genetic are also responsible in progression of periodontitis. Diabetes mellitus (DM) is metabolic disorder which has an impact on the global health. DM plays a crucial role in the pathogenesis of periodontitis. Periodontitis is declared as the "sixth" major complication of DM. Evidence based literature has depicted an enhanced incidence and severity of periodontitis in subjects with DM. A "two way" relationship has been purported between periodontitis and DM. Mutual management of both conditions is necessary. Periodontal therapy (PT) may assist to diminish the progression of DM and improve glycemic control. Various advanced technological facilities may be utilized for the purpose of patient education and disease management. The present paper clarifies the etio-pathogenesis of periodontitis, establishing it as a complication of DM and elaborating the various mechanisms involved in the pathogenesis. The role of PT in amelioration of DM and application of digital communication will be discussed. Overall, it is judicious to create an increased patient cognizance of the periodontitis-DM relationship. Conjunctive efforts must be undertaken by the medical and oral health care professionals for the management of periodontitis affected DM patients.
Core tip: Various studies have corroborated a two-way relationship between diabetes mellitus and periodontitis. Periodontal therapy (PT) can assist to ameliorate the glycated hemoglobin levels. Metabolic control in diabetes may prevent further complications. Given the large scale epidemiology of both diabetes and periodontitis, it is prudent for the oral health care personnel to co-ordinate efforts with the diabetes care personnel, for the mutual management of these conditions. The implication of PT in metabolic control of diabetes and the various methods for the systematic management of diabetes-periodontitis nexus are explained in this review.
---
Citation: Gurav AN. Management of diabolical diabetes mellitus and periodontitis nexus: Are we doing enough? World J Diabetes 2016; 7(4): 50-66
---
INTRODUCTION
Periodontitis is a common oral disease afflicting humans worldwide, since centuries. Periodontitis is a chronic and painless condition; hence the subject seldom seeks any professional assistance. The lack of treatment results in the destruction of tooth supporting apparatus and further culminates into partial or complete loss of dentition[1,2]. Periodontitis is not only a localized condition but also influences systemic health of the individual. This association of periodontitis with systemic health led to the emergence of a novel branch in the field of periodontology, known as periodontal medicine. Periodontal medicine focuses on the aggregation of evidence based data, which establishes a substantial relationship between periodontitis and systemic health[3]. Throughout the years periodontitis has been associated with various conditions like diabetes mellitus (DM)[4], cardiovascular atherosclerotic disease[5], preterm low birth weight[6], rheumatoid arthritis[7], cancer[8], chronic kidney disease[9], inflammatory bowel disease[10], obesity[11], metabolic syndrome (MS)[12], dyslipidemia[13], respiratory diseases[14], Alzheimer's disease[15] and erectile dysfunction[16] and non alcoholic fatty liver disease (NAFLD)[17]. It is purported that periodontitis and NAFLD should be included as new components of MS. Both these components harbor a two-way relationship with MS[18,19]. Various mechanisms have been proposed for association of various systemic conditions with periodontitis[20-22]. The literature is amassed with various studies depicting a relation between periodontitis and DM[23].
DM is a chronic metabolic disorder, involving impaired glucose homeostasis. It is classified as type 1 DM (T1DM) and type 2 DM (T2DM). T1DM is manifested due to the failure of pancreatic β cells to produce sufficient insulin and it is an autoimmune condition. T2DM is due to the resistance offered by peripheral tissues to the action of insulin, regardless of enhanced insulin production by pancreatic β cells. The insulin secretion is augmented in the initial phase of T2DM. This increase in pancreatic β cells function undergoes further deterioration, as in obese individuals. This ensues in the failure of β cells to secrete insulin. This results in hypoinsulinemia with the manifestation of T2DM. Various risk factors are recognized for T2DM. These include genetic susceptibility, pre-existing obesity, smoking, increase in the systemic levels of free fatty acids and pro-inflammatory mediators[24,25]. Chronic hyperglycemia, a perennial feature of DM, affects practically all host organs and tissues. The five main cognizable complications of DM include retinopathy, neuropathy, nephropathy, altered wound healing and macrovascular disease. Periodontal disease is added to this list and it is now considered as the "sixth complication" of DM[26].
METHODS OF DATA COLLECTION
Studies examining the effect of DM on host tissues and periodontal tissues in particular, were identified using PubMed search with key search terms such as "advanced glycation end products", "complications", "cost-effectiveness", "epidemiology", "glycated hemoglobin", "inflammation", "meta-analysis", "mobile health", "oxidative stress", "periodontitis", "periodontal therapy", "telemedicine", "T2DM". Systematic reviews, meta-analysis were also screened. Studies published in English language were considered. The review has been prepared by screening PubMed database from 1992 to April 2015.
WHAT IS PERIODONTITIS?
Periodontitis is a chronic inflammatory disease of the gingiva. In the United States, the prevalence of periodontal disease is considerably high, affecting almost 47% to 58% of adults[27]. The etiology for periodontitis is bacterial plaque which accumulates on the teeth surfaces, in absence of optimal oral hygiene measures. The initial phase of the disease process is called "gingivitis", which clinically presents as swelling and bleeding of gingiva. However, gingivitis is reversible with the resumption of proper oral hygiene. If neglected gingivitis may extend into "periodontitis", which is an irreversible process. Periodontitis results in the gradual deterioration of the periodontium. The periodontium comprises of hard and soft tissue supporting the tooth structure. Clinically, a subject with periodontitis presents accretion of calcified deposits referred to as dental calculus, above (supragingival) and beneath (subgingival) the gingival margin. Edematous, bleeding gingiva, bad breath (halitosis), increase in spacing (diastema) between the teeth, suppuration from periodontal pockets are the other features of periodontitis. Periodontitis is characterized by deepening of the normal gingival sulcus into "periodontal pocket", destruction of supporting fibers and loss of bone. This results in clinical attachment loss, conventionally gauged by an instrument known as periodontal probe (Figure 1). In advanced periodontitis the subject may also reveal loose teeth (referred to as mobile teeth). This condition is evidenced by severe bone loss as observed in the radiograph (Figure 2). The transition of gingivitis to periodontitis is a complex process, involving a qualitative change in microbial biofilm flora. There is an enormous diversity of microbial flora in the dental plaque[28,29]. Other factors like local, systemic background and genetic susceptibility also play a crucial role in the advancement of the disease[30,31]. Periodontitis is influenced by various modifiable and non modifiable risk factors, which need appraisal[32].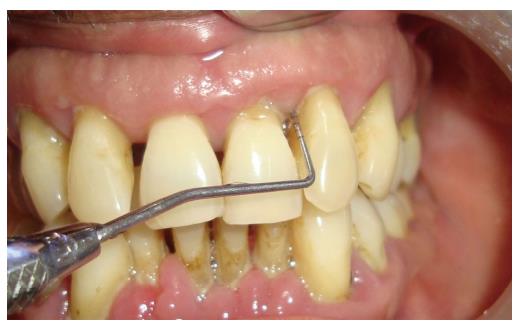 Figure 1 Deep pockets checked with a periodontal probe in a case of chronic generalized periodontitis.
ETIO-PATHOGENESIS OF PERIODONTITIS AND SYSTEMIC LINK
Periodontitis is a microbial biofilm induced disease. Microbial flora of different strains and species are housed in the biofilm matrix. The transition of gingivitis to periodontitis is subjected to a number of factors including the shift of bacterial species from gram positive aerobic to gram negative anaerobic, host environmental factors and genetics[33,34]. Various microbiological molecular techniques have demonstrated the presence of gram negative periodontal pathogens in periodontal disease sites. These include Porphyromonas gingivalis, Aggregatibacter actinomycetemcomitans, Fusobacterium species, Treponema denticola, Tannerella forsythia, Prevotella intermedia, Campylobacter rectus, Dialister invisus⁄pneumosintes[35]. With the advances in the field of medicine, the evolution of conceptual models addressing periodontitis has seen many changes. The early concept of the pathogenesis of periodontal disease purported a solo bacterial role in the initiation and progression of periodontitis. However, with ample research and studies, the crucial role of host immune-inflammatory response was highlighted. Eventually, the understanding in the pathogenesis of periodontitis amended with the consideration of microbiologic and immunologic characteristics of the disease. Presently, the most commonly accepted model for the pathogenesis of periodontitis is proposed by Page et al[36]. It is unanimously accepted by the experts in the domain of periodontal research that bacteria play a pivotal role in the initiation of the periodontal disease process. However, bacteria are not only adequate for the disease to occur. Host factors such as genetic susceptibility, tobacco and other risk factors play an important role in the severity and ultimate clinical outcome of the periodontal disease. The type of immune response demonstrated by the host periodontal cells on confronting the periodontal pathogen is of crucial significance. This factor determines the resistance or susceptibility of the host tissues to clinical outcome of periodontal disease. Several inflammatory mediators such as interleukin (IL)-1β, prostaglandin (PG) E2, tumor necrosis factor (TNF)-α and matrix metalloproteinases (MMPs) orchestrate a significant role in the immuno pathogenesis of periodontal disease[37]. The expression of these pro-inflammatory mediators is regulated by the T helper cells. The periodontal bacteria stimulate the innate immune system to produce cytokines, which conduce to the periodontal disease progression[38]. The polymorphonuclear neutrophils (PMNs) are important sentinels and serve as the first line of defense in periodontal disease process. However, exaggerated response may transpose this protective action of PMNs into destroyers. Consequently, the periodontium is subjected to damage by an array of mechanisms. PMNs in periodontal disease may at times actually assist in the deterioration of the condition rather than curbing the disease process. Thus, the host immune-inflammatory responses would either be protective or destructive, resembling the proverbial "double edged sword"[39-41] . This concept commuted the character of periodontitis to a complex disease, the expression of which implied an obscure interaction between the microbial biofilm and host immune-inflammatory response. This interaction modulates the periodontal tissue homeostasis[42,43].
In a subject with generalized chronic severe periodontitis the total diseased surface area is large. This includes the ulcerated surface of the periodontal pocket epithelium. The total surface area of the periodontal lesions in a severe periodontitis patient is estimated to be 15-20 cm2[44]. Some researchers quantified the periodontal inflamed surface area (PISA) in the range of 0.3 cm2 in periodontal healthy subjects to 39 cm2 in subjects with severe generalized periodontitis. PISA reflects the diseased surface area of the pocket. According to the authors, PISA is an improved version of classification of periodontitis and effectively represents as a risk factor for other diseases[45]. The ulcerated pocket surface acts as a portal entry for the periodontal bacteria and various host mediated inflammatory mediators such as IL-1β, TNF-α, PGE2 and MMPs. The host derived inflammatory mediators along with the bacterial toxic products including lipopolysaccharides are plunged into systemic circulation. Thus, the large surface area of pocket epithelium in periodontitis may pose an inflammatory burden to the body. This shifts the character of periodontitis from an indolent, localized disease to a potential systemic condition. Thus, severe periodontitis is capable of eliciting a low grade systemic inflammation[38,46]. A review of the published evidence substantiates modest affiliation between periodontitis and certain systemic diseases[47]. However, the relationship between periodontitis and DM is proven to be bidirectional, with both these conditions reciprocating each other (Figure 3). Subjects with DM are at a risk of developing periodontitis and on the other hand periodontitis perturbs the glycemic control in DM subjects[48]. The purpose of this review is to highlight the diabolical association of periodontitis and DM. The measures conducted to reduce the severity of both these chronic, yet debilitating conditions will also be discussed.
MANAGEMENT OF PERIODONTITIS
The etiology of periodontitis is distinctly associated with dental plaque and calculus deposits, accumulated on the teeth surfaces. Hence, it is prudent to remove these accretions. The initial phase of periodontal therapy (PT) is known as non surgical PT, which consists of scaling and root planing (SRP) of tooth/root surfaces. Periodontal debridement is the "gold standard" in PT[49]. SRP involves the mechanical removal of teeth deposits which is accomplished by hand instruments or powered ultrasonic instruments. Curettes and scalers are used for hand instrumentation. The powered ultrasonic scalers facilitate easy removal of calculus deposits. These powered instruments generate a high frequency (range 25000-42000 Hz) vibration of the scaler tip. Water irrigation assists to reduce the frictional heat of the ultrasonic scaler tip[50-52]. SRP may fail to eliminate the periodontal pathogens residing in the inaccessible areas like deeper portions of periodontal pockets, concavities on the tooth root and furcation regions of the molar teeth. Systemic antimicrobials serve as useful adjuvants for the treatment of periodontitis. These antimicrobials target the tissue invasive bacteria, not amenable to SRP. These antimicrobials are effective as an adjuvant therapy with SRP and not recommended to be administered as monotherapy[53,54]. With the consideration of risk to benefit ratio regarding systemic antimicrobials, the local delivery of antimicrobials proves beneficial. In this local drug delivery (LDD) system, the antimicrobial agents are delivered directly into the periodontal pocket site either in form of fibers, gel, microspheres or chip. The local delivery of antimicrobials counteracts adverse effects related the systemic antimicrobials and conveys a high concentration of the drug at the local periodontal site. These LDD systems act as valuable adjuvant to SRP[55]. There are also other adjuvant PT modalities along with SRP. These include photodynamic therapy[56] and lasers[57]. Lasers have also been used as a substitute or as an adjuvant with mechanical periodontal treatment. In PT laser irradiation has been used for calculus removal and detoxification of diseased root surface, removal of epithelial lining and granulation tissue. Lasers also exert a potential biostimulation effect on the cells in vicinity to the target tissue, thereby abbreviating the inflammation and enhancing the healing of periodontal tissues[58]. Host modulation therapy (HMT) may be utilized as an adjunct to SRP. HMT is directed to the manipulation of host inflammatory response. Periodontitis causes host tissue damage via the expression of inflammatory mediators such as IL-1, PGE2, MMPs. HMT in periodontitis consists of sub antimicrobial dose of antibiotics like doxycycline, non steroidal anti-inflammatory agents like flurbiprofen and bone antiresorptive agents like bisphosphonates[59]. Host modulatory agents may be targeted against the expression of host inflammatory mediators and subverting the inflammatory cell-signalling pathways[60]. Surgical therapy can be employed to gain complete access to the diseased periodontal sites and for implementation of regenerative periodontal procedures[61].
MECHANISMS OF DM INDUCED PERIODONTAL IMPAIRMENT
Epidemiological studies reveal that periodontitis is more prevalent in subjects with DM as compared with the non-diabetic population. DM may increase the risk of periodontitis by two to three folds[62].
DM induced periodontal tissue damage occurs via various mechanisms.
These may be categorized as follows: (1) Advanced glycation end products (AGEs) mediated tissue damage; and (2) Immune cell dysfunction.
Oxidative stress induced tissue damage: (1) Chronic hyperglycemia conduces to the formation of AGEs. This occurs as a result of nonenzymatic binding between the reducing sugar moieties with free amine residues of proteins. The AGEs exert their deleterious effects by binding to specific cellular receptor, known as receptor for AGE (RAGE). RAGE plays an important role in the development of DM related complications[63]. The AGE-RAGE coupling in DM-periodontitis induced murine models has demonstrated a substantial, sustained inflammatory response. This revealed a progressive bone loss in animal models with DM, compared to those without DM. It was hence deduced that the AGE-RAGE interaction intensifies the destructive process of periodontitis[64]. Immune cells such as monocytes, macrophages and PMNs carry a RAGE. AGE provokes these cells to produce excess of superoxide, when challenged by chemoattractants, resulting in tissue destruction[65,66]. AGEs are incriminated in exaggerating the periodontal inflammatory responses ensuing in the destruction of periodontal supporting bone[67]. The strong and sustained inflammatory response also enhances the process of apoptosis, thus yielding the periodontal tissues to the destructive process of periodontitis. This also diminishes the reparative capacity of the periodontal tissues[68]. AGEs combined with pro-inflammatory cytokines can motivate fibroblast apoptosis and impair periodontal wound healing[69]. Periodontal tissue collagen cross-linked with AGE shows decreased solubility and high resistance to proteolytic breakdown. This may compromise the physical and mechanical properties of periodontal tissues with greater susceptibility for periodontal disease[70]. AGEs also compromise the differentiation, growth and function of osteoblast cells[71]; (2) Several studies have analyzed the consequences of chronic hyperglycemia on periodontal tissues. These studies have indicated a dynamic role of exaggerated innate inflammatory response ensuing in microvascular damage, extracellular matrix destruction and ultimately debasement of periodontal tissues[72-75]. The PMNs are specialized immune cells which effectuate various protective and pathological immune responses[41]. The PMNs and monocytes are able to express an array of pro-inflammatory cytokines, which regulate the inflammatory process. However, this function is altered in DM. PMNs and monocytes from T2DM subjects expressed greater amount of cytokines as compared to non DM controls[76,77]. DM subjects display PMNs with higher vulnerability for oxidative DNA damage as compared to other peripheral blood cells[78]. Study on murine animal models has demonstrated that chronic hyperglycemia promotes the increase in the process of PMN margination and macromolecule extravasation in the gingival microvasculature. This may conduce to a pro-inflammatory environment, intensifying the severity of periodontal disease[79]. DM activates the innate immune mechanisms and limits the potential for repair. This aggravates the periodontal disease, thus the term "diabetic periodontitis"[80]; (3) DM is cognizant to be a state of oxidative stress with exuberant formation of reactive oxygen species (ROS). The increase of ROS in the mitochondrial environment poses a hazard for cellular function. These free radical species permeate through the mitochondrial membrane and gain access to the cellular organelles, resulting in cellular damage. An extensive review of literature by Chapple et al[81] highlight the far reaching and significant role of ROS in periodontal tissue destruction.
EFFECT OF DM ON PERIODONTIUM
Histological change in early periodontitis is characterized by the apical migration of the junctional epithelium. Studies conducted on DM rodents have demonstrated the apical recession of the junctional epithelium and inflamed connective tissue. The connective tissue fibers depicted altered arrangement when compared to the non DM controls[82]. The gingival epithelium revealed atrophic changes with diminished cellular organelles and increase in the intercellular spaces. DM caused thickening in the keratinized layer and altered differentiation of the epithelial cells[83]. Laboratory animal models with DM have shown diminished osteoblasts and periodontal fibroblast cells. A 5 fold increase in osteoblast apoptosis and 2.7 fold increase in periodontal fibroblast apoptosis was observed in these animals[84]. Gingival reactive hyperemia was diminished in periodontitis induced rats with DM. The researchers utilized laser flow Doppler flowmetry, to evaluate the attenuated gingival reactive hyperemia. This was attributed to the decrease in vascular endothelial dysfunction in the laboratory animals[85]. Gingival tissue in periodontitis human subjects with DM showed an increment in the expression of tissue inhibitors of metalloproteinase (TIMP)-3 and TIMP-4. This expression of TIMP corresponded to the severity of the periodontal disease activity. Increase in TIMP expression is considered as a reciprocate adjustment for the ongoing process of periodontal destruction. The authors have demonstrated a lateral up-regulation of TIMP in DM subjects with periodontitis[86].
GLOBAL SCENARIO OF DM AND PERIODONTITIS
The global epidemiology of DM reveals a public health crisis afflicting nearly 382 million people. DM is responsible for the death of almost 5.3 million in 2013. The numbers of people affected with DM keep on escalating and it is proposed that in 2035 it will reach 592 million worldwide. DM is the leading cause of death in South Asian countries and it is menacing the economic status of many countries[87]. According to International Diabetes Federation, the South East-Asia region (India, Sri Lanka, Bangladesh, Bhutan, Mauritius, Maldives) inhabits a staggering number of more than 72 million diabetes subjects. Almost 95% of this population constitutes of T2DM[88]. China once the capital of DM has been overtaken by India, which is presently the diabetes capital of the world. The etiology of DM in India is multifactorial. This includes genetic and environmental factors, lifestyle of the population. However, it is peculiar to note that in spite of the alarming incidence of DM in India, there are fewer nationwide studies[89]. It is estimated that a large number of global population approximately 174.8 million remains to be undiagnosed[90]. The global health expenditure is projected to cost 490 billion United States dollars by the year 2030[91]. This enormous expenditure on DM is definitely corrosive to the world's greatest economies and poor nations.
Periodontal disease is a global disease afflicting mankind worldwide. Studies reveal that 5% to 20% of any given population is afflicted by severe periodontitis, whereas the mild and moderate forms of periodontitis affect most of the adult population[92,93]. The global prevalence of periodontal disease (including gingivitis and periodontitis) is 90%. A British study has reported 8% of the adult population exhibiting a periodontal site with pocket depth ≥ 6 mm[94]. According to statistical analysis committee on the survey of dental diseases 2005, it is estimated that 70% of Japanese population above the age of 15 years is affected by periodontal disease and 20% of the adult population above 40 years, demonstrate periodontal pocket depth ≥ 4 mm[95]. The picture in the Indian subcontinent is grave. Studies reveal that 50% of adult population above the age group of 35 years is affected by periodontal disease, ensuing in tooth loss[96]. Due to the variation in the global periodontal epidemiological methodology and difference in the case definitions of periodontitis, precise reports concerning periodontal disease prevalence is unavailable[97]. The community periodontal index for treatment needs introduced by World Health Organization (WHO) in 1987, is used for epidemiological studies of periodontal disease. This assists various nations to develop a profile of population periodontal status and also effective interventional programs to tackle periodontal disease related problems[98]. According to the 4th edition of the WHO manual for oral health surveys, the CPI scores are coded as follows: Score 0: Healthy periodontal status; Score 1: Gingival bleeding; Score 2: Gingival bleeding with presence of calculus; Score 3: Shallow periodontal pocket depth 4-5 mm; Score 4: Deep periodontal pockets ≥ 6 mm; Score 9: Excluded; Score X: Not recorded or visible.
The extent of loss of attachment (LA), recorded for a sextant is evaluated by utilizing the following codes: Score 0: LA 0-3 mm; Score 1: LA 4-5 mm; Score 2: LA 6-8 mm; Score 3: LA 9-11 mm; Score 4: LA ≥ 12 mm; Score X: Excluded; Score 9: LA not recorded or not visible.
It was observed that severe periodontal disease (with CPI score = 4) is prevalent globally in 10%-15% of adults. The most commonly observed, CPI score of 2 (gingival bleeding and presence of calculus), reflects poor oral hygiene.
The deficiencies of 4th edition CPI scoring system have been eliminated with the introduction of the 5th edition of the WHO manual for oral health surveys[93]. Several leading oral health surveys have used periodontal pocket and attachment loss as the criteria for identifying cases of periodontitis. Presently, epidemiological studies are more concentrated on the appraisal of attachment loss rather than pocket depth[99,100]. Workers have expressed mixed reports regarding the prevalence of periodontal disease. The prevalence of periodontal disease was reported to be on a decline in some parts of Europe. However, a surge in prevalence of periodontal disease was noted in Germany and Hungary[101,102]. Most of the epidemiological surveys include the population of developed nations. Epidemiological periodontal survey reports from countries like China and India are very limited. These countries harbor a vast population of DM and periodontitis subjects. Methodologies for the application of periodontal epidemiology have seen a steep change. Presently, the conglomeration of data is inadequate to draw tangible conclusions[92].
EVIDENCE BASED ASSOCIATION OF PERIODONTITIS AND DM
There is a high prevalence of periodontitis in DM subjects. Periodontitis is affirmed to be the sixth complication of DM. The mechanistic link between periodontitis and perturbed glycemic control is still unclear. It is believed that pro-inflammatory mediators such as IL-6 and TNF-α are expressed from the inflamed periodontal sites as a result of microbial stimulus or host response. These mediators enter the systemic circulation and interfere with the function of insulin receptors, thereby deranging the process of insulin signaling. The following cascade of events contributes to insulin resistance and impaired glucose homeostasis[103]. Thus, most of the studies carried out with periodontitis subjects and DM have indicated of poor metabolic control. Glucose binds irreversibly to hemoglobin, leading to the formation of glycosylated hemoglobin (HbA1c). This non-enzymatic glucose moiety persists for the entire life span of the red blood cell. Hence, HbA1c levels reveal the glycemic control of the subject spanning for the previous 1 to 3 mo[104]. The recommended HbA1c goal for DM patients is levels < 7%[105].
A large sample size 5-year case-control cohort study was conducted on Japanese subjects, in two groups. The first group consisted of subjects without periodontal pocket depths ≥ 4 mm at baseline. These subjects were exposed to an increased risk of developing periodontal pockets of ≥ 4 mm after a 5-year period, with HbA1c levels ≥ 6.5% at baseline. In the other group, subjects with HbA1c < 6.5% and periodontal pockets of 4-5 mm or ≥ 6 mm at baseline were likely to display HbA1c levels ≥ 6.5% after 5 years. This corroborated a direct relationship between periodontal health and glycemic status[106]. In a case control study by Wolff et al[107], it was concluded that periodontitis is associated with an escalation of HbA1c levels. Thus, periodontitis may skew the glycemic control in subjects without DM, subjecting them to an increased risk of T2DM. The presence of periodontitis in a German study sample without DM, was related to an elevation of HbA1c assay after 5 years of follow-up[108]. According to the National Health and Nutrition Examination Survey data, a statistically significant association was noted between HbA1c levels and periodontitis in United States. Subjects with higher HbA1c levels tend to demonstrate more severe periodontal disease[109]. A dose-response relationship was observed between PISA and HbA1c, suggesting a causal relationship between periodontitis and T2DM. In T2DM, an increase in PISA results in parallel elevation of the HbA1c levels. It was inferred that with an increase in 333 mm2 of PISA, the HbA1c level advanced by 1%. Thus, an increase in the periodontal inflammatory burden causes a proportional impairment of glycemic control in T2DM patients[110]. PISA can be considered as a predictor of HbA1c along with CRP, in non T2DM subjects. Periodontitis may upset the glycemic control in healthy subjects[111].
MANAGEMENT OF DIABETES - PERIODONTITIS NEXUS
Therapeutic methods
Periodontitis compromises the quality of life[112]. Both, periodontitis and DM exert a bidirectional influence on each other. Poor glycemic control deteriorates the periodontal health and periodontitis can perturb the glycemic status in a subject with DM. It is noteworthy that the cumulative surface area of the diseased pocket epithelium, in a patient with generalized moderate periodontitis is approximately equal to the surface area of palm of adult hand. In severe periodontitis cases larger surface areas may be involved[113]. This is of concern for a health care professional involved in management of DM, whose primary objective is elimination of all potential foci of infection. It may be certainly anticipated that an infective surface of the magnitude mentioned above can be detrimental for effective glycemic control. Hence, it is prudent to incorporate PT as an important regimen in overall therapeutic management of a subject with DM[114]. Competent glycemic control improved periodontal conditions in periodontitis subjects, in absence of any periodontal intervention. This substantiated the "two-way relationship" between DM and periodontitis[115]. Various studies have assessed the effect of PT in T2DM patients with periodontitis. These studies included HbA1c as a common parameter to assess the improvement in metabolic control[116-167]. These studies have employed SRP alone or combined with systemic/topical antimicrobials. However, there is a variation in the results of these prospective studies. The range in reduction of HbA1c is 0.4% to 2%, with results persisting for 3 to 9 mo after PT. PT ensues in the diminution of serum pro-inflammatory factors such as TNF-α and CRP in T2DM individuals. This accounts for the reduction in systemic inflammatory burden and resultant complications associated with T2DM[168].
Table 1 depicts the various meta-analyses, showing the effect of PT in reduction of HbA1c levels[169-182]. Considering the heterogeneity of these studies and limitations in the designs, it would be too premature to draw any explicit conclusions and extrapolations[170,172]. To derive robust evidence for implications of PT in DM subjects, further studies should be carried out as per the suggestions furnished by Garcia[171]: (1) The trial should be single blind randomized, large sample size, consisting of subjects with DM and moderate/severe periodontitis; (2) The test group should receive the basic PT and the control group should be deferred from any PT; (3) Post PT, the follow-up period should be 6 mo; (4) Results to be evaluated should be based on the parameters assessing periodontal inflammation and metabolic control; and (5) Plasma should be checked for markers of systemic inflammation.
| | | | |
| --- | --- | --- | --- |
| Ref. | Year | Results | Conclusion |
| Janket et al[169] | 2005 | 7 studies, n = 456 | With SRP ↓HbA1c by 0.66% PT and antibiotics ↓HbA1c by 0.71% |
| Darré et al[170] | 2008 | 9 studies, n = 485 | PT ↓HbA1c by 0.79% |
| Garcia[171] | 2009 | 9 studies, n = 485 | PT ↓HbA1c by 0.79% |
| Teeuw et al[172] | 2010 | 9 studies, n = 371 | PT ↓HbA1c by 0.4% in 3 mo |
| Vergnes[173] | 2010 | 7 studies, 3 studies results pooled | SRP (with/without antibiotics) ↓HbA1c by 0.4% in 3-4 mo |
| Simpson et al[174] | 2010 | 7 studies, 3 studies results pooled | SRP (with/without antibiotics) ↓HbA1c by 0.4% in 3-4 mo |
| Sgolastra et al[175] | 2013 | 5 studies | SRP ↓HbA1c by 0.65% |
| Liew et al[176] | 2013 | 6 studies, n = 422 | SRP without antibiotics ↓HbA1c by 0.64% in 3 mo |
| Corbella et al[177] | 2013 | 15 studies | PT ↓HbA1c by 0.38% in 3-4 mo and 0.31% in 6 mo |
| Engebretson and Kocher[178] | 2013 | 9 studies | PT ↓HbA1c by 0.36% |
| Wang et al[179] | 2014 | 10 studies, n = 1135 | PT ↓HbA1c by 0.36% in 3 mo and 0.30% in 6 mo |
| Sun et al[180] | 2014 | 8 studies, n = 515 | PT ↓HbA1c by 1.03% in 3 mo, 1.17% in 6 mo, 1.21% in 3, 6, 9 mo |
| Engebretson[181] | 2014 | 7 studies, n = 678 | PT ↓HbA1c by 0.38% in 3-4 mo and 0.31% in 6 mo |
| Li et al[182] | 2015 | 9 studies, n = 1082 | PT ↓HbA1c by 0.27% in 3 mo |
Anti-diabetes drugs are employed as single or combination regimen, for the effective metabolic control in DM patients. The dipeptidyl peptidase-4 inhibitors (known as gliptins) in combination with metformin reduce HbA1c level by 0.8%. When added to metformin and glimepiride, the HbA1c reduction is the same. In comparison to a placebo, gliptins mitigates HbA1c level by 0.6%-0.7%. For DM subjects failing to maintain adequate metabolic control on two anti-diabetic drugs, glucagon-like peptide-1 analogue (exenatide) can be added. Exenatide assists to reduce HbA1c level by about 1%. Pioglitazone, when added to an insulin regimen, favors the HbA1c reduction by about 0.54%[183]. The newer sodium-glucose co-transporter 2 inhibitors reduce HbA1c by 0.5%-1.0%[184]. It is strategically important to note that a decrement of HbA1c by 1% is associated with a decrease of microvascular complications by 37%, decrease in DM deaths by 21% and a decrease in the risk of myocardial infarction by 14%. Thus, any reduction in HbA1c although miniscule may translate into a decrease in the risk of DM related complications[185].
The anti-diabetic agents are not without adverse effects. Sulfonylureas can cause hypoglycemia. Glucagon like peptide-1 receptor agonists and Metformin exert gastrointestinal side effects[186-188]. Thiazolidinediones cause weight gain, peripheral edema and increase the risk of cardiac failure. These agents also elevate the risk of bone fractures, particularly in females[189,190]. Sodium-glucose co-transporter 2 inhibitors induce albuminuria, reduce serum uric acid levels, possess diuretic effect and their use is accompanied by genital mycotic infections and urinary tract infections[191,192]. An important aspect of anti-diabetic drug therapy is the cost effectiveness. The drug therapy of DM levies a heavy cost, particularly for the developing and populous countries like India and China. Since the costs of newer medications continue to escalate, physicians should exercise their prudent decision regarding different possible options and resources[183,193,194]. Theoretically PT may substitute as one or more of the anti-diabetic drugs, employed in the treatment of T2DM. However, more studies should be implemented to substantiate this claim. The practical substitution may reduce the drug related adverse effects and also the cost, in DM patients with periodontitis. Non surgical PT, inclusive of antimicrobial therapy is highly cost effective for the management of periodontitis. This can be effectively used to treat large number of subjects[195].
Non therapeutic methods
Social support is an important aspect in the management of chronic diseases. Social support can augment the efforts of the health care professionals, ensuing in desirable results[196]. Presently, there is a growing body of evidence that peer support significantly assists in amelioration of chronic health conditions. Peer support works on the basis of non stratified reciprocal relationship developed as a result of sharing similar health ailments[197]. A meta-analysis by Qi et al[198] reveals improvement of HbA1c levels by 0.57% in T2DM patients with peer support approach. In a similar manner, a peer support method may be applied for the management of periodontitis-DM patients. According to an insurance claims data evaluating patients with dental and medical coverage, it was inferred that subjects undergoing PT were salvaged from the medical costs arising as a complication due to DM. This significant reduction measuring 20% to 40% appeared to persist for 3 years[199]. Oral diseases may be caused due to altered behavioral pattern. It is imperative to modify the patients' behavioral pattern, adoption of healthy oral care habits coupled with regular visits to the dentists[200,201]. As far as the Indian oral health scenario is concerned, the services available to the masses are provided by private and public sectors. Patients with DM are offered state-subsidized public dental care by the municipality. According to an Indian study the public health resources are not fully exploited to the benefit. This study also reported of inadequate oral hygiene in Indians with T2DM and stressed for an enhanced knowledge of periodontal ailments conjugated with oral hygiene methods for disease prevention[202]. According to a questionnaire study by Bowyer et al[203], it was reported that 69.1% of the participants were not advised by the health care professionals regarding the association between oral hygiene and DM. According to a Jordanian study only 47.7% of the patients with DM were aware of the reciprocal relationship between periodontitis and DM[204]. In a German study, 56% of the participants were unaware of the mutual association between periodontitis and DM. It was also noted that 66% of them were not cognizant of the fact that patients with DM are at a greater risk of periodontal disease as compared to the non diabetic counterparts[205]. Diabetic patients with periodontitis are often haunted by misconceptions. The most common being discontinuation of brushing and flossing, in order to prevent gums bleed. Patients with DM use alcohol containing mouthwashes, which actually exacerbates the xerostomia. Thus, misconception and false information about oral hygiene may actually ensue in harmful behaviors. This may set a barricade to an efficient management of periodontal disease in diabetic patients[206,207]. Considering the bidirectional relationship between DM and periodontitis it is important to educate, create awareness and motivate patients with DM to maintain scrupulous oral hygiene. Various measures like tooth brushing, flossing and prescribed dental visits are efficacious in maintaining the periodontal health. It is overtly observed that patients with DM are least aware of their periodontal health, incognizant of the fact that poor periodontal health is a cause for perturbed glycemic control. An insignificant number of subjects with DM and periodontitis are aware that PT may assist in the improvement of glycemic status[208,209]. Patients with DM keep a routine follow-up with the health care professionals; hence the health care professionals possess a better opportunity to educate these patients about the oral manifestations and complications of DM. They can motivate these patients to dissuade from harmful habits like tobacco. A referral to the oral health professional is important to assess the periodontal status and initiate PT if deemed necessary[207]. The oral health professional can also play a crucial role in diagnosis of DM by discerning the typical gingival features in DM. The typical presentation of multiple periodontal abscesses, gingival bleeding and poor response to conventional PT should raise suspicion in the mind of the dentist. Undiagnosed uncontrolled hyperglycemia may be the underlying cause for exaggerated periodontal inflammation[210]. A Thai experimental study employed a combination of life-style change and periodontal care in DM patients. The study outcome revealed an improvement in glycemic control and periodontal status of the participants[211]. Dentist is traditionally considered specifically as an oral health care professional. Periodontal care in DM subjects is seldom considered by medical authorities. This attitude should undergo a dynamic change, wherein the oral care professional should be incorporated as a strategic member in the team for control of DM[212]. The team which disperses proper information about the relationship between DM and periodontal disease should consist of dentists, physicians, diabetes educators. Mass media such as newspaper and television play a key role in everyday life of the masses. The mass media can contribute to betterment in the health of public by the communication of valuable information through educational campaigns, programs and advertisements. The television network in particular has penetrated in all strata of the population constituting an important element. Thus television can sustain positive effects on the health knowledge, attitude and behaviour of the target population. Television programs or advertisements aired for the public health welfare may increase the awareness of the masses about a particular ailment and act as a valuable guide for treatment[213,214]. According to a study in Asian subjects, Tokuda et al[215] concluded that there exists considerable association between trust in mass media and health of public. This vertical trust of public on the mass media can be effectively exploited for the education of periodontitis-DM association. In today's age of wireless technology a sizeable world population is facilitated by mobile communication. The number of mobile phone subscribers exceeds 6.8 billion worldwide. In India there are 877 million mobile users. The mobile phones in India maintain a low tariff (1.6 United States dollars per month), prompting a large scale utility for communication purposes. This use is popular not only in the urban but also in the rural parts of India. Hence, mobile phones can be exploited as a powerful tool for health care and treatment compliance[216]. Health related information and follow-up protocols can be conveyed effectively via text messaging[217,218]. Text messaging is an effective mode of health education, particularly in rural population lacking computers and internet facility. Moreover, this facility can be utilized by strata of the population possessing basic education[219]. Use of mobile in health intervention is particularly encouraging in low and middle income countries. Mobile communication can be used for enhancement of treatment adherence, appointment scheduling, data collection and evolving a network for health care professionals for effectual collaboration[220,221]. Patients with medical conditions browse the internet to search for the needful information. The internet is utilized as an effective medium to share clinical information and converse with group of patients with the same ailment. Social networking is an important site to share the needful information. Facebook is one of the most prevalent networking sites with more than 400 million registered users across the globe. Such sites have proved to provide satisfactory support and amend the disease management, to ensue favorable outcomes[222,223]. Health care professionals can effectively utilize sophisticated communication devices to spread awareness amongst patients. One such exciting device is the smartphone. Smartphone is widely used by the masses for access of internet, email and data storage, including practicable software application. Management of DM via smartphones is an effective tool and holds a bright future[224,225]. In South Korea, Kim et al[226] have reported a smartphone application known as "Diabetes NotePad". This application was designed for the purpose of DM self management, recording of glycemic levels and DM education material. The application can be downloaded free of charge and it is showing increased acceptance and enhanced user satisfaction[226]. Gadgets like netbook and smartphone are highly effective for patient counseling, augment patient motivation and self care in management of DM[227,228]. Similarly on these lines an application can be developed, addressing the evaluation and recording of periodontal status at every visit. It can also enclose oral hygiene educational material. The smartphone application can remind the patient about the prescribed dental visit and improve communication with the oral health care professional. Application may also be designed to render effective dissemination of DM-periodontal disease information. With the evolution of periodontal medicine and substantially cognizant periodontal-systemic association, the role of periodontist has evolved from a "gum specialist" to an important collaborator of the medical care team. By the prevention and treatment of periodontal disease periodontists can salvage potential complications arising due to chronic conditions like DM[229].
CONCLUSION
Oral diseases pose a major challenge to the global public health. It is perceptible that periodontal disease and tooth loss are associated to systemic metabolic disorders such as DM. The past decade has witnessed a plethora of literature unraveling the link between DM and periodontal disease. Various studies have amply elucidated the mechanistic links between the two conditions. It is now discernible that DM has pernicious effects on the periodontal tissues, supporting the tooth. The 2011 New York Academy of Sciences conference on diabetes and oral disease involved the participation of various leading authorities from the fields of medicine and dentistry. The league discussed on the various issues of DM-periodontal disease link and emphasized on the coherent efforts of the medical and oral health professional to achieve optimal outcome of the treatment in DM patients. It is also imperative to counsel the patient and bring home the DM-periodontal disease connection[230]. It is hence pertinent to perform epidemiological survey with standard methodologies. A major part of the survey should include population of developing and poor nations. The periodontal and diabetes health care professional community must embrace the technological innovations of information and communication. Mass media, mobiles, smartphones, internet, various social networking sites are all tools for the improved education about the periodontitis-DM and its compound management. Social support also plays a major role in the sustainability of these patients. It is crucial to fortify the public health plans by diagnosis and treatment of chronic oral diseases such as periodontitis. The common risk factors for both these conditions should be identified and necessary approach implemented. The medical professional should comprehend and affirm periodontitis as one of the occult complications of DM and interpolate the oral health professional as an important team member in the treatment of DM.
P- Reviewer: Beltowski J, Tarantino G S- Editor: Gong XM L- Editor: A E- Editor: Jiao XK