Copyright
©The Author(s) 2015.
Published by Baishideng Publishing Group Inc. All rights reserved.
Mechanisms of hypoglycemia unawareness and implications in diabetic patients
Iciar Martín-Timón, Francisco Javier del Cañizo-Gómez, Section of Endocrinology, Hospital Universitario Infanta Leonor, Facultad de Medicina, Universidad Complutense, 28031 Madrid, Spain
Author contributions: Martín-Timón I and del Cañizo-Gómez FJ contributed equally to this work.
Conflict-of-interest statement: None.
Open-Access: This article is an open-access article which was selected by an in-house editor and fully peer-reviewed by external reviewers. It is distributed in accordance with the Creative Commons Attribution Non Commercial (CC BY-NC 4.0) license, which permits others to distribute, remix, adapt, build upon this work non-commercially, and license their derivative works on different terms, provided the original work is properly cited and the use is non-commercial. See: http://creativecommons.org/licenses/by-nc/4.0/
Correspondence to: Dr. Francisco Javier del Cañizo-Gómez, Professor, Chief, Section of Endocrinology, Hospital Universitario Infanta Leonor, Facultad de Medicina, Universidad Complutense, Avda Gran Vía del Este 80, 28031 Madrid, Spain. fjcanizog@salud.madrid.org
Telephone: +34-91-1918000 Fax: +34-91-1918878
Received: August 1, 2014
Peer-review started: August 2, 2014
First decision: December 17, 2014
Revised: December 30, 2014
Accepted: March 30, 2015
Article in press: April 2, 2015
Published online: July 10, 2015

Hypoglycemia unawareness (HU) is defined at the onset of neuroglycopenia before the appearance of autonomic warning symptoms. It is a major limitation to achieving tight diabetes and reduced quality of life. HU occurs in approximately 40% of people with type 1 diabetes mellitus (T1DM) and with less frequency in T2DM. Though the aetiology of HU is multifactorial, possible mechanisms include chronic exposure to low blood glucose, antecedent hypoglycaemia, recurrent severe hypoglycaemia and the failure of counter-regulatory hormones. Clinically it manifests as the inability to recognise impeding hypoglycaemia by symptoms, but the mechanisms and mediators remain largely unknown. Prevention and management of HU is complex, and can only be achieved by a multifactorial intervention of clinical care and structured patient education by the diabetes team. Less know regarding the impact of medications on the development or recognition of this condition in patients with diabetes. Several medications are thought to worsen or promote HU, whereas others may have an attenuating effect on the problem. This article reviews recent advances in how the brain senses and responds to hypoglycaemia, novel mechanisms by which people with insulin-treated diabetes develop HU and impaired counter-regulatory responses. The consequences that HU has on the person with diabetes and their family are also described. Finally, it examines the evidence for prevention and treatment of HU, and summarizes the effects of medications that may influence it.
Core tip: This review describes novel mechanisms by which people with insulin-treated diabetes develop hypoglycemia unawareness (HU), the consequences that HU has on the person with diabetes and their family, the evidence for prevention and treatment of HU, and the effects of medications that may influence it.
---
Citation: Martín-Timón I, del Cañizo-Gómez FJ. Mechanisms of hypoglycemia unawareness and implications in diabetic patients. World J Diabetes 2015; 6(7): 912-926
---
INTRODUCTION
Hypoglycemia is usually defined as a plasma glucose level < 70 mg/dL (3.9 mmol/L)[1]. Since the brain is permanently dependent on glucose, strong counter-regulatory mechanisms exists to quickly increase glucose levels to protect the human body from the negative consequences of hypoglycemia. Counter-regulatory response to hypoglycemia (Figure 1) includes inhibition of the endogenous insulin secretion and stimulation of glucagon, catecholamines (norepinephrine, epinephrine), cortisol and growth hormone secretion, which all together stimulate hepatic glucose production and cut down glucose utilization in peripheral tissues, increasing in this way plasma glucose levels. As glycaemia comes down, the activation of the autonomic nervous system leads to neurogenic symptoms (palpitations, sweating, hunger, anxiety, tremors, etc.), which allows the perception of hypoglycaemia (hypoglycaemia awareness) (Figure 2).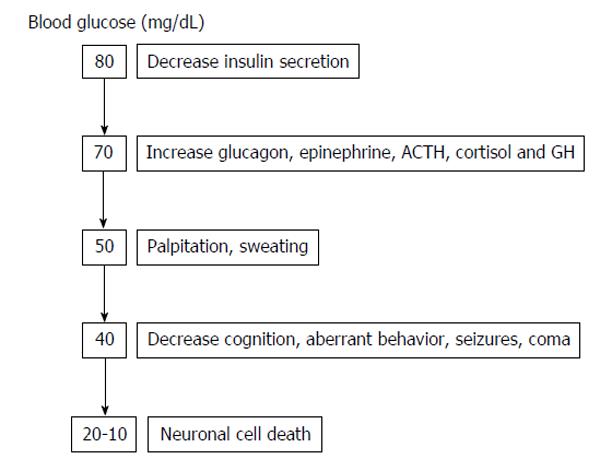 Figure 2 Symptoms and signs associated with progressive hypoglycemia.
ACTH: Adrenocorticotropic hormone; GH: Growth hormone.
Hypoglycemia unawareness (HU) is defined as the onset of neuroglycopenia before the appearance of autonomic warning symptoms[2] or as the failure to sense a significant fall in blood glucose below normal levels[3]. In patients with type 1 (T1DM) or type 2 diabetes mellitus (T2DM), recurrent hypoglycemia has been shown to reduce the glucose level that precipitates the counter-regulatory response necessary to restore euglycemia during a subsequent episode of hypoglycemia[4,5].
HU was observed in 40% T1DM patients[6] and less frequently in T2DM patients with low C-peptide levels. The presence of HU increases the risk of severe hypoglycaemia (six-fold for T1DM[7] and 17-fold for T2DM[8]). HU is more common in individuals with longer duration of diabetes, history of recent and/or recurrent hypoglycaemic events, patients with intensive glycemic therapy and in advanced age[9].
Presently, the major risk factors for the development of HU are duration of the disease and improved metabolic control. The severity of HU was associated with longer diabetes duration and with a history of frequent low glycemic levels[6], whereas aging and the blood glucose decreasing rate using professional continuous glucose monitoring systems (CGMS), which falls from near blood glucose level, were risk of severe HU[10]. Data from Pittsburgh Epidemiology of Diabetes Complications[11] showed that diabetes duration, HbA1c and intensive insulin therapy predicted HU in men, whereas severity and frequency of hypoglycemia, QTc interval and hypertension predicted HU in women. Thus, women are more likely to have HU, which unlike in men, is also marginally related to hypertension, QTc interval and hypoglycemia. On the other hand, in patients with T1DM, HU was 3.4-fold more common among patients homozygous for Gly16 than among patients with other variants of the Arg16Gly polymorphism, so that T1DM patients who carry two alleles of the Gly16 variant of ADRB2 are at increased risk of developing HU[12]. Finally, in both T1 and T2DM patients with impaired HU, hypoglycemia-induced electroencephalogram changes, such increased theta band amplitude, were not affected by antecedent of hypoglycemia[13].
This article reviews recent advances in how the brain senses and responds to hypoglycemia, novel mechanisms by which people with insulin-treated diabetes develop HU and impaired counter-regulatory responses. The consequences that HU had on the person with diabetes and their family is also described. Finally, it examines the evidence for prevention and management of HU, and summarizes the effects of medications that may influence it.
MECHANISMS OF HU
Aberrant glucose counter-regulation (as a result of a failure in the reduction of insulin production and an increase in glucagon release), and HU (as the result of an attenuated increase in sympathoadrenal activity) are the components of hypoglycemia-associated autonomic failure (HAAF) in diabetics patients. HAAF is most often caused by recent/recurrent iatrogenic hypoglycemia, and indeed HAAF is maintained by recurrent hypoglycemia[14,15] (Figure 3).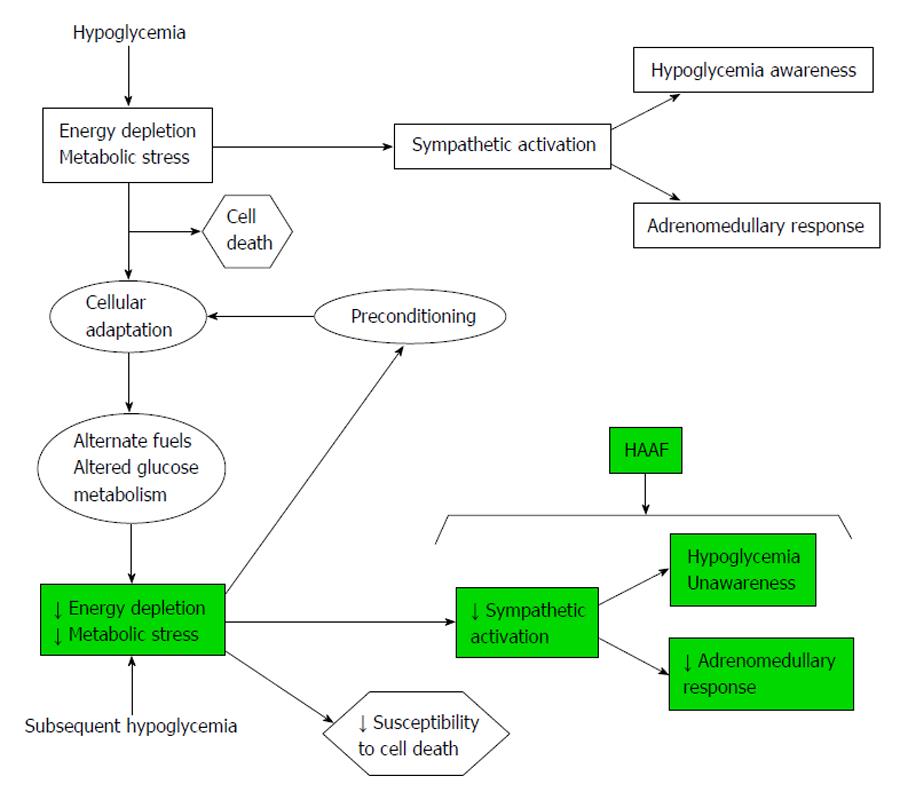 Figure 3 Recurrent hypoglycemia leads to cellular adaptation and hypoglycemia-associated autonomic failure.
HAAF: Hypoglycemia-associated autonomic failure.
Diverse causes of HAAF and HU in diabetes[16]
Catecholamines: Previous hypoglycemia leads to a blunted catecholamine response to a following episode of hypoglycemia. These has been demonstrated in several studies; for example Ramanathan et al[17] showed that intravenous infusion of adrenergic blockers on one day of a hypoglycemia prevent the counter-regulatory failure in the response on the next day of hypoglycemia. This study implicates that HAAF needs a previous hypoglycemia (with its sympathoadrenal responses). If we use this hypothesis to think in a possible pharmacologic treatment, we can concluded that blocking the action of catecholamines we can limit the development of HAAF and protect against subsequent hypoglycemias; but unfortunately, blocking the action of catecholamines in periphery we would tend to an increase in the severity of hypoglycemia. We would need to develop a selective adrenergic receptor modulators that favourably change central nervous system response without modify the beneficial peripheral effects of the sympathoadrenal response.
Sleep: Sleep is a peripheral mediator of HAAF linked with catecholamine response. Patients with T1DM, while they are sleeping, they have a significantly decreased epinephrine response to hypoglycemia[18], and also a reduced awakening from sleep during hypoglycemia[19]. So, because of the HU and the impaired adrenomedullary response, we can explain some of the overnight deaths of healthy young people with T1DM.
Cortisol: Hypoglycemia is associated with an elevation in systemic corticosteroids, and this has been proposed to feedback to the hypothalamus contributing to HAAF[20-22]. However it remains controversial if the endogenous hypercortisolemia is of sufficient magnitude to blunt de counter-regulatory response to hypoglycemia[23,24]. It have been shown that corticotrophin releasing hormone agonist impair the counter-regulatory response to a subsequent hypoglycemia, suggesting a possible role in HAAF[25].
Opioids: Preclinical and clinical studies with opioids demonstrated a rise in endogenous opioids during hypoglycemia, for example naloxone (an opioid receptor blocker), increased the sympathoadrenal response to hypoglycemia, and when is infused during previous hypoglycemia, it prevent HAAF[26,27]. Hence there is a potential therapeutic function for opioid receptor blockade to protect against HAAF.
Exercise: The inability to reduced circulating insulin during exercise, lead T1DM patients, at an increased risk for hypoglycemia during or after exercise. In addition to, during exercise the opioid beta endorphin is released to activate the sympathoadrenal response. In a recent study, healthy individuals who exercised and elevated endorphin levels, they had reduced catecholamine response during hypoglycemia in the next day[28], suggesting that endogenous opioids, again, play a role in HAAF, and that blocking their action may protect against exercise-autonomic failure.
Recurrent hypoglycemia and HU
Clinically HAAF can be viewed as both, maladaptative or adaptative response[29]. At one end, patients with T1DM and HU make tests of cognitive function during hypoglycemia better than patients with HU. Additionally, the time necessary for complete cognitive recovery after restoration of normoglycemia is faster in patients who have HU[30]. HAAF in humans may be similar than in rats; rats with recurrent moderate hypoglycemia had less brain cell death[31] and less mortality during or following marked hypoglycemia than those without recurrent hypoglycemia. On the other hand, HAAF is without doubt a maladaptive response if we consider that defective glucose counter-regulation and HU rise the risk of severe hypoglycemia with its morbidity and potential mortality[32].
Although it is well established that recurrent hypoglycemia leads to HU, the mechanism responsible for this are unknown. Several current mechanistic hypotheses are discussed below.
The brain glucose transport or glucose metabolism hypothesis: Several studies have identified specific brain regions that exhibit decrease glucose uptake. In diabetic patients with and without HU, the effects of acute moderate hypoglycemia and the condition of HU on regional brain uptake of the labeled glucose analog [(18)F]fluorodeoxyglucose (FDG) using positron emission tomography were examined[33,34]. In the group with hypoglycemia awareness, there was an increase in the normalized FDG uptake in a subthalamic brain region[33], in left amygdale and in bilateral ventral striatum[34] in response to hypoglycemia; whereas in the group with HU the uptake in these brain regions fell significantly[33,34]. Reduced responses in these brain regions in HU, suggest habituation of higher behavioral responses to hypoglycemia as a basis for unawareness, and demonstrated a change in its metabolic function associated with the failure to trigger a counter-regulatory response. On the other hand, in subjects with T1DM and HU a positive correlation was observed between thalamic response and epinephrine response to hypoglycemia, suggesting that this brain region may be involved in the coordination of the counter-regulatory response to hypoglycemia[35]. During recurrent hypoglycemia, cerebral blood flow reduced significantly in the thalamus and hypothalamus of T1DM subjects, compared to healthy controls[36], suggesting that there is reduced neuronal activation in these brain regions that participate in glucose sensing and/or coordination of counter-regulation response in subjects with T1DM that likely contributes to the development of HU.
It has been hypothesized that recurrent hypoglycemia leads to HU through an alteration in the glucose transport or metabolism. Altered glucose transport or metabolism as a cause of HU is less substantiated in humans. Subjects with T1DM and HU had significantly higher brain glucose concentrations compared to that in controls under the same conditions[37]. These date suggest that changes in brain glucose transport or metabolism may occur as a result of recurrent hypoglycemia.
The brain glycogen supercompensation hypothesis: It has been hypothesized that increased brain glycogen contributes to the development of HU and impaired sympathoadrenal responses by providing energy for the brain during periods of systemic hypoglycemia. Experimental studies and in humans have shown that after one or more episodes of hypoglycemia, increased glycogen content in the brain[38,39]. Subsequent studies indicated lower glycogen content in brain of humans with T1DM, implying that glycogen supercompensation does not contribute to the development of HU[40]. The most important question to resolve is whether changes to brain glucose levels, physiologically or pharmacologically induced, may provide people who suffer from recurrent hypoglycemia a therapeutic benefit to preserve both the sympathoadrenal response and HU.
The brain fuel hypothesis: When there is a decrease in the supply of glucose from the periphery, the brain may be able to keep your metabolic processes by increasing uptake of alternative carbon fuels such as lactate or ketones. Plasma lactate concentrations are approximately tenfold higher than those of acetate, making it a primary candidate as an alternative brain fuel during hypoglycemia. On the other hand, increased of blood-brain barrier monocarboxylic acid (MCA) transport and metabolism among T1DM individuals with HU may be a mechanism to supply the brain with non-glucose fuels during episodes of acute hypoglycemia and may contribute to the maintenance of brain energetic during hypoglycemia and to the syndrome of HU, independent of diabetes[41]. Finally, in T1DM patients with HU, upregulation of the MCA transporter promotes increased brain lactate uptake[42].
The brain neuronal communication hypothesis: Neuronal communication relies on the release of classical neurotransmitters, such as Gamma-Aminobutyric Acid (GABA), a potent inhibitory neurotransmitter. GABA levels in ventromedial hypothalamus (VMH) interstitial fluid are decreased during acute hypoglycemia[43]. Recurrent hypoglycemia leads to a significant increase in VMH GABA concentrations[44], that fail to decrease normally during subsequent hypoglycemia, and which correlates with the reduced glucagon and epinephrine responses[45]. These data suggest that recurrent hypoglycemia results in increased VMH GABA inhibitory tone, and that altered GABA tone may be an important common mediator in the development of HAAF, especially in diabetic patients.
PREVENTION AND MANAGEMENT OF HU
Prevention of HU
Prevention of HU is an important part of modern day intensive diabetes therapy. To prevent HU, the goal is the complete avoidance of hypoglycemia, which is very difficult to achieve[105]. Blood glucose monitoring, individualized targets and educational programs are important in the bid to prevent and manage HU.
Blood glucose monitoring: CGMS, that can detect hypoglycemia, represents an important technological advance on the methods used for self-monitoring of blood glucose, and they are welcome to both patients and clinicians[106]. The ability of CGMS systems is to advise patients when glucose levels fall too low or rise too high, and has the potential to reduce de duration of hypoglycemia and hyperglycemia events[107,108]. Also, CGMS can be used for objective detection of patients with HU[109]. In adult patients with long-standing T1DM, a fasting level of C peptide of ≤ 0.6 ng/mL, and a HbA1c ≤ 9%, hypoglycemic episodes with a duration more than 90 minutes detected by CGMS, identified patients who had HU with an 88% specificity and 75% sensitivity[109]. On the other hand, the epinephrine response to hypoglycemia in adolescents patients with T1DM with HU was greater after the use of real-time CGMS with low glucose alarms than with standard medical therapy alone[110]. This suggests that real-time CGMS is a useful clinical tool to improve HU in adolescents with T1DM[110]. Choudhary et al[111] assessed the effect of CGMS on the frequency of severe hypoglycemia episodes, using the Gold scoring method[46] in 35 people with T1DM who have HU, via retrospective audit. A significant decline was observed in the mean rate of severe hypoglycemia (8.1 to 0.6 events per year) and also in HbA1c level (8.1% to 7.6%), between its initiation and the end of the 1-year follow-up period; while the mean Gold score did not change significantly[111]. These results support previous reports that CGMS can lower the incidence of severe hypoglycemia in patients with T1DM and HU, with no impact on the severity of HU over a 1-year period. A randomized cross-over study to assess the effects of CGMS use on glycemic levels and quality of life in patients with T1DM and HU, using the change in the Gold scoring as one of the secondary endpoints, is currently in progress and the results will not be available until 2015[112].
The impact of closed-loop CGMS, which link CGM technology with insulin pumps, whereby insulin infusion is programmed to stop automatically when glucose levels drop below a pre-determined glycemic threshold, on reducing the incidence of hypoglycemia events appears to be limited and so their usefulness in improving HU is debatable[16].
Individualized targets: In diabetic patients with HU blood glucose targets should be relaxed but not abandoned. Appropriate targeting of plasma glucose may help patients and practitioners achieve HbA1c goals, reduce excessive self-testing and minimize the occurrence of severe hypoglycemic events[113]. Glycemic goals should be individualized with some degree of safety particularly for patients with long duration of diabetes, patients who have a high risk of HU and severe hypoglycemia development, and/or subjects with multiple co-morbidities[114,115]. Basically, an HbA1c goal of less than 7% remains recommended, but is there a safe range for HbA1c? In patients with T1DM undertaking insulin therapy, the rates of severe hypoglycemia were increased among those with HbA1c < 6% and therefore it was suggested that using current therapy, an HbA1c of between 6%-7% represents the best compromise between the risk of severe hypoglycemia and that of developing microvascular complications[116].
Educational programs: The central objective of a hypoglycemia-reversal program is to prevent any period of hypoglycemia for at least four weeks. In diabetic patients with HU an appropriate educational program includes an emphasis on regular snacks at right times, warnings to take special care at periods of greater risk such as before lunch, moderation in alcohol intake and about the danger of delayed hypoglycemia after heavy alcohol intake or prolonged exercise. Diabetes self-management education can have physical and psychosocial benefits, and results in behavior changes with positive influence in outcome. A self-awareness intervention of 8 sessions, each lasting 3 h, was designed to determine whether there are psychosocial and physical benefits of self-awareness intervention in 29 adults with T1DM and HU. Post-intervention the participants detected more cues of euglycemia and hypoglycemia and experienced significant increases in integration and metabolic control[117].
In a randomized, prospective multi-centre trial, the effect of a specific training program for patients with hypoglycemia problem was compared with a control group receiving a standardized education program aiming of at avoidance of hypoglycemia by optimization of insulin therapy[118]. Compared to control group, the specific training program demonstrates additional benefits in terms of improving HU, reducing mild hypoglycemia, and detecting ant treating low blood glucose[118]. In the Dose Adjustment for Normal Eating-Hypoglycemia Awareness Restoration study, a 6-wk pilot intervention using motivational interviews and cognitive behavioral techniques around hypoglycemia, in 23 people with HU; support the importance of educational programs to improve HU. One year after the intervention HU had improved, mean rates of severe hypoglycemia fell from 3 to 0 per person per year, and worry and behavior around hypoglycemia improved[119]. In a sub-study of HypoCOMPaSS trial aimed to assess the restoration of impaired hypoglycemia awareness and defective hypoglycemia counter-regulation by an educational strategy targeted at hypoglycemia avoidance, in 18 adults patients with T1DM; following the 6-mo intervention the mean glucose concentration at which participants first experienced symptoms of hypoglycemia significantly increased from baseline (from 2.6 to 3.1 mg/dL), and counter-regulatory responses to hypoglycemia were also enhanced[120].
Jointly, the results of these three studies suggest that interventions that include education around hypoglycemia avoidance may help to decrease HU.
Treatment of HU
The treatment options for the management of HU are listed in Table 1.
Treatments options
Mechanism of action
Optimizing insulin treatment
Avoidance of hypoglycemia
Pharmacological therapy
β2-adrenergic agents
Enhancement of adrenaline effect
Methylxanthine derivates (caffeine, theophylline)
Central nervous system stimulation
Serotonin reuptake inhibitors (fluoxetine, sertraline, paroxetine)
Unknown. It has been hypothesized that the effect could be mediated by an atypical presentation of serotonin syndrome that will lead to autonomic dysfunction
KATP channel modulators
Modulation of hypoglycemia sensing
Other treatments
Islet cell transplantation
Improving metabolic control
Fructose
Modulation of hypoglycemia sensing
Optimizing insulin treatment: It is important that in patients with a history of recurrent hypoglycemia and HU, the time of episodes be identified and the treatment regimen be adjusted accordingly[121]. Compared with regular insulin, rapid-acting insulin analogs have a more rapid onset of action, higher peak action, and shorter duration of action, which more closely approximates endogenous mealtime insulin response, allowing more flexibility in the time of meals and exercise, and, consequently, a lower risk of severe hypoglycemic events[122]. Similarly, long-acting insulin analogs exhibit a more consistent, longer, and flatter action profile than NPH insulin, and demonstrate a lower risk of hypoglycemia, particularly nocturnal[123,124]. In diabetic patients with HU substitution of regular insulin with rapid-acting insulin analogs (aspart, lispro or glulisine) reduces frequency of daytime hypoglycemia; and substitution of long-acting insulin analogues (detemir or glargine) for intermediate-acting insulin (NPH or premix) reduces the frequency of nocturnal and day time hypoglycemia[121,125]. Compared with insulin glargine, the newest basal analog insulin degludec offers a more constant time-action profile, a long duration of action, and a lower risk of hypoglycemia[126,127]. While clinical experience with insulin degludec is limited, a meta-analysis evaluating 5 clinical trials of 3372 subjects with T2DM demonstrated a 17% lower rate of overall hypoglycemia and a 32% lower rate of nocturnal hypoglycemia with insulin degludec, compared with insulin glargine[128]. These characteristics may facilitate the achievement of glycemic control with insulin degludec with fewer hypoglycemic events in patients with HU.
An alternative approach is to use continuous subcutaneous insulin infusion (CSII). A study was designed by Giménez et al[129] to evaluate the effect of CSII on hypoglycemia awareness and on glucose profile in a cohort of T1DM subjects in which 95% had established HU and had experienced two or more episodes of severe hypoglycemia in the preceding two years, for a 24-mo period. Severe hypoglycemic episodes fell from 1.25 per subject-year to 0.05 after 24 mo, an improvement in all the aspects of quality of life, and an improved symptomatic response to experimentally-induced hypoglycemia was observed[130]. Previous studies[130-132] have also shown a reduction in hypoglycemia with CSII, particularly when a short-acting insulin analogue is used[2,133]. The decrease is partly due to better pharmacokinetic delivery of insulin and a 15%-20% reduction in insulin requirements compared with multiple doses of insulin[134]. Substitution of CSII for NPH insulin in patients with T1DM, especially at bedtime, resulted in a lower frequency of hypoglycemic episodes, and improved counter-regulatory and symptomatic responses during subsequent acute hypoglycemia[135]. On the other hand, administration of bolus doses of glucagon at times of impeding hypoglycemia during CSII lowered the frequency of hypoglycemia[136].
Pharmacological therapy:β-adrenergic antagonists or β-blockers alter the effects of epinephrine and could have potential effects on glucose homeostasis and the hypoglycemic counter-regulatory system. The more troubling concern regarding β-blockers is their potential effect on HU and blunting of the return to euglycemic levels after hypoglycemia has occurred, through the suppression of all adrenergically mediated symptoms of hypoglycemia. In patients with T1DM without HU, adrenergic symptoms did occur at lower glucose levels when subjects were treated with β-blockers[137]. Cardioselective β-blockers cause less alteration in the perception of hypoglycemia and may have an effect on correction of hypoglycemia than do their noncardioselective counterparts[138]. These agents should not be avoided in patients with diabetes but should be used with the same caution as when any new medication is added to a patient's therapeutic regime.
It has been suggested that people with HU may have reduced β-adrenergic sensitivity, and this can be reversed by strict avoidance of hypoglycemia[139]. In T1DM patients, the use of β-adrenergic agonist terbutaline was associated with statistically significant higher glucose levels compared to control subjects during the first half and second half of the night, and with reduction of nocturnal hypoglycemic episodes (22 in the control group vs 1 in the group of terbutaline). β-adrenergic agonist had therefore been suggested as possible therapeutic options for HU, at the cost of inducing morning hyperglycemia. One of the concerns about using β-adrenergic agonist for the treatment of HU was associated with reduced β2 sensitivity observed in vitro. A recent study from De Galan et al[140] showed that sensitivity to β2-adrenergic receptor agonist stimulation is preserved in T1DM patients with HU. No long-term clinical trials to evaluate the usefulness of β-adrenergic agonist in the prevention of HU have been reported.
Several studies have evaluated the effects of the methylxantines derivatives caffeine and theophylline on HU and the counter-regulatory response to hypoglycemia. Both have been shown to augment symptom intensity and improve counter-regulatory responses in patients with T1DM with and without HU[2,141]. Using functional magnetic imaging, caffeine can restore regional brain activation normally lost during acute hypoglycemia[142]. In another trial designed to assess the impact of caffeine on the frequency and perception of hypoglycemia over a 3-mo period; patients receiving caffeine (200 mg/twice-daily) had statistically significant more symptomatic hypoglycemia episodes and more intense warning symptoms than patients receiving placebo[143]. These results suggest that modest amounts of caffeine enhance the sensitivity of hypoglycemia warning symptoms in patients with T1DM without increasing the incidence of severe hypoglycemia. de Galan et al[144] planned one study to evaluate the impact of theophylline on the response to hypoglycemia in 15 patients with T1DM who had a history of HU and 15 matched healthy control subjects. When compared with placebo, theophylline (2.8 mg/kg) improves de counter-regulatory response to a perception of hypoglycemia in the group with T1DM with HU[144]. Although modest doses of caffeine and theophylline may be effective at reducing HU in patients with T1DM at a low cost and without significant toxicity, larger doses may carry risk, and large trials are needed to determine efficacy, toxicity and dose-response curves.
The development of HU was associated with the use of selective serotonin reuptake inhibitors (SSRIs) in three patients with T1DM treated with different SSRIs (fluoxetine, sertraline and paroxetine) for depression and who were previously able to recognize and treat hypoglycemia symptoms[145]. HU occurred in all three patients within weeks of starting SSRI therapy. HU reversed after discontinuation of SSRI therapy[145]. The mechanism by which SSRIs might be associated with HU is unknown, but it has been hypothesized that the effect could be mediated by an atypical presentation of serotonin syndrome that will lead to autonomic dysfunction[146]. These observations suggest that in some patients, treatment with SSRIs may alter the perception of hypoglycemia, and should be used with caution in diabetic subjects with HU.
Infusion of the opioid-receptor antagonist naloxone increases the plasma epinephrine response to hypoglycemia and, when administered during hypoglycemia prevents attenuation of the plasma epinephrine response to subsequent hypoglycemia in humans[26,27].
Administration of a selective Kir6.2/SUR-1 KATP-channel agonist increases the epinephrine response to hypoglycemia in rats[147]. However, systemic administration of the nonselective KATP-channel agonist diazoxide suppresses the glucagon response and has no effect on the epinephrine response to hypoglycemia in nondiabetic humans[148]. These results suggest that KATP-channel modulators are not effective in humans, possibly due to inability to cross blood-brain barrier.
Other treatments: Islet cell transplantation (ICTx) prevents severe hypoglycemia[149], and restores some counter-regulatory hormone secretion[150]. In a retrospective study conducted in 31 T1DM recipients of ICTx, HU was assessed using the Clark hypoglycemic score (minimum = 0; maximum = 7; no hypoglycemia = 0; HU ≥ 4)[151] twice. A reduction in the proportion of patients with HU was observed post-ICTx (pre vs post-ICTx: 87% vs 13%) and a significant increase in glucose threshold that resulted in symptoms (pre vs post-ICTx: 41.4 mg/dL vs 58.4 mg/dL)[152]. These results were sustained even after the patient's stratification based in islet function, graft dysfunction and graft failure[152]. These results suggests that improved metabolic control achieved with ICTx can restore hypoglycemia awareness in patients with T1DM, persisting even after islet graft failure.
Fructose infusion amplifies epinephrine and glucagon responses and increases glucose production during hypoglycemia in humans[153]. Fructose is a promising treatment but has not been tested in clinical trials.
CONCLUSION
HU is a complex, difficult-to-study phenomenon that carries with it great risk to patients. HU is common in people with T1DM and is observed with less frequency in insulin-treated T2DM. Exposure to antecedent hypoglycemia, especially repeated episodes, is an important factor in the pathogenesis of HU. Although enormous advances have been made in our knowledge of the mechanisms of HU, further research is needed to elucidate the pathophysiology of counter-regulatory impairment and HU, and enable the development of more targeted strategies that support glucose counter-regulation and consequently reduce hypoglycemia. Numerous research studies have begun to uncover the mechanisms by which the central nervous system responds and adapts to hypoglycemia. Understanding these mechanisms will lead to better management and therapies that reduce the risk for hypoglycemia. Studies aiming to improve or even reverse HU have met with variable success and a number of research groups are considering new candidate pathways to develop a therapy. Therefore, until effective measures are developed to reverse HU, part of the role of the healthcare professional should be to educate people with diabetes on the risks associated with HU and should discuss hypoglycemia prevention strategies with their patients, so that they can have a better chance of achieving their glucose controls goals while avoiding the morbidity and mortality associated with hypoglycemia.
P- Reviewer: Das UN, Osian G, Skok P S- Editor: Tian YL L- Editor: A E- Editor: Liu SQ