Copyright
©2014 Baishideng Publishing Group Co.
, Limited. All rights reserved.
World J Diabetes.
Feb 15, 2014;
5(1): 17-39
Published online Feb 15, 2014. doi: 10.4239/wjd.v5.i1.17
Cardiac autonomic neuropathy in patients with diabetes mellitus
Gerasimos Dimitropoulos, Abd A Tahrani, Martin J Stevens, Department of Diabetes and Endocrinology, Heart of England National Health Service Foundation Trust, B15 2TT Birmingham, United Kingdom
Abd A Tahrani, Martin J Stevens, Centre of Endocrinology, Diabetes and Metabolism, School of Clinical and Experimental Medicine, University of Birmingham, B15 2TT Birmingham, United Kingdom
Author contributions: Dimitropoulos G and Tahrani AA contributed equally to this work and performed the literature search and wrote first draft; Stevens MJ provided expert opinion and reviewed the paper.
Correspondence to: Dr. Abd A Tahrani, Centre of Endocrinology, Diabetes and Metabolism, School of Clinical and Experimental Medicine, University of Birmingham, Edgbaston, B15 2TT Birmingham, United Kingdom. a.a.tahrani@bham.ac.uk
Telephone: +44-780-1549960
Received: October 15, 2013
Revised: December 2, 2013
Accepted: December 12, 2013
Published online: February 15, 2014

Cardiac autonomic neuropathy (CAN) is an often overlooked and common complication of diabetes mellitus. CAN is associated with increased cardiovascular morbidity and mortality. The pathogenesis of CAN is complex and involves a cascade of pathways activated by hyperglycaemia resulting in neuronal ischaemia and cellular death. In addition, autoimmune and genetic factors are involved in the development of CAN. CAN might be subclinical for several years until the patient develops resting tachycardia, exercise intolerance, postural hypotension, cardiac dysfunction and diabetic cardiomyopathy. During its sub-clinical phase, heart rate variability that is influenced by the balance between parasympathetic and sympathetic tones can help in detecting CAN before the disease is symptomatic. Newer imaging techniques (such as scintigraphy) have allowed earlier detection of CAN in the pre-clinical phase and allowed better assessment of the sympathetic nervous system. One of the main difficulties in CAN research is the lack of a universally accepted definition of CAN; however, the Toronto Consensus Panel on Diabetic Neuropathy has recently issued guidance for the diagnosis and staging of CAN, and also proposed screening for CAN in patients with diabetes mellitus. A major challenge, however, is the lack of specific treatment to slow the progression or prevent the development of CAN. Lifestyle changes, improved metabolic control might prevent or slow the progression of CAN. Reversal will require combination of these treatments with new targeted therapeutic approaches. The aim of this article is to review the latest evidence regarding the epidemiology, pathogenesis, manifestations, diagnosis and treatment for CAN.
Key Words:
Diabetes mellitus, Cardiac, Cardiovascular, Autonomic, Neuropathy, Dysfunction, Cardiac autonomic neuropathy, Sympathetic, Parasympathetic, Heart rate variability, Spectral analysis, Diabetic cardiomyopathy, Postural hypotension
Core tip: Cardiac autonomic neuropathy (CAN) is a complication of diabetes mellitus that is often under-diagnosed but can lead to severe morbidity and mortality, due to the associated cardiovascular burden. New evidence has emerged surrounding its complex pathways, but its full pathogenesis is yet to be understood. CAN manifests in a spectrum of subclinical and clinical presentations, ranging from resting tachycardia to cardiomyopathy. Heart rate variability and scintigraphy have enabled the diagnosis at a subclinical stage, thus providing the opportunity for better prevention and treatment. However, no definite therapeutic approaches have been adopted to date, emphasizing the need for newer targeted treatments.
---
Citation: Dimitropoulos G, Tahrani AA, Stevens MJ. Cardiac autonomic neuropathy in patients with diabetes mellitus. World J Diabetes 2014; 5(1): 17-39
---
INTRODUCTION
Diabetes mellitus (DM) is a global epidemic affecting at least 8.3% of the global population and 371 million people worldwide with a significant proportion (50%) remaining undiagnosed. It is estimated that almost one in six people are currently at risk of developing diabetes-related complications[1]. Cardiovascular disease (CVD) is the leading cause of mortality and morbidity in patients with diabetes and subsequently the primary goal of diabetes treatment is to reduce the burden of CVD as well as the vascular complications associated with diabetes[2,3]. Much of the CVD prevention strategies in patients with DM are based on lowering blood pressure and LDL-cholesterol levels and improving glycaemic control[4-7]. Despite that, CVD remains very common and a major cause of mortality and morbidity in patients with DM. Hence, better understanding of pathogenesis of CVD is crucial to develop new therapeutic targets.
Cardiac autonomic neuropathy (CAN) is a very common and often overlooked diabetes-related complication that has a major impact on CVD, mortality and morbidity in patients with DM[8,9]. Improving our understanding of the pathogenesis of CAN and its role in CVD, offers the potential of new treatment targets that might reduce the burden of CVD in patients with diabetes. This review aims to provide an overview of the epidemiology, pathogenesis, cardiovascular consequence, diagnosis, and treatments of CAN, with particular emphasis on the latest developments in the field.
LITERATURE SEARCH STRATEGY
We conducted a review of the original papers and review articles indexed in PubMed, Medline and Google Scholar between 1975 and 2013. We have used several terms individually or in combination including: diabetes, autonomic neuropathy, CAN, cardiovascular, cardiac, autonomic, neuropathy, dysfunction. Only articles in English and in adult population were reviewed.
DEFINITIONS AND EPIDEMIOLOGY
Based on the CAN Subcommittee of the Toronto Consensus Panel on Diabetic Neuropathy[10], CAN is defined as the impairment of cardiovascular autonomic control in patients with established DM following the exclusion of other causes. CAN, especially at the early stages, can be sub-clinical and thus as the disease progresses, it becomes clinically evident.
The prevalence of CAN varies between 1%-90% in patients with type 1 DM (T1DM) and 20%-73% in patients with T2DM (Table 1). This huge variation in CAN prevalence is due to the inconsistency in the criteria used to diagnose CAN and significant differences in the study populations, particularly in relation to CAN risk factors (such as age, gender and DM duration amongst others).
Ref.
Year
Country
N of subjects
Type of DM
Population characteristics
Diagnostic test
Criteria applied
Prevalence(%)
Comments
O'Brien et al[111]
1991
United Kingdom
506
IDDM
Mean age 45 yr, mean DM duration 15 yr, female 42%
HRV in response to (1) rest (2) single deep breath (3) Valsalva manoeuvre or (4) standing
At least two positive of the tests mentioned in the previous column
17
Prevalence of CAN was associated with the presence of other DM complications
Ziegler et al[223]
1992
Germany
130
Newly diagnosed IDDM
CV of HRV, low- and mid- frequency bands of spectral analysis, MCR, Valsalva manoeuvre or lying-to standing
At least three positive of the tests mentioned in the previous column
7.7
Austria
647
Total IDDM
25.3
Switzerland
524
Non-IDDM
34.3
Kennedy et al[11]
1995
United States
290
IDDM
Listed pancreas transplantation recipients
HRV Valsalva manoeuvre
90 88
DCCT research group[19]
1998
United States
1441
IDDM (1) primary prevention cohort (absence of end–organ damage such as retinopathy and microalbuminuria) (2) secondary intervention cohort (mild/ moderate retinopathy +/- microalbuminuria)
Mean age 27 yr, female 47% duration of DM 1-5 yr (mean 2.6) primary prevention cohort 1-15 yr (mean 8.8) secondary intervention cohort
HRV
R-R variation < 15
1.6-6.2
These figures represent baseline characteristics
Valsalva manoeuvre
Valsalva ratio < 1.5
5.5-6.3
Postural BP
Diastolic BP drop > 10 mmHg
0
Kempler et al[28] (EURODIAB IDDM)
2002
16 European countries
3250
T1DM
Mean age 32 yr, mean DM duration 14 yr, female 49%
(1) R-R response to standing (2) Postural BP
R-R ratio < 1.04 or drop > 20 mmHg in systolic BP
36
Correlation with age, DM duration and HbA1c
Gaede et al[5,224] (the Steno type 2 study)
2003
Denmark
160
T2DM
Mean age 55 yr, female 27%, HbA1C 8.8% at baseline
(1) R-R response to breathing (2)Postural BP
R-R variation < 6 or drop > 25 mmHg in systolic BP
27.5
This figure represents baseline findings
Valensi et al[27]
2003
France
245
T1DM
Mean age 39.6 yr, mean DM duration 8.6 yr, female 43%
R-R response to
Criteria for abnormal tests were based on Armstrong et al[225]
Rate of moderate/severe CAN was higher in T1DM (18.2% and 4.8%) than in T2DM (12.3% and 2.3%) (P = 0.031)
151
T2DM
(1) deep breathing
21.2
(2) Valsalva and
20.7
(3) standing
33.5
At least two positive tests (classed as moderate CAN)
20
Low et al[23]
2004
United States
83
T1DM
Mean age 59 yr, white 99%, female 48%
(1) Sudomotor axon-reflex test (2) Valsalva manoeuvre (3) BP and HR response to standing (4) R-R response to deep breathing
CASS ≥ 1 in two domains or ≥ 2 in one domain (sudomotor, cardiovagal, adrenergic)
54
This study focuses on DAN but encompasses several cardiac autonomic tests
148
T2DM
73
Pop-Busui et al[18] (DCCT/EDIC study)
2009
United States
620
IDDM-former intensive Tx group IDDM-former conventional Tx group
Mean age 47 yr in both groups, mean DM duration 26 yr, female 49% and 46% respectively
R-R response to (1) deep breathing (2) Valsalva manoeuvre (3) postural BP
R-R < 15 or R-R 15-19.9 and Valsalva ratio < 1.5 or drop > 15 mmHg in diastolic BP
29
13/14 yr post closeout of DCCT
591
35
CAN has been detected at time of diagnosis of diabetes in patients with either T1DM or T2DM irrespective of age, suggesting that CAN presentation is not limited by age or type of diabetes and can occur before DM is evident clinically[11-15]. However, the duration of diabetes is an independent factor for developing CAN irrespective to diabetes type[10,16]. CAN is detected in about 7% of both T1DM and T2DM at the time of initial diagnosis[17], and it is estimated that the risk for developing CAN increases annually by approximately 6% and 2% in patients with T1DM and T2DM respectively[17-19].
Poor glycaemic control is a major risk factor for CAN progression[14,19-21]. In the Diabetes Control and Complications Trial (DCCT), intensive glycaemic control resulted in a 50% decrease in CAN incidence over the 6.5 years follow-up period[19]. This protective effect persisted 14 years after the end of the study despite the disappearance of HbA1c differences that were achieved between the groups during the randomised phase of trial[18]. Similarly, CAN has been shown to be associated with conventional CVD risk factors, such as hypertension, smoking, hyperlipidaemia and obesity[22-24]. In the Steno-2 trial of patients with T2DM and microalbuminuria, intensive pharmacological intervention targeting hypertension, hyperlipidaemia and microalbuminuria combined with behavioural treatment (exercise, diet and smoking cessation) reduced the risk of autonomic neuropathy over the course of a 7.8 years follow-up (HR = 0.37, 95%CI: 0.18-0.79)[5]. After a mean of 5.5 years following the end of the study, the same protective effect against the development of autonomic neuropathy persisted (RR = 0.53, 95%CI: 0.34-0.81, P = 0.004). There was also reduction in the risk for developing CVD (RR = 0.43, 95%CI: 0.19-0.94, P = 0.04) and overall mortality (RR = 0.54, 95%CI: 0.32-0.89, P = 0.02) in this study[25].
Moreover, in a large cohort of more than 1000 patients with T2DM the incidence of CAN over a 7.5 years follow-up correlated with age (P < 0.001) and microvascular disease (P = 0.035)[26]. Diabetic nephropathy (including microalbuminura), diabetic retinopathy and diabetic polyneuropathy have been widely identified as clinical predictors of CAN[23,24,27], which is not surprising as diabetic microvascular complications share common mechanisms and risk factors. The impact of gender on CAN is controversial. In a multi-centre, cross sectional study of 3250 patients with DM, CAN prevalence was no different between men and women (35% male vs 37% female)[28]. However, in the action to control cardiovascular risk in diabetes trial including more than 8000 patients with T2DM CAN was more prevalent in women (2.6% in men vs 4.7% in women for moderate severity CAN and 1.4% in men vs 2.2% in women for severe CAN, P < 0.01 for all three definitions of CAN in the study)[29].
Ethnicity has also been postulated to be a risk factor for CAN as South Asians seem to have lower rates of peripheral neuropathy than White Europeans with DM[30]. More specifically, the prevalence of small fibre neuropathy was significantly lower in Indian Asians than in Europeans (32% vs 43% respectively, P = 0.03) and mean nerve conduction velocity Z scores (measuring large fibre neuropathy) were superior in Asians compared to Europeans (mean ± SD 0.07 ± -0.62 vs -0.11 ± 0.60, P = 0.007). However, using heart rate variability (HRV) spectral analysis as well as frequency and time domain analysis showed no difference in CAN prevalence between South Asians and white Europeans (Tahrani et al, unpublished data).
PATHOGENESIS OF CAN
The exact pathogenesis of CAN is complex and remains unclear. Most of the proposed mechanisms of neuronal injury are based on models of somatic rather than autonomic neuropathy. Although many of these mechanisms might be shared between autonomic and somatic neuropathies, differences do exist as shown by the Steno-2 trial (described above) in which the multi-factorial intervention (including intensive metabolic control and lifestyle changes) slowed down the progression of autonomic but not somatic neuropathy.
NATURAL HISTORY OF CAN
DM affects the autonomic (as well as the peripheral) nervous system in an ascending length-dependent manner. The vagus nerve, which anatomically is the longest autonomic nerve and physiologically mediates 75% of the overall parasympathetic activity, tends to be involved early in the course of CAN development. The early stages of CAN therefore involve reduction in parasympathetic activity, which results in sympathetic predominance. This increase in sympathetic tone continues until the latest stage of CAN when sympathetic denervation ensues, which spreads gradually from the apex to the base of the heart[60,61].
CAN is divided into a sub-clinical and a clinical stage. During the initial sub-clinical stage, CAN is detected through abnormalities in frequency and time domains of the spectral analysis of HRV and the Baroreflex Sensitivity (BRS) tests, as well as an increased torsion of the left ventricle (LV) on cardiac imaging before the development of abnormalities in standard cardiac autonomic reflex testing (CART) (please see below for details)[62-67]. Studies have shown that these abnormalities can even be present at the time of diagnosis of DM[63]. CAN progresses and parasympathetic denervation is followed by compensatory sympathetic overdrive, resulting in abnormal CARTs followed by symptomatic CAN in which the clinical manifestations become apparent (please see below). At the stage of sympathetic denervation, autonomic dysfunction correlates clinically with postural hypotension[63] (Figure 2). The time scale for the progression of subclinical CAN to the development of abnormal CART is unclear; similarly the natural history of the development of early cardiac abnormalities (such as torsion or deficits in myocardial perfusion or cardiac energetic) and its relationship to subclinical CAN is also unclear. But we estimate that many patients with sub-clinical CAN will develop abnormal CART and early features of cardiac involvement within 5 years of developing abnormal frequency and time domain parameters.
CLINICAL MANIFESTATIONS OF CAN
CRITERIA FOR DIAGNOSIS AND STAGING
HR responses to deep breathing, standing and Valsalva manoeuvre, as well as blood pressure response to standing (CART) are considered as the gold standard in clinical testing for autonomic neuropathy[10]. Their applicability in bedside clinical practice is based on their sensitivity, specificity, reproducibility, ease and safety of use and standardisation.
According to the CAN Subcommittee of the Toronto Consensus Panel statement following the 8th international symposium on diabetic neuropathy in 2010[10], the criteria for diagnosis and staging of CAN are as follows: (1) A single abnormal CART result suffices for the diagnosis of possible or early CAN; (2) The presence of two or three abnormal test among the seven autonomic cardiovascular indices (5 CARTS, time-domain and frequency-domain HRV tests) are required for the diagnosis of definite or confirmed CAN; and (3) The presence of orthostatic hypotension in addition to the above criteria signifies the presence of severe of advanced CAN.
SCREENING FOR CAN
The majority of diabetes patients with CAN have subclinical or asymptomatic disease, rendering the diagnosis and appreciation of CAN in clinical practice rather difficult[63]. Once CAN reaches the stage that becomes clinically evident, the disease might have reached an advanced level and management becomes more difficult. Screening for early CAN is therefore considered good clinical practice several reasons as summarised in Figure 3[10].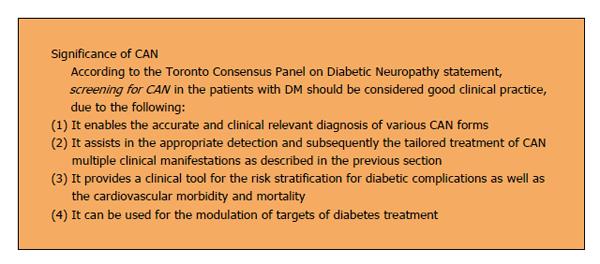 Figure 3 Current recommendations on screening for cardiac autonomic neuropathy.
CAN: Cardiac autonomic neuropathy; DM: Diabetes mellitus.
The Toronto Diabetic Neuropathy Expert Group in a recent statement have recommended that screening should be considered for patients at time of diagnosis of T2DM and within 5 years of diagnosis of T1DM, particularly in patients with other macro- and/or microvascular complications[180]. Patients with a history of poor glycaemic control are especially at risk for developing CAN, as demonstrated in several studies, suggesting that this clinical group may benefit from screening[17]. Due to its impact on exercise tolerance, testing for CAN should be a part of the screening in patients that are about to begin a new exercise programme that involves more intense physical activity than brisk walking[69,181]. Evidence also suggests that screening for CAN could be incorporated into the perioperative assessment of patients with poor glycaemic control and coronary artery disease, due to the association between CAN and haemodynamic instability peri- and intra-operatively[182]. Finally, testing for CAN could potentially be of benefit in patients with DM that have suffered MI, as this would serve in the risk stratification of this subgroup and assist into adapting a more aggressive therapeutic approach for those at risk of sudden cardiac death or life threatening arrhythmias.
THERAPEUTIC APPROACHES FOR CAN
CAN treatment can either be symptomatic or aimed at slowing or reversing CAN progression. However, effective therapies to slow or reverse CAN progression are rather limited as the complete underlying pathogenesis remains unclear. However, based on our current understanding of CAN pathogenesis and risk factors, several potential treatments have been examined.
CONCLUSION -SYNOPSIS AND FUTURE CONSIDERATIONS
CAN is very common and is an underdiagnosed complication of DM. CAN is associated with significant increase in morbidity and mortality and plays an important role in the development of diabetic cardiomyopathy and silent ischaemia. Clinicians interpreting exercise tolerance testing should be aware of the reduced accuracy of this test in patients with CAN. In addition, CAN might play a role in the pathogenesis of diabetes-related microvascular complications and the development of lower limb complications. However, before CAN is symptomatic and evident clinically, patients might have sub-clinical CAN for several years. The time scale for the progression from sub-clinical to clinically evident CAN is unknown. In addition, the time scale for the progression from early abnormalities (such as increased LV torsion) to clinically detectable cardiac disease is also unknown. Recent guidelines have recommended screening for CAN in patients with diabetes and issued guidance regarding the criteria used to diagnose CAN. CAN is assessed using several methods including CARTs, HRV, and imaging amongst others. The use of HRV and spectral analysis has simplified CAN testing which nonetheless remains time consuming. Despite our improved understanding of the pathogenesis of CAN, disease modifying treatment is lacking. Improving glycaemic control, life style changes and CVD risk factors management are the mainstay of treatment, which generally slow the progression of CAN rather than reversing it.
Further research exploring the natural history of CAN and the natural history of the impact of CAN on CVD is needed. Better understanding of CAN pathogenesis is also required in order to develop disease modifying treatments. OSA is increasingly recognised as an important contributor to the development of microvascular complications in DM, hence it is important to clarify the relationship between CAN and OSA as this might identify new treatment targets.
P- Reviewers: Mitra A, Padwal R S- Editor: Cui XM L- Editor: A E- Editor: Liu SQ