Copyright
©The Author(s) 2023.
Published by Baishideng Publishing Group Inc. All rights reserved.
Implications of receptor for advanced glycation end products for progression from obesity to diabetes and from diabetes to cancer
Andrea Garza-Campos, José Roberto Prieto-Correa, Programa de Doctorado en Ciencias en Biología Molecular en Medicina, Universidad de Guadalajara, Guadalajara 44340, Jalisco, Mexico
Andrea Garza-Campos, José Roberto Prieto-Correa, José Alfredo Domínguez-Rosales, Zamira Helena Hernández-Nazará, Departamento de Biología Molecular y Genómica, Instituto de Investigación en Enfermedades Crónico-Degenerativas, Universidad de Guadalajara, Guadalajara 44340, Jalisco, Mexico
Author contributions: Garza-Campos A and Prieto-Correa JR contributed to the writing, reviewing, and editing of the manuscript; Prieto-Correa JR and Domínguez-Rosales JA prepared the table; Garza-Campos A and Hernández-Nazará ZH prepared the figures; Domínguez-Rosales JA contributed to the writing and performed the majority of the reviewing and editing of the manuscript; Hernández-Nazará ZH and Domínguez-Rosales JA conceptualized the study and designed the outline for the paper; Hernández-Nazará ZH wrote the first draft; and all authors read and approved the final manuscript.
Supported by the Founding Proyectos de Impulso a la Investigación to Hernandez-Nazara ZH from Universidad de Guadalajara, Mexico, No. PIN 2020-I.
Conflict-of-interest statement: All the authors report no relevant conflicts of interest for this article.
Open-Access
: This article is an open-access article that was selected by an in-house editor and fully peer-reviewed by external reviewers. It is distributed in accordance with the Creative Commons Attribution NonCommercial (CC BY-NC 4.0) license, which permits others to distribute, remix, adapt, build upon this work non-commercially, and license their derivative works on different terms, provided the original work is properly cited and the use is non-commercial. See:
https://creativecommons.org/Licenses/by-nc/4.0/
Corresponding author: Zamira Helena Hernández-Nazará, MD, PhD, Departamento de Biología Molecular y Genómica, Instituto de Investigación en Enfermedades Crónico-Degenerativas, Universidad de Guadalajara, Sierra Mojada 950, Col. Independencia C.P. 44350, Guadalajara 44340, Jalisco, Mexico. zamirahelena@yahoo.com.mx
Received: January 9, 2023
Peer-review started: January 9, 2023
First decision: January 17, 2023
Revised: January 31, 2023
Accepted: April 17, 2023
Article in press: April 17, 2023
Published online: July 15, 2023

Obesity and type 2 diabetes mellitus (T2DM) are chronic pathologies with a high incidence worldwide. They share some pathological mechanisms, including hyperinsulinemia, the production and release of hormones, and hyperglycemia. The above, over time, affects other systems of the human body by causing tissue hypoxia, low-grade inflammation, and oxidative stress, which lay the pathophysiological groundwork for cancer. The leading causes of death globally are T2DM and cancer. Other main alterations of this pathological triad include the accumulation of advanced glycation end products and the release of endogenous alarmins due to cell death (i.e., damage-associated molecular patterns) such as the intracellular proteins high-mobility group box protein 1 and protein S100 that bind to the receptor for advanced glycation products (RAGE) - a multiligand receptor involved in inflammatory and metabolic and neoplastic processes. This review analyzes the latest advanced reports on the role of RAGE in the development of obesity, T2DM, and cancer, with an aim to understand the intracellular signaling mechanisms linked with cancer initiation. This review also explores inflammation, oxidative stress, hypoxia, cellular senescence, RAGE ligands, tumor microenvironment changes, and the "cancer hallmarks" of the leading tumors associated with T2DM. The assimilation of this information could aid in the development of diagnostic and therapeutic approaches to lower the morbidity and mortality associated with these diseases.
Core Tip: The receptor for advanced glycation products (RAGE) is involved in every stage of the pathophysiological pathways that lead to the progression of obesity, type 2 diabetes, and cancer. This article provides a focused discussion on the stages of obesity leading to the development of metabolic diseases and provides a broad overview of the contribution of RAGE to the development of diabetes and cancer.
---
Citation: Garza-Campos A, Prieto-Correa JR, Domínguez-Rosales JA, Hernández-Nazará ZH. Implications of receptor for advanced glycation end products for progression from obesity to diabetes and from diabetes to cancer. World J Diabetes 2023; 14(7): 977-994
---
INTRODUCTION
Obesity, diabetes, and cancer are chronic diseases, the prevalences of which have all increased in parallel, and are leading causes of death worldwide[1]. However, the forecasts for these health problems are not encouraging. For example, the prevalence of diabetes is estimated to increase by 2045, specifically in middle-income countries to 21.1%, in high-income countries to 12.2%, and in low-income countries to 11.9%. Meanwhile, the incidence of malignant neoplasms in people under 50 years of age is also rising[2,3].
Although esophageal adenocarcinoma has a direct link to obesity, and pancreatic cancer can debut with type 2 diabetes mellitus (T2DM), there is an evident connection between the three disorders. Moreover, there is confusion about their shared lifestyle risk factors, including sedentariness and consumption of highly processed foods[4-6]. Regarding the common pathological mechanisms of obesity, T2DM, and cancer, expansion of adipose tissue (AT) results in the production of excess estrogen, adipokines, and inflammatory molecules that can lead to systemic or localized low-grade inflammation. In addition, omental and visceral adiposity is related to hyperinsulinemia and increased levels of insulin-like growth factor-1 (IGF-1)[7]. The metabolic abnormalities and lipo-glucotoxicity associated with insulin resistance and T2DM also cause an increase in inflammatory cytokines and oxidative stress. As a result, neoplastic processes can be triggered by T2DM and, likewise, obesity[8].
The pathogenic mechanisms that link obesity, T2DM, and cancer are complex and multifactorial. Because there is a notion of progression from obesity to T2DM towards cancer, our motivation for this review was to provide a detailed and up-to-date discussion on these mechanisms in the context of a single molecule known as the receptor for advanced glycation end products (RAGE). As such, this narrative review incorporates the conceptual framework and reports on findings extracted from two literature databases, the Reference Citation Analysis (https://www.referencecitationanalysis.com/) and PubMed, to provide a reflective discussion of RAGE's implications for the progression of obesity to T2DM and from T2DM to cancer.
RAGE is an immunoglobulin superfamily member and a type I pattern-recognition receptor. It is also a sensitive environmental sensor with several endogenous and external ligands. Furthermore, it is a widely expressed modulator of inflammatory and oxidative stress pathways with vast metabolic implications[9]. RAGE isoforms include soluble forms (sRAGE) that act as decoy receptors, sequester circulating ligands, and attenuate membrane RAGE signaling[10]. Soluble forms derived from membrane-localized RAGE are released into the circulation by proteolytic cleavage (cRAGE), and endogenously secreted RAGE (esRAGE) is formed by alternative splicing. In addition to the sRAGE isoforms and the full-length membrane receptor (flRAGE) - the only isoform that participates in signal transduction, there are also the dominant-negative isoforms lacking the cytoplasmic tail and the truncated isoform lacking the V-type immunoglobulin domain[11] (Figure 1A).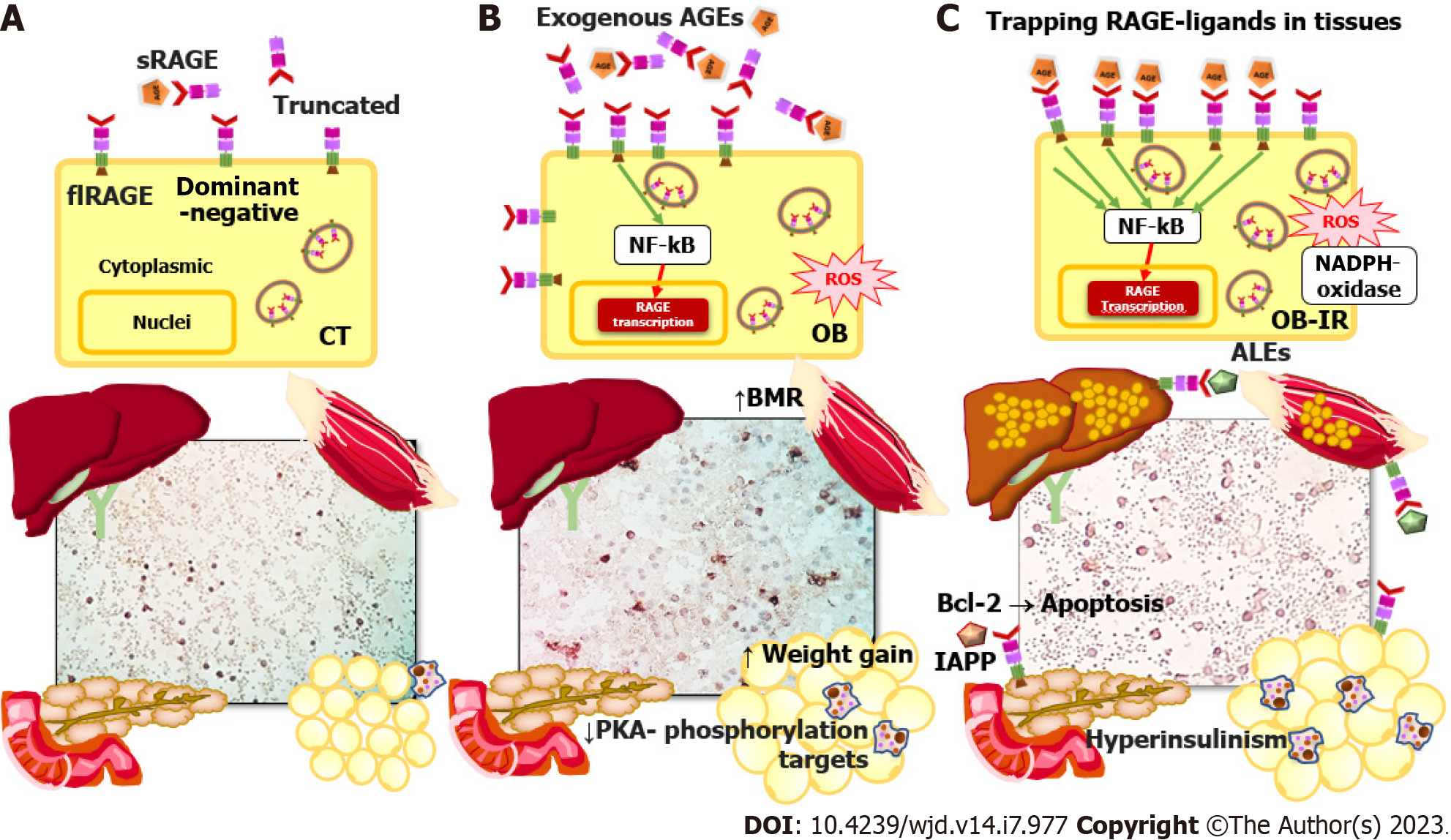 Figure 1 Receptor for advanced glycation products signaling and molecular mechanisms involved in progression from obesity to type 2 diabetes mellitus.
Receptor for advanced glycation products (RAGE)-ligand signaling in healthy control subjects, obese individuals (OB), and OB with insulin resistance is illustrated. A: Full-length, total soluble, dominant-negative (intracytoplasmic, lacking domain), and truncated (lacking a V-terminal) RAGE isoforms; B: Basal metabolic rate increase in muscle, decreased phosphorylation targets of protein kinase A, and weight gain (adipose tissue) are findings in obesity related to increased RAGE isoforms and ligands; C: The mechanism trapping RAGE-ligand in tissues involves translocation of cytoplasmic RAGE to the membrane, inflammation (nuclear factor-kappa B), and oxidative stress (NADPH-oxidase) in peripheral mononuclear blood cells, liver, muscle, pancreas, and adipose tissue. The B cell lymphoma-2 proto-oncogene mediates RAGE apoptosis signaling in pancreatic beta cells and leads to type 2 diabetes mellitus. Advanced glycosylation end products, advanced lipoperoxidation end products, and islet amyloid polypeptide (also known as amyloid) are RAGE ligands. RAGE: Receptor for advanced glycation products; CT: Control subjects; OB: Obese individuals; OB-IR: Obese individuals with insulin resistance; flRAGE: Full-length receptor for advanced glycation products; sRAGE: Soluble receptor for advanced glycation products; BMR: Basal metabolic rate; PKA: Protein kinase A; NF-kB: Nuclear factor-kappa B; PBMCs: Peripheral mononuclear blood cells; Bcl-2: B cell lymphoma-2; AGEs: Advanced glycosylation end products; ALEs: Advanced lipoperoxidation end products; IAPP: Islet amyloid polypeptide.
OBESITY AND T2DM
Initially, the function of RAGE was established in the context of chronic disease, specifically T2DM and its complications, in which persistent hyperglycemia triggers inflammation, oxidative stress, and endothelial damage[12,13]. However, there is more evidence that an increase in RAGE ligands is present in the early stages of metabolic dysfunction in obesity[14,15].
RAGE ligands
The most recognized ligands of RAGE are the advanced glycosylation end products (AGEs) and lipid oxidation adducts (ALEs). These are taken in from diet or produced by endogenous metabolism through non-enzymatic and spontaneous Maillard-type reactions in which proteins and nucleic acids react with carbohydrates, lipids, or their intermediate metabolites[16,17].
Foods cooked by roasting, grilling, frying, drying, heating, or adding artificial colorants, salt, oil, or sugar are often present in ultra-processed foods to make them suitable to store[6]. In addition to those above, an increase in the diet's caloric, fat, and glycemic indices leads to a significant rise in the levels of circulating AGEs. Some exogenous-derived food AGEs are Nδ-(5-hydro-5-methil-4-imidazolon-2-il)-ornithina (MG-H1), Nε-carboxyethyl lysine (CEL), and Nε-carboxymethyl lysine (CML), in addition to the precursor methylglyoxal[18-20].
The problem gets worse when an individual also consumes other substances like alcohol and tobacco. Cigarettes are a source of AGEs, and smoking them causes RAGE expression to rise, which is linked to airway inflammation in chronic obstructive pulmonary disease and causes sRAGE to decrease in smoke-induced cardiovascular disease[21,22]. The increase in mitochondrial-derived reactive oxygen species (ROS) caused by the RAGE pathway in smoke-exposed skeletal muscle is one of the hypothesized mechanisms in this regard[23]. In vitro, oral squamous cell carcinoma treated with cigarette smoke extract showed an increase in RAGE with a link to a rise in invasive ability[24]. Additionally, RAGE is elevated in alcoholic liver disease, affecting blood triglycerides, low-density lipoprotein cholesterol, and alanine transaminase levels. RAGE also contributes to the accumulation of lipid droplets in the liver and modifies the expression of SREBP1, a transcription factor involved in lipid homeostasis[25].
Serum AGE accumulation from the diet can lead to cross-link formation that irreversibly changes endogenous proteins independent of glycemic control. Birukov et al[26] found that in people with prediabetes and T2DM, there were significant variations in the levels of AGEs in the skin. Additionally, AGE measurements in that study were related to factors such as waist circumference, glycated hemoglobin (commonly known as hemoglobin A1c) levels, C-reactive protein levels, and vascular stiffness. Further research is required to determine the sensitivity and accuracy of testing AGE accumulation and its relationship to disease status.
In addition to the above, other natural substances such as catechols, myeloperoxidase systems, and the polyol pathway are implicated in producing endogenous AGEs in obesity and states of insulin resistance[27,28]. Likewise, the link between AGEs in obesity and T2DM is the accumulation of lipids and their oxidized products. Thus, the accumulation of free fatty acids and subsequent ALE production aids in the progression of obesity to T2DM[29,30]. Oxidative stress promotes the lipoperoxidation of membranes and the production of metabolites such as 4-hydroxyl-trans2-nonenal, acrolein, aldehydes such as malondialdehyde (MDA), and ketoaldehydes such as 4-oxo-trans-2-nonenal. These may start with obesity and insulin resistance and can result in the creation of endogenous ALEs like MDA-Lys[17,31,32]. Further studies are required on the mechanism by which the progression from obesity to T2DM is affected by the ALEs-RAGE interaction and their aldehyde precursors produced by lipid peroxidation.
In this regard, in obese subjects, RAGE induces migration of macrophages because of the rise in lipid peroxidation and the accumulation of ALEs in renal tissue that leads to kidney injury[33]. Patients with T2DM have high levels of ALE (MDA-Lys), which induces the activation and adherence of monocytes to endothelial cells by increasing the expression of monocyte chemotactic protein-1 (MCP-1) and activating the nuclear factor-kappa B (NF-kB) pathway causing inflammation[34]. Recent comprehensive reviews have addressed endogenous and exogenous AGE and ALE formation in obesity[17], T2DM, and cancer[28,35,36].
There is consistent evidence regarding how ultra-processed foods, ALEs, and AGEs disrupt the microbiota causing dysbiosis, the subsequent translocation of lipopolysaccharide (LPS), and endotoxemia[37,38]. Likewise, dysbiosis is related to obesity, low-grade inflammation, and the progression of insulin resistance and T2DM[39]. However, few publications implicate RAGE as an LPS ligand to mediate inflammatory processes in obesity[40]. This issue needs further investigation, and an exciting future research opportunity may focus on T2DM prevention with respect to the relationship between AGEs/ALEs, RAGE, and dysbiosis.
According to the most recent definitions, chronic low-grade inflammation begins when molecules and metabolites, resulting from altered cell function and structure and foods, stimulate receptors and activate their signaling cascades with dysregulated energy homeostasis. To this end, RAGE mediates danger signals to the body and metabolic stress characteristic of innate immune systems, since RAGE detects ligands from microbes via exogenous pathogen-associated molecular patterns such as LPS. Furthermore, damage-associated molecular pattern (DAMP) ligands are derived from endogenous sources such as high-mobility group box protein 1 (HMGB1), S100/calgranulins, amyloid deposits like β-amyloid peptide, and macrophage-1 antigen[41].
AGE and ALE metabolites can be considered DAMPs that are not derived from exogenous sources such as the diet, and the term "metabolism-associated molecular pattern" is proposed for these specific ligands. It is essential to differentiate between them and demonstrate that both endogenous and external components are involved in these responses[42]. An opportunity for experts in the field is to reach a consensus with respect to the classification of all exogenous and endogenous ligands for pattern-recognition receptors.
RAGE-trapping ligands
Several investigations in human subjects have found an association between obesity and low circulating AGE levels[43]. Complex detoxification and clearance kinetics of AGEs could lead to inconsistent study results. The concept of entrapment of AGE in tissues proposes that AGEs are no longer circulating because they are trapped in tissues as metabolic risks increase in individuals[44-46] (Figure 1C).
For instance, high RAGE expression in AT is implicated in its dysfunction and is evidence of a link between RAGE signaling and the progression of obesity to associated metabolic disorder. A high level of RAGE expression in human epicardial AT is related to its thickening, low glucose transporter type 4 expression, and high HMGB1 expression[47]. In this context, visceral omental AT and fetal membrane samples from women with gestational diabetes revealed higher levels of RAGE and the HMGB1 ligand, respectively[48]. RAGE signaling pathway proteins were also found to be expressed differently in omental and subcutaneous biopsies from obese people with healthy phenotypes. Subcutaneous AT showed a higher correlation between the RAGE signaling axis, inflammatory markers, and the homeostatic model assessment of insulin resistance (HOMA-IR)[49]. A study with a murine RAGE (-/-) model demonstrated protection against inflammation and oxidative stress and protection against insulin resistance. Interestingly, this model showed that the most beneficial characteristics of RAGE knockout were found in female mice[50]. Additionally, RAGE is related to the adaptive thermogenesis function of brown AT through the decline in energy expenditure caused by a high-fat diet, possibly mediated via the accumulation of AGEs[51,52] (Figure 1B).
In addition to dysregulation in AT discussed above, chronic inflammation also plays a pivotal role in obesity-related insulin resistance that leads to metabolic dysfunction in the liver and muscle. Insulin resistance is characterized by alterations in insulin signaling in sensitive tissues, hyperinsulinemia with defects in glucose uptake in muscle and AT, impaired suppression of hepatic glucose production, and ectopic accumulation of fat in the muscle and liver through re-esterification of fatty acids from AT[53,54] (Figure 1C). To this end, an increase in AGE accumulation in liver biopsies has been linked to RAGE expression, lipid accumulation, and the degree of liver damage without association with the measurements of sRAGE and circulating serum AGEs[55,56]. These studies demonstrate how RAGE affects hepatic conditions caused by the accumulation of AGEs in tissue in non-alcoholic liver disease.
RAGE expression and the accumulation of AGEs are linked to weight gain, inflammation, and oxidative stress markers in human muscle tissue[57]. For instance, one study demonstrated that RAGE expression and the accumulation of AGEs in skeletal muscle in a fructose-supplemented murine model were related to alterations in the oral glucose tolerance test curve, increased triglycerides, inflammatory response, increased basal metabolic rate, and resting metabolic rate[58]. Moreover, chronic AGE exposure is linked to sarcopenia[59]. However, the implications of obesity- and T2DM-induced RAGE expression in muscle tissue are less well explored in humans[60].
Along with the mechanism of trapping excess RAGE ligands in tissues, it is known that the sRAGE form eliminates dangerous circulating ligands and functions as a competitive inhibitor of ligands that might bind to cellular RAGE, supported by studies in which sRAGE levels were found to be low[61-64]. The role of sRAGE in metabolic diseases is debatable because it depends on the degree of disease development and the levels of cell and tissue damage[65]. The cRAGE levels are initially high in acute conditions, triggered by cleavage of flRAGE, which increases its AGE-binding activity. The main variations of sRAGE are attributed to the production of cRAGE shedding by metalloproteinases[66] to compensate for the increase in AGEs in the early stages of low-grade inflammation[67-69]. As the concentration of sRAGE decreases, sequestration and competitive inhibition of ligands decrease and as such they can reach cellular flRAGE, leading to an inflammatory response and subsequent tissue damage[68-70] (Figure 1C).
In prediabetes, plasma levels of sRAGE and esRAGE are all negatively correlated with the HOMA-IR index of insulin resistance and MDA. This correlation matches their reduction as insulin resistance develops in an oxidative environment[67]. Another study with similar results comparing healthy people to those with prediabetes and T2DM found low levels of esRAGE and an inverse linkage with S100A12[71]. Miranda et al[62] showed that all RAGE isoforms were lower when grouped by pancreatic dysfunction (i.e., healthy controls, individuals with glucose intolerance, and those with T2DM). Thus, according to the above, the negative correlation of sRAGE with RAGE ligands or increase of the AGE/esRAGE index seems to be more related to individuals with obesity-related insulin resistance and early T2DM[72], and low cRAGE concentrations are a marker of aging[72,73]. Even the elevated AGE/esRAGE index could distinguish between those with non-alcoholic fatty liver disease without T2DM and healthy individuals[74]. Further studies are needed to determine the precise interactions between sRAGE, esRAGE, cRAGE, and their ligands in these disease states.
Since sRAGE and resting energy expenditure are related, one of the most recent discoveries regarding the expression of soluble variants is sRAGE's contribution to adaptive negative energy balance. In an investigation of the influence of sRAGE on the change in energy expenditure that occurs during weight loss, it was found that, under caloric restriction, adaptive changes arise that slow down energy expenditure. Specifically, after a 3-mo intervention for weight loss due to caloric restriction, energy expenditure increased by 52.6 kcal/d for each 100 pg/mL increase in basal sRAGE levels. Increases in esRAGE and cRAGE similarly translated to concomitant rises in energy expenditure, by 181.6 kcal/d and 56.1 kcal, respectively. This finding illustrates the potential impact of a RAGE feedback mechanism, in which a reduction in sRAGE could slow energy expenditure during weight loss[75]. Furthermore, one mechanism by which RAGE controls energy expenditure is through the suppression of adaptative thermogenesis in white and brown AT via the decline of β-adrenergic signaling in adipocytes blocking protein kinase A (PKA) phosphorylation targets[76].
Still more, the subcellular localization of RAGE can change, a process related to oligomerization in the membrane after RAGE interaction with ligands[77]. A previous study demonstrated increased localization of RAGE in the cell membrane, rather than the cytoplasm, in peripheral blood mononuclear cells of obese individuals with insulin resistance compared with healthy individuals. As such, sRAGE correlates negatively with the HOMA-IR index and tissue damage markers[78] (Figure 1A-C). Peripheral blood mononuclear cells may provide an accessible platform to study the relationship between ligands and cellular RAGE, detect systemic inflammation, and relate these to tissue damage. The preceding argument needs to be tested by additional research.
In T2DM, the pancreas loses its ability to secrete enough insulin in response to meals. One of the mechanisms of pancreas failure is low-grade systemic inflammation. The activating signaling of RAGE in response to ligand binding results in RAGE autoregulation through the increase of its synthesis, which is mediated by NF-kB[79]. In vivo and in vitro models have shown that oxidative stress and inflammation are induced by AGE stimuli through NF-kB activation and the formation of ROS, respectively[80]. These events are evidenced by the increase in the inflammatory serum marker C-reactive protein, particularly in obesity[81]. Some antioxidants and drugs can modulate the AGEs-RAGE axis and the activation of NF-kB, leading to the reduction of lipid peroxidation products in obesity models[82-84].
RAGE expression in the pancreas may be an essential mechanism for the development of T2DM in humans, based on evidence from both in vitro and in vivo glycolipotoxicity studies[85-87]. In a rodent model of diet-induced hyperglycemia, endogenous AGE products are produced, and RAGE expression is observed in pancreatic islets[87]. RAGE inhibition prevented the increase of its expression, and decreased B cell lymphoma-2 (Bcl-2) expression and apoptosis of beta cells treated with glycation serum. However, RAGE inhibition did not restore the ability of the beta cells to secrete insulin in response to glucose[85]. RAGE endocytosis regulated by Rab31 ligand can inhibit apoptosis mediated by the pAkt/Bcl-2 pathway in beta cells treated with glycation serum[88]. In another study, the pancreas of db/db transgenic mice that lack the leptin receptor but express RAGE (+/+) have less beta cell mass and less apoptosis, is glucose intolerant, and has decreased insulin secretion. Likewise, when the MIN6 pancreatic beta cell line was treated with palmitate or oleate and leptin antagonists to induce RAGE expression, pancreatic damage occurred[86]. Another mouse model of diabetes induced by streptozotocin and a high-cholesterol diet treated with the water-soluble carotenoid crocin showed attenuated atrophic effects in pancreatic tissue and decreased blood glucose levels through decreases in the expression of RAGE and LOX-1[89].
DAMP/RAGE reports such as the activation of S100b/RAGE and the subsequent loss of beta cells by apoptosis via NADPH oxidase and the protection of sRAGE against amyloid deposition, beta cell loss, and glucose intolerance demonstrate that they interact[90,91]. All of these findings suggest that RAGE can lead to pancreatic failure and the progression of T2DM.
T2DM AND CANCER
Several studies have shown that the incidence of various malignancies increases in patients with T2DM. However, more rigorous statistical analyses of observational studies demonstrate a more significant association of T2DM with colorectal, pancreatic, hepatocellular, breast, and endometrial carcinomas. Even so, there are biases in these studies that make it challenging to study the confounding variables of T2DM leading to cancer[92]. A more recent study included statistical analysis of the "Mendelian randomization" studies to analyze genetic data from large-scale international consortia. Ultimately, it allowed to link a possible causal relationship between genetically predicted T2DM and endometrial and pancreatic cancer risks, and between the variable fasting insulin levels and breast cancer risk. In addition, numerous studies have demonstrated the impact of glycemic traits on the emergence of different malignancies, establishing a relationship between T2DM and cancer[93].
Metabolic and hormonal factors found in patients with obesity, insulin resistance, and T2DM, such as hyperinsulinism, hyperglycemia, IGF-1, adipokines, and estrogens, all of which are closely related to inflammation and oxidative stress, function in the long-term as risk factors that support transformation to neoplastic cells in diabetic patients[94].
Estrogens
The increase in estrogen levels in obese patients is due to the positive regulation of the aromatase enzyme, encoded by CYP19A1 and secreted by cells of the tumor stromal microenvironment. The activation mechanisms are triggered in response to hypoxia, with activation of hypoxia-inducible factor-1 alpha (HIF-1α), fat tissue hormones (e.g., adipokine leptin, which increases aromatase expression by phosphorylating serine at position 485 of AMPK and inhibiting the aromatase suppressor), and inflammation processes[95]. Estrogen receptors are transcriptional factors of DNA reprogramming that transduce extranuclear signals, resulting in the regulation of ion channels or kinase cascades such as PKC/PKA/PI3-K/MAPK. The metabolic effects of estrogen on both tumor and normal cells are survival, cell proliferation, and immunomodulation[96]. Estrogens are the most relevant risk factor for endometrial and breast cancers, especially in postmenopausal women. Recently, studies have shown that the microbiota is a source of estrogen-like compounds or estrogen mimics that could be involved in cancer progression[97].
Hyperinsulinism and IGF-1
The insulin receptor (IR) and insulin receptor substrate (IRS) are phosphorylated at Ser/Thr residues by inflammatory cytokines and oxidative stress, resulting in insulin resistance and compensatory hyperinsulinemia[98]. Insulin induces proliferation in tissues not involved in metabolism. Binding to its receptor (i.e., IR) activates the RAS/RAF/MAPK kinase-dependent/ERK signaling pathways and increases cell survival and migration[99]. Another mechanism is mediated by IGF-1, a hormone structurally and functionally similar to insulin that binds to IR and its receptor (i.e., IGFR). This receptor, like IR, activates pathways that increase cell proliferation, and insulin enhances the liver's production of IGF-1, elevating the mitogenic activity of cancer cells expressing the IGFR[7,100]. The nuclear protein HMGA1 contributes to the potentiation of insulin action. In addition, the HMGA1 protein overexpressed in triple-negative breast cancer cells functions in chromatin remodeling and gene expression regulation, indirectly promoting enhanced IR expression through the inhibitory effect on p53 expression, which usually keeps IR expression turned off.
Hyperglycemia
Although hyperglycemia is the primary cause of T2DM pathophysiological abnormalities, it also contributes to the development of cancer through several processes that either directly or indirectly harm DNA, RNA, lipids, and proteins. The production of ROS, accumulation of mutations and inhibition of their repair, alteration of the immune system, alteration of metabolism, and activation of oncogenes and inactivation tumor suppressor genes are some of the carcinogenic effects that result from the formation of AGEs through non-enzymatic reactions and the subsequent activation of RAGE[101]. Endogenous AGEs are categorized according to their precursor as follows: Glyoxal (GO)-derived compounds including glyoxal lysine dimer, N7-(carboxymethyl)arginine, and CML; methylglyoxal-derived, including MG-H1, methylglyoxal lysine, argpyrimidine, and CEL; 3-deoxyglucosone-derived, including pyrraline, pentosidine, and deoxyglucosone lysine dimer; and derivatives of glucose, fructose, and glyceraldehyde that form DNA adducts or cross-link with lysine or arginine altering protein structure and function[102]. These non-enzymatic protein modifications elevate oxidative stress and inflammation by binding with cell surface receptors such as RAGE. Exogenous AGEs play a role in the progression of cancer in addition to endogenous AGEs[29,103,104]. The metabolism and pathogenic effects of endogenous and exogenous AGEs have recently been the subject of extensive reviews[105].
CONCLUSION
RAGE is an environmental sensor with complex and multiple functions involved in every stage along the patho-physiological pathways that lead to the progression of obesity, T2DM, and cancer. Therefore, it is crucial to analyze each of the processes that RAGE is involved in, as the assimilation of this information could help in developing more accurate diagnostic and treatment approaches. For instance, this review has highlighted how RAGE acts from the earliest stages of the initiation and development of obesity, T2DM, and cancer. Recognizing all participating RAGE isoforms in their tissue and cellular locations could predict the progression points and provide diagnostic markers. In this manner, we would also be able to distinguish between a patient who is obese, has a low grade of inflammation, and is on the frontline of developing T2DM or most likely to respond to nutritional intervention.
On the other hand, RAGE participates in the initiation of neoplastic processes. Since its presence indicates cellular senescence and the presence of cancer cells with more aggressive activity, it is not surprising related to a poor prognosis and has potential as a cancer biomarker to help predict patient outcomes. Since RAGE participates even in the first stages, it has potential as a preventive and immunomodulator for therapeutic purposes to reduce morbidity and mortality associated with the development of obesity, T2DM, and cancer. Inhibitors of RAGE may be helpful in the treatment of obesity and diabetes mellitus. Studies have shown that RAGE is overexpressed in AT. Obesity is well known to contribute to inflammation and insulin resistance, which are hallmarks of obesity and diabetes. RAGE inhibitors could reduce inflammation and improve insulin sensitivity in obesity and T2DM; however, the majority of RAGE inhibitor studies have focused on cancer treatment. Some RAGE inhibitors under study are cromolyn, RAP, RAGE peptide antagonist, and gefitinib. While there are currently no RAGE-specific therapies approved for use in humans, there are pre-clinical studies investigating the potential of RAGE inhibitors as a treatment for various diseases. We review herein the topically relevant literature, delimiting by process, organ, and tissue to provide a progressive and systemic overview. It should be read and generalized with caution, as there are still many gaps in the knowledge about RAGE since most studies are experimental-based (in mice) and cross-sectional studies (in humans).
ACKNOWLEDGEMENTS
The authors acknowledge Ruelas-Cinco EC for providing some photographic images of RAGE immunocytochemistry in peripheral blood mononuclear cells from her thesis.
Provenance and peer review: Invited article; Externally peer reviewed.
Peer-review model: Single blind
Specialty type: Endocrinology and metabolism
Country/Territory of origin: Mexico
Peer-review report's scientific quality classification
Grade A (Excellent): 0
Grade B (Very good): B, B, B
Grade C (Good): C
Grade D (Fair): 0
Grade E (Poor): 0
P-Reviewer: Pahlavani HA, Iran; Preziosi F, Italy; Srinivasu PN, India; Yang JS, China S-Editor: Wang JJ L-Editor: Wang TQ P-Editor: Zhao S