Copyright
©The Author(s) 2023.
Published by Baishideng Publishing Group Inc. All rights reserved.
Food contaminants and potential risk of diabetes development: A narrative review
Maja Milanović, Nataša Milošević, Nataša Milić, Department of Pharmacy, Faculty of Medicine, University of Novi Sad, Novi Sad 21000, Serbia
Milica Medić Stojanoska, Faculty of Medicine, Clinic for Endocrinology, Diabetes and Metabolic Diseases, University Clinical Center of Vojvodina, University of Novi Sad, Novi Sad 21000, Serbia
Edward Petri, Jelena Marković Filipović, Department of Biology and Ecology, Faculty of Sciences, University of Novi Sad, Novi Sad 21000, Serbia
Author contributions: Milanović M collected data and wrote the paper; Milošević N, Milić N, Medić Stojanoska M, Petri E collected data, reviewed and edited the paper; Marković Filipović J conceptualization, supervision, review and editing.
Supported by the Ministry of Education, Science and Technological Development of the Republic of Serbia, 451-03-68/2022-14/200125; and Provincial Secretariat for Higher Education and Scientific Research, AP Vojvodina, Republic of Serbia, 142-451-3120/2022-01.
Conflict-of-interest statement: All the authors report no relevant conflicts of interest for this article.
Open-Access
: This article is an open-access article that was selected by an in-house editor and fully peer-reviewed by external reviewers. It is distributed in accordance with the Creative Commons Attribution NonCommercial (CC BY-NC 4.0) license, which permits others to distribute, remix, adapt, build upon this work non-commercially, and license their derivative works on different terms, provided the original work is properly cited and the use is non-commercial. See:
https://creativecommons.org/Licenses/by-nc/4.0/
Corresponding author: Jelena Marković Filipović, PhD, Associate Professor, University of Novi Sad, Faculty of Sciences, Department of Biology and Ecology, Trg Dositeja Obradovića 2, Novi Sad 21000, Serbia. jelena.markovic@dbe.uns.ac.rs
Received: December 27, 2022
Peer-review started: December 27, 2022
First decision: February 20, 2023
Revised: March 3, 2023
Accepted: April 13, 2023
Article in press: April 13, 2023
Published online: June 15, 2023

The number of people diagnosed with diabetes continues to increase, especially among younger populations. Apart from genetic predisposition and lifestyle, there is increasing scientific and public concern that environmental agents may also contribute to diabetes. Food contamination by chemical substances that originate from packaging materials, or are the result of chemical reactions during food processing, is generally recognized as a worldwide problem with potential health hazards. Phthalates, bisphenol A (BPA) and acrylamide (AA) have been the focus of attention in recent years, due to the numerous adverse health effects associated with their exposure. This paper summarizes the available data about the association between phthalates, BPA and AA exposure and diabetes. Although their mechanism of action has not been fully clarified, in vitro, in vivo and epidemiological studies have made significant progress toward identifying the potential roles of phthalates, BPA and AA in diabetes development and progression. These chemicals interfere with multiple signaling pathways involved in glucose and lipid homeostasis and can aggravate the symptoms of diabetes. Especially concerning are the effects of exposure during early stages and the gestational period. Well-designed prospective studies are needed in order to better establish prevention strategies against the harmful effects of these food contaminants.
Core Tip: One of the most important steps in the prevention and control of diabetes and related disorders is the identification of potential risk factors. Phthalates, bisphenol A (BPA) and acrylamide (AA) are chemicals that are ubiquitously present in the environment and have the ability to act as contributing factors with adverse health effects. Human exposure to phthalates, BPA and AA mainly occurs through ingestion. This paper summarizes the available data about the association between phthalates, BPA and AA exposure and diabetes in order to examine the potential role of these contaminants in the development and progression of this complex disorder.
---
Citation: Milanović M, Milošević N, Milić N, Stojanoska MM, Petri E, Filipović JM. Food contaminants and potential risk of diabetes development: A narrative review. World J Diabetes 2023; 14(6): 705-723
---
INTRODUCTION
One of our basic human rights is "the right of everyone to have access to safe and nutritious food"[1]. According to the World Health Organization, more than 100 billion dollars is spent each year on medical expenses related to the consummation of unsafe food around the world[2]. Food contamination by chemical substances is generally recognized as an emerging worldwide challenge, with potential health hazards[3,4]. Moreover, diet has been identified as a main source of chemical intake[5]. Chemicals may enter the food chain via several pathways during cultivation, production, handling and processing, packaging, transportation and storage[4]. Numerous studies have confirmed the presence of a wide range of chemicals in drinking water, fruits, vegetables, cereals, meat and poultry, seafood, canned food, dairy products, baked goods, fast foods etc.[6-10]. For instance, humans are exposed daily to multiple chemicals, including environmental and processing contaminants, that may pose a threat to health even at very low concentrations[11]. The continuous ingestion of chemicals that migrate from food packaging, especially plastic packaging materials, or that are the result of chemical reactions during food processing, can lead to adverse health effects such as the development of diabetes.
Among the chemicals that originate from plastic packaging materials, endocrine disrupting chemicals (EDCs) have attracted public attention due to their possible harmful health effects[12]. The Endocrine Society classified EDCs as "a serious public health risk" and since then, data demonstrating their negative effects on human health has been constantly increasing. To date, more than 1400 chemicals have been identified as potential EDCs[13]. EDCs are xenobiotics that interfere with normal endocrine function, which consequently lead to adverse health outcomes[14-17]. Phthalic acid esters (PAEs) and bisphenol A (BPA) are well-known EDCs that are found practically "everywhere" in human societies, and have been the focus of scientific and public attention in recent years.
Among the chemical substances that are inadvertently generated during food preparation, acrylamide (AA) has raised public health concerns since it was first detected in 2002. Over the past twenty years, AA has been recognized as a "potential human carcinogen", an emerging food contaminant and potential EDC[18,19]. Based on the above, exposure to PAEs, BPA and AA has been associated with a range of adverse health outcomes. Considering that ingestion is the main route of exposure, the objective of this paper is to review the current data concerning the links between PAEs, BPA and AA exposure and diabetes, in order to better understand the potential roles of these compounds in the development and progression of this complex disorder (Figure 1).
DIABETES
A century after the discovery of insulin, diabetes has been transformed from a fatal disorder into a chronic condition[20]. Today, the number of people diagnosed with diabetes continues to increase exponentially and it has been predicted that by 2045 more than 780 million people will have diabetes; with type 2 diabetes (T2D) representing approximately 90% of the total number of cases. It is believed that as many as half of the total number of cases remains undiagnosed, especially in low-income and middle-income countries[21] and that diabetes and its complications have resulted in more than 6.5 million lost lives over the last year alone[21]. In the United States, it is estimated that the non-health costs of diabetes per person per year surpass the costs of heart diseases[22]. Therefore, recognition of potential risk factors is one of the most important steps in the establishment of efficient strategies for the prevention and control of diabetes and related diseases that will consequently reduce the burden on the healthcare system and society.
Diabetes is a chronic disease, associated with a range of metabolic abnormalities. The clinical manifestations of diabetes includes increased serum glucose levels, which are a consequence of insulin deficiency and/or insulin resistance[23]. Type 1 diabetes (T1D) refers to a chronic autoimmune disease characterized by the loss of pancreatic β-cells, which leads to a total lack of insulin secretion and results in elevated blood glucose levels[24,25]. Although the development of T1D is associated with a genetic predisposition, environmental agents (single compounds or mixtures of compounds) can activate autoimmune mechanisms involved in the development of this multi-factorial disorder, through mechanisms that are not completely understood[26]. Insulin resistance is identified as a "key player" in the development and progression of T2D[27]. T2D is known as "adult-onset diabetes", and develops as a result of increased insulin resistance to a level where overproduction of insulin can no longer cope with insulin insensitivity, leading to β-cell dysfunction[28]. In addition, several other non-communicable disorders are associated with insulin resistance, such as obesity, metabolic syndrome, non-alcoholic fatty liver disease, polycystic ovary syndrome, cardiovascular disease and cancers[20]. However, there is a growing amount of data that also supports a role for food contaminants, such as PAEs, BPA and AA in the onset of diabetes and the development of related conditions.
PAES
Overview
PAEs are one of the most commonly used plasticizers and additives in a wide-range of products, such as food packaging, detergents, cosmetics, toys, medical tubing, blood-storage containers, and home furnishings. Due to the ability of phthalates to improve the mechanical properties of polymers (e.g., polyethylene, polyethylene terephthalate, polyvinyl acetate and polyvinyl chloride), it is predicted that approximately 500 million tons of PAEs will be produced worldwide by 2050[12,29-31]. Some of the most frequently used PAEs are dimethyl phthalate, diethyl phthalate (DEP), di-n-butyl phthalate (DBP), diisobutyl phthalate (DiBP), di-n-hexyl phthalate, bis (2-ethylhexyl) phthalate (DEHP), diisononyl phthalate, di-n-octyl phthalate and benzylbutyl phthalate[30,32]. Because of their large production volume and widespread applications, these PAEs are omnipresent contaminants[33]. Since PAEs are weakly bound to plastic polymers, they are easily released into the surrounding environment (i.e., in food, water, air, soil) during production, storage, use and disposal of plastic-based products[34]. Because of this, PAEs can be frequently detected in different biological and environmental matrices such as urine, blood, air, soil, sediment, food, surface water and even drinking water[35-40]. The bioaccumulation and biodegradation potential of PAEs is dependent on their physico-chemical properties, which consequently determine their behavior and fate in the environment and their toxicity[41]. Phthalates are associated with negative effects on human health, including obesity, dyslipidaemia, T2D, impaired thyroid function, breast and uterine cancer, endometriosis and low birthweight[42-48]. Upon entering the food chain, the main route of humane exposure to phthalates is by ingestion. In the European Union, it is forbidden to use phthalate-containing materials for infant food and goods which contain high amounts of fats, such as dairy products. Moreover, since January 2022, plastic packaging for fruits and vegetables has been banned in France[49]. DEHP has been estimated as "safe" under 4.8 mg/kg body weight per day (no-observed-adverse-effect level) while the tolerable daily intake (TDI) is 0.05 mg/kg body weight per day[50]. However, data concerning PAE contamination levels in different components of the human diet, especially with respect to vulnerable populations, remains scarce and limited. Hence, PAE-related health risks cannot be neglected even at the "safe dose" exposure levels defined by regulators. Considering that PAEs show additive effects, particular attention must also be given to the potential synergistic effects of mixtures of EDCs[51].
PAEs and diabetes
Research status: As EDCs, PAEs have the ability to modulate the activity of multiple nuclear receptors, such as estrogen receptors (ERα and ERβ), androgen receptor (AR), peroxisome proliferator-activated receptors (PPARα and PPARγ), thyroid hormone receptors (TRα and TRβ) and the pregnane X receptor[15,52,53]. In order to understand the connection between PAEs and diabetes, "the dose makes the poison" approach cannot be applied[54]. Although phthalate exposure or mixed exposure with BPA had no influence on T1D development in non-obese mice, a mixture of PAEs and BPA decreased the release of tumor necrosis factor α (TNFα), interleukins (IL-4, IL-6, IL-10) and interferon γ in splenocytes and pancreatic lymphocytes and caused impairment of the immune system[55]. A significant association between PAE exposure and diabetes was probably not observed, due to the use of PAEs in high doses. PAEs as EDCs show non-monotonic effects[56]. Estrogenic compounds in high doses trigger insulin secretion in β-cells, and thus postponed the development of diabetes in non-obese mice[57]. In contrast, administration of DEHP at low levels caused the onset of diabetes symptoms (decrease in serum insulin levels and liver glycogen and an increase in blood glucose levels) followed by thyroid and adrenocortical dysfunction in rats[58]. After oral intake, PAEs undergo two metabolic steps. Short-branched phthalates are hydrolysed into monoester metabolites (mPAEs) and extracted via urine; while after several biotransformation steps in the first phase, long-branched phthalates are conjugated in phase II and eliminated through urine and feces[59]. Therefore, mPAEs should be also considered in order to understand the association between exposure to PAEs and diabetes. Based on in vitro and in vivo studies, mPAEs are more potent at a molecular level compared to their parent diester compounds[60-62]. PAEs and mPAEs have affinity for PPARs receptors, which are involved in complex mechanisms of regulation of glucose homeostasis, insulin sensitivity, differentiation of adipocyte and adipogenesis[63]. However, when the effects of BPA and three phthalate metabolites [monoisobutyl phthalate (MiBP), mono-n-butyl phthalate (MnBP), and mono-(2-ethylhexyl) phthalate (MEHP)] were investigated in pancreatic β-cells at concentrations of 5-500 μM, BPA treatment resulted in a more significant decrease in cellular viability after 72 h of exposure. Although increased insulin secretion was observed for BPA, MEHP, and MnBP after 2 h of simultaneous exposure to chemicals and glucose, no effects on glucose promoted insulin secretion were obtained after exposure for 24-72 h[64]. In contrast, when rats were treated orally with DEHP throughout gestation and lactation, abnormalities in β-cell ultrastructure, together with a decrease in β-cell mass and insulin content in the pancreas were found. Also, in DEHP treated offspring, alterations in pancreas specific gene expression were observed and impairment in β-cell development and function were reported[65]. Particularly, a decrease in the levels of pancreatic and duodenal homeobox-1 (Pdx-1) were observed in DEHP exposed rats of both sexes, as well as an increase in genes involved in endoplasmic reticulum stress, when compared to controls[65]. Considering the fact that Pdx-1 is involved in regulation of insulin gene expression, glucokinase, glucose transporter 2 (GLUT2), islet amyloid polypeptide and somatostatin, Pdx-1 plays crucial roles in the development of β-cells features and functions[66]. Therefore, this decrease in Pdx-1 activity is probably one of the principal mechanisms of DEHP-induced dysregulation of pancreatic β-cells[67]. DEHP exposed offspring had increased blood glucose levels and decreased pancreatic insulin levels and displayed changes in glucose tolerance and glucose stimulated insulin secretion. Despite this observed β-cell dysfunction and wide range of glucometabolic changes, DEHP exposure during the gestational period also induced epigenetic changes and led to inhibition of β-cell development[68]. Particularly, in both sexes a significant decrease in the levels of glucokinase mRNA was observed, which correlated with applied DEHP dose. Moreover, endoplasmic reticulum stress markers were increased, along with the concentrations of plasma membrane bound GLUT2 protein[68]. In addition, DiBP reduced fetal plasma insulin levels in offspring and decreased PPARα mRNA levels in the liver[69]. Additionally, gender and weight differences related to DEHP and diabetes development were seen in adulthood. Namely, DEHP exposed female offspring had lower birth weights, disturbed glucose tolerance, impaired insulin secretion and high blood glucose levels. DEHP exposed male offspring had increased serum insulin levels and lower birth weights at a significant level[65]. When compared to DBP, DEHP induced pancreatic dysfunction and inhibition of insulin secretion was more pronounced in the offspring of rats after in utero and lactational exposure to phthalates[70]. Relative to the effects of DEHP exposure in normal mice and male T2D mice in puberty, female T2D mice in puberty were more sensitive to DEHP. Namely, in DEHP exposed female T2D mice during puberty, higher levels of several parameters were detected such as insulin, C-peptide, fasting blood glucose levels, homeostatic model assessment of insulin resistance (HOMA-IR), low density lipoprotein, C-reactive protein and aspartate aminotransferase (AST). Also, DEHP triggered oxidative stress in terms of higher malondialdehyde (MDA) content and lower superoxide dismutase (SOD) and glutathione (GSH) peroxidase activity in the livers of both normal and T2D mice[71]. DEHP promoted increased body weight in normal adolescent mice. Increases in fasting blood glucose levels and glycated hemoglobin A1c (HbA1c) were more pronounced in adolescent T2D mice in comparison with normal adolescent mice. Additionally, DEHP induced insulin secretion and insulin resistance in normal adolescent mice, inhibited glycogen synthesis in adolescent T2D mice, and caused a decrease in the serum-lecithin cholesterol acyltransferase and hepatic lipase levels. A reduction in insulin levels was found in DEHP-treated adolescent T2D mice[72]. In both DEHP treated groups, a decrease in the expression of insulin receptors (IR-β and IRS-1) and GLUT4 was detected. Hence, DEHP acts as a metabolic toxicant in T2D development through impairment of glucose and lipid metabolism, and disruption of β-cell function and development[72]. Additionally, metabolic toxicity and insulin resistance caused by DEHP were more pronounced in rat liver cells with insulin resistance compared to normal cells[73]. In both cell lines, DEHP promoted cell damage through increased lipid peroxidation, alanine transaminase and AST levels, caspase-3 levels as a marker of cell apoptosis, and downregulated levels of IR-β. DEHP triggered macrophage infiltration in rat adipose tissue and stimulated the production of TNFα and IL-1β, promoting inflammation, while impairing normal lipid metabolism[74].
Potential mechanisms associated with diabetes: Although the mechanism of action of PAEs in diabetes has not been fully clarified, in vitro and in vivo studies have made significant progress toward identifying an association between PAE exposure and the development of diabetes. Interactions of PAEs with PPARs receptors impaired molecular signaling pathways (i.e., downregulated Pdx-1, activated JNK and caspase-3 expression, inhibited extracellular signal-regulated kinase (ERK)1/2, activated JAK/STAT pathway, and affected neuropeptide Y expression) that have a significant role in the regulation of glucose and lipid homeostasis[65,68,71,74,75]. Therefore, PAEs induce mitochondrial dysfunction, inflammation and increased oxidative stress, while decreasing the levels of IRs and GLUTs. PAEs also promote β-cell dysfunction, apoptosis, impaired insulin sensitivity and glucose cell uptake, and consequently cause glucometabolic and lipid abnormalities (Figure 2). In addition to their role in the onset of diabetes, PAEs act as obesogenic and diabetogenic chemicals that can aggravate the symptoms of diabetes. Especially concerning is the fact that prenatal PAEs exposure is a potential risk factor for developing diabetes, and pre-clinical studies imply that women are most susceptible to the adverse effects of PAEs.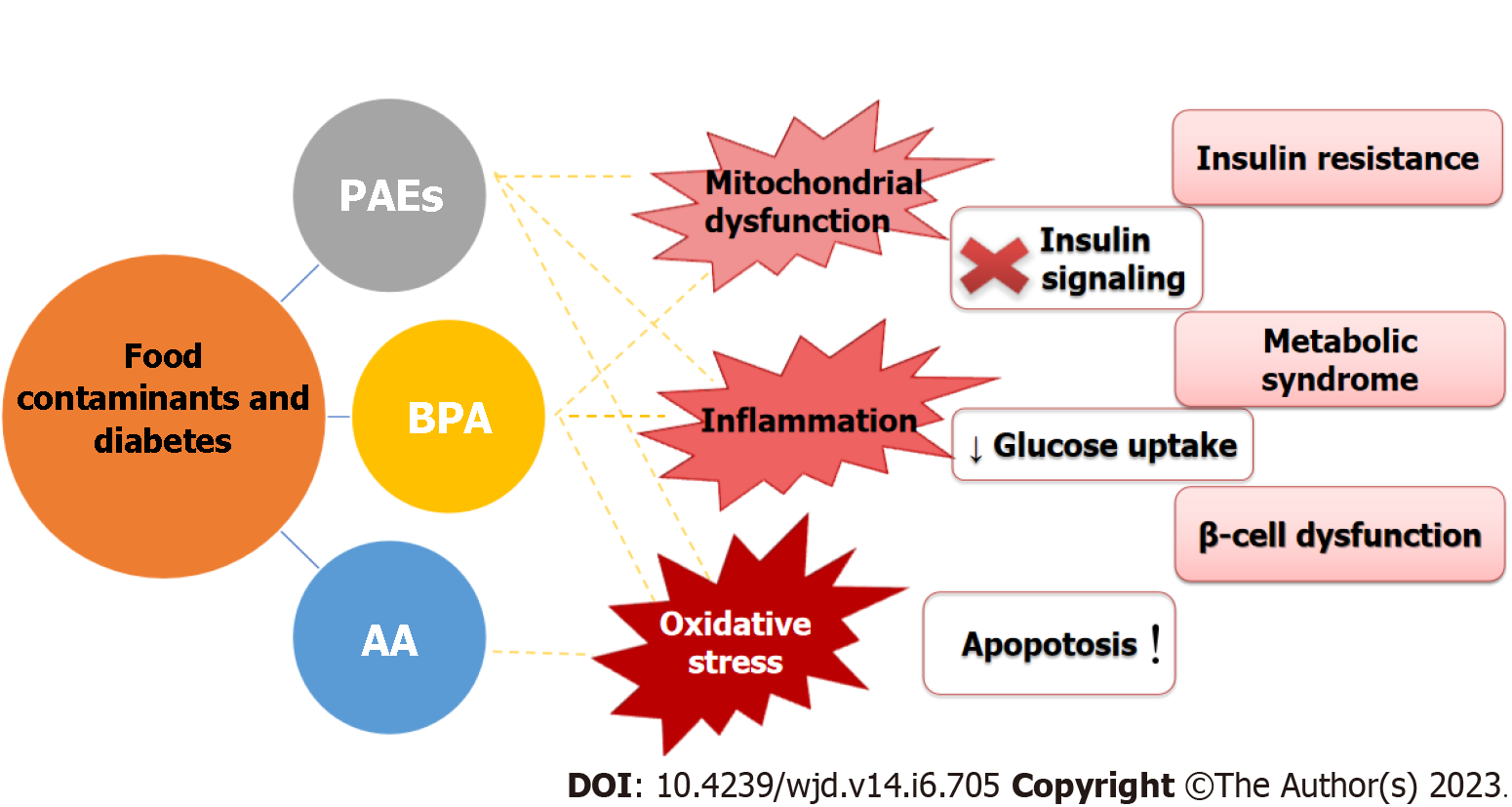 Figure 2 Schematic mechanisms of phthalates, bisphenol A and acrylamide role in diabetes development.
PAEs: Phthalic acid esters; BPA: Bisphenol A; AA: Acrylamide.
Epidemiologic evidence: The relationship between PAE exposure and potential risk for development of diabetes has mostly been examined by cross-sectional studies that differ in the race, gender and ages of study participants, sampling size, type of matrix, analytical techniques and kind of phthalates and/or metabolites used as analytes[76-82]. Because PAEs undergo quick metabolism and are excreted via urine as conjugated monoesters, evaluation of mPAEs concentrations in urine is most appropriate for assessment of possible correlations between PAE exposure and diabetes in humans[83]. Different types of PAEs have similar structures and mechanisms of action, and thus their negative effects may be additive[51]. Hence, the sum of phthalate metabolites should be considered as well during assessment of their negative effects[43]. The first evidence for the diabetogenic potential of PAEs in the human population was reported almost 15 years ago in a study where positive correlations were found between mPAE concentrations, abdominal obesity and insulin resistance in males[84]. Although urinary mPAEs concentrations were not associated with T1D at a significant level, in children with new-onset T1D, higher concentrations of MiBP were detected[76]. A high frequency of DEP and DEHP detection in urine was observed in healthy adults, the obese, and people with newly diagnosed T2D[34]. Higher urinary mPAEs levels, especially monomethylphthalate (MMP), MEP and MiBP, were related to a higher prevalence of T2D in both sexes[78,82]. Particularly, MEP and MMP were associated with insulin resistance, while MiBP was correlated with low insulin secretion[82]. Moreover, the association between mPAE concentrations and T2D was more pronounced in young individuals in comparison to older individuals. Interestingly, a positive correlation between specific urinary mPAEs and HbA1c levels was observed in individuals with a lower body mass index, while MEHP concentrations were positively related to fasting glucose levels in men and in the elderly[77]. Additionally, MEHP levels were associated with glucose serum levels in T2D patients and urinary MEP concentrations were positively correlated with HOMA-IR while in healthy participants, positive correlations were found between urinary MEP levels and triglyceride glucose index and triglyceride glucose-body mass index[43]. Both parameters have been proposed as indicators of T2D development in healthy normoglycemic participants[85]. It was found that higher concentrations of specific mPAEs were associated with increased oxidative stress and inflammation in diabetic patients in terms of MDA and TNFα levels, and decreased adiponectin levels[86]. Based on a non-targeted metabolomic study, differences in the serum levels of biomarkers of galactose, amino acids and pyrimidine metabolism were observed between T2D and control groups and mPAEs levels were mostly significantly associated with metabolic biomarkers serum concentrations[87].
In order to examine prospective evidence concerning the association of phthalates with T2D, cohort studies were performed. It was found that, among middle-aged women, T2D may be associated with phthalate exposure[88]. In utero, MEP exposure was associated with poor insulin secretion among pubescent boys, while increased leptin was observed among girls. In utero, and during the peripubertal period, DEHP exposure was associated with higher serum insulin-like growth factor-1, insulin secretion, and insulin resistance[89]. Moreover, in order to better investigate the link between specific phthalates and their metabolites with diabetes, several meta analyses were recently performed. DEHP exposure is mostly related to insulin resistance[90] and a positive correlation was found between phthalate metabolites and increased HOMA-IR[91],while the presence of MMP, MnBP, MiBP, mono-(3-carboxypropyl) phthalate in urine were positively associated with risk of diabetes[92]. Results obtained from epidemiological studies provide additional evidence about the negative effects of phthalates on glucose and lipid metabolism.
BPA
Overview
BPA is one of the most well-known EDCs because of the numerous adverse health effects associated with its widespread application in different everyday products. BPA is used in the production of polycarbonate plastics and epoxy resins, and can be found in plastic containers and cans for food and beverages, numerous kitchen appliances and utensils, personal care products, toys, paints, electronics, sports equipment, medical devices, dental materials and thermal paper[93,94]. Because of its known reproductive toxicity and endocrine disruption potential, the use of BPA in baby bottles and toys is forbidden in the United States, Canada and the European Union[95]. However, despite continuous debate over more efficient measures to protect especially vulnerable populations from BPA exposure, BPA production and consumption is still increasing. It is expected that BPA commercial sales will exceed 30 billion USD in 2028[96]. Similarly, to PAEs, food can be contaminated with BPA during production, handling, packaging, and transportation[97]. BPA migration from container linings may be increased under high temperature, acid or basic conditions and even due to microwave exposure[95]. Hence, diet is recognized as a main source of BPA exposure, particularly the ingestion of BPA via canned foods[98]. Although the European Food Safety Authority has set a reduced TDI for BPA (0.04 ng of BPA per kg body weight per day), the daily intake of BPA through the diet is several times higher (0.17-0.95 μg of BPA per kg body weight per day)[99]. An extensive number of studies has documented the association between BPA exposure and increased oxidative stress, fertility disorders, obesity in children, adolescents and adults, metabolic disturbances and impaired pancreatic β-cell function, as well as cardiovascular diseases and even increased carcinogenicity[100-106].
BPA and diabetes
Research status: BPA is classified as a "weak estrogen" and "obesogen" due to its endocrine disruptive potential, which is mainly a result of the known ability of BPA to bind to nuclear receptors[15,107]. Acute and long-term effects of low BPA concentrations on the development of diabetes have been documented. Enhanced insulin synthesis was observed through the interaction of ERα with ERK2 in pancreatic β-cells[108]. Similar to 17β-estradiol, picomolar doses of BPA trigger Ca2+ signaling pathways leading to insulin secretion in pancreatic β-cells. In addition, BPA exposure may cause inhibition of the expression of Pdx-1 in pancreatic mice islets, resulting in a decrease in glucose promoted insulin secretion and ATP production. Moreover, microRNA expression and BPA induced insulin secretion dysfunction in pancreatic islets has also been studied. Particularly, BPA suppressed the expression of miR-338, resulting in down-regulation of Pdx-1[109]. The "inverted U-shaped dose-effect curve" corresponds to the impact of BPA on insulin secretion in β-cells and mitochondrial function[110]. It is worth noting that more pronounced effects were exhibited by BPA binding to ERβ receptors. BPA as an insulinotropic pollutant affected β-cell function through inhibition of K(ATP) channel activity, which was observed in ERβ+ mice and human β-cells and islets[111,112]. In comparison with phthalate metabolites (MnBP, MiBP, and MEHP), BPA more strongly affected viability and insulin secretion in pancreatic β-cells[64]. However, in the same study, cytokine-induced cell death, a marker of T1D, was not affected. In spite of this, BPA was found to aggravate T1D in mice by disturbing Ca2+ signaling; indicating that BPA may cause insulin resistance via exacerbation of endoplasmic reticulum stress in pancreatic β-cells[113]. The diabetogenic potential of BPA has also been documented in insulinoma cell lines, where increased insulin secretion was observed together with decreased cell viability at nanomolar BPA levels[114,115]. BPA induced insulin hypersecretion was associated with enhanced β-cell lymphoma 2 family members, caspases and mitochondrial stress, which led to apoptosis[114]. Additionally, apoptosis may be promoted through BPA induced formation of amyloid fibrils. In rat insulinoma cells, BPA at micromolar concentrations induced DNA damage via increased levels of the proteins p53 and p-Chk2, as well as increased production of reactive oxygen species and decreased GSH levels[116]. In pancreatic α-cells, which are responsible for glucagon secretion, BPA reduced the fluctuation of low glucose levels induced by Ca2+[117]. To date, there is no published data concerning the impact of BPA on other Langerhans islets cells (δ, γ, ε). Regarding the data about BPA's role in autoimmune related disorders, such as T1D, the effects of low and high doses of BPA on T-cell immunity mechanisms have also been examined. Results show that at low doses, BPA acts as a promotor of diabetes, both through modulation of CD4+ T-cells and production of interferon γ, IL-6 and TNFα[118]. BPA effects were not sex-dependent, based on the experiments performed in non-obese diabetic mice models[119]. However, exposure to BPA during the prenatal stage is particularly dangerous, considering that BPA increased the risk for T1D development and metabolic disturbances in juvenile mice models and adult mice offspring, respectively[119,120]. Additionally, changes in gut microbiota and inflammation were recorded in juvenile mice[119,121]. Prenatal BPA exposure during the lactation period led to an increase in body weight in mice[122]. Even at "safe" levels (below the predicted 'no adverse effect' concentration) prenatal BPA exposure led to a significant increase in body and liver weight, abnormalities in adipocytes in terms of mass, number and volume, as well as elevated serum leptin and insulin levels, together with a decrease in adiponectin and glucose tolerance in adult male offspring[120]. Also, BPA exposure during lactation induced body weight gain in mice[122]. In pregnant BPA exposed mice, insulin resistance, together with elevated levels of insulin, triglycerides, and leptin in plasma, as well as glucose intolerance were observed[123]. Prenatal BPA exposure had detrimental effects on β-cells in mice, in terms of cell growth, mass and proliferation[124]. Therefore, exposure during early stages and the gestational period may cause long-term vulnerability to metabolic diseases and the development of glucose intolerance as a collateral effect or through epigenetic modifications[125,126].
Potential mechanisms associated with diabetes: The mechanisms of action of BPA are complex. Besides impairment of β-cell function, pre-clinical studies suggest that BPA is involved in the production of insulin resistance promoters, such as IL-6 and TNFα and inhibition of adiponektine in adipose tissue. In addition, BPA is associated with increased lipid peroxidation and pro-inflammatory cytokines in hepatocytes, as well as alterations in signaling pathways that generate reactive oxygen species, affect T-cell immunity, leading to decreased insulin sensitivity in skeletal muscles and glucose tolerance in the liver (Figure 2)[127-134].
Epidemiologic evidence: Evidence for the diabetogenic effects of BPA could not be completed without biomonitoring studies. Considering that free BPA has higher affinity for nuclear receptors than glucuronide and sulfate conjugates, the adverse effects of BPA are still evaluated mostly by measuring total BPA levels in urine, as a matrix of choice, and are expressed as creatinine-adjusted mean BPA concentrations[135]. Most of these studies are cross-sectional, performed on a limited number of volunteers using spot urine BPA testing. Therefore, the long term effects of BPA could not be estimated. It has been reported that the presence of BPA in urine samples is positively associated with obesity in children, adolescents and adults, as well as with the promotion of obesity, especially the visceral type, increased metabolic risk through hyperinsulinemia, glucose intolerance, insulin resistance, elevated HbA1c and serum leptin levels and dyslipidemia[16,17,103,105,136-142]. Different research groups have reported a positive relationship between BPA levels and T2D[143-147]. It is worth noting that in some studies the obtained outcomes were independent of age, sex, ethnicity, body mass index, and serum cholesterol levels[104,148]. Furthermore, in a meta-analysis that included data from more than 41000 participants, detected BPA concentrations in urine and serum were positively associated with a risk for T2D[149]. In a recently performed cohort study with 1990 participants, the U-shaped curve reflected an association between serum BPA concentrations and risk for T2D[141]. Individuals with increased BPA concentrations and increased diabetes genetic risk score had increased fasting plasma glucose levels and risk for T2D as well[141]. In a longitudinal cohort study performed on more than 2300 adults of both sexes, repeated measurements were conducted in order to investigate the association of urinary BPA levels with glucose homeostasis parameters. The obtained results imply that BPA correlated with compromised glucose homoeostasis in women but not in men before the development of diabetes[150]. Prenatal BPA exposure was connected with an increased risk for lower birth weight, smaller size for gestational age as well as increased leptin and decreased adiponectin levels[151-154]. Significantly higher median urinary BPA levels were observed in children and adolescents with T1D when compared with healthy controls[102].
A limited number of studies have demonstrated BPA detection in adipose tissue, due to the invasive nature of the procedure and the complexity of the matrix. BPA was detected with high frequency (62%) in adipose tissue in children[155]. Moreover, obtained BPA levels in adipose tissue were much higher in children compared with adult women[156]. The levels of BPA in adipose tissue of adults were related to low GSH reductase activity and increased oxidized GSH, confirming that BPA triggers oxidative stress in human adipose tissue[157]. Regarding adipose tissue dysfunction, BPA serum levels were significantly higher in people with T2D in comparison with healthy controls; while a positive correlation with serum leptin levels, and a negative correlation with adiponectin was found in the group with diabetes, strongly suggesting that BPA may worsen diabetes and increase diabetes pathology[147].
AA
Overview
AA is an α,β-unsaturated carbonyl compound with electrophilic reactivity that has widespread applications in different industrial and laboratory processes[158]. In particular, AA is applied for the synthesis of polyacrylamide polymers used in water purification, sewage treatment, oil and sugar refinement, the production of soaps and cosmetics, varnishes, plastics, pesticides, adhesives, fibers, pharmaceuticals and textiles, and as a gel medium for electrophoresis methods in research laboratories[159-161]. AA is also found in cigarette smoke[162]. AA is the focus of scientific and public attention since 2002, when it was reported that it can be produced during the processing of certain foods. AA is formed as a result of a Milliard reaction when foods that contain asparagines and sugars are prepared at high temperatures (higher than 120 °C) under low moisture conditions[163-165]. More precisely, AA is formed during the browning of certain foods during frying, baking, grilling and roasting[159]. Hence, the main sources of AA in the diet are fried potatoes, breakfast cereals, cookies, crackers, crisps, bread, toast[166,167] and roasted coffee[168]. It is estimated that chronic average exposure to AA ranges from 0.5-1.9 μg/kg body weight per day in children, to 0.4-0.9 μg/kg body weight per day in adolescents, adults, and the elderly[169].
During detoxification processes, the majority of AA is conjugated to GSH, while less is metabolized to a genotoxic epoxide derivate glycidamide (GA) by the enzyme cytochrome P450 2E1 (CYP2E1)[170]. Genotoxic GA is more reactive than AA, and can produce DNA and Hb adducts[171]. The TDI for AA neurotoxicity is 40 μg/kg/d, while TDIs for cancer are 2.6 and 16 μg/kg/d for AA and GA, respectively[172]. Due to the adverse effects of AA on human health, the European Chemicals Agency ECHA has included AA on a list of candidate substances of very high concern that requires authorization from the European chemical regulation REACH (Registration, Evaluation, Authorization and Restriction of Chemicals)[159,173]. Several regulatory agencies provided different mitigation strategies for the prevention and reduction of AA formation in food[174-179].
AA and diabetes
Research status: Data about the association between low AA levels from diet and adverse health outcomes are still scarce and limited. To date, there have been only few attempts to investigate the impact of AA exposure on diabetes development. AA exposure disturbed the majority of redox status parameters in vitro in a β-cell line, Rin-5F, a validated β-cell model system[180]. Namely, AA exposure led to increased lipid peroxidation and nitric oxide (NO) production and a decrease in GSH content[180]. In addition, AA treatment affected the activity of antioxidant enzymes SOD and catalase (CAT), and the detoxifiying enzyme GSH S-transferase (GST) in pancreatic β-cells[180]. Formation of AA-GSH conjugates during detoxification could lead to GSH depletion and stimulation of GST activity in AA-exposed β-cells[180-182]. During metabolic processing, most AA is coupled to GSH via GST[158,183]. Elevated lipid peroxidation in pancreatic β-cells could be a result of GSH reduction[182]. AA exposure increased both the expression of inducible NO synthase (iNOS) and NO production in pancreatic β-cells, indicating induction of nitrosative stress[180]. Elevated iNOS and NO levels can cause β-cell dysfunction[184]. Decreased activity, but increased expression of SOD could be a consequence of the inactivation of redundant enzyme that is produced under conditions of high oxidative stress in AA-exposed pancreatic β-cells[185,186]. Upon AA exposure, resulting elevated NO levels reduced CAT activity in pancreatic β-cells[180,187]. In vitro metabolomics analysis revealed AA-induced glycolysis and gluconeogenesis alleviation characterized by diminished levels of glycolitic intermediates and a decreased rate of the tricarboxylic acid cycle[188]. Taken together, in vitro studies suggest that AA induces oxidative stress toxicity in β- cells and alters glucose metabolism.
In rats, AA exposure led to increased blood glucose levels and the development of histopathological changes in the islets[189]. In addition, a decreased β-cell and increased α-cell number was observed in rats upon exposure to AA[190,191]. A similar pattern of islets remodeling characterized by α-cell expansion and β-cell reduction was detected in islets of both diabetic rats and humans[192-197]. These data are in line with the putative prodiabetic properties of AA. AA exposure altered expression of gluconeogenic enzymes in rats and mice, indicating the potential of AA to impair gluconeogenesis[189,198]. Furthermore, AA affected the level of metabolites involved in the pentose phosphate pathway[199]. The pentose phosphate pathway is a significant component of glucose metabolism related to the development of T2D[200]. Taken together, these data demonstrate AA-induced disruption of glucose homeostasis. In addition, AA was shown to affect insulin-regulated IRS/PI3K/Akt/Foxo1 signaling pathways in rats[189]. Furthermore, AA exposure induced the expression of iNOS in rat pancreatic islets[180]. Increased iNOS expression impairs normal β-cell function and insulin secretion, and has been detected in both T1D and T2D[184]. In both in vitro and in vivo model systems, AA treatments reduced the expression of CYP2E1 in pancreatic β-cells[180]. CYP2E1 catalyzes biotransformation of AA to the genotoxic epoxide GA[170]. Reduction of CYP2E1 expression could be a protective mechanism in β-cells, in order to prevent the formation of the more toxic GA[180]. In addition, it has been shown that AA aggravates the diabetic condition in rodents[198,201,202]. Namely, AA worsens the histopathological features of liver and kidney lesions, blood biochemical parameters and redox status in diabetic rodents[198,201,202]. Diabetics are particularly vulnerable individuals, and more susceptible to environmental contaminants than the general population[186,198,203,204]. Collectively, in vivo studies in rodents indicate that AA exposure induces remodeling of pancreatic islets, impairs glucose metabolism and aggravates the overall diabetic state.
Potential mechanisms associated with diabetes: Based on the limited number of performed in vitro and in vivo studies, oxidative stress is the principle mechanism of AA-induced toxicity in pancreatic β-cells[180]. AA related impairment of both pentose phosphate pathway and insulin-regulated signaling is responsible for glucose metabolism disruption and development and aggravation of diabetes (Figure 2)[189,198,199].
Epidemiological evidence: Several epidemiological studies have revealed an association between AA intake and disorders of glucose metabolism[160,205,206]. In a Chinese adult population, a correlation between AA exposure and fasting plasma glucose levels was observed[160]. In line with these findings, data from the United States National Health and Nutrition Examination Survey (NHANES) 2003-2006 showed a significant correlation between high fasting plasma glucose levels and the concentration of HbGA adducts in the general adult population in the United States[205]. This study also reported that AA alters metabolic syndrome biomarkers[205]. Another NHANES study, 2003-2004, reported an association between AA exposure, decreased blood insulin levels and insulin resistance[206]. Subsequent NHANES surveys, 2005-2006 and 2013-2016, further confirmed these data and showed that Hb-AA adducts (HbAA) are linearly and inversely associated with the risk of diabetes development, whereas HbGA/HbAA nonlinearly and positively correlates with the prevalence of diabetes, indicating that HbAA and HbGA/HbAA are significantly associated with diabetes[169]. An association between HBAA adducts and AA intake was also detected in an adult Japanese population[207]. In addition, there is a link between prenatal dietary exposure to AA and the prevalence of obesity[208]. A large prospective study revealed a positive correlation between consumption of french fries and the risk for development of T2D in women[209]. French fries contain a high AA content: a standard portion contains approximately 30 μg of AA[165], indicating a significant contribution of AA to the deve-lopment of T2D. These findings have been further confirmed by two prospective cohort studies, which showed an association between a high intake of ultra-processed foods and the risk of T2D[210,211]. Further epidemiological studies in other populations are required in order to confirm and elucidate the roles of AA exposure in the development of diabetes.
CONCLUSION
This paper summarizes important data, providing greater understanding of the diabetogenic effects of some PAEs and their metabolites, as well as BPA and AA. Risk assessment of these contaminants in mixtures of EDCs and the exact level of exposure associated with diabetes development over time remained unanswered. The effects of decreased exposure to phthalates, BPA, and AA through avoidance of specific packaging materials, or chemical reactions during food processing on glucose metabolism should also be addressed. Therefore, further prospective, well-designed studies with multiple measurements and longer follow-up, together with experimental studies, are required to completely understand the underlying mechanisms and confirm the causal association between PAEs, BPA, AA and diabetes outcomes. Diabetes is associated with serious complications, such as cardiovascular disease and stroke, chronic kidney disease, liver disease, neuropathy, retinopathy etc. Therefore, more effective prevention and treatment strategies are necessary. New strategies that advocate reduced exposure to food contaminants, while promoting increased physical activity and healthier nutritional choices, may be crucial for the prevention or delay of diabetes progression.
Provenance and peer review: Invited article; Externally peer reviewed.
Peer-review model: Single blind
Specialty type: Endocrinology and metabolism
Country/Territory of origin: Serbia
Peer-review report's scientific quality classification
Grade A (Excellent): 0
Grade B (Very good): B
Grade C (Good): C
Grade D (Fair): 0
Grade E (Poor): 0
P-Reviewer: He YF, China; Moriyama K, Japan S-Editor: Wang JJ L-Editor: A P-Editor: Guo X