Copyright
©The Author(s) 2022.
Published by Baishideng Publishing Group Inc. All rights reserved.
World J Gastrointest Oncol.
Jan 15, 2022;
14(1): 153-162
Published online Jan 15, 2022. doi: 10.4251/wjgo.v14.i1.153
Impact of the microenvironment on the pathogenesis of mucosa-associated lymphoid tissue lymphomas
Barbara Uhl, Katharina T Prochazka, Karoline Fechter, Katrin Pansy, Hildegard T Greinix, Peter Neumeister, Alexander JA Deutsch, Division of Hematology, Medical University of Graz, Graz 8036, Austria
Author contributions: Uhl B and Deutsch AJA drafted the work; all authors conceived the work and made substantial revisions to and critiqued the content; all authors have read and approved the final manuscript.
Conflict-of-interest statement: The authors declare no conflicts of interest for this article.
Open-Access
: This article is an open-access article that was selected by an in-house editor and fully peer-reviewed by external reviewers. It is distributed in accordance with the Creative Commons Attribution NonCommercial (CC BY-NC 4.0) license, which permits others to distribute, remix, adapt, build upon this work non-commercially, and license their derivative works on different terms, provided the original work is properly cited and the use is non-commercial. See:
https://creativecommons.org/Licenses/by-nc/4.0/
Corresponding author: Alexander JA Deutsch, PhD, Research Assistant Professor, Division of Hematology, Medical University of Graz, Auenbruggerplatz 38, Graz 8036, Austria. alexander.deutsch@medunigraz.at
Received: February 25, 2021
Peer-review started: February 25, 2021
First decision: May 3, 2021
Revised: May 16, 2021
Accepted: December 9, 2021
Article in press: December 9, 2021
Published online: January 15, 2022

Approximately 8% of all non-Hodgkin lymphomas are extranodal marginal zone B cell lymphomas of mucosa-associated lymphoid tissue (MALT), also known as MALT lymphomas. These arise at a wide range of different extranodal sites, with most cases affecting the stomach, the lung, the ocular adnexa and the thyroid. The small intestine is involved in a lower percentage of cases. Lymphoma growth in the early stages is associated with long-lasting chronic inflammation provoked by bacterial infections (e.g., Helicobacter pylori or Chlamydia psittaci infections) or autoimmune conditions (e.g., Sjögren's syndrome or Hashimoto thyroiditis). While these inflammatory processes trigger lymphoma cell proliferation and/or survival, they also shape the microenvironment. Thus, activated immune cells are actively recruited to the lymphoma, resulting in either direct lymphoma cell stimulation via surface receptor interactions and/or indirect lymphoma cell stimulation via secretion of soluble factors like cytokines. In addition, chronic inflammatory conditions cause the acquisition of genetic alterations resulting in autonomous lymphoma cell growth. Recently, novel agents targeting the microenvironment have been developed and clinically tested in MALT lymphomas as well as other lymphoid malignancies. In this review, we aim to describe the composition of the microenvironment of MALT lymphoma, the interaction of activated immune cells with lymphoma cells and novel therapeutic approaches in MALT lymphomas using immunomodulatory and/or microenvironment-targeting agents.
Core Tip: This review summarizes and discusses the major findings in extranodal mucosa-associated lymphoid tissue lymphomas with a focus on the microenvironment. It describes how long-lasting chronic inflammatory processes promote the growth of malignant cells, which can be directly mediated by bacteria and/or interaction with activated immune cells. In addition, major genetic alterations are summarized, and models of how these might be acquired are discussed. Finally, novel therapies targeting the microenvironment are described.
---
Citation: Uhl B, Prochazka KT, Fechter K, Pansy K, Greinix HT, Neumeister P, Deutsch AJ. Impact of the microenvironment on the pathogenesis of mucosa-associated lymphoid tissue lymphomas. World J Gastrointest Oncol 2022; 14(1): 153-162
---
INTRODUCTION
Extranodal mucosa-associated lymphoid tissue (MALT) lymphomas account for 5%-8% of all non-Hodgkin lymphomas (NHLs) and were first described in 1983 by Isaacson and Wright[1-3]. MALT lymphomas arise at a wide range of extranodal sites, most frequently occurring in the stomach, followed by the lung, ocular adnexa, thyroid and small intestine[4]. The cells of this type of lymphoma have the same cytological and immunophenotypical (CD20+, CD21+, CD35+, IgM+, and IgD-) features as marginal zone B cells, prompting the World Health Organization to designate this lymphoma "extranodal marginal zone B cell lymphoma of mucosa-associated lymphoid tissue (MALT lymphoma)"[5]. The cell of origin of MALT lymphomas is the marginal zone (MZ) B cell. These B cells are a first line of defense against infectious agents and build up an innate-like antibody response in a T cell-independent and T cell-dependent manner[6,7]. MALT lymphomagenesis is highly dependent on microenvironmental factors and therefore often associated with chronic inflammation induced either by Helicobacter pylori (H. pylori), the most common pathogen in gastric MALT lymphomas, or by chronic inflammation as a result of autoimmune disease. These are known risk factors for the development of MZ lymphomas[8]. In addition to the antigenic drive, oncogenic events are important in the process of malignant transformation[8]. MALT lymphoma cell proliferation is driven by T cell signaling, chronic (auto) antigen stimulation of MZ B cells, and activation of the nuclear factor kappa-light-chain-enhancer of activated B cells (NF-κB pathway)[9].
ACQUIRED GENETIC ABNORMALITIES
In MALT lymphomas, recurrent chromosomal aberrations, such as trisomies, amplifications and deletions, chromosomal translocations, somatic point mutations, and promotor hypermethylation, have been described.
The most common cytogenetic alterations are trisomies 3, 12, and/or 18, which are present in 20%-35% of cases, and they are often associated with one of the four main translocations[10-13]. Trisomies 3 and 18 and losses at 6q23 occur in MALT lymphomas primarily involving the stomach, orbital adnexa, thyroid, salivary glands, and lung[13]. Several promising candidate genes are located on chromosome 3, such as the proto-oncogene BCL6 and the transcription factor FOXP1[14]. Additionally, the chemokine receptor CCR4, genomically located on chromosome 3 (3p24), is highly expressed in trisomy 3-positive MALT lymphomas[15]. Furthermore, genome-wide DNA profiling revealed deletions in 1p and 6q, as well as gains on chromosomes 3 and 18 and the short arm of chromosome 6[10].
The most common chromosomal translocations associated with the pathogenesis of MALT lymphomas are t(1;14)(p22,q32) (involving the IGHV and BCL10 genes), t(11;18)(q21,q21) (involving BIRC3/MALT1), t(14;18)(q32,q21) (involving IGH/BCL2) and t(3;14)(p14.1,q32) (involving IGHV-FOXP1)[8,10,16]. The frequency of genetic aberrations is dependent on the primary site of disease[10,17]. At least three translocations, t(11;18), t(14;18) and t(1;14), involve the BCL10 and MALT1 genes and lead to activation of the NF-кB pathway in lymphocytes, thus indicating that these aberrations are oncogenic events[18,19].
We observed somatic missense mutations in PIM1 and cMYC in 46% of gastric and 30% of extragastric MALT lymphomas[20]. In addition, missense and frameshift mutations in p53 were described in 20.8% of MALT lymphomas (mainly of gastric origin)[10]. Moreover, whole exome sequencing of extragastric MALT lymphomas identified recurrent novel somatic mutations in PIK3CD, TET2, and TNFRSF14 and in two G protein-coupled receptors (GPR34 and CCR6), which have not been reported to be somatically mutated in human tumors thus far. In addition, recurrent mutations were found in two genes (TBL1XR1 and NOTCH1), for which somatic mutations were already reported in ocular adnexal MALT lymphomas. The mutation frequencies of these genes were remarkably variable among MALT lymphomas affecting different sites[21]. Sequencing of NF-κB signaling pathway-related genes — A20, Card11, CD79B, and Myd88, known to be frequently mutated in aggressive lymphomas[10,22] — demonstrated that 6% of MALT lymphoma cases exhibited missense or frameshift mutations in the Myd88 locus. A total of 28.6% of the ocular adnexal MALT lymphomas had mutations in the A20 locus[10,23]. Card11 and CD79B were not affected in ocular adnexal MALT lymphomas[10].
Finally, promoter hypermethylation of the tumor suppressor genes p16 and p57 has been reported in low-grade MALT lymphoma cases[24]. CpG hypermethylation of A20 has been detected in 26% of investigated MALT lymphomas, including ocular adnexal cases and lymphomas located in the salivary and thyroid glands[10].
Aberrant somatic hypermutation is associated with genetic lesions in malt lymphomas
Aberrant somatic hypermutation (ASHM) has been identified to be crucial for the development of lymphoid neoplasms. ASHM occurs commonly in diffuse large B cell lymphomas but is rare in indolent lymphomas[10,25,26]. The pathogenesis of most lymphomas is associated with distinct genetic lesions arising from mistakes during class switch recombination (CSR) and somatic hypermutation (SHM)[10,27]. Activation-induced cytidine deaminase (AID) is an enzyme required for CSR and SHM. Mistargeting of AID to known proto-oncogenes combined with a breakdown of protective high-fidelity repair mechanisms has been shown to be a principal contributor to the pathogenesis of B-NHL[10]. Our research group has demonstrated that the expression levels of AID are associated with the mutational load caused by ASHM in MALT lymphomas[25]. However, the mechanism causing the upregulation of AID has not been identified thus far. It has been demonstrated that H. pylori infection upregulates AID expression via NF-κB in gastric cells in vitro and in vivo, resulting in the accumulation of p53 mutations[28]. Hence, it might be speculated that H. pylori infection is also participates in the upregulation of AID in B cells, leading to the accumulation of genetic alterations.
CHRONIC INFLAMMATION SHAPES THE MICROENVIRONMENT AND THEREBY PLAYS A KEY ROLE IN MALT LYMPHOMAGENESIS
It is well known that MALT lymphomas are commonly associated with long-lasting chronic inflammation caused by microbial pathogens and/or autoimmune diseases that trigger sustained lymphoid proliferation. The low activation threshold of MZ B cells may predispose them to neoplastic transformation[29].
Gastric MALT lymphomas show a strong association with chronic H. pylori infection[30]. Other infectious associations have been reported for Borrelia burgdorferi (skin)[31], Campylobacter jejuni (intestine)[32], Achromobacter xylosoxidans (lung)[33], Chlamydia psittaci (ocular, nongastrointestinal MALT lymphomas)[34-36] and hepatitis C virus (splenic marginal zone lymphoma)[37]. The strength of these associations shows vast geographical discrepancies[38-40]. In addition, an association of MALT lymphomas with chronic inflammation induced by autoimmune disease is found in primary Sjögren's syndrome (pSS)[41-43] and Hashimoto thyroiditis[44].
Long-lasting chronic inflammation, e.g., induced by H. pylori infection or pSS, is the trigger for a multistage process in the evolution of MALT lymphomas due direct effects on B cell proliferation and/or survival and/or indirect effects on the activation of innate and adaptive immune cells[9,43,45] as shown in Figure 1.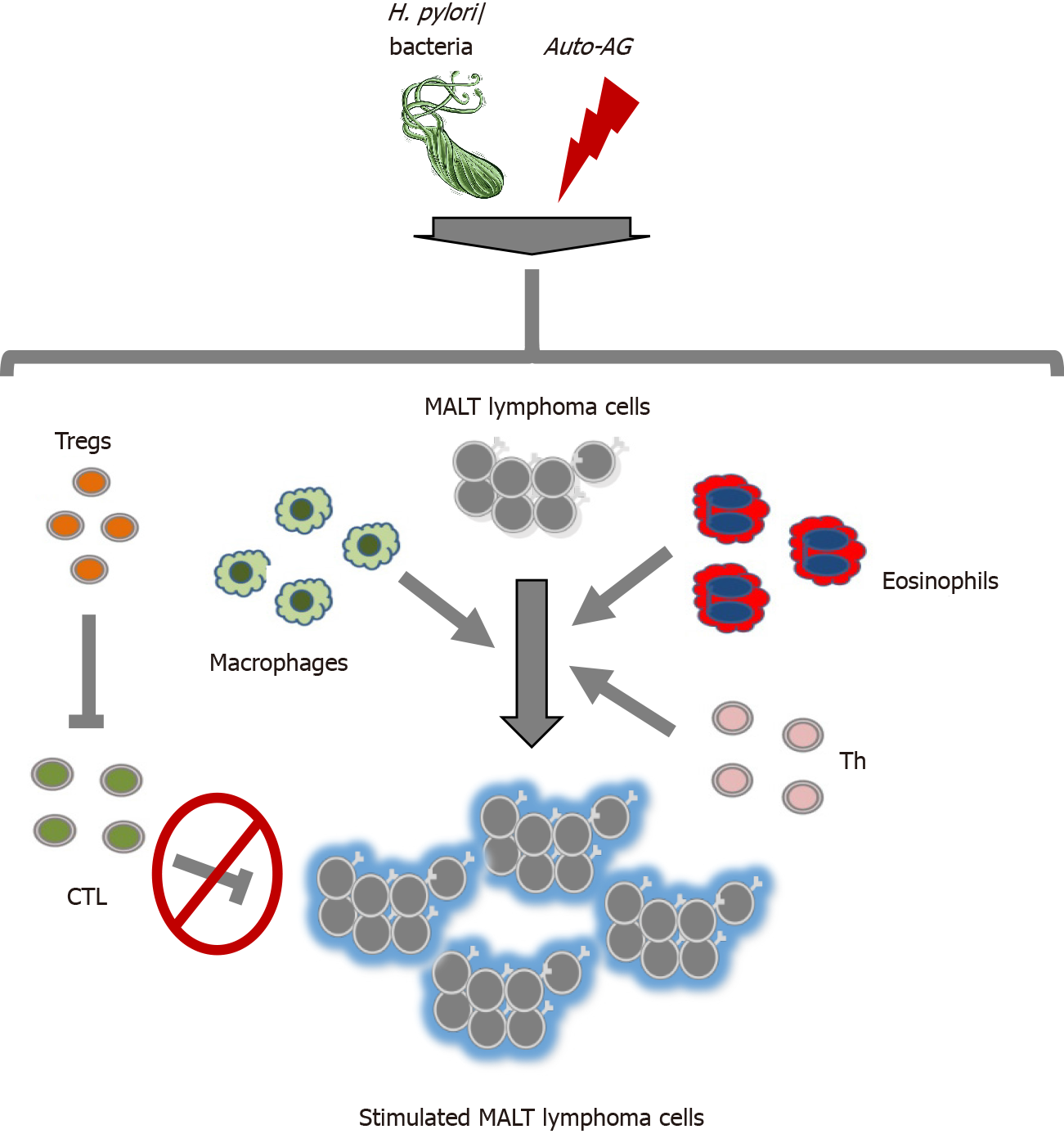 Figure 1 Graphical depiction of the interplay of mucosa-associated lymphoid tissue lymphoma cells with their microenvironment. Helicobacter pylori (H. pylori), other bacteria and/or autoantigens (auto-AGs) support an immune regulatory microenvironment promoting mucosa-associated lymphoid tissue (MALT) lymphomagenesis in different organs. First, regulatory T cells are activated and suppress the immune response by maintaining H. pylori colonialization and influencing cytotoxic T cells, which possess malfunctions and therefore cannot inhibit the expansion of MALT lymphoma cells. Second, eosinophils and macrophages express a proliferation-inducing ligand (APRIL) and B cell-activating factor, supporting lymphomagenesis. The production of APRIL is induced by H. pylori antigens and H. pylori-specific T cells. Third, T helper cells and their cytokines (IL-4, Il-5, and IL-10) promote the growth and differentiation of lymphoma cells and are stimulated by H. pylori and/or auto-AGs. MALT: Mucosa-associated lymphoid tissue; H. pylori: Helicobacter pylori; Tregs: Regulatory T cells; CTL: Cytotoxic T cell; Auto-AG: Autoantigen; Th: T helper.
H. pylori strains expressing cytotoxin-associated gene A (CagA) are associated with the lymphomagenesis of gastric MALT lymphoma[46,47]. CagA is involved in the promotion of proliferation and the inhibition of apoptosis of B lymphocytes through activation of extracellular signal-regulated kinase (ERK) and p38 mitogen-activated protein kinase (MAPK) and upregulation of BCL-2 and BCL-xL[47]. Second, the CagA tyrosine phosphorylation-independent pathway impairs p53 via AKT serine/threonine kinase 1 (AKT1) and human homolog of double minute 2 (HDM2)[9,45]. In general, cell wall lipopolysaccharide has been shown to be responsible for triggering a pattern of mucosal inflammation via Toll-like receptor signaling, resulting in activation of MAPK, phosphoinositide 3-kinase (PI3K) and NF-κB pathways in H. pylori infection[48,49].
As already mentioned, long-lasting chronic inflammatory processes might also influence MALT lymphomagenesis through the direct (auto) antigen-mediated interaction of lymphoma cells with immune cells and/or the secretion of soluble factors like cytokines. In this case, a direct immune cell-lymphoma cell interaction and subsequent activation result. Activated T cells targeting H. pylori represent cells targeting autoantigens in the case of pSS, and these T cells are present in MALT lymphomas and are able to promote lymphoma cell growth via CD40-mediated signaling and T helper (Th) type-2 cytokine (IL-4, IL-5, and IL-10) effects[50,51]. Examples of two cytokines are a proliferation-inducing ligand (APRIL) and B cell-activating factor (BAFF), which are members of the tumor necrosis factor family and play a key role in B cells and autoimmunity. Both cytokines are secreted by eosinophils and/or macrophages and stimulate MALT lymphoma cells[52-54]. Both the CD40/CD40L interaction and APRIL and/or BAFF signaling cause the activation of important downstream signaling pathways, e.g., NF-κB and/or MAPK[55,56], and thereby have an important impact on MALT lymphomagenesis.
Chronic inflammatory processes in MALT lymphomas not only promote B cell growth/proliferation but also actively induce immunosuppressive conditions, which also play a major role in the development and progression of this B cell malignancy. These effects are partially mediated by recruited regulatory T cells (Tregs)[57,58], which suppress anticancer immunity by secreting anti-inflammatory cytokines and/or expressing immune inhibitory surface receptors[59,60]. Furthermore, activated tumor-infiltrating T cells have dysfunctional cytolytic capacity in MALT lymphomas[61,62].
It has been demonstrated that T cells, macrophages and neutrophils recruited during long-lasting chronic inflammation contribute to the formation of genetic aberrations, DNA damage and genetic instability in B cells, leading to antigen-independent lymphoma cell growth. These effects are mediated by activation of ASHM and class-switching recombination in MALT lymphomas[63] and are associated with epigenetic and genetic changes in p57KIP[24], p16INK4A[24,64] and p53[10] as well as chromosomal translocation of cMYC and BCL6[10,65].
TUMOR MICROENVIRONMENT-TARGETING THERAPIES
As already described, MALT lymphomas with long-lasting chronic infections cause B cell proliferation and/or survival either directly and/or indirectly via activation of immune cells[9,43,45,66]. Therefore, these interactions provide multiple potential targets for new immunomodulatory treatments beyond the established treatment options for H. pylori eradication by antibiotics, radiation, chemotherapy and treatment with the anti-CD20 antibody therapy rituximab[67].
Immunomodulatory drugs (IMiDs) represent a novel therapeutic approach to target the tumor microenvironment of MALT lymphomas. IMiDs, consisting of thalidomide, lenalidomide and pomalidomide, are approved for the treatment of multiple myeloma, and lenalidomide is approved for the treatment of relapsed follicular lymphoma[53,68-70]. IMiDs exert anti-inflammatory effects, such as decreased production of cytokines and increased production of Th1 type cytokines; furthermore, they decrease vascular endothelial growth factor (VEGF) levels and show modulating effects on basic cellular mechanisms (T cell costimulation and alteration of FOXP3+ Tregs and natural killer cells)[68,69]. The efficacy of lenalidomide in MALT lymphomas has been reported in studies with induction of remission after treatment for up to 32 mo[71]. Raderer and Kiesewetter[53] conducted a phase II study with a combination therapy consisting of lenalidomide and rituximab, which achieved an overall response rate of 80% and a complete remission rate of 54%.
Further therapeutic targets are related to Tregs, which are recruited into the microenvironment of MALT lymphoma[58,72] and suppress antitumoral immune reactions[58,60,73,74]. It has been shown that the Bruton's kinase inhibitor ibrutinib reduces the number of Tregs in the early course of treatment in chronic lymphocytic leukemia (CLL), in addition to inhibiting the BCR pathway[75]. Ibrutinib has been tested in relapsed/refractory marginal zone B cell lymphoma (MZL) and possesses a remarkable response rate with tolerable toxicity[53]. However, no data are available thus far for the treatment of MALT lymphoma.
As reported in section 3, in MALT lymphoma cells, the NF-κB pathway is strongly activated by genetic alterations[18,76,77] or by interaction with activated immune cells via the CD40/CD40L[52-54,56] and/or APRIL axes[77-79].
Bortezomib, a proteasome inhibitor with inhibitory effects on the NF-κB signaling pathway[10], showed promising response rates in MALT lymphoma patients in phase II trials[80]. Furthermore, bortezomib was reported to reverses the tumor-induced dysfunction of CD8+ T cells by increasing the expression of Notch cascade genes[81]. Moreover, bortezomib enacts immunostimulatory effects by activating tumor-infiltrating CD8+ T cells[61,62]. Taken together, these findings suggest that the anti-lymphoma effects of bortezomib are mediated by NF-κB inhibition and by reversal of the observed T cell malfunction[52-54].
Another possibility to suppress NF-κB activation in MALT lymphoma cells is the disruption of the APRIL axis[82] with use of an anti-APRIL antibody; one such antibody was developed by Guadagnoli et al[82] and has shown promising results in CLL in a preclinical setting[83-89]. However, this strategy has not been tested in MALT lymphoma patients thus far.
It has also been demonstrated that macrolides, which are used for eradication of bacterial infection in MALT lymphomas, have certain immunomodulatory effects, e.g., they decrease the number and inhibit the function of neutrophils as well as eosinophils and inhibit Th2 cell functions[83-89]. Thus, it is likely that the immunomodulatory effects significantly impact the response rates of MALT lymphomas when these antimicrobial drugs are used.
CONCLUSION
MALT lymphomas represent a heterogeneous group of lymphoid neoplasms arising at different extranodal sites and are associated with a variety of long-lasting chronic infections. In the current pathogenic model, (auto) antigen stimuli trigger lymphoma cell growth, survival, and recruitment of immune cells to the microenvironment, which in turn stimulate lymphoma cells directly via surface receptor interactions and/or indirectly via cytokine secretion. Moreover, it has been shown that inflammatory processes may lead to the acquisition of further genetic alterations resulting in lymphoma cell growth independent of (auto) antigen stimuli. Many agents targeting/blocking the interaction of immune cells of the microenvironment with lymphoma cells, as well as eradicating the antigen stimuli, have been developed within recent years, indicating that the basis for novel therapeutic strategies is already available. Despite these advances, the number of comprehensive studies on the microenvironment composition and its interaction with lymphoma cells needs to be significantly increased to gain further knowledge on targets for innovative and efficient therapy.
ACKNOWLEDGEMENTS
We thank Waha JE for reviewing the manuscript for clarity in English as a native speaker.
Provenance and peer review: Invited article; Externally peer reviewed.
Peer-review model: Single blind
Specialty type: Oncology
Country/Territory of origin: Austria
Peer-review report's scientific quality classification
Grade A (Excellent): 0
Grade B (Very good): B
Grade C (Good): 0
Grade D (Fair): 0
Grade E (Poor): 0
P-Reviewer: Asano N S-Editor: Gao CC L-Editor: A P-Editor: Gao CC