Copyright
©The Author(s) 2015.
Published by Baishideng Publishing Group Inc. All rights reserved.
World J Gastrointest Endosc.
Jan 16, 2015;
7(1): 13-36
Published online Jan 16, 2015. doi: 10.4253/wjge.v7.i1.13
Small bowel capsule endoscopy: Where are we after almost 15 years of use?
Cedric Van de Bruaene, Danny De Looze, Pieter Hindryckx, Department of Gastro-enterology, University Hospital Ghent, 9000 Ghent, Belgium
Author contributions: Van de Bruaene C, De Looze D and Hindryckx P analyzed data; Van de Bruaene C and Hindryckx P wrote the paper; Van de Bruaene C, De Looze D and Hindryckx P revised the paper.
Conflict-of-interest: The authors declare that they have no competing interests.
Open-Access: This article is an open-access article which was selected by an in-house editor and fully peer-reviewed by external reviewers. It is distributed in accordance with the Creative Commons Attribution Non Commercial (CC BY-NC 4.0) license, which permits others to distribute, remix, adapt, build upon this work non-commercially, and license their derivative works on different terms, provided the original work is properly cited and the use is non-commercial. See: http://creativecommons.org/licenses/by-nc/4.0/
Correspondence to: Pieter Hindryckx, MD, Department of Gastro-enterology, University Hospital Ghent, de pintelaan 185, 1K12, 9000 Ghent, Belgium. hindryckx@ugent.be
Telephone: +32-9-3322371 Fax: +32-9-2404984
Received: August 29, 2014
Peer-review started: August 29, 2014
First decision: September 30, 2014
Revised: October 16, 2014
Accepted: December 3, 2014
Article in press: December 10, 2014
Published online: January 16, 2015

The development of capsule endoscopy (CE) in 2001 has given gastroenterologists the opportunity to investigate the small bowel in a non-invasive way. CE is most commonly performed for obscure gastrointestinal bleeding, but other indications include diagnosis or follow-up of Crohn's disease, suspicion of a small bowel tumor, diagnosis and surveillance of hereditary polyposis syndromes, Nonsteroidal anti-inflammatory drug-induced small bowel lesions and celiac disease. Almost fifteen years have passed since the release of the small bowel capsule. The purpose of this review is to offer the reader a brief but complete overview on small bowel CE anno 2014, including the technical and procedural aspects, the possible complications and the most important indications. We will end with some future perspectives of CE.
Core tip: This review covers all the relevant aspects of small bowel capsule endoscopy anno 2014. The current techniques, procedures, analyses, indications and future perspectives are discussed thoroughly. Easy-to-use flowcharts are provided to help the readers in their decision-making when confronted with small bowel pathology.
---
Citation: Van de Bruaene C, De Looze D, Hindryckx P. Small bowel capsule endoscopy: Where are we after almost 15 years of use? World J Gastrointest Endosc 2015; 7(1): 13-36
---
INTRODUCTION
Wireless Video capsule endoscopy (CE) was invented by Gavriel Iddan[1] in the mid-1990s. Being able to visualize the entire small bowel in a noninvasive, well-tolerated way, CE has closed the diagnostic gap between conventional gastroduodenoscopy and colonoscopy. Since the official release of CE in 2001, almost 15 years have passed, and CE has revolutionized the diagnosis and treatment of various small intestinal diseases. This review aims to provide state of the art on CE in gastrointestinal diseases. Both the evolution in technique and in indications will be discussed.
TECHNICAL PRINCIPALS, PROCEDURE AND ANALYSIS
Capsule definition
The wireless CE system consists of 4 main parts: (1) the single-use wireless Video Capsule; (2) sensor arrays or a sensor belt attached to the patient; (3) the data recorder attached to the belt; and (4) the computer workstation with the application software[2-4] as can be seen in Figure 1 by Pan et al[4].
The capsule weighs less than 4 g and measures about 11 mm in diameter × 26 mm in length. It is made of plastic, biocompatible and resistant to digestive fluids. The capsule contains a short focal lens and a miniature video camera: a charge-coupled device or Complementary Metal Oxide Semiconductor, which focuses the image. The gastrointestinal tract is illuminated by white light LEDs. The capsule is powered by two mercury free silver oxide batteries with a life span of 8-12 h. More than 5000 images are transmitted during this battery life at a rate of 2-6 fps. Capsule features have evolved since the release of the first capsule and nowadays standards are a 156-170° field of view, a high resolution and sharpness with a minimum size of detection of 0.07 mm, a 1:8 magnification, a more homogenous light exposure and a depth of view of at least 20-30 mm[5]. The captured data are sent to the sensor arrays and belt worn by the patients by either ultra-high frequency band radio telemetry or human body communications, using the human body as conductor.
At present, there are three main companies supplying wireless CE systems by approval of the FDA. Given Imaging (Ltd, Yoqneam, Israel) supplying the PillCam® SB 3, Olympus America (Inc, Center Valley, Pennsylvania) supplying the EndoCapsule® and Intromedic Company (Ltd, Seoul, South Korea) manufacturing the MiroCam®. Although not approved by the FDA, another Chinese company, Jianshan Science and Technology (Group) Co., Ltd., Chongqing, has developed its own capsule: the OMOM capsule. The capsule has been approved by the State Food and Drug Administration of the People's Republic of China in March 2004 and is since then being used in China, Southeast Asia and some European countries[6]. The first large clinical trials have reported a yield and completion rate similar to the PillCam, but the major advantage of the OMOM capsule is without doubt its price, which could be reduced by fifty percent[6,7] (Table 1 and Figure 2).
| | | | | |
| --- | --- | --- | --- | --- |
| Capsule | PillCam® SB 3 Given Imaging | EndoCapsule® Olympus America | MiroCam® Intromedic Company | OMOM® Jianshan Science and Technology |
| Size | Length: 26.2 mmDiameter: 11.4 mm | Length: 26 mm Diameter: 11 mm | Length: 24.5 mmDiameter: 10.8 mm | Length: 27.9 mmDiameter: 13 mm |
| Weight | 3.00 g | 3.50 g | 3.25-4.70 g | 6.00 g |
| Battery life | 8 h or longer | 8 h or longer | 11 h or longer | 6-8 h or longer |
| Resolution | 340 x 34030% better than SB2 | 512 x 512 | 320 x 320 | 640 x 480 |
| Frames per second | 2 fps or 2-6 fps | 2 fps | 3 fps | 2 fps |
| Field of view | 156° | 145° | 170° | 140° |
| Communication | Radio Frequency Communication | Radio Frequency Communication | Human Body Communication | Radio Frequency Communication |
| FDA approval | Yes | Yes | Yes | No |
| Price per capsule | $500 | $500 | $500 | $250 |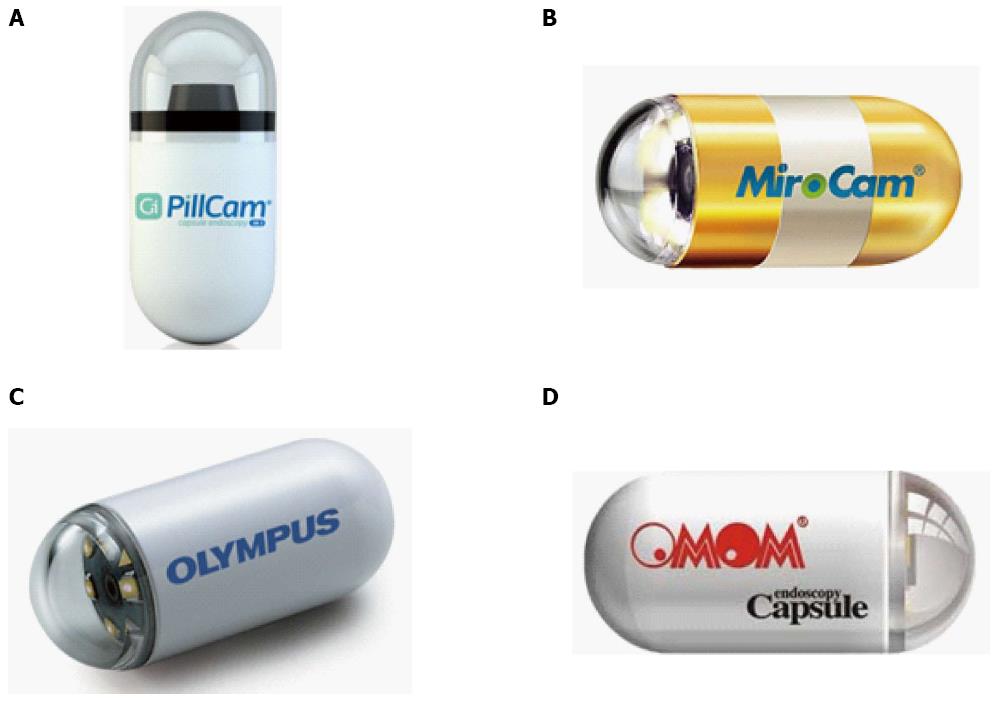 Figure 2 Types of small bowel capsule endoscopes.
A: PillCam SB 3 (Given Imaging, Yoqneam, Israel); B: MiroCam (IntroMedic, Seoul, South Korea); C: Endo Capsule (Olympus America, Center Valley, PA); D: OMOM (Jinshan Science and Technology, Chongqing, China).
Even though the three main capsules approved by the FDA differ in technical specifications, several trials have shown that they offer a comparable diagnostic yield, image quality and completion rate, as was stated in the systematic review by Koulaouzidis et al[8].
Small bowel preparation
To ensure a clear view on CE, the patient is asked to start fasting 12 h before the small bowel CE procedure[2,3]. However, due to bubbles, small intestinal fluid and biliary secretions coming from the major duodenal papilla, the visualization by the VCE can deteriorate. Furthermore, limited battery life span can hamper a complete intestinal examination in patients with delayed gastric emptying and small bowel transit, which necessitates the use of additional small bowel preparation[3]. However, not all patients are eligible for small bowel cleaning. The 2012 Consensus guidelines for the safe prescription and administration of oral bowel-cleansing agents[9] states that small bowel preparation is contraindicated in patients with gastrointestinal obstruction, perforation, ulceration, ileus, gastric retention or inflammatory bowel diseases (IBD), in patients with a reduced level of consciousness, swallowing disorders, hypersensitivity to the used agent and in patients having an ileostomy. The use of small bowel cleansing agents is relatively contraindicated in patients with chronic kidney disease or undergoing dialysis, in patients with a renal transplant, congestive heart failure, liver cirrhosis or ascites and in patients taking Renin-angiotensin blockers, diuretics or nonsteroidal anti-inflammatory drugs (NSAIDs). In these patients the utility of small bowel cleaning should be reconsidered and the choice of cleaning agent is of main importance: polyethylene glycol (PEG) is normally preferred over Sodium Phosphate. Patients taking Renin-angiotensin blockers, diuretics or NSAIDs are advised to discontinue their medication temporarily and their hydration and electrolyte status should be checked prior to the small bowel preparation. In a recent systematic review, Kotwal et al[10] compared the results of various randomized-controlled trials regarding improvement of vision quality (VQ), diagnostic yield (DY) and completion rate (CR) by small bowel preparation. In this review, administration of 2L polyethylene glycol (PEG) the evening before VCE was found to be superior to two doses of 45 mL Sodium Phosphate before VCE regarding VQ and DY improvements. Another study by Kantianis et al[11] showed that 2 L as well as 4 L PEG did not differ in small bowel cleansing and CR. Therefore 2 L should be preferred as regimen before VCE. Furthermore Kotwal et al[10] stated that simethicone, an antifoaming agent, significantly improved the VQ by decreasing the bubbles without implications on CR. Yet no significant improvement in VQ and DY were observed by combining Simethicone with PEG. After meta-analysis prokinetics did not show a significant improvement in CR, so they are not recommended.
Procedure
After bowel preparation, the patient gets eight sensor arrays attached to his body and a sensor belt fastened around his waist. The data recorder is attached to the belt before capsule ingestion. The capsule is ingested with a glass of water and fluid restriction is needed till 2 h after ingestion. After 4 h, fasting can be stopped. Daily activities do not need to be interrupted during CE.
Capsule propulsion needs to be followed by real-time viewing during the first hour to make sure the capsule passes the stomach. If not, gastroscopy is performed to deposit the capsule in the duodenum.
The sensor arrays and belt are removed once the capsule has been expelled into the colon (as verified by real-time viewing), or when the battery life has expired. Images can be downloaded from the recorder to the workstation. The capsule itself passes naturally with bowel movement and is usually excreted within 24 to 72 h.
Analysis
After downloading the data from the recorder to the workstation, images can be reviewed by gastroenterologists using the application software. Reading time and interpretation are around 40-120 min[2,12] which can be, compared to conventional endoscopy, a time-consuming activity. A solution to this problem might be to train nonphysicians in pre reading the images. A study by Bossa et al[12] found that a nurse with expertise in endoscopy might be able to shorten the time needed by the endoscopist to read a capsule. Moreover the pre reading of the CE by the nurse endoscopist led to a more careful approach of the physician in the flagged areas, which enhanced the accuracy of the CE investigation. Another recent study by Dokoutsidou et al[13] confirmed these findings and stated that despite a longer reading time, a nurse is perfectly capable of pre reading and subsequently flagging aberrant images. However, another possibility to lower reading time is the use of special software to select aberrant images, which can be revised afterwards. With the introduction of Quickview by Given Imaging, reading time could be reduced significantly. The Quickview software samples sites of interest for review at a chosen rate, but unfortunately missed lesions occur far more often, which is unacceptable[14]. However, in certain clinical settings, such as overt obscure gastrointestinal bleeding (OGIB) in an urgent inpatient setting and suspected Crohn Disease or occult OGIB in outpatient setting, Koualouzidis et al[15] found that Quickview could be used confidently without clinical consequences. To enhance the yield of CE, virtual chromoendoscopy was developed by adding colour filters to the images. Fuji Intelligent Colour Enhancement (FICE) was seen to be superior in detecting small bowel lesions and in particular angioectasias compared to conventional CE[16]. In another trial by Krystallis et al[17] Blue Mode (BM) was found superior to FICE in detecting lesions of the small bowel. Adding BM to Quickview studies however did not show any diagnostic advantage and is therefore not recommended[15].
ADDITIONAL FEATURES AND ENHANCEMENTS IN THE FIELD OF CE
MAJOR INDICATIONS FOR SMALL BOWEL CE
CE has been approved for various indications. These include (1) overt and occult obscure gastrointestinal bleeding; (2) suspected CD; (3) surveillance in patients with polyposis syndromes and detection of small bowel tumors; (4) screening and evaluation of NSAID side-effects; and (5) suspected malabsorptive syndromes such as celiac disease. These indications will be explained further on in this paper. Relative contra-indications for CE include, like mentioned before: (1) known or suspected GI obstruction, strictures or fistulas; (2) cardiac devices; (3) swallowing disorders; and also (4) pregnancy.
UPCOMING CHALLENGES
To conclude this paper about the current knowledge of CE, we would like to offer an insight in its bright future. Since its release in 2001, optics, battery life, visualization and software have been improved, with consequences on yield, completion rate and reading time. We have already discussed some technological advances in CE, but we will now shortly focus on future expectations of this technology.
One major field of advancement will be the maneuverability. If a capsule endoscope would be steerable and could approach a site of interest, this could be a big step forward in the diagnosis and treatment of diseases of the whole gastrointestinal tract. With efficient movement, battery life could sustain during movement through the whole gastrointestinal tract and thereby could increase completion rate. Various studies have been done and many prototype active capsules, using different locomotion techniques are currently under investigation for human use[184-188]. However, in the near future, remote manipulation using magnetic forces will be the first to be commercially available. These capsules contain a magnet, which can then be mobilized with an externally handled magnetic paddle or with a joystick. Perspective of the camera also can be adjusted with this magnet, rendering the desired image[189]. Swain et al[190] was the first to document the use of a magnetic field to guide a capsule through the human oesophagus and stomach. Since this article, many studies have followed, especially focusing on investigation of the stomach[191-194]. To overcome the problem of capsule impaction and to improve mucosal visualization, especially in the colon, insufflation techniques have recently been described by several authors using a capsule with a magnetic controlled drug release system to create a basic chemical reaction forming CO2 in the lumen[195-197]. Another very interesting topic is a novel wireless platform able to measure and locate the force opposing capsule motion as a reflection of the gastrointestinal tract resistance[198]. It is the first platform for magnetic control of CEs that implemented this intermagnetic force measurement feature.
Another advancement might be the availability of a controlled drug release feature. This could help gastroenterologists in the local treatment of various gastrointestinal diseases, such as medical treatment of CD or even hemostasis in OGIB. Only one study introduced a capsule able to microposition a needle and to deliver 1 mL of a targeted medication, while resisting peristalsis with its holding mechanism[199].
The inability of taking biopsies is a third challenge CE faces. Together with an accurate maneuverability, this could enable CE to completely take the place of DBE in diagnostic and even therapeutic endoscopy of the small bowel. In 2008, Valdastri et al[200] was the first to successfully report an in vivo experiment with a capsule with built-in clip-releasing mechanism. The VECTOR project by the European Commission is currently developing a capsule for diagnosis and treatment of gastrointestinal cancer[201]. Another study also investigated the use of a large number of thermo-sensitive microgrippers in CE for this purpose of grabbing and retrieving tissue samples, which showed promising results[202].
Finally, to end this paper, we would like to reflect on the environmental consequences of capsule endoscopies, a subject that will become more important in the future, given the growing importance of CE. Although the ASGE consensus states that the capsule is "disposable and designed to be excreted"[3], considerations around this topic should be made, since the capsule contains many particles with potential biohazards[203]. Pezzoli et al[204] was the first to publish a small article on this matter in 2011. They found that it was possible, after retrieval and cleaning, to reactivate used capsules with a 10 min procedure and a new battery cost of only 2 euro. Recycled capsules could then be given a second life in, e.g., veterinary procedures[205].
CONCLUSION
This paper gives a brief but complete overview on small bowel CE anno 2014. As the technology is still evolving and new insights are still being published every year, we emphasize that healthcare-providers should continue to monitor the medical literature for recent data, in order to provide the best evidence-based care for their patients.
P- Reviewer: Konishi K, Luo HS S- Editor: Tian YL L- Editor: A E- Editor: Zhang DN