Copyright
©2013 Baishideng Publishing Group Co.
World J Gastrointest Endosc.
Aug 16, 2013;
5(8): 407-411
Published online Aug 16, 2013. doi: 10.4253/wjge.v5.i8.407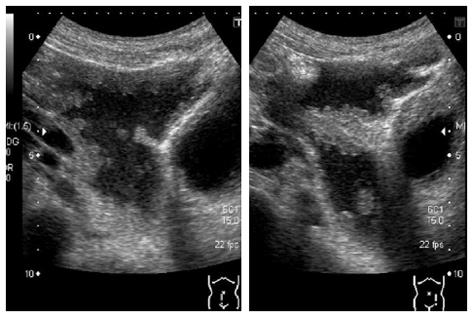 Figure 1 Abdominal ultrasonography.
Moderate amount of ascites, irregular thickening of the mesentery and peritoneum, and multiple nodules were observed.

Figure 2 Contrast enhanced computed tomography and 18F-fluorodeoxyglucose-positron emission tomography. A: Thickened peritoneum and mesentery with multiple nodules were positively enhanced by the contrast material; B: An umbilical hernia is also evident (arrow); C: A coronal image of 18F-fluorodeoxyglucose-positron emission tomography (FDG-PET) showed no localized areas of high accumulation of FDG, but mild accumulation of FDG was observed over the entire abdominal region.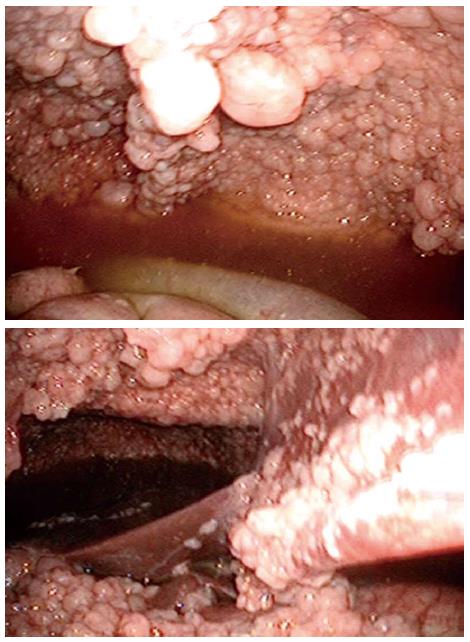 Figure 3 Laparoscopy.
Multiple whitish nodules were observed on the peritoneum and the mesenterium including falciform ligament of the liver with slightly muddy yellow ascites.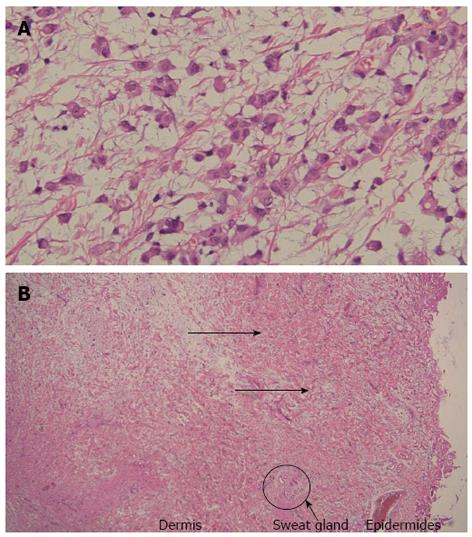 Figure 4 Pathological findings of the nodular lesion and the umbilical region.
A: Diffuse infiltration of oval or polygon cells with acidophilic cytoplasm was observed [hematoxylin and eosin (HE), × 200]; B: Histopathology of the umbilical region showed the invasion of tumor cells into the dermis (arrows) (HE, × 40).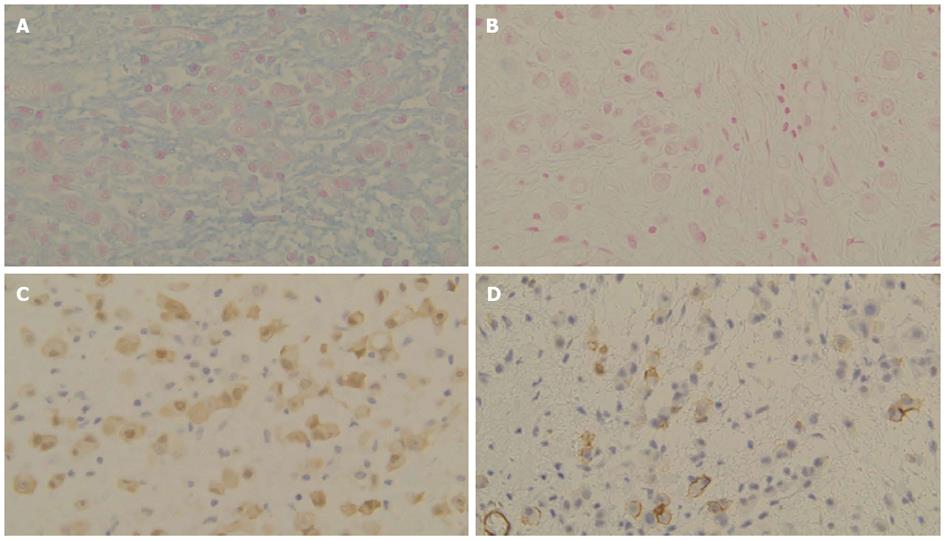 Figure 5 Immunohistochemical staining results.
A mucus-like substance was stained positive by alcian blue staining, and was negative after hyaluronidase treatment. Staining of calretinin and CD146 (MCAM) were positive. A: Alcian blue; B: Alcian blue (after hyaluronidase treatment); C: Calretinin; D: CD146 (MCAM).
---
Citation: Tsuruya K, Matsushima M, Nakajima T, Fujisawa M, Shirakura K, Igarashi M, Koike J, Suzuki T, Mine T. Malignant peritoneal mesothelioma presenting umbilical hernia and Sister Mary Joseph's nodule. World J Gastrointest Endosc 2013; 5(8): 407-411
---