Copyright
©2014 Baishideng Publishing Group Inc.
All rights reserved.
Chronic hepatitis B: Advances in treatment
Teresa Antonia Santantonio, Massimo Fasano, Department of Clinical and Experimental Medicine, University of Foggia, 71100 Foggia, Italy
Author contributions: Santantonio TA and Fasano M both contributed to this paper.
Correspondence to: Dr. Teresa Antonia Santantonio, Department of Clinical and Experimental Medicine, University of Foggia, Ospedali Riuniti, Viale Luigi Pinto 1, 71100 Foggia, Italy. teresa.santantonio@unifg.it
Telephone: +39-0881-732216 Fax: +39-0881-732215
Received: November 12, 2013
Revised: January 7, 2014
Accepted: March 13, 2014
Published online: May 27, 2014

Treatment of chronic hepatitis B (CHB) has markedly improved in the last 15 years due to the availability of direct antivirals which greatly increase therapeutic options. Currently, there are two classes of agents licensed for CHB treatment: standard or pegylated interferon alpha (IFN or Peg-IFN) and five nucleoside/nucleotide analogues (NAs). Long-term treatment with NAs is the treatment option most often used in the majority of CHB patients. Entecavir and tenofovir, the most potent NAs with high barrier to resistance, are recommended as first-line monotherapy by all major treatment guidelines and can lead to long-lasting virological suppression, resulting in histological improvement or reversal of advanced fibrosis and reduction in disease progression and liver-related complications. In this review, we focus on current treatment strategies of chronic hepatitis B and discuss the most recent efficacy and safety data from clinical trials and real life clinical practice. Recent findings of response-guided approaches are also discussed.
Core tip: Patients with chronic hepatitis B are a heterogeneous population and require different management strategies. In clinical practice, several baseline factors, related to the patient, drug, stage of liver disease, comorbidities, lifestyle factors, coinfections and profile of hepatitis B virus infection, should be taken into consideration in order to individually optimize therapy. Surface antigen of the hepatitis B virus quantification is a potential new biomarker for treatment individualization and response-guided therapy. In the last two decades, the availability of potent oral antivirals changed the natural history of chronic hepatitis B; however, the risk of hepatocellular carcinoma (HCC) has not been abolished and thus regular HCC surveillance in high risk patients is required.
---
Citation: Santantonio TA, Fasano M. Chronic hepatitis B: Advances in treatment. World J Hepatol 2014; 6(5): 284-292
---
INTRODUCTION
Chronic infection with hepatitis B virus (HBV) is a major health problem worldwide, affecting approximately 350 million people, and is the leading cause of chronic liver disease, cirrhosis and hepatocellular carcinoma (HCC), accounting for over 1 million deaths annually[1].
The goal of chronic hepatitis B (CHB) treatment is to prevent or reduce the development of cirrhosis, end-stage liver disease, HCC and, ultimately, liver-related death. Several studies have shown that the risk of disease progression is reduced by means of sustained suppression of viral replication[2-4]. Furthermore, maintaining viral suppression increases the rate of hepatitis B surface antigen (HBsAg) clearance, which is the ideal end-point of antiviral treatment as it is associated with a definite remission of chronic hepatitis B activity and an improved long-term outcome. However, even if HBsAg loss occurs, HBV cannot be completely eradicated by treatment due to the persistence of the so-called covalently closed circular DNA (cccDNA), the template for viral RNA transcription, in the nucleus of infected hepatocytes[5].
Since the introduction of interferon alpha as an initial antiviral therapy at the end of the 1980s, the treatment of CHB has markedly improved in the last 15 years due to the availability of nucleos(t)ide analogues (NAs), direct antiviral agents which have greatly increased therapeutic options and permitted the achievement of virological response in almost all patients.
In this review, we focus on current treatment strategies of chronic hepatitis B and discuss the most recent long-term NA efficacy and safety data from clinical trials and real life clinical practice.
ANTIVIRAL TREATMENT
Treatment indications
The complex interplay between viral replication and host immune response determines the natural course of chronic HBV infection which can generally be divided into four phases: immune tolerance, immune clearance, low/non replicative and reactivation phases. Liver disease is associated with immunoclearance and reactivation phases; therefore, immunotolerant and inactive carriers do not require treatment, while antiviral therapy should be reserved for HBsAg carriers with active viral replication and biochemical or histological evidence of liver damage. The criteria for identification of candidates for antiviral therapy, according to current guidelines[6-8] are shown in Table 1.
In clinical practice, however, the decision-making process is more complex as it involves several factors related to the patient (age, sex, genetics), the drug (efficacy, side effects, resistance barrier), the liver disease (fibrosis, type and extent of inflammation), the liver disease cofactors (alcohol use, diabetes, insulin-resistance, obesity), the co-infections (HDV, HCV, HIV) and the profile of HBV infection (HBeAg-status, HBV DNA levels, genotype, viral heterogeneity) (Figure 1).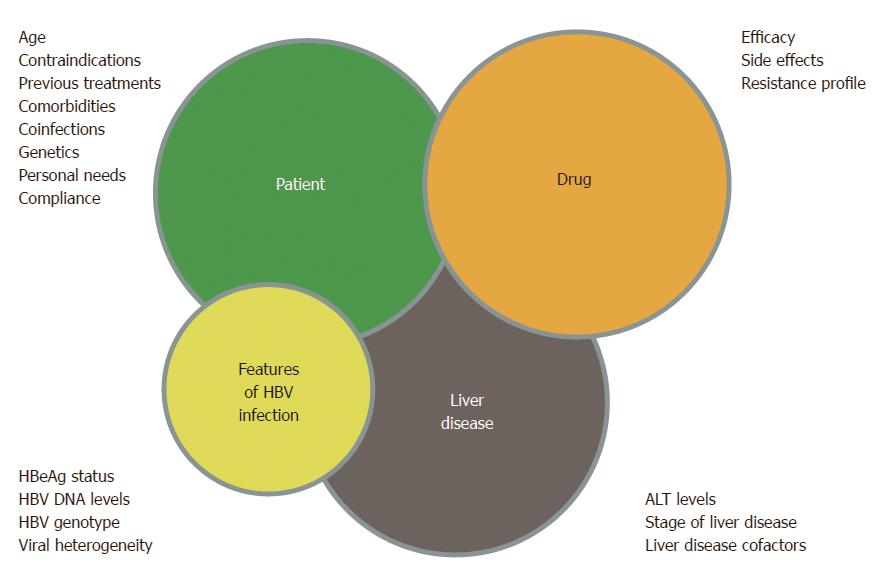 Figure 1 Management of chronic hepatitis B patient: decision making process.
ALT: Alanine aminotransferase; HBeAg: Hepatitis B e antigen; ALT: Alanine aminotransferase; HBV: Hepatitis B virus.
The assessment of hepatic fibrosis with liver biopsy or non-invasive methods is recommended since it can assist the decision to start antiviral therapy. Treatment is mandatory for patients with severe fibrosis or cirrhosis (F3-F4) and patients with compensated or decompensated cirrhosis and detectable HBV DNA should be considered for treatment, independent of ALT levels.
Therapy is indicated for patients with moderate fibrosis (F2), while in those with mild or no fibrosis (F0-F1), the indication for treatment should be assessed individually, taking into account patient age, comorbidities, presence of liver disease cofactors, HDV/HCV/HIV coinfections, family history of HCC or cirrhosis, and extrahepatic manifestations.
Anti-HBV drugs
At present, there are two classes of agents licensed for the treatment of CHB: standard or pegylated interferon alpha (IFN or Peg-IFN) and five nucleoside/nucleotide analogues.
Standard IFN has been largely replaced by Peg-IFN due to the more convenient administration schedule (once weekly versus a thrice weekly subcutaneous injection), the longer half-life without wide fluctuations in serum concentrations, and a more effective viral suppression. There are two pegylated-IFN formulations: Peg-IFN alpha-2a and Peg-IFN alpha-2b which have demonstrated a similar efficacy in clinical trials, but only the former is globally licensed for treatment of CHB, while Peg-IFN alpha-2b has been approved in only a few countries. Peg-IFN is a cytokine with a dual antiviral and immunomodulatory activity and therefore has the potential for an immune-mediated control of HBV infection, thus providing the opportunity to obtain a sustained virological response after treatment discontinuation, and the possibility of inducing HBsAg loss in patients who achieve and maintain undetectable HBV DNA. IFN-based treatment, however, is often complicated by the occurrence of side effects, such as influenza-like symptoms, fatigue, neutropenia, thrombocytopenia and depression, which sometimes require dose modification and cause premature cessation of treatment[9]. Moreover, Peg-IFN is contraindicated in patients with decompensated HBV-related cirrhosis or autoimmune disease, in patients with uncontrolled severe depression or psychosis, in patients receiving immunosuppressive therapy or chemotherapy, and in female patients during pregnancy[6].
NAs are oral direct antiviral agents which specifically inhibit the viral polymerase/reverse transcriptase, an enzyme with a crucial role in the HBV life cycle. As a result, NAs block the production of new virions and progressively reduce serum HBV DNA to undetectable levels, but they have little or no effect on the cccDNA present in the nucleus of the infected hepatocytes. The persistence of the intrahepatic cccDNA determines the reactivation of HBV replication after interrupting NA treatment, thereby justifying the need for a long-term (potentially life-long) therapy for a sustained viral replication control. After lamivudine (LAM), the first nucleoside analogue approved for the treatment of CHB, another two nucleosides, telbivudine (LdT) and entecavir (ETV), and two nucleotide analogues, adefovir (ADV) and tenofovir (TDF), have gradually become available in recent years. NAs are characterized by a different antiviral potency and drug-resistance pattern, while entecavir and tenofovir are the two most potent analogues with a high barrier to resistance development.
The main advantages and disadvantages of Peg-IFN and NAs for treatment of CHB are shown in Table 2.
Peg-IFN
Nucleos(t)ides analogues
Advantages
Finite duration (usually 48 wk)
Potent antiviral effect
Higher rates of anti-HBe and anti-HBs seroconversion with 12 mo of therapy
Excellent tolerance, good safety
Absence of resistance
Oral administration (once daily)
No contraindication for treatment
Disadvantages
Moderate antiviral effect
Unknown (perhaps indefinite) duration of treatment
Inferior tolerability
Rare HBsAg loss
Risk of adverse events
Risk of viral resistance
Subcutaneous injections
Unknown long-term safety
Contraindications in specific patient subgroups
Treatment strategies
There are two different therapeutic strategies for both HBeAg-positive and HBeAg-negative CHB patients: short-term or "curative" treatment and long-term or "suppressive" treatment. The first strategy aims to obtain a sustained suppression of viral replication off-treatment by inducing the immune-controlled status of HBV infection which corresponds to the profile of the inactive carrier, that is, normal ALT levels coupled with HBV DNA < 2000 IU/mL and anti-HBe positivity. This strategy is IFN-based (Peg-IFN administered for 48 wk); a finite treatment with NAs is possible only in HBeAg-positive patients. The second strategy aims to obtain a rapid and long-term maintained viral suppression (HBV DNA < 10-15 UI/mL). This strategy is exclusively based on NAs.
First-line monotherapy
Peg-IFN, entecavir or tenofovir are recommended as first-line monotherapy by all major guidelines in patients with CHB or compensated cirrhosis[6-8]. The most favorable candidates for Peg-IFN are those with low HBV DNA levels, high ALT and HBV, genotype A or B rather than C or D, and those without advanced liver disease.
Entecavir or tenofovir are the only therapeutic options in patients with decompensated liver disease, in those undergoing immunosuppressive treatment or with contraindications, and those unwilling to receive Peg-IFN. As Peg-IFN can achieve a sustained off-therapy response in only a minority of cases and a proportion of patients cannot tolerate or have IFN contraindications or do not wish to be treated with Peg-IFN, long-term treatment with NAs is the most commonly used treatment strategy.
IFN-BASED THERAPY
Published data have demonstrated that in patients with HBeAg-positive CHB, Peg-IFN achieves a more than 30% HBeAg seroconversion rate after one year of treatment[6]. In a registration trial, Peg-IFN alpha-2a provided a sustained immune control which increased post-therapy; in fact, the HBeAg seroconversion rate continued to increase from 27% at the end of treatment to 32% during the six months after discontinuing treatment, and to 42% 1 year post-treatment[10,11]. Moreover, the seroconversion remained stable over time in > 80% of Peg-IFN alpha-2b treated patients, achieving this end-point at the end of therapy[12]. Peg-IFN also determined HBsAg seroconversion in up to 30% of patients with a long-term follow-up[13].
In patients with HBeAg-negative CHB, Peg-IFN alpha-2a demonstrated a sustained immune control (HBV DNA < 2000 IU/mL) in 31% of patients 1 year post-treatment. Among these, 88% maintained this response up to 5 years follow-up and, remarkably, 28% achieved HBsAg clearance 5 years post-treatment[14].
Peg-IFN treatment remains an attractive therapeutic option since it provides higher rates of off-therapy immune control, including HBsAg clearance, when compared to NAs. However, IFN is effective in only a minority of patients (20%-30%), has a poor tolerability and significant costs. Therefore, the improvement of Peg-IFN efficacy is a major challenge. Several attempts have been made to optimize the cost-effectiveness of IFN-based therapy, including combination therapy, longer treatment duration and identification of pre-treatment and on-treatment predictors of response. De novo combination therapy with NAs did not improve sustained response in either HBeAg-positive or HBeAg-negative patients[10,15-17]. Regarding duration of therapy, the NEPTUNE study conducted in patients with HBeAg-positive CHB reported that dose and duration are important because the highest sustained response was obtained with 180 μg and 48 wk compared to 90 μg and 24 wk[18]. Recently, an Italian multicenter study demonstrated in 128 HBeAg-negative patients (mean age 45 years, 94% genotype D, 13% with cirrhosis) that extended treatment with Peg-IFN alpha-2a to 96 wk was well-tolerated and improved the rates of sustained virological response (29% vs 12%, P = 0.03) in HBeAg-negative genotype D patients when compared to the current standard of care of 48 wk. In addition, 1 year post-treatment, HBsAg clearance (6%) was observed only in the extended therapy group[19]. Among pre-treatment predictors of response, ALT levels, low baseline HBV DNA and virus genotype were significant predictors[6-8]. When combining data from the two largest clinical trials regarding HBeAg-positive CHB patients[9,20], Buster et al [13] found that the best candidates for a sustained response to Peg-IFN were genotype A patients with high levels of ALT (ALT ≥ 2xULN) or low levels of HBV DNA (< 9 log10 copies/mL), and genotypes B and C patients who have both high levels of ALT and low HBV DNA. Genotype D patients have a low chance of sustained response. However, these factors cannot accurately predict response at the individual level; furthermore, ALT and HBV DNA levels are time-dependent and thus their use in clinical practice is difficult.
To obtain additional insight into the individual patient's probability of achieving response to Peg-IFN, the presence of precore and basal core promoter mutants before treatment has been correlated to the serological and virological response in HBeAg-positive CHB patients. Data from this study demonstrated that the presence of a wild-type virus at baseline was an independent predictor of response to Peg-IFN and can assist in improving patient selection for this treatment option[21].
More recently, the role of IL28B polymorphisms, clearly indicated as a baseline host factor predictor of response in patients with chronic hepatitis C, has also been investigated in CHB patients. Studies in HBeAg-positive patients provided conflicting results[22-24]. The only existing data in HBeAg-negative patients are in 101 subjects treated with either conventional IFN or Peg-IFN alpha 2a for 24 mo and followed for 11 years after treatment. Patients with IL28B rs12979860 genotype CC were shown to have higher EOT (69% vs 45%, P = 0.01) and higher SVR (31% vs 13%, P = 0.02) than non-CC patients. Interestingly enough, CC patients had a higher cumulative probability of clearing HBsAg during an observation period of 16 years (38% vs 12%, P = 0.039)[25]. Further studies are necessary to define the role of IL28B polymorphisms as a baseline factor to improve pre-treatment patient selection.
A promising approach to improve the cost-effectiveness of Peg-IFN therapy is a response-guided treatment based on serum HBsAg kinetics which permits early identification of either responders for whom continuation of treatment to week 48 could be beneficial or non-responders who should discontinue IFN treatment.
Two stopping rules at week 12 have been proposed for HBeAg-positive patients: (1) no HBsAg decline; and (2) HBsAg levels > 20000 IU/mL. The negative predictive value (NPV) for a sustained response ranged from 92% to 100% depending on HBV genotypes; thus, HBV genotype-specific stopping-rules may be considered at week 12. However, at week 24, treatment discontinuation is indicated in all patients with HBsAg > 20000 IU/mL, irrespective of HBV genotype[26,27].
In HBeAg-negative genotype D patients, no HBsAg decline and < 2 log copies/mL HBV DNA decline at week 12 has been proposed as a stopping rule and independently validated with a 100% NPV[28,29]. Overall, therapy with Peg-IFN could be discontinued at week 12 in the 20% of primary non-responders, who are therefore candidates for suppressive therapy with NAs (Figure 2).

Recently, it has been demonstrated that, even in HBeAg-negative patients, on-treatment HBsAg kinetics varied according to HBV genotype. In fact, for genotype A, the difference between responders and non-responders was greatest at week 24, while for genotypes B and D, the difference was evident at week 12; there was no significant difference for genotype C over time. Moreover, highly positive predictive values for long-term virological response was obtained by applying end-of-treatment genotype-specific HBsAg level cut-offs[30].
NA-BASED THERAPY
Entecavir and tenofovir are the third-generation NAs recommended as first-line therapy for CHB NA-naïve patients by all international guidelines. In registration trials, both antivirals demonstrated a long-lasting efficacy (viral suppression in more than 95% of patients over 5 years) associated with prevention of developing cirrhosis and, to a greater extent, with fibrosis regression[31-36]. Chang et al[31] first documented the histological reversal of cirrhosis in 4 of 10 cases who met the criteria for efficacy analysis while they were in a 3 to 7 year period of virological response to ETV. More robust evidence of cirrhosis reversion has been offered by Marcellin and colleagues who reported the effect of 5 years of viral suppression on histology in liver fibrosis and cirrhosis in 348 patients who had evaluable histology at baseline and at week 240. Of the 96 (28%) patients with cirrhosis (Ishak score ≥ 5) at baseline, 71 (74%) demonstrated a reduction in fibrosis at year 5 and were no longer cirrhotic[34].
Moreover, registration trials reported a minimal risk of drug resistance (1.2% with ETV and 0% with TDF after 6 years) and a favorable safety profile[31-36]. However, as registration trials are conducted under standardized conditions with strict enrolment criteria in well-selected and compliant patients, long-term efficacy and safety of ETV and TDF are still to be confirmed in real life patients who generally have a more complex clinical profile as they are usually older, with a higher prevalence of cirrhosis and comorbidities treated with several concomitant medications.
CONCLUSION
Chronic hepatitis B remains a serious clinical problem because of its worldwide distribution and potential adverse sequelae. Over the last decades, treatment of CHB has greatly advanced due to the availability of safe and effective drugs and new standards of care and guidelines have been developed. Both Peg-IFN and two NAs, entecavir and tenofovir, can currently be prescribed as first-line monotherapy for CHB.
Peg-IFN treatment is the only short-term treatment strategy which provides significant off-treatment sustained responses, including loss of HBsAg. However, as Peg-IFN is effective in 20%-30% of patients, it should be considered only for patients with an elevated possibility of response based on pre-treatment and on-treatment factors. In particular, quantitative serum HBV-DNA and HBsAg levels may be suitable to identify patients early who are unlikely to benefit from Peg-IFN early during the treatment course, thereby avoiding unnecessary therapy. Nevertheless, despite this individualized and response-guided approach, increasing the cost-effectiveness of Peg-IFN therapy remains a clinical challenge. Combining Peg-IFN with NAs appears to be the most appealing approach to increase the efficacy of antiviral therapy and new trials on a combination of Peg-IFN with ETV or TDF are required.
Currently, NAs represent the treatment option most often used in the majority of CHB patients. TDF and ETV suppress HBV replication in most treatment-naïve field practice patients with CHB but fail to prevent HCC development, independent of liver disease severity. NA long-term administration raises several concerns: the patient's commitment to lifelong treatment, adherence, long-term safety, drug resistance in the long-term and costs. Different strategies combining Peg-IFN with ETV or TDF might achieve an antiviral synergy and provide new opportunities to increase HBsAg clearance rates and shorten treatment duration.
Finally, development of new antiviral agents targeting other steps in the HBV replication cycle (viral entry, capsid assembly, viral RNA transcription and epigenetic control of cccDNA) and new immune therapies restoring immune response to HBV remain a major research challenge to improve the efficacy of current antiviral therapy and to achieve HBsAg loss and HBV eradication.
ACKNOWLEDGMENTS
The authors are grateful to Ms. Paulene Butts for her assistance in the preparation of the manuscript.
P- Reviewers: Gong ZJ, Faintuch J S- Editor: Gou SX L- Editor: Roemmele A E- Editor: Wang CH